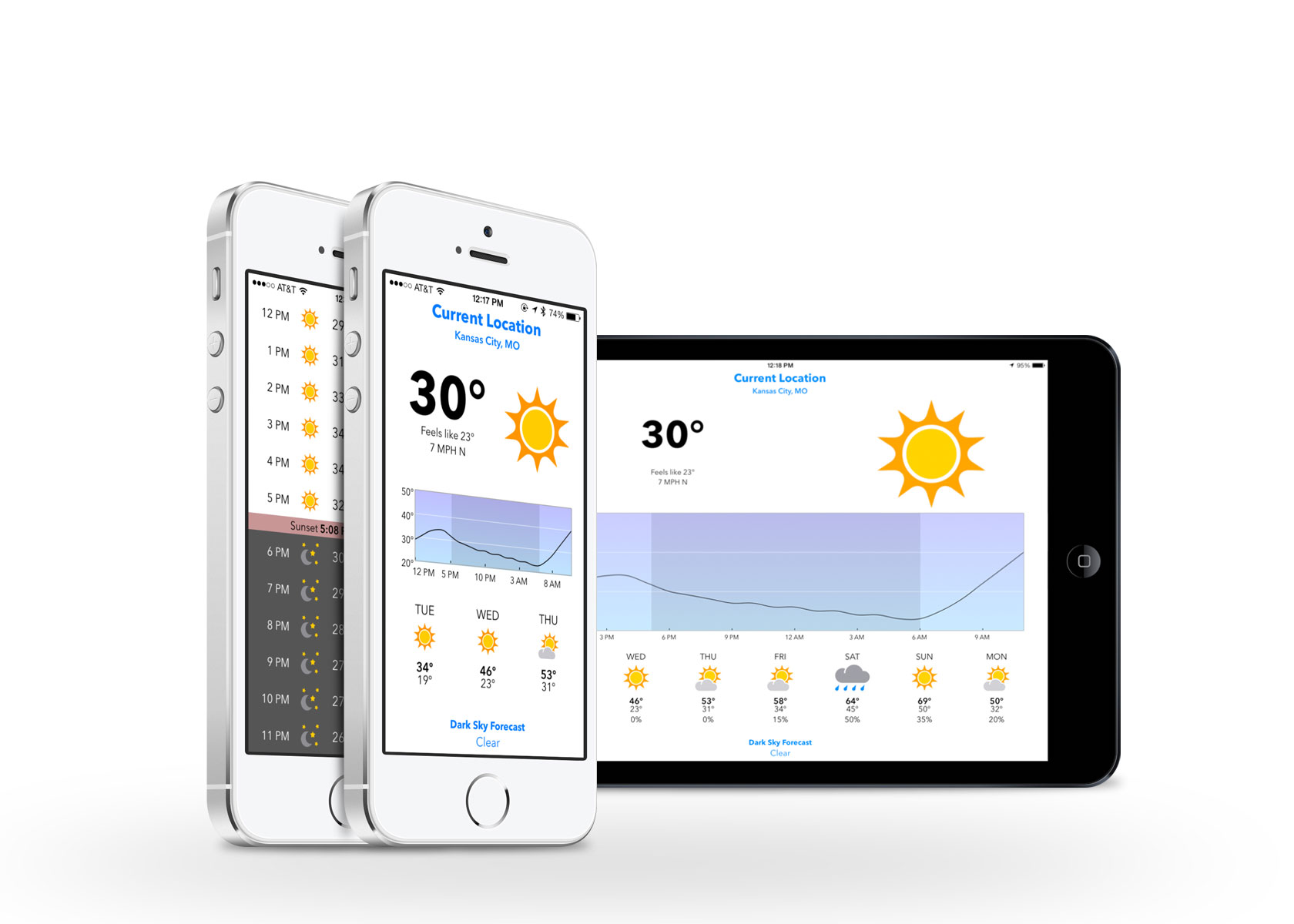 The best general purpose weather app
Check the Weather
October 15, 2014
The best general purpose iPhone weather app is Check the Weather. The app is lightning fast, accurate, readable, and has good accessibility support. Check the Weather's data is displayed in such a manner that makes it easy to glance at. It's gesture-based design makes it extremely easy to operate with one hand, it supports Dark Sky's incredibly accurate short-term precipitation forecasting, and it's a universal app that works on iPhone and iPad. It's $4.99 in the App Store.
If you search for "weather" in the iOS App Store, you are returned over 2,200 results. It's comical to think there is a good way to know which apps are best, as there is simply no way to efficiently test (let alone download) all of these apps. For this occasion, we tested 35 of the most popular weather apps in an effort to determine which is truly the best. The apps we selected were drawn from the top rankings in both the paid and free categories for Weather apps and from individual recommendations.
There are, of course, more categories of weather apps than just one, so for the purposes of this article we have only chosen General Purpose weather apps — the everyday weather apps that seek to be one-stop check-in sources for most people's common weather needs, such as current temperature, forecast, and radar.
As we looked at each app, we evaluated them on this general set of criteria:
Easy to quickly digest the weather information being shown? (The: "will I walk into a light pole before I look back up" test.)
Visible data under different outdoor lighting conditions? (Is it sunny, cloudy, night-time, etc.)
Can the app be operated with one hand?
Forecast data: is the data readable, or are things like rain nothing but ambiguous symbols?
Is voice-over support well-implemented in the app?
How much does the app cost? (While we are proponents of paying for apps, in a market this crowded it would not be fair to ignore pricing concerns.)
The biggest problem that we kept running into with most of the apps that were tested fell into one, or in some cases many, of these categories:
Ads cluttering up or taking away from the data.
Too many buttons, which limit the one-handed operability of the app.
No voice-over support.
In some of the worst cases, we found several apps that won the triple crown — finding success in all three of the problem categories above. In this case, that is a bad thing to win.
After extensive testing, Check the Weather stands as our favorite general purpose weather app for the iPhone and iPad.
The Best of the Best: Check the Weather
Check the Weather, from David Smith of Cross Forward Consulting, excels in speed, accuracy, readability, and accessibility. Its design offers data that is easy to digest at a glance, always accurate, and always fast. The app is well designed for one-handed operation, utilizing large tap zones and whole-screen swipes to access more data, such as hourly and daily forecasts. Moreover, it's one of the few iOS weather apps that has native support for iPad as well.
Design & Usability
Many of the weather apps we tested require greater precision with taps and swipes on the screen, whereas Check the Weather provides easy-to-perform actions for extending the weather data.
The main screen's design allows for fast consumption of the current weather data. It uses large readable numbers and omits any radar maps. A quick tap at the bottom of the screen brings up a well-designed radar of current conditions and also a chart showing Dark Sky integration to show the short-term precipitation forecast.
Many of the weather apps we tested had these same features, but Check the Weather offers the best balance of design and data density. Its design allows for easy weather access and digestion — it's an app you can read on the go.
Check the Weather offers multiple themes to choose from, but the stock theme is high in contrast and offers a large and easily legible font for viewing the current conditions. In the app's settings, you can toggle an auto-night mode, which switches the app to a dark theme when the sun is down, which makes this a great app to use at night (no more blinding white light). You can also tweak the themes yourself with the app's nice mix of four typefaces, which include the default, Idlewild, as well as Helvetica, Futura, and Avenir Next.
In total, there are 5 color themes you can choose from: the standard white and black themes being the defaults, and then 3 additional dark colored themes that you can decide to use. The developer did his best to maintain a highly-readable app no matter which font and color choice you decide to use.
A few of us here at The Sweet Setup use the standard white theme with either Avenir Next or Idlewild, depending on who you talk to.
Checking the weather with Check the Weather
On the main screen, you're shown the typical weather app staples such as current temperature and current conditions. But you're also shown some other great information, such as:
The true temperature (what temperature it feels like)
Current humidity
Wind vectors (speed and direction)
A graph of the temperature change for the next 30-36 hours
A quick look at the next three days' forecasts
The Dark Sky 60-minute forecast (showing highly localized chances of precipitation)
Tapping on the Dark Sky button at the bottom reveals the full 60-minute precipitation predictions as well as a zoom-able radar map.
Swipe from left-to-right on the main screen to get the hourly forecast data for the next 12 hours. This information is shown as: Hour, Condition, Temp, Chance of Precipitation — even designating the sunset and sunrise times if they are within the 12-hour window. Of the apps tested, Check the Weather's quick and tidy presentation of this data was our favorite.
Swiping from right-to-left pulls up the 7-day outlook (technically 8 because it includes today) shown as: Date, Condition, Temp (high and low), and Chance of Precipitation. This again proved to be one of the best views for an extended forecast of all apps tested because it was (a) easy to quickly access, and (b) easy to understand at a glance.
With iOS 8, the developer has added a Today widget, showing the current temperature and any Dark Sky-specific data, with the forecast for the next six hours above the six day forecast: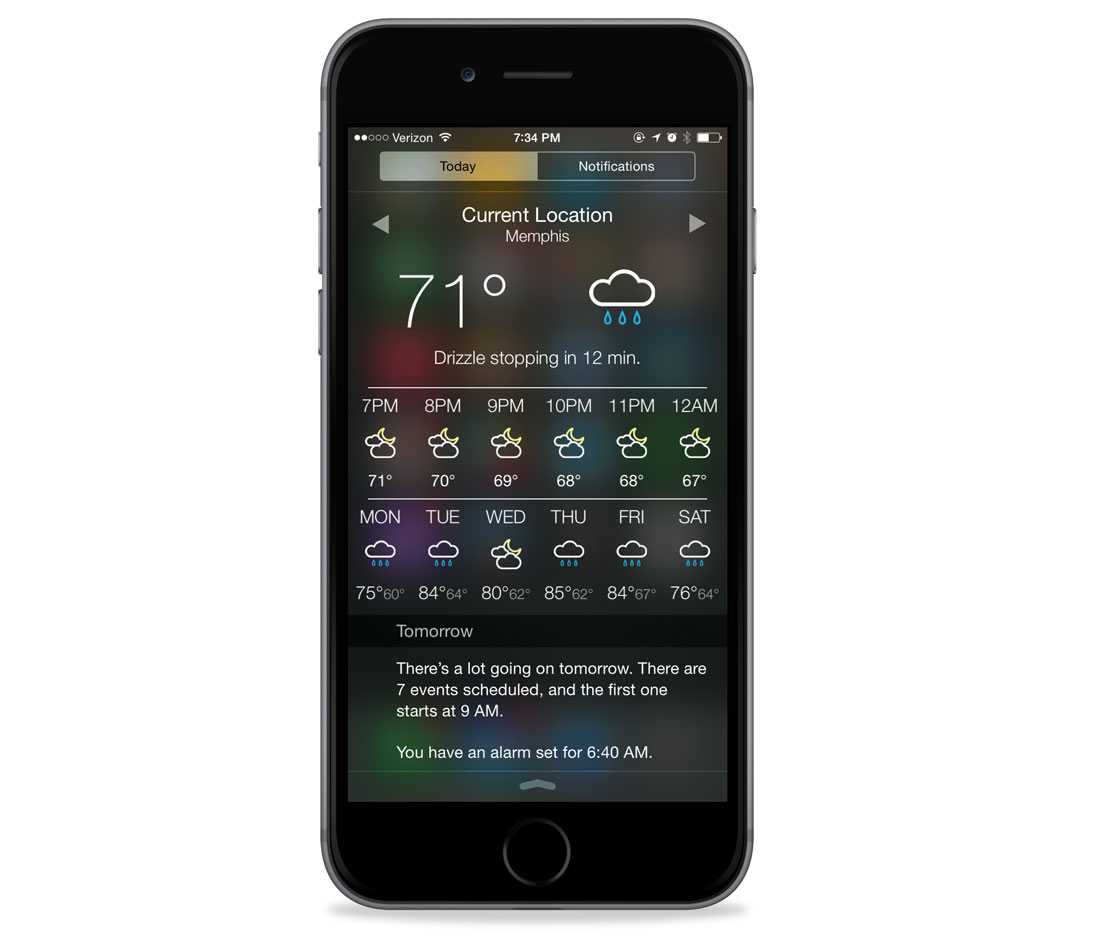 The widget is a little taller than we'd like — even on the iPhone 6 — but it makes checking the current condition outside or in the near future faster and easier than ever.
Back in the app, support for voice-over on the main screen is very good, offering easily-understandable information as you tap around the screen. Unfortunately, both the hourly and the daily detail views lack proper voice-over support — something we would very much like to see corrected. Our only complaint is that we would like to see the three day forecast voice-over tap zones as larger targets than they are currently.
Sources for weather information
The weather information for Check the Weather is being provided by the Forecast.io API. This is a service made by the company behind the Dark Sky radar app that pulls information from 18 different sources. The advantage to this setup is that you are getting an aggregate display of the best weather information services currently available (in addition to the short term rain forecast predictions).
Because Check the Weather is using the Forecast.io API, the app will work internationally, but the 60-minute precipitation predictions will only work in the U.S. for now.
Complaints
Not all is rosy with Check the Weather. Though it's our favorite, we would like to see improvements made to the way multiple locations are shown and switched between in the app. Currently, it takes users a few taps to view weather conditions in different locations. Our runners-up (Perfect Weather and Weather Line, both mentioned below) and Apple's own weather app have nice support for quickly checking the weather in different locations, showing current conditions in each locale from the location pickers within the apps.
We would also love to see the radar map zoomed tighter on your location by default, as the current zoom level is a bit too wide for our liking. These complaints, however, are minor complaints of a very good app that costs just $4.99 in the App Store.
Runner Up: Perfect Weather
Our runner up for the best general purpose weather app is Perfect Weather. Perfect Weather, from Contrast, is a lovely app with excellent multiple location support, large radar displays, and weather details that are easy to hide and pull back out. Perfect Weather is $2.99 in the App Store.
Perfect Weather's Design & Usability
While we consider the design and graphics in Perfect Weather to be more attractive than the design of Check the Weather, Perfect Weather's contrast is much lower and the font sizes much smaller.
In testing, we found Perfect Weather harder to read on the go when you just need to glance at the app. Additionally, the hourly weather breakdown is not as easily discernible as that of Check the Weather. In Perfect Weather, a graph is shown with the next 24 hours' worth of temperature ranges. But to see hourly breakdowns, you must press-hold-and-slide along the graph. Though this functionality is designed and implemented well, and it keeps the UI clutter-free, it also makes it significantly more challenging than the simple swipes offered in Check the Weather.
However, the ability to hide the graph, and hide the long-term weather forecasts by "folding them in," will delight many users. There are many situations when a general purpose weather app need only tell you current conditions and the weather outlook for the week — for those times, Perfect Weather will be an ideal suitor. Moreover, Perfect Weather was designed with the radar-junkie in mind. If one of your primary reasons for checking your weather app is to see the current radar, Perfect Weather is worth checking out (pun intended).
Perfect Weather's accessibility
Perfect Weather presented us with was less-than-ideal voice-over support. While the current forecast details are read off well, the extended forecast and hourly forecasts would be far too cumbersome to actually use in a meaningful way. And, thus, the app scores very poorly on our voice-over testing.
In correspondence with Contrast, the developer behind Perfect Weather, we were told that they have no good solution to adding better voice-over support to the app. So for the time being, they regretfully will not be adding it. (They have said they are waiting to find the best solution for voice-over, if and when that comes along, the support will be added.)
Perfect Weather's source of weather information
Right now, Perfect Weather uses the Yahoo weather API which gets its weather data from Weather.com. Digging around Weather.com reveals that they source all their data from NOAA here in the U.S. — additionally Weather.com notes they have their own algorithms for creating localized weather data from the raw data source. NOAA (and the National Weather Service) are an excellent source for weather data, but more data is always better, which is why my preference right now is for Forecast.io powered apps, as they contain an aggregate of 18 sources of data. ((It is fair to note that many of the 18 sources are NOAA based, but you cannot exclude the non-NOAA based data, nor does Weather.com list the NOAA sources it uses.))
Side note about NOAA and NWS: University of Washington's Cliff Mass regularly writes about weather effecting the Pacific Northwest and has commented a number of times about the quality of NWS/NOAA weather predictions. Here's some good primers from Cliff Mass on why having more sources is a good idea. Overall, the U.S. driven weather reporting is, like our highways, in need of repairs and updating.
Wrap
Overall, Perfect Weather is an attractive and solid app, and we would be remiss if we didn't also point out the beautiful icon for Perfect Weather. But, the app is our runner-up to Check the Weather because we feel that Perfect Weather's tight visual design betrays what we consider to be the most important feature of a general purpose weather app: information that is extremely easy to view and understand at a glance.
Perfect Weather offers a design and layout more suited to those with strong weather radar needs, and thus the app is not as general purpose as Check the Weather.
Perfect Weather is available on the App Store for $1.99.
Second Runner Up: Weather Line
Weather Line takes a slightly different approach to the common weather app design. As you can see from the screenshots below, the primary element of the app is its line graph (the "weather line") which shows the temperature forecast.
For quickly viewing and discerning the upcoming forecast, Weather Line is one of the best in its class. Our biggest complaint against Weather Line is the app's lack of a radar view (though Weather Line does use the Dark Sky API to give the 60-minute precipitation forecast).
Weather Line is simple, delightful, and very responsive. $2.99 in the App Store.
Free Weather Apps
On the free front, both Yahoo! Weather and Apple's own Weather app for iOS are solid offerings, and they both round out the general purpose weather category. Where Yahoo! offers more detailed information, it is not as immediately visible as the data shown in Apple's native iOS weather offering.
Both are free and worth a few moments of your time to check out if you haven't already. Both apps pull their weather data from the same weather source, so the only decision to be made is how you prefer the data be displayed. Yahoo! shows only the current temperature, current conditions, and the day's high and low temperature forecast. It isn't until you scroll down that the app starts to offer more useful information. This is by design, however, because the Yahoo! app uses full-screen photographs to give a visual cue of what the weather is like outside.
While Apple's Weather app offers all it has on one screen (you can tap for a couple extra tidbits), we found it lacking in many of the offerings that other apps have. Specifically, we would like to see a more readable hourly forecast.
In both Yahoo! and Apple offerings, the background imagery changes based on weather and locations, but this can also cause times when the apps are less readable than they are at other times. This type of inconsistency makes both apps hard to judge on the "walking into a pole" scale.
However, for our home screen real estate, the Apple Weather app is the best free app. It offers the necessary weather information, beautifully displayed, and usually easily to read. The list view offers a great overview of multiple locations and the weather animations are beautiful. Apple's offering lacks radar of any sort, but if you are looking for radar, Yahoo!'s offering will leave you similarly disappointed as the static image is too small with a radar that canvases too large an area to be of much use.
Recap
The best weather app is Check the Weather, but Perfect Weather is also very good. Honorable mentions go to Weather Line, Weather Dial, and Shade. The best free weather apps are Apple's built-in Weather app that comes with iOS, and Yahoo Weather. Honorable mentions go to Forecast.io (which is a website and web app you can install on your Home screen) and The Weather Channel (free w/ ads).
The weather apps we Tested
Check the Weather, Dark Sky, Apple's iOS Weather app, Weather Line, WeatherBug Elite, Fahrenheit, Perfect Weather, Weather Dial, Yahoo Weather, Shade, Weather Live, The Weather Channel Max, Authentic Weather, eWeather HD, Weather+, Clear Day, Instaweather, My-Cast, Haze, Thermo, Windscape, SkyMotion, Pocket Weather, Nooly, Gismeteo, Solar, Garmin Pilot, WeatherBug Free, AccuWeather, The Weather Channel Free, Weather Live Free, Weather+ free, AccuWeather Free, and Weather Underground.
$4.99
Check the Weather is fast, accurate, readable, and has good accessibility support. It's just a buck and is one of the few iPhone weather apps with an iPad version as well.
App Store

$4.99