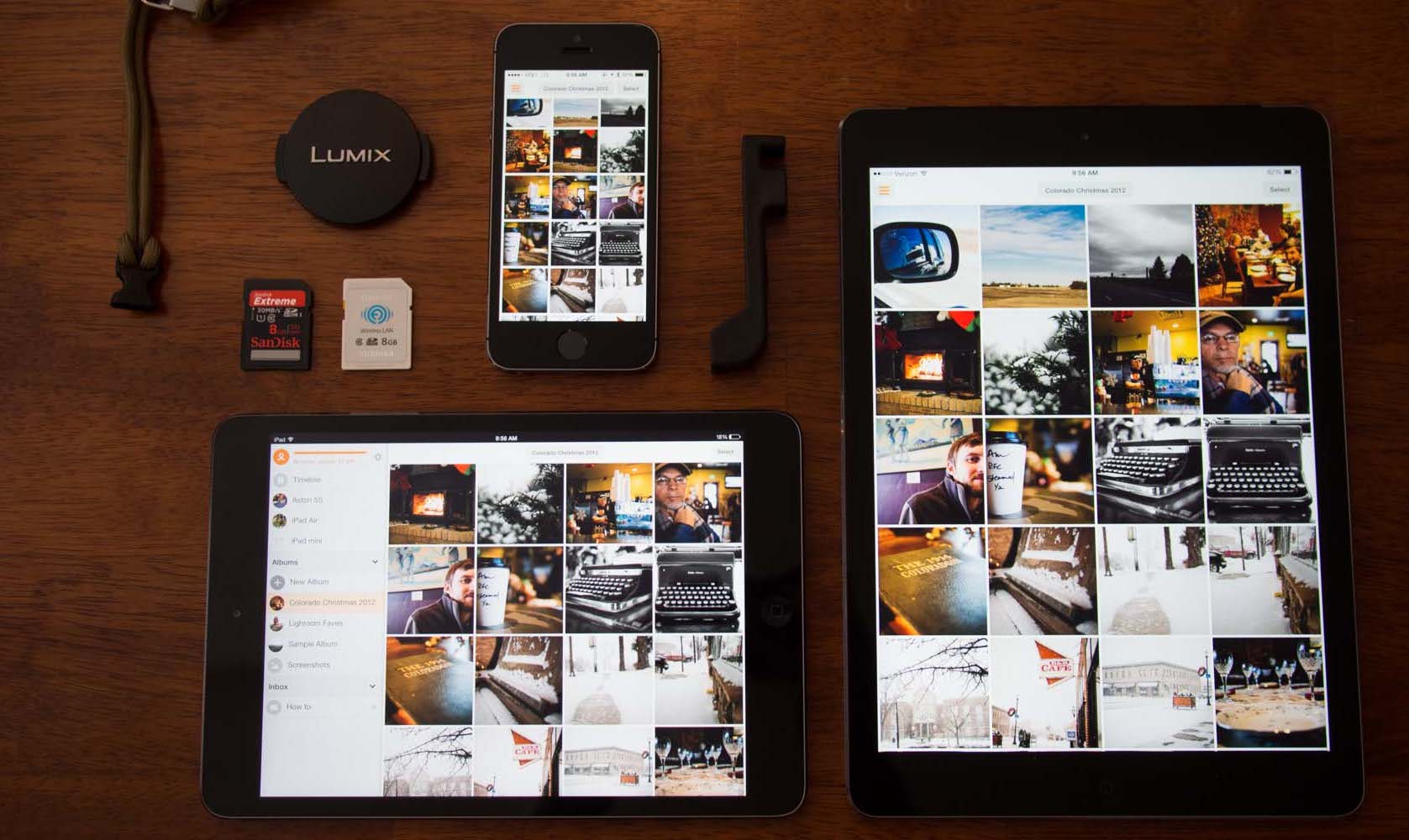 Our favorite Photo Stream alternative
Loom
Between iPhones, iPads, Macs, and digital cameras, we've got photos everywhere. What we want is a solution that allows us to access all of our photos from any of our devices, but without taking up a ton of storage on our mobile devices.
---
Note: On Apr 17, 2014, Loom was acquired by Dropbox, and on May 16 the Loom services will be shutting down. We've written an article that looks at several alternatives to Photo Stream.
---
Apple's solution to this is Photo Stream. Unfortunately, Apple has it reversed. They store the most recent 1,000 photos for 30 days. We want something more like iTunes Match; we want Apple to sync and allow access to all of our photos from all of our devices, but only store the most recent directly on our devices.
This article has changed a lot since its inception. It originally was centered around Everpix. A few weeks leading to the publishing date, Everpix announced it was shutting down. If you want to learn more about the backstory, I'd highly recommend you check out this article from The Verge. Everpix was our original favorite, but times change and we have to move on. The desire to have a better Photo Stream replacement is there regardless of a service shutting down or not.
Loom is our current favorite because of its automatic uploading on iOS and Mac and apps that are a delight to use. Below we'll get into the problem with Photo Stream, take a look at the various Photo Stream alternatives, and share why Loom is our favorite, including how to get the best use of it.
Like Everpix (and other startups), Loom is venture capitalist funded. I have no knowledge of its finances, but I think it's important to always proceed with caution. I was a happy Everpix user up until the day they announced the closing. I had no idea that there had been problems with the company. With many companies, they die slowly. Everpix, however, died quickly. I'll discuss this later, but I do not recommend that any cloud service contain the only copy of your pictures.
The way we take pictures now compared to a generation ago has drastically changed thanks to the smartphone. When I was a kid, my parents took pictures of major events like Christmas, birthday parties, and graduations. They would then print those photos out and turn them into an album to keep on the coffee table.
Now we have incredible cameras in our pocket, they have amazing software for editing the snapshots we take, and they're always connected to the interent so we can share and upload our photos nonstop. In turn, we are taking pictures of everything. Every day I probably take 15-20 snapshots of my kids. Do the math and that's more than 7,000 iPhone photos per year.
What is Photo Stream, and why would you want a 3rd-party alternative?
Photo Stream is a "smart album" of sorts on our iOS device that syncs our most recent 1,000 photos in iCloud. Let's break down exactly what problem Photo Stream is attempting to solve.
Photo Stream is meant as a way to view on our iPad the photos taken with our iPhone, and vice-versa.

You can create Shared Streams, invite friends and family to join them, and then manually choose photos from your iPhone to populate the shared stream so everyone who has joined the shared stream can see the photos.

Photo Stream is meant to free up storage on your iPhone by using iCloud as a temporary holding ground for your most recent photos.

Photo Stream isn't (technically) horrible as a short-term solution for storage. It's built into every iPhone running a modern version of iOS, so that definitely gives it a leg up on all third-party services.
Photo Stream seems like something that should just work. All our pictures are saved there, right? Well, not quite.
Alas, it's just not as user friendly as the rest of Apple's products. I know this because no one I have talked to totally understands how it works. Photo Stream also requires you use iPhoto to manage your photos. 30 days/1,000 photos sounds like a lot, but people are busy and time gets away from them.
iCloud stores the photos in Photo Stream for at least 30 days, so if you take a lot of photos and are deleting them from your iPhone's local camera roll, then you have one month to open iPhoto on your Mac and download the photos from your Photo Stream and into your iPhoto library for permanent storage.
To make sure you don't lose images in case your iPhone is lost or broken, you have to maintain your Photo Stream. Transferring photos to your iPhoto library or your iPhone's camera roll actually requires a fair amount of effort from the user and feels out of touch with how easy the rest of the iOS experience is.
Apple expects customers to open iPhoto and download their Photo Stream photos to their computer within the 30 day / 1,000 photo limit. This is still using the digital hub model that we have largely moved away from. The cloud is supposed to be the new hub, not the computer.
Another disadvantage to Photo Stream's 1,000-image limit is that it places a cap on how many photos you can browse from other devices. You may have thousands of photos you've taken on your iPhone, but you have to manually transfer them to your iPad if you want to see all of them on there. And the same goes for any photos you've taken with a digital camera and saved onto your Mac or iPad — you have to manually transfer those images to any other devices from which you want them to be visible.
So, if Apple's built-in solution isn't the best for having access to all our photos on all our devices, what is?
Loom
We recommend Loom as the best alternative to Apple's Photo Stream. Here are some highlights:
Loom automatically uploads pictures from iPhones, iPads, and Macs, including photos from your digital camera. And it can run in the background on your iPhone, so you don't even have to think about opening the app to upload your iPhone photos.

The Loom website and iOS apps offer a great way to browse all the photos you have uploaded to Loom regardless of what device you are browsing from and what device you uploaded from. So, for example, if you have a digital camera and you have those images saved on your Mac, Loom can automatically upload those photos and make them available to browse from your iPad and iPhone.

Loom offers a free account that will sync 5 GB worth of photos. If an average iPhone photo is 2 MB, it means you can fit about 2,500 photos in the cloud. If you take an average of 10 photos every day, this will probably give you around 8 months worth of photo syncing for free. However, on the free plan, no new photos will be uploaded once you hit the 5 GB limit.

Loom offers two paid pricing plans. They offer a 50 GB plan for $39.99 per year or a 250 GB plan for $99.99 per year. If you want to pay monthly, the pricing is $3.99 per month and $9.99 per month.
Importing / Uploading Photos
How do you get your photos into Loom? It's simple. Start by downloading the Loom iOS app and signing up for a free account. Then, within the App's settings, enable syncing of your camera roll and background upload (this is using the new iOS 7 app refresh).
Loom can also upload over your cellular connection, whereas Photo Stream will not. This can be very helpful if you are on a week-long vacation without access to Wi-Fi. Imagine if you took a few hundred photos while on vacation and left your phone at a restaurant on the way home. If you used Photo Stream, all those photos would be gone. If you were using Loom and had cellular uploading enabled, photos would be uploaded throughout the week. While losing your phone would certainly be stressful, it will be a lot easier to handle knowing that you did not lose your vacation photos.
Additionally, Loom supports uploading from your Mac via its Menu Bar application. You can set it to watch multiple sources (iPhoto, various folders, etc), and whenever a new photo is added to that folder (even if it's a photo added to a folder within a folder within another folder), then Loom will upload it.
Recently, Loom added the ability to download entire albums from the Mac app. This is helpful if you upload a lot of photos from your iPhone directly to Loom and want to download a copy for safekeeping.
Aside about backing up
As photos are uploaded to Loom, you are free to delete them from your device if you wish. However, with something as precious as photos, I wouldn't let any service hold the only copies of my photo library.
I suggest making a reminder (maybe on a quarterly basis) to routinely download your latest photos (using the download feature from the Mac app) from Loom and store them somewhere offline. Loom serves as a great way to have all your photos available from any device, but they are not meant to be a long-term storage and backup solution for your photos. As we saw with Everpix, cloud services are not always forever.
Getting the most from Loom
Once you have Loom set up, there is nothing more to do but open the app and browse through all your photos.
I really like the Loom iOS app. It feels very modern and is very fast, and also has an iOS 7 style design. On the side bar is a 'timeline' view. This is where I hang out the most. It's like a collage of your photos that you can simply scroll through.
You can also create albums to better organize your photos. I do a lot of uploading from the Mac and it organizes my folder structure into albums automatically. This makes it easy to quickly recall a photo from a specific month.
As I mentioned earlier, it's already supporting the new background app refresh API in iOS 7, so you never have to worry about remembering to open the app to make sure your photos are uploaded.
Loom also has a nice feature called the 'Loom Inbox'. If another Loom user shares a photo (via a link) with you, it will be added to your inbox. From there you can move or copy the photos to a permanent album. You can also easily share to someone without a Loom account. They will be able to view your photo on the web and download to their device or computer if they wish.
If there are multiple iOS devices in your family, you can share a single login with your spouse so the two of you can share access to all the same photos you're each taking with your iPhones.
Loom can save you storage on your iOS device
Loom takes up minimal space on your iPhone or iPad.
Loom can be a "data saver" for people who have iPhones and iPads with 16GB of storage. I helped one of our school parents migrate her data from an iPhone 4s to an iPhone 5s recently, and her camera roll had 8GB of photos on it. If she was using Loom, she would have been able to save room for more music and apps, all her photos would still be accessible (assuming she had a network connection), and she would also save money by not having to pay for an expanded iCloud upgrade. She is paying $20 per year for 15 GB (5 free + 10 paid). Which is half of what Loom's 50GB plan costs while only offering less than 1/3 the storage.
The Competition: PictureLife
Where does PictureLife differ from Loom? The uploading from iOS and Mac is very similar to Loom. The only difference is that on the Mac, PictureLife will import new photos directly from an iPhone (when plugging in) or a digital camera without having to copy to a folder first. This is very similar to the way Dropbox will import photos from your digital camera or SD card. I don't take advantage of this feature because I want to make sure my photos are in the correct folder on my computer before I sync them to any cloud service.
The Mac app also allows you to drop photos on the icon and it will create a sharable link automatically. It also supports importing via Tumblr, SmugMug, and Foursquare, while Loom does not.
While both PictureLife and Loom have various sharing options, PictureLife has a 'Share with Family' feature. It allows you to define people as family and this will send that photo to them and allow them to add it to their library. Personally, I prefer PictureLife's pricing plans over Loom's. They have a $70 per year plan that offers 100 GB, a $150 per year plan that offers 300 GB, a 500 GB plan for $250 per year, and a 1 TB plan for $400 per year. They are hovering at the higher end of data usage where Loom is covering the lower end. I'd like to see both companies offer an unlimited plan for a flat rate in the future.
PictureLife is a really nice service and you'd certainly not be disappointed if you signed up. In fact, there are certain things about it that I prefer over Loom. However, at the end of the day, I have to pick one. I think that Loom has a drastically better website. Also, Loom for iOS is updated for iOS 7 and supports the background app refresh. The iOS app also just feels simpler. Again, it is a tough decision as they are very similar services. If Loom and PictureLife were running a race, Loom would win by a nose.
What about Flickr?
Flickr has been around for a while (created in 2004) and has gone through various transitions over the years, some good and some bad.
Since Marissa Mayer took over the reins at Yahoo, Flickr has received several updates after years of neglect. The biggest news was that all accounts now have 1 terabyte of storage (yes, tera with a "t"). That is a ton of storage for free. They also recently added automatic uploading to the iPhone app.
The question for our purposes is: could Flickr become the best Photo Stream replacement?
Well, it has some things going for it:
Free storage for up to 1 terabyte (this is probably more than most people could ever use)
Auto upload on iOS 7 iPhone app (using the new background app refresh)
Owned by a thriving company that is not a startup (even more important in the wake of the Everpix shutdown)
Auto uploads are set to private by default
As glad as we are to see Flickr evolving and maturing, we do not consider it to be a good Photo Stream alternative. Here's why:
Flickr is primarily a social network centered around photography. The photos you upload to Flickr are meant to be shared with others and commented on by others. When you upload to Loom, the photos are meant for you to enjoy.

Flickr lacks a Mac app that has automatic uploads. This is especially cumbersome when you have a digital camera in the mix of devices contributing to the photo library.

There is no official iPad app from Flickr, though there are multiple third-party iPad apps. Flickring is probably my favorite.
Having a backup of your Photos
Are any of these services a wise move as your only backup of your photos? Maybe I am a little 'old school,' but I like to keep a local copy of my photos, my most treasured possession. What do the various companies say about this?
Loom says users are free to delete photos from the source (iOS, Mac, etc) once they are uploaded.

PictureLife appears to consider itself a backup. While they never outright say it, the wording they use does indicate continuous automatic backup. They are also working on a mass export. They currently support downloading a month at a time.

Flickr says it's the best way to store, sort, search and share your photos online. It makes no mention of considering it a backup or the single source, though.
For a backup strategy, I'd recommend using Apple's Time Machine to backup locally to a USB hard drive. This will place a copy of your photos on Loom, on your Mac, and on your Time Machine drive. If you want to be really secure, I'd look at a dedicated off-site backup service like Crashplan or Backblaze. Both services offer unlimited backup for a yearly fee.
I also wrote a small ebook on photo management where I go through some of my backup methods. You can find out more about it here.
Wrap Up
To recap, Loom is the best Photo Stream replacement because:
Automatic background uploading from iOS (using the iOS 7 background app refresh) and the Mac (menu bar icon).
Easy to download full-resolution copies of any or all of your photos to a Mac that were uploaded from an iPhone (more info here)
It has the best designed web and iOS apps of any of the current options.
It's like having iTunes Match for your photos. You don't have to think about what to sync to your device. It's all available at any time and takes up minimal space on your iOS devices.