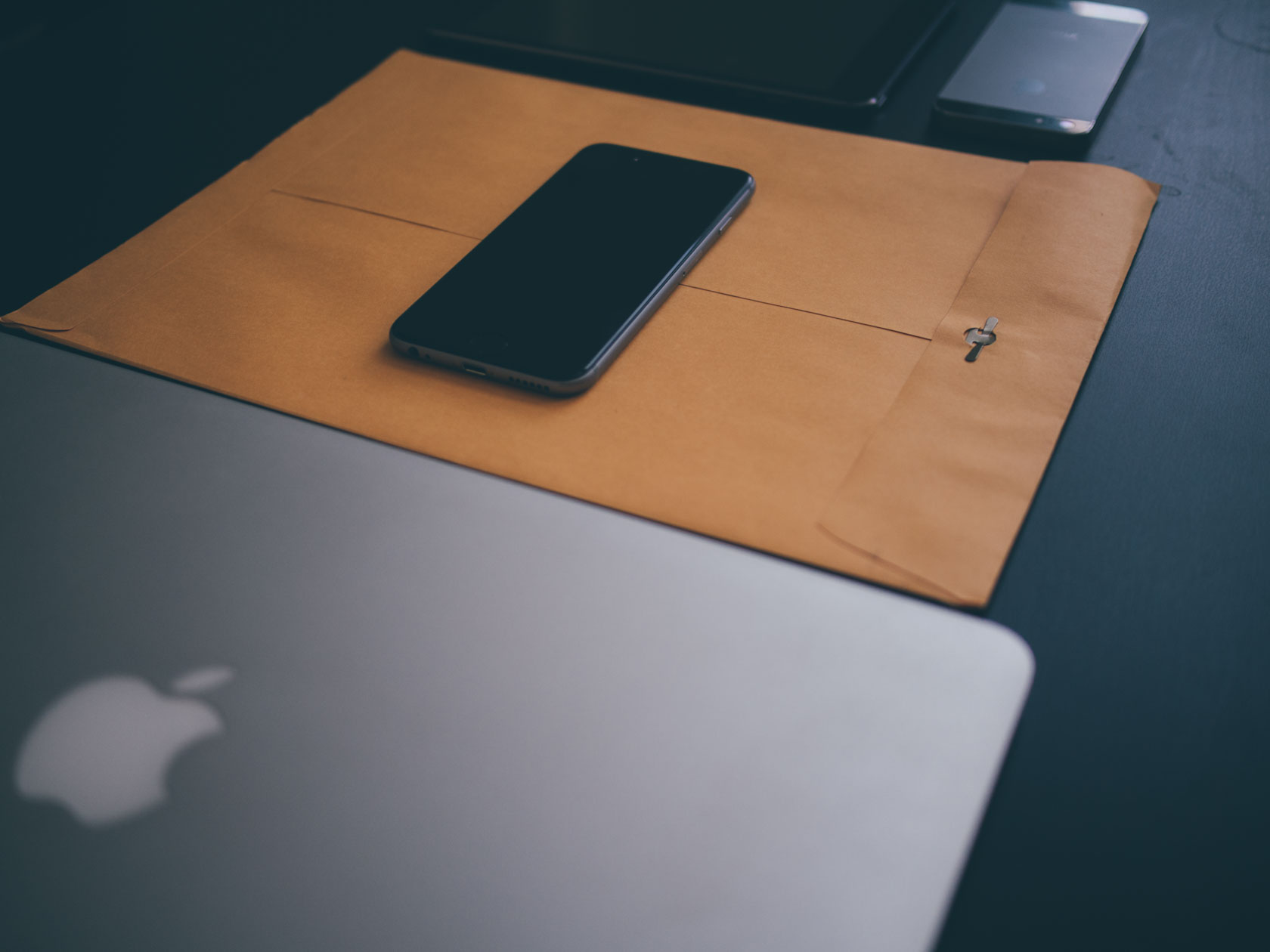 Our favorite way to easily share files, images, and links
Droplr
May 13, 2015
The Apple ecosystem has no shortage of ways to share files. There are countless apps and services that aim to make this as easy as possible. With a lot of the articles we write here at The Sweet Setup, we are comparing apps and services that are virtually identical outside of user interface. With this category, that is not the case. These apps, while appearing similar, all have a different focus.
With a plethora of options, what is our favorite cloud service/app for file sharing? With an incredible feature set, active development, and a sustainable business model, Droplr is our favorite way to share files, make simple annotations, and track links.
Some apps focus on simple file sharing while others focus on the ability to annotate over screens. As we do with all our favorite picks, we explain what criteria we used:
Capabilities
These must do enough to warrant being installed as well as the purchase price. We expect apps in this category to create shareable links automatically, create links that are able to handle substantial amounts of traffic, and ideally give some sort of analytical data about the number of times a shared item is viewed.
Ease of use
Nothing is more frustrating than an app that is supposed to make something easy, but misses the mark. These apps are designed to make sharing files easy, so missing this makes it dead on arrival. Apps in this category should be well-integrated into Apple's OSes.
Price
While $5 a month here and $2 there doesn't seem like much, it does add up. Should these apps be a one-time purchase or have a monthly fee? Do they do enough to justify the fee?
UI and UX Fit and Finish
Do they fit in with iOS 8 and Yosemite? Do they take advantage of the latest features?
Cross-platform
Do they work on the Mac, web and iOS? Is the experience the same across all of them?
Droplr
So at the core, what is Droplr? Droplr is about sharing images. It's right there on the front of their homepage. While that is the main feature, it can really share anything. Almost any type of file can be uploaded and shared through Droplr. It has built-in screen shot annotation on the Mac. You can type text notes right into Droplr, and you also just share links (allowing for custom URL branding).

The new version (4.2) also added a sharing extension for Yosemite and screen recordings. Like I said, simple screen shot sharing is the goal, but it performs beautifully with all kinds of content. The app gives you a view count on all of these types of content.
Using Droplr is incredibly easy. On the Mac, it lives in the menu bar and gives you one-click access to all of its options. Clicking the menu bar icon shows you a list of your most recent "drops." You can also quickly upload files and screen recordings, take screen shots, and record reaction GIFs all from there.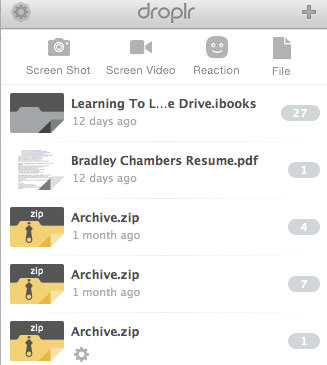 Droplr allows you to set keyboard shortcuts so you can interact with it without taking your hands off the keyboard. You can also drag and drop files on top of the menu bar icon for fast uploading. I'm a really big fan of the simple screen shot annotation as well. I use this for those times when I just need to fire off something quickly. If you're a mouse-heavy user, you'll appreciate the "Share with Droplr" option that is added to OS X's services menu after the app is installed.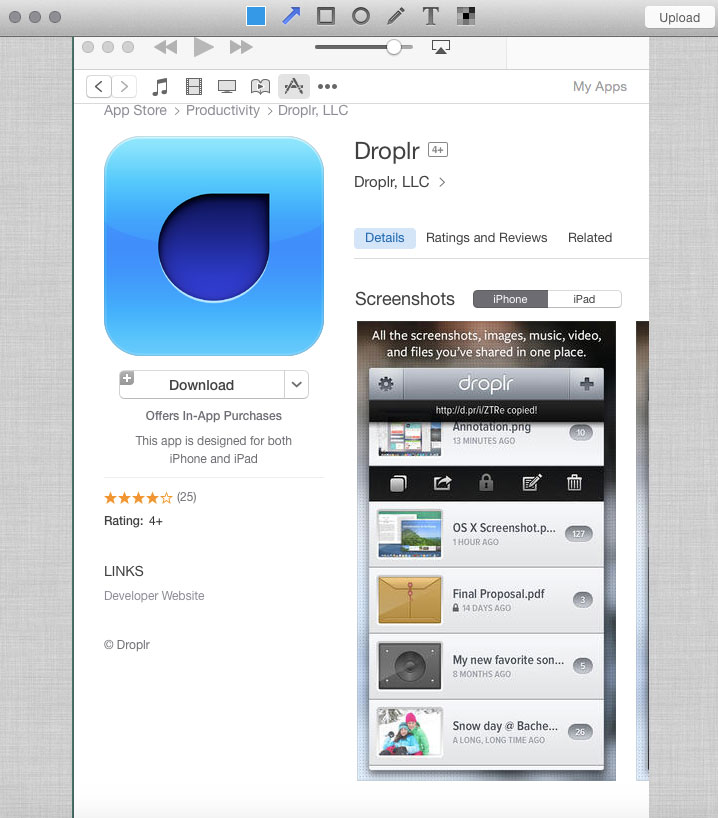 Droplr's "create a note" feature is aimed at anyone from the programmer, a writer using Markdown, or someone wanting to share a Christmas list. If you paste a paragraph with Markdown in it, the public link will actually render the Markdown into rich text. The owner of the drop can also edit the text on Droplr's website. It even displays smart syntax highlighting and line numbers. Is it a true Markdown editor and code snippet manager? Not even close, but it's highly useful for quick sharing.
Droplr also recently launched a great new feature: self destructing drops. This is actually fantastic. Much of what I am using Droplr for is quick shares, and it never has the only copy of a file for me. Being able to have those automatically disappear in a day or a week is fantastic. This makes for a great security feature with content that you want to disappear. While this was certainly possible to do before with Hazel or a Reminders notification and a manual delete, it's nice to have it automated. Do you need to send a quick link to your W9? This would be a great way to make sure the link disappears within the hour.
The iOS app has recently seen a complete design overhaul. Along with support for iPhone 6 and 6 Plus, it has self-destructing drops, an iOS 8 sharing extension, and real-time push from the desktop version.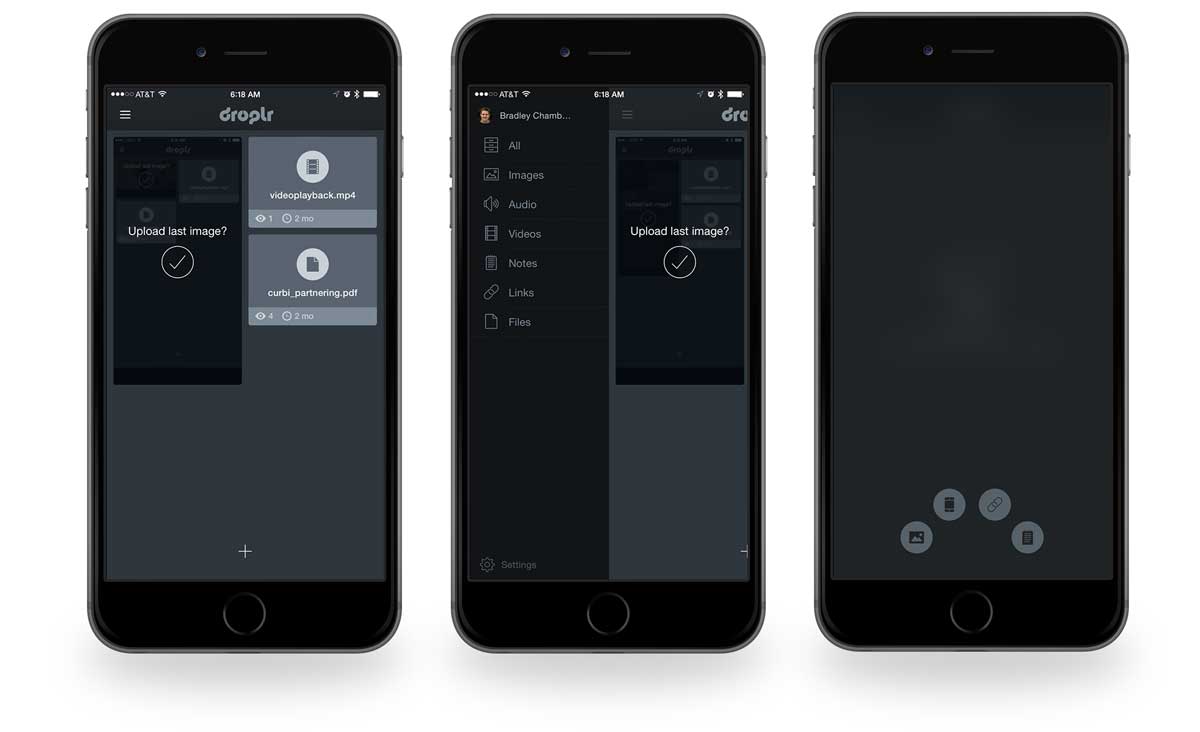 Design-wise, Droplr is great. It strikes a nice balance between minimal and still highly useful. One tap on the Mac menu bar icon and you can see your most recent links along with your click count on those. My main complaint would be that I want a way to see all of my drops without having to visit the website.
Droplr offers two plans: free and unlimited. The free version has one major caveat: shared files expire after one week. If you want to keep your links active for longer, you'll want to move to the unlimited version at $9.99/month or $99/year (It's on sale until 6/5/15 at $59.99 for a year). The unlimited plan gives you some additional features like custom link branding, ability to embed image drops into a website, and ability to create private drops.
Droplr is an app that is focused. Its goal is to make sharing files easy. All of the apps have been updated for the current OS on each platform, so it's a product that is being maintained.
CloudApp
CloudApp is another Droplr-like service that has been around for a number of years. Like Droplr, its goal is to remove friction from sharing files online, and works with screenshots, screen recordings, and URLs. It also lives in the Mac menu bar, where you can drag and drop files and the links will be copied to your clipboard, just like Droplr.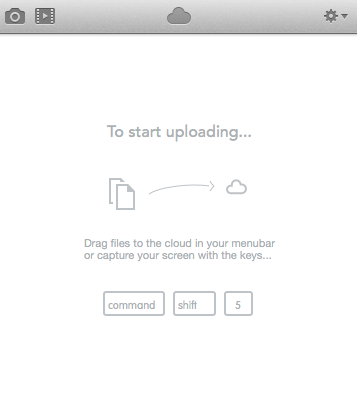 On the surface, Cloud App and Droplr look exactly the same, but CloudApp is missing a few features that tip the scales toward Droplr.
The first is the inability to compose notes directly into the interface. While this might seem like a trivial feature, it actually adds quite a few steps to sharing text. With CloudApp, I have to open a text editor, write, save, and then upload that file to CloudApp. In Droplr, I can simply compose a new note right into the app.
Another area that CloudApp struggles in is iOS. There is no official iOS app on the App Store. A blog post back in June mentioned that Cloudier was going to become the official client, but there's been no word on the subject since, and the app hasn't been updated since March 2014. RainDrop, ClouDrop, and Up are a few other iOS CloudApp iOS apps.
The lack of an official CloudApp iOS app on the store makes it difficult for consumers to know which one is the best. As CloudApp adds features to the main app (and the API), third-party apps will have to then decide if/when/what to integrate. With the apps being sold for $1.99 or less, what is the motivation to keep up with API updates and enhancements? With the shift to the iPhone 6 and 6 Plus, we are seeing plenty of apps not being updated as well. The complaint isn't that they haven't been updated yet, but it's a question of if they ever will be.
Droplr has a vested interest in keeping their iOS apps updated because they own them. Again, I know that Cloudier is going to become the official app, but its been 5 months since the announcement.
Like Droplr, CloudApp has a free plan. It is limited to 10 files a day (25 MB each). The paid plans start with a 500 MB file size for $10 a month. The next jump above the 500 MB plan is the $29 per month plan (for 3 GB). You can view their entire pricing catalog on the website. I think 1 GB is a nice file size limit on services like these. File sharing apps aren't typically meant for moving HD movies around, but 500 MB feels like a size that you might bump into occasionally.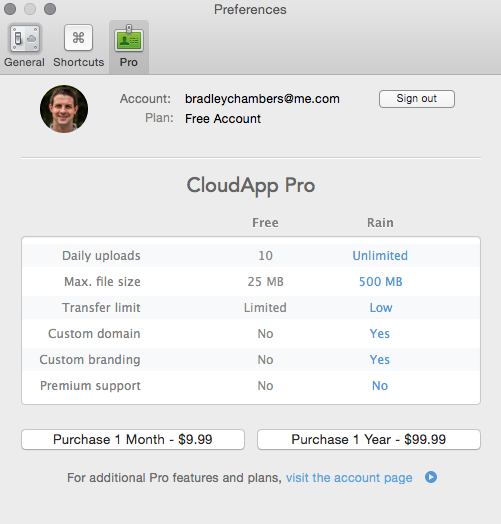 If you are looking for a free service, CloudApp is great. Outside of that, I'd have to recommend Droplr for anything else.
Dropbox
Dropbox is well known in the Apple community. It's been the defacto file syncing service for a few years now. It's well-integrated into a ton of iOS apps and the Mac, it supports file sharing, automatic screen shot importing, and you probably already have it installed on your Mac. Why wouldn't we just use this and get rid of Droplr?
At the end of the day, you can pretty much do everything in Dropbox that you can in Droplr. The Dropbox app can automatically import (and copy the link to your clipboard) your screenshots taken with the built-in keyboard shortcuts (CMD+SHIFT+3 or CMD+SHIFT+4). Dropbox can sync pretty much any file you can throw at it as well. Sharing options are built right into the Mac contextual menu, and while it's possible to do everything Droplr does in Dropbox, it's just not as fast. Annotating a quick typo on a website in Droplr is dramatically faster than taking a screenshot, editing it in something like Preview, and then uploading it to Dropbox.
Droplr files are not stored locally, so it doesn't take up precious hard drive (or SSD) space. I also really like the ability to drag and drop files onto a menu bar icon, which Dropbox doesn't do. You must first drop the file you want to share in the Dropbox folder in Finder, right-click it to get a link to share, and then send it somewhere. In Droplr, you drop the file on the icon and a shareable link is copied to your clipboard. While that doesn't sound like a lot, if you do it 15-20 times a day, it saves a lot of time.
Similarly on iOS, Dropbox is not designed for quick file sharing. While you can share everything but links, it takes more steps. You have to upload and copy a shareable link. With Droplr, uploads are immediately copied to your clipboard.
Other candidates
Apart from Droplr, CloudApp, and Dropbox, there were several other apps that met our criteria for cloud file sharing services, but didn't make the cut as the top performers.
GrabBox
GrabBox is a Mac app that grabs your screenshots, copies them to your Dropbox Public folder, and copies the link to your clipboard. Before Dropbox offered this feature, this would have been nice, but I'm not sure why using this over the built-in Dropbox tools would be necessary.
TinyGrab
TinyGrab exists simply to share screenshots. It automatically grabs your screenshots taken with the built-in keyboard shortcuts and uploads them to TinyGrab. This app seems to be abandoned. The iPhone app that is mentioned on the website is no longer available in the App Store, the blog hasn't updated in 2 years, and their last tweet came earlier this year, which was in response to someone asking what happened to them. Like GrabBox, it really offers nothing over using Dropbox. Dropbox can pretty much do anything it can do. In a world of yearly OS X updates, I can't recommend an app that hasn't seen an update in years.
Dropzone
Dropzone is a Mac menu bar app that allows you to upload files to FTP, S3, Imgur, Twitter, Flickr, etc. It's well-maintained and has 4.5 stars on the App Store. Dropzone is the ideal app if you want to control every bit of your data. You could essentially build a Droplr-like file sharing service using S3 or your own FTP server. It's a great app, and it does a whole lot more than just simple file uploading. Shawn Blanc had a nice write up about it a year ago.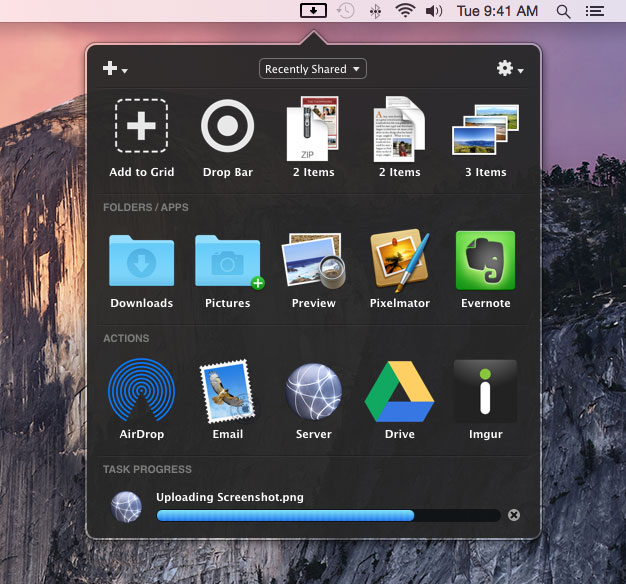 As a file sharing app, is Dropzone better than Droplr? Droplr is still the fastest and easiest ways to share files. Features like self-destructing files, built-in annotations, link sharing, and a built-in note composer set Droplr apart. If you want your shared files on storage you control, Dropzone is the best option out there.
Dropshare
Dropshare is similar to Dropzone in that it lives in the Menu Bar on the Mac and works with various external services, such as Amazon S3, Rackspace Cloud Files, or your own server (SCP over SSH). Like other services, it works with text documents (can convert Markdown to HTML), screenshots, and other types of files. It also has built-in screen recording (full screen and selection-based). Overall, It's really a powerful app. Like Droplr, you simply drag a file to the Menu Bar icon and it handles the rest.
An iOS version was just released yesterday as well. Our friends over at MacStories have a nice write up on it. While it's mainly a stripped down version of the Mac app, it does have a native sharing extension, which allows you to upload from any iOS app that has a native share sheet. It also includes a syncing service in order to make all of your uploads available on all devices. It's a great companion to the Mac app.
Dropshare is becoming a really powerful ecosystem, but it does require the use of external services in order to use it. If you want to use your own solution using S3 or Rackspace, Dropshare is the way to go. With an iOS and Mac app, it is an ecosystem that can go with you anywhere. Droplr is still our favorite because it's a turn key solution. You sign up, download, and start sharing — no other services to configure.
Transmit Droplets
Like Dropzone, Transmit is a great solution for building your own system and owning your data. Transmit has a feature called "Droplets" that allows you to make an icon (even on the Dock) to drop files onto. It will then upload that file to whatever destination that Droplet is configured to upload to (your S3 bucket in a certain folder, etc). While this is extremely helpful for uploading files to a client website, it's not so useful for quick file sharing. For example, the URL is not automatically copied to your clipboard. You could either build a TextExpander snippet to generate it automatically, or you could launch Transmit and get the URL by right-clicking the file. Transmit for iOS is available, but it's not going to be as simple as using a dedicated tool like Droplr.
iCloud Mail Drop
iCloud Mail Drop is a new feature with Yosemite. It allows you to send email attachments (up to 5 GB, which doesn't count against your iCloud storage quota) to someone regardless of what email provider they use. While this is an awesome feature, it's not built for simple file sharing. This requires you to actually send someone an email. This wouldn't work for Twitter, iMessage, Slack, etc. While Mail.app on Yosemite also supports image annotations, it's still not an apples-to-apples competitor to Droplr. There is no way to manage files or upload new files to it on iOS, either.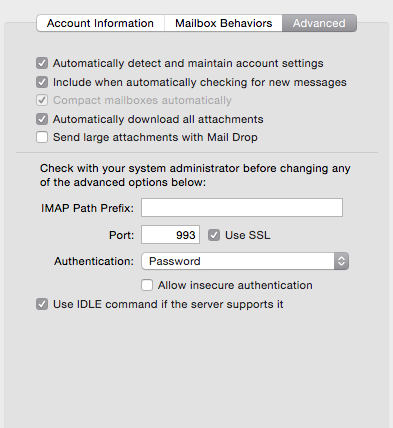 A couple of nice things that Mail Drop does:
Works seamlessly with non-iCloud email accounts.
Works with non Mail.app users (they will see a URL to download).
Files stay active for 30 days and then disappear.
Hightail
If I had to describe Hightail in one sentence it would be: "An enterprise version of Dropbox." With features such as an Outlook plugin, ID verification, SharePoint integration, and the ability to sign documents, this is aimed at business users. It's not that it wouldn't work for consumers, but you won't see GIF-specific features, which is important to some of us.
Like Dropbox, it's a folder that syncs. You can also select folders outside of the Hightail-specific folder that can sync as well. The free plan contains some nice features: 250 MB file size, 2 GB storage, and return receipt on file downloads. The free plan is limited to 100 downloads per file and only 1 GB of bandwidth, though. If you move to one of the paid plans, you get a 10 GB file size limit and unlimited storage/bandwidth. Paid plans also get secure delivery which allows you to password protect folders, create time limits, set read-only files, and track downloads.
Hightail has a nice iOS app. It supports all of the features you'd expect: file sharing, file organization, and iOS-based signatures. It feels more like a Dropbox replacement than a Droplr-killer, meaning it's meant to replace Dropbox on the Mac rather than be a simple file sharing service.
With paid plans starting at $15.99, it's hard to recommend Hightrail unless you need the very specific feature sets it offers.
Conclusion
As I mentioned earlier, there's no shortage of file sharing applications in the Apple ecosystem. While Dropbox is probably installed on the Macs of most people reading this article, Droplr is our favorite for cloud file sharing. It's not that we don't love Dropbox, because we do, but it is that Droplr is laser-focused on allowing its customers to share files. It doesn't want to be a folder that syncs. It's a utility app that uploads your files, gives you a link, and disappears. With that being the goal, they've nailed it.
$4.99 - $9.99/Monthly
Droplr is our favorite file sharing app because it's easy to use, is priced fairly, and works on all our devices.
Website

$4.99