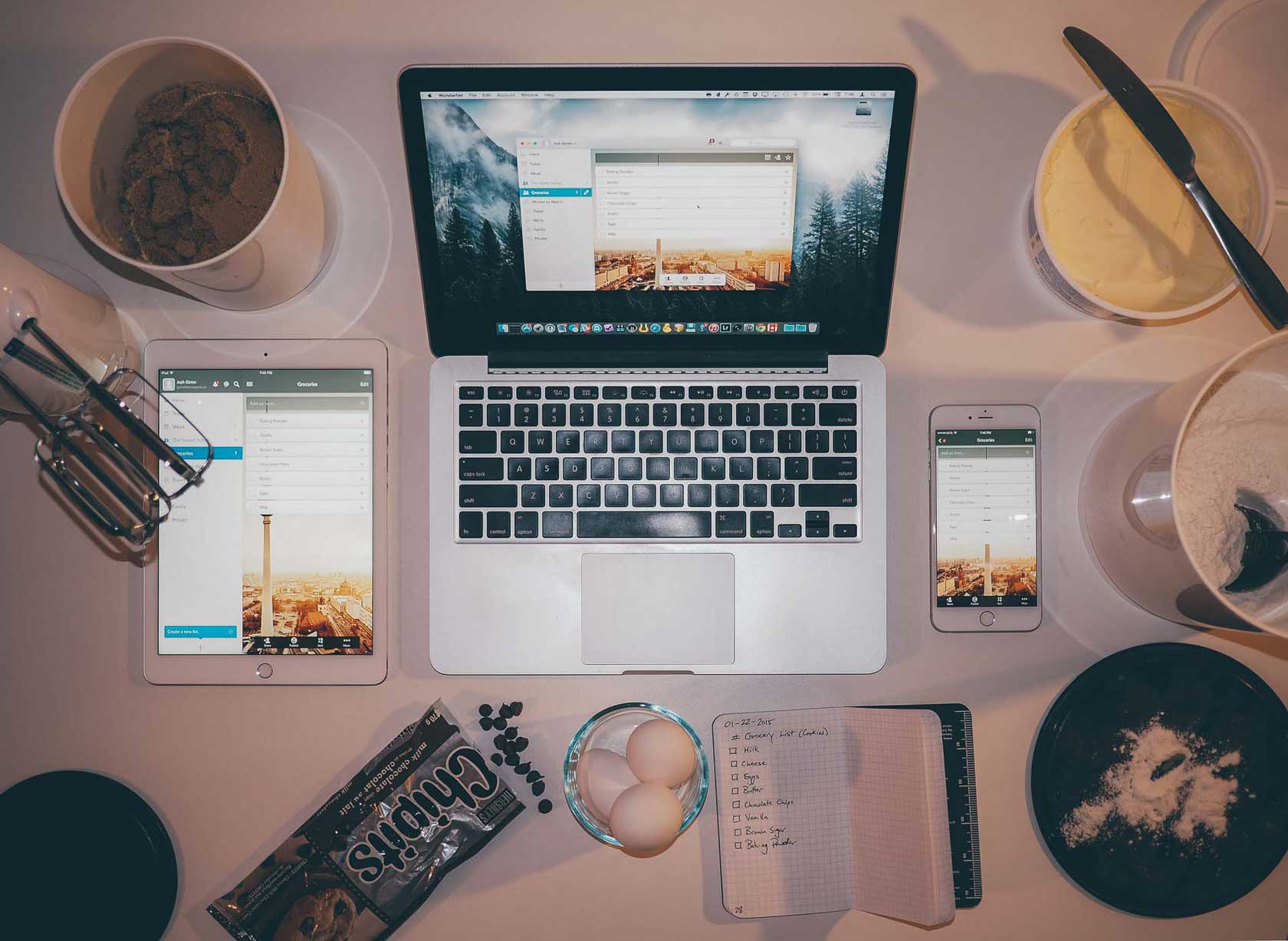 Our favorite app for shared lists
Wunderlist
June 20, 2017
Wunderlist is our favorite way to share tasks between people because it runs on every major platform, syncs seamlessly, and makes collaborating with others very simple.
If you just want a bit more than a shared list, Wunderlist stays out of your way. But if you want a few extra features, it'll support what you need. Wunderlist also makes a good personal list and task manager as well, so if you don't want to juggle two apps/services, you can manage all your lists (both shared and personal) with Wunderlist.
Editor's Note: In June 2015, Wunderlist was purchased by Microsoft. It was recently announced that is becoming Microsoft To-Do. Wunderlist will be discontinued in the future. We are currently evaluating other options.
Introduction
It was not an easy task choosing the best shared list app, but moving to and working on a new house gave my wife and I the perfect occasion to put numerous options through extensive testing.
After reaching out on Twitter to see what apps our followers used for shared list apps, we decided to take a look at apps in three different categories:
Standard list apps
Plain text list apps
Apps not designed specifically for lists
In the process of moving, working on, and keeping up with a house, as well as all the things that need to be shared by a working couple, my wife and I have found Wunderlist indispensable for sharing and collaborating on all of our numerous lists.
Without a simple and reliable shared list app, it's easy for someone to ask the other to take care of something and for it to slip their mind. You then feel like you are bugging them (or being bugged) when the same thing gets brought up over and over. With Wunderlist, we simply put the item on the appropriate shared list and know we will both see it.
Editor's Note: We have already named Clear as the best list app and OmniFocus as the best GTD app. However, there are different criteria for a good shared list app — and sharing is a feature neither Clear nor OmniFocus supports.
Welcome to Wunderlist
The criteria we considered when picking our favorite shared list app include:
Fast and transparent syncing of lists
Ease of sharing lists
Ability to view/edit lists outside of iOS
In the end, with its intuitive design and great syncing and sharing, Wunderlist (Free, $4.99/mo or $49.99/yr for Pro) came out on top.
Design and User Interface
Wunderlist has a clean design and easy-to-learn user interface. It looks right at home on iOS these days, sporting a flat UI with just enough personality.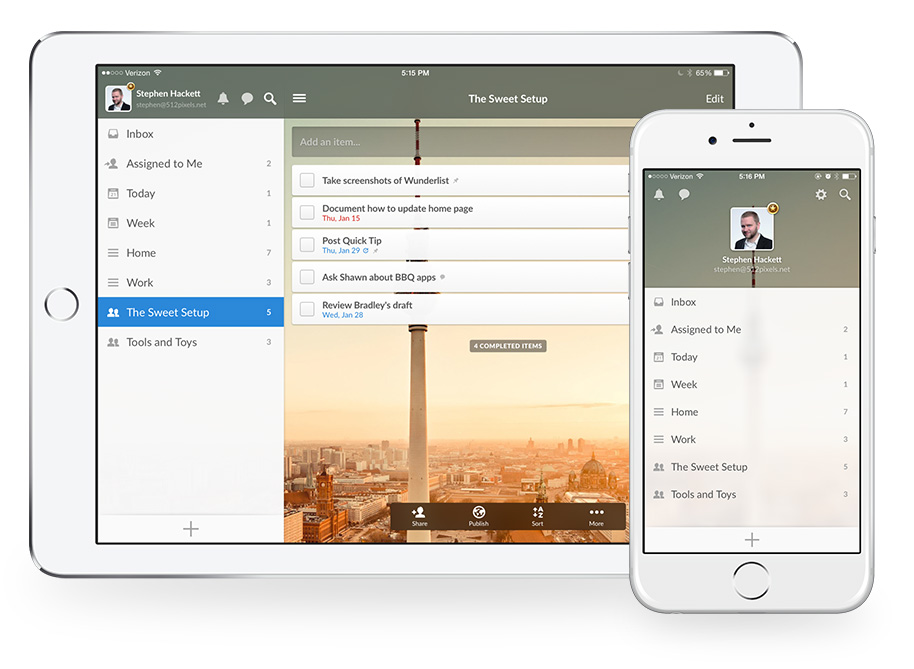 Intuitive taps and swipes make the app second nature. The ability to change the background lets you adjust the feel of the app (I am partial to the wood background, but a Pro account gives you more options).
Syncing and Sharing
Sharing and syncing lists requires both parties to have a free Wunderlist account. In our testing, we found the Wunderlist sync engine to be the best in class (even better than Apple's iCloud, which may not come as any surprise).
Apple's native Reminders app and Wunderlist are the only options that have real-time syncing. Real-time syncing is an important attribute for the best shared list app; if your lists don't sync seamlessly, you could experience confusion among collaborators. Not only does an app need to have real-time syncing, but it must work seamlessly every time. With real-time syncing, if you add, delete, or check off a list item, within a few seconds it shows up on all your devices (and all devices it is shared on) without manually initiating a sync.
In short, Wunderlist syncs tasks quickly, seamlessly, and reliably. Most of the time, it's so fast that if you have your iPhone or iPad unlocked, you'll see a new task or change show up on the device the moment you hit the Enter key on your Mac. It's crazy.
This is key to feeling confident that all your lists will always be up to date.
Wunderlist also makes it effortless to share a list. Simply enter in an email address and Wunderlist sends an email and notifies the person you are sharing with them inside the app (if they have it installed and have an account).
When you assign a task, the assignee automatically receives an email notification that they were assigned a task. There is also a handy smart view that allows you to quickly check what tasks have been assigned to you across all your lists.
If you want to share the list with someone who doesn't have and doesn't want Wunderlist, you can also email or print your lists or even share them publicly.
This flexibility helps Wunderlist scale. The app offers a lot of functionality for free, but for $4.99/month or $49.99/year, you get:
Unlimited files per item
Unlimited assigning per item
Pro backgrounds
Unlimited subtasks per item
The fee can be paid online via a credit card or PayPal, or via your iTunes account, as an in-app purchase. Our guess is that most users won't need to pay, but if you do, $5 a month isn't bad at all for such a well-made tool.
Importantly, Wunderlist can be anywhere you are. There's a version for every platform from Android, Windows Phone, ChromeOS, iOS and the Mac.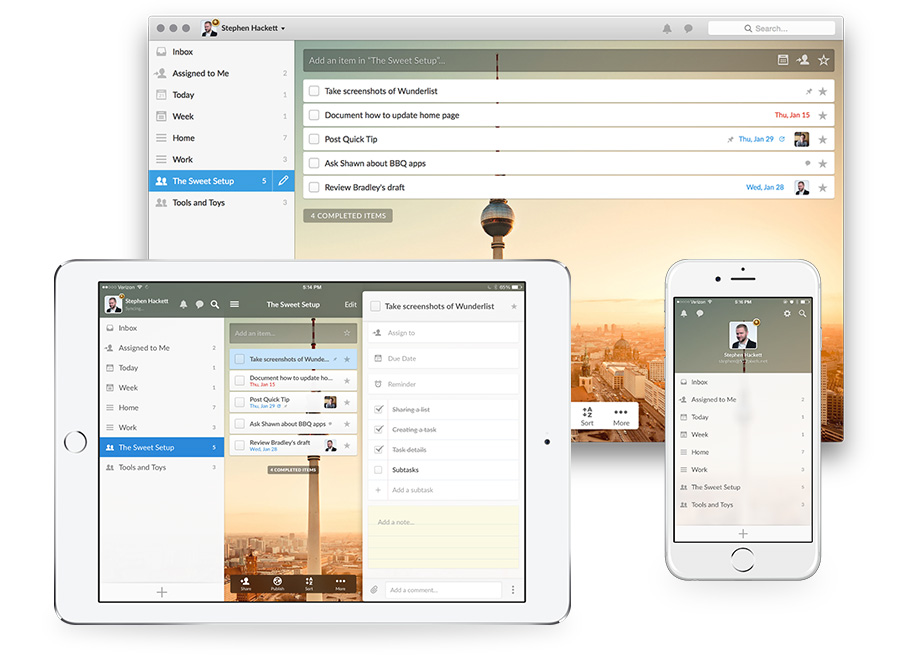 This cross-platform compatibility is a an extremely valuable feature if you're looking for a great app that syncs lists with other people. If, like us, you have friends, family, and co-workers who use a non-Apple device, then Wunderlist means you can still collaborate and share lists with them. You're not locked into sharing lists only with people on the Apple platform.
Other Features
Wunderlist also supports due dates, reminders, repeating tasks, tags, task assignments, notes, and comments for each list item.
While this may make it seem like the app is too complex for a simple shared list app, the UI keeps the more advanced features out of the way, while at the same time making it easy to access them.
Due dates and Reminders
You can set a due date — but not time — for each item in the list.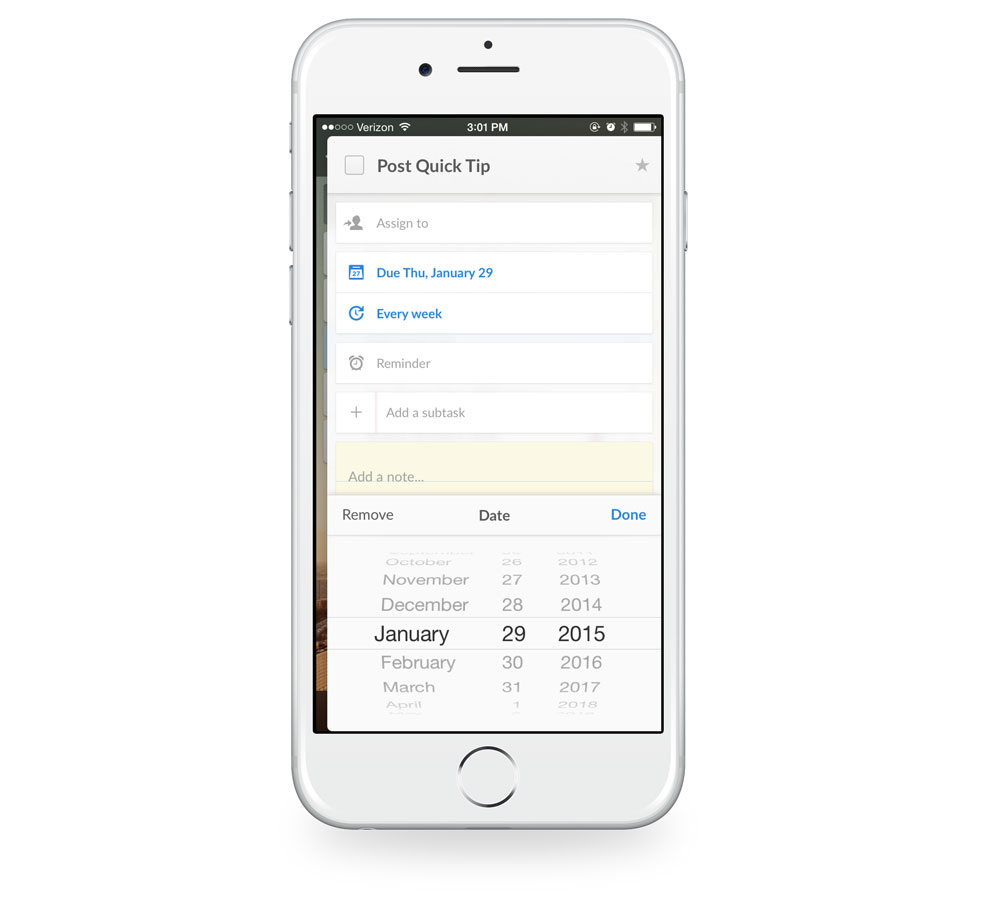 Wunderlist doesn't send a push notification for due items; instead, they are added to Smart Lists for items that are due today (or are overdue) and ones due in the coming weeks.
Instead, you can set a reminder for a date and time on each list item. Reminders are not synced amongst other users in the list — just you. It's a great way get reminded of things that are truly important, cutting down on noise for tasks that don't have to be top-of-mind on any given day.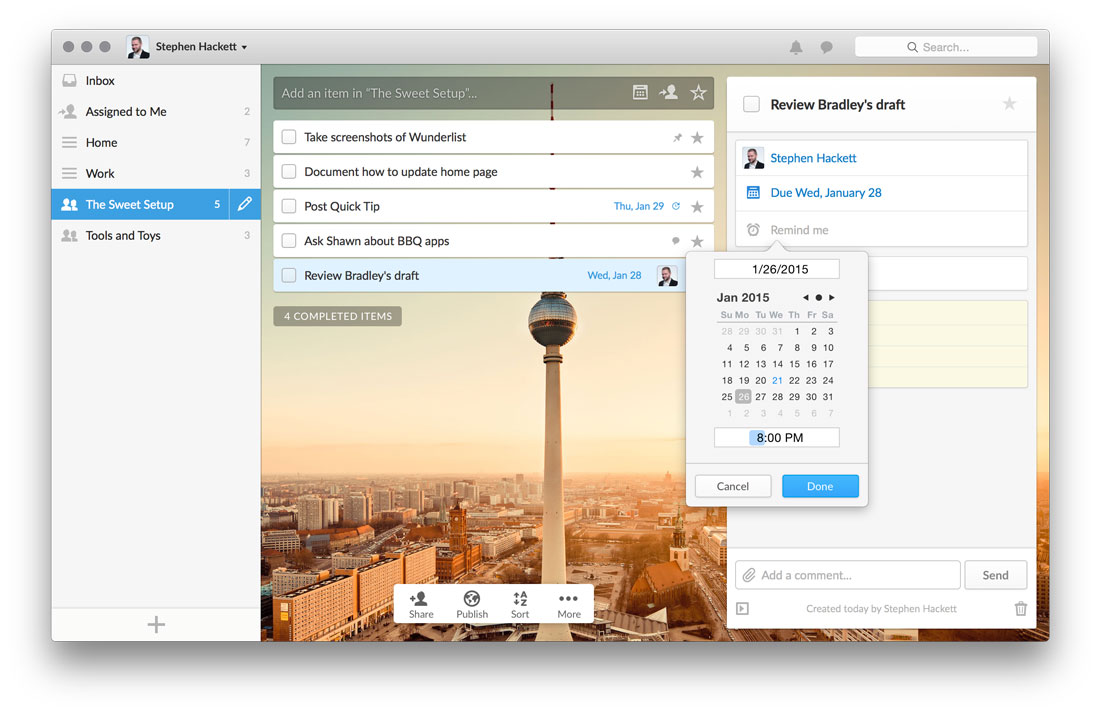 Repeating tasks
You can set each list item to repeat every x days, weeks, months, or years. Beyond these standard intervals, you can set a task to repeat on a custom interval. Need to take the trash out every 4 days? Wunderlist can remind you.
Task data
Wunderlist allows you to add sub-tasks, notes, comments and more to any individual task.
To tag a list item, you simply put a hashtag in front of any words you want to be tags in the title of the list item. Clicking or tapping on a tag brings up all tasks with that tag attached, regardless of its parent list.
If there are complex list items that need multiple related things done, subtasks can come in handy. Basically, they are a list inside a list item.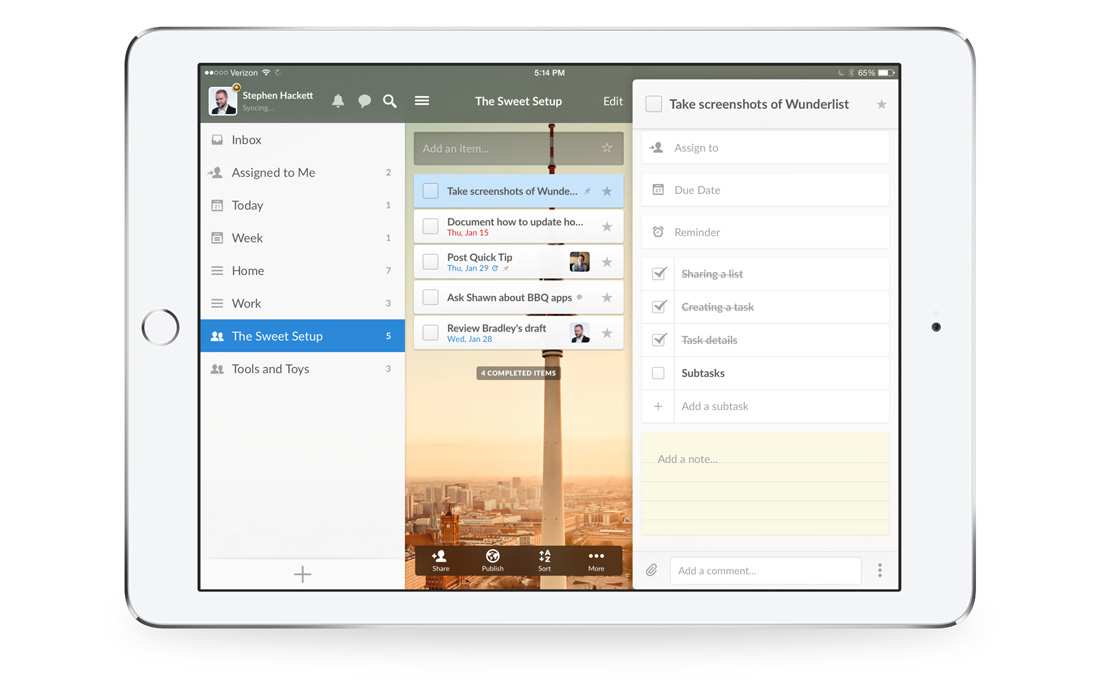 There is a notes section available for each list item that is synced, but the notes are plain-text only. Additionally, each list item has a section for comments, which is basically a chat for every list item. This allows you to talk to your collaborators. When a new comment is added to a list item on a shared list, a push notification is issued.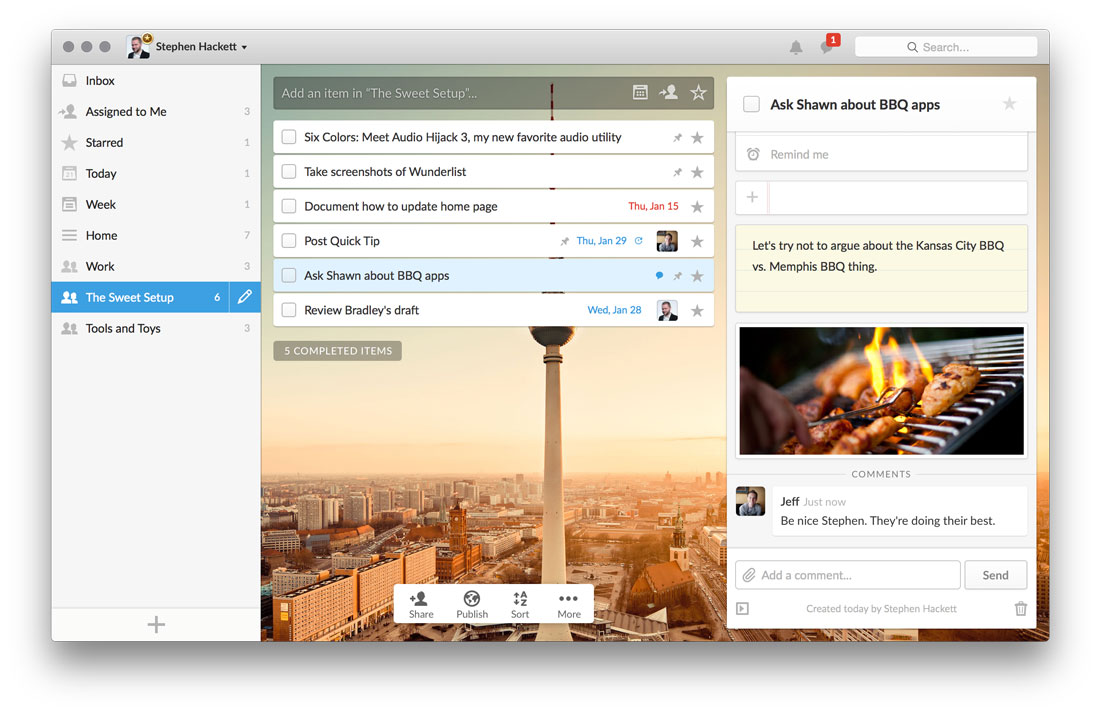 Comments can contain text and can also be used to upload files associated with a task, such as screenshots, text files, zip files, and more. In our testing, Wunderlist quickly synced files to our shared lists. Mobile and desktop users alike are given options to download and view these files right within the app.
Other Ways to Add List Items
For those times when you need to add an item that originates in your email inbox, you can email them to me@wunderlist.com, and these items will end up in your Wunderlist Inbox.
You can also add items through the iOS 8 Share Sheet. The popup allows you to edit the list item text as well as assign it to a list. If you add a URL through the share sheet, the website title is the name of the list item and the note contains both the URL and website title.
By default, the Share Sheet allows you to quickly add a URL to a "Read Later" list, but that can be changed with just a few taps. Once saved, the web page's title is set as the task name, and the URL is added as a note.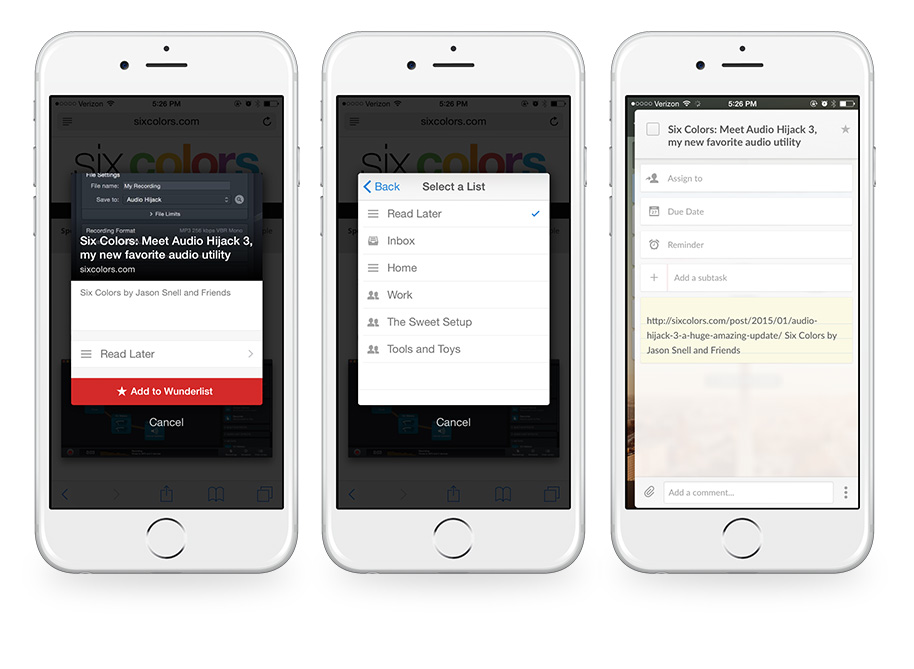 The iPhone app also features a "Quick Add" button. Simply tap the blue circle and a sheet comes up, letting you input your task more quickly than before.
Smart Lists
Wunderlist also includes some Smart Lists:
Assigned to Me
Starred
Today
Week
All
Completed
In the app settings, you can decide if and when you want these Smart Lists displayed (Visible, Hidden, or Auto). The Smart Lists can be very useful if you add extra data to your list items.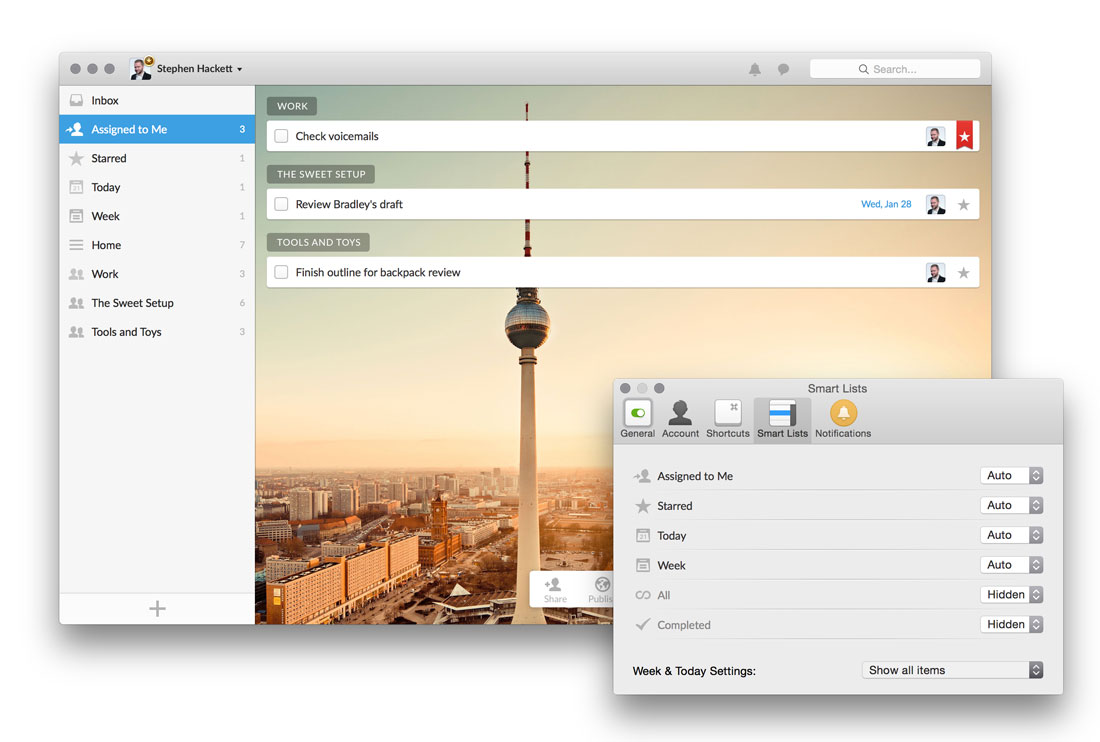 Our Second Choice: Reminders
If you don't want to download a new app or use a new service, Reminders works well as a shared list app.
Wunderlist has a few more options for organization, collaboration, and getting items into the app, but Reminders has all the basics. Reminders is built into iOS (as well as Mac), which provides you with an app and Today widget.
In our opinion, the user interface of Reminders is a little lacking. The way all the lists are "stacked" like a deck of cards is a bit long in the tooth, and if you have many sets of lists, the stacking doesn't scale well. It also bugs us that when you tap on a list item, it brings you to edit the text unless you tap the small "i" button to get to the screen to add reminders (including location-based), priority, and notes.
Reminders also requires iCloud to sync and locks you into the Apple ecosystem, save for the desktop-only web-based interface.
If you need location-based reminders for your lists or want to rely on Siri to get new list items entered, Reminders is your only option. Location-based (shared) reminders can be a big help if you share a shopping list with a spouse. If either one adds a reminder with the location of the store the item needs to be purchased at, whomever goes to that store next will be reminded of the task automatically.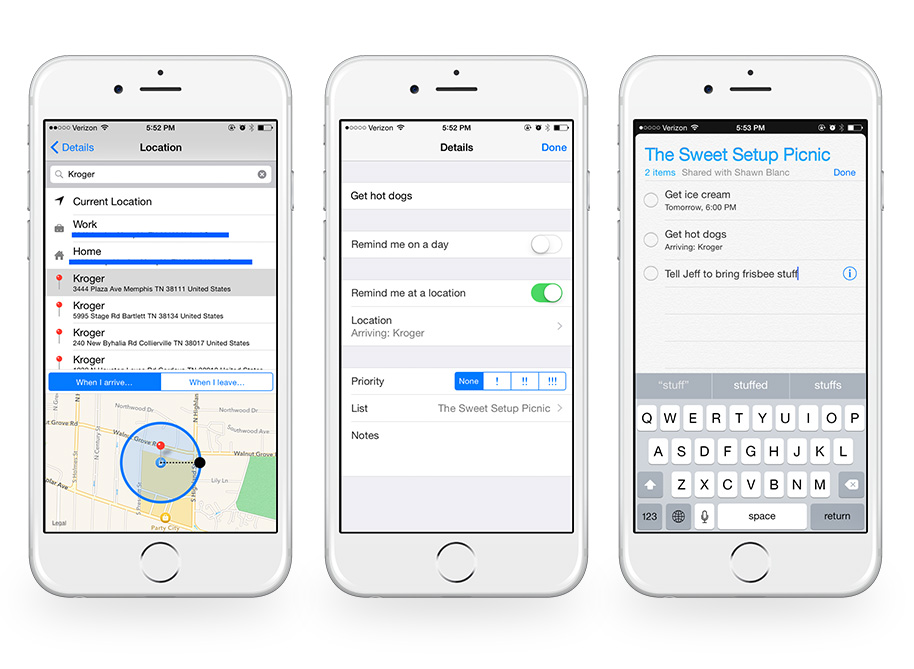 While sharing from the Apple Reminders app used to mean a trip to iCloud.com, adding additional people to a list can now be done from within either app. That said, accepting an invitation to a shared list can be problematic if a user has two-factor authentication turned on, but in testing, we had mixed results with this.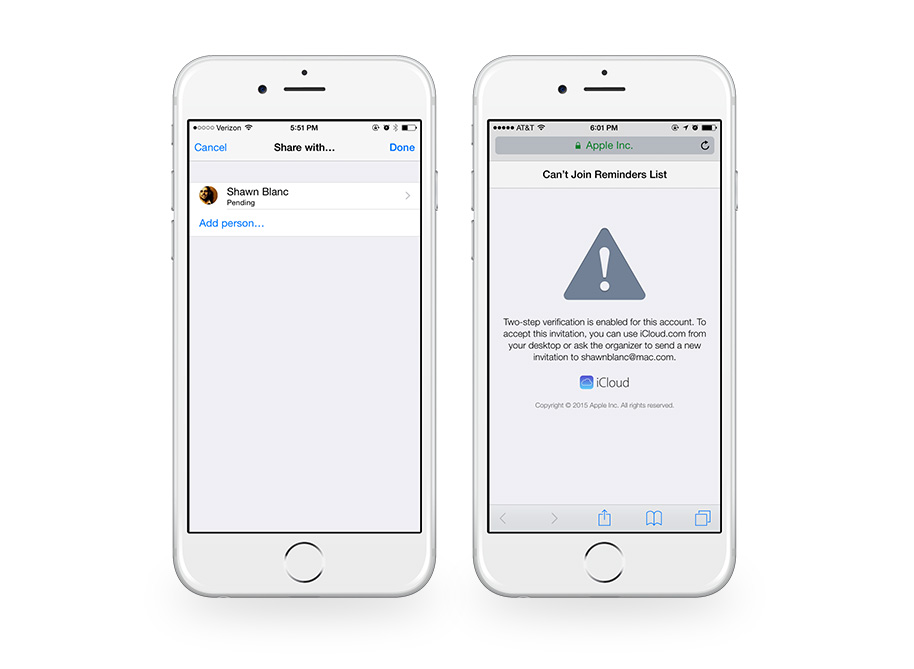 While Reminders has a huge lead over other apps as it's built-in to iOS and OS X, it's reliance on iCloud can be an issue. In testing, we also had a few times where the sync was not 100% reliable. As with other iCloud-powered apps, weird hangs or crashes can be an issue on iOS. All in all, we don't fully trust Reminders. If you can't trust your lists to sync reliably, it's hard to rely on the app for collaboration.
The Runner Up: Silo
Silo (iOS $1.99, Mac $5.99)
Silo is another good shared list app (and was a favorite before recent revisions of Wunderlist). The app is available across iOS, Mac, and web, and syncs with a proprietary free service designed for the app. Sharing is easy to set up, however, the sync isn't real time. Sync takes place automatically on opening the app, but doesn't always seem to happen when you add an item to a list or close the app. Other than not being real-time, the sync works reliably.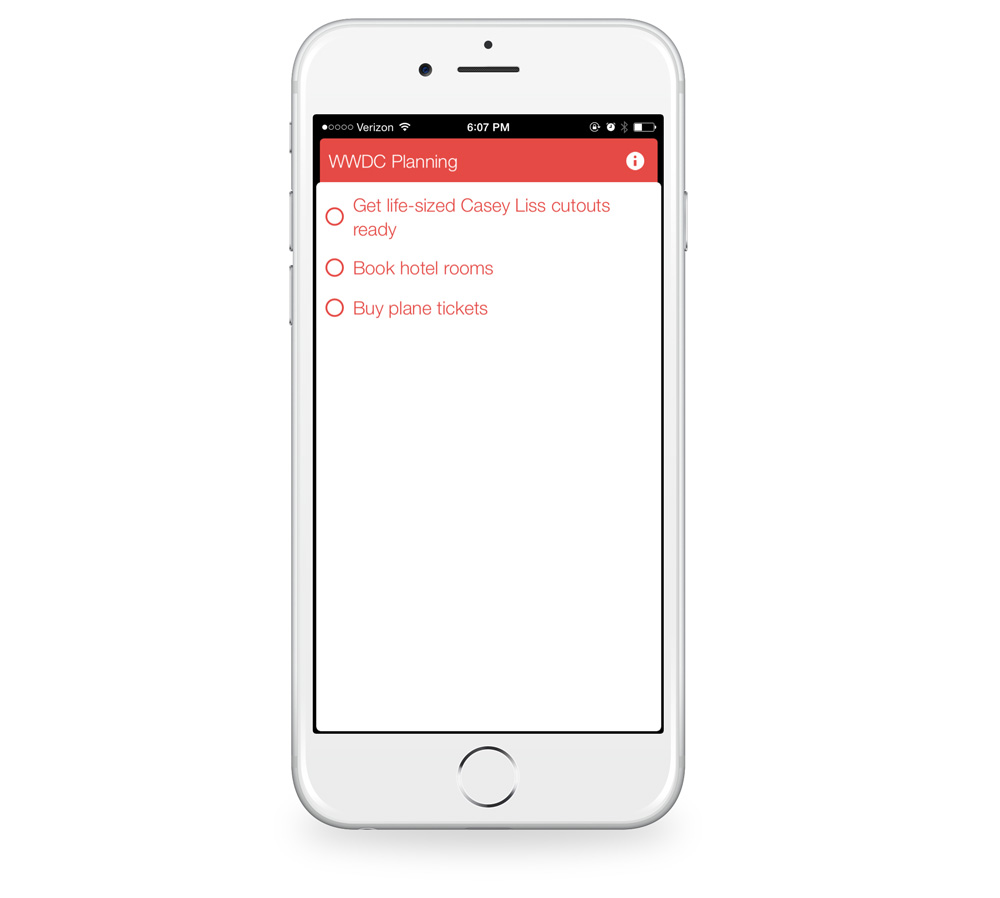 Like Clear, Silo uses swipe gestures for doing pretty much everything. All the gestures are well-implemented, but can be a little hard to discover at first. However, they do warrant checking out the app if you enjoy having lots of gestures for interacting with your apps.
Other list apps worth mentioning
This may be one of the most crowded categories in the App Store, and as such, it's impossible to look at all the contenders, but there are several apps worth taking a look at.
Todoist (Free, $29/yr for Premium)
Todoist is a great app and is geared towards to-do lists. Federico Viticci of MacStories recently wrote an extremely in depth review about why he switched from Reminders to Todoist for his to-do lists and shared lists.
Todoist feels much closer to something like OmniFocus, but on paper, its feature set is very close to Wunderlist's.
If you want to combine powerful task management with your shared lists, you should give Todoist a try, but the app adds a level of complication that Wunderlist avoids. Wunderlist may do a lot, but none of it feels required or is confusing, while Todoist requires a little more training.
Most importantly for many, however, is that it doesn't take very much time until you bump into the many limitations of the free version of Todoist. The $29/year Premium membership adds features like attaching files, which Wunderlist has right out of the box.
Asana (Free, $25/mo per user)
Asana is an app that's been around for a while and commonly comes up in conversations along with Wunderlist. While Asana does offer a great list management tool with powerful sharing, we think it's geared a bit too much toward the professional project management crowd to warrant a comparison with Wunderlist. Asana has many of the same features as Wunderlist, but lacks native desktop apps and seems to sync a bit slower than others. The obvious breaking point here is the price. Sure, you can have up to 15 members for free, but that just reinforces the professional workplace mentality.
If you're looking for a fantastic project management and task management tool for a team of colleagues, this is a great place to start.
Listastic is free with ads, but thankfully there is a $1.99 in-app purchase that turns off the ads and turns on unlimited sharing. It's a universal iOS app, designed for the iPhone, iPad, and iPod touch. Desktop users are out of luck.
Syncing is done via the developers' own service, and while syncing doesn't happen in real-time, in testing we didn't run into issues with syncing problems. Sharing is simple, easy, and fast.
The app divides each task list into three main buckets: "Active," "Later," and "Completed." This approach can be a little less precise than Wunderlist, but the app does support due dates.
Listastic's UI (complete with gestures) fits in with iOS 7 and 8, but the app hasn't been updated for Apple's larger iPhones and can be a tad crashy on iOS 8. The developers have said fixes are coming. Currently, things aren't perfect here.
Remember the Milk is one of the oldest list apps out there, pre-dating even the iPhone. The service is free to use, but to sync from the web to iOS an unlimited number of times a day, be prepared to shell out $25 a year.
Remember the Milk supports everything you'd expect it to — lists, smart lists, due dates, repeating events, and more — with lightning-fast sync. The biggest downsides are a lack of a native OS X app, an aging web app, and iOS apps that are looking pretty dated. However, if you want something that is web-centric, it's worth a look.
Pseudo-list apps
There are some apps that aren't specifically marketed as to-do managers, but do a pretty good job if you already have them as part of your workflow.
Simplenote (Free)
Designed to manage plain text notes, Simplenote doesn't offer a way to check items off or set due dates, as each list is simply a plain text document. This puts any organizational tools in the hands of the user, past the app's simple tagging mechanism for notes.
However, Simplenote is free and works across a good number of platforms, and its sharing is very simple and reliable. If plain text is your thing, look no further than Simplenote.
Evernote (Free, $5/mo or $45/yr for Premium)
Evernote is best known as being the default "anything bucket" for a lot of people, with support for notes with text, images, PDFs and more.
Since August 2013, alarms can be added to a single note in Evernote, promoting that entry to the top of your view, and reminding you of it via push notification or email.
While Evernote isn't a to-do manager per-say, if you spend all day in it, it's not a bad way to keep up with things.
Trello (Free, $5/mo or $45/yr for Gold)
Trello is a web and iOS-based project management system based on the idea of sorting index cards into stacks or lists.
Trello users can set up multiple boards that can each house discrete lists. Cards with titles, notes, team members, and due dates can be added to lists and are manually sorted.
While we like Trello for big-picture projects, it can be a little fiddly for fine-grained to-do lists. As clever as it may be, it's not a great fit for most.
Conclusion
Overall, Wunderlist is the best shared to-do manager. With its pleasant design and intuitive user interface, it makes adding list items and using your lists fast and easy.
It has enough features that it can be far more than a basic list-managing app, and with its solid, real-time sync, you never have to worry about your shared lists getting out of sorts.
$0 - $5/Monthly
Wunderlist is our favorite way to share tasks because of its ubiquity, design, reliability, and sharing features.