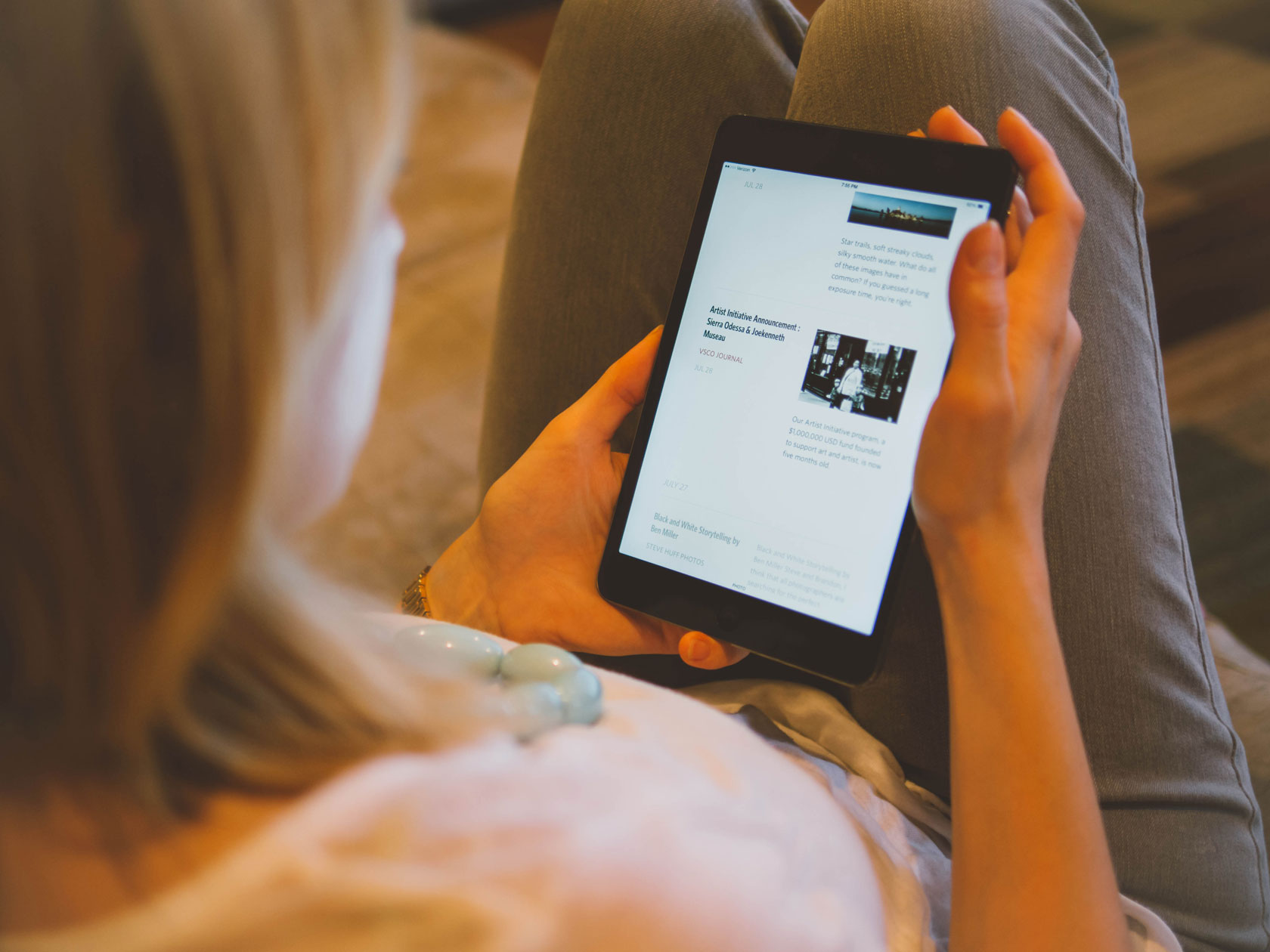 The Best RSS App for the iPad
Unread
April 27, 2015
RSS arguably had its perfect device when the iPad was introduced in 2010. Suddenly, you could read the entire Internet comfortably on the couch. You could use RSS to bring the web to you. That's why our pick for the best RSS reader on the iPad is Unread, an app designed to help you slow down, lean back, and enjoy good writing.
Unread is free with an in-app purchase of $4.99 that unlocks its full potential. For anyone who purchased the previous version of Unread, they'll be able to unlock the new version for free.
RSS and the iPad
I find it depressing whenever anyone suggests that RSS is dying, because I honestly think it is one of the greatest inventions in the history of reading. What's not to love? You get to handpick a series of feeds that will then send you articles to read, and instead of piling up around you, like magazines and newspapers of yore, the articles magically disappear after you read them, replaced by a fresh batch. That's the concept anyway. The execution of that concept took a while to find its proper form.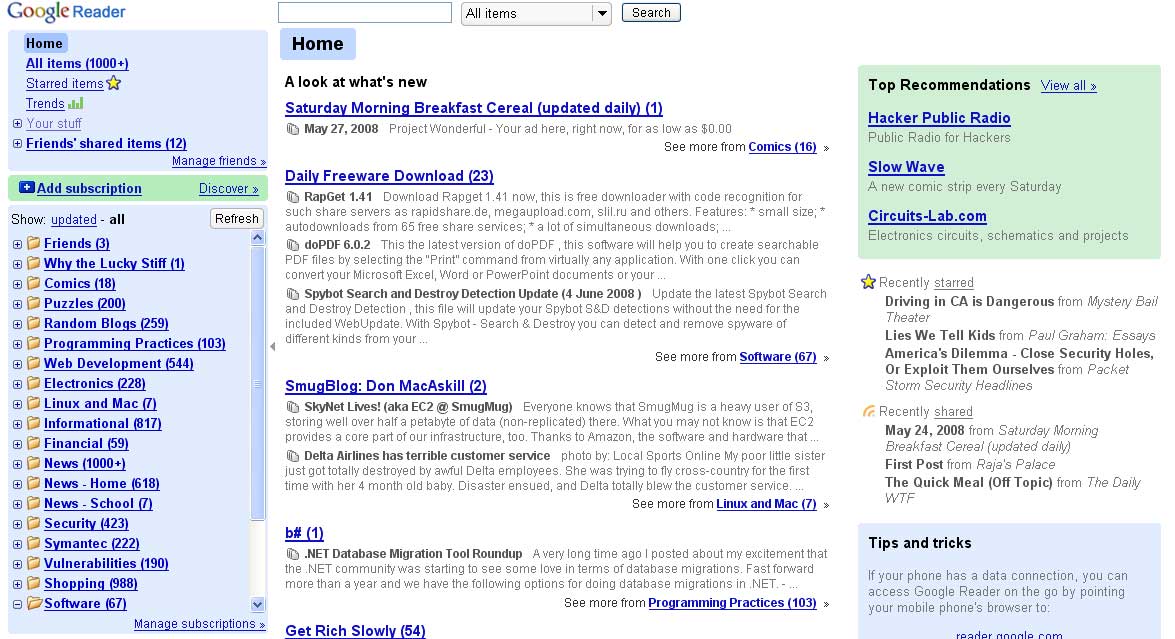 It's perhaps ironic that Google Reader helped popularize RSS, considering the sheer horror of its interface design. In retrospect, making RSS feeds look like email was a terrible idea. Email comes from work, creates obligation, and makes you feel guilty. I was working as a journalist when I first started using Google Reader, and I subscribed to a wide variety of feeds that I thought would make me more well-informed. Instead, every time I opened the app, I felt overwhelmed with the massive volume of my inadequacy.
RSS is an amazing service for finding new things to read, but it can also be overwhelming. If you're not careful, you can be inundated by high volume feeds, and your RSS reader can become less a tool for discovery and more of a method to hack through the ever-growing weeds. No matter how good the iPad may be for reading, having the right app makes moving through countless RSS items easy and efficient.
In testing apps for this review, we considered the following criteria:
Support for a number of different RSS services, such as Feedly, Feed Wrangler, and Feedbin.
Support for a number of different sharing services, including Instapaper, Pocket, and Pinboard.
A beautiful, intuitive design that made RSS feel like a tool for discovery.
The Standard: Reeder
The app that set the standard on the iPad was Silvio Rizzi's Reeder, which debuted on the iPad in 2010. It was incredibly fast at the time, and with its trademark, slightly textured off-white paper-themed design, it made RSS feel like the rough-cut pages of an old hardback book. Many had enjoyed the utility NetNewsWire on the Mac, and there was a NetNewsWire app for iPad, but Reeder was arguably the first iPad app to make RSS feeds beautiful.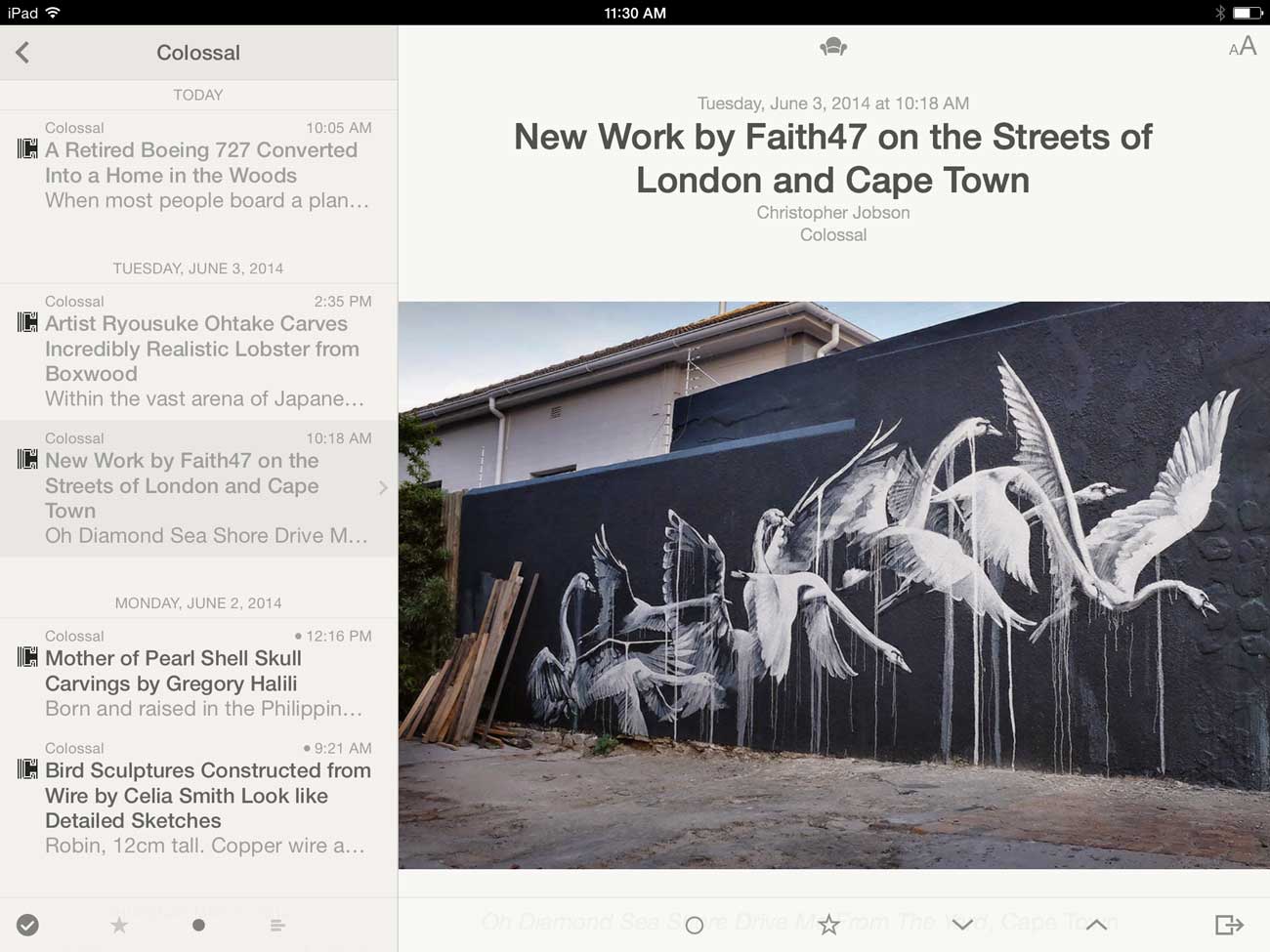 Reeder's Design
The design of Reeder has changed a bit over the years. The developer completely rewrote the app after the demise of Google Reeder in the summer of 2013 and brought it in line with iOS 7 conventions. The result is an app that has a few more features and a bit less personality. Among the features gained over the years are the ability to add RSS subscriptions and reorganize subscriptions from within the app. Gone are the speckled paper fiber textures. Instead, you can choose one of a few fairly neutral themes.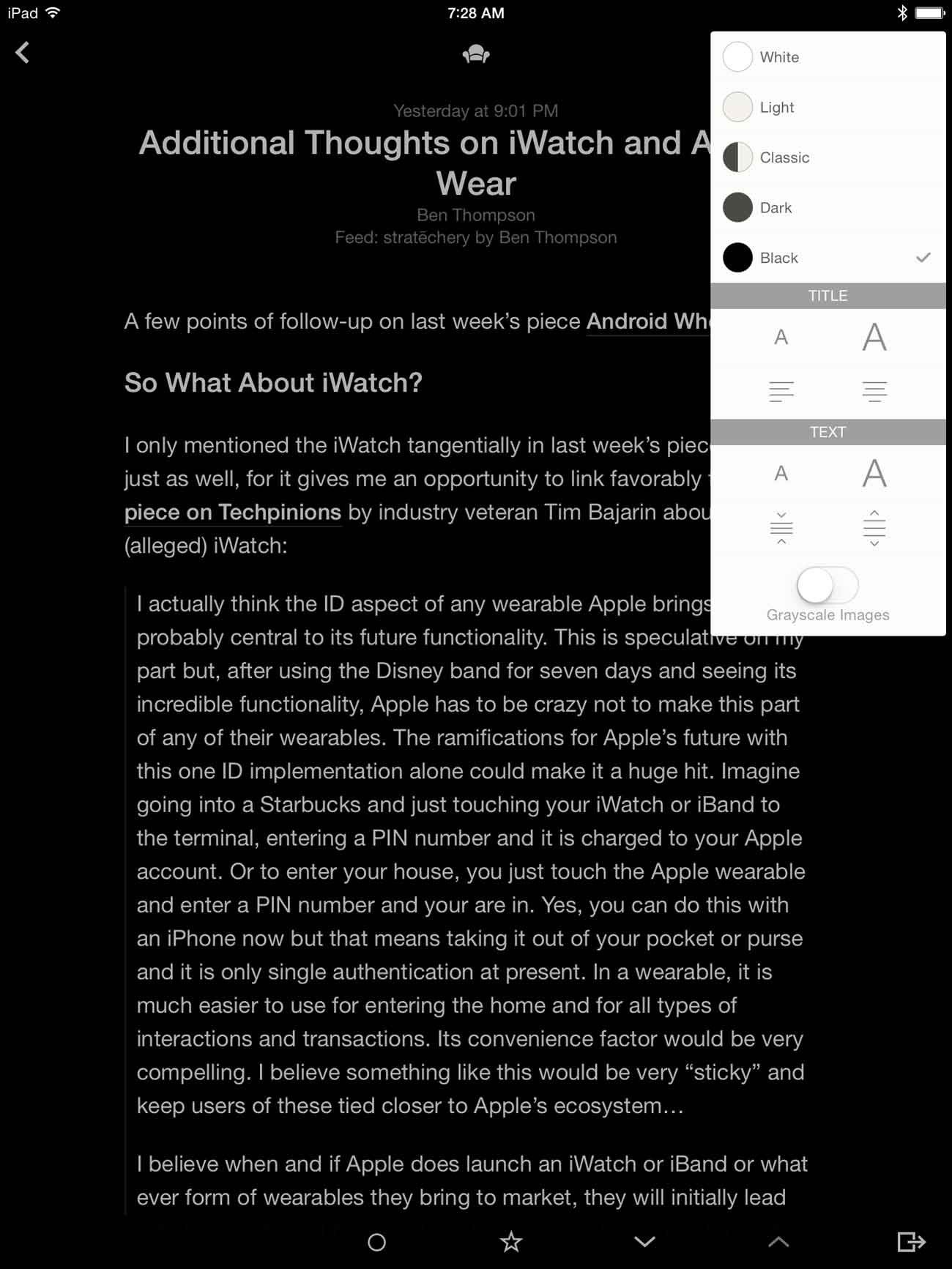 The Power of Gestures
One of the standout features of the app is what you can do with a swipe. From the main reading view, if you swipe from right to left, the app will immediately load the webpage in a browser. Swipe left to right and you return to the RSS version. It's one of the most fluid transitions between RSS and web that I've seen on any app.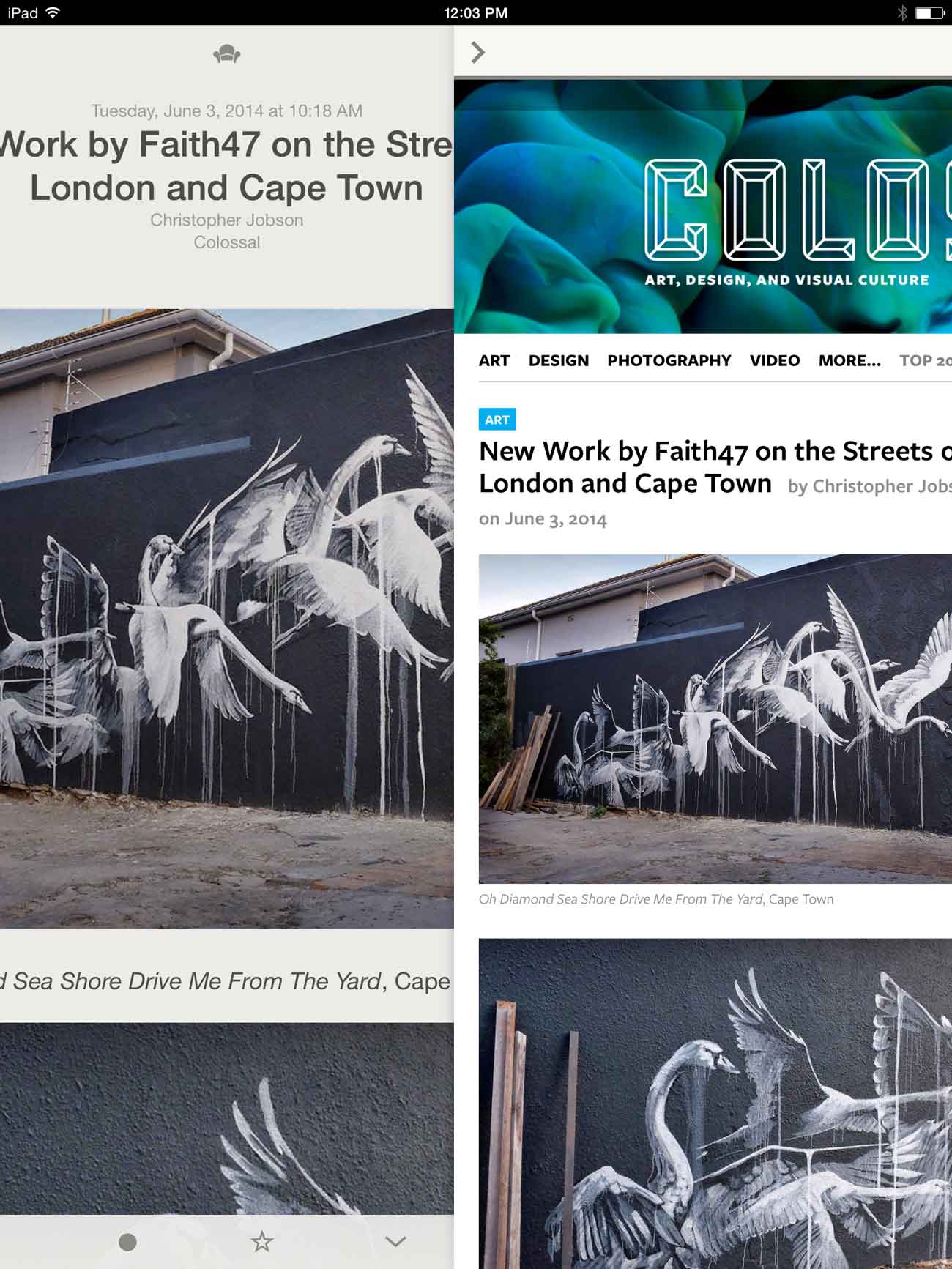 The swipe also has special powers in the list view. While scrolling through the list of items in your feed, you can swipe across an item to take action on it, and the actions you take are user-configurable. Sliding right or sliding left across an item can be configured to either mark the item as read, mark it as starred, or send it to a number of different services, (Instapaper, Pocket, Reading List, etc.). You can also take these actions upon the item itself from the article view, but doing so through the list view speeds up the process dramatically.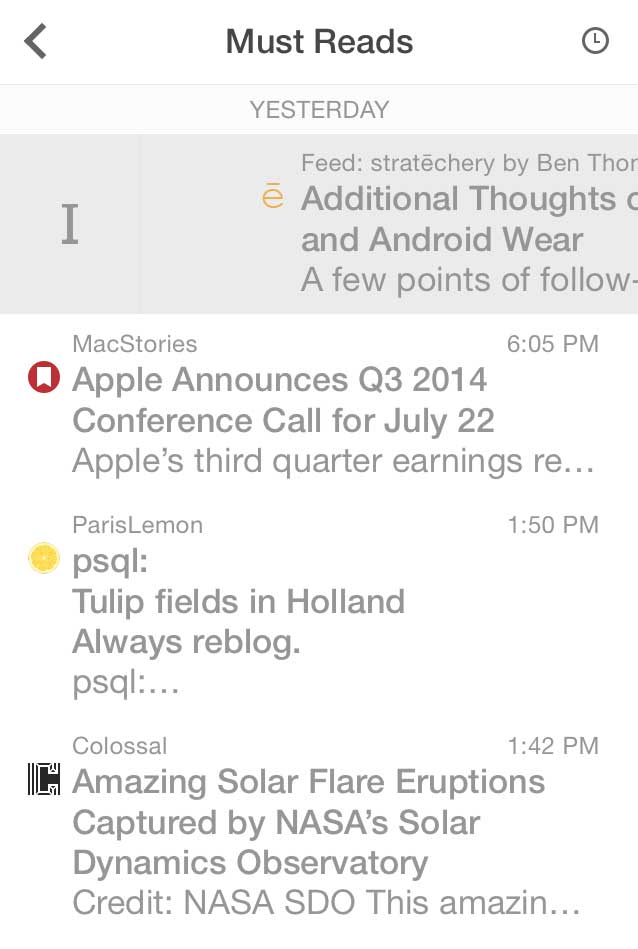 Reeder's List View
That said, I'm not a fan of how Reeder presents the list view in portrait mode (my preferred reading orientation). All you get in the list pane is the feed's icon, the title of the article, a truncated opening sentence, and the date and time of its publication. As nice as it is to act on these items with speed, it's hardly possible to make that determination with so little to go on. A big part of the problem is Reeder's sliding panes design.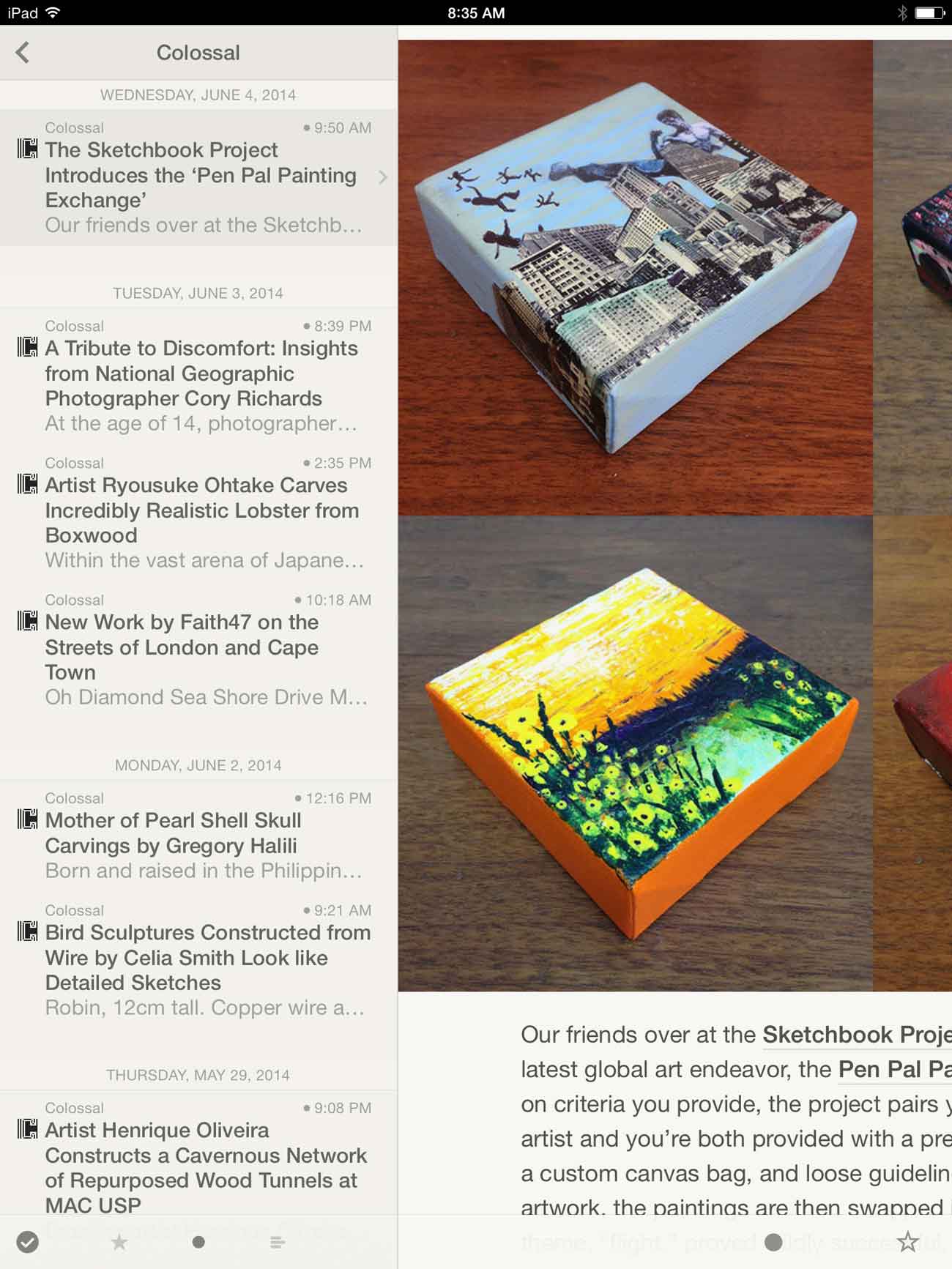 The list view is confined to such a small space that none of the individual items have room to breathe. And if you select one of those items while remaining in the list view, the item itself gets cut off on the right hand side, which just feels cluttered. Ultimately, the only space I enjoy using in Reeder is the article view, which feels confining and seems like a wasted opportunity on the iPad.
Overall, I think Reeder is a fine RSS app with all the basics you need, but it doesn't stand out in any category, except perhaps the speed with which you can process your feeds.
The Best RSS Reader for Power Users: Mr. Reader
In the run up to the shut down of Google Reader, which effectively shut down Reeder on the iPad for a while, there was a lot of talk about an app called Mr. Reader, which many had already found to be a more powerful alternative. When Google Reader finally did shut down, Mr. Reader was one of the first apps to offer integration with all the new RSS services, so a lot of people switched to it.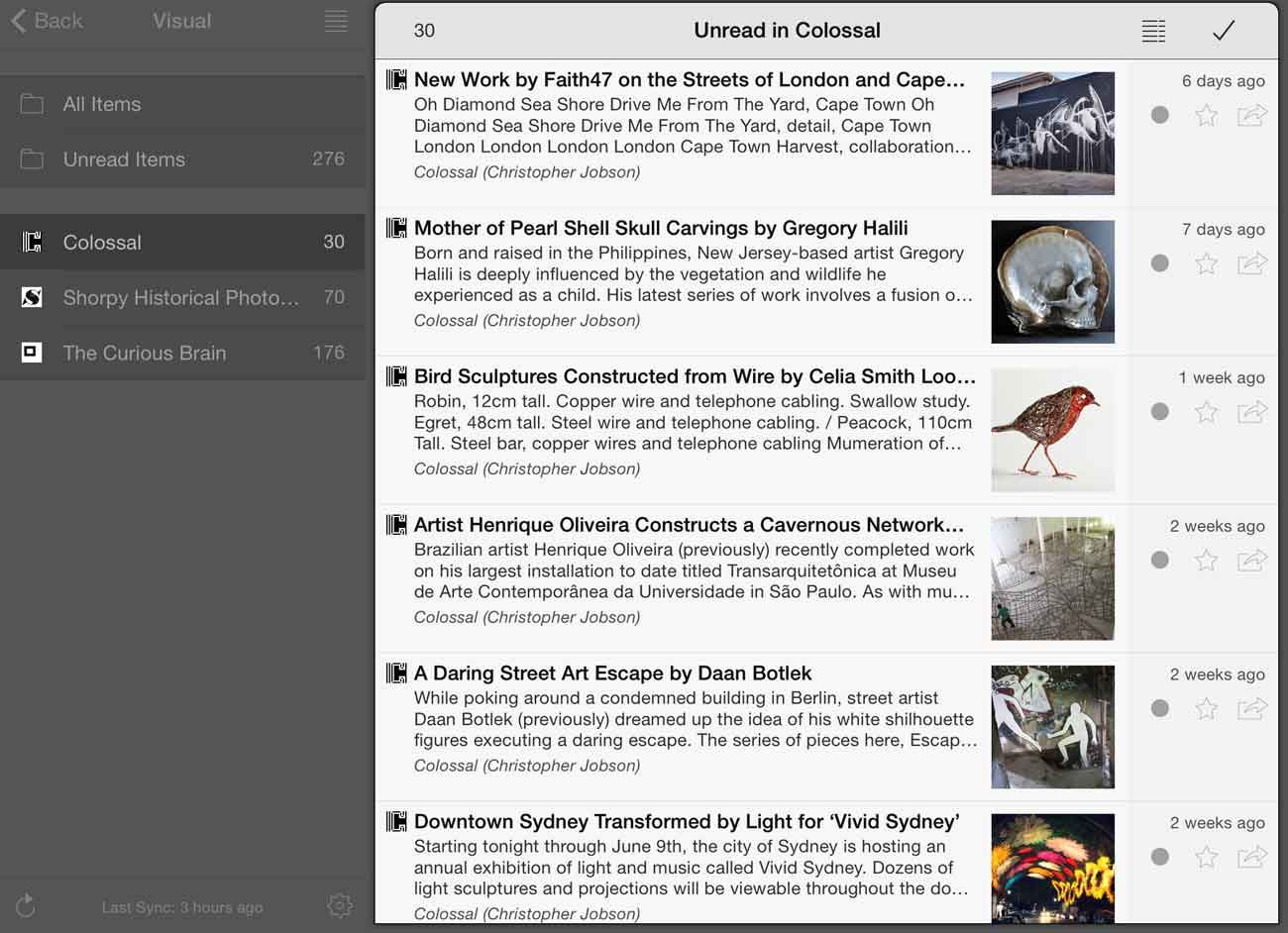 Mr. Reader's Design
At first glance, Mr. Reader can feel less refined, even a bit clunky, compared to Reeder. You have the option of installing a number of different themes, but the overall design is a bit inconsistent. The app has grown flatter in recent versions, but the list view in most of these themes has a drop shadow around it, as if it were a window on top of the rest of the interface. When you share an item to a service like Instapaper, the notification box saying you were successful is a jarring lime green, which clashes with everything else about the app.
The default sound effects also feel out of place. Scrolling from one item to the next in the reading view emits a mechanical winding sound, as if the app is a disposable camera with film that needs to be advanced.
Perhaps my least favorite aspect of Mr. Reader are the inconsistent gestures. In the reading view, you can swipe up to go to the next item and swipe down to go to the previous item, but if you swipe left to right or right to left you get a bizarre arrow button interface that just gives you a different way to go up or down. The only way to get back to the list view is to tap an X button. No matter how long I used the app, I never got used this.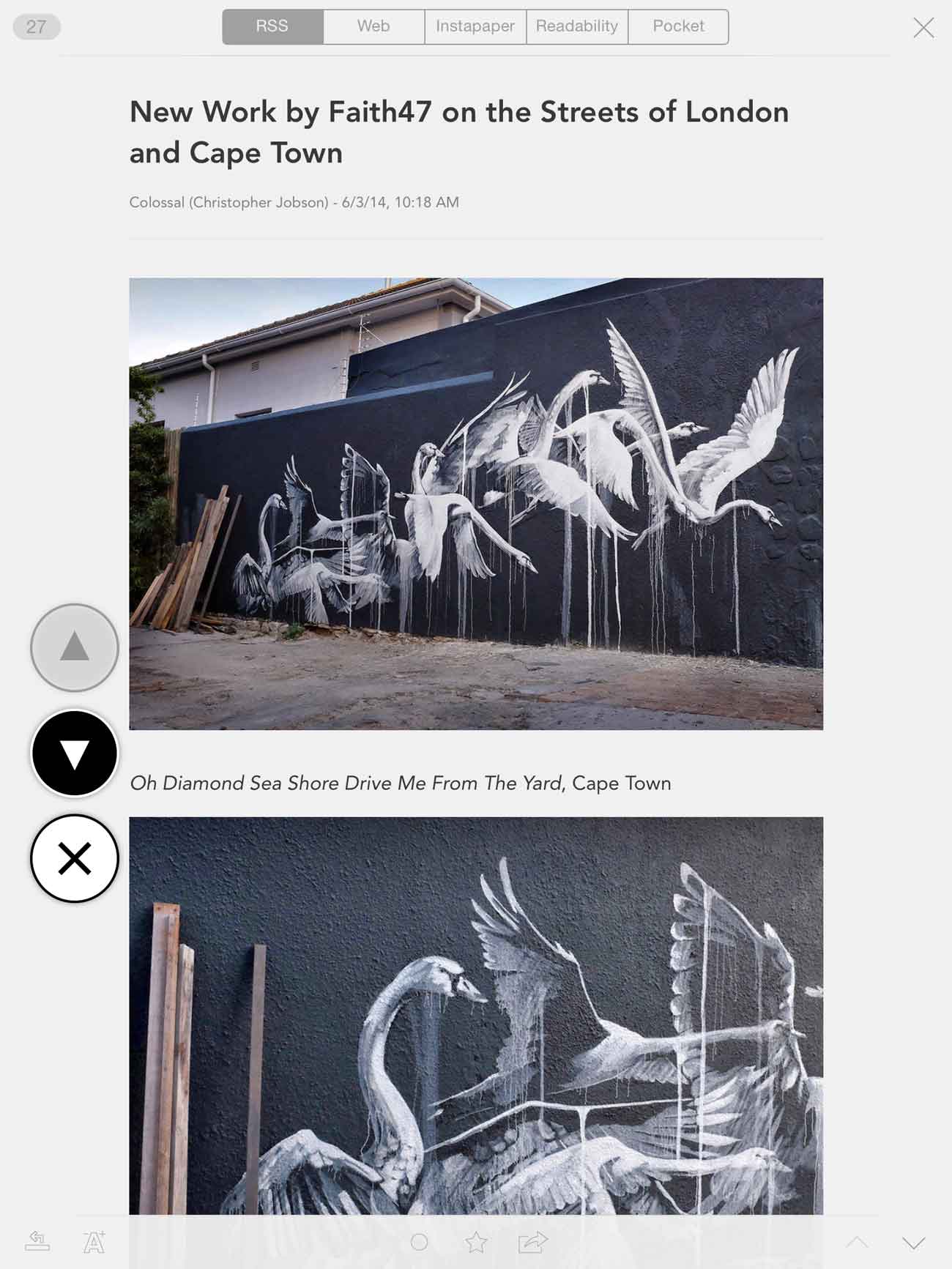 Mr. Reader's Powers
All of that said, Mr. Reader's sharing powers are simply unparalleled. I first noticed this in my use of Pinboard. In Reeder, if I wanted to share an item to Pinboard, I got the option to tag it, but I had to type the tag myself. In Mr. Reader, the app is aware of my Pinboard tags, so when I start typing, it starts to predict those tags for me, which is very nice. The same goes for other services like Evernote. Mr. Reader lets you select the notebook and tags you want to add to an item before you send it.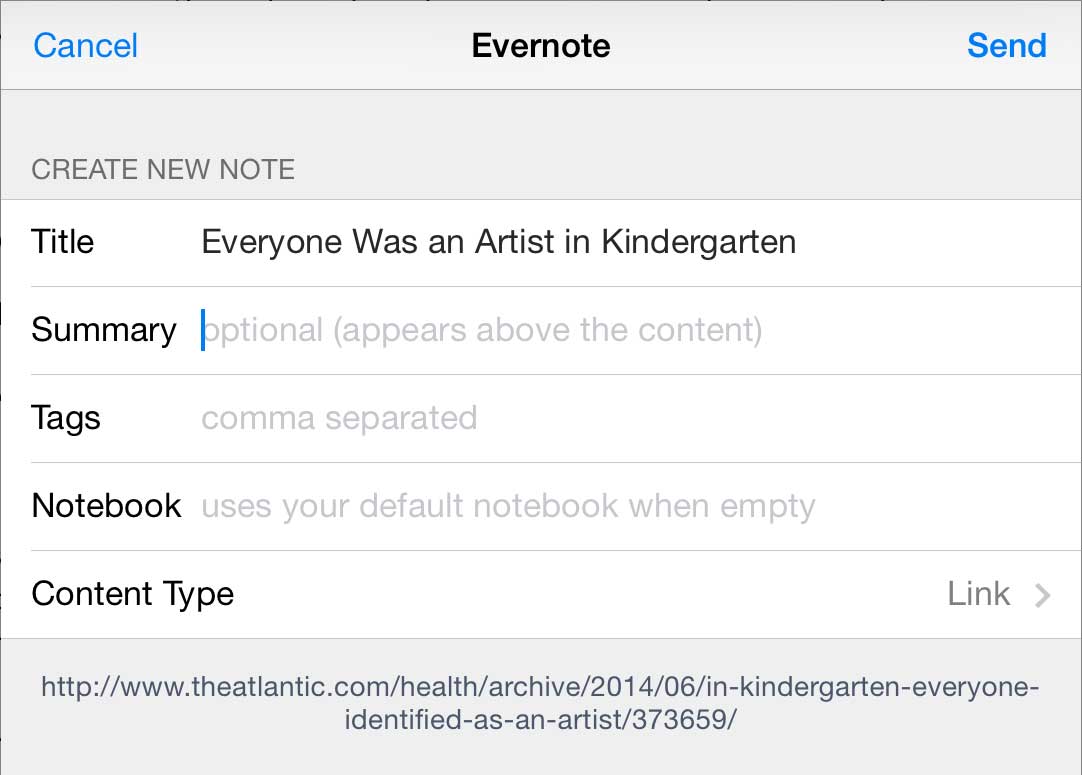 But that's just scratching the surface of what Mr. Reader can do. In early 2013, the app introduced services – more powerful and user customizable ways the app can act on selections and send them to other apps through the x-callback-url scheme. Federico Viticci covered this extensively at MacStories, but to give one example, it's possible to select text in an article in Mr. Reader, and send that text as a block quote to a blogging app like Editorial, along with the title of the article and the url, ready for adding to your blog.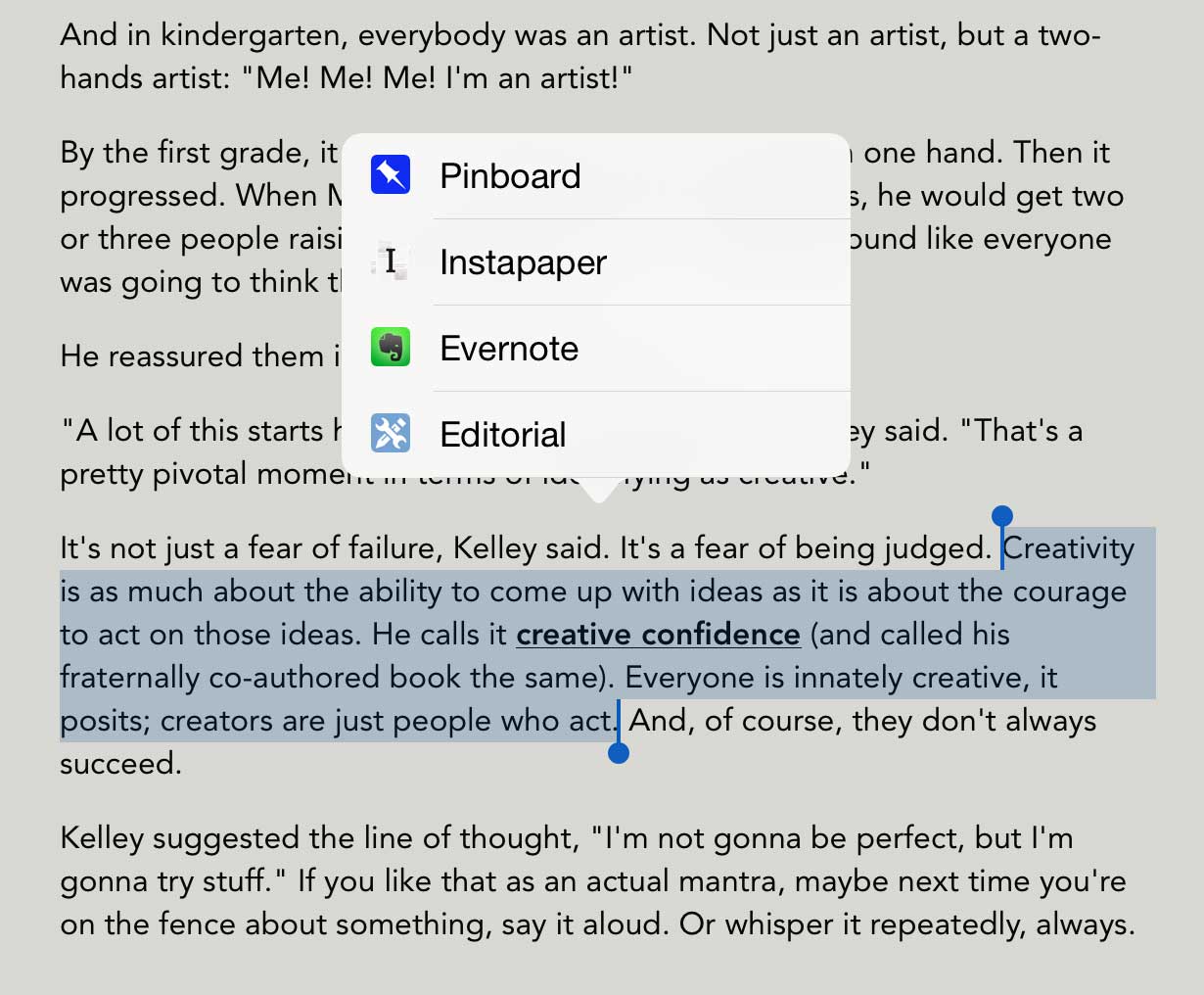 You also have the ability to create customized email actions that prefill portions of an email for you to send articles to certain addresses. In addition, Mr. Reeder includes the ability to add customized bookmarklets to the app's web browser. The app includes a few ready-made bookmarklets, including the Evernote Webclipper, but you can find an example of a customized bookmarklet over on Macdrifter, where Gabe Weatherhead describes how he created a bookmarklet for adding videos to his Plex queue.
People who enjoy tinkering with x-callback-url schemes, who know how to take full advantage of these customized actions, and who have the need for these kinds of tools, will find Mr. Reader indispensable. But if you primarily use your RSS reader to read, there is a better option: Unread.
Unread: The Best RSS Reader for iPad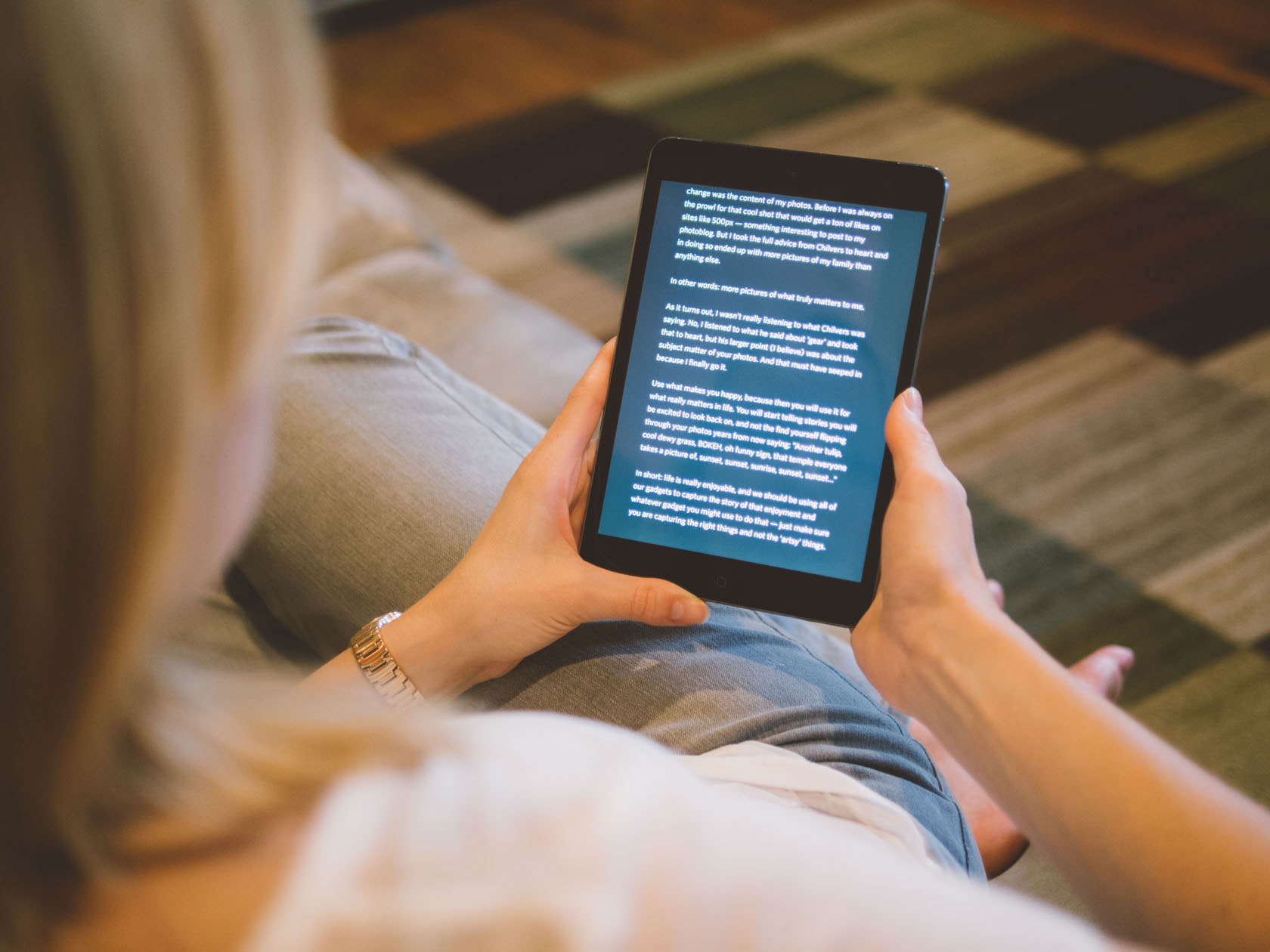 When Jared Sinclair released his RSS app, Unread for the iPhone in February, 2014, he included a philosophy statement:
Most RSS apps are patterned after email. Noisy parades of dots, dates, and tags trample over their screens. Their source lists look like overflowing inboxes instead of stately tables of contents. Toolbars bristling with options obscure the text. Putting it bluntly, using these apps feels like work…I made Unread because I wanted to get back to a more deliberate style of reading. I designed it for times of quiet focus. With warm typography and a sparse interface, it invites me to return to the way I used to read before I fell into the bad habit of skimming and forgetting.
Unread quickly became the preferred iPhone RSS app for people like Federico Viticci, David Sparks, and The Sweet Setup's own Stephen Hackett and Shawn Blanc.
As good as Unread is on the iPhone, I prefer reading on my tablet, and Sinclair's app shines on the bigger screen.
Note that Jared later sold Unread, and the app is now under active development by the team at Supertop.
Unread's Focus on Reading
The app's article view is perhaps the most obvious place to see how it makes the reading experience paramount.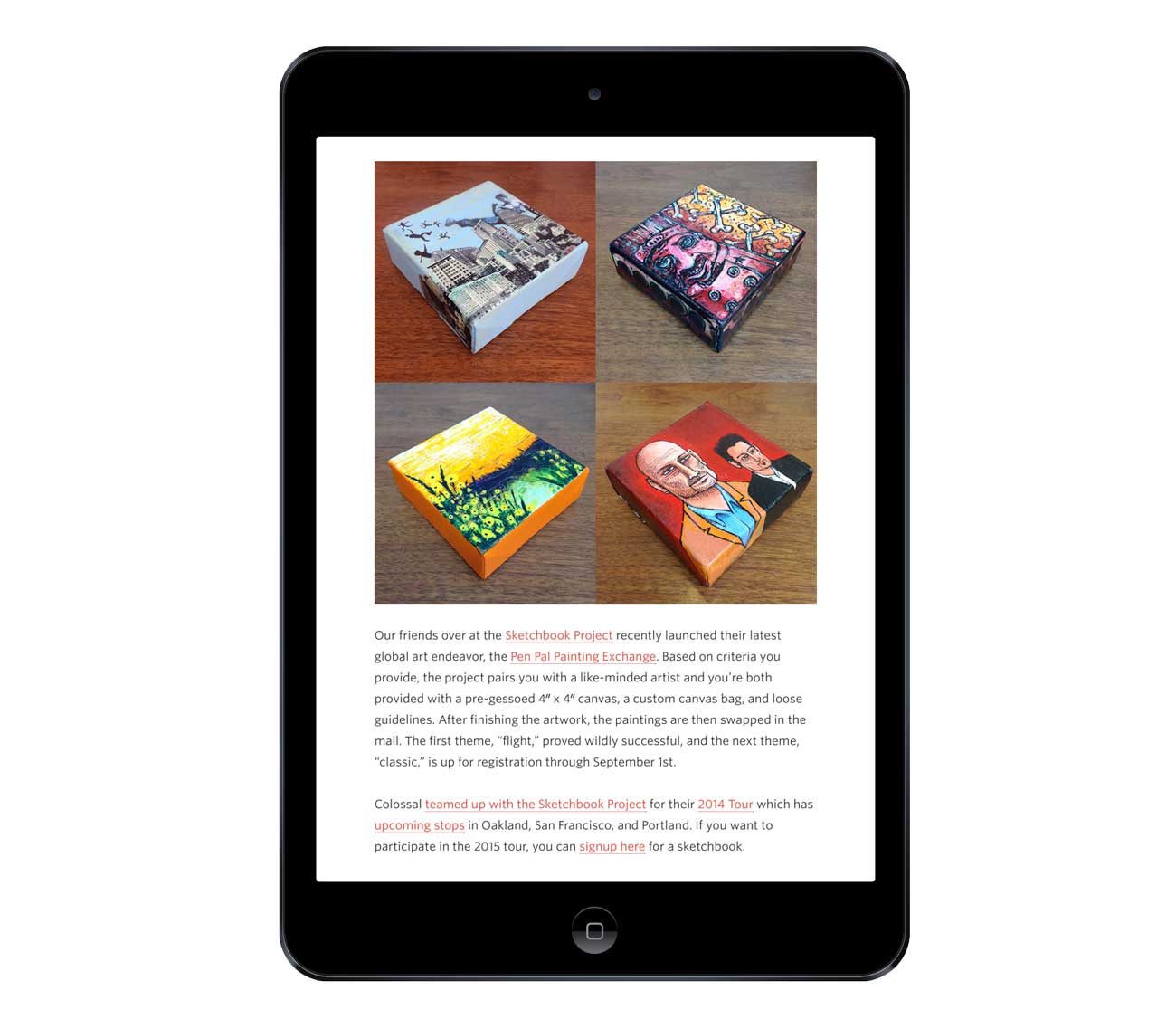 There are no buttons inviting you to mark the item, star the item, or send the item somewhere else, or even to move to the next item. Instead, you're invited merely to read the item in the beautiful Whitney typeface. Going from Reeder and Mr. Reader to Unread, I felt as if I was getting slightly more oxygen through the clarity of the interface.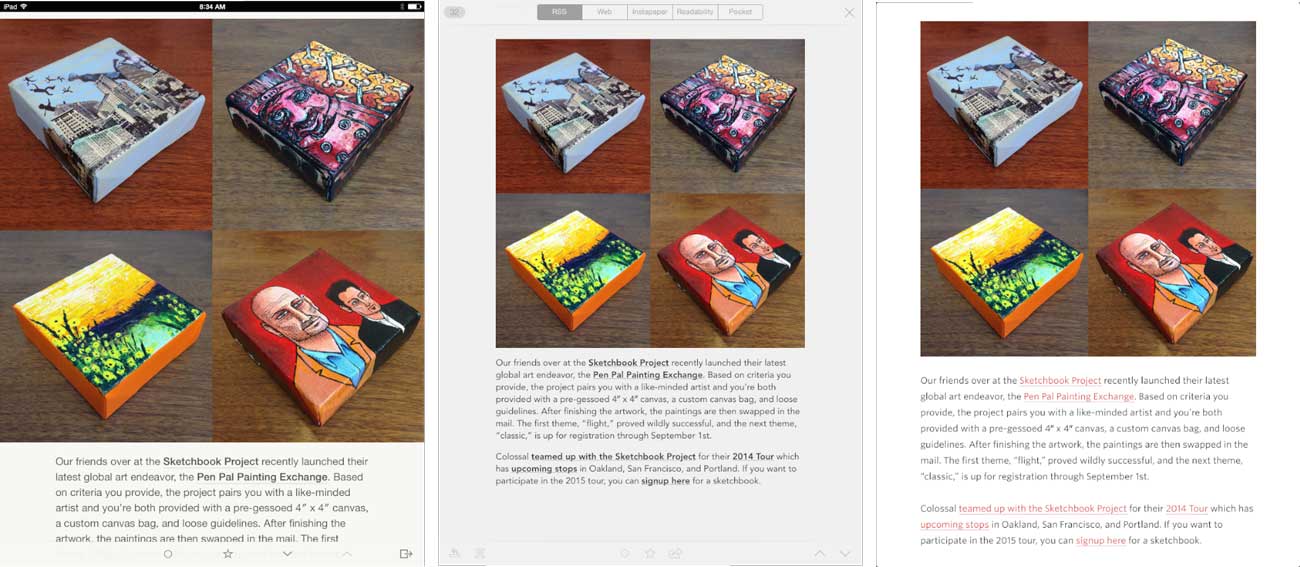 From left to right: Reeder, Mr. Reader, and Unread.
But I think Unread accomplishes even more in its design of the list view. As noted above, the list view in Reeder is a jumble of truncated text, and it can't even be viewed as its own pane in portrait mode. The list view in Mr. Reader is a little better, taking up the full width of the screen and including images, but it's still cluttered by buttons and chrome and the text is still truncated.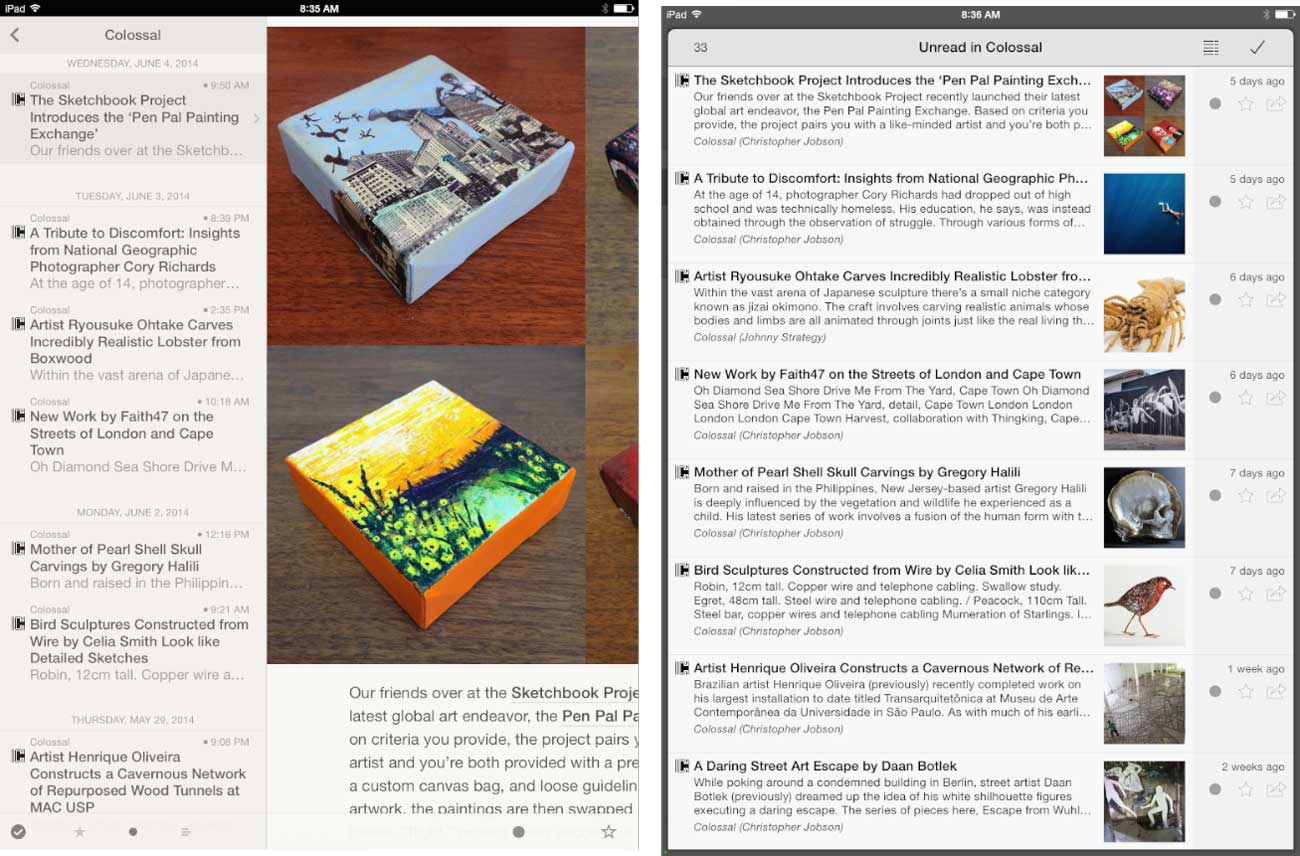 Reeder is on the left, and Mr. Reader is on the right.
Compare that to Unread, where each item gets its own separate presentation with an image (if an image is available). The app strives to use only complete sentences from the text of the item. What this list view lacks in information density it makes up in clarity. It feels much easier to go through this list and decide which items are worth your time.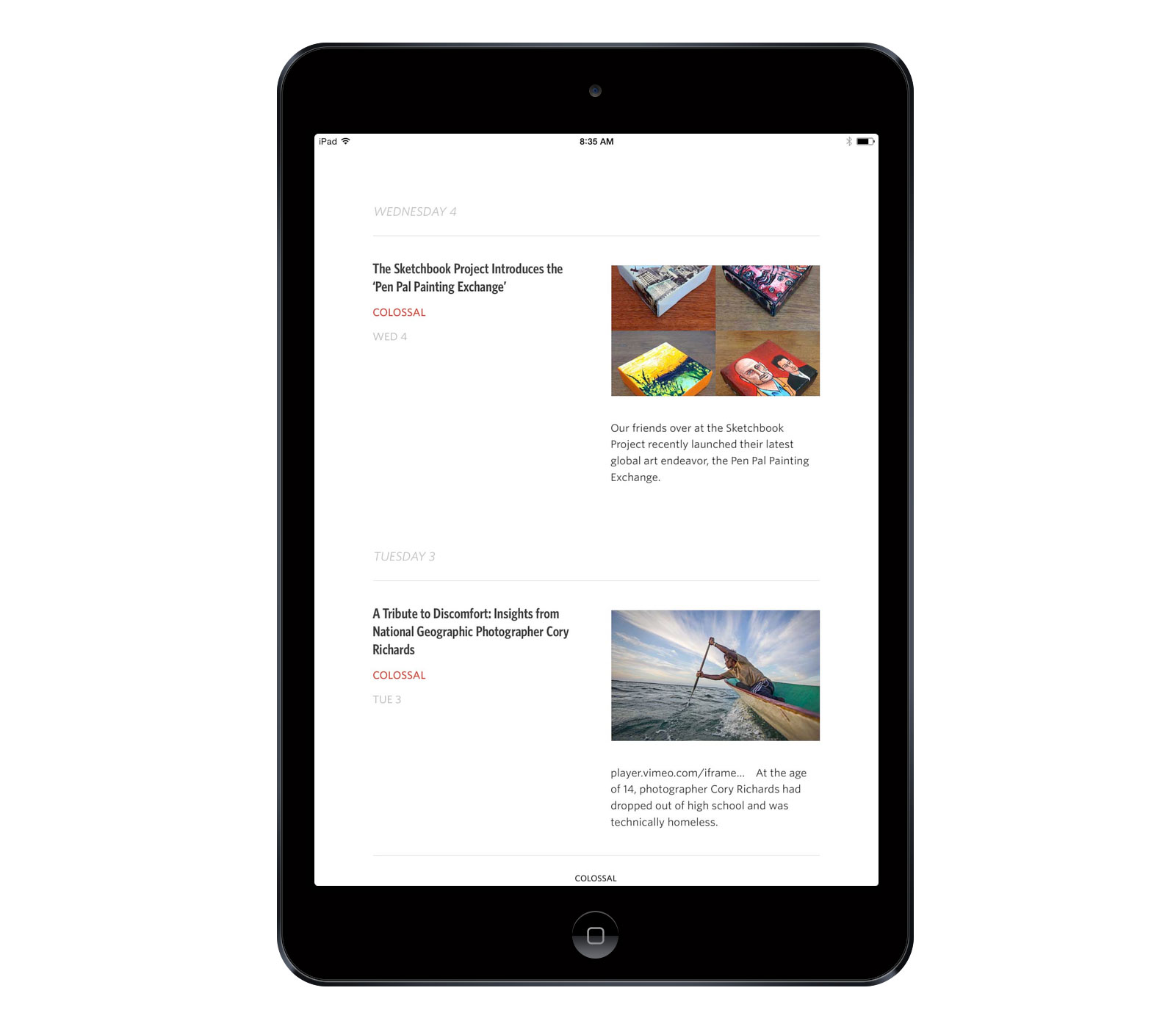 The app includes two settings that make this process even easier. First, there's an option to mark items read as you scroll past them. Then, if you want to read an item, you can of course tap on it. But if you tap and hold on an item, you have the option of going straight to the web to read it.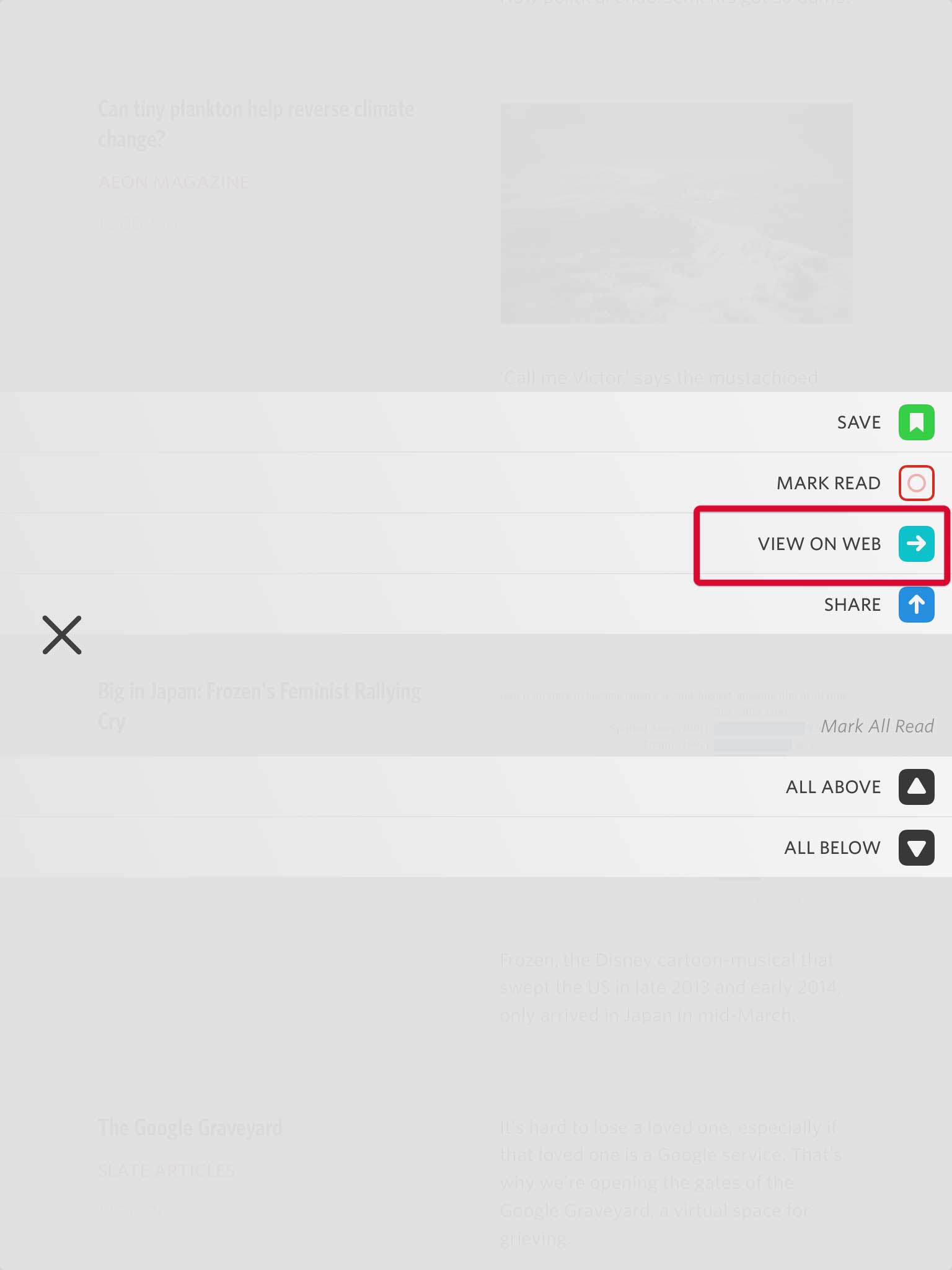 This is especially nice for feeds that don't offer full articles but only links to articles. The end result is that you can scroll through even a relatively large number of items and consciously select those you actually want to read. Unread then gives you an ideal reading environment in which to do just that.
Sharing from Unread
Prior to version 1.5 (and iOS 8 in general), Unread for iPad used a completely custom set of tools for sharing articles called OvershareKit. Now that iOS boasts a more robust share sheet of its own, Unread's developers have decided to drop OvershareKit in favor of the system's built-in sheet. (We'll miss those funny little "successful save" messages.)
For the most part, this works exactly as you'd expect. While reading an article, swipe left to bring up the actions pane. Tap the Share button, and the iOS share sheet will appear. From there, send the article wherever you like or customize the sharing options altogether. If you've been using iOS 8 for a while, you're likely more than familiar with this process.
We've noticed some…irregularities with the inclusion of the iOS 8 share sheet, unfortunately. When navigating to the share sheet as described above, there are no options for saving to Instapaper or Pinner. But, if we tap-and-hold the article title instead, or tap-and-hold an article from the main list and hit Share from there, then we see Instapaper and Pinner as usable options.
Another example: sharing from within an article allows for sending to Flickr, while tapping-and-holding an article title shows an option for Slack instead. Sharing from the main article list shows neither option. Weird, huh?
We hope the developers solidify these sharing options so that all services appear in all forms of the share sheet. Until then, keep in mind that your sharing destination of choice may only appear in certain places, and not where you'd expect.
Unread's Gestures
In order to avoid surrounding the interface with buttons, Unread relies on a number of gestures. Swiping left to right follows the now conventional action of returning you to your previous screen, but swiping right to left calls up a number of possible new actions, and the actions you can call up are different based on your context.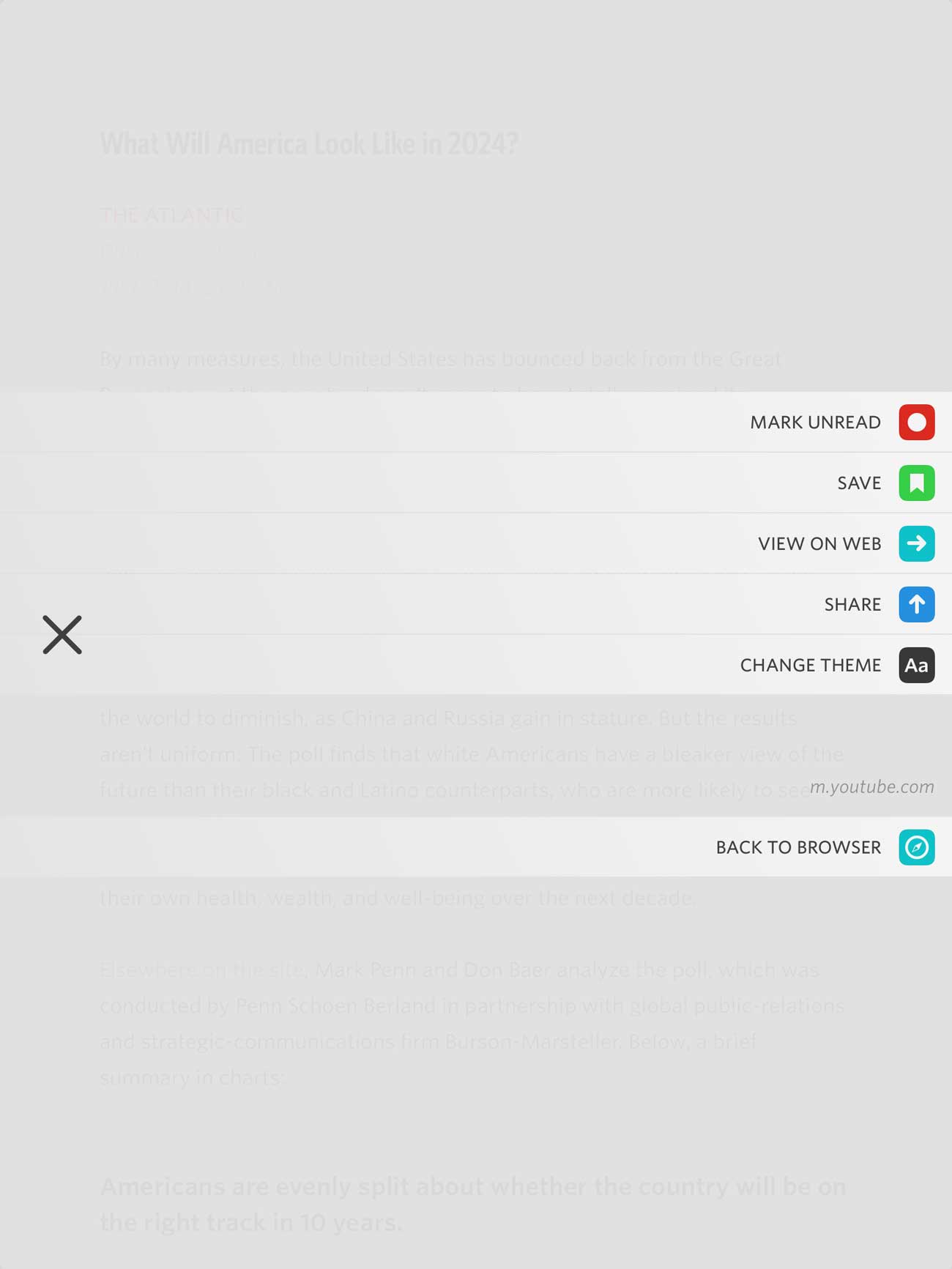 In the list view, swiping right to left gives you options such as refreshing the feed or marking everything in the feed as read. Swiping right to left in the article view gives you options such as marking the item as read, viewing it on the web, or sharing it to one of any number of services. In the web view, you can also swipe to call up the option for sharing or using the Readability view, and since some webpages have unswipeable mobile webviews, Unread gives you two little swipeable areas at the bottom of the screen.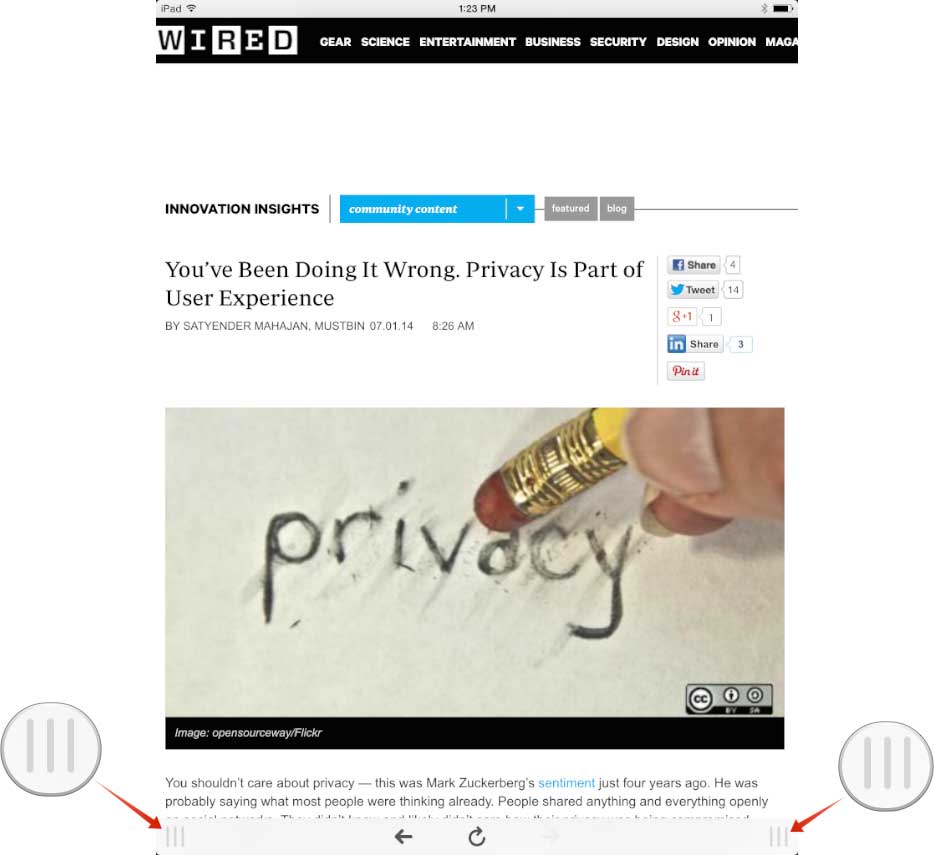 You also have the ability to call up certain actions with long taps. Long tapping an item in the list view brings up options to save it, share it, or mark it as read. Long tapping a link in an article brings up options to share it via the services you've enabled. Long tapping an image in an article gives you the option to view in fullscreen, share the image, save to camera roll, or copy the image URL.
Relying on gestures might present a greater learning curve for inexperienced users, but the advantage is that you're never shown a button when you don't need it. Keeping the buttons out of sight also forces you to be slightly more intentional about using them. In Reeder, the ease with which I could send items to my Instapaper queue (simply by swiping or starring an item) resulted in an Instapaper queue of things I didn't really want to read. By slowing me down a bit, Unread helps me consider the real value of each item, and since it's almost as nice to read as Instapaper, I only send items that way if I don't have time to read them now.
What Unread Lacks
Perhaps the biggest feature missing from Unread is the ability to manage your feeds. In short, you can't subscribe or unsubscribe from any feeds within the app.
This means users will need to visit their RSS service of choice on the web to add or change subscription information. While this is not a deal-breaker, it can be annoying on an iPad.
I also quibble with the text size in the app. Unread does not give you the option of changing the font (as does Mr. Reader), but you can change the size of the text in any of the different views. The settings screen gives options from "Epic" all the way down to "Tiny," which seems like plenty of options. And yet, they all feel a little too big to me. "Tiny" feels downright medium-sized. I love the way the retina screen displays tiny text, so I want truly tiny. But maybe that's just me.
Other Apps in the Category
In testing various RSS readers for this review, we tried out a few apps that offer a slightly different take on the layout of RSS feeds.
The Early Edition ($5) reimagines the RSS feed in a newspaper layout, which is fun to look at, but not especially easy to read, as you can't scroll from one item to the next without going back to the main newspaper.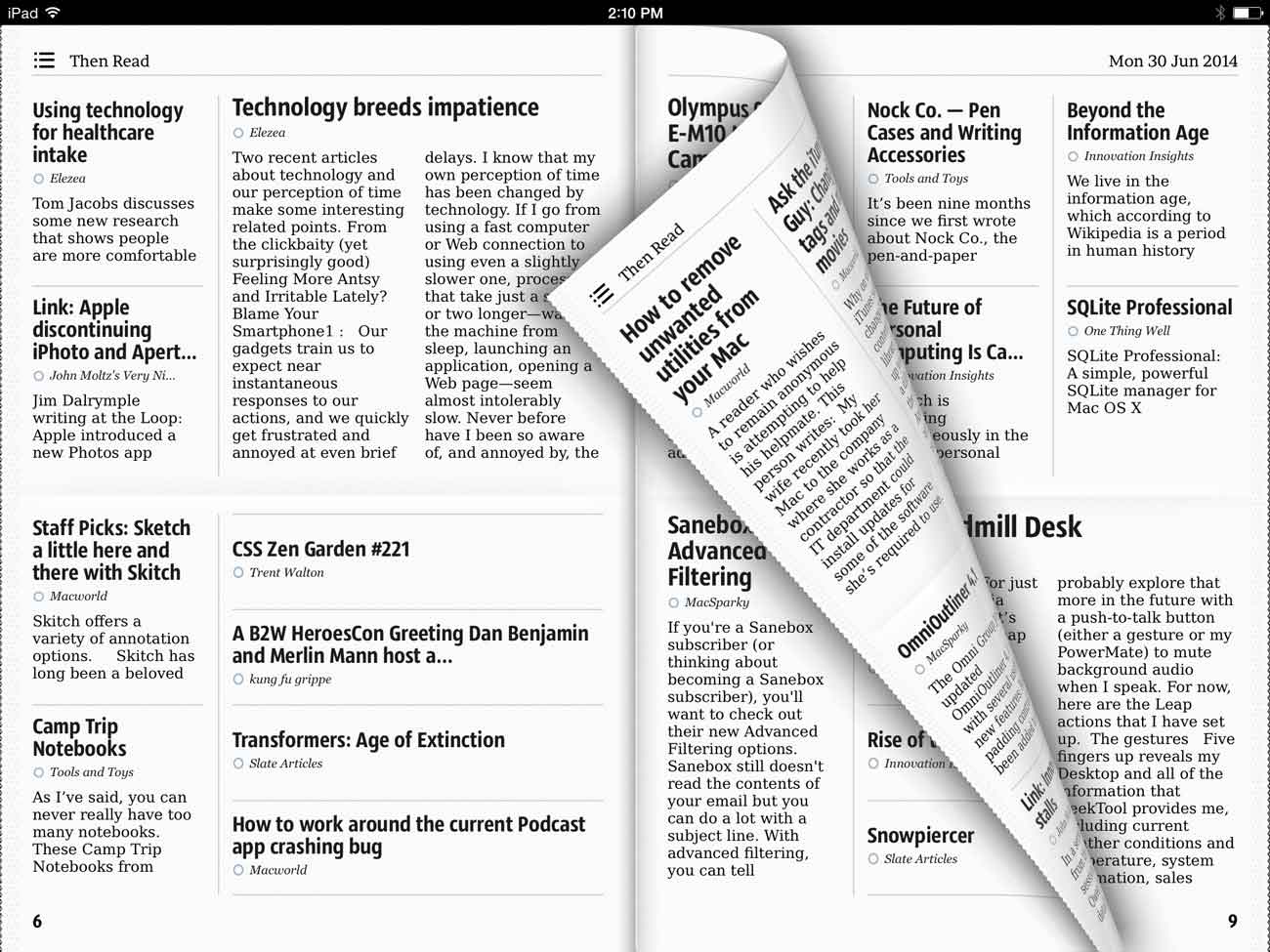 Newsify and Ziner (each free with $3 in-app purchase to turn off ads) use a more magazine-styled layout. In Newsify, the layout is a bit more jumbled, but you can scroll top to bottom and see everything. Ziner uses larger images, gives you only three or four items per page, and has you scroll horizontally between those pages. Of the two, I prefer Ziner's less jumbled approach, but neither design really entices me to tap on anything. Why is one item featured over another two? Because the algorithm said so. The design feels too haphazard and arbitrary. I prefer Unread's decision to treat each item with equal respect.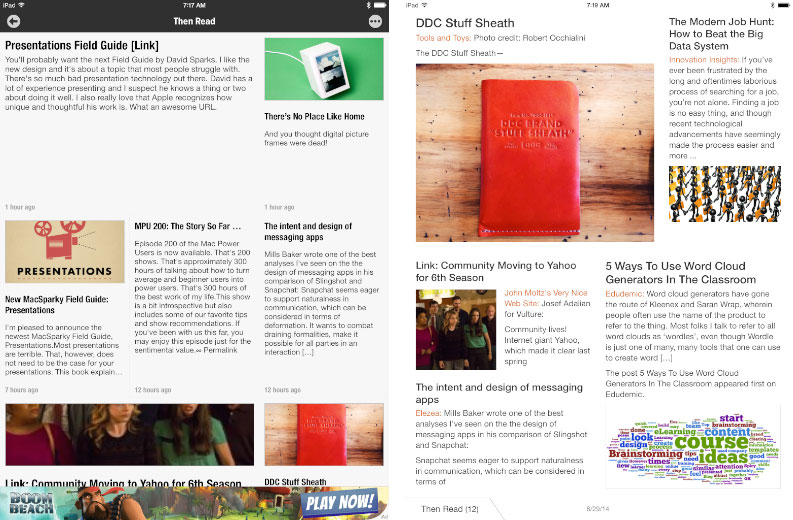 Slow Feeds (free with $3 in-app purchase for premium features) was the alternative RSS reader that intrigued me most of all. The idea behind the app is that it will sort your feeds into "slow feeds," those that don't get updated as often, and "high volume" feeds. That way, you can make sure not to miss posts by people who write infrequently.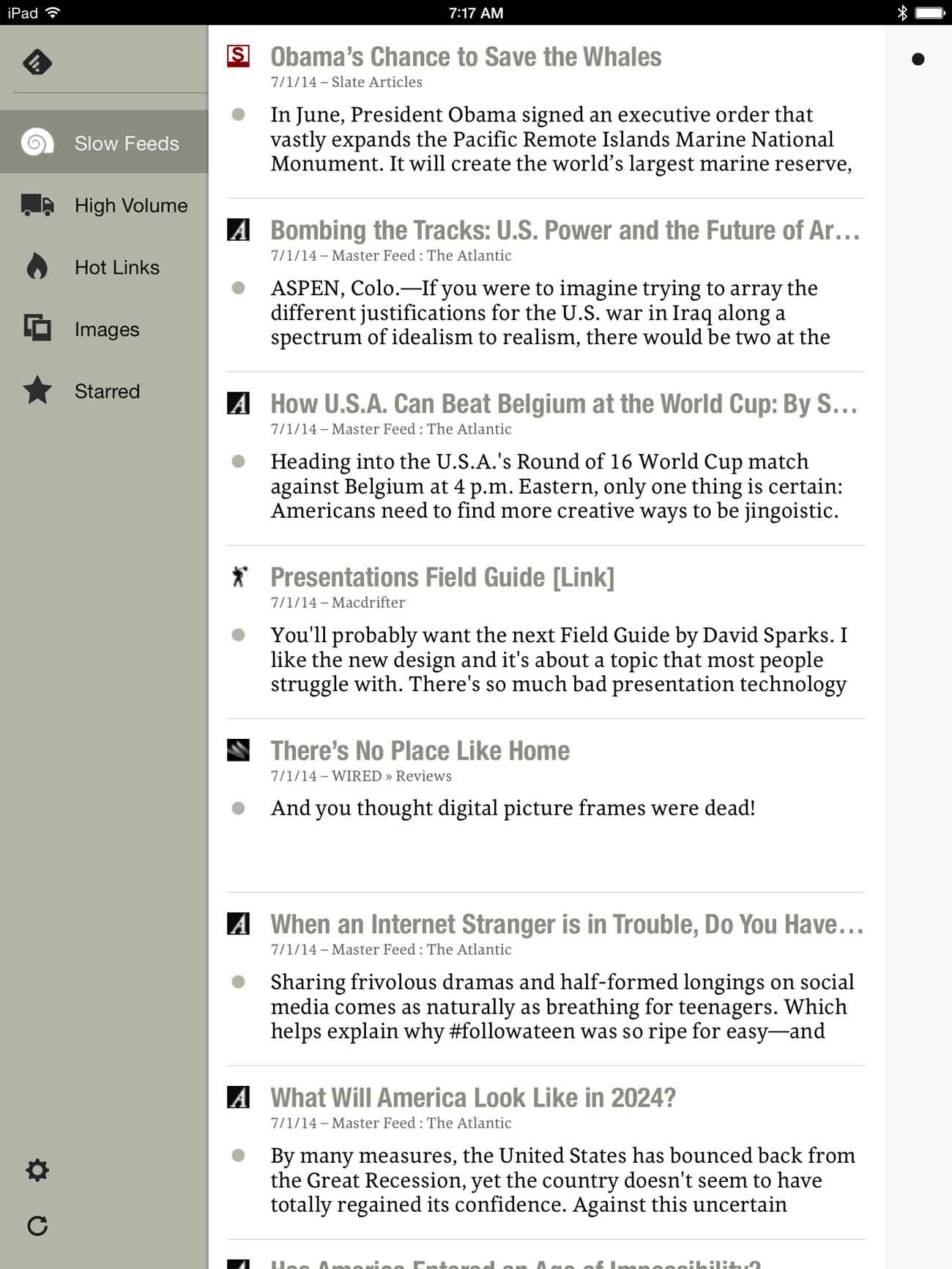 The only problem is that it didn't seem to work for me. I subscribe to the Slate Articles feed, which feels pretty high volume, and yet these items show up in my "slow feeds" folder. Then, if I do want to check out my high volume feeds, all I get is headlines, which are rarely enough to make a decision about whether something is worth reading.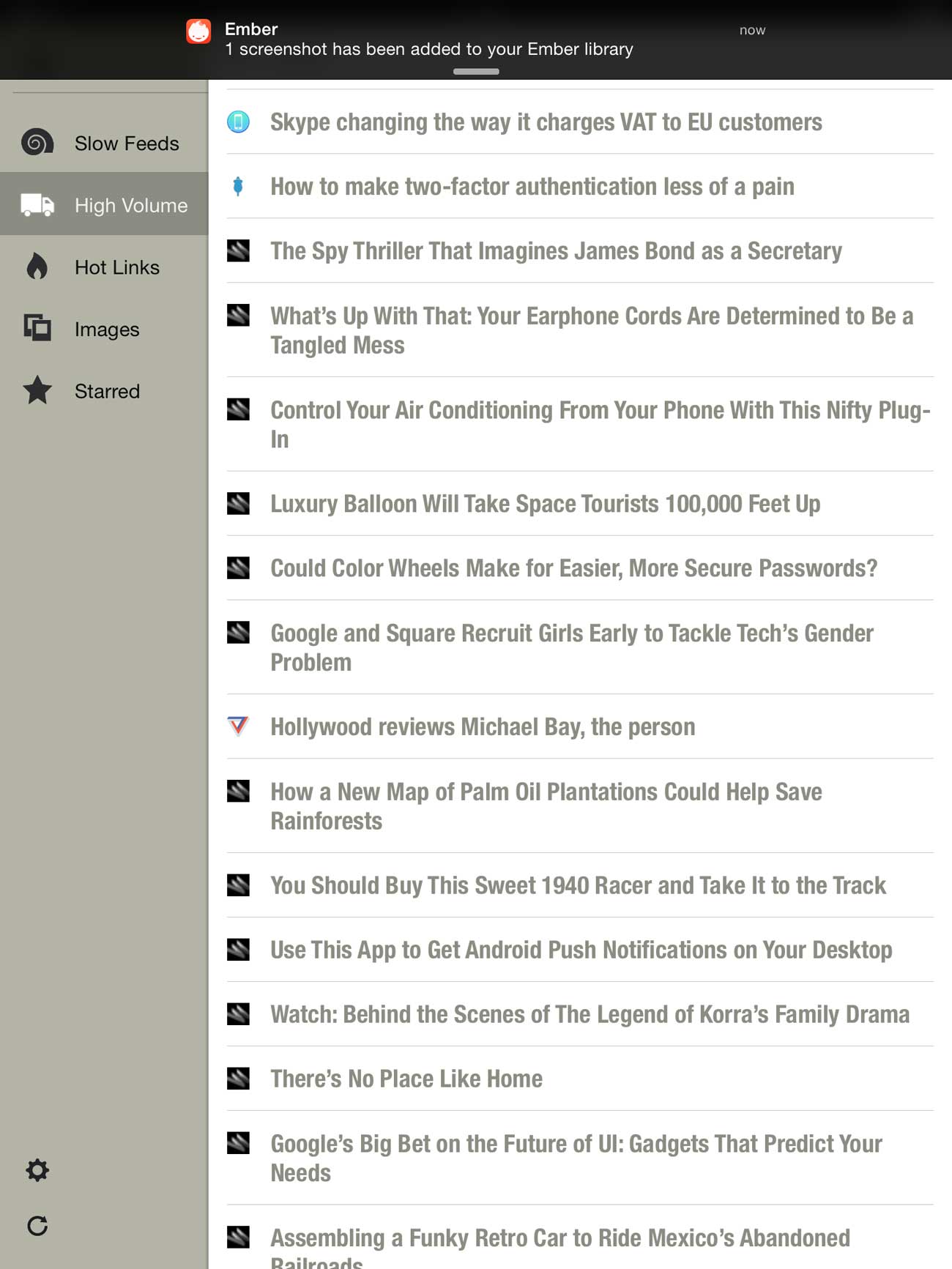 The "Hot Links" feature also seems promising but under-delivers. It's supposed to show you links that multiple sources in your feed have linked to, but mine is often full of mere duplicates.
The one feature I do appreciate is the image feed. This gives you a single view of all the images from all your feeds. You can then tap on any image and see what item it leads to, which allows for interesting discovery of items you might otherwise have ignored.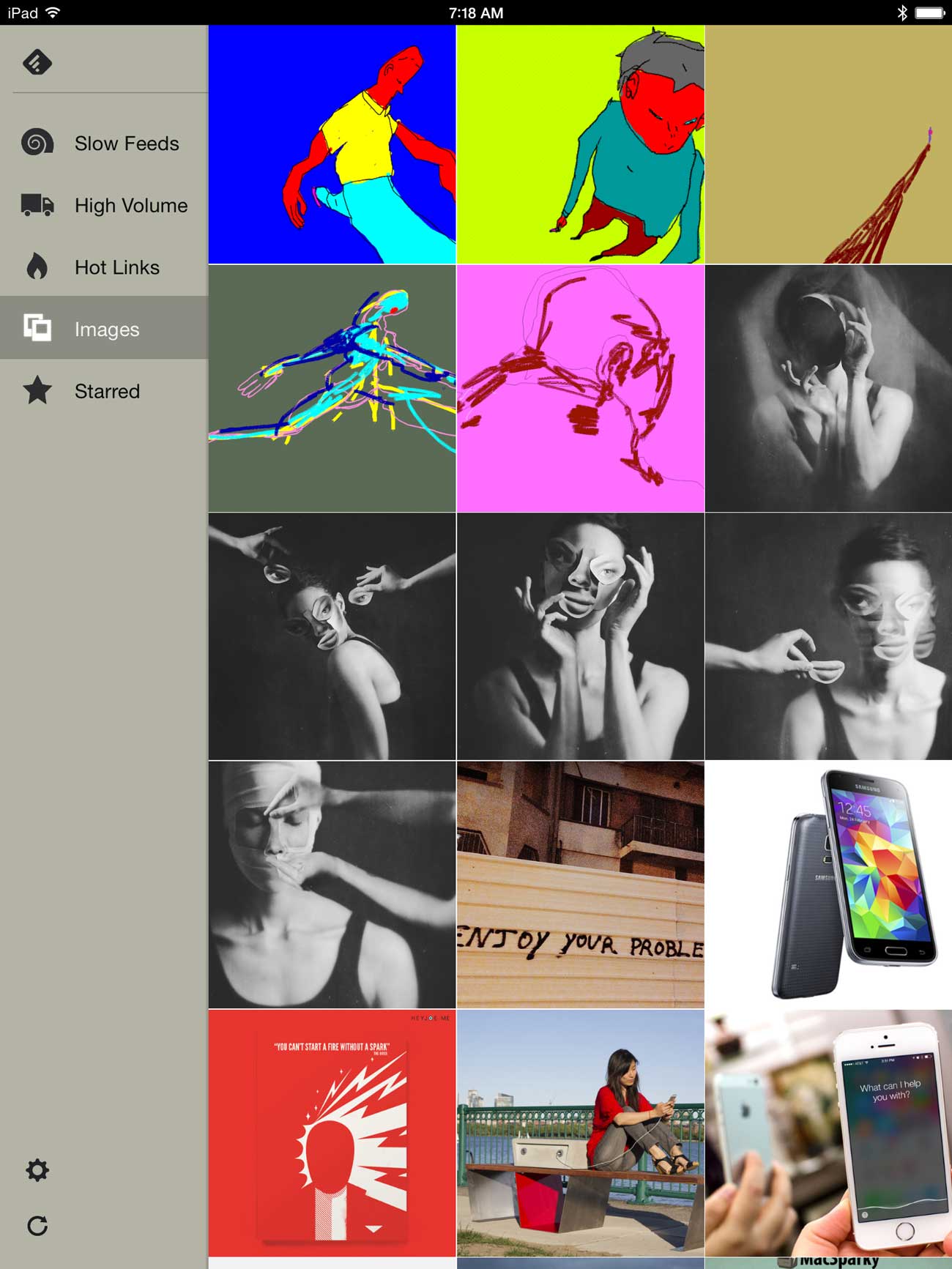 Conclusion
In the end, the best RSS reader is the app that helps you take the best advantage of what RSS offers. Unread is designed for anyone who wants to take advantage of RSS to find and savor great writing. In his description for Unread, Jared Sinclair writes,
Let RSS be the place where great independent writing thrives. Choose your favorite writers and read them closely. If you're also a writer, write as if you are writing directly to just such a reader, the way Kierkegaard always wrote for: "… that single individual whom I with joy and gratitude call my reader…"
It's fitting that Sinclair ends this philosophy statement (how many app developers even have a philosophy statement, let alone one so well-articulated?) with a quote from Soren Kierkegaard. I often think of Kierkegaard when I think about the anxiety technology can produce, an anxiety brought on by the power to do so many different things that we're never quite sure what to do at any given moment. Kierkegaard compared anxiety to dizziness, "the dizziness of freedom."
Sometimes it feels like there's too much, too many things to read, too many obligations, too many inboxes, and the endless stream of possibilities makes us dizzy. An app like Unread can help us slow down, stop the spinning, and focus on what's here, now, on this screen, ready for us to read.
$4.99
Unread offers the best experience for reading RSS feeds on the iPad.
App Store

$4.99