What we published, and noteworthy links
May 1, 2015
Here are the things we published this week, as well as some great link material. You can also stay up-to-date by following us on Twitter and RSS.
Also, we have a weekly email newsletter that sums up all the new and cool things published to the site. If you like to stay up-to-date via email, then you should sign up here.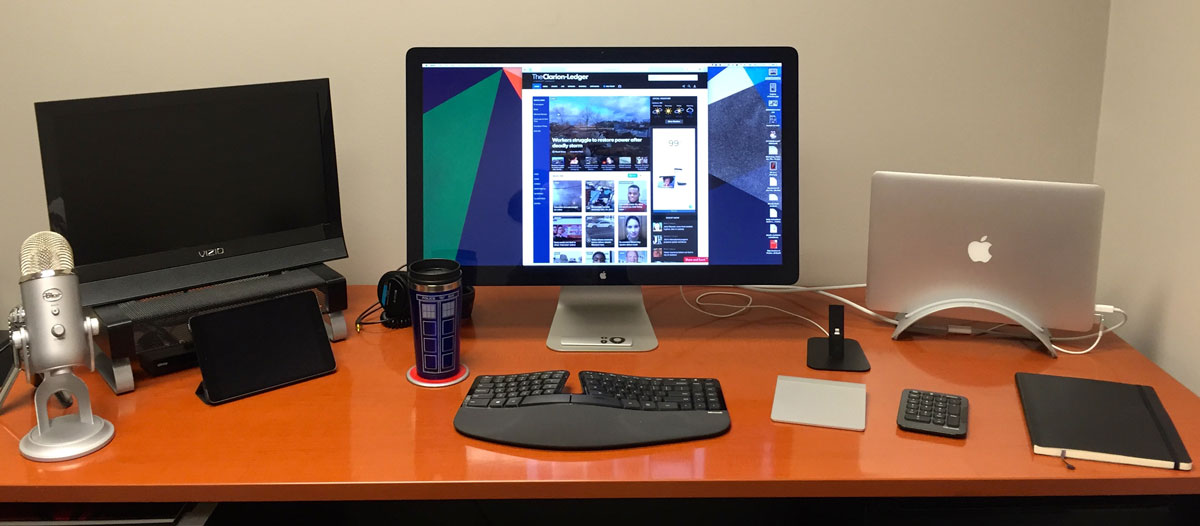 Sam Hall is the acting executive editor of The Clarion-Ledger in Mississippi, and also writes the Daily Ledes blog and a weekly column — both focused on politics and current events.
We totally understand Sam's urge to tinker, as there are endless possibilities when it comes to tweaking your setup and work tools. In the end, though, it always comes down to using something that does the job.
I don't know if I'll ever have an ideal setup because I'm always tinkering. That said, I'd love a MacBook Air with retina display with slightly faster processor and larger memory so I could do video and audio work easier. Other than that, I'm pretty pleased.
We'd love to hear from you. Just fill out this form with some basic information and we'll be in touch.
Apple Watch is less than a week old, so it's not surprising that the workflow for pairing your Watch to a new iPhone isn't incredibly prevalent. But, iPhones fail at times, and mine happened to do so just a few days after my Apple Watch came in.
As fate would have it, Bradley now has first-hand experience in pairing Apple Watch to a new iPhone. Spoiler: it's not difficult.
App Camp for Girls is an amazing program that teaches girls how to design interfaces, develop apps, and learn about the software industry, all while being mentored by some of the most inspiring women in the business.
Quiz Compendium is an app built by campers. It comes with 15 personality quizzes like, "Which Plant Are You?" and "What Is Your Spirit Animal?". The quizzes are quick and fun, and feature artwork by App Camp for Girls participants.
We recently named Mailbox as our favorite OS X mail client, but there are still many, many users who find the stock Mail.app client on the Macs to be more than adequate for their needs. As TJ Luoma at MacStories points out, there are ways to configure Gmail in Mail.app that will help you get some extra mileage out of the default app.
From tips on how to get Gmail connected to Mail, to pro tips on setting up IMAP, this article has loads of good information on using Gmail with Mail.app.
Mac Power Users, a well-known and awesome podcast hosted by David Sparks and Katie Floyd, announced this week that they would be joining Relay.fm. MPU is a show that focuses on getting the most out of your Apple technology, and never fails to deliver on that goal. The show has been going since 2009, and it's still as relevant as it ever was. If you haven't, go check it out — maybe you'll learn a few things.
If you have a weakness for photography gear, Micro Four Thirds brand in particular, then you shouldn't check out this week's lens roundup on Tools & Toys. They go through several stellar options for the M4/3 format that you really can't go wrong with.
And, if that wasn't enough, they also published a camera bag review for one my personal favorite bag companies: the Think Tank Retrospective 5. Coincidentally (probably not), this bag is a perfect fit for the M4/3 form factor, as well as other compact, non-DSLR camera systems. As always, there's great photography and some compelling reasons to consider the product. And, if you need something bigger than the 5, Think Tank definitely has you covered.
The best way to promote your product, service, or company directly to our readership and site visitors is through a sponsorship of the site.