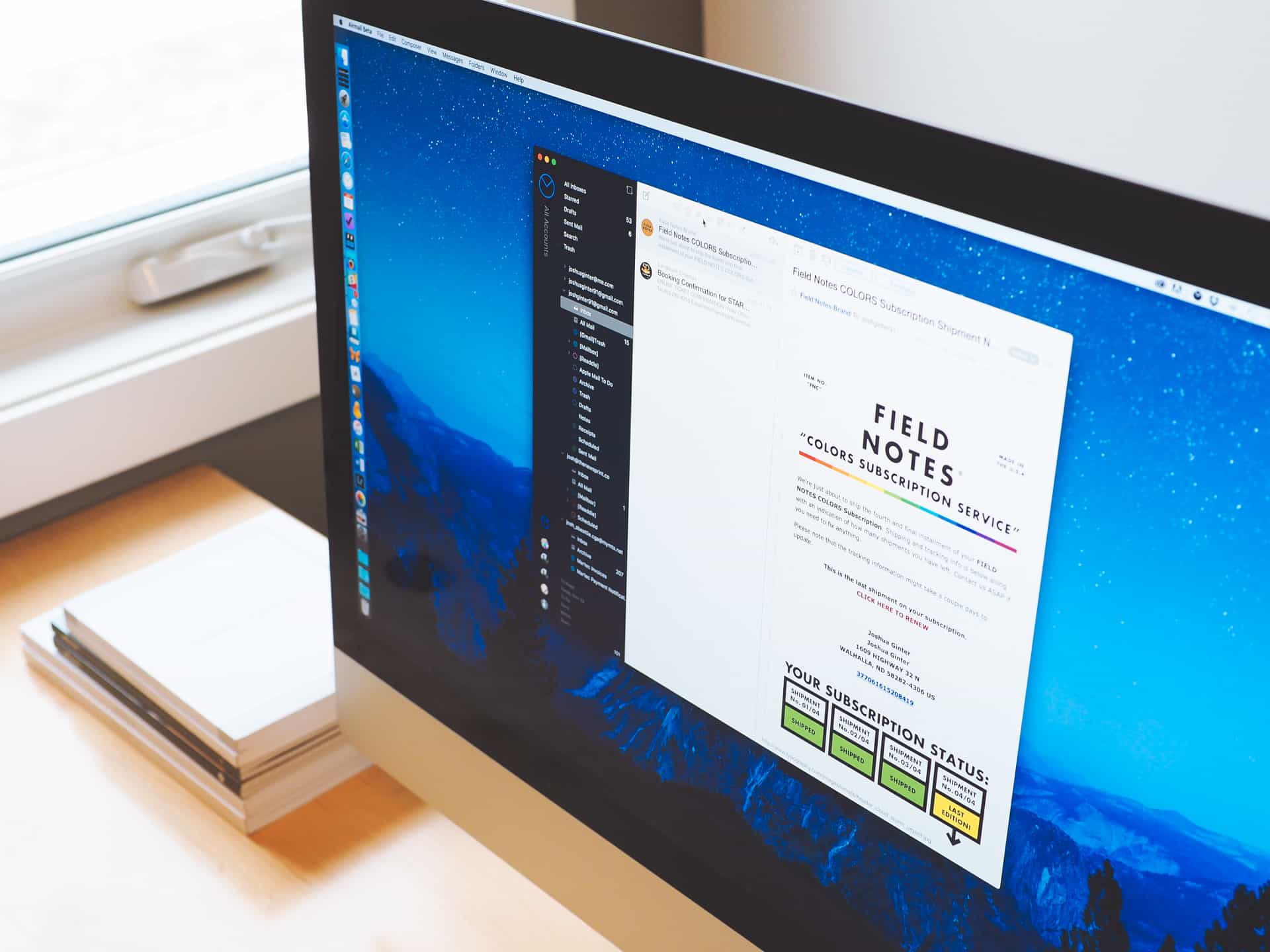 The Best Third-Party Email App for Mac
Airmail
January 31, 2018
The Mac's default Mail application (also referred to as "Mail.app" or "Apple Mail") has a somewhat checkered past.
While Mail.app provides a free, full-featured email client on every Mac that is sold and has pioneered some innovative features over the years (like VIP and Handoff), it's definitely not for everyone. It can be buggy and lacks some more advanced features that are present (and have been present for years) in other third-party email clients.
If you use plug-ins to extend Mail.app's functionality, Apple has a history of making changes that cause developers to re-write their plugins, resulting in a broken email workflow while you wait for updates.
Fortunately, there is no shortage of superb third-party email clients that aim to fix Mail.app's shortcomings. In this article, we'll take a look at several of the more popular options and introduce you to our favorite: Airmail.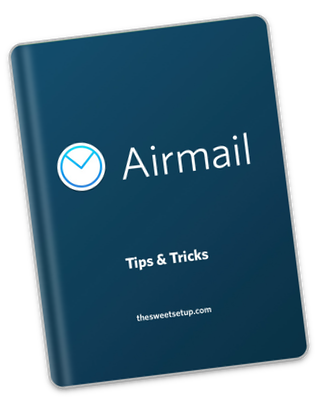 Featured Download
The Airmail Checklist. Get the most out of Airmail (and tackle your email inbox while you're at it) with this quick-start checklist.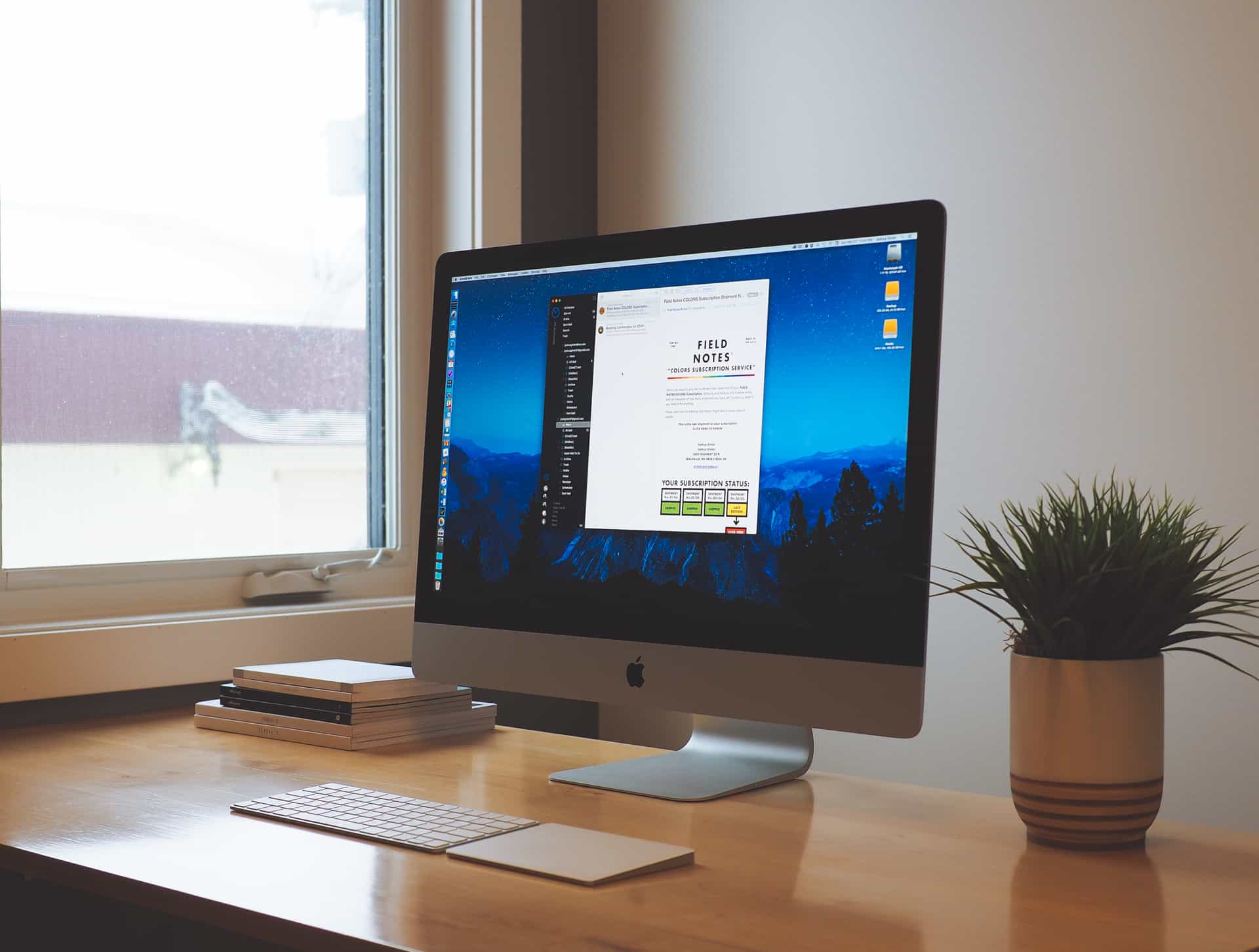 Criteria for the Best Email App
In selecting the best email app for macOS, we used the following criteria in selecting the winner:
Overall Design — Dealing with email can be annoying, and using a poorly-designed email client can compound the frustration factor. The email client you decide to use should provide you with a well-designed user interface that aids you in your quest for Inbox Zero.
Ease of use — The email client you use should give you the tools you need to get the job done while staying out of the way as much as possible. You want to focus on reading and responding to email, not navigating complex menus or trying to figure out basic functions.
Support for Multiple Account Types — The best third-party email clients are flexible enough to offer support for many different types of accounts, such as Gmail, iCloud, Yahoo, Exchange, IMAP, etc. If an email client doesn't support your email provider, then it's just not an option for you — no matter how awesome it looks.
Support for Gmail-Style Shortcuts — If you've ever used Gmail keyboard shortcuts, you probably can't imagine not using them since they can drastically reduce the amount of time you spend in your email client. For example, to archive a message in Gmail, you just have to press the "e" key, compared to using "Shift + Command + A" in Mail.app (you can view a complete list of Gmail keyboard shortcuts by pressing "?" in Gmail). These shortcuts can be a game-changer for how you read and respond to email, so it's important that the best third-party email client for Mac supports these.
Update Schedule — The email client you use should have a track record of being well-supported to minimize the risk of it suddenly disappearing, forcing you to figure out a new tool for your email workflow.
Integration with Other Apps/Services — Email doesn't happen in a vacuum. Many emails you receive have a task associated with them or a file you need to save for later, so it makes sense that you should be able to link that email message to your task management system (i.e. Things 3, our favorite GTD app) or cloud storage solution, like Dropbox or Google Drive.
Customization/Widgets — A good email client is flexible enough to support customization. Email is personal, and some email clients allow you to install widgets or plugins that can extend the core functionality, enabling you to create a very custom application that meets your specific email needs on any device.
Plays Nice with IMAP Folders — Some apps (rather sneakily) create additional IMAP folders for extended functionality, which (at best) creates additional clutter when you access your email outside of that email client, and (at worst) can cause major problems in your email-based workflow (i.e., when you can't find a message because it's actually sitting in a "hidden" folder).
The Best Email App (for Most People): Airmail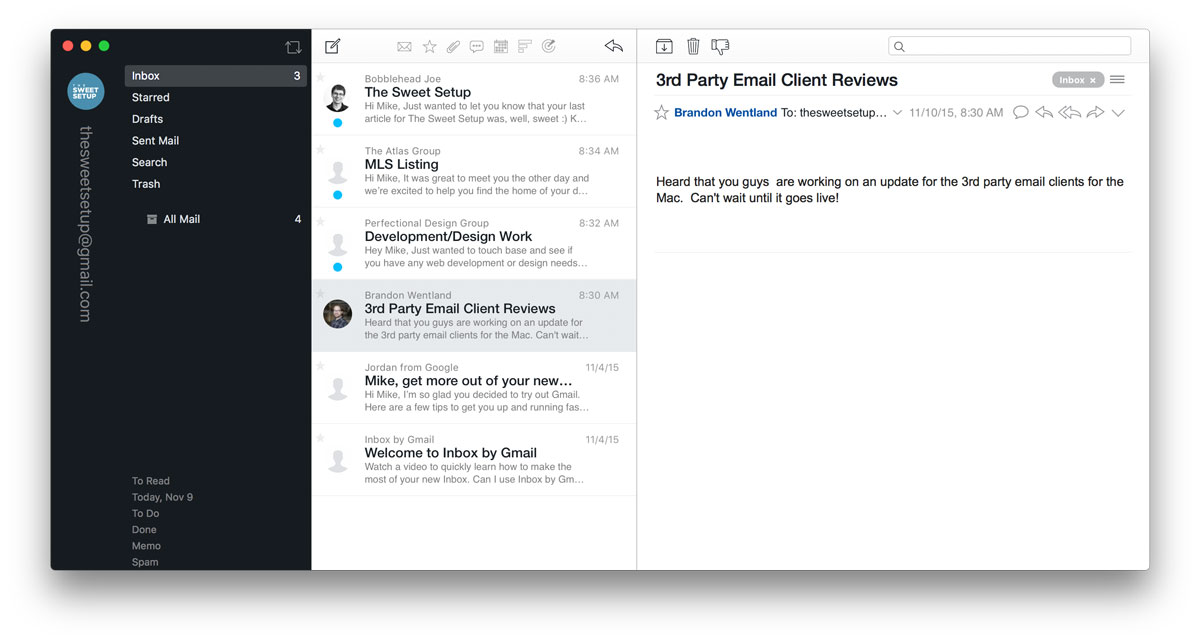 Airmail is marketed as being a "lightning-fast email client for Mac," and it certainly doesn't disappoint. It's extremely quick and responsive and looks absolutely beautiful. The interface is well-designed and includes many great design touches that aren't present in other email clients, like support for translucency in Yosemite (and above) and Split Screen support for El Capitan. Everything about Airmail is well-polished from a design perspective, and it just looks and feels like a native Mac application.
But, Airmail is more than just a pretty face — it's also a very powerful email client with a lot of great features that Mail.app lacks, like support for composing messages in Markdown. The compose window in Airmail actually allows you to compose in Markdown or HTML by opening up a side-by-side interface where you type on the left and your formatted text is displayed on the right. This visual preview of your message can be really useful as you type your message to make sure you don't miss anything that would result in broken links or strange-looking text.
When it comes to receiving messages, Airmail takes a task-based approach that may be an acquired taste if you're coming from Mail.app. Each message in Airmail can be marked as To Do, Memo, or Done. Selecting one of these options will apply an identifier (similar to a tag) to the message and move it to the appropriate container inside of Airmail.
A To Do is (just like it sounds) something you need to do or take action on. For example, if your boss asked you to send an updated report, or your spouse emailed you to pick up something from the store on your way home, you might classify that as a To Do.
Once a task is completed, it is marked as Done, while a Memo is defined by Airmail's support documentation as something that you need to memorize or store for later.
If the idea of managing tasks from your inbox doesn't appeal to you, Airmail also integrates with many productivity applications like BusyCal and OmniFocus. Creating a calendar event or a task with a link to the original email message is easy: just right-click (control-click or two-finger tap) on the email, select Send To, and then select the application to which you want to send the email link.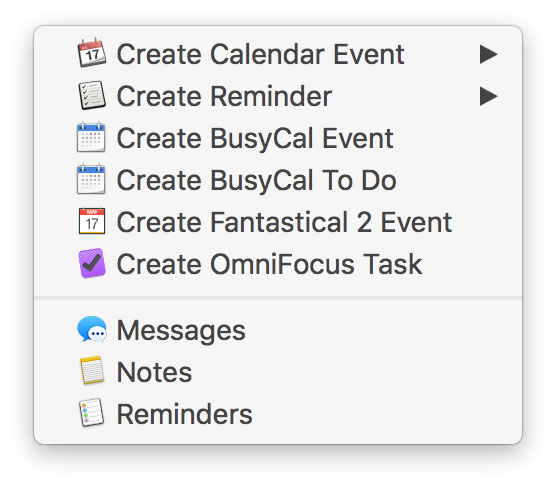 Airmail integrates with quite a few applications and includes a Plugin Framework API that developers can use to integrate their apps with Airmail. Here's a list of some of the productivity applications Airmail supports:
Calendar
Reminders
OmniFocus
Things
Todoist
Fantastical
BusyCal
Wunderlist
2Do
Airmail also includes several features that will be appreciated by power users, like AppleScript support and the ability to delay sending a message after hitting the Send button (giving you a chance to "undo" that angry email you sent and regretted a few seconds later). For Gmail users, Airmail supports Gmail keyboard shortcuts as well, and while the complete list is not supported, a surprising number of them are.
The one complaint we have with Airmail is the way that it handles your IMAP folders — it actually creates a couple nested folders inside of an [Airmail] folder that it uses to handle email-based tasks. It also lacks a couple of the innovative features that exist in Postbox (our runner up), but it's still a great email app overall. If you were to choose Airmail simply for the beautiful coat of paint, what you'll find underneath is a very versatile email client that will probably meet your needs.
Airmail is available in the Mac App Store for $9.99.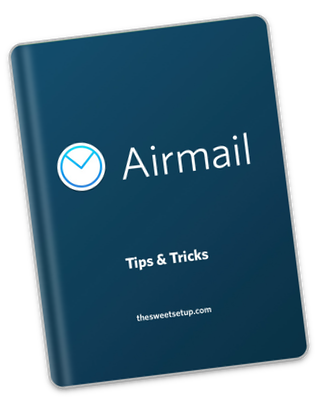 Featured Download
The Airmail Checklist. Get the most out of Airmail (and tackle your email inbox while you're at it) with this quick-start checklist.
The Runner-Up (for Those Who Need a Little More): Postbox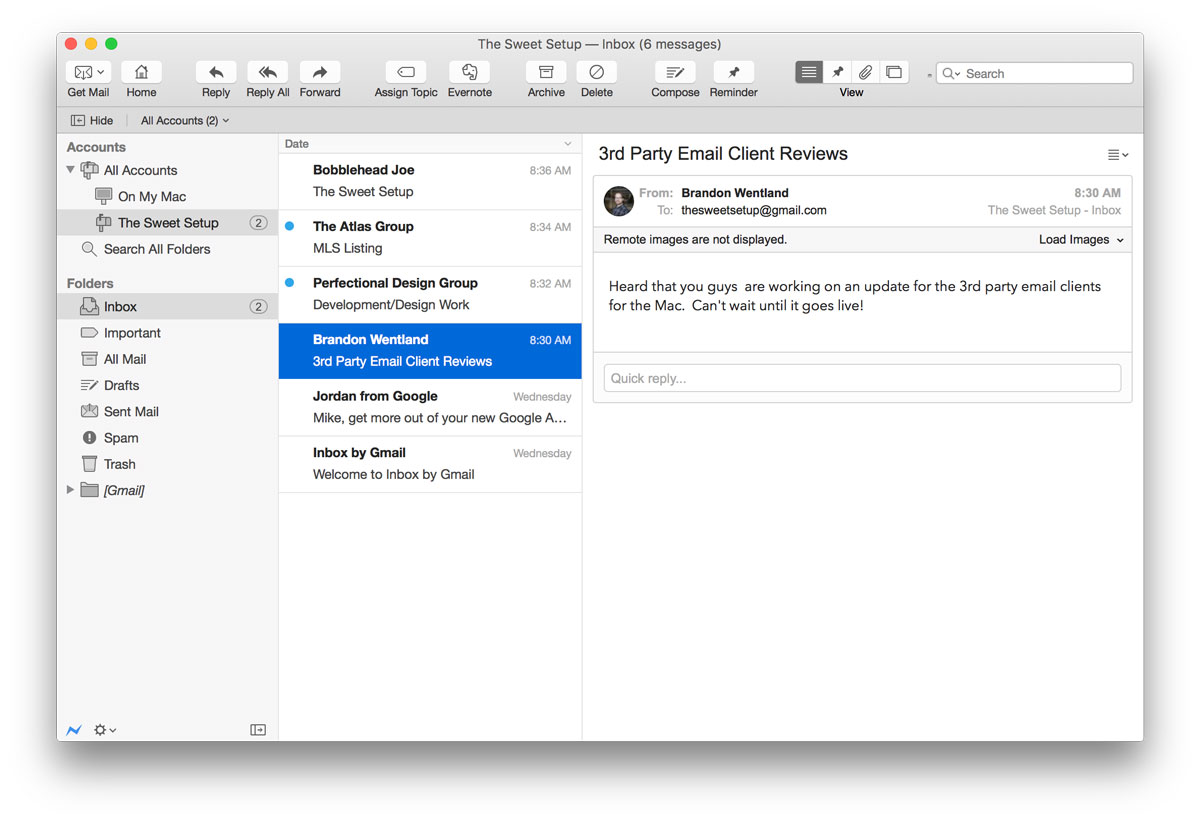 Postbox has been around seemingly forever on the Mac, and got dinged in our first review for not having a very good user interface (which was true) and feeling way too much like the old Mozilla Thunderbird application. Recently, though, it received a major update that included a general UI overhaul (though a few oddities still remain) and added several great features that make it a contender for someone seeking a bit more than Airmail can offer.
What really sets Postbox apart from a functionality standpoint is a set of features that make dealing with email more efficient. For example, Postbox allows you to have "account groups" that can separate or blend work and personal accounts — a very useful feature if you have a lot of email accounts you're required to manage. Postbox also supports tabs so you can focus on specific email screens, similar to how they work in your web browser.
Another great feature in Postbox is support for Pre-Made Responses. This is very similar to the "Canned Responses" feature in Google Labs (which is available in the Gmail web interface), but it doesn't require that you have a Gmail account in order to use them. Postbox also has a time tracker feature when responding to email so you can see how long you've spent composing your message, as well as a word count. When you're ready to send your message, Postbox also has domain fencing that can prevent you from sending an email from the wrong account.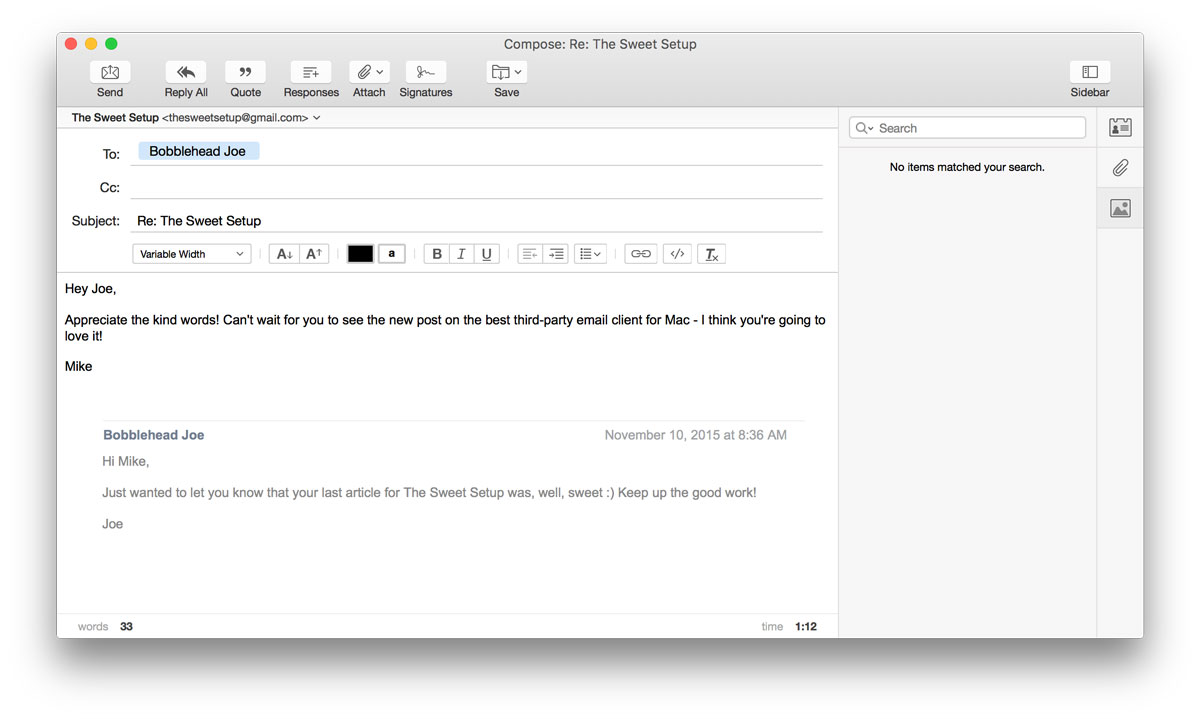 Postbox has powerful file and image search capabilities that allow you to find and use files and images in your email — even while composing a new message. (If you've ever had to close out of the compose window because you needed to search your inbox to find the file you wanted to include, you know how annoying this can be). It's these well-thought-out features like this that make Postbox a legitimate contender for the third-party email client crown. While it may not have all the bells and whistles, the features that are included are intentional and well-implemented.
What keeps us from crowning Postbox the winner is the lack of native Exchange support and the fact that the interface is still a little clunky. For the most part, it's fine, but it definitely doesn't look as nice as Airmail, and you'll occasionally find things that seem out of place. For example, the magnifying glass icon that appears in the search window is still a very pixelated, non-retina icon that (if you're like me) your eye is instantly drawn to. With retina Macs being introduced in 2012, this is somewhat inexcusable and seems like a fairly obvious oversight (especially since the rest of the app was updated with retina 2x assets).
Postbox is $40 and be purchased directly from the developer's website. There's a 30-day free trial and a 60-day money back guarantee, so you basically have 90 days to try it out and see if it's for you. Because all sales are handled through their website, they also offer upgrade pricing for owners of previous versions.
The Best Email App for Power Users: MailMate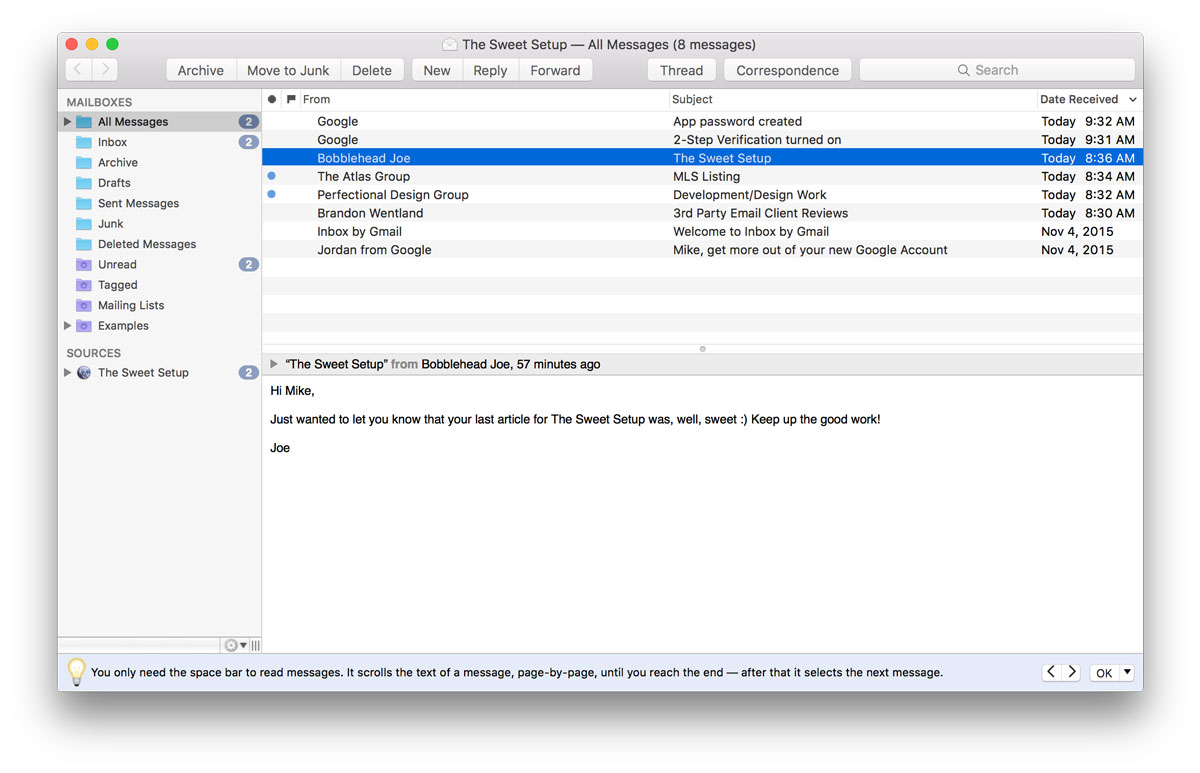 If you find yourself looking for something even more powerful than Postbox, you might want to check outMailMate. MailMate is a "keyboard-centric" mail client with a text-based approach to email. MailMate also supports more Gmail keyboard shortcuts than any other app except MailPlane, and you can even use your own custom keybindings if you want.
Because MailMate aims to be completely standards-compliant, it actually doesn't even support formatted text. To add any basic formatting to your message (italics, bold, bullet lists), you must do it in Markdown. If you're not used to writing in Markdown, it may take some getting used to. But, if you use Markdown frequently, then you'll have no trouble picking up MailMate.
MailMate also offers several unique layout options, like a widescreen layout and special views to show thread arcs and email statistics. MailMate also has some of the most powerful search tools we've seen, rivaling Google's web interface in terms of power and flexibility.
MailMate includes extensions (which it calls "bundles") that allow integration with many different productivity applications, and the bundles that are shipped with Mailmate go beyond the basic integrations that are found in most other third-party email clients. For example, MailMate is the only app that supports sending either a link to the original message or a copy of the message itself to OmniFocus (by using "Add" or "Add with Summary").
MailMate is one of the most expensive email clients we reviewed, and is available for $50 from the developer's website (there is a 30-day trial available). At that price, MailMate is definitely not for everyone – in fact, it's not for most people. The interface is very functional, but also pretty boring. If looks are important to you, you won't like MailMate. But, if you're looking for the most powerful and most standards-compliant email client available, you write in Markdown frequently, and the price tag doesn't scare you away, you might want to check it out.
Other Options
Spark
Spark is a relative new-comer to the market, launching on iOS before coming to the Mac. It has many similar features to Airmail, such as snoozing and the syncing of account information via iCloud, and even packs some new tricks like Quick Replies. These allow you to say "Thank you" or "Smile" or "Love" with just a tap. However, it is far less customizable than Airmail, and the Mac app has some quirks we don't love, like showing notifications for incoming messages even if the program is not running.
Spark is free on the Mac App Store. The iOS version is also free. This does give us a little bit of pause about the business model here, but if Airmail's customization is too much for you, it's worth test-driving this app.
MailPlane
If you prefer the Gmail web interface, MailPlane is a great option since it basically runs the Gmail web app inside of an application wrapper. This allows you to use the complete library of Gmail-supported keyboard shortcuts as well as Gmail plugins (like Boomerang), but MailPlane also offers some native app advantages, like Evernote integration and OmniFocus support (among others). At $24.95, it's specifically targeted for Gmail users who love the Gmail web interface but want the advantages of a native Mac app.
Outlook
Microsoft's email app has come a long way, and with the latest update to Office 2016, this is actually a pretty decent email client. However, the Outlook approach to email is to integrate everything (calendar, tasks, email) into one ecosystem, which definitely isn't for everyone. If you are stuck using Exchange-based email in a corporate setting, you really don't have many options. Fortunately for you, Outlook 2016 is much improved.
Outlook is available as part of Office 365, which is pretty expensive ($6.99/month or $69/year for Home users, $229 if you want to buy it outright), but also includes other Microsoft office products like Word, Excel, and Powerpoint. If you use Microsoft Office already or rely on the Exchange email protocol, Outlook isn't a bad option.
CloudMagic
CloudMagic is a popular email client for iOS with a newer Mac version. First, the good: this app is absolutely gorgeous and supports many account types (including Exchange). The user interface is minimalistic and stunning, with excellent attention to detail including subtle animations as you navigate around the different parts of the application. Processing email in CloudMagic is whimsical and fun, but unfortunately its not really designed for power users as it doesn't support Gmail keyboard shortcuts (it instead offer a much more limited set of proprietary keyboard shortcuts) and doesn't integrate with any productivity apps out of the box. Unfortunately, the add-ons that allow you to extend the functionality of CloudMagic on iOS are not yet available for Mac (their website says they are coming soon) so if you rely on integration with a task manager this is a deal breaker. Still, this app shows a lot of promise and is worth keeping an eye on as it matures.
UniBox
Unibox offers a people-centric approach to email, organizing your messages and conversations by person. The list of contacts on the left-hand side of the screen is sorted by date, but each person will appear in the list only once. Selecting a contact will reveal all your conversations with that person, similar to the Messages app. It's a very different (and unique) approach to email, but is so non-traditional that it has a fairly steep learning curve. If organizing your messages by person sounds appealing to you, give UniBox ($20 on the Mac App Store) a look.
Mail Pilot
Mail Pilot began as a Kickstarter campaign promising a a new (and better) email workflow. It's seen several revisions since, but still remains true to its roots. Fundamentally, Mail Pilot treats your emails like tasks and allows you to schedule a due date, snooze emails, etc. It's an interesting premise and includes several unique features (like an application dashboard and scheduled email reminders), but in our testing it was extremely buggy, so we can't recommend it. Mail Pilot is available for $19.99, and the iOS version (which also offers an Apple Watch app) is $9.99.
One to Keep an Eye On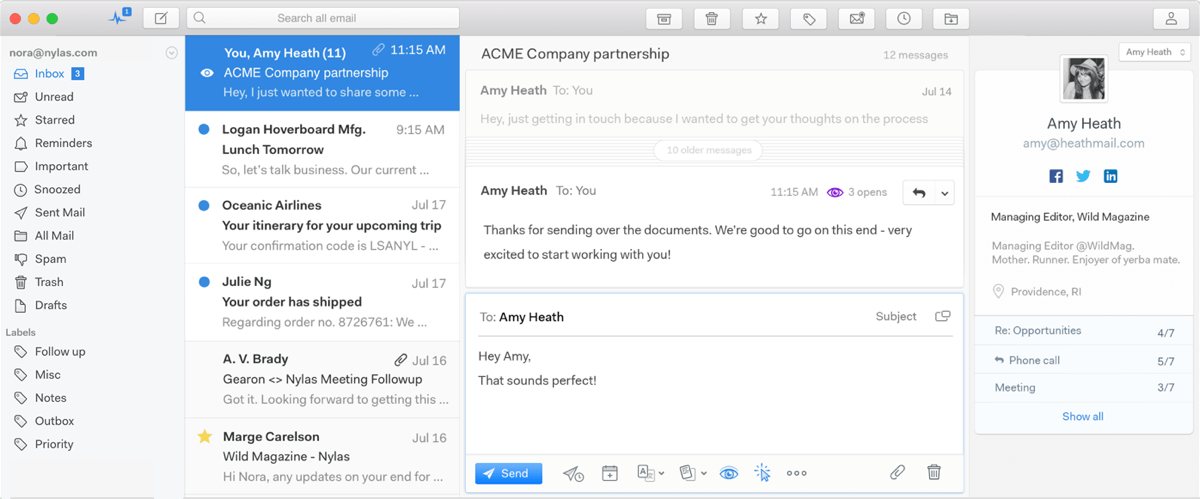 Mailspring is an intriguing email client. It looks a little bit like the Gmail web interface (if you use the list view) and supports Gmail keyboard shortcuts, but it's more polished and sports a clean user interface and great typography. Mailspring is free and open-source (which makes it very easy to extend with Javascript plugins), and because it's born from web code, it supports all platforms and email providers.
What About Google Inbox?
Google Inbox does not offer a native third-party Mac email client, so it really doesn't meet the criteria for this review. However, it does offer a web version (if you're interested in checking it out), so you can access it on your Mac). It also has several unique features specifically for Gmail users, so it's worth mentioning here.
Google Inbox indexes your email, picks out the things that it thinks are most relevant, and sorts them under categorized headers (i.e. if you have a travel confirmation email, it will show up under "Flights"). This can be very useful, but some people may have some privacy concerns about this. If you're one who believes that the convenience benefits outweigh the privacy costs, you'll probably think this is great. If you value your privacy and don't want Google knowing what's in your email, you'll probably think this is creepy. A lot has been said and written about this delicate balancing act between functionality and privacy, and it's ultimately up to your willingness to trade some personal information for extended functionality.
Google Inbox also allows you to add reminders to the top of your inbox so you don't forget to do something, and gives you the ability to snooze emails. You can also create bundles to group related emails together (like Promos, Updates, Purchases, Social, etc.). These bundles are suggested by Google Inbox, but you can choose which ones to toggle on or off.
Google Inbox is free, but does require that you use a Gmail account. While there is no native Mac app, there is an iOS app.
Conclusion
There is no single third-party email client that is perfect for everyone, but we believe Airmail is the best option for most people. If looks are important to you and you don't mind the extra IMAP folders, you can't go wrong with Airmail. If you want an email client with a few more power-user features and you can look past a few rough design areas, Postbox may be the right pick for you. And, if you're looking for the most powerful, most flexible, most efficient, and most standards-compliant email client available (regardless of cost and looks), check out MailMate.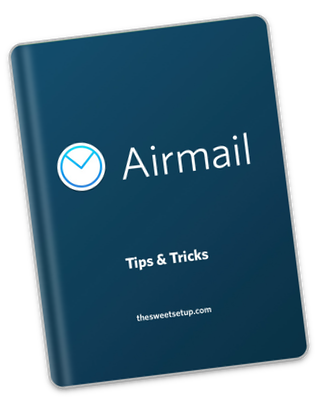 Featured Download
The Airmail Checklist. Get the most out of Airmail (and tackle your email inbox while you're at it) with this quick-start checklist.
$9.99
Airmail is a beautifully-designed mail app for OS X that makes email a quick task with Markdown support, the ability to send emails to other apps, and more.
App Store

$9.99