Ulysses Introduces Grammar & Style Checker and Dashboard Overhaul With Version 20 Update
July 14, 2020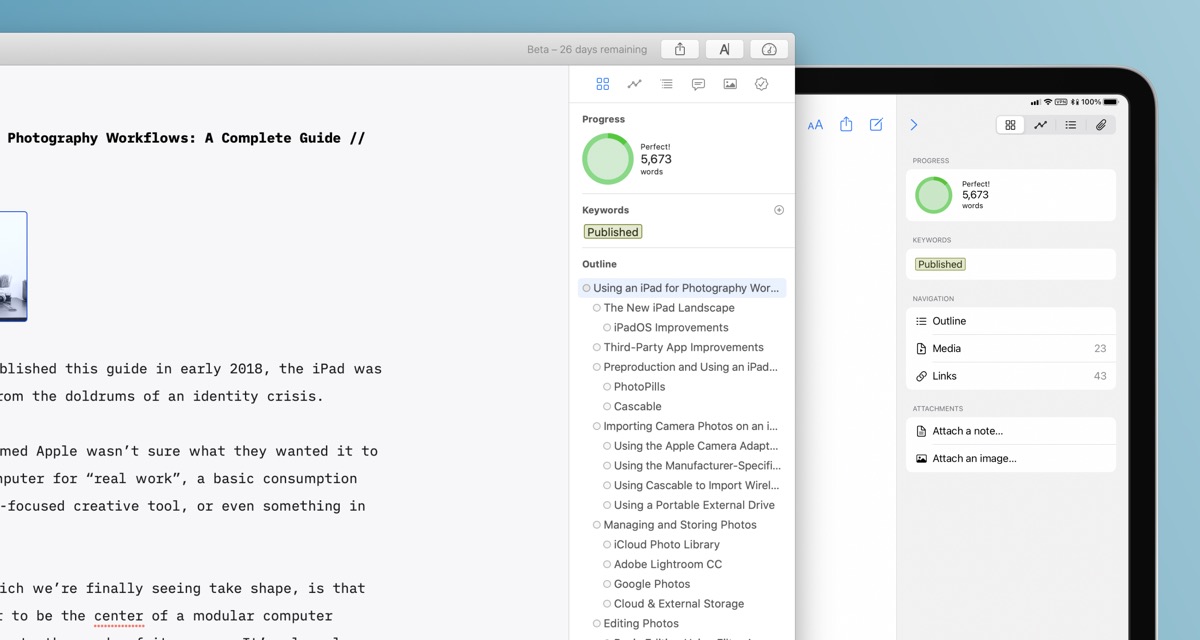 Ulysses 20 is a significant release, bringing both a grammar checking system and a major sidebar redesign to our favorite writing app.
As we gear up for an update to our Learn Ulysses course later this week, we wanted to showcase the new features that are part of Ulysses version 20.
A New Dashboard Design in Ulysses 20
The refreshed sidebar, now called the dashboard, offers a cleaner and more organized way to view and manage additional information about your sheets in Ulysses.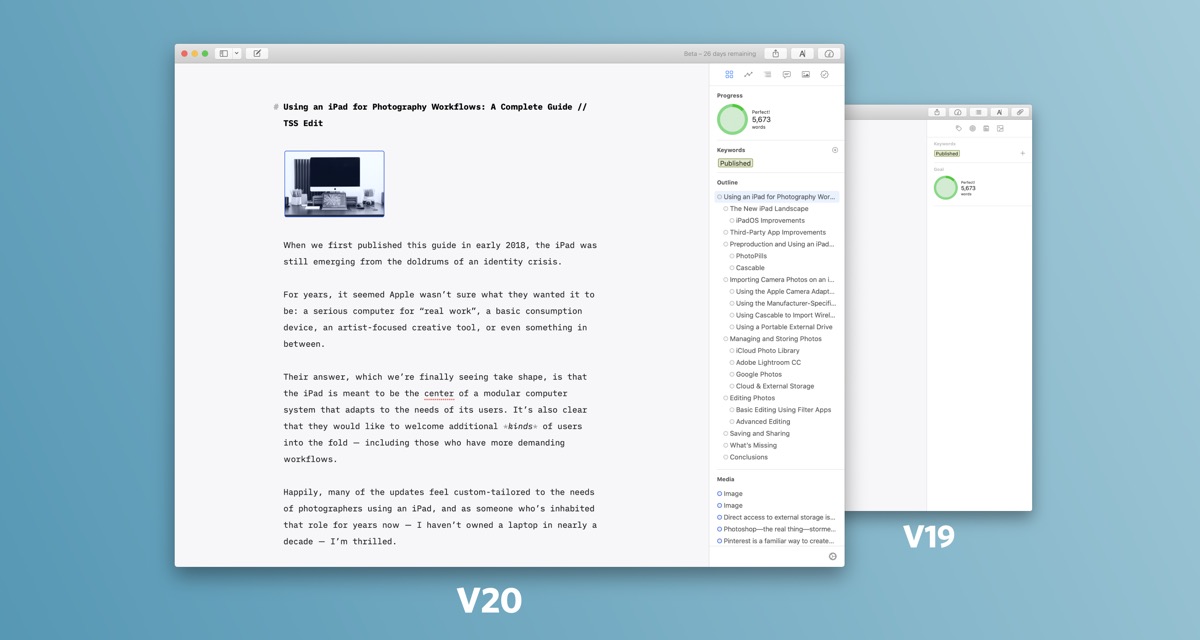 It used to be the case that writing goals, statistics, attachments, and annotations all lived in separate views; version 20 of Ulysses brings all these items together and organizes them into a streamlined, customizable dashboard instead.
By default, the dashboard's new Overview tab includes sections for Progress, Keywords, Outline, Bookmarks, Annotations, Media, Links, and Footnotes. You can show or hide any of these sections individually to create an outline view that works best for your needs. These sections also have dedicated tabs in the dashboard so you can focus in on the information you're after.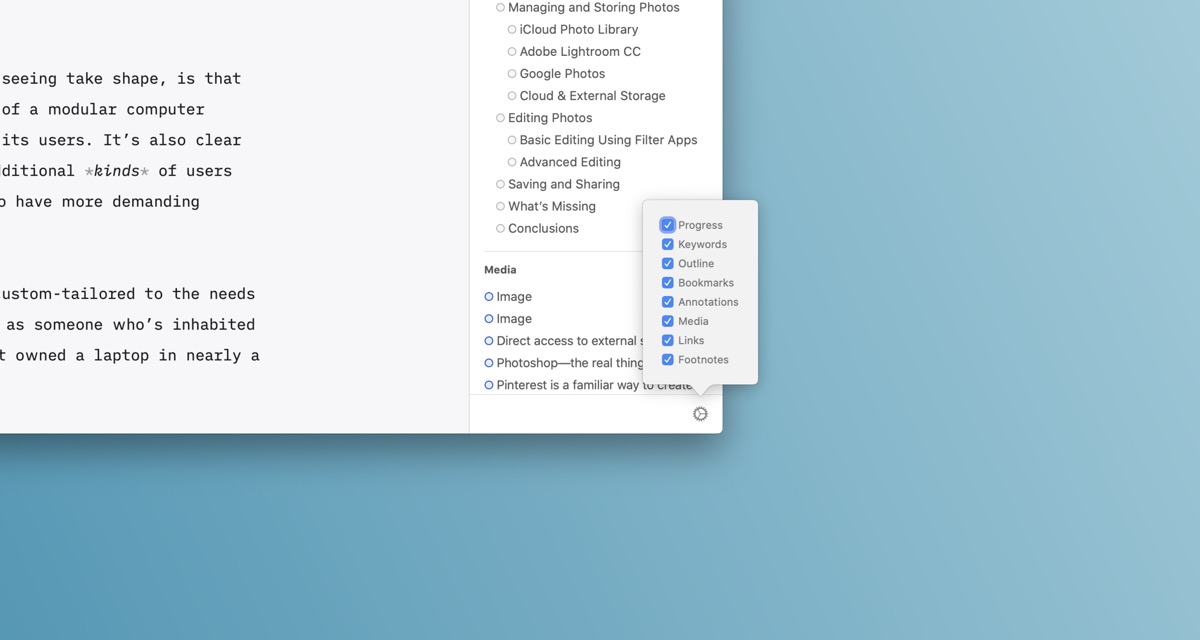 In addition to the tidier setup and more refined design, the new dashboard offers a number of functional improvements. The outline has a clearer sense of hierarchy and a new interaction animation, and you can now view a list of all links and embedded images for your sheet — separate from the previously-available attachments system.
This overhauled sidebar, available on iOS, iPadOS, and macOS versions of the app, is a significant improvement to the usability and efficiency of these additional sheet features, and its more accessible design should make it easier for novice users to discover and explore Ulysses' more advanced functionality.
Grammar & Style Check (Mac Only)
Tucked into the last tab of the new dashboard is a brand new feature, called Revision, that pushes Ulysses into new territory as the perfect app for writing and editing.
Powered by LanguageTool Plus (a service similar to Grammarly), this new grammar and style checking system is available in over twenty languages and is built into the app.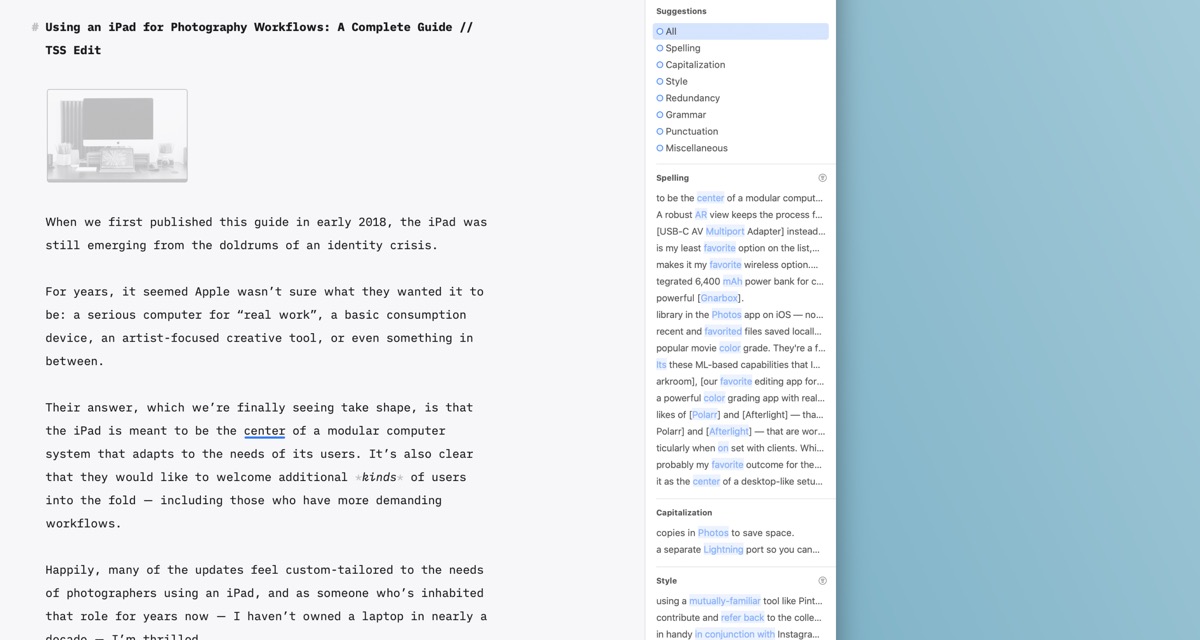 Revision offers a number of different types of improvements, from basic spelling and capitalization fixes to more advanced style, grammar, and redundancy suggestions. In my testing, the suggestions were fair and generally useful, though I wish there was an easier way to select your language (for switching between different regional English variants, for instance).
It's worth noting that the Revision feature requires an internet connection and will send your data through the LanguageTool servers for analysis. This connectivity shouldn't impact your privacy or data, and it has the benefit of allowing the system to improve without Ulysses having to push out updates.
One important limitation is that Revision is launching on macOS initially — it will be coming to iOS and iPadOS in the fall, though.
Unlike the similar functionality recently launched by iA Writer, Ulysses' Revision system is more opinionated. You can't influence the suggestions, except by marking them as "ignored", so the system never feels like it's personalized to your writing style. In iA Writer, I can create my own patterns for it to identify, a feature I immediately put to use with my favorite fixes from Dreyer's English (possibly the most useful and fun grammar book I've read).
Still, I appreciate having the ability to get some editing guidance, and the service-based approach means Ulysses' Revision system can launch with way more robust language support and benefit from ongoing improvements. The heuristics are being constantly improved at the service level by the team at LanguageTool, so Revision will continue to get smarter over time.
New and Improved
Taken together, these updates make Ulysses feel smarter, faster, and more versatile.
The tidier dashboard in particular felt quicker and more useful, with better presentation of data. Revision isn't something I expect to use often, but perhaps when it makes its way to iOS and iPadOS I will get into the habit of running it on my pieces — just to get an "extra pair of eyes" on my work.
Best of all, these updates do not affect the subscription cost in any way; everything continues to be included for $49.99USD per year or $5.49USD per month.
New & Updated!
Learn Ulysses
You deserve to be free to focus on your ideas, your writing, your notes, and your research.
But it can be frustrating to use an app that is difficult to use; or even worse… use multiple different apps and have your stuff scattered all over the place.
Learn Ulysses is the premier video course for improving your writing workflows with the best writing app, Ulysses.
Available now, with a special discounted pricing during launch week.