Spark Version 2.5 for iOS Brings New Design, Dark Mode, and Customizable Email Actions
November 20, 2019
Earlier today, the Spark email mobile app got a significant update to version 2.5. The update brings a new design, support for Dark Mode, customizable email actions, and much more.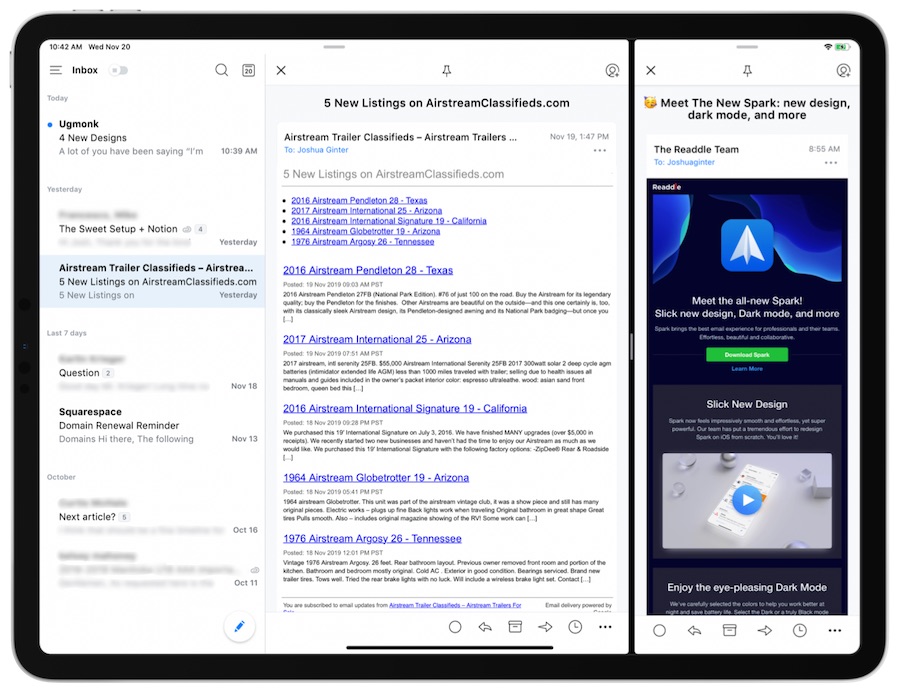 New Design & Avatars
Spark has always been a beautiful application, but version 2.5 features a new design which makes it even better. Messages in Spark are still organized by threads based on subject, but the new interface does a great job of keeping things as clean as humanly possible by interjecting more white space and cleaning up a lot of the separators and labels.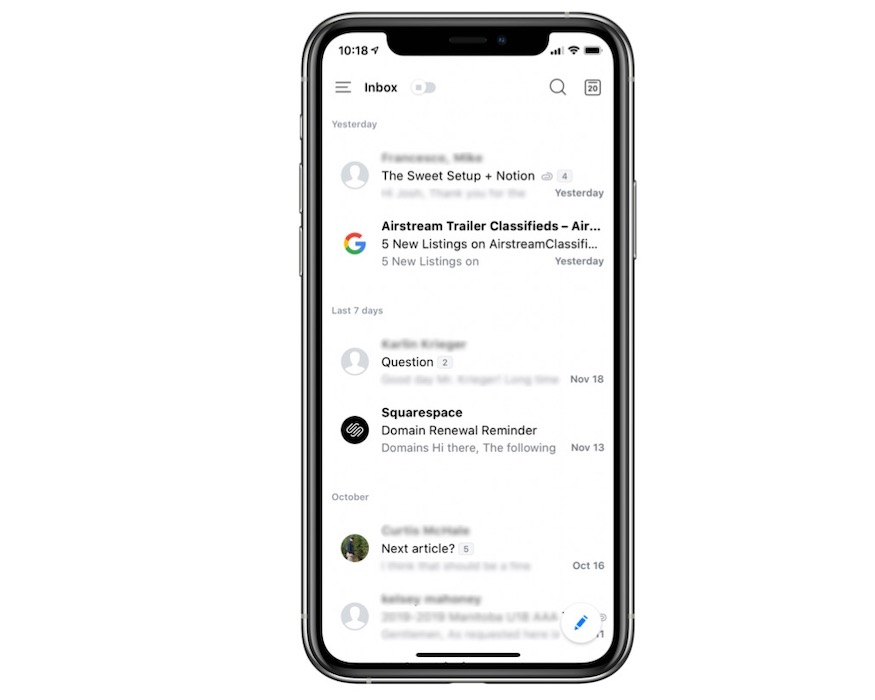 Spark also now offers support for avatars, much like the Gmail iOS app. In addition to being more visually interesting, this can also make processing your email feel much more personal. The avatar images can be pulled from popular web services. For example, if you receive an email from someone who has a Twitter account under the same email address, Spark can automatically add the Twitter profile picture as the avatar in your inbox.
Customizable Email Actions
I've never been a fan of how unmodifiable email client interfaces tend to be. Fortunately, this version of Spark gives you ability to modify the toolbar with up to six of your most used actions – not just the ones the developer picks as important.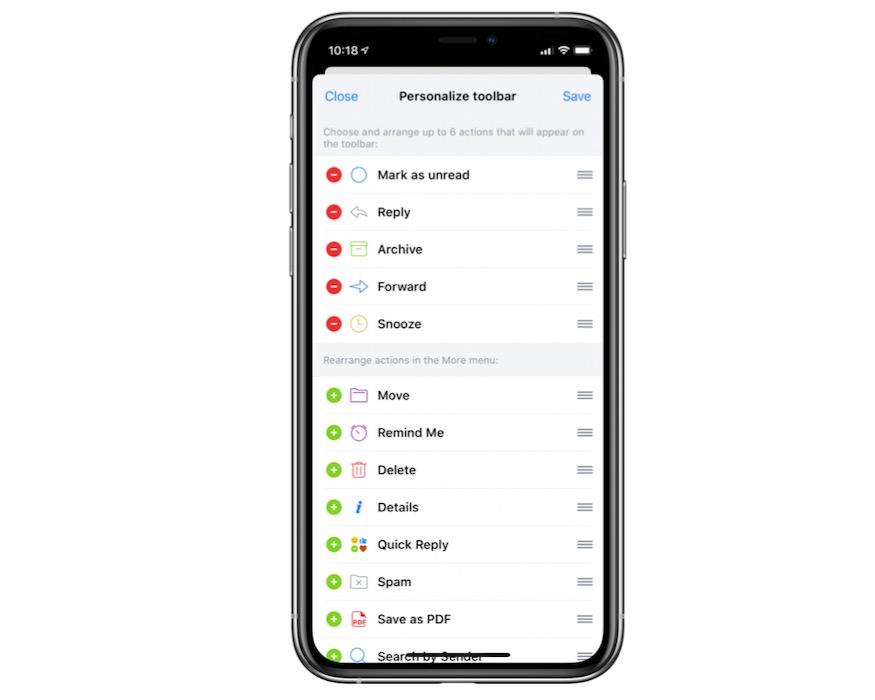 By default, Spark has Mark as Unread, Reply, Archive, Forward, and Snooze selected. But you can modify these by going to Settings –> Email Viewer –> Personalize Toolbar and picking up to six items, including options like Save as PDF and Quick Reply.
Honestly, this isn't something I was looking for but it's something I really do appreciate now having used it. Being able to customize email actions in Spark highlighted the fact that, for a very long time, I've come to accept I would be stuck using either a crowded interface or missing easy access to features I used often. Spark's customization features feel like a new bar being set for what's acceptable in iOS email apps going forward.
Multiple Windows & Full iPadOS Support
Multiple Window support seems like a perfect fit for an email app. For example, you may want to have one window open that shows the message you want to refer to and another compose window open in Split View with the message you're writing. Or you could have a compose window open in Slide Over while looking at your Inbox in the main window. This update is a huge productivity win for those who manage email from their iPad.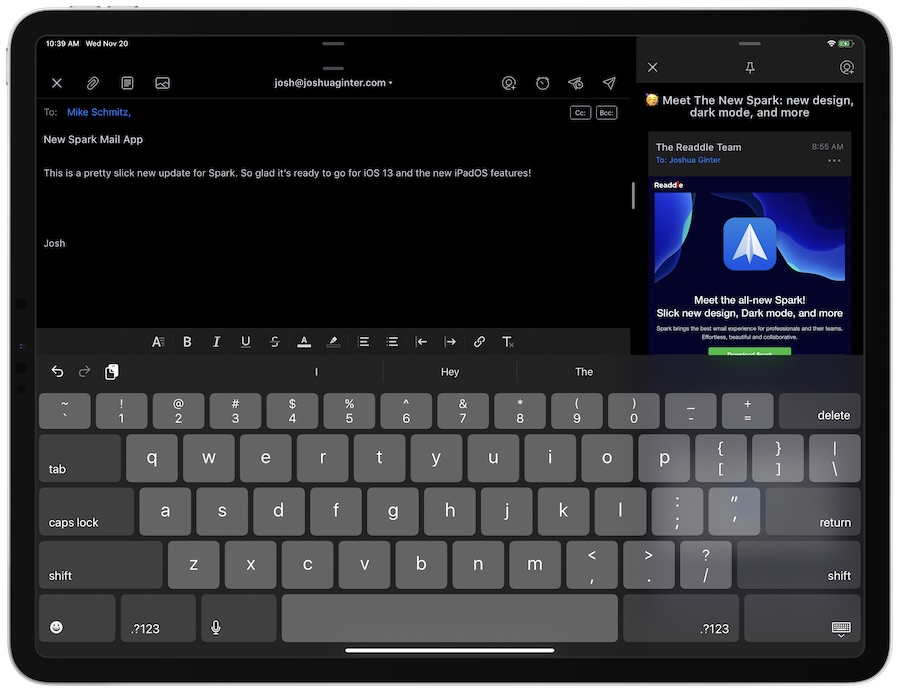 Spark also supports all the other standard iPadOS features, like the floating keyboard with QuickPath typing. You can also now use iPadOS productivity gestures, like a 3-finger-pinch to copy and a 3-finger-drop to paste.
Dark Mode
Readdle added Dark Mode for the Mac version last year, and this year it comes to iOS. It looks great, which is no small feat for an email app that needs a rendering engine to make sure that HTML emails still look good. Everything in Spark's Dark Mode looks sharp. And with the ability to match the System Dark Mode setting, Spark can switch back and forth without having to toggle it on or off inside of the app settings every time. There's even a Black mode which looks amazing on the iPhone's OLED screen. The company's announcement post even hints at Dark Mode being able to save you battery on your device.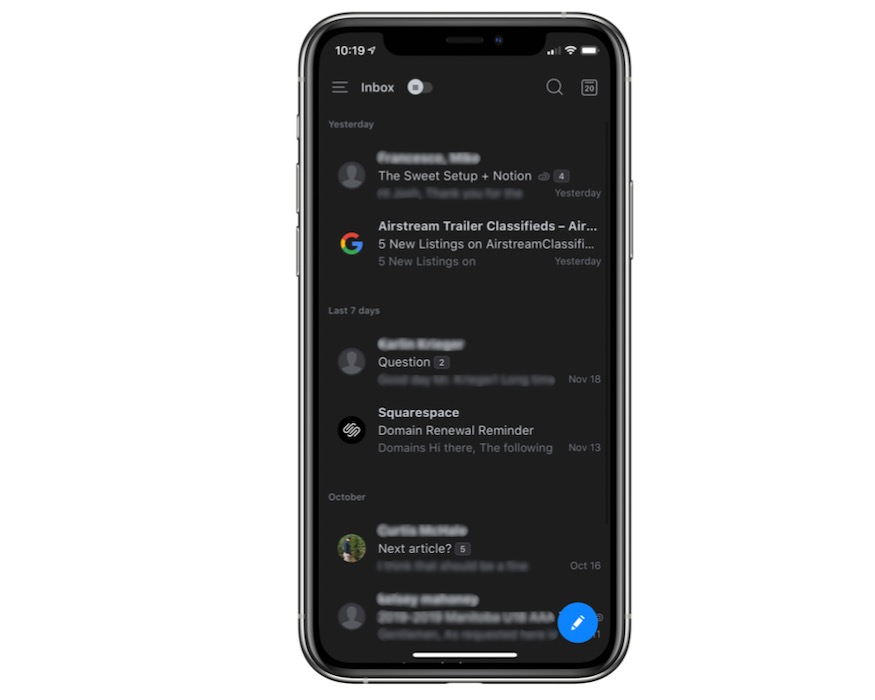 One thing we like about the way Dark Mode is implemented in Spark is that you don't have to match the system Dark Mode setting. If you prefer to keep Spark in a particular mode, you can choose it in Settings –> Personalization –> Appearance. This is an approach I wish more developers would take, giving the user the ability to override the system setting if they prefer. It's really not that big a deal in Spark since the new design looks great in Dark Mode, but I had to hack a Shortcut automation to work around this in GoodNotes — I'm not a fan of the Dark Mode interface in that app even though I generally use it on my iPad. I'm glad the Spark team gives users the option to use whatever theme they prefer, even if it doesn't match the system setting.
The Future of Email
Email on a mobile device is already a slippery slope for anyone who is concerned about maintaining intention for their attention. Push notifications for email are dangerous doorways to distraction that many people don't even realize are open until it's too late. But with features like Smart Inbox, Spark has long shown that Readdle cares about this stuff. If there was only one team that could be in charge of pushing email as we know it forward in a positive direction, the Spark email team would have our vote. And the latest update shows not only that Readdle is doing everything they can to make mobile email suck less, but also that there is still lots of room for improvement. I'm anxiously waiting to see what they come up with next.
Spark is available for Free on the iOS App Store. And don't miss our review of Spark, which we named the best email app for the iPad.
Our Must-Have, Most Used Productivity Apps
We spend an inordinate amount of time sorting through hundreds of apps to find the very best. We put together a short list of our must-have, most-used apps for increasing productivity.