Setting Up a Gratitude Journal in Day One
September 30, 2019
In this Mindfulness Monday post, we take a look at how you can create a gratitude habit using Templates inside of Day One for iOS.
Gratitude is extremely powerful.
There are many physical and emotional benefits of practicing gratitude according to Robert Emmons, professor of Psychology at UC Davis (who many consider the world's leading expert on gratitude). In his book, Thanks, Emmons says that practicing gratitude can make you up to 25% happier. Keeping a gratitude journal helps change your attitude by shifting your focus from the negative to the positive. Expressing gratitude highlights the things that are going right instead of the things that are going wrong.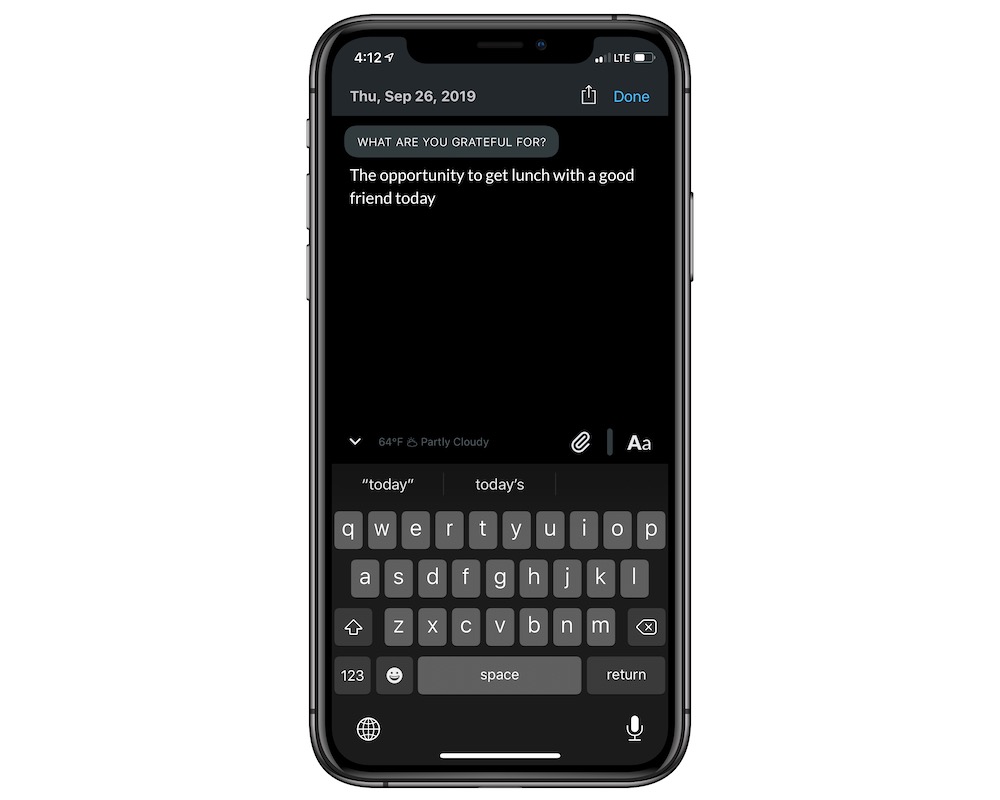 The interesting thing about gratitude is that your situation doesn't have to change at all. Only your perspective does. Learning to look at your situation through the right lens allows you to see things for what they really are and make decisions that aren't clouded by negative emotions or energy.
One of the best illustrations of this is the idea of The Gap vs. The Gain that I picked up from Strategic Coach creator Dan Sullivan. The TL;DR is this:
Every single person has a picture of what they'd like their life to be. This is good in the sense that it drives us to set challenging goals and then work to achieve them, but it can also cause us to become dissatisfied with our current situation. it's easy to get discouraged when you are constantly looking at where you want to be, especially when measuring against where you are right now. This distance between the current and the ideal is known as The Gap, and can cause you to lose motivation and to stop taking action.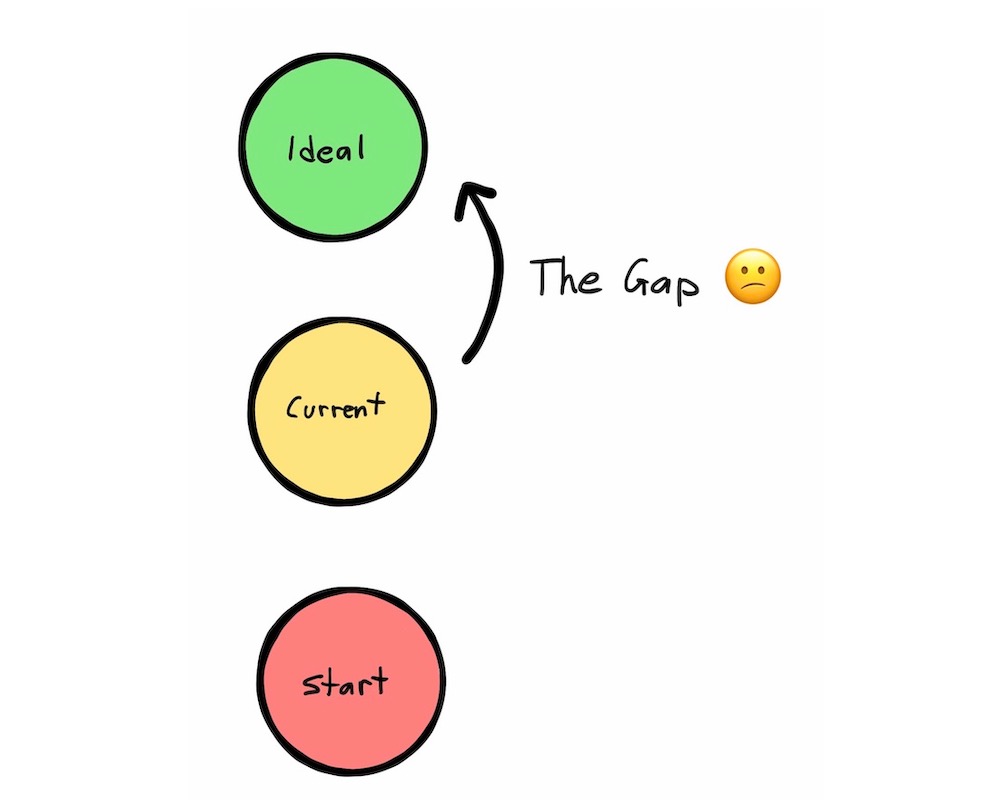 The problem with focusing on the Gap is that it is like the point on the horizon where the train tracks come together. You can chase it your entire life, and the further you move towards it, the further away it seems to be. Even if you are successful, you'll never be successful enough.
The alternative is when you compare your current situation against where you started. When you use your starting point as a frame of reference, it's easy to see your growth and express gratitude as you focus on The Gain.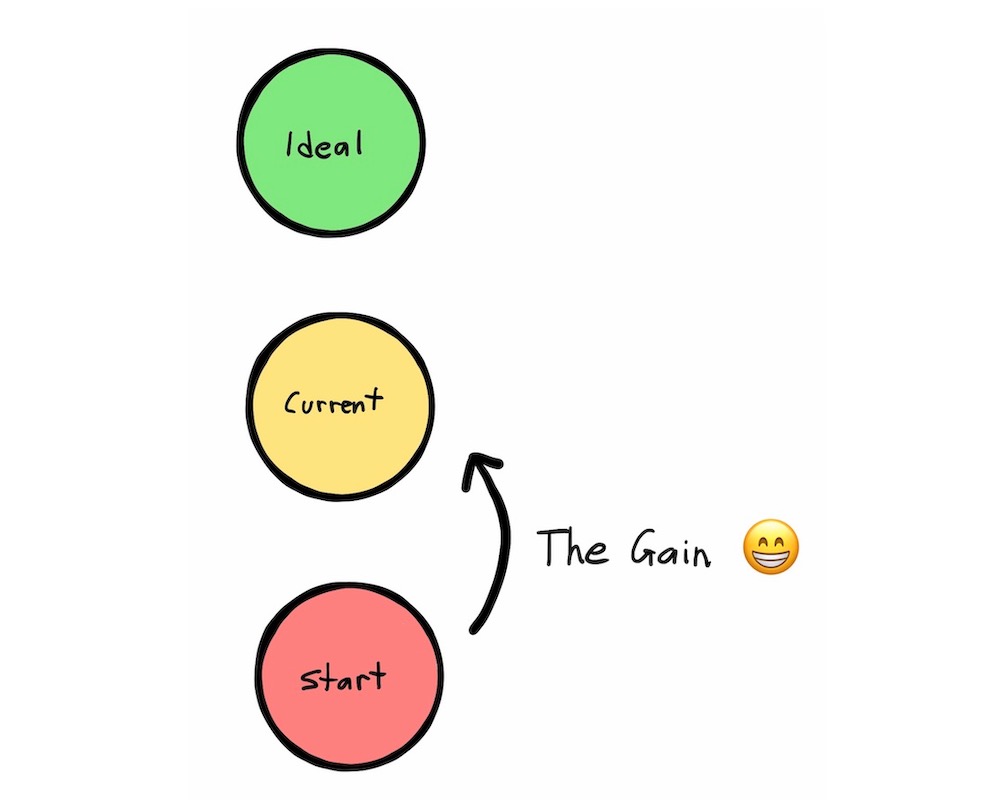 Gratitude helps you keep your focus on The Gain. Instead of feeling down about all the things that haven't gone right, you gain momentum simply by appreciating the things that are.
Since gratitude is so powerful, one of the most mindful things you can do with your technology is to use it to help facilitate a gratitude habit. And for Apple users, there is no better tool for this than Day One.
Creating a Gratitude Template in Day One
While you could theoretically use another journaling app to keep a gratitude journal, we personally recommend Day One as the best journaling app for iOS and macOS. And while you could always create a new Gratitude journal and just start manually adding entries in Day One, version 4.2 makes creating a gratitude habit even easier with the new Templates feature. Templates allow you to to create pre-made journaling templates that you can fire off from within Day One. Here's how to do it on iOS:
#1: Create the Template in Day One
To create a template in version 4.2 or later, go Settings in Day One and tap the Templates option. This takes you to the Templates Gallery where you can use a pre-made template (like the 5 Minute AM template, a digital version of the 5-Minute Journal that includes a gratitude element already) or create a new one.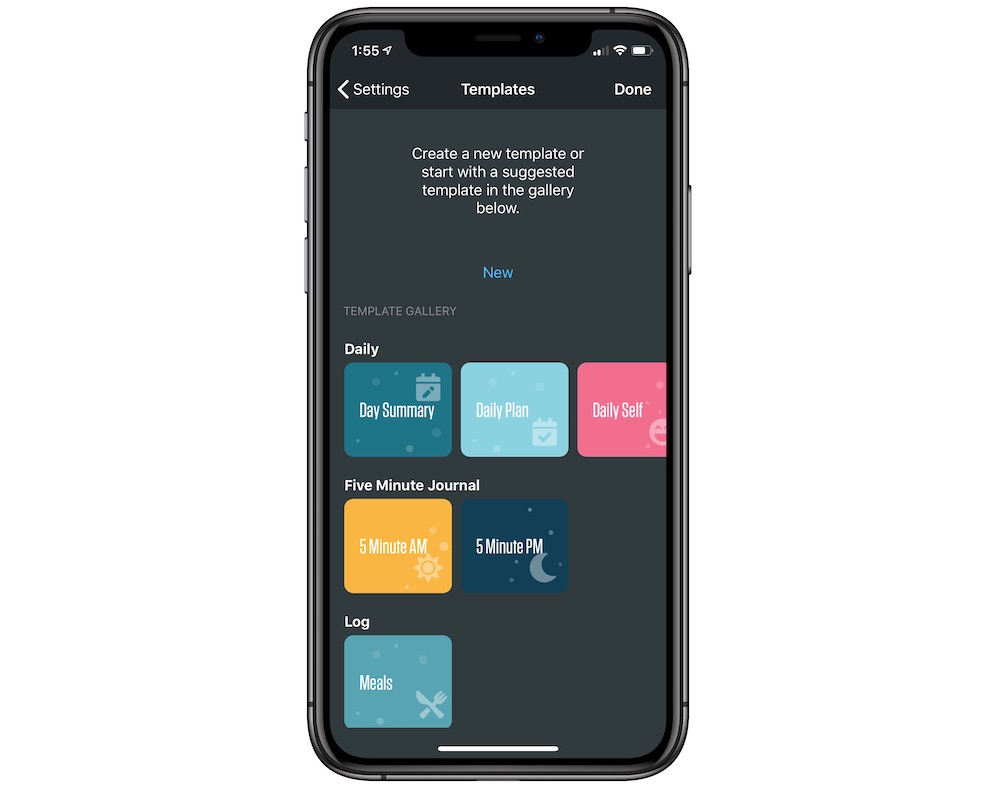 Tap New to create a new template, give it a name of Gratitude, and then tap the Add Section button and label it, What are you grateful for?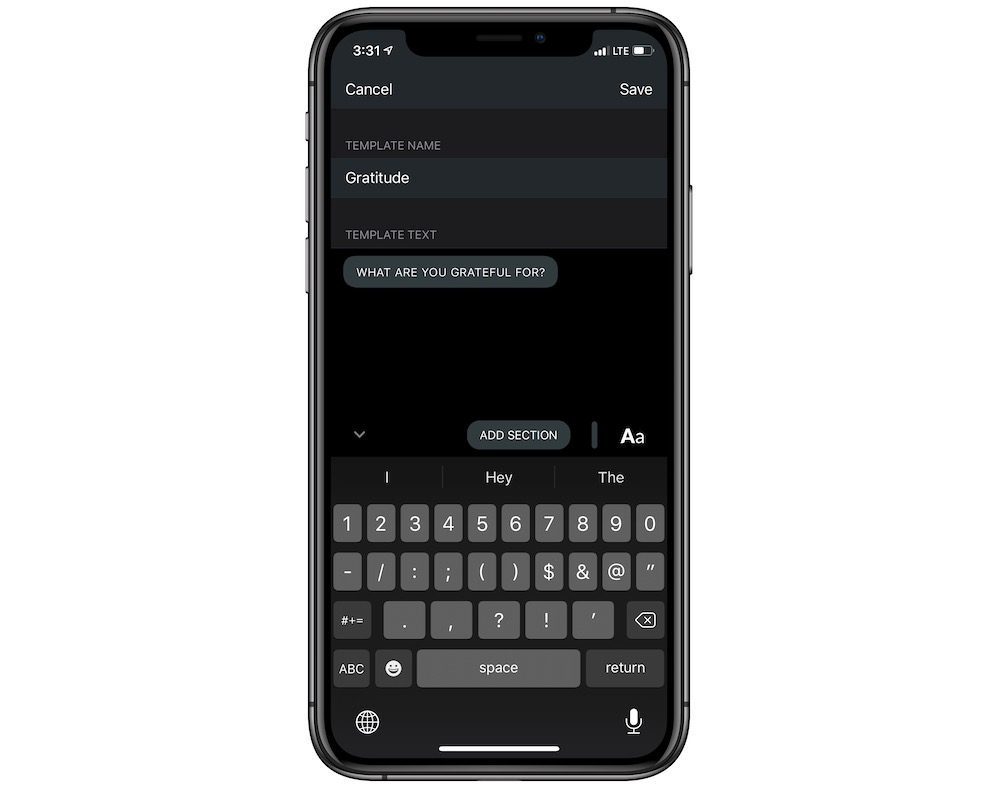 Tap Save to save your Gratitude template. Your Gratitude template is now ready to be used.
#2: Open the Template
From the main Day One screen, tap the + icon to add a new entry. Now that you have a template created, you'll see it at the top of the available options.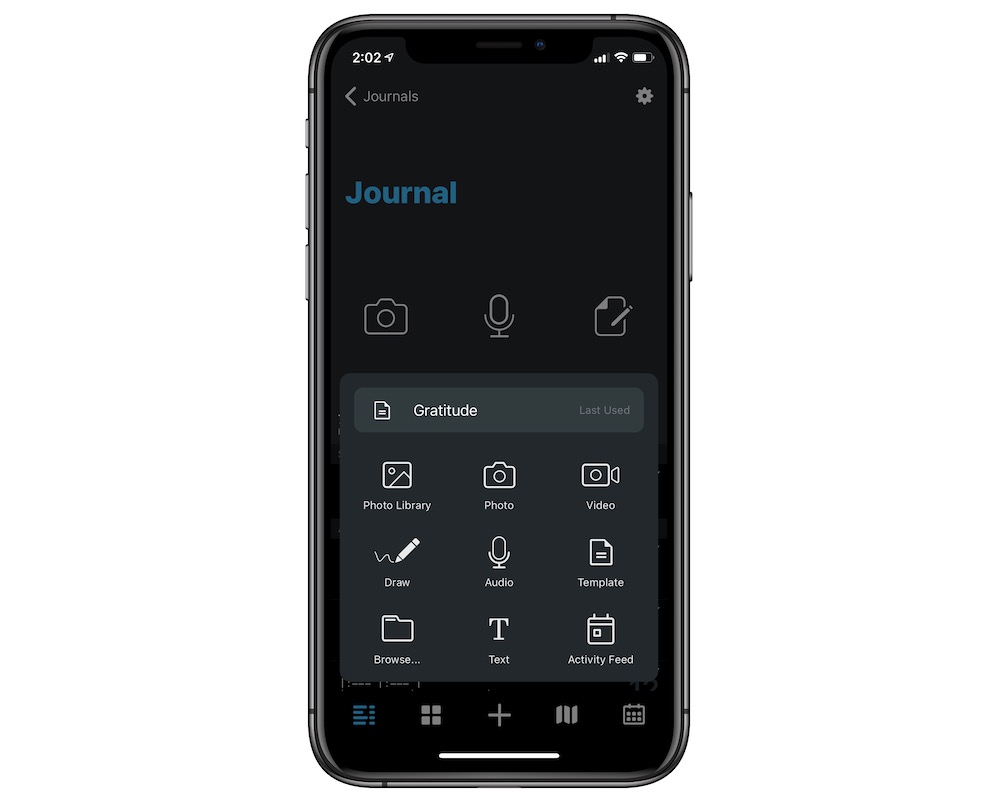 Tap the template to open it, and answer the question, What are you grateful for? Tap Done to save the entry into the selected journal.
#3: Set a recurring Reminder (Optional)
If you'd like to set a Day One reminder to go off that automatically takes you straight to your Gratitude template at a specific time, you can do that as well.
To create a Reminder, go to Settings and select Notifications & Reminders, then tap Add Reminder. To finish setting this up, you'll need to:
Fill in the message you want to appear in the notification.
Set the time you want it to fire.
Choose how often you want it to repeat.
Select the journal you'd like it to appear in.
Choose any tags you'd like to apply to the entry.
Select the Gratitude template you just created.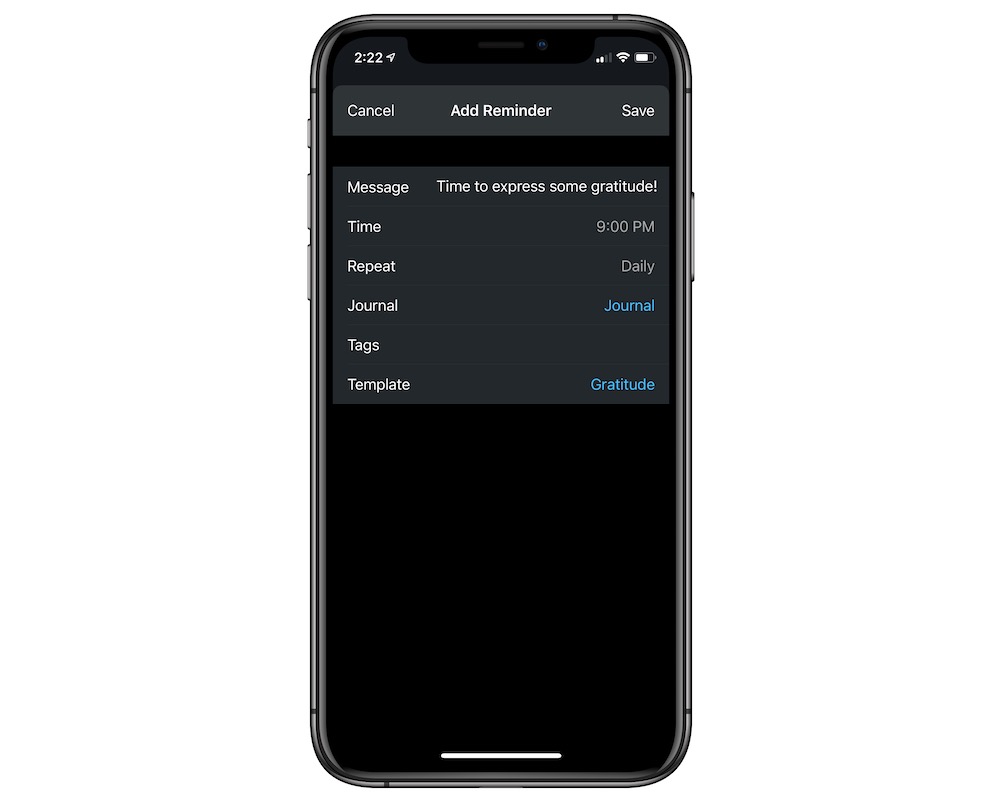 Once you have this set up, Day One will send you a notification at the selected time and prompt you to record what you are grateful for.
There's lots of really cool stuff you can do with the new Templates feature in Day One 4.2. If you want to dig deeper into how Templates work, check out their guide.
Wait! There's more….
How to Use Day One in Your Life
For a the best journaling app, you won't do better than Day One. And if you want to discover how to use this app more regularly, and take full advantage of all its features, then we have some video screencasts that can help you.
In our course, Day One in Depth, you get 8 video screencasts that will take you line by line through every feature, setting, preference, and option found in Day One.
We'll show you…
Complete walkthrough of the Mac and iOS apps.
How to create and customize your journal entries (from text, to photo, to audio)
How to find, filter, export, and more.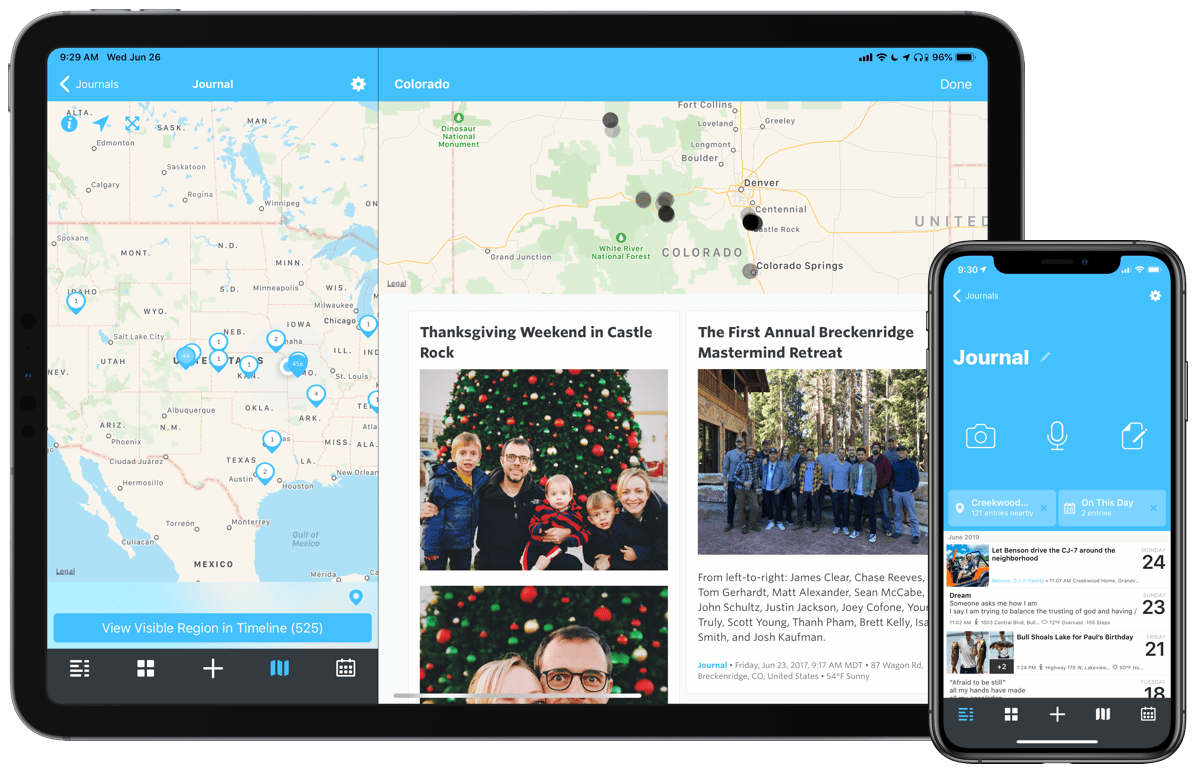 Plus! You will get bonus tips, workflows, and tutorials for how best to use Day One to suit your own needs: from a morning writing time to a photographic travel log, to weekly reviews and productivity journaling — Day One can do it all and we will show you how.