Quick Tip: Use Tweetbot as an RSS reader
February 20, 2014
While Google Reader was operational, it was the default choice for almost anyone looking for an RSS aggregate service. It handled the back-end, and even if you didn't use its web interface, it freed you up to choose almost any mobile or desktop client.
Obviously, the tides changed mid-2013 when Reader shut down, but if you still haven't found an RSS/news reading service that fits you, here's a tip for pairing Tweetbot with Twitter to keep you up on the latest news.
Overview
Most sites, including this one, have a Twitter account and syndicate their posts, in addition to other tweets.
Twitter is not only a social network, but very much a real-time news feed.
Having a dedicated list for news, companies, and other sites take that clutter out of your "personal" feed.
Creating a list on Twitter, whether on the website or 3rd-party client, means that it's instantly synced between clients. So why Tweetbot?
Tweetbot is also particularly friendly to lists, especially compared to Twitter's official apps, and allows the feature to be put front and center if that's what you want. (Though, of course, this will work with any Twitter client that supports lists.)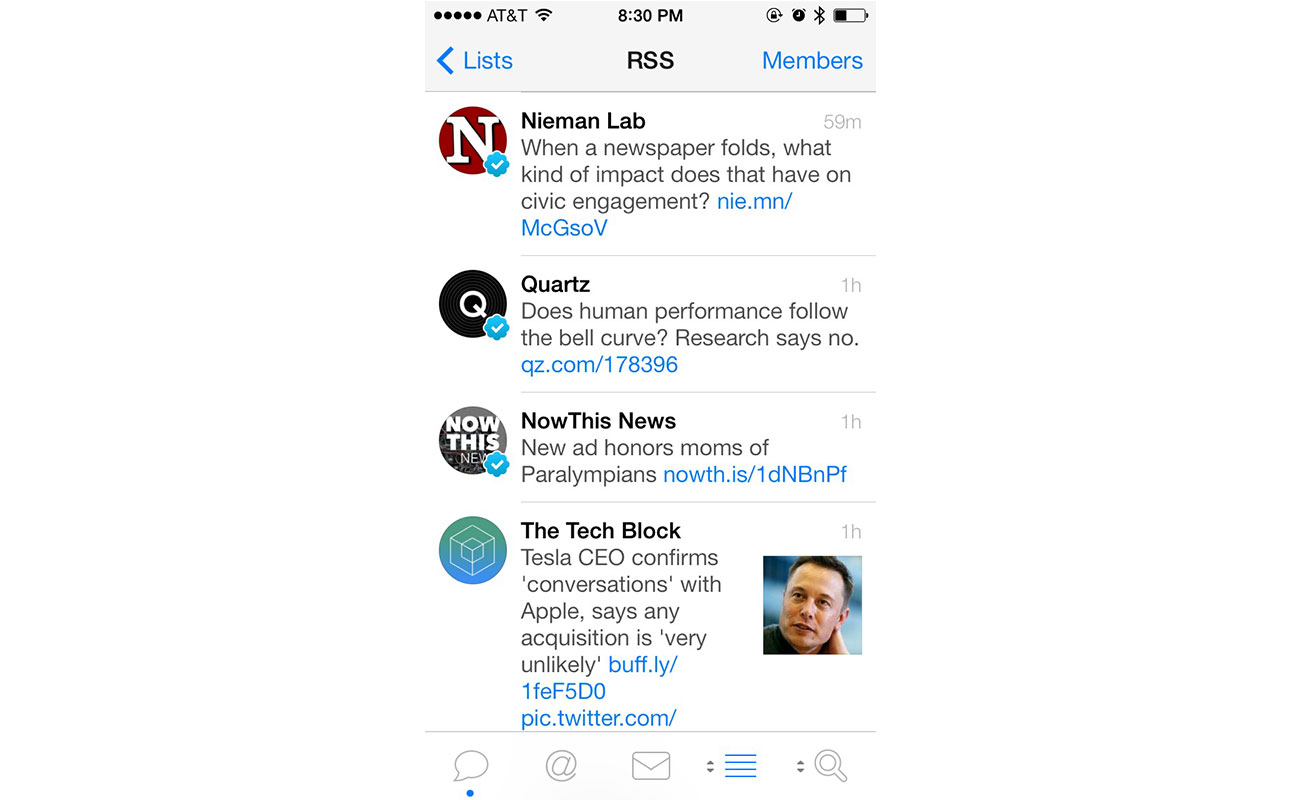 How-To
Whether you use the desktop or mobile version of Tweetbot, the terminology and steps are all the same. The layout will vary slightly.
Start by tapping, or clicking, the list icon in Tweetbot. Here you'll select "edit" and then the plus (+) button to create a new list. Name it whatever you'd like — I named mine "RSS" — but if you want more specific lists like "gadgets," "tech news," etc, then create several different ones.
Once you have your lists, you can start adding accounts to them. Selecting a Twitter account in Tweetbot will bring you to their profile page. Click the gear icon to find "Manage List Memberships." Select the list you want that account to be on and you're set.
Benefits/Downsides
If you're a heavy Twitter user, combining your news reading into Tweetbot — or your favorite client — can be a real time saver instead of switching between apps.
With Tweetbot on Mac, the app can be configured with multiple columns (much like Tweetdeck), with personal and news feeds both continually viewable.
It's not always the case, but a lot of times I've found sites posting links to Twitter faster than posts show up through RSS feeds.
There is the downside, however, that because Twitter lists is not RSS, it's all manual, meaning there's no official way to import or export lists or list data.
Extra Homework
Pinboard has been widely covered on The Sweet Setup, including a beginners guide and our review of the best apps for the service. A lot of people consider it necessary for saving bookmarks and discovering new links. Basically, it's a great service to save bookmarks and links you find across the web.
For Tweetbot, navigating to the in-app settings and then digging further into specific account settings will lead you right to the "Read Later" section where you select Pinboard and sign in. Pretty straight-forward.
Once you've signed in, the quickest way to save something for later is simply to hold down a link until the menu pops up and then tap the top choice, "Send To Pinboard." By default, the saved link is set to private and will be ready to read later in your Pinboard app of choice.