Quick Tip: How to use sub-tasks in Notion
February 1, 2023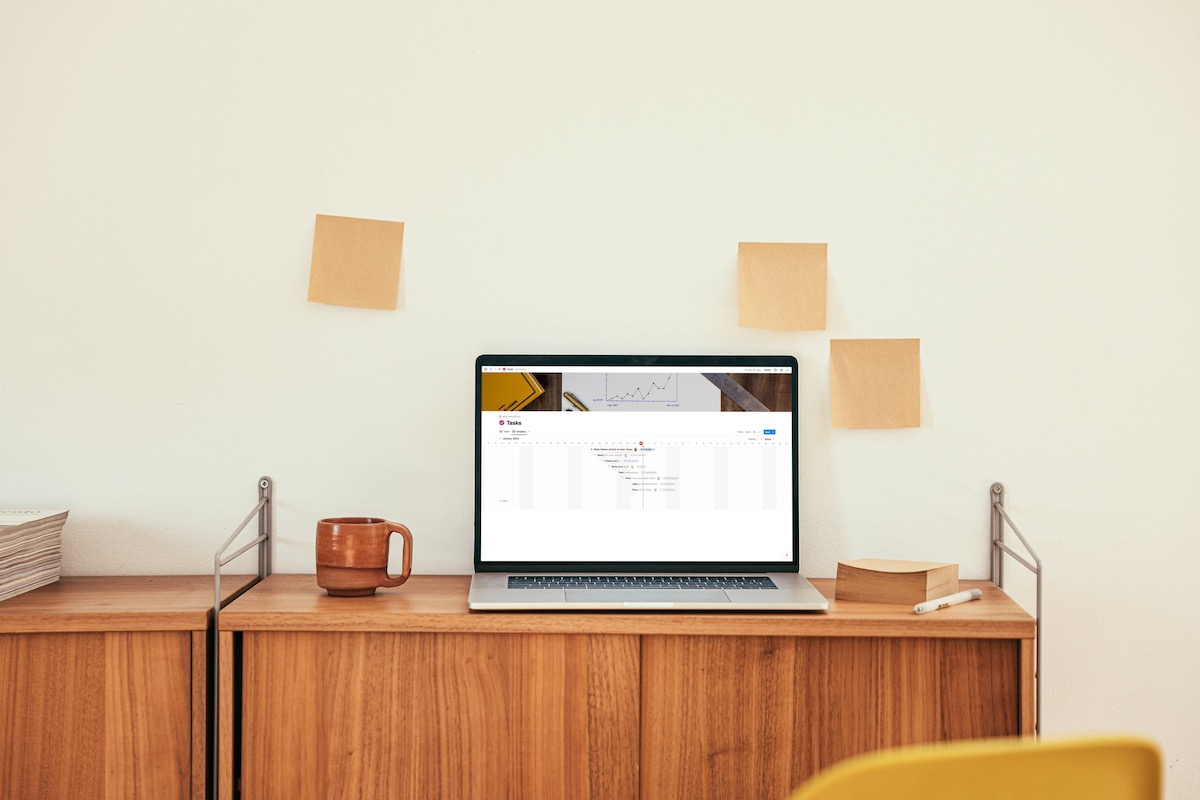 Notion is constantly coming out with new features, which as an avid user, I greatly appreciate. One of the most notable new features is sub-tasks and dependencies. This is a fantastic new feature for those who work on a team in Notion, making it an even stronger contender with Asana.
The dependency feature lets you know what tasks need to be completed before another one, a great feature for teams who work using the Scrum and Agile project management method.
How to use Sub Tasks
To start using Sub Tasks in Notion, you actually have to enable it in your workspace. Start by either heading to your current task database or creating a new one and clicking on the three dots next to the blue New button. Click on Sub-items and then click Create.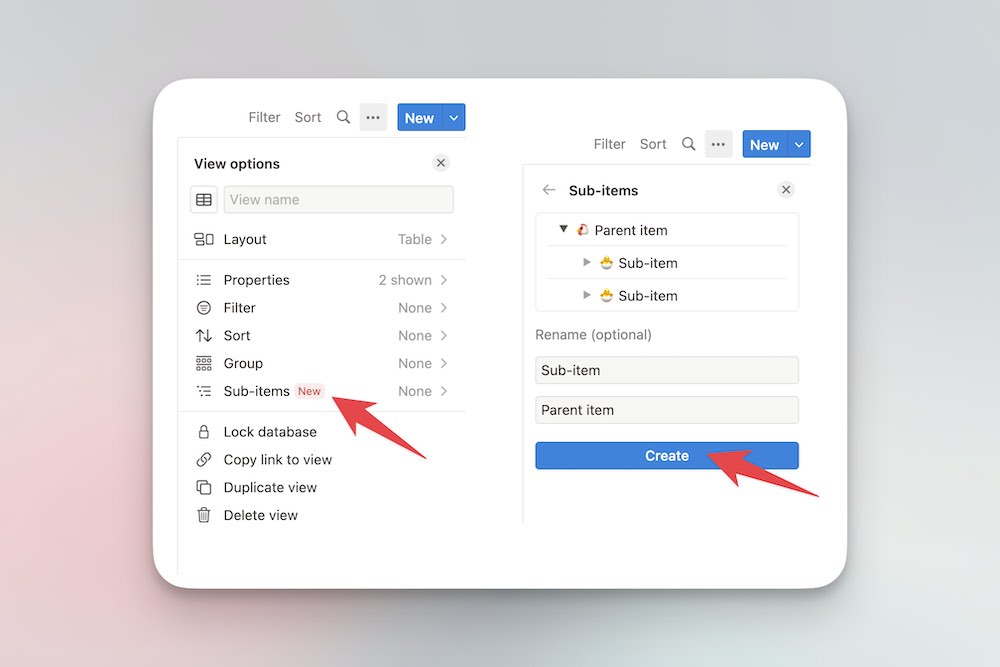 This is essentially creating a relational database between your tasks. You can keep the names Sub-item and Parent Item or you can rename them. I renamed mine to Sub-task and Parent Task.
What it looks like in action
Let's look at a real example and see how it works. I created a task called "Write Notion Article on Sub-Tasks". I could leave it at that, but there are a lot of steps involved in writing an article. I could create a separate task for each step, but that would take the fun out of sub-tasks.
To add a sub-task, click on the arrow next to the parent task and then click on + New sub-item. It's like magic.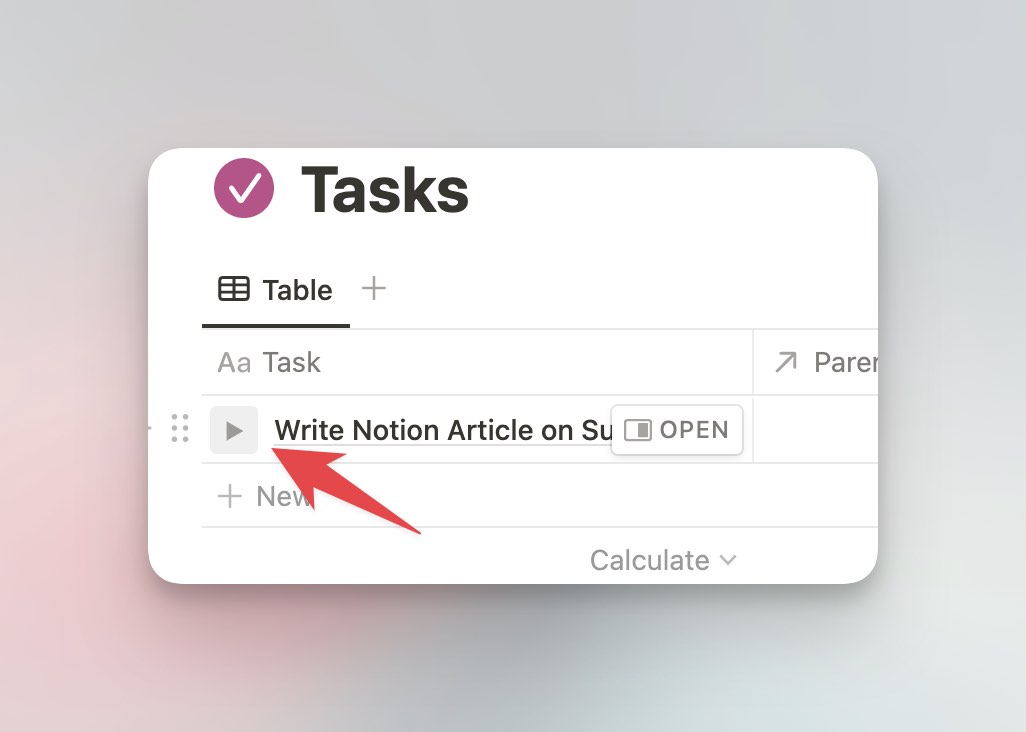 When you add the sub-items a few notable things happen:
The relational database between the parent task and sub-task database blows up.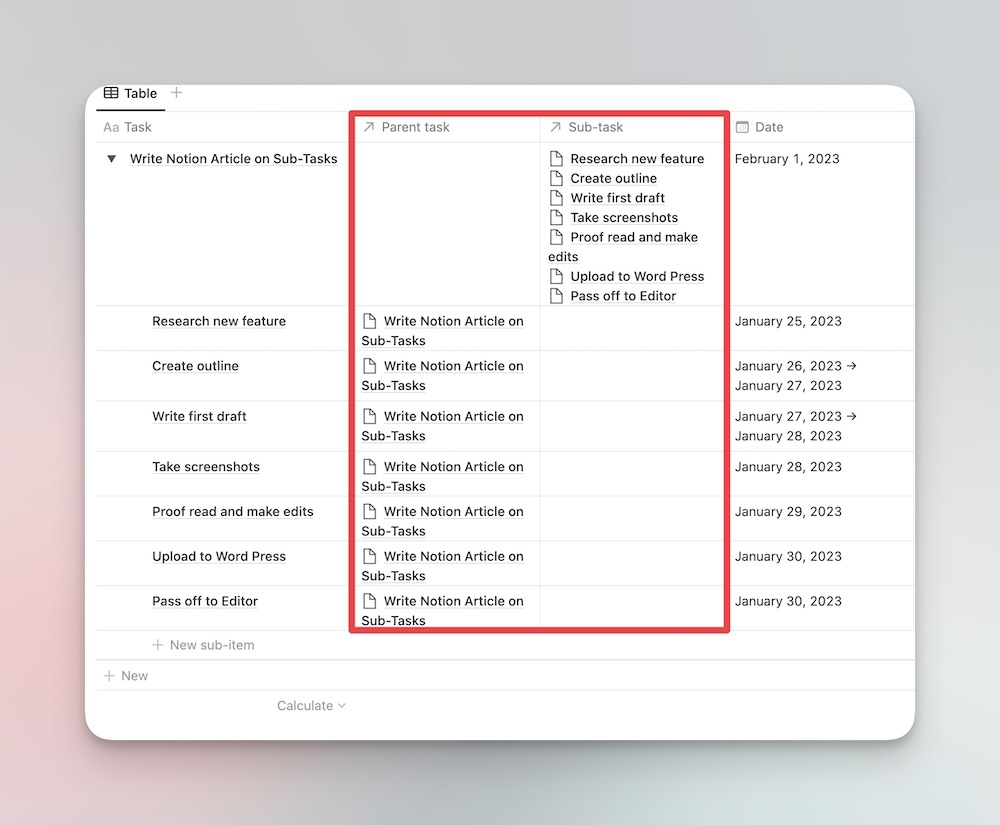 When you just look at the parent task "Write Notion Article on Sub-Tasks", you can see all the sub-tasks attached to it:


For each sub-task, you can see the parent task it's attached to as well:


This is just relating the sub-task to the parent task. The same way that you would use any other relational database, except this does all the leg work for you. At a glance, you can see all the sub-tasks attached to the parent task. And any time you're working on a sub-task you can see what parent task it's related to.
If you open up the task, this is what it looks like: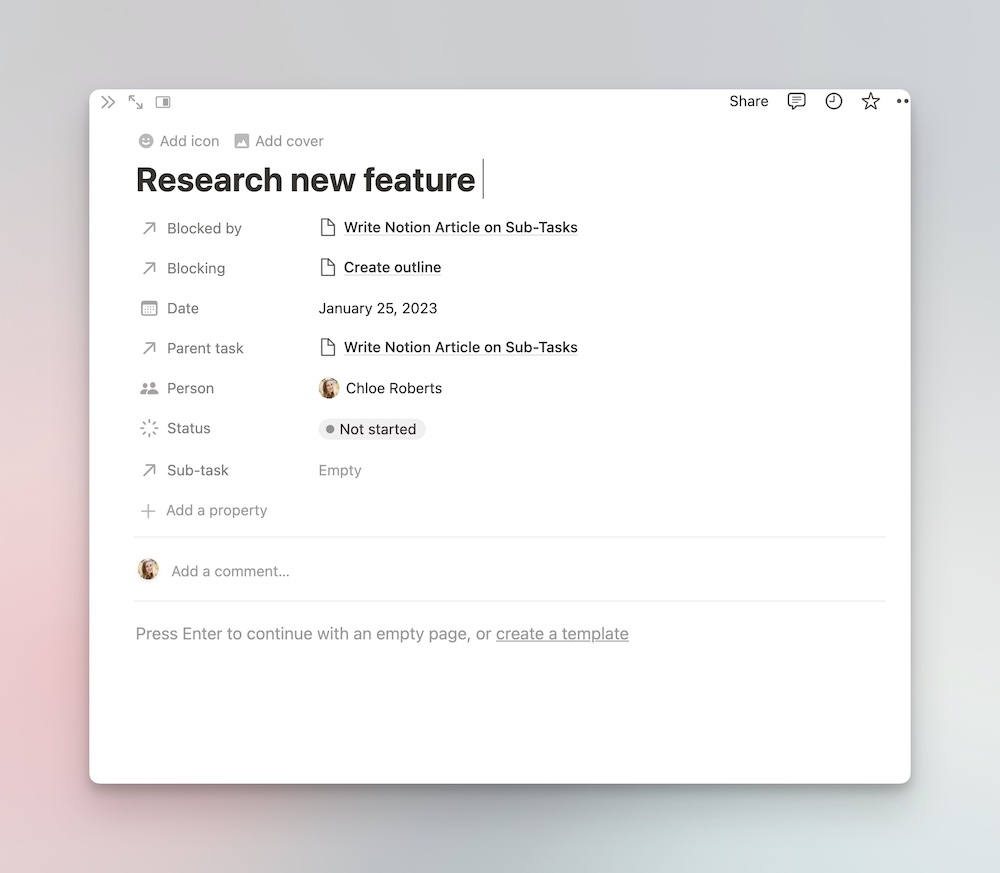 (If you look closely, you'll notice that you can even create a sub-task for this sub-task. Rabbit hole for another day)
You can also hide all the sub-tasks by clicking on the arrow under the parent task. You can also hide the parent task/sub-task properties if they become distracting in your view.
What's cool about this feature is that you can assign each sub-task an individual due date and assignee. So if you are working on updating a page on a website that involves a few people, you can break down the task and assign each sub-task to different people.
You might be asking, why is this better than just creating an individual task for each item? Why do the whole sub-task thing? Is it a bit much?
Well, this next feature is why.
Task Dependencies
Seeing sub-tasks is pretty cool. But not a deal-breaking-change-my-life feature. But for certain teams, this task dependencies feature is pretty nifty (yes I just used the word "nifty").
In the timeline view, you can now see how certain tasks are blocking other tasks.
This feature, like the sub-items feature, needs to be turned on. First, create a timeline view of your task database and then click on the three dots next to the blue New button and click on Dependencies.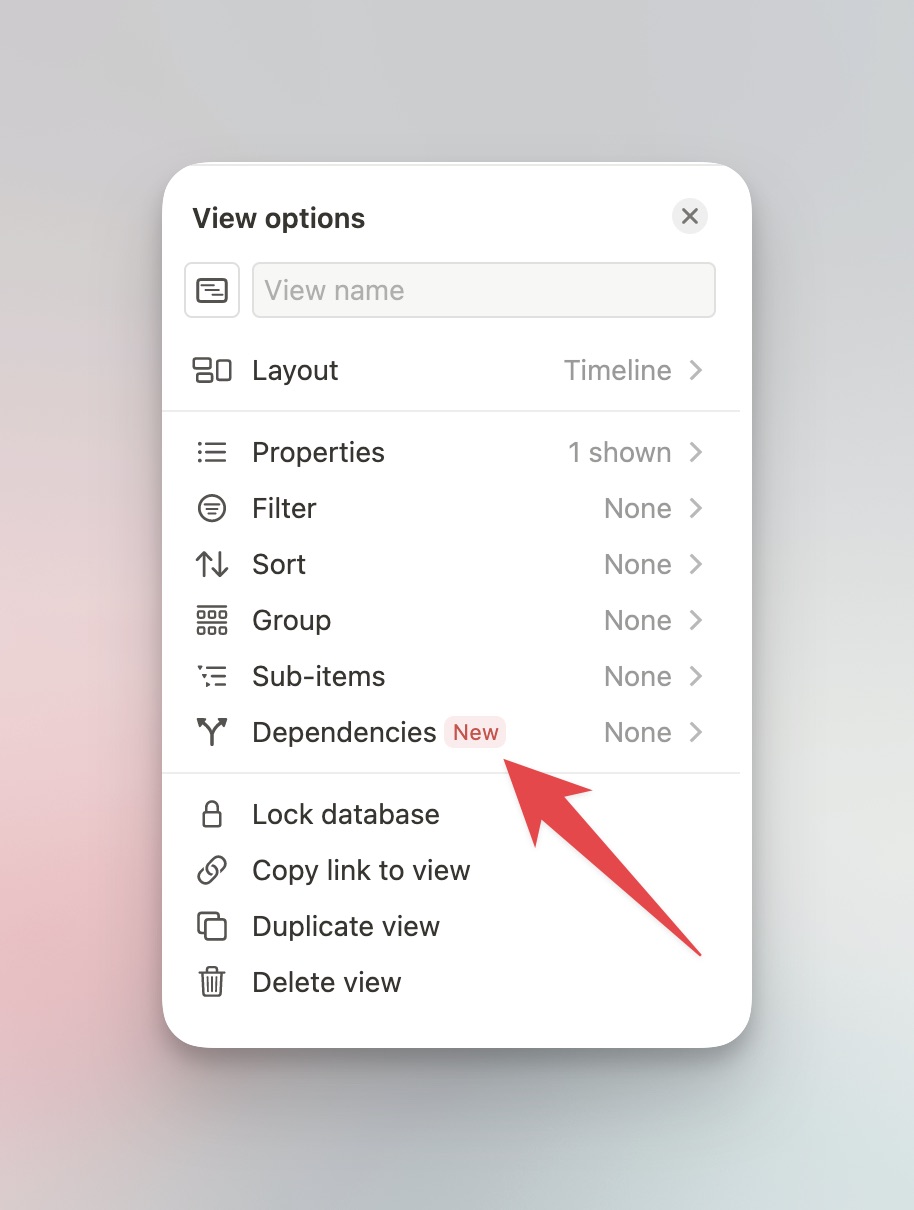 Click + Create New Relation. Their pre-named properties worked for me (Blocking and Blocked by), but feel free to rename them.
This will effectively show what tasks have to be completed before other tasks can be completed. To create a dependency, you just need to drag the arrow next to one task and connect it to the task it is blocking.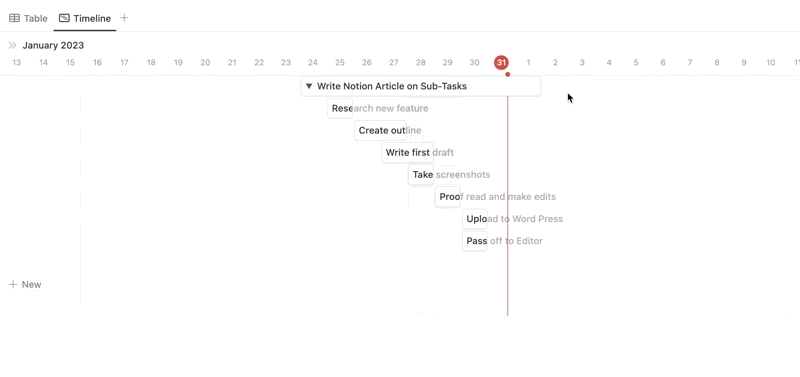 It's also helpful to view a few more properties on this view, such as status and assignee.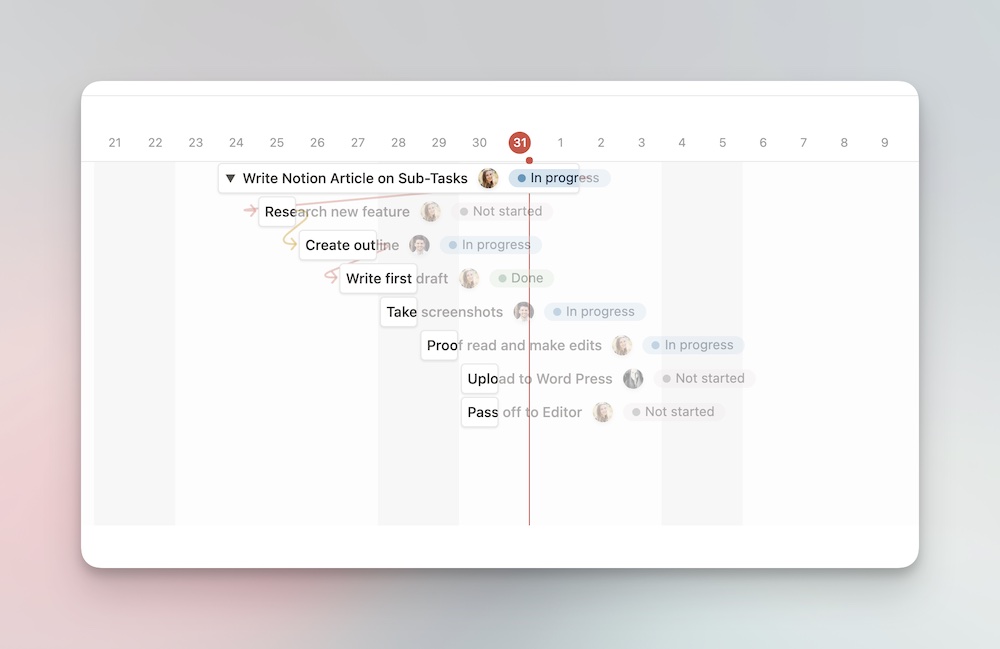 You can easily jump into the timeline view and see what tasks are holding up others. And even more helpful, see which person (people) are holding everyone else up 🤷🏼‍♀️.
Closing Thoughts
This new feature might not be life-changing for everyone (especially if you work solo). But for those who work closely on teams, this might be a game changer. If you've been on the fence about checking out Notion because of its limitations for team collaboration on tasks, now might be the time to jump in.
Enabling the parent/sub-items and dependency features does add about a million new properties to your database, but like everything else in Notion, you can hide it if it's not helpful in a particular view.
We use Notion every day over here at Blanc Media, and I'm excited to see how this will help us in our project management.