Polar Habits – A "Cool" New Habit Tracker (Without the Guilt)
January 30, 2023
There are a million habit-tracking apps out there. But almost all of them are built on some form of the idea, "Don't break the chain."
The basic idea is that when you consistently show and take action, you create a lot of momentum toward creating positive change. And that makes a lot of sense. But when you mess up and break your streak, it can be pretty discouraging.
This is great for helping you keep an established habit going, but it can be frustrating when you fall off the wagon.
If you've felt this before and are looking for a habit tracker to help you make positive changes without the guilt, then you need to check out Polar Habits.
Polar Habits is a simple web app that allows you to create habits and build momentum by completing them. The momentum is calculated by adding the number of days you've consecutively completed the task or subtracting the number of days you've consecutively missed and is displayed visually in a Dashboard.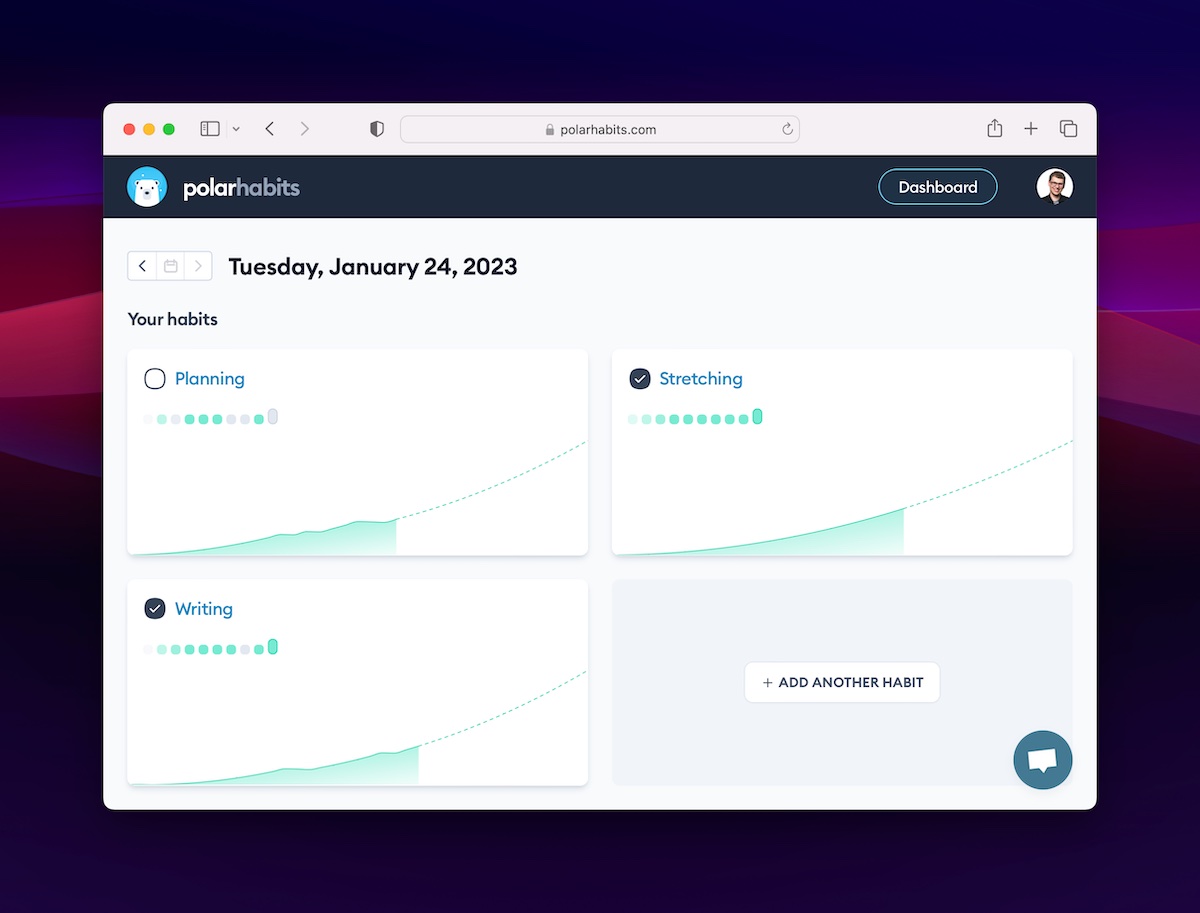 Over time, your growth compounds and you can see the progress you're making. And most importantly, that progress is not immediately wiped out because you missed a day. If you have a daily habit that you complete 5 times this week and miss twice, you'll still be able to see momentum build visually over time.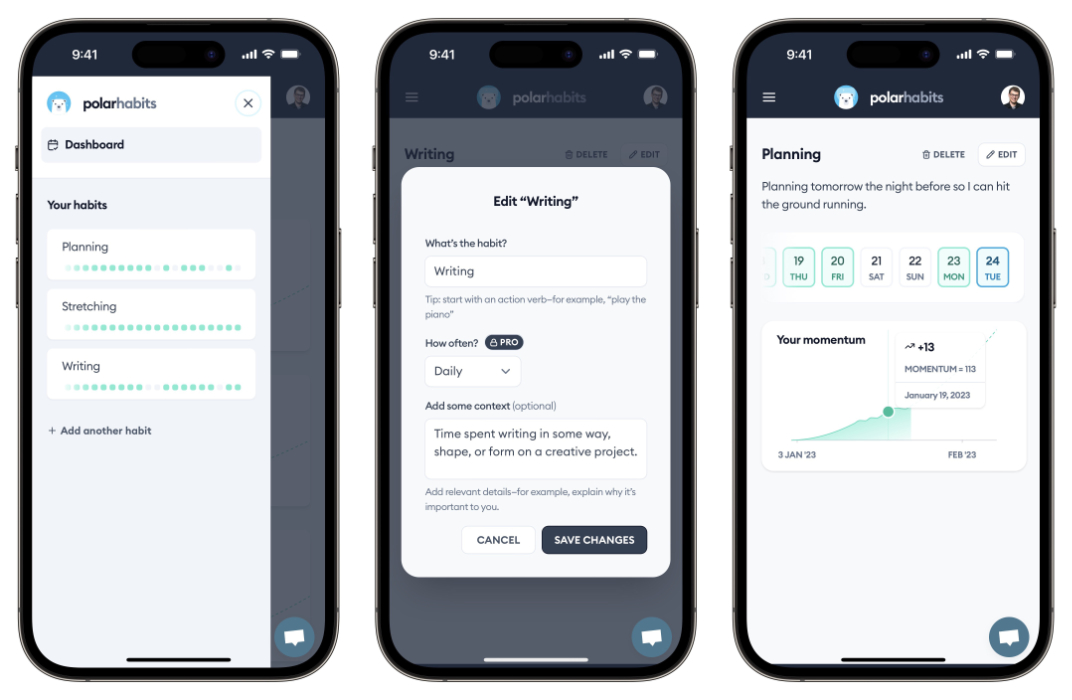 The app is very simple: You add a habit, give it an optional description, and choose the interval (by default this is daily, but the upcoming Pro plan allows you set custom intervals, like 4 times per week). Then you check the box when you do the task, the app throws some on-screen confetti to celebrate, and your momentum is updated visually.
It's still early in development, and there are no mobile apps for Polar Habits as of this writing. The website says that they are on the roadmap, but you'd be hard-pressed to notice if you saved the web app to your iPhone Home Screen (which you can do by tapping on the Share icon and then tapping Add to Home Screen).
I know some people will cringe at that, but in my opinion, this is the ideal app for this kind of workaround. It's not a complicated app, and it doesn't rely on fancy iOS features. Its beauty is in its simplicity.
It doesn't have all the bells and whistles that other habit trackers do, but that's the whole point. If you've struggled to get a habit tracker to stick, give Polar Habits a look.
Polar Habits is free to use and gives you an unlimited number of habits. There will be a Pro plan with more features according to the website that will cost $8/month or $48/year.
🚀 Upgrade: Boost Your Habits
Introducing the new Focus Boosters.
Inside our popular community membership, join us for a the Habit Building challenge (a.k.a. "Booster"). You'll find out how to make simple changes that will make your daily life better, remove distractions, and create a new simple habit.
Membership Includes: Simple Habits Course, Habit Tracking Templates, Digital Planner, Private Community Slack, 2x Monthly Coaching Calls, and much, much more…