A Review of the Opal C1 – A $300 DSLR-Like Webcam
July 6, 2022
When everyone was forced to start working from home in 2020, it was made painfully obvious just how bad most webcams really were. That left virtual workers with a couple of unattractive options:
Stick with the convenient option and make do with a crappy webcam
Spend a bunch of time and money figuring out how to make a fancy camera setup work
The Opal C1 tries to give you the best of both worlds: DSLR-like quality without the complexity at a fraction of the price.
What is the Opal C1?
The Opal C1 is a 4k webcam that is marketed as "the first professional webcam."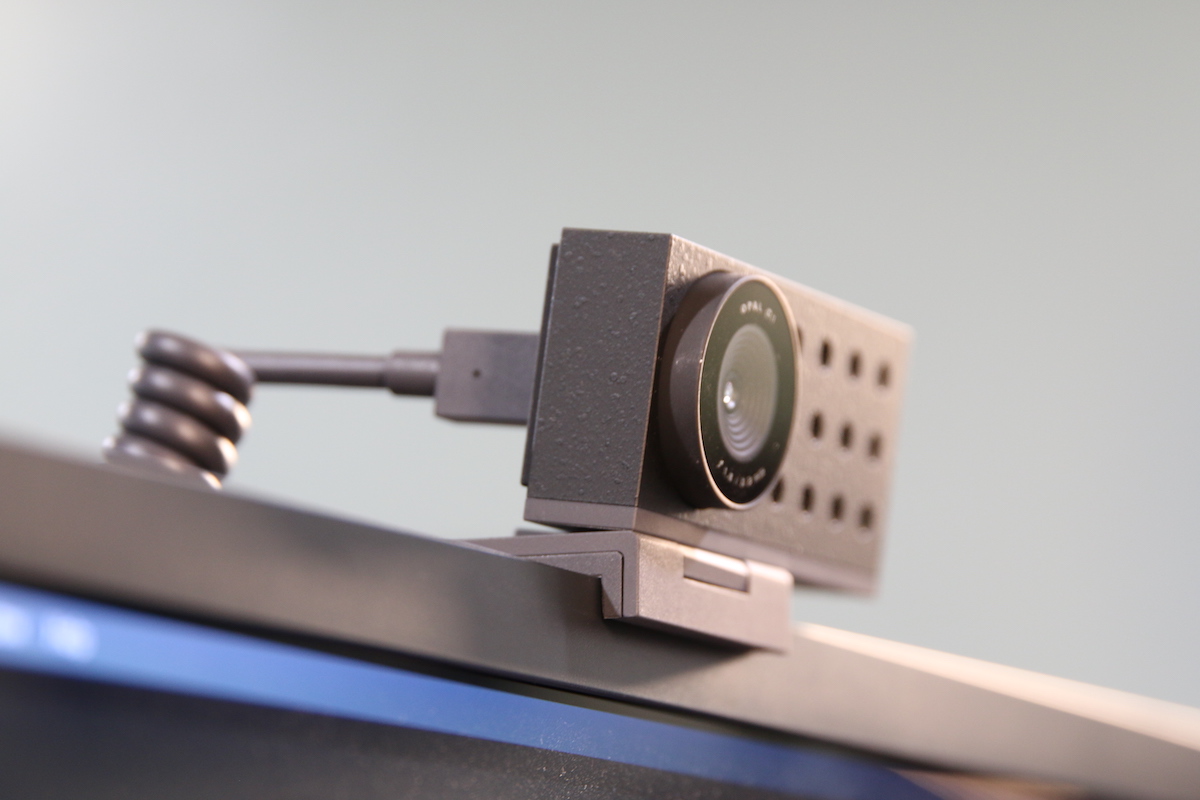 What makes the Opal C1 unique is the combination of well-built hardware with powerful software. It's a very Apple-like approach to solving the problem of poor quality webcam video.
Why not use my iPhone?
Apple recently announced the Continuity Camera feature rolling out with macOS Ventura and iOS 16, and it does look pretty great. But I'm personally hesitant to trust it for regular video calls for a couple of reasons:
Not having a physical connection worries me
I don't want my iPhone on top of my computer all the time
I actually have a subscription to the Camo app, so I have plenty of experience using my iPhone as a webcam. And while the quality it can deliver is impressive, I'm personally more comfortable with a wired, hardware-based solution.
The Hardware
Speaking of the hardware, the Opal C1 is an impressive little device. It feels extremely well-built out of anodized aluminum, and boasts a 7.8mm 4k Sony sensor for up to 5x the resolution of a standard of webcam. It also comes with an ƒ1.8, six-element, glass lens that lets in 2.4x more light than any other webcam.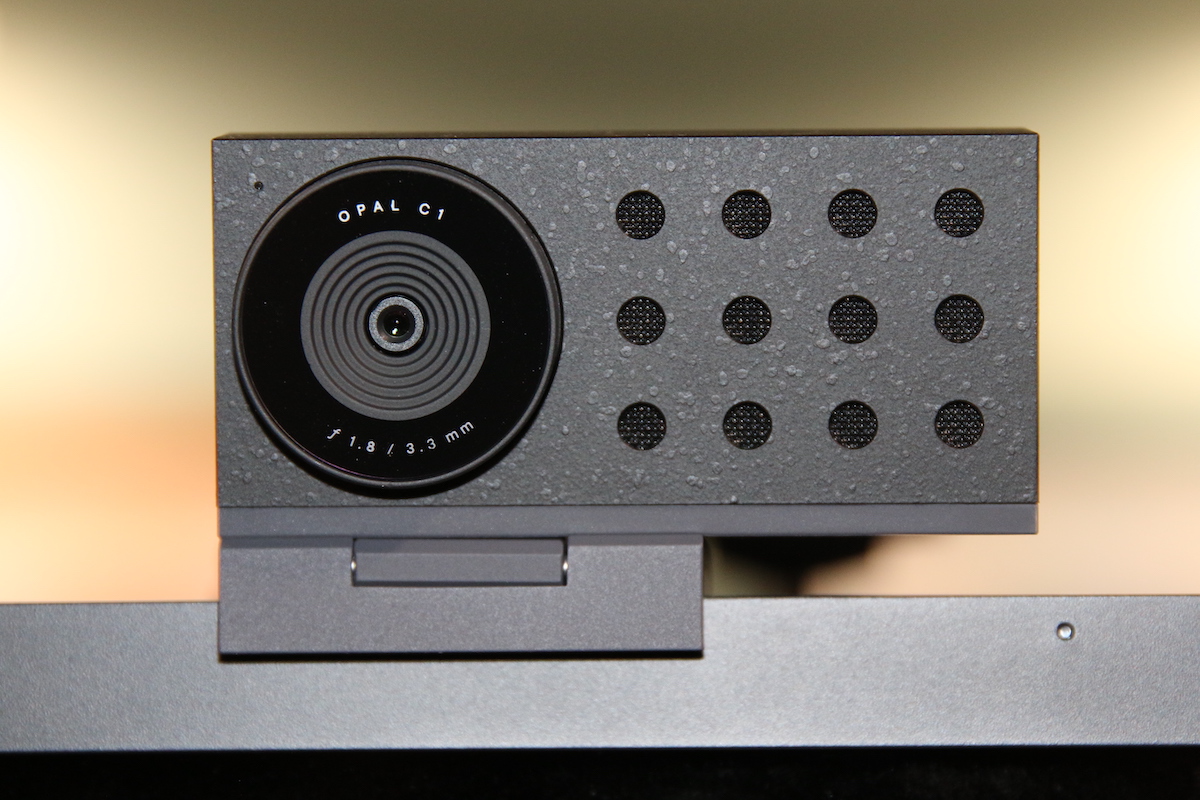 It also comes with MicMesh™, which is an array of beamforming microphones that find and focus on the sound of your voice. The audio features are pretty new (the device itself is still in beta), but promises intelligent noise cancellation to filter out background noise and provide clear audio without a fancy microphone.
The camera also comes with a high-quality coiled USB-C cable to connect the camera to your computer and a magnetic lens cover to protect the glass when not in use.
In my testing, the audio from the Opal was fine. I am admittedly an audio snob, but there's just no way to produce great audio with a microphone that is so far away from your mouth when you're speaking. I could see myself using it if I didn't already have a mic setup at my desk, but the real selling point of the Opal C1 is the video.
But the real question is, how does the video look?
Hands down, the Opal C1 is by far the most impressive webcam video I've ever seen. I've tried just about every premium webcam out there, and in my opinion the Opal C1 is truly head and shoulders above everything else. It provides better color and depth of field than any other webcam (or Mac FaceTime camera) that I've ever seen.
But what really makes the Opal image great is the software, which allows you to tweak the image to your liking.
The Software
I was skeptical that the Opal software could really make that big of a difference in the image quality. But after spending some time tweaking things, I have to say the software is what makes the Opal so magical.
There are five tabs in the current version of the software: Camera, Audio, Effects, Manual, and Settings.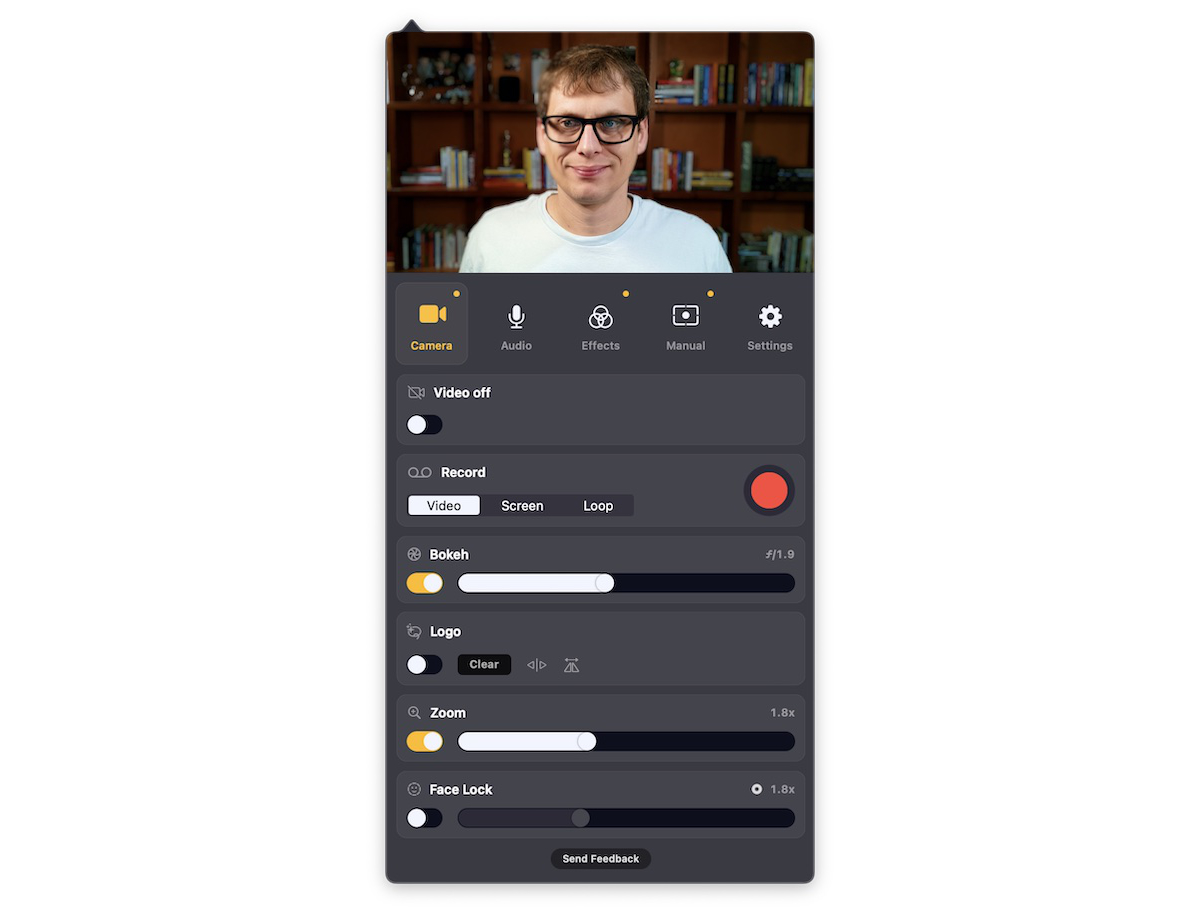 The Camera settings allow you to control the zoom level and toggle the Face Lock feature. This is kind of like Apple's Center Stage feature, where the camera will actually follow you around and keep you in the middle of the frame.
There's also a Bokeh setting, where you can adjust amount of background blur to mimic apertures from ƒ2.8-ƒ0.7.
I have to say, I'm really impressed by this feature. I expected this to be pretty bad because you can't overcome the limitations of physics in the small package of a webcam, but it gives you a very nice bokeh effect without the expensive DSLR.
The Audio tab is where you can control the noise cancellation, but that feature is not yet available in the current software beta.
The Effects tab allows you to apply (and control) filters to your video. You can also control the Touch Up feature, the Tone Sync feature, and pixelate your video.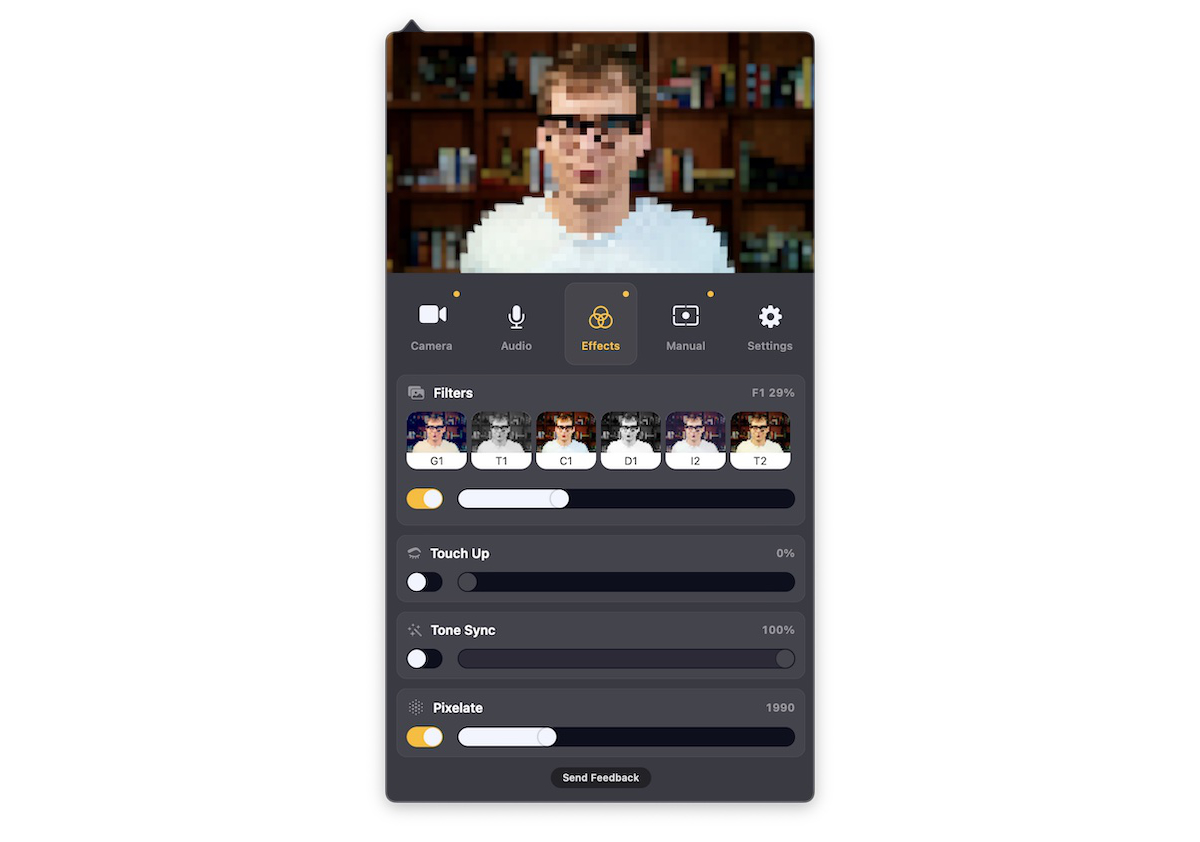 The Manual tab is where you control all of the visual settings for the camera itself, like Focus Lock, Brightness, Exposure, Saturation, Contrast, Vibrance, and White Balance. The balance on some of these settings still feels a little off, but again it's still in beta and I was able to eventually dial them in and get a picture I really liked as a result.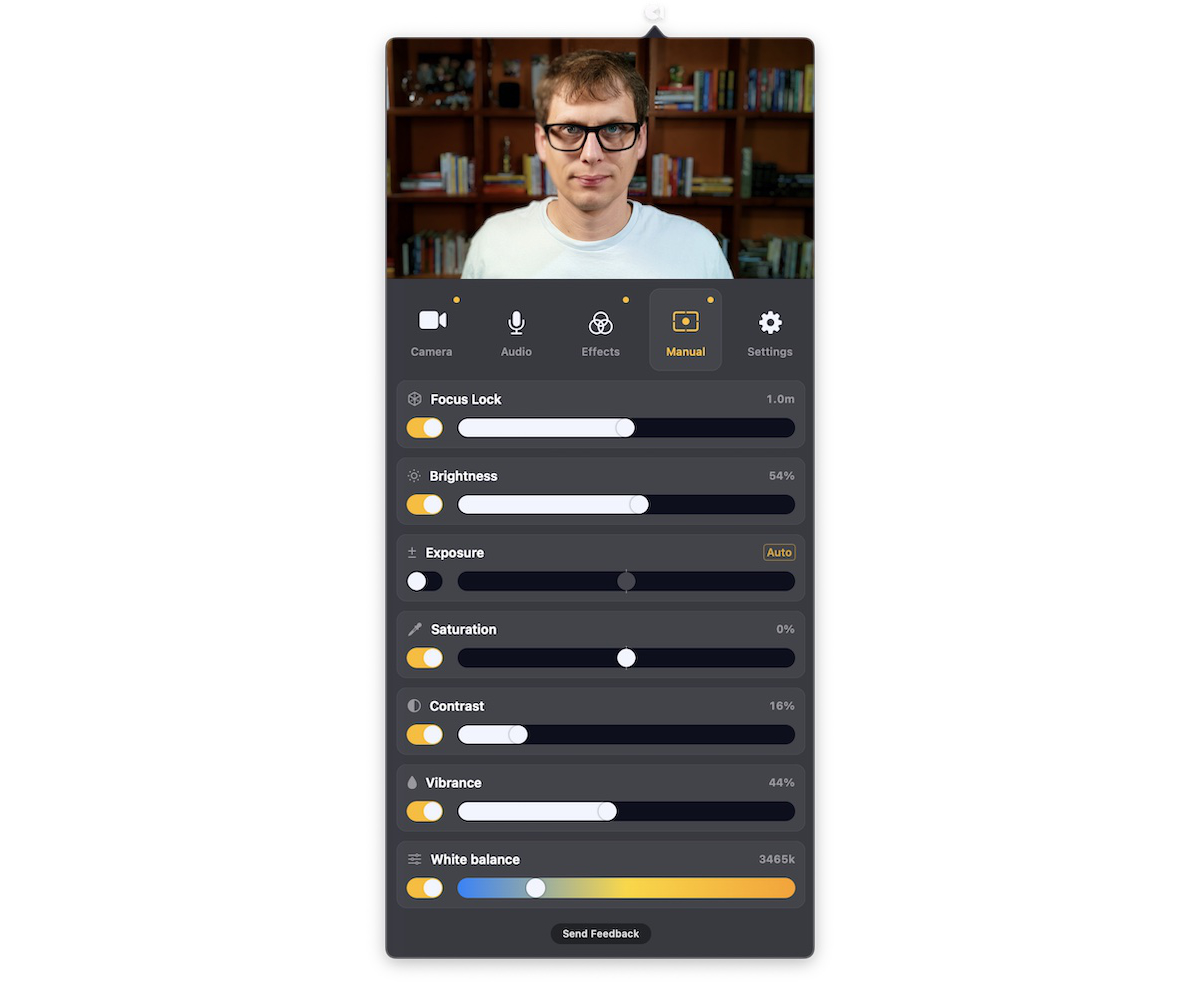 The Settings tab has some standard settings like starting the app on startup and mirroring the video, but the most interesting thing here is the Gesture Control. Currently there are only two gestures available: you can turn the video on and off by holding the peace sign, and you can toggle Face Lock with a pinch. These features are pretty cool, though I don't anticipate using them a ton.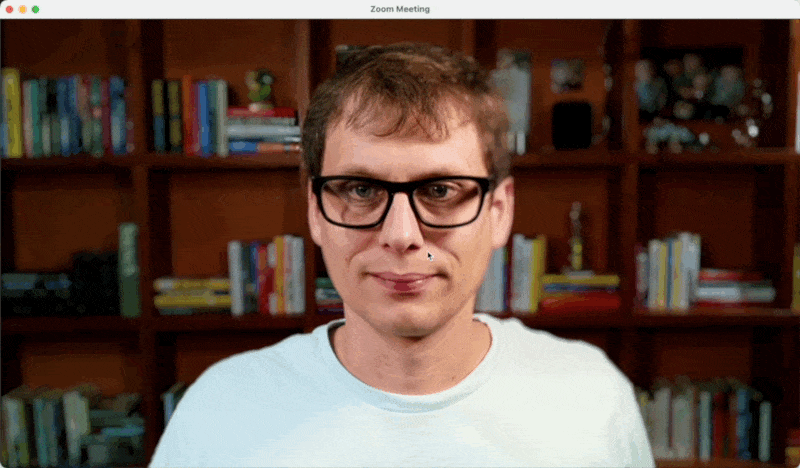 One thing to be aware of: the software will remain free for people who buy an Opal C1 during the beta period, but once it officially launches, it will cost $4/month. You can use the camera without it, but the software really does make a big difference. Still, I'm not sure I love the idea of a subscription in order to use features on a webcam.
Can it really replace a DSLR?
The short answer: Probably.
One of the big reasons people use DSLRs is that they give you great depth of field and creamy bokeh that makes your video look great. And while there are certainly limitations with the webcam format that will prevent the Opal C1 from replicating a true DSLR-quality image, it gets really darn close.
Here's an image from a Canon 70D running through Cascable Pro Webcam in Zoom: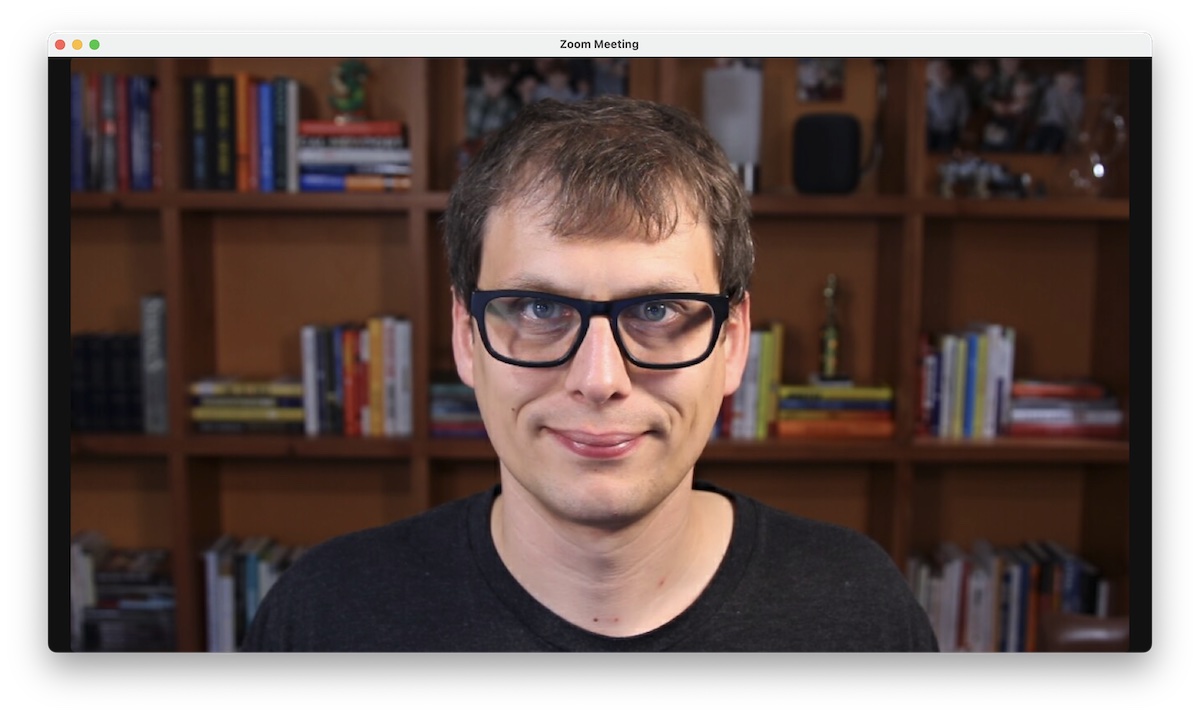 And here's the same shot running through the Opal C1: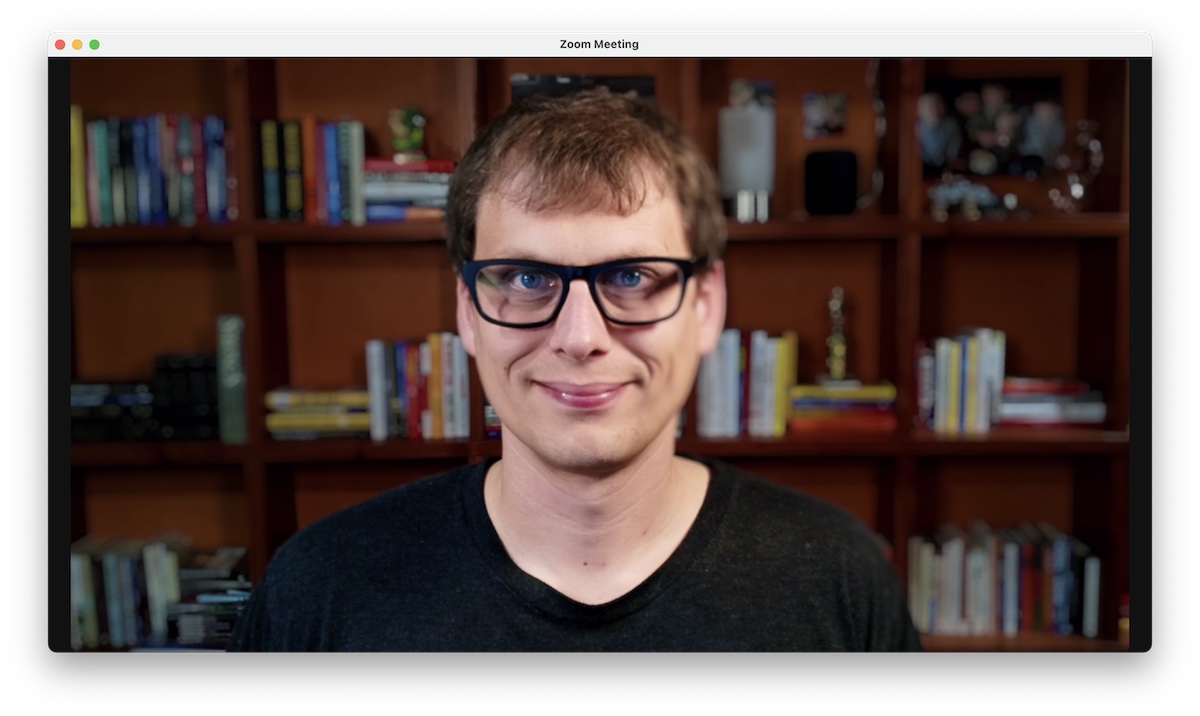 Is the video as good as the DSLR? No. Will most people be able to tell the difference? No.
The other thing the Opal gives you over the DSLR is convenience. You don't have to change camera batteries, you don't have to troubleshoot connections. A single cable gives you an incredible webcam in a compact size.
I mentioned at the beginning of this article that I use my Opal C1 most of the time instead of my fancy DSLR setup. I still use the DSLR for the occasional workshop and YouTube videos, but for everything else I use the Opal C1 because it just works. The team has done a great job making the camera recognizable by just about every macOS application, though there are a couple of limitations third-parties can't overcome (i.e. a separate camera for FaceTime). But as the beta has progressed, the team has expanded the applications the camera works with to the point where I almost never encounter an app that can't use it anymore.
Conclusion
If you're looking for a dedicated webcam that can provide a close-to-DSLR-quality image without the complexity or cost of a real DSLR setup, the Opal C1 is for you. It's still in beta and can be difficult to get a hold of (you have to request an invite code from the company), but if you can get your hands on one I would definitely recommend it — especially during the beta period if you want to avoid paying the ongoing software subscription fee. Having tried other premium webcams before, even at $300 this feels like a bargain to me.
Work From Home….
30% Off The WFH Course Bundle
Get our task and time management mini-course (All the Things (Analog)), plus with our Day One in Depth screencast course. This "WFH Bundle" is 30% off right now.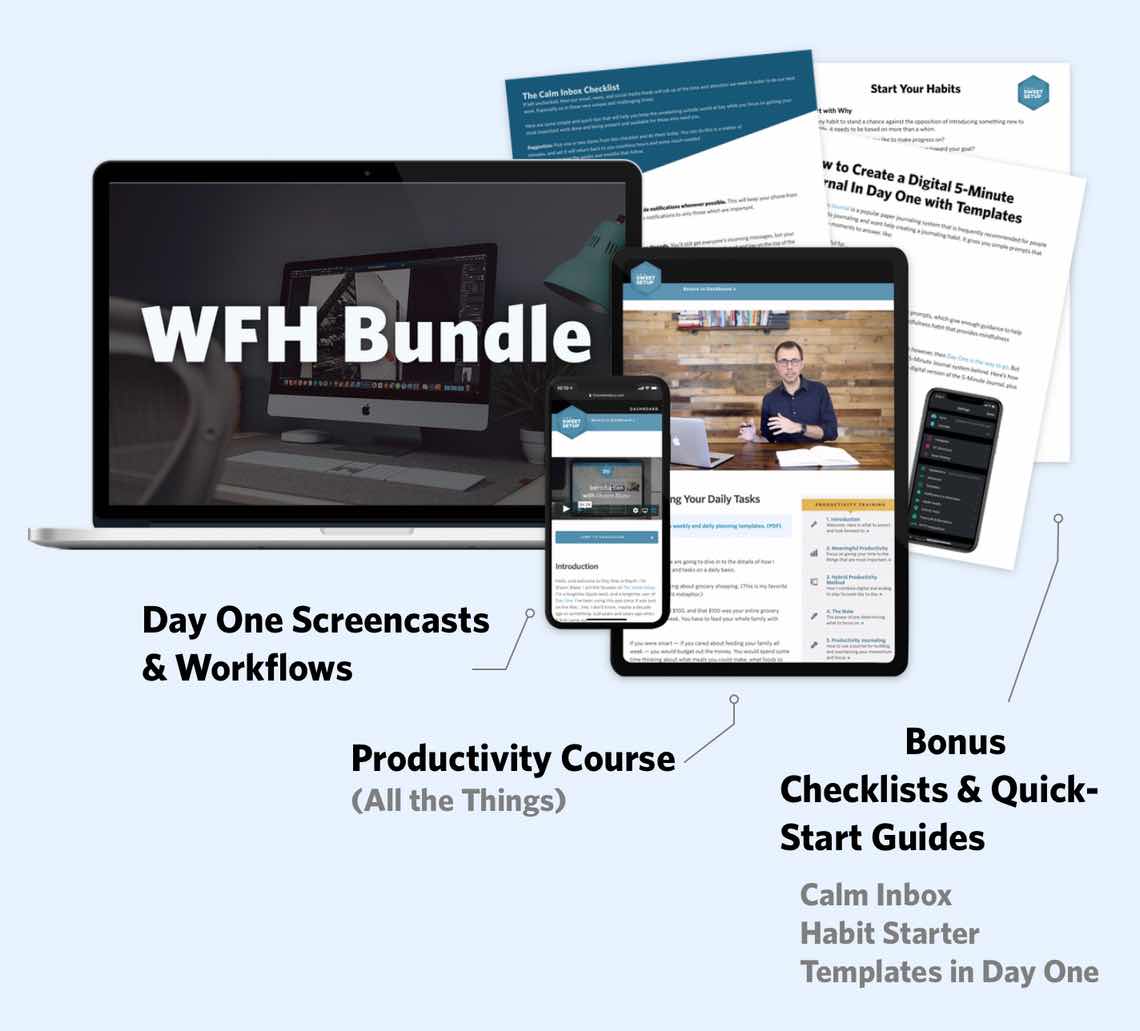 We'll show you…
How to schedule your day for maximum productivity in the least amount of time. This is especially helpful if you and your significant other are juggling responsibilities of kids and home life while also trying to do work.
Weekly planning and reviewing. A great way to get ahead of your upcoming week so you can be prepared and have a priority of what needs to be done.
Custom Productivity Templates: These are a few of the main PDF templates that you can print out or use on your iPad in order to follow along.
How to use Day One, the best journaling app out there: which can help with reducing stress and anxiety, celebrating your wins each day, and keeping a log of what is happening in life right now.
Bundle Bonus: The WFH Bundle also includes three bonuses: The Calm Inbox Checklist, the Habit Tracking Quick-Start Guide, and Using Day One templates for the 5-Minute Journal.
Normal Price: $68
WFH Bundle Price: $47 (You save $21)