iA Writer 5.3 Update Adds Split View, Dark Mode, and More iOS 13 Features
October 31, 2019
iA Writer, our favorite Markdown writing app for iOS, recently received a major update with version 5.3. The update adds a bunch of new features that makes an already powerful writing app even better.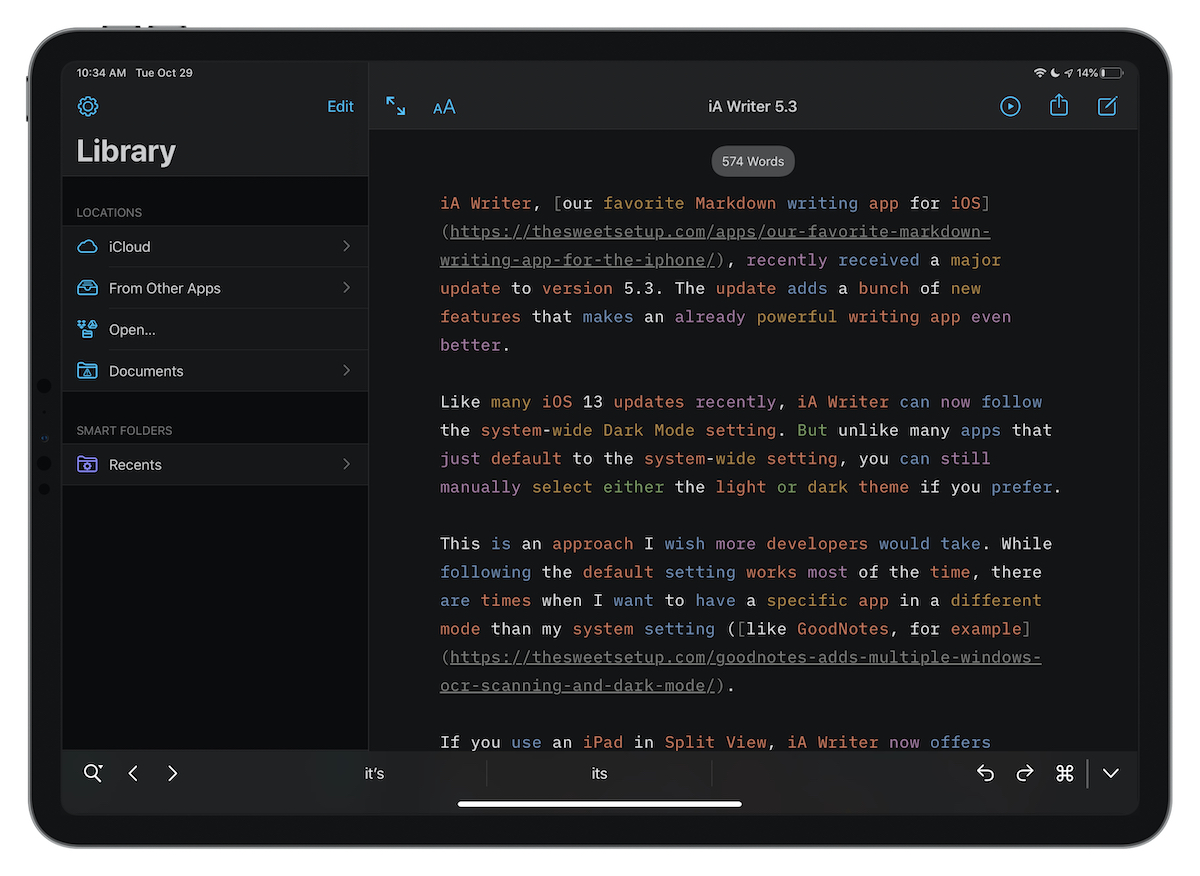 Like many iOS 13 updates recently, iA Writer can now follow the system-wide Dark Mode setting. But unlike many apps that just default to the system-wide setting, you can still manually select either the light or dark theme if you prefer.
Personally, this is an approach I wish more developers would take. While following the default setting works most of the time, there are times when I want to have a specific app in a different mode than my system setting (like GoodNotes, for example).
If you use an iPad in Split View, iA Writer now offers impressive multiple window support. You can open Split View with other apps, with two iA Writer windows, or use an iA Writer window in Slide Over (handy when you just need to jot down the occasional note when doing research for an article like this one).
In addition to the normal ways to invoke Split View (using the plus button in Expose or dragging the app icon from the dock to the side of the screen), you can also trigger Split View using contextual menus and keyboard shortcuts. For example, if you tap and hold on a file in the Library, you can select Open in New Window to open the file in Split View. You can also trigger Split View by using the keyboard shortcut Shift + Command + N to open a new window with a new blank file, or use Shift + Command + O to open a new Quick Search Window and then use Shift + Return to open the selection in a new window.
There's also support for new selection gestures. These show up primarily in two places: when working with text, and in the Library.
When working with text, iA Writer supports the new text editing gestures in iOS 13. For example, you can pinch with three fingers to copy text, repeat the gesture twice to cut, or pinch out with three fingers to paste. You can also swipe left with three fingers to undo and swipe right with three fingers to redo.
You can also select files in your Library by swiping with two fingers. Once you're in Edit mode, you can quickly select multiple files by dragging a single finger over the checkboxes that appear.
Another cool feature added in 5.3 is the ability to export your text using Full Page screenshots. Just take a screenshot of the open iA Writer document you want to export, and tap Full Page in the system screenshot editor to quickly annotate and export your document. Here's what it looks like in action:
There are two ways you can use this feature. If you are in the Editor when you take a screenshot, your screenshot produces a plain text PDF. But if you are in Preview in iA Writer when you take the screenshot, it will produce a formatted PDF.
There's a bunch of other stuff in version 5.3, like support for external hard drives, improved Handoff support, and more. It's a significant upgrade to an already awesome writing app. If you're looking for a powerful writing app but don't like the idea of paying for a Ulysses subscription, definitely check it out.
iA Writer is currently available on the App Store for $8.99 as a universal app for iPhone and iPad.
The 5 Best Productivity Apps (Sweet Setup Favorites)
Download: We spend an inordinate amount of time sorting through hundreds of apps to find the very best. This list of must-have productivity apps includes app links, quick-start info, and pro-tip workflow recommendations for each app.