Gearing Up for NaNoWriMo
October 28, 2019
In this Mindfulness Monday post, we share some tips on how to set yourself up for NaNoWriMo success.
One of the principles my wife and I try to teach our kids when it comes to how they interact with technology is "create, don't consume." That's not to say you shouldn't read blogs (like this one), watch YouTube videos, or listen to podcasts. But we want our kids to learn how to take control of their technology by using it to create something, not just defaulting to consuming the endless feeds (like email and social media).
One of the best ways to flip that switch into create mode is to participate in NaNoWriMo, or National Novel Writing Month. Every November, over 400,000 people sign up for NaNoWriMo with the goal of writing an entire 50,000 word manuscript in only 30 days. It's an ambitious goal to be sure, but the fact that so many other writers are doing the same thing at the same time is enough to help many people overcome The Resistance and finally get their book written.
If you're participating this year (or thinking about participating), here's a couple of tips to help you make this NaNoWriMo a success.
Organize Your Ideas Before You Start
In order to hit the ground running on November 1st, you'll want to make sure you have everything you need to sit down and write ahead of time. A little prior planning can make the actual writing process go a lot smoother. One of the things you should consider prior to NaNoWriMo is if you need to do any research leading up to it. If so, you might want to get a jump on it. When doing your research, consider the theme you're going for and try to fill in any knowledge gaps that could derail you when you sit down to write. Is there any aspect of that theme you need to understand better before you write about it? For example, if you'll be writing a science fiction novel, you may want to understand space travel a little bit better. The more knowledge you have about your topic or theme, the easier it will be for you to write about it.
NaNoWriMo is traditionally for fiction authors, so you may also want to spend some time thinking about characters. Who are they? What do they do? What does a day in their life look like, in vidid detail? Where do they live? How do they dress? Where do they work? The more specific you can be here, the better. Character development can be a very organic process, and many fiction authors say that as they think about their characters, their characters start to define themselves. As you flesh out who your characters are, you may find the story starts to unravel in front of you.
Assemble Your Tools Ahead of Time
The first question to consider when selecting your tools for NaNoWriMo is, "where will I be writing?" Do you have a desk or home office where you'll be writing on a Mac? Or will you queue in writing sessions when you're out and about, in which case you might use an iPad or even your iPhone? Only after you know where you will be doing your writing will you be able to best choose your writing tool.
Next, consider what you will use to do your writing. If you use your Mac, do you have a comfortable and reliable keyboard? I do most of my computing from a 15″ MacBook Pro, but I don't like using the built-in keyboard for long writing sessions. I much prefer my mechanical keyboard, as I find the tactile feedback and the sound the keys make as I type a great motivator to keep the words flowing. And if you use an iPad, that doesn't mean you're stuck using the Apple Smart Cover. There are lots of great Bluetooth keyboard options for writers who want a comfortable keyboard for on the go.
(If you're wondering what members of The Sweet Setup staff use to write, we compiled a short list of our favorite keyboards here.)
One assumption we will make here is that you will be using an app to do your writing. While you can participate in NaNoWriMo using pen and paper, we believe there are a couple of powerful applications that will serve you better:
Scrivener (a great rich text editor with tons of export options)
Ulysses (a powerful plain text editor that helps you focus on your words)
Which one is right for you will depend on a couple of factors, like how much you'll rely on sync between devices, how you intend to deliver your work when it's done, and your preferences around plain text and Markdown formatting. We published a comparison article here to help you pick the right writing tool for you, but you really can't go wrong with either of these apps.
Another less obvious tool consideration is background noise or focus music. If you're looking for music to help you work and write, there's a great list here on Tools & Toys. But if you really want to go next level with this, you can look into a service like Brain.fm (which we recently wrote about here.)
Schedule Your Writing Times
Identify a daily writing goal. Writing 50,000 words in a single month may seem like a daunting task, but it's much more manageable if you break it down (it's actually only 1,667 words per day). Ulysses (our pick for the best pro writing app) makes this easy by giving you a visual indicator of your progress: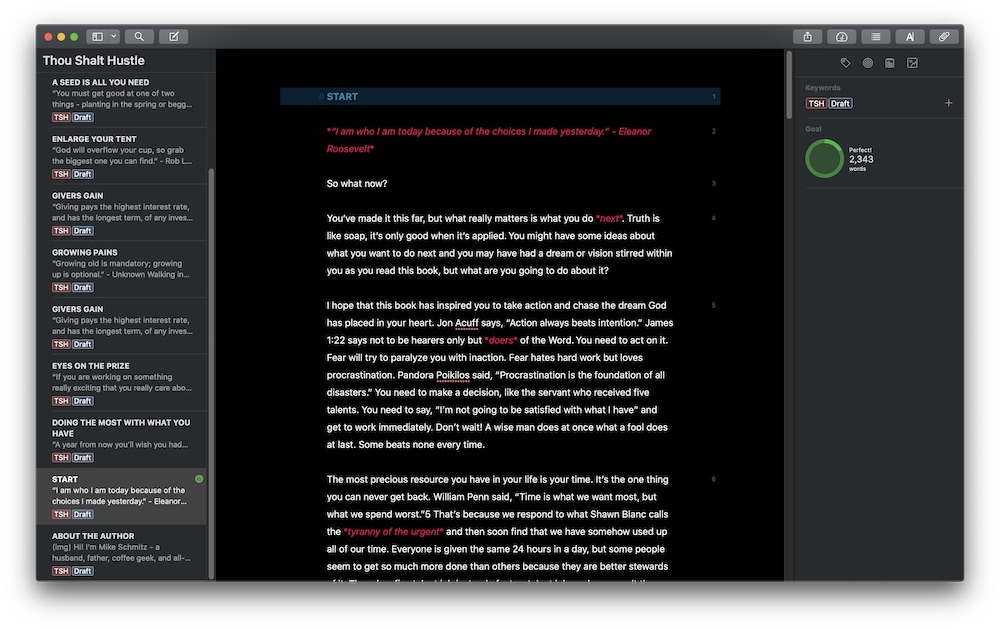 This makes it easy to track your progress during your writing sessions and helps you hit your daily goals. To help you hit these goals, resist the urge to edit as you write. Just focus on getting words on the page. You're going for quantity, not quality, at this point. You can even set group writing goals for your entire project, and Ulysses will compile all the progress you make on the individual sheets inside of that group or project.
Where things can start to get difficult is if you miss a day (or two). Once you start to fall behind, it can be difficult to catch back up. Miss a few days in a row, and you can quickly start to feel overwhelmed. The best way to make sure that doesn't happen is to make sure you schedule your writing times.
Technically not for NaNoWriMo, but this is the approach I took when I wrote my book. I knew I wanted to write a book, but the only time I could find to write was early in the morning before my family woke up. I started getting up at 5am every day so I could write for an hour before heading in to the office. I'm not naturally a morning person, but I showed up every day and wrote anyway. After only eight months, I went from being someone who believed they should write a book to someone who had written a book.
Once you pick the time you're going to write every day, make sure to put it on your calendar. Treat it like an appointment that you can't miss, and do your level best to show up every day. It doesn't guarantee you'll be uninterrupted, but blocking it off minimizes the chances of something else popping up and stealing that time from you.
Let's Do This!
To get started (and make it official), sign up on the NaNoWriMo website. You don't technically need to sign up to participate in NaNoWriMo, but doing so gives you access to a community of writers who are attempting the same challenge and gives you access to some additional resources.
And keep us posted on your progress! If you're participating in NaNoWriMo, we'd love to hear about it. Send us a tweet (@thesweetsetup) with a link to (or description of) your project and the hashtag #NaNoWriMo.
---
Stop losing your ideas and notes to multiple apps…

An online course to help you save time, organize your notes, and master the best writing app for Mac and iOS: Ulysses.
---