Essential iOS Apps for Musicians
January 2, 2020
It's a fine time to be an iOS musician. There are a ton of great apps out there that can help you refine your craft and even perform live music in new and interesting ways.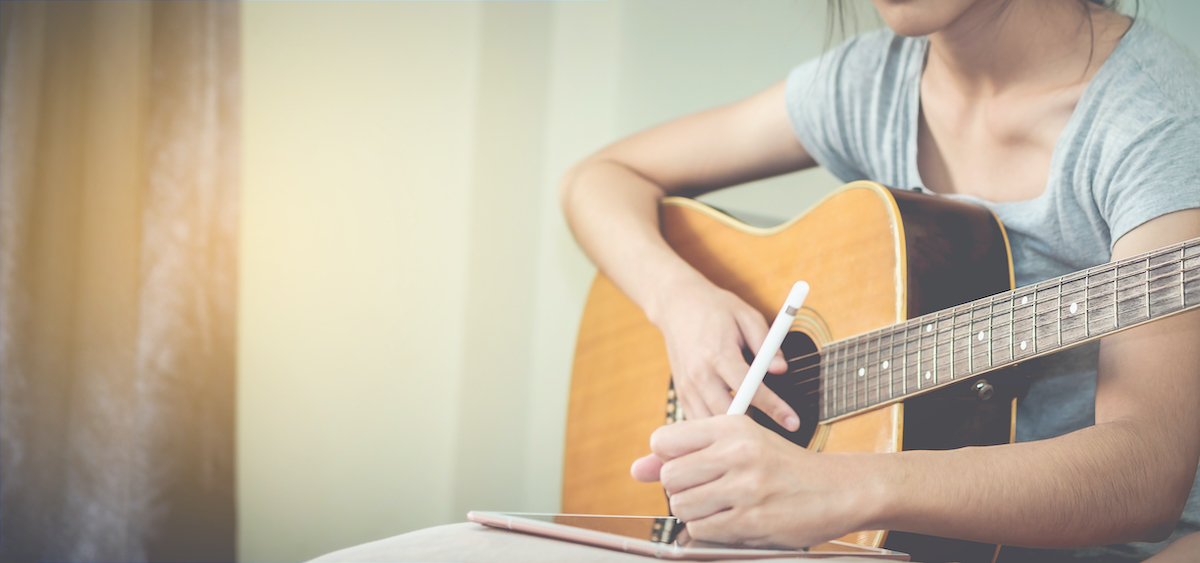 I recently wrote about how I play guitar live at church using a xSonic xTone interface and Bias FX on my iPad, but there are many other high-quality iOS apps available to musicians. Whether you are looking to digitally replace a large sheet music library, write songs on the go, get some help practicing difficult musical passages, or just need a little help staying in tune, these apps have you covered.
iReal Pro is an app to help musicians of all levels master their art. It's part songbook and part digital backup band, allowing you to import (or create) easy-to-read song charts and then select backing instruments that you can play along with.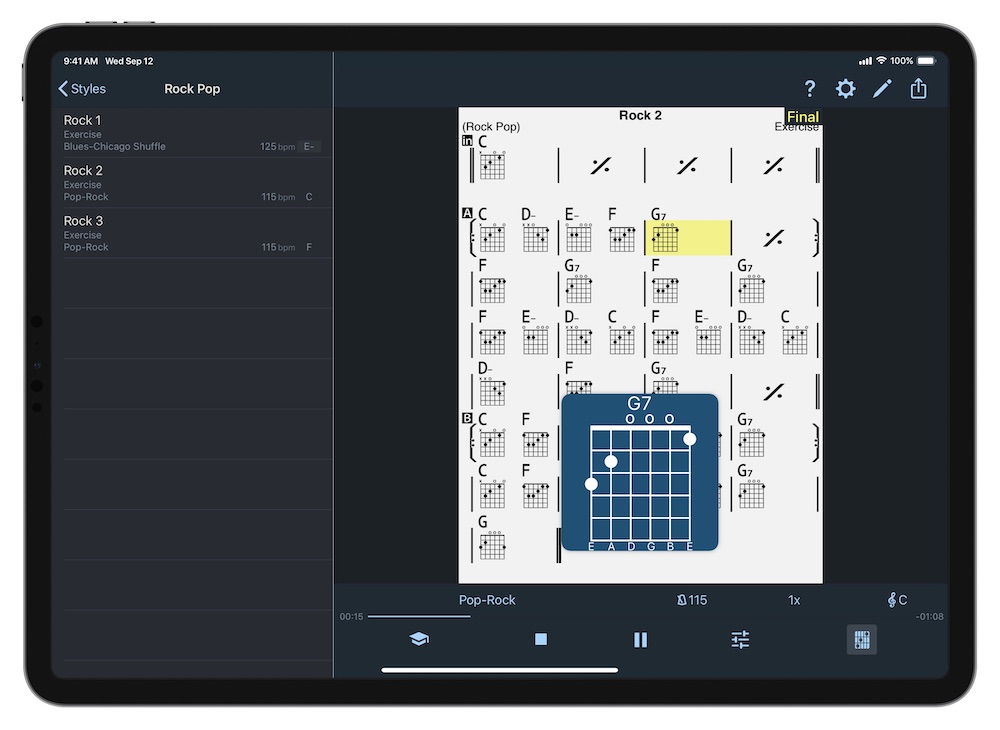 The chord charts are all stored in a digital library, allowing you to access thousands of chord charts from your iPad. You can create your own chord charts and easily share them with others, but the real value of iReal Pro for musicians is in the backing tracks. You can select any chord chart and change the style, and the backing instruments will adapt instantly. For musicians looking to develop their chops in different styles they may not normally be able to try with other live musicians, this is a great way to stretch your abilities. You can change tempos and key signatures easily, and there's even a practice mode for learning tough passages. Just select a passage you want to loop, and practice mode will repeat it over and over, gradually increasing the tempo each time.
iReal Pro is available as a universal iOS app for $13.99. There is also a Mac version available for $19.99.
forScore is an iPhone and iPad app designed to help you organize your sheet music. It allows you to import sheet music as PDFs, and even purchase content from within the app through services like Noteflight and MusicNotes. The big advantage of using forScore is that you don't have to carry around a ton of sheet music anymore. As someone who used to always carry hundreds of pages of sheet music with me to orchestra practice, I'm a big fan of keeping everything stored digitally. I always have my iPad with me anyway, so not having to carry music around is great.
But forScore does more than just store PDF files. It intelligently solves some of the major problems classical musicians face when playing off of sheet music — like having to stop and turn the page. ForScore gives you the ability to do "half-page turns" so you can see the bottom half of one page and the top half of another, and works with Bluetooth page turners like PageFlip and AirTurn. It even has built-in audio tools like a metronome, pitch pipe, and tuner. The design is beautiful, and it even has Dark Mode and support for iOS 13 features.
forScore is available as a universal iOS app for $14.99.
Perfect Tempo is an app that does one thing, and does it well — it allows you to modify the speed of songs you're trying to learn without changing the pitch.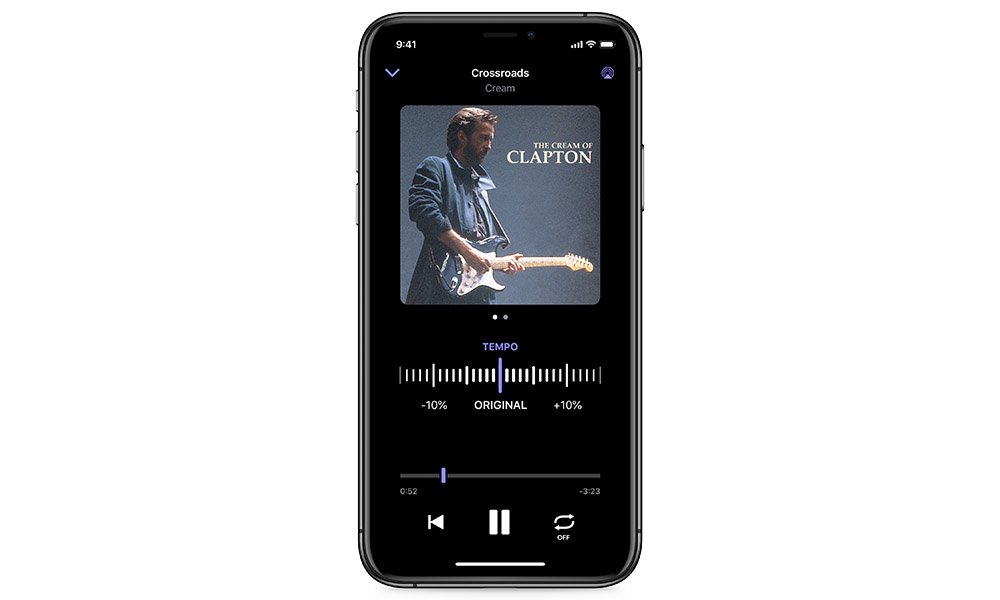 The thing that makes Perfect Tempo so powerful is the integration with Apple Music. I used to run into this limitation using other apps in the past. As a guitarist who occasionally wants to learn how to play a solo I hear in a professional recording, I'd get frustrated when trying to import a song to slow it down and be told I couldn't do so. But with Perfect Tempo, you can speed up or slow down any song in the Apple Music library.
You can repeat the entire song or select a specific section to make practice easier, and you can even control tempo, volume, and repeat from your Apple Watch. It's also a great app for dancers who want to practice a routine at a slower pace to learn complicated steps.
Perfect Tempo is available as a universal iOS app for $4.99.
Music Memos is a free app that is actually made by Apple to be a musical scratchpad for musicians to quickly get their ideas down. Just open the app and hit record. Once you have your idea down, Music Memos will analyze the audio and suggest chords for what you played. It's optimized for acoustic guitar and piano, but you can use it for other instruments as well (though your results may vary).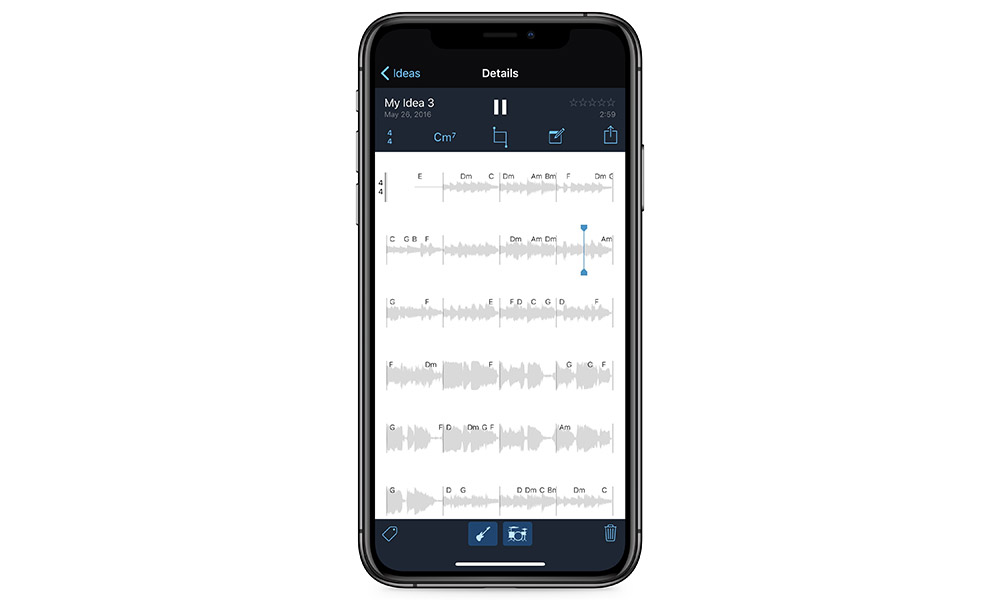 Once you have your audio recorded and the chords are identified, you can add a virtual drummer and bass player with the tap of a button. Unlike iReal Pro which gives you the band and it's your job to play along with it, Music Memos attempts to insert a band behind what you've recorded. It doesn't always do a perfect job of lining everything up with what you're playing, but it is pretty cool to record something quick and instantly add a virtual backing band.
Music Memos is available as a universal iOS app and is free.
Tonaly was known as Ultimate Circle of Fifths until recently, and is a songwriting and practice tool that is built on the famous circle of fifths model that will instantly be recognizable to students of music theory. If you're new to music theory, don't worry — you don't need to know any music theory in order to use the app. Just scroll the wheel to select your key, and the app will show you the other chords that are in that key. This makes it a great tool for songwriters who are trying to find that perfect chord for a song. You can add chords to a progression below the circle of fifths as you go, expand the drawer on the bottom to see the chords on a keyboard or fretboard, and even tap the play button to hear what it sounds like on the virtual instrument you have selected.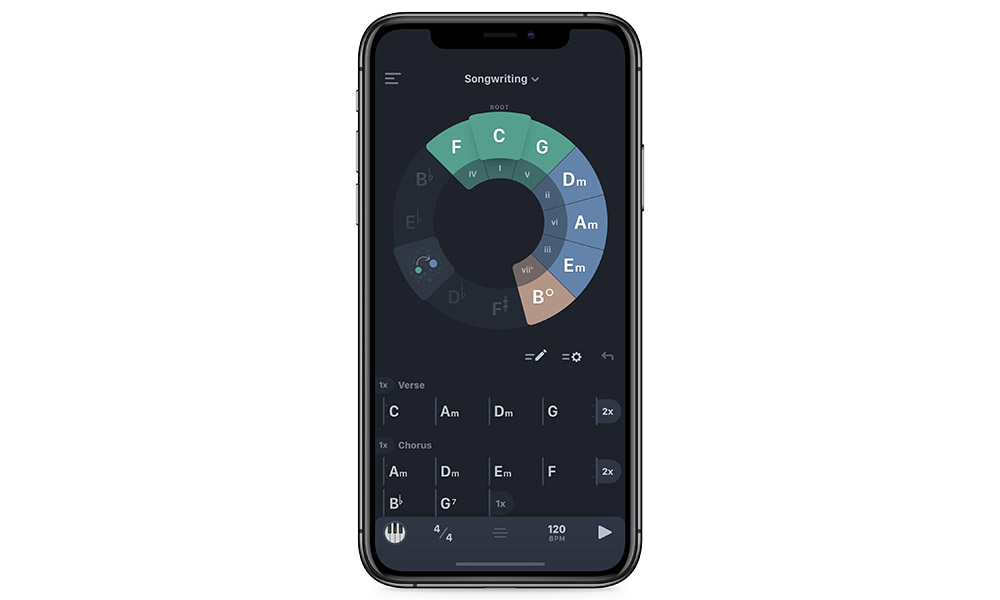 It's also a great practice tool for musicians who want to develop their chops. In addition to helping you become familiar with the chords in the circle of fifths, there's also a Scales mode that makes it easy to practice any scale in any key. There's a couple of scales included like major ionian and minor dorian, but you can unlock more than 80 different scales with a $2.99 in-app purchase.
Tonaly is available as a universal iOS app for $4.99.
What's the difference between a guitar and a fish? You can't tuna fish.
GuitarTuna is a free app made by Yousician (a great app in it's own right for learning how to play) that helps you keep your instrument in tune. Just pluck a string on your instrument and GuitarTuna will detect the sound using the microphone on your device, giving you instant visual feedback without any cables. I've had mixed results with iPhone tuners in the past, but GuitarTuna boasts award-winning audio recognition technology that guarantees "an insanely accurate tuning result." I'm not sure how to measure whether it lives up to that claim, but in my experience it is pretty good.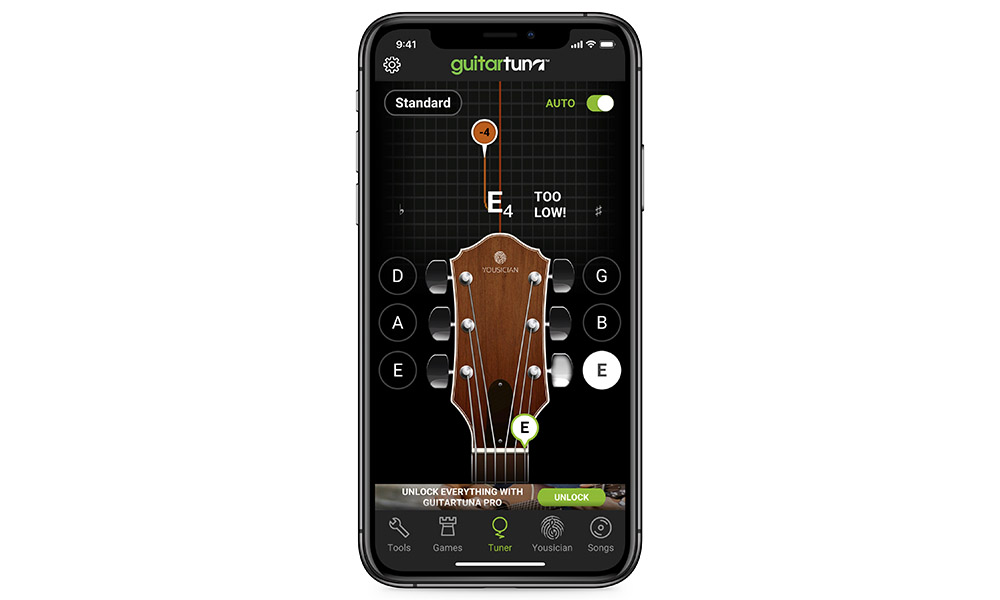 And even though the name says GuitarTuna, it also works with a lot of different stringed instruments, including:
guitar
ukelele
bass
violin
mandolin
cello
and much more
The app is free to download, but the premium version is pretty pricey ($4.99/month for all tunings, chords, instruments, etc.). As a basic free tuner, it's great.
GuitarTuna is available as a universal iOS app for free.
If you want a better tuner and are willing to pay a few bucks as a one-time purchase, the TonalEnergy Tuner is currently at the top of the App Store music charts and does a great job. It gives you visual feedback through a circle in the middle that becomes a green smiley face once you are actually in tune. It offers support for a large pitch range, and even allows you to modify reference point for tuning from the standard A = 440 Hz.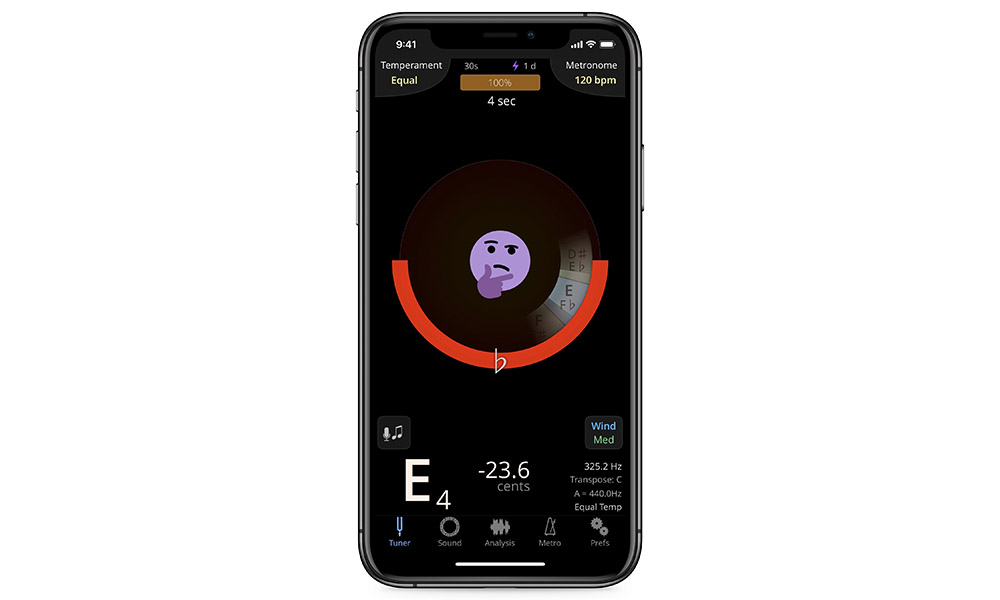 The app also gives you a powerful metronome with lots of tempo patterns and subdivision options, and the analysis tab gives you instant feedback to help you practice. Using the Target Tuner or Pitch Tracker features can help you create rewarding and attainable goals during a rehearsal or when working alone. It even offers Shortcuts support and an Ableton Link feature that allows you to play in-time with other Link-enabled apps on the same network.
TE Tuner is available as a universal iOS app for $3.99.
Just Press Record is made by the same developer as Perfect Tempo, and is an audio transcription app. It's a mobile recorder that gives you one-tap recording ability (even from your Apple Watch) and syncs your recordings across iCloud. Think of it like Voice Memos on steroids.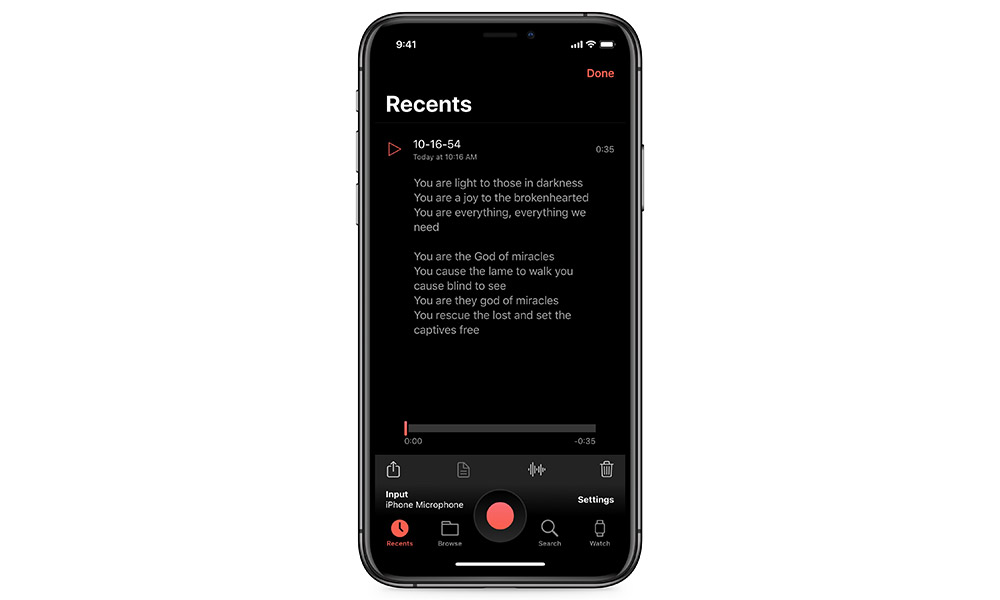 The major feature of Just Press Record is the built-in transcription. Just like accessing a voicemail on your iPhone, the transcription is displayed below the recording title. Once you record your audio, you can edit the transcription to fix anything it messed up and you can even edit the recording and remove any sections you don't need.
Just Press Record is available as a universal iOS app for $4.99. If you decide to purchase Perfect Tempo and Just Press Record, there is a musician bundle available on the App Store that can save you a few bucks.
One of the problems I used to run into as a songwriter was having audio ideas in one app and lyric ideas in another. Hum is the iPhone app that fixed that problem for me by combining note-taking and audio recording into a single app for capturing and organizing your songwriting ideas. Just create a new "hum" and type out your lyrics, then tap the record button to capture the melody line that goes with it. All your song pieces are stored together, making it much easier to go back and develop them later.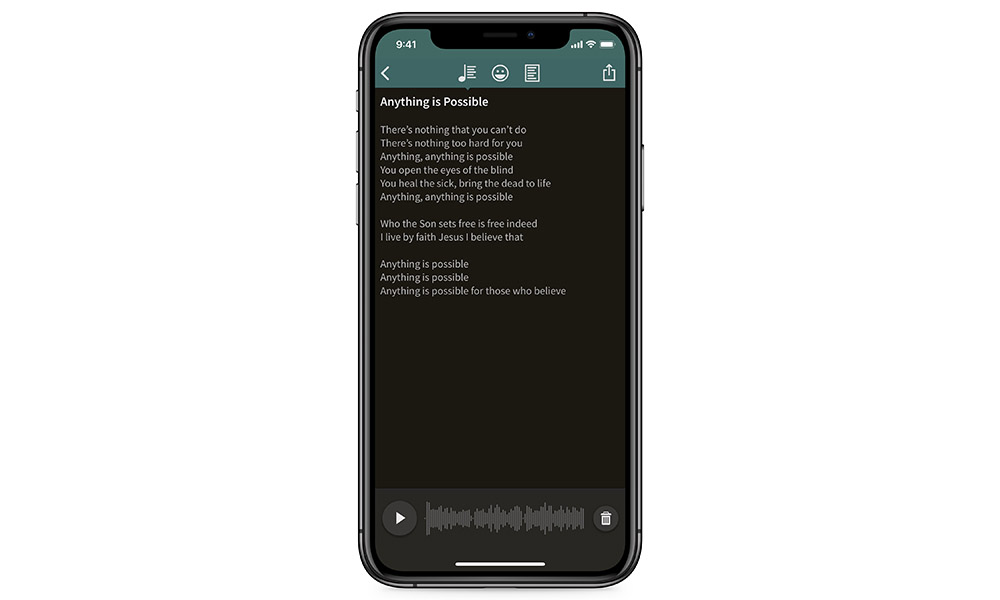 Hum is a beautifully designed app that is easy to use, but it does quite a bit. You can attach metadata to your song ideas like key, tuning and mood, and attach recordings to your lyrics so you can work on them at the same time. You can sync your hums via Dropbox, and toggle a recording countdown if you prefer a little space at the beginning of your recording.
Hum is available as an iPhone app for $2.99
Capo Touch is a phenomenal app that analyzes a song file and detects the chords, key, and tempo of the song. From there, you can slow the song down to practice a difficult section you're trying to learn, transpose the key on the fly, isolate or eliminate instruments or vocals, and much, much more.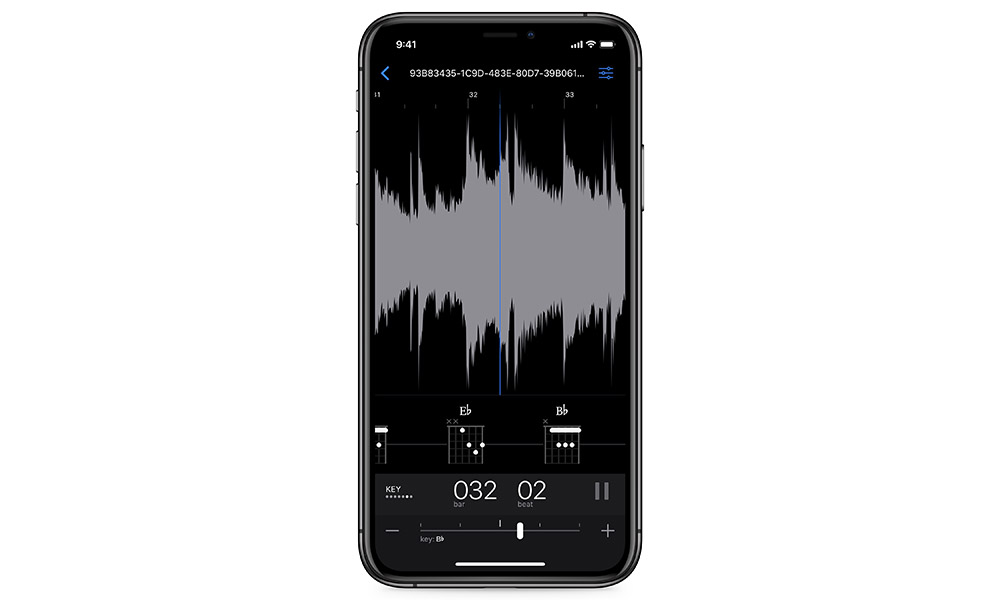 The only knock on Capo Touch is that you have to purchase songs you want to learn from iTunes instead of accessing them from your Apple Music library. So while Capo Touch is much more powerful than Perfect Tempo and does a lot of additional things, if you just want to slow down a section of a song so you can learn how to play it, then Perfect Tempo is probably a better option.
Capo Touch is available as a universal iOS app for free, though there is a fairly expensive in-app purchase of $19.99/year to unlock all features.
Our Must-Have, Most Used Productivity Apps
We spend an inordinate amount of time sorting through hundreds of apps to find the very best. We put together a short list of our must-have, most-used apps for increasing productivity.