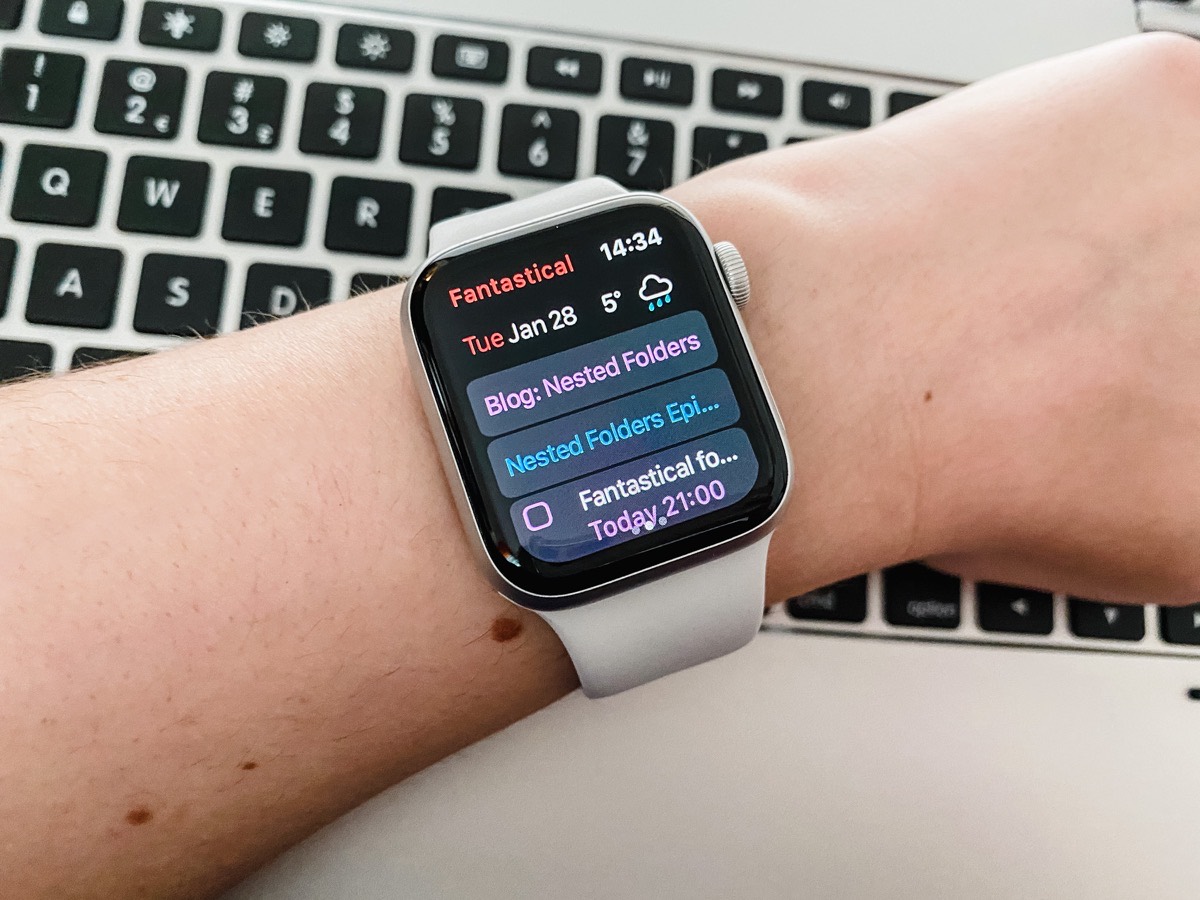 The Best Calendar App for Apple Watch
Fantastical
January 29, 2020
The Apple Watch is still a relatively young product, and the expectations for what makes a good app can change quickly. It's also a chance for new apps to break out and show some of the established players how things should be done.
In light of this, we tested some of the most popular calendar apps for the Apple Watch, as well as some more under-the-radar options that you might not have heard of. After spending time with a wide variety of apps, Fantastical 3 stood head and shoulders above the rest.
Criteria for the best calendar app
The metrics for choosing the best calendar app for the Apple Watch are relatively straightforward.
The calendar app must have an Apple Watch app in the first place. There are tons of calendar apps for iOS, but many don't have an Apple Watch companion app, so they were immediately removed from consideration.
The app should have useful complications that work on as many watch faces as possible.
The app should support the Siri watch face, which was opened up to all developers in watchOS 5.
The app should sync with as many calendar services as possible. Google and iCloud integrations are essential, but Outlook, Exchange, and anything else is a bonus.
In short, the app needs need to embrace the numerous avenues you might want to use to interact with it. A nice app interface is welcome, but the best apps focus on great experiences from notifications and all watch faces.
Fantastical is the Best Calendar and Complication for Apple Watch
After looking at all of the options available, Fantastical stood high above the rest. It simply checks all the boxes when it comes to what we expect from a top tier Apple Watch app today.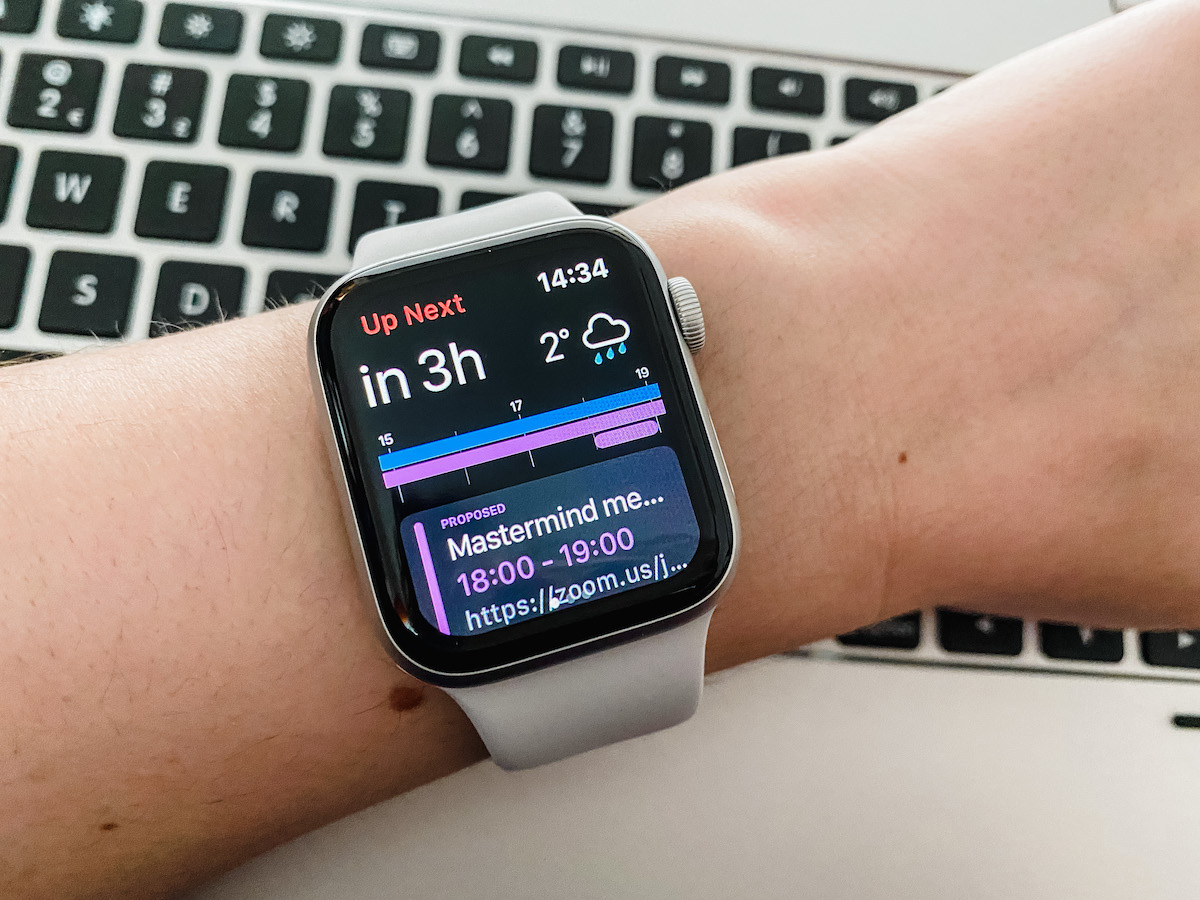 If you are looking for the most feature-rich calendar app for the Apple Watch, then Fantastical has you covered. Not only does it have a well-designed and powerful Watch app, but it really shines when it comes to watch face complications.
The Complication Champion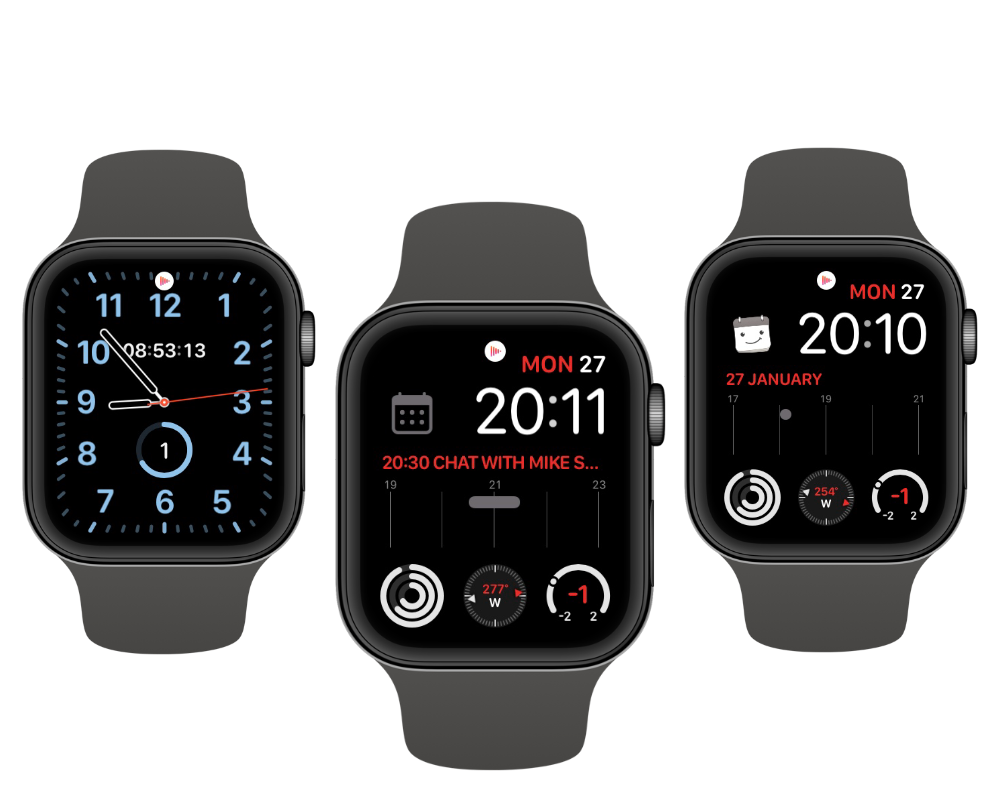 Fantastical has long had support for complications on all watch faces. In Fantastical 3 you can even change the settings to say what exactly the large and small complication sizes should show you, and these options allow you to pick anything from the date, or the number of events left in your day, to your appointments. This is controlled from your iPhone instead of directly on the watch, but that's a reasonable trade off for the ability to customize as you'll likely only set this preference once. Fantastical also supports all the different complication sizes, which is not something we could say for every app we tested. A nice touch is that when you are done with events for the day, the complication will show a cute calendar icon with a smirk on its face, letting you know that you have no events and are free for the rest of the day.
And finally, Fantastical has integrated with the Siri watch face, meaning it should show up in your list of Siri cards whenever a calendar event is upcoming (though this is controlled by watchOS, so you can't guarantee the events will show up when you expect them to which can be problematic). If you previously used Apple's calendar app for this, you can turn that off in the Apple Watch app on your iPhone and let Fantastical show your events instead. It's not earth-shattering, but it's nice to have the app we recommend on the iPhone now completely replace the functionality of Apple's app.
The Watch App Itself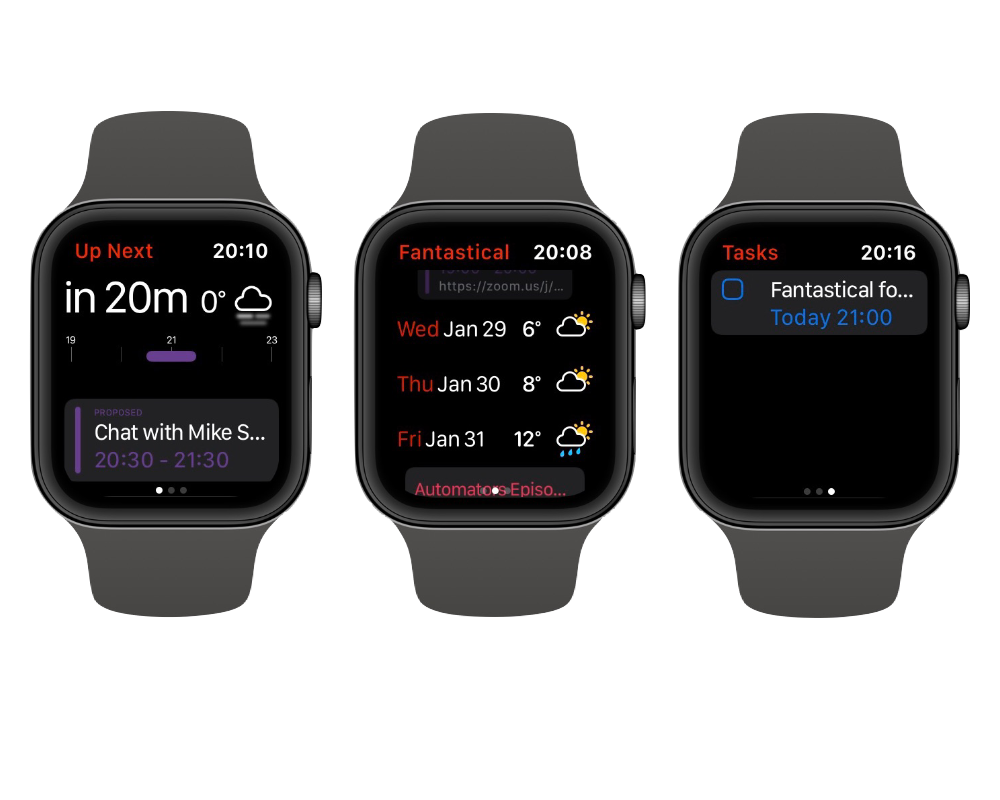 While complications are likely the most valuable part of any Apple Watch app, you sometimes want to open the actual app. This is an app for Apple Watch which is pretty tiny, but Fantastical still has plenty of options to make sure you can manage your schedule on the go.
The app itself has three views — the first, Up Next, being the most visual and showing you how long you have until your next appointment or task, and counting down the time until that. There's also a weather view in the top right, which is particularly useful when you have to go somewhere. It's reminded me to grab an umbrella on more than one occasion throughout the beta!
The next view will be familiar to anyone who has used Fantastical before, as it's a vertical list of all your appointments in date order with headings for each date and a weather preview for the next week.
In both of these views, you can tap into an event and see additional details — including which calendar it is on — and you can even delete the event. There is also a location map for events with an address attached to them.
The final view inside the app is the task view, which, as you would expect, shows you a list of tasks from reminders that are due (items without a due date aren't shown in the watch app). From the iPhone, you can control if tasks are organized by list. If this is disabled, then tasks are ordered by their reminder time.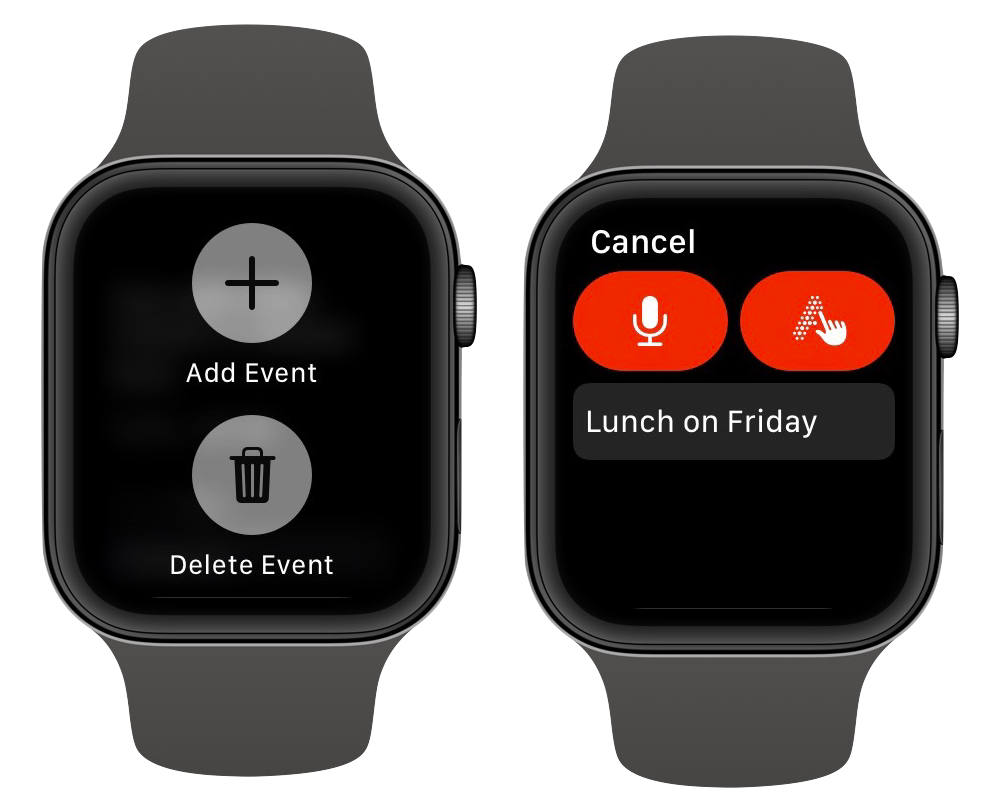 Most calendar apps for the Apple Watch let you see your schedule, but Fantastical separates itself by also allowing you to create new events right from the app. Simply press firmly on the screen, tap Add Event, and dictate or sketch out your event. You can use Fantastical's industry-leading natural language parsing too, so you can say "walk the dog at 6PM everyday" to create a recurring event at 6PM every evening.
Notifications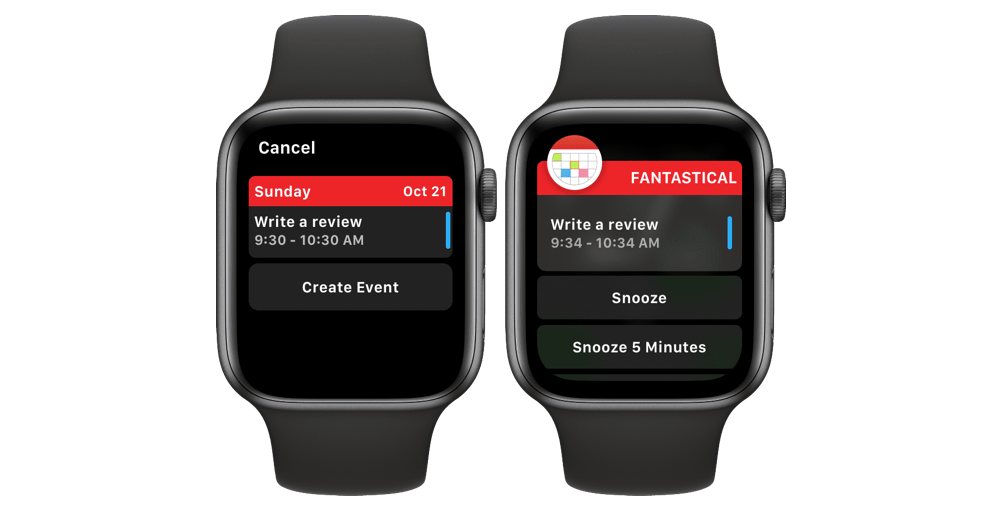 Like any good calendar app, Fantastical has rich notifications on the Apple Watch. These come in whenever an event has a reminder attached to it and shows you the basic event information, as well as some options to snooze the reminder. Most apps have a single snooze option, but Fantastical offers 5, 10, 15, and 60 minute snoozes.
Customization for days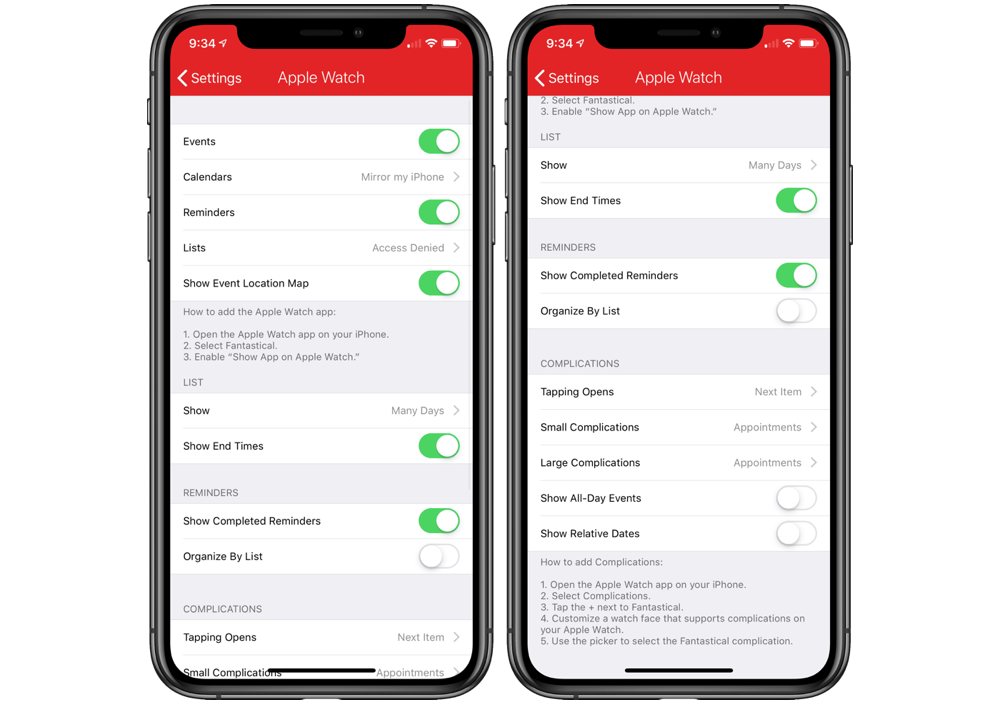 Everything I've mentioned above is the default behavior for the Fantastical Apple Watch experience. If anything is not to your liking, you can probably change it in Fantastical's extensive Watch settings in the iPhone app.
Everything from what calendars sync with the Watch to how your complications behave is configurable to suit your needs. It's a compelling amount of control over the Apple Watch experience and is far beyond what is expected from an Apple Watch app, but is certainly welcome.
Calendar support
Fantastical can either integrate with the calendars on your device, or you can sign into accounts directly in the iPhone app. Because of this, when you first set up the app you'll need to open Fantastical on your iPhone to let it sync your account, but this lets you tweak all the settings to your liking as well. Fantastical supports everything iOS does, which is basically everything. iCloud, Google, Outlook, Exchange, Yahoo, Aol, and basically any IMAP or CalDAV calendar as well.
Fantastical also gives you the ability to select a calendar set you want to sync to the Watch. You can specify that just the calendars with events that affect your day show up, and leave the podcast live streams, for example, on your iPhone.
Cost & Pricing
Fantastical for Apple Watch is free, and there is a cross-platform premium option available for $4.99/month or $39.99/year that covers iOS and Mac too. Some will balk at the subscription cost, but it's worth noting that this is primarily targeted at use on your iPhone, iPad and Mac with those premium features delivering excellent value for money.
Runner-Up: Apple's Calendar app is the Next Best Calendar and Complication for the Apple Watch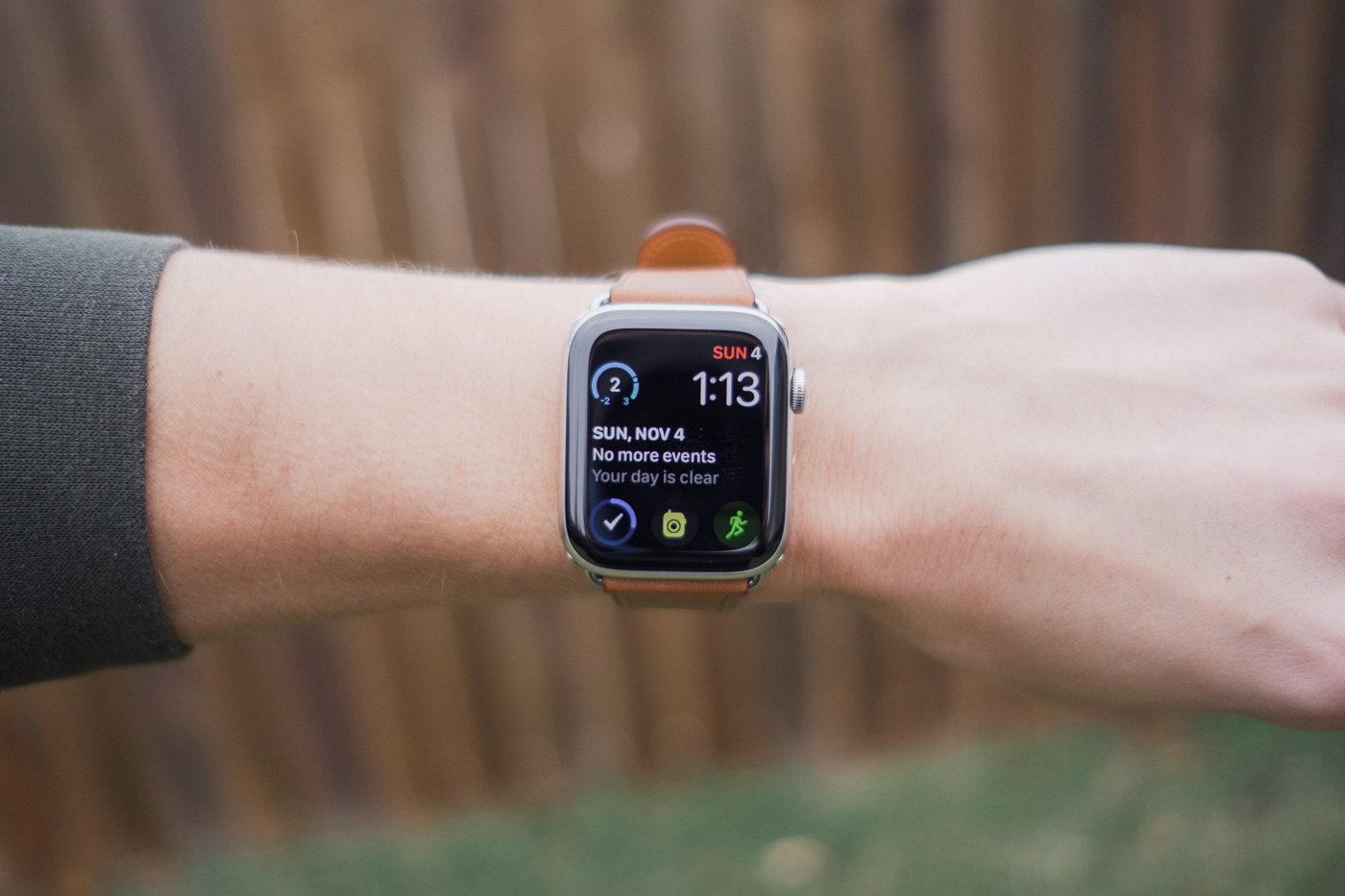 While Fantastical offers the best calendar experience on the Apple Watch, Apple's own Calendar app does a very nice job all on its own. Conveniently, it is already installed on your iPhone and Apple Watch.
Still Feature-Rich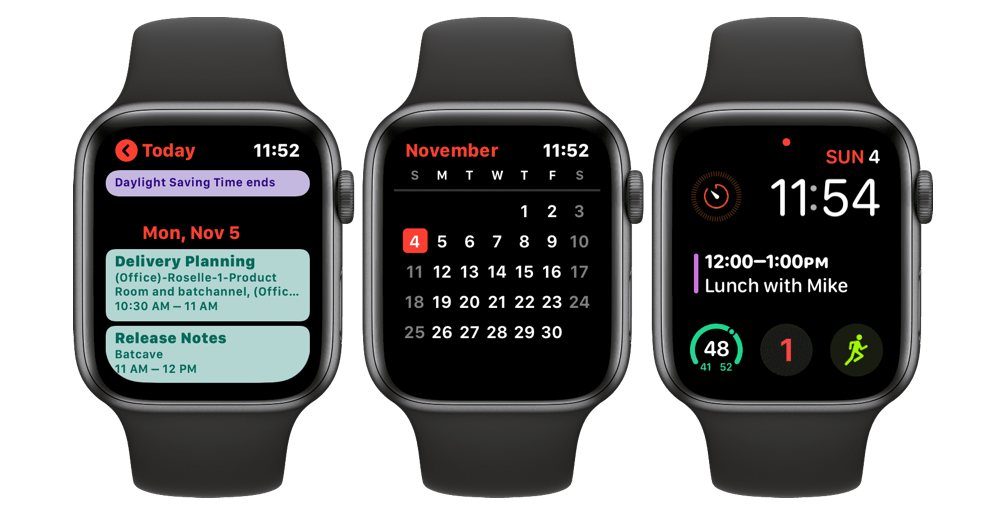 In terms of Watch complications, Calendar is right up there with Fantastical in terms of functionality. All complication types are supported, including the new Series 4 watch faces. They do almost all the same things, but I don't like the Infograph Modular integration quite as much. While Fantastical shows you a great visual summary of your day, Calendar only shows your next event. It's a bit annoying to lose that information here, but if you use any other complication then the content is basically identical.
Jumping into the Calendar app on the Watch, we see something similar to Fantastical's list of upcoming events. Apple uses a card interface for this by default, with each event being represented by a card and taking up the whole screen. This works well, but the more compact view in Fantastical makes it much easier to quickly look at multiple events. Thankfully, Apple lets you toggle to a "list view" to see something more like Fantastical's interface. I actually prefer Apple's here as it color codes your calendars in a more stylish way that I think looks a little better.
The biggest limitation compared to Fantastical is the inability to create new events from the Watch app. This is probably not a big deal for most people since this is usually something you'll do from your phone or desktop, but it is a limitation.
You already have this one
It's worth noting here that the Calendar app is a default app on iOS and watchOS, so you already have this on your devices and it requires little effort to set up. If you are looking for a simple app, then you can't really go wrong with this. On the other hand, this also means the app only gets updated once per year when a new version of iOS is released. Fantastical updates on its own schedule, and has a history of receiving about one update per month. This lets the app improve incrementally all the time.
Other Contenders
Timepage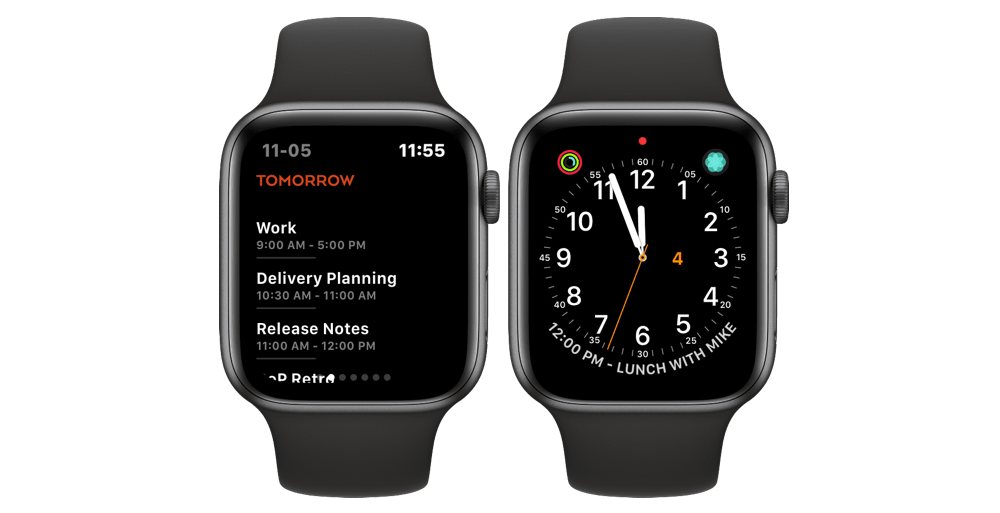 Timepage is a dark horse option. This is made by Moleskine and is an ambitiously-designed app. It has a cool UI on the iPhone and a decent app on the Apple Watch. It also supports complications on the traditional watch faces, but as of this writing, the app has not been updated to work with either of the new Series 4 watch faces at all. The better news is that it has been updated to work with the Siri watch face. Still, if you enjoy this app for iOS, then the Apple Watch component will probably be sufficient, if not wildly exciting. The biggest concern with Timepage is its cost, which is $12 per year. That's a pretty price to pay for an app with relatively limited functionality.
Microsoft Outlook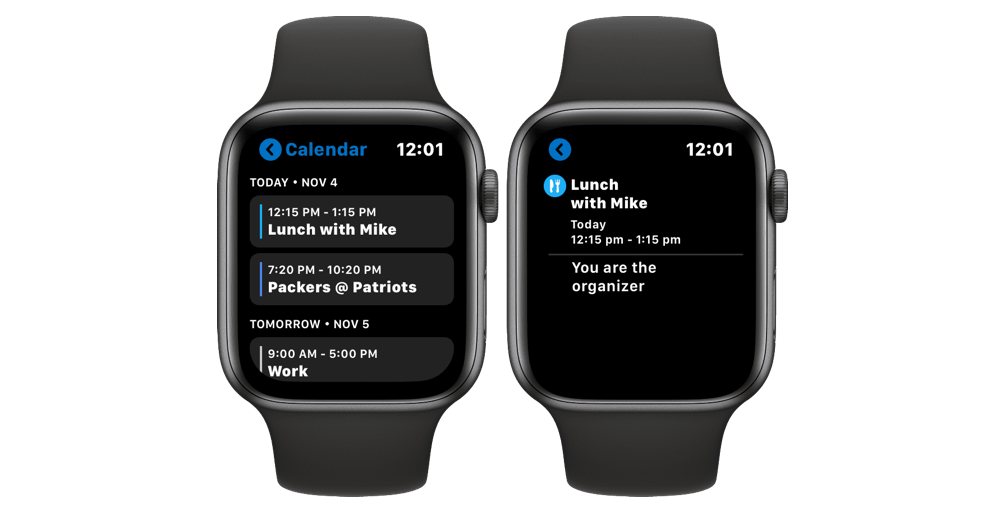 Microsoft Outlook is one of the better email apps for iOS, and its Apple Watch app is pretty darn good as well. The app is totally free and is updated regularly by Microsoft. The calendar component on iOS is pretty good, and the watch app is fast and easy to use. It lacks new event entry and is a little less convenient to use since its calendar component is mixed in with email, so you have to tap on the app icon to launch it and then again to go to the calendar instead of email.
Better Day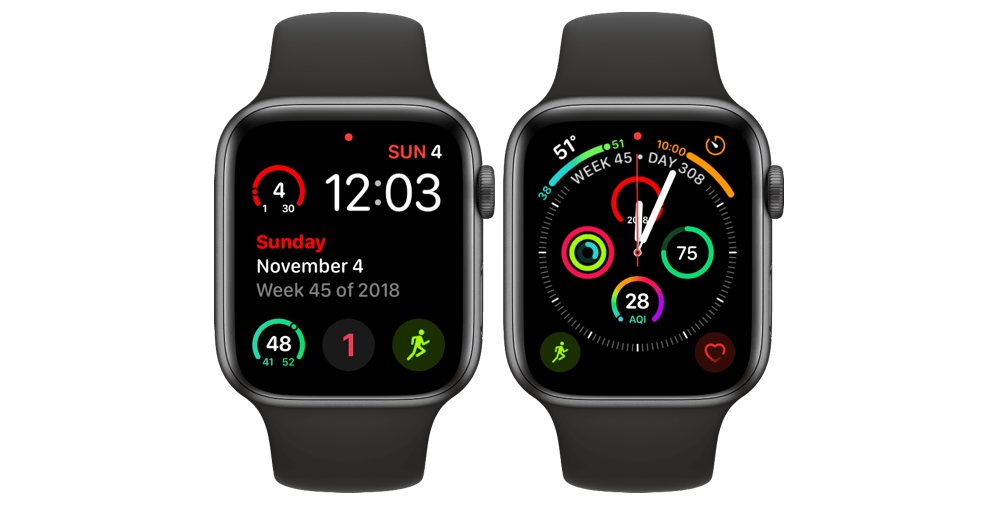 Better Day is in a different class than the other apps mentioned here as it is not built for displaying your events, but for displaying the current date in watch face complications. It's more of a replacement for the Date complication rather than the Calendar ones. If that's what you're looking for, then this will definitely get the job done as it gives you options to customize every single complication (even the Series 4 and 5 ones) to your heart's content.
Conclusion
There are plenty of options out there when it comes to calendar apps for the iPhone and iPad, but if you are invested in having something that works great on your wrist, the leaders are pretty clear. Fantastical is simply the best solution for most people. It is easy to set up and use, it has a great user interface, and it leads the pack in every way that matters on watchOS.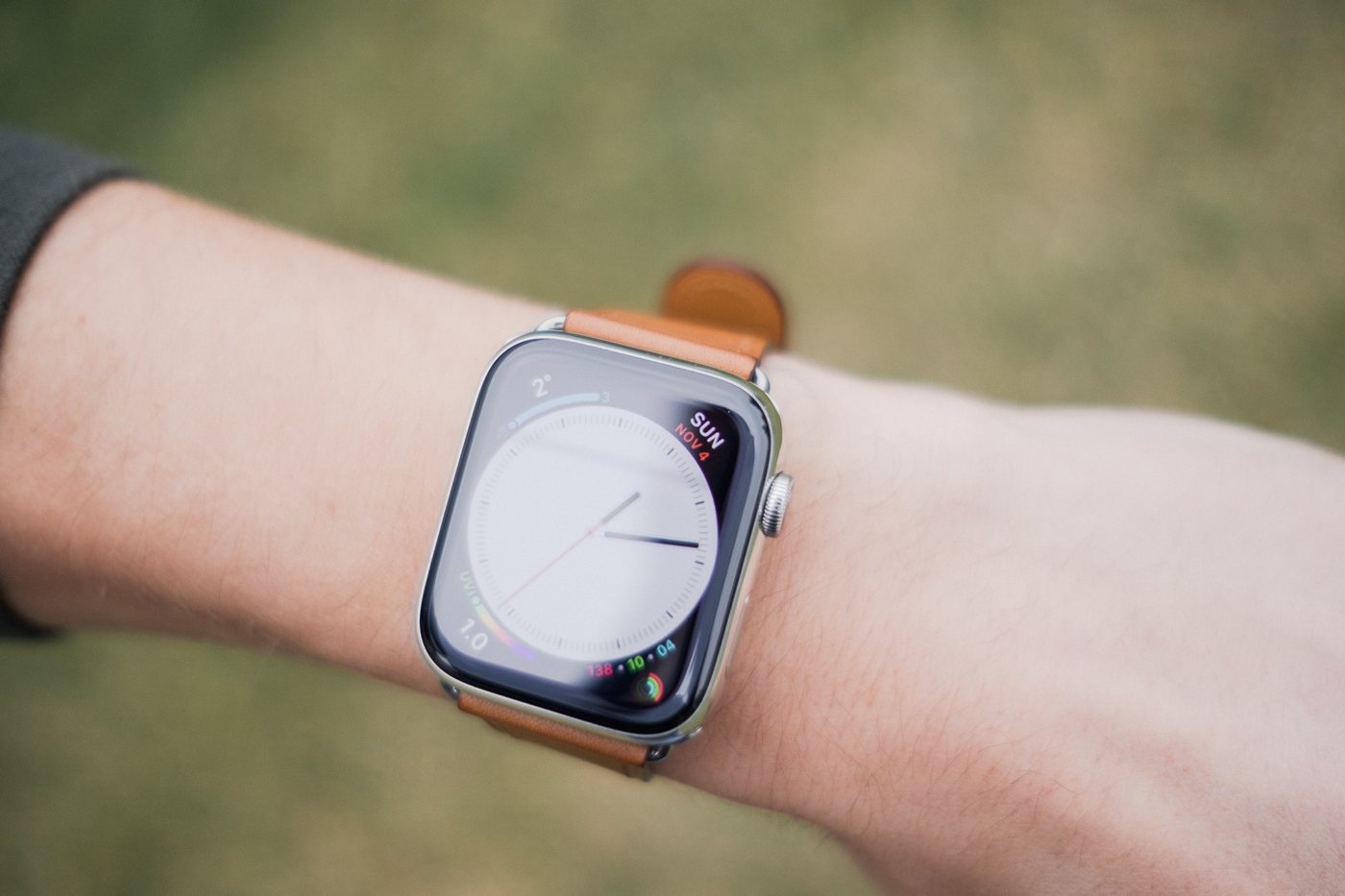 If you prefer a free option, then you could do a lot worse than Apple's own Calendar app. It's free, has a nice (if a little basic) interface, and since it's made by Apple, always gets updates to take advantage of the latest and greatest Apple Watch features.
There are other options out there if you have other specific needs, but none of these have the same scope as either Fantastical or Apple Calendar.
$0 - $39.99/Year
Fantastical for Apple Watch has a great user interface, and it leads the pack in every way that matters on watchOS.
App Store

$0