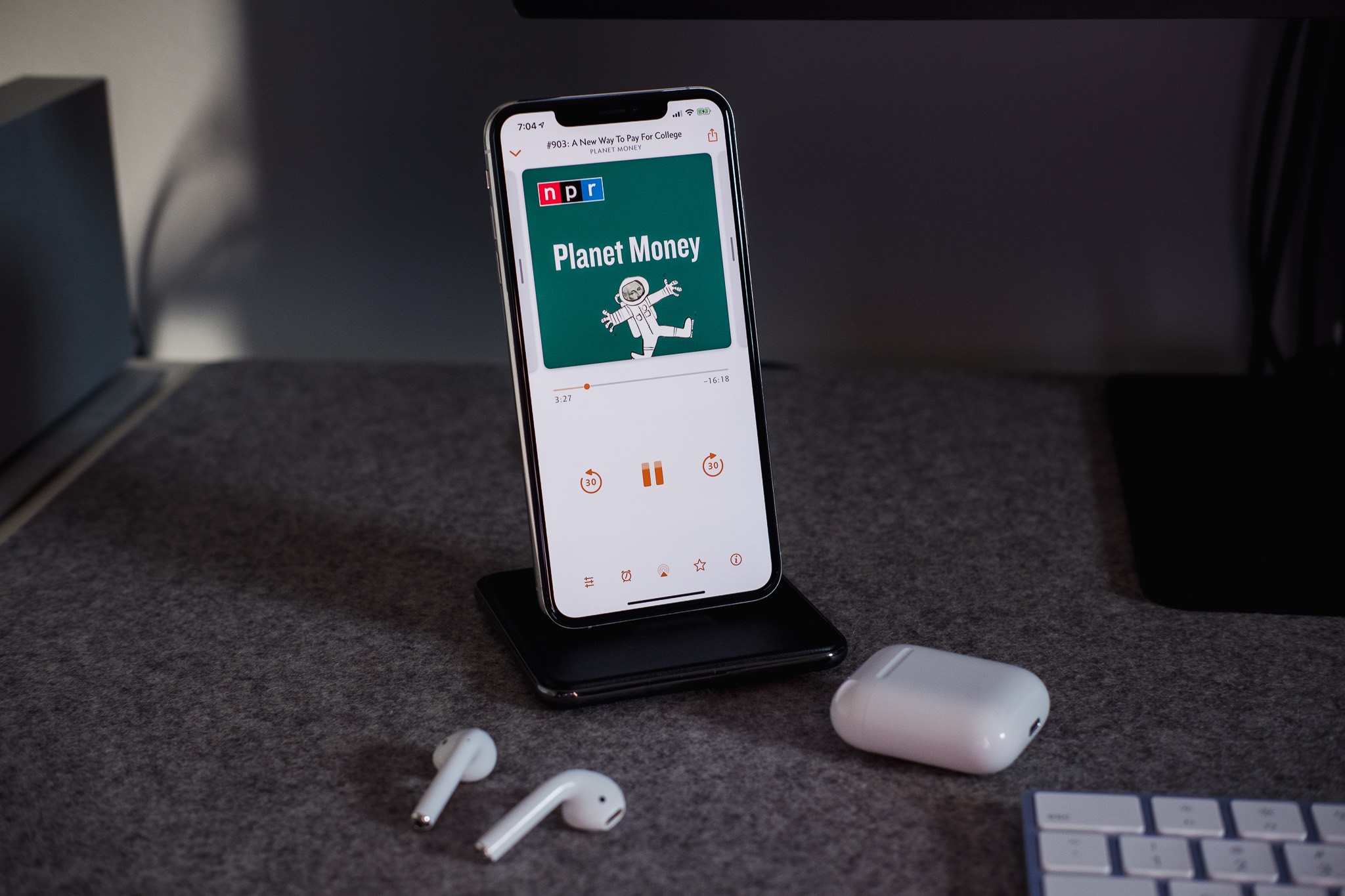 Our Favorite Podcast Client for iOS
Overcast
August 4, 2019
Apple has done a lot for the podcast medium over the years, but the default Apple Podcasts app is definitely not the best option for serious podcast listeners. Fortunately, there are several great third-party podcast clients (or "podcatchers") for people who want a richer podcast listening experience. Overcast is our favorite because of its powerful playback customization options, the ability to organize your podcasts using smart playlists, a fair and transparent pricing model, and regular app updates that consistently deliver new features and functionality.
Why Listen to Us?
We are big fans of podcasts here at The Sweet Setup. We've been listening to (and making!) podcasts for a long time, and we've seen numerous podcast clients come and go over the years. But more importantly, as creators AND consumers, our perspective on podcasts (and podcasting) is a little bit different.
If you look at our podcast playlists, you probably won't find the latest true crime drama and only the occasional heavily produced NPR-type show. Not that there's anything wrong with those if that's your cup of tea, but those shows don't necessarily exhibit what makes podcasts great:
The ability to feel like you are in the same room as the people you look up to.
The best podcasts, in our opinion, are not simply on-demand radio shows. They are intimate, informal conversations that make you feel like you are having a casual chat with the host(s). They make you feel like you're joining a few friends for coffee or a casual dinner. Yes, the audio quality must meet an acceptable minimum so as not to be distracting, but the best (most memorable) podcast moments tend to happen when things go off the rails. It feels like you're part of an exclusive club, or being let in an inside joke just between you and the hosts of the show you're listening to. It creates a feeling of camaraderie that is virtually impossible to recreate in any other medium.
Because of the format, it also allows you to choose who you allow to speak into your life. The people you listen to on podcasts can become part of your inner circle and is a non-threatening way to join a community — even if you don't have any prior experience. Jim Rohn once said:
You are the average of the 5 people you spend the most time with.
With podcasts, you can be selective about who you surround yourself with — even if you don't live in the same location or would never be able to connect in person.
Why Use a Third-Party Podcast App?
Apple has arguably done more for podcasts than anyone else in recent history, but the Apple Podcasts app is a bit stagnant. It only has basic playlist management, and the playback controls aren't nearly as good as several of the other podcatchers we considered. It's fine for occasional listening and does integrate directly with Siri, but if you listen to a lot of podcasts, there are definitely better options available.
Our Criteria for Selecting the Best Podcast Client
Here are the things we considered important when selecting our favorite podcast client:
Overall Design — There's no reason to put up with a clunky user interface when listening to podcasts. With a handful of great options available, you can afford to be a little picky about the design of the podcatcher you decide to use.
Ease of Use — Every app has a little bit of a learning curve if you're going to get the most out of it, but some are definitely bigger than others. The podcatcher you decide to use should make it easy to 1) find and download new podcasts, and 2) listen to them once they're downloaded.
Playback Options — There's been a lot of advances in the last couple of years in the technology used in audio playback. The best podcatchers implement features that make it easier (and more enjoyable) to listen to spoken word audio.
Playlist Management — It's easy to find yourself with more podcasts to listen to than you have time available to do so. As the number of podcasts you download increases, it becomes even more important that your podcatcher gives you some features for managing your episodes and playlists.
Podcast Discovery/Sharing — When you find a great episode or moment from one of your favorite podcasts, you might want to share it with the world (or at least your friends). The best podcatchers have ways to easily share episodes with people.
Update Schedule — The podcast landscape has changed significantly over the last several years, and while we don't expect the podcatcher you use to have been there since day one, we do expect it to have a lengthy and consistent update schedule.
Price — Since there's already a decent free option for iOS, it's critical that the podcatcher you decide to use provides good value for the features and options that it delivers.
Our Favorite: Overcast
Even though there are several great options to choose from, our favorite podcast client is Overcast. It's made by podcaster Marco Arment, who understands the podcast medium (and what makes podcasts great) better than almost anyone else. He's long been a champion for a free and open podcast platform, refusing to use dynamically-inserted ads (like Stitcher) or track listener activity (like NPR). You can see evidence of his position in design choices throughout the Overcast app, like the ability to export your playlists in OPML from Overcast to another podcast client and the inclusion of Apple Podcasts in the innovative clip sharing feature.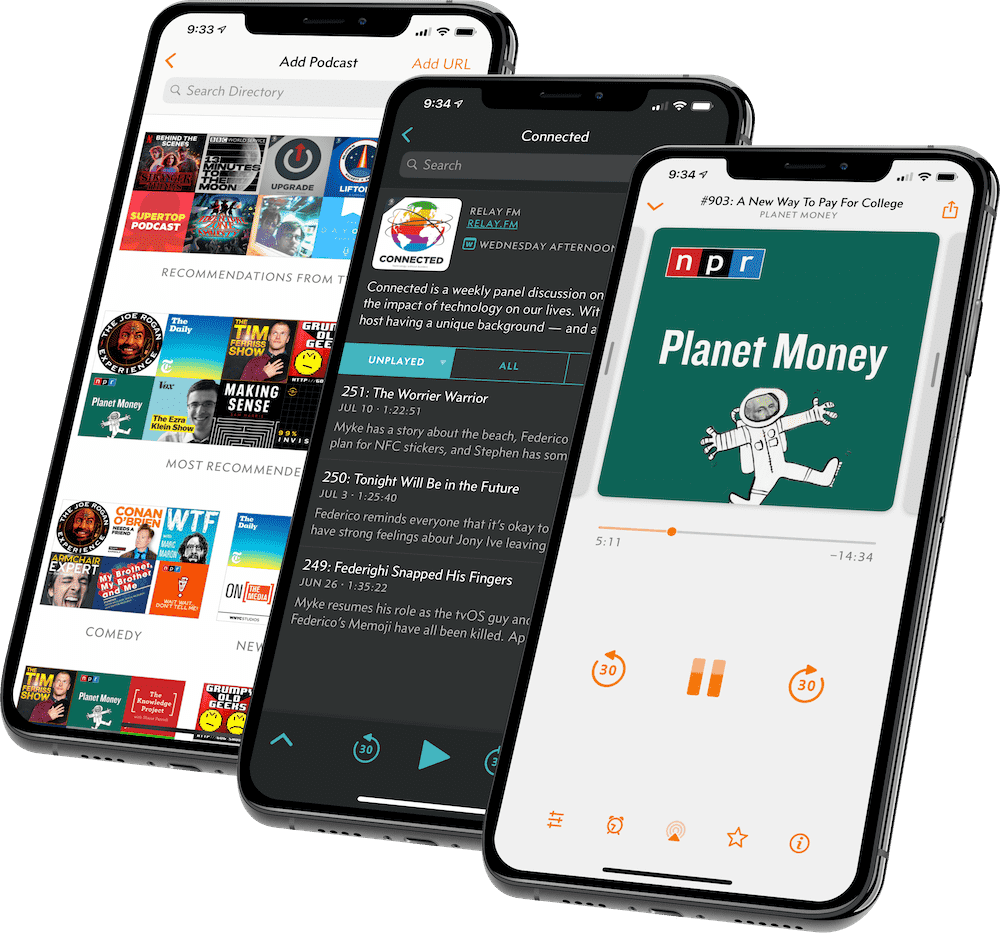 But that doesn't mean that Marco has run out of fresh new ideas. In fact, he has pioneered several features that have been adopted by a number of podcast clients over the years. The two biggest features have probably been Smart Speed and Voice Boost.
Must-Have, Most-Used Apps for Thinkers
We spend an inordinate amount of time sorting through hundreds of apps to find the very best. Our team here at The Sweet Setup put together a short list of our must-have, most-used apps for writing, note-taking, and thinking.
Smart Speed & Voice Boost
If you've downloaded a popular podcast client recently, you've probably seen some version of Smart Speed. It allows you to listen to podcasts faster without actually changing the playback speed. Smart Speed works by dynamically shortening the silences in talk shows, tightening up the gaps between people talking while still allowing conversations to sound natural. If you don't like listening to people talk faster than normal but still wish you could churn through podcasts just a little bit faster, toggle on Smart Speed.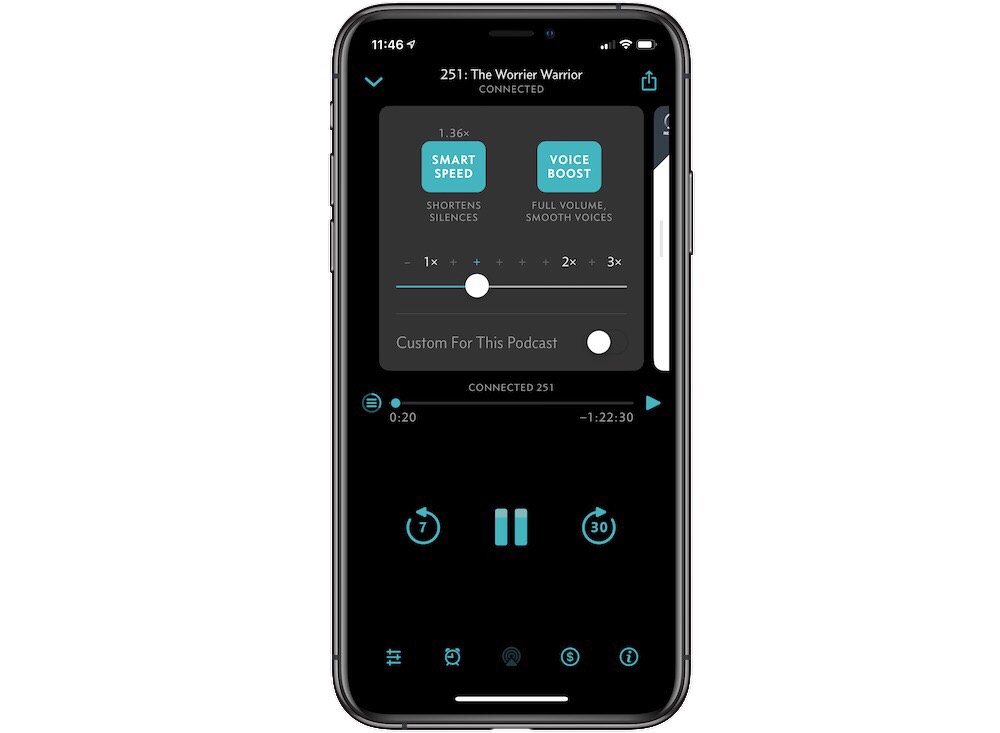 Voice Boost is also now a common feature found in other podcatchers. It allows you to boost and normalize the volume of the show you're listening to. This is a great feature, especially for shows that aren't as well-produced and have large fluctuations in the audio volume. It enables you to listen to quiet shows even in noisy environments and eliminates the need to adjust the volume between shows by making sure that every show is loud, clear, and at the same volume.
The shows that will benefit the most from these two features are NOT the highly-produced NPR-type shows. Those shows already have large budgets and expensive gear, not to mention a whole staff of people to make sure the final audio sounds great. Instead, it's the shows done on a shoestring budget or someone in their basement that can really use these features. If you are just starting a podcast and know absolutely nothing about audio leveling, Overcast will still make sure your show sounds as good as possible. It goes a significant way towards leveling the playing field, providing a way for you to eliminate obstacles and go make your thing.
Sharing
Another thing Overcast excels at is sharing your favorite podcast moments. You can do this a couple of ways:
By sharing an Overcast link to the episode you want to share.
By creating a clip from an episode and sharing it via social media.
By sharing a link to an episode, you can either link to the entire episode in the Overcast player or a specific place in the episode using a time code (one of the reasons Marco doesn't like dynamically inserted ads that modify the file length). I use this on occasion, but it requires the other person have Overcast installed to work properly. The more interesting option is the ability to create a clip from an episode, which does not require the Overcast app in order to listen.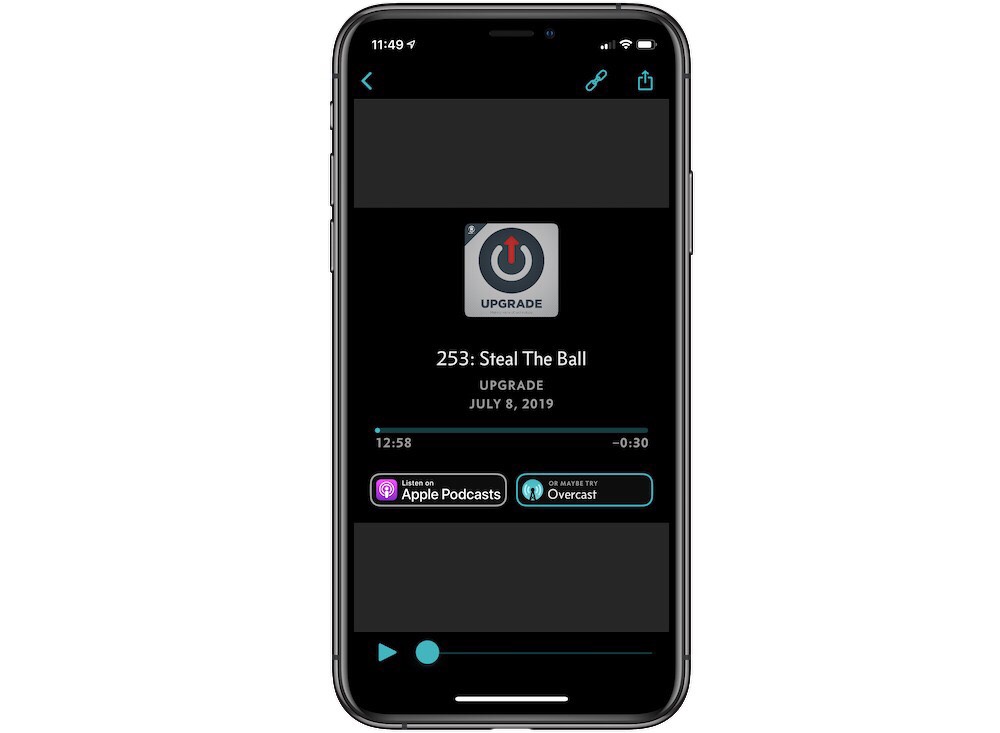 When you share a clip in Overcast, the first thing you need to do is select the portion of the episode you want to create a clip from. The clip can be up to one minute in length, and you can choose between a couple different output formats tailored to the various social media platforms. For example, the Square version is perfect for sharing a clip on Instagram. You can also choose what branding (if any) you want to include in your clip, allowing listeners to download the full episode if they want through Overcast or the Apple Podcasts app.
The end result is a custom "video" clip from a specific episode that you can embed and share on social networks. It's an interesting feature that eliminates barriers to sharing your favorite podcast moments. It makes sharing podcasts fun, and it's encouraging to see that it seems to getting some traction and even being adopted by other podcast clients.
Smart Playlists
Overcast doesn't have a ton of podcast management options, but that's okay. Most people won't need a ton of features here — they just need a simple way to keep their podcasts organized. All they want is to control what episode plays next without having to manually choose it every time.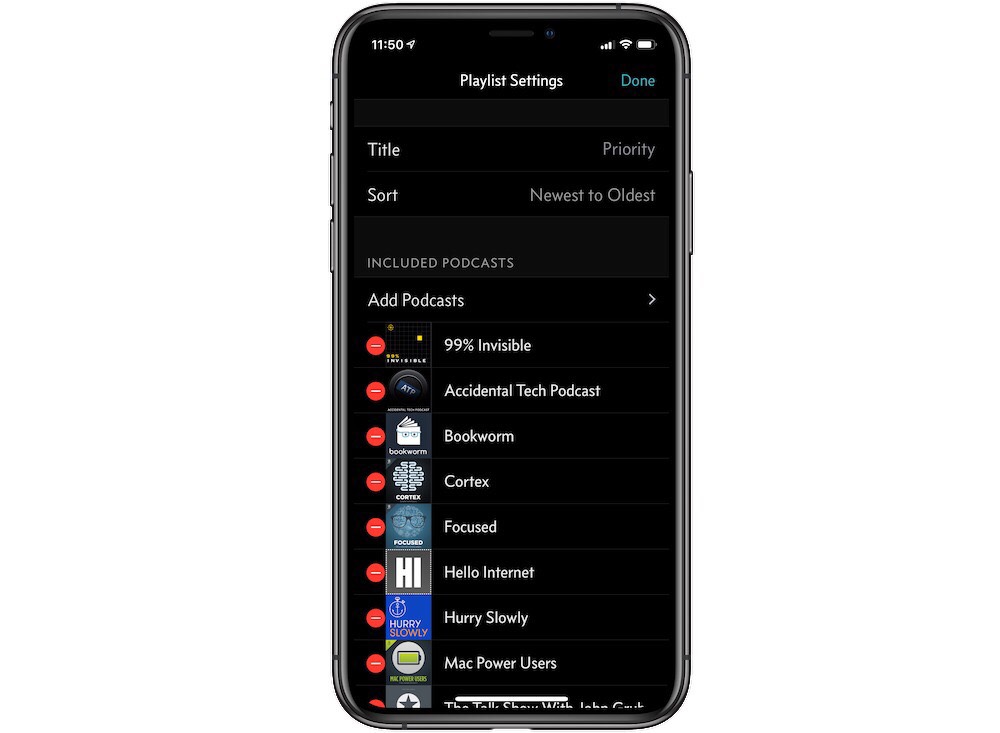 The way Overcast does this is through Smart Playlists. These allow you to create show priorities, filters, and apply sorting rules so that your favorite shows always get moved to the top. You can also select a specific episode from your list and tap a button to move an episode to the top of the lists or play that episode next. You can even select specific shows or playlists to sync automatically to your Apple Watch so you always have a podcast to listen to even if you don't have your phone with you. This can be handy if you like to exercise without your phone but still want to listen to something. By syncing specific media to your Apple Watch ahead of time, you can always listen to your podcasts using your favorite Bluetooth headphones.
Delight is in the Details
There are a handful of other features that are easily missed but serve to enhance the overall podcast listening experience.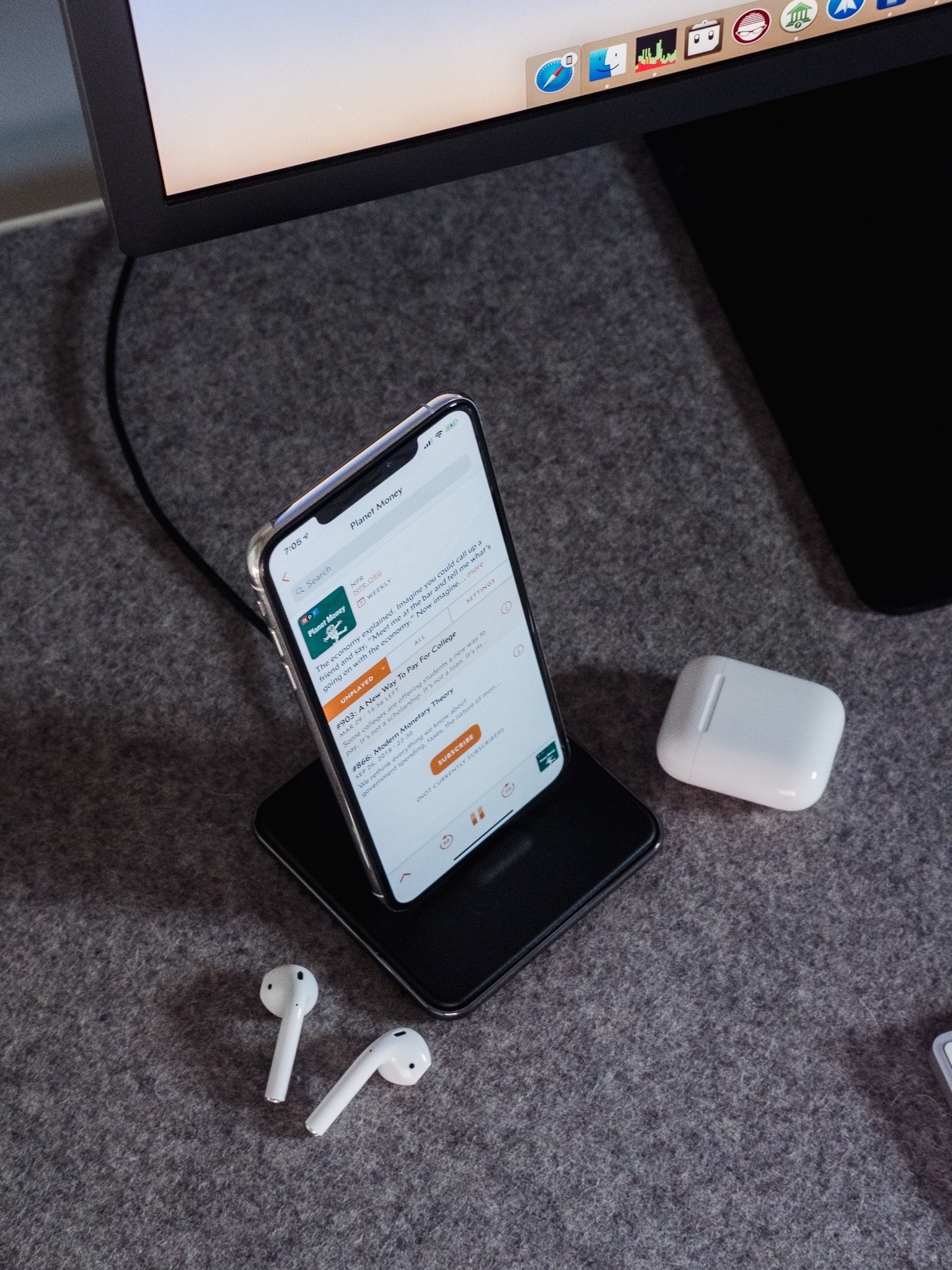 First, you can customize the forward and backward seek buttons to specific durations. For example, maybe you want a shorter seek back button and a longer seek forward button. I personally have my seek forward button set to 30 seconds and my seek back button set to 7 seconds. This allows me to quickly seek back to find something I just passed, but also allows me to skip past something I'm not interested in. Overcast also supports chapter markers for podcast episodes that support it, but the ability to customize the seek buttons can be very handy.
Overcast also has a feature called Smart Resume that makes it easier to pause and resume playback of an episode. Instead of resuming from the exact point that you paused the episode, Smart Resume rewinds the episode slightly. This gives just a little more context and makes it easier to pick up right where you left off.
And if you happen to have CarPlay in your vehicle, you can control Overcast from your car dashboard.
Overcast Premium
All of the features that we've covered so far are (believe it or not) available in the free version of Overcast. Which naturally raises the question:
How does Overcast make money?
The answer: ads. Overcast displays ads in the user interface, which are often ads for podcasts you may be interested in. In our opinion, they tend to feel more like organic recommendations than actual ads (much like audio ads on your favorite shows), and are much less annoying than banner ads in other apps.
But if you want to get rid of the ads altogether, you can do so by subscribing to Overcast Premium. This gives you a couple of things:
The option to turn off the ads.
The option to use a dark icon on your Home screen.
The ability to upload files to your Overcast account and download them to the app.
There are a number of ways file uploads can be used, but one of the best I've found is for reviewing podcast episodes before they publish. By uploading an audio file to the Overcast server and then downloading it in the app, you're still able to use features like Smart Speed and Voice Boost even though the episode isn't publicly available yet. You can upload files up to 1GB in size, and you have 10GB of total storage to work with (which is more than enough). It's not something that everyone will use, but if you do have a use for it, it's incredibly nice to have.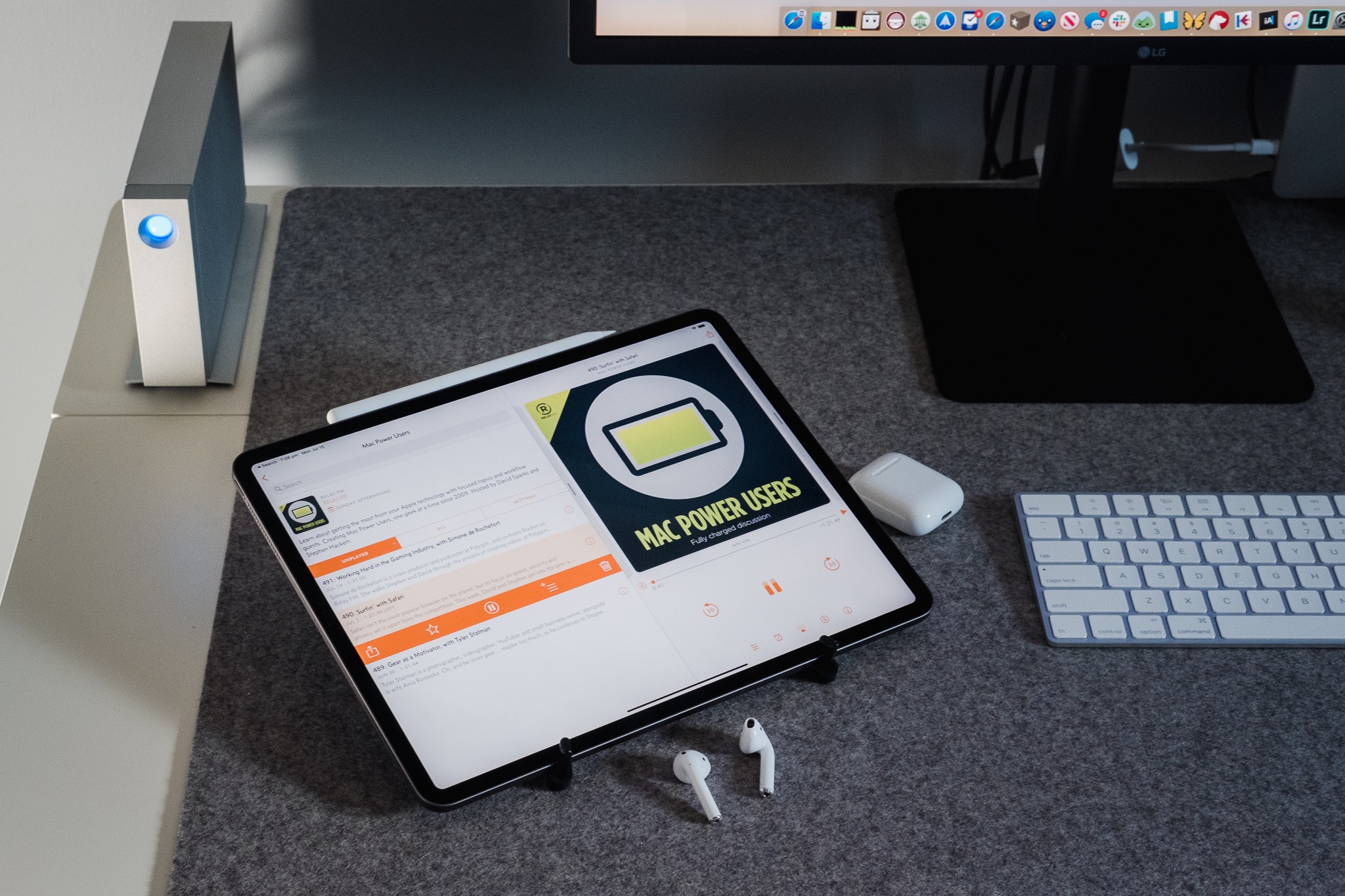 Overcast Premium is a subscription, but in our opinion it's very affordable. The cost of Overcast Premium is $9.99/year, which is probably more than the last standalone podcast client you purchased, but also considerably less than some other options that are available. In our opinion, it's a very fair price for an app that relies heavily on external servers to provide the features it offers.
A Potentially Better Option for People Who Listen to Too Many Podcasts: Castro
Castro by Supertop is an absolutely beautiful podcast client that has just about all the same bells and whistles as Overcast. It's a little more expensive ($2.99/month or $18.99/year for Castro Plus), but has a significantly better design and a unique triaging approach to new episodes that may be just what you need if you have too many podcasts to listen to.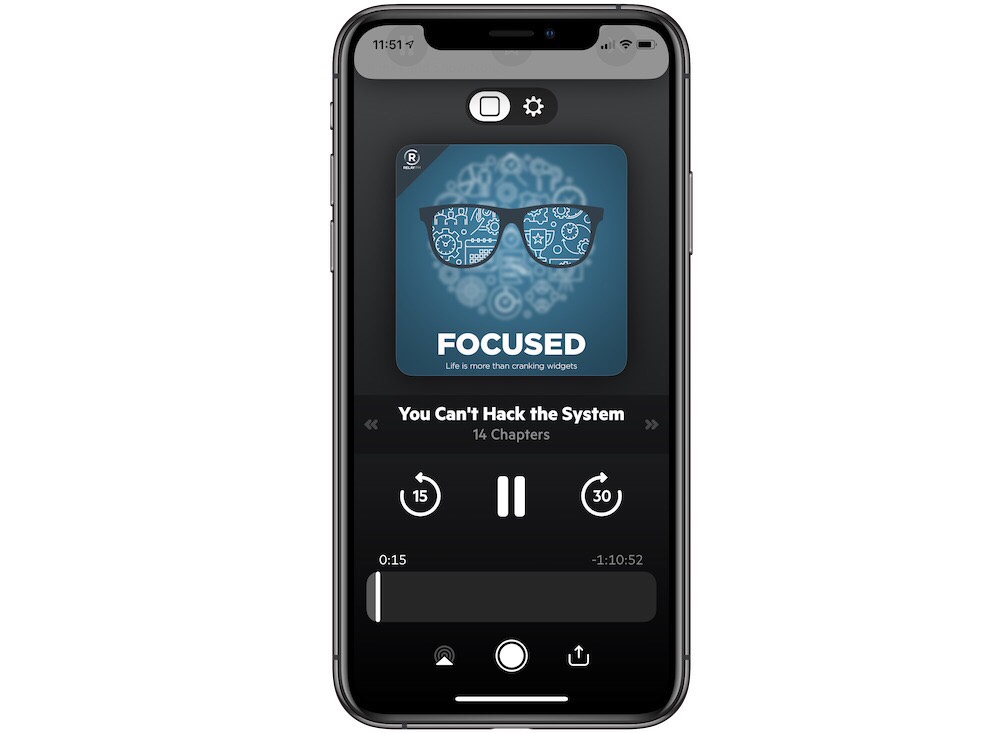 The first thing that stands out in Castro is the interface. It is absolutely stunning, and Night Mode (unlocked with a Castro Plus subscription) looks even better. Since you'll spend most of your time listening instead of looking, this isn't a huge deal, but it's worth calling out that Castro does look considerably better than Overcast.
Castro also has a unique way of managing your podcasts. All new podcast episodes from podcasts you've subscribed to show up in the New tab. From there, you can tap an episode to see the details and select whether you want to add it to the top or bottom of your Queue. You can also clear the episode by tapping the X, in which case it is removed from the New tab. You can always find the episode again by digging through the Library, but the goal is to help you triage your podcasts. This may not be for everyone, but can be useful if you subscribe to several podcasts that you still wish to receive updates for even though you don't want to listen to every episode.
Just like Overcast, Castro also gives you the ability to load your own audio files, but the way this feature is implemented is superior. Unlike Overcast, which requires you to upload your files to the Overcast server and then download them in the app, Castro allows you to "sideload" files. For example, if you have a file on your iPad that you want to preview in Castro, you can just drag it right into the app using split view. This eliminates the extra step of having to upload and then download the file. It's not a huge deal, but it is a better user experience.
The one thing that holds us back from recommending Castro over Overcast is the price. It's significantly more expensive than Overcast, especially if you pay monthly. For an audio-based app that has a lot of the same features, it'll be hard for most people to justify the extra cost.
Other Options to Consider
Pocket Casts
The fact that Pocket Casts by Shifty Jelly hasn't been mentioned until now has nothing to do with the quality of Pocket Casts — it just shows how far Overcast and Castro have come in the last couple of years. Pocket Casts is another well-designed podcatcher with most of the features found in Overcast or Castro at a fraction of the price.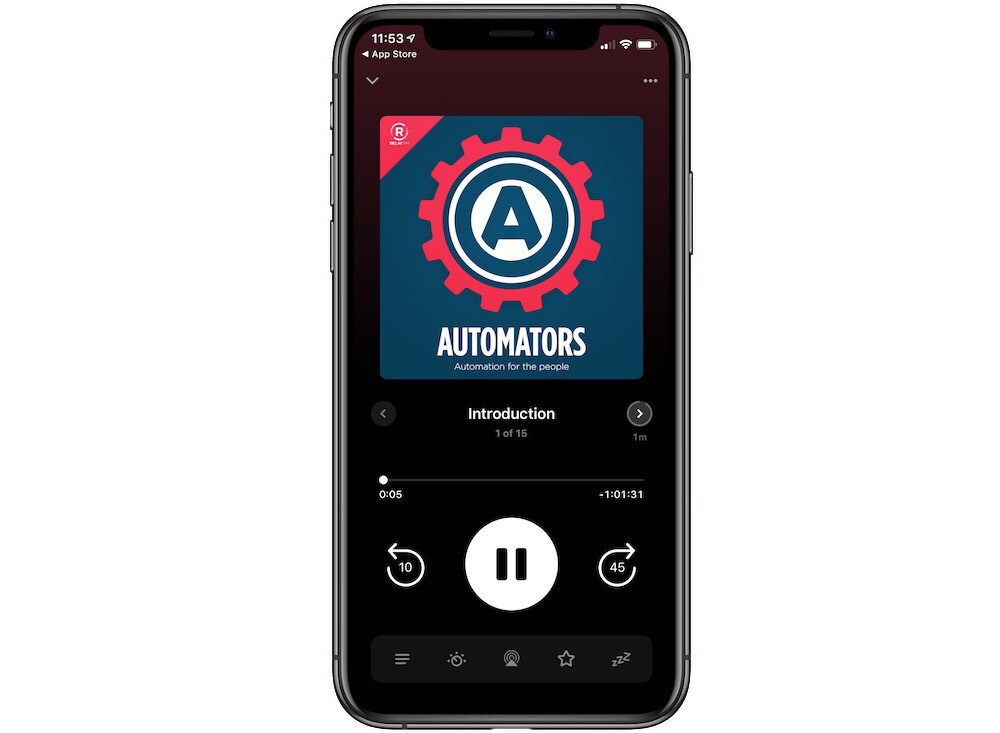 Unlike Overcast and Castro, Pocket Casts still uses a pay-for-it-once pricing model. The iOS app is $5.99 USD, and the Mac version and optional web player are an additional purchase of $9 USD.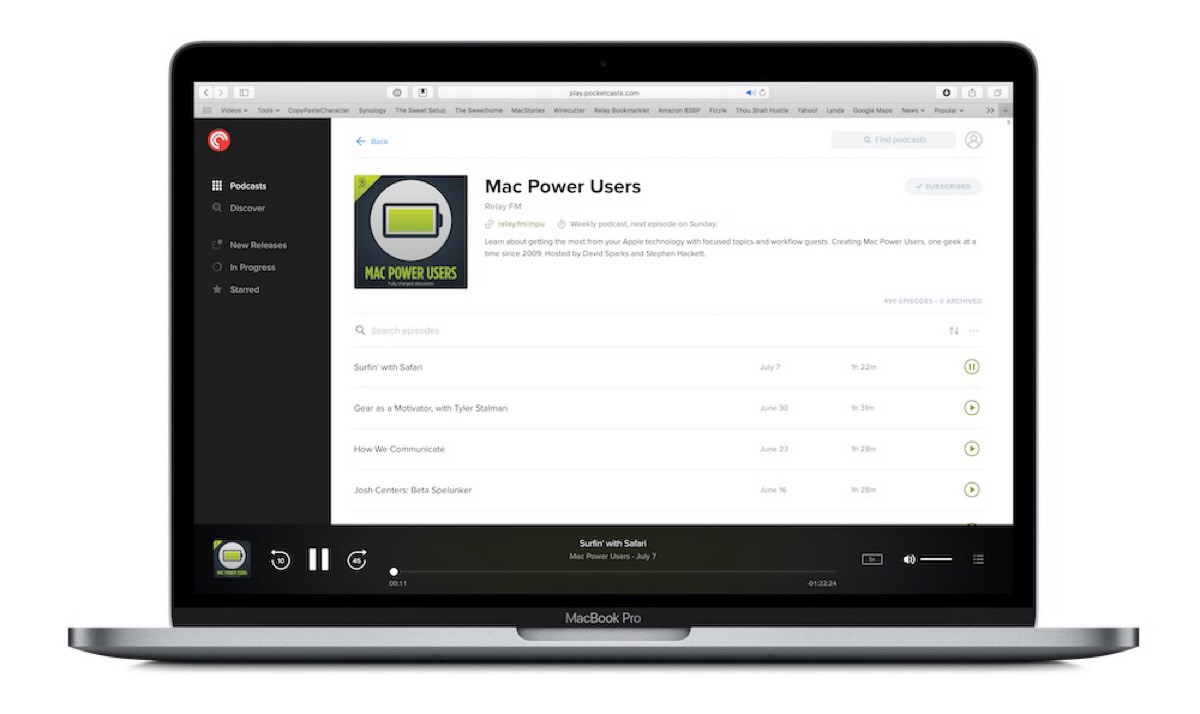 The web player in particular is really well done, allowing you to listen to podcasts anywhere. Unlike Overcast (which has an extremely basic web player), Pocket Casts gives you a complete podcast management interface right in your web browser. There's also an Android version available and Pocket Casts also integrates directly with Sonos accounts, making it a great option for people who need a cross-platform solution.
While there's a lot to like about Pocket Casts, its development seems to have slowed since it was acquired by National Public Radio. While some people immediately wrote off the app with this news, we feel that's a bit unfair. Pocket Casts still delivers a solid podcast listening experience without doing anything creepy like tracking listener behavior. That being said, it is somewhat difficult to see what the future holds for Pocket Casts and we feel Overcast and Castro both provide a (slightly) better iOS podcast listening experience.
Breaker
Breaker is a social podcast player, designed to make discovering new podcasts easier by allowing you to see what your friends are listening to. You can "like" episodes by tapping a heart icon, share episodes easily with friends, and even leave comments in the Breaker community.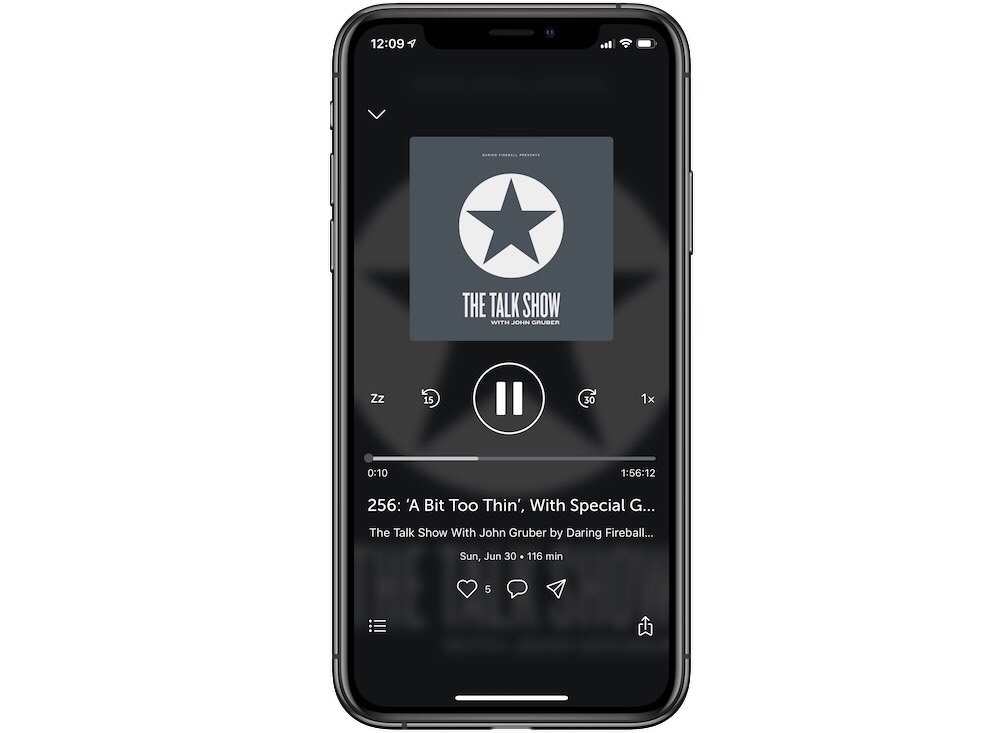 Unfortunately, you have to connect the app with a social account or create a Breaker account for the app to be used. So if you're nervous about sharing your listening data with the world, Breaker isn't for you. The player interface also isn't as nice either Overcast of Castro in our opinion and lacks a lot of the little details that make both of those apps great.
Breaker is free, but does offer exclusive podcast subscriptions via in-app purchase.
Downcast
Downcast has been around for a very long time, and unfortunately is starting to show it's age. It still receives fairly regular updates (though they have slowed down recently), but the interface isn't as nice as most of the other apps we looked at and it doesn't include many of the features that make Overcast and Castro so great.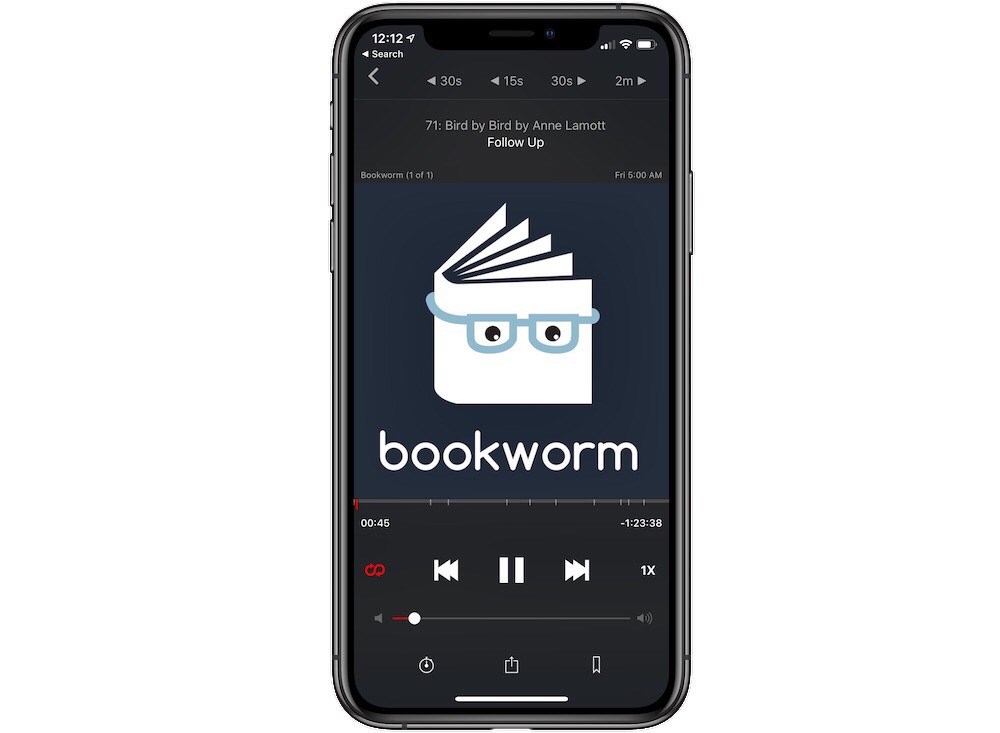 Downcast does offer CarPlay and Apple Watch support, so if you've been happy with Downcast up until now you may not have a great reason to switch. If you're looking for a new podcast client or just starting to listen to podcasts, there are better options available.
Stitcher
Stitcher is only on this list so we can recommend it as an app to stay away from. It's owned by Midroll Media, a company that is looking to expand podcast advertising power and move things away from the the open RSS format that podcasting has traditionally been built upon. Stitcher sells a premium membership and provides paywalled content to listeners but also more detailed analytics to advertisers via Stitcher listening reports, which makes us a little uncomfortable recommending the app. Unfortunately, this seems to be the trend lately as companies try to create "premium" podcast content that resides behind a paywall.
Some people may not think this is a big deal, but we do.
If you want to dive deeper on what's really at stake here, listen to episode #149 of the Wolf Den podcast with Marco Arment. It's a fascinating episode that really clarifies the two positions and what they stand for.
Spotify
Spotify is a newcomer to the podcast marketplace, but already has gotten a fairly large piece of the podcast-listening pie. It's pretty clear to see why Spotify has an interest in podcasts: they're free. Every minute a Spotify listener spends listening to podcasts is a minute they're using the Spotify app — without Spotify having to pay out royalties to artists (like they do for music).
If you're already a Spotify customer, you may like having all your music and podcasts in the same place, but we don't. And unfortunately, the Spotify interface for podcasts doesn't give us any additional reason to recommend it.
Apple Podcasts
There are lots of reasons not to use Apple's built-in Podcasts app, but there's one huge reason you may want to: system level Siri support. While Podcasts won't give you a lot of things we like in Overcast and Castro, it will let you say "Hey Siri, play the latest episode of ."
Must-Have, Most-Used Apps for Thinkers
We spend an inordinate amount of time sorting through hundreds of apps to find the very best. Our team here at The Sweet Setup put together a short list of our must-have, most-used apps for writing, note-taking, and thinking.
Conclusion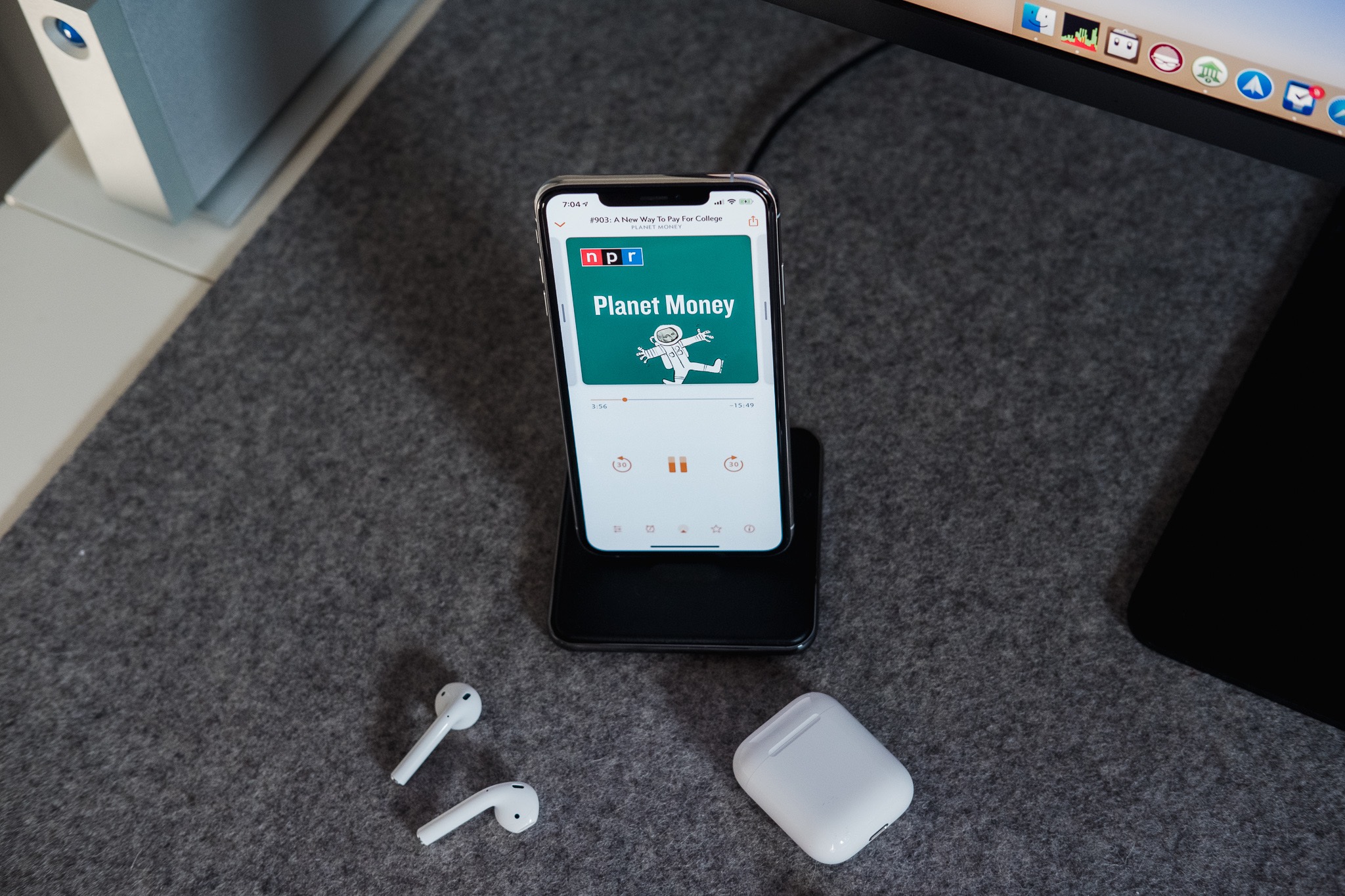 There are a lot of great options for podcast listeners looking for an upgraded experience on iOS. Overcast is our favorite because it offers some incredibly useful features like Smart Speed, Voice Boost, Smart Playlists, and File Uploads at what we consider a very fair price. If you want something that offers a better user interface and more management options at a slightly higher price, check out Castro. And if you need a cross-platform solution with a great web app and a one-time cost, check out Pocket Casts.
$0 - $9.99/year
Overcast is a simple podcast app that makes it easy to recommend, discover, and enjoy your favorite shows.
App Store

$0