A Month with Apple Watch Series 6
October 23, 2020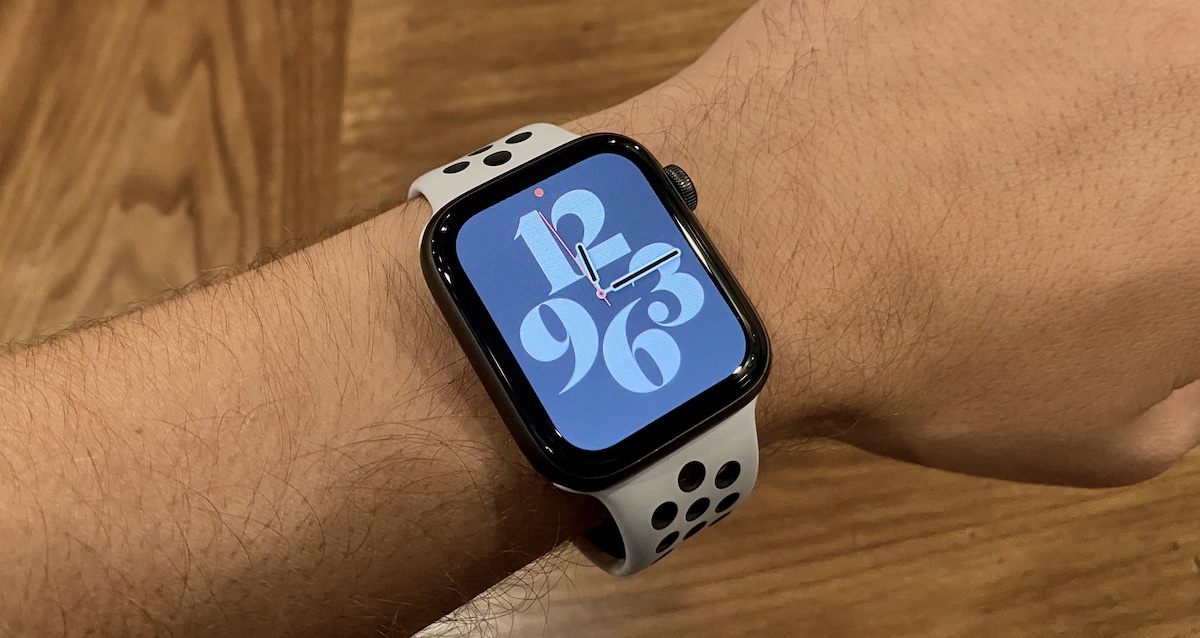 I've been wearing an Apple Watch all day, every day since the launch of the original Apple Watch in April of 2015. I wear it around the house. I wear it when working out. I wear it to church. Even more than my iPhone, my Apple Watch is the thing that I always have with me.
I've also been holding off on purchasing a new Apple Watch and making the most of my Series 3 the last couple of years. There have been cool new features that I've been missing using an older Apple Watch, but for the most part I haven't felt like I needed to upgrade. But when I ran out of space and couldn't install the watchOS7 beta to put sleep tracking through its paces, I knew it was time. So this year, I bought a new 44mm Space Gray Aluminum Series 6 (GPS).
I've been using it every day (and night) for about a month now, and there's a lot to like about it.
Hardware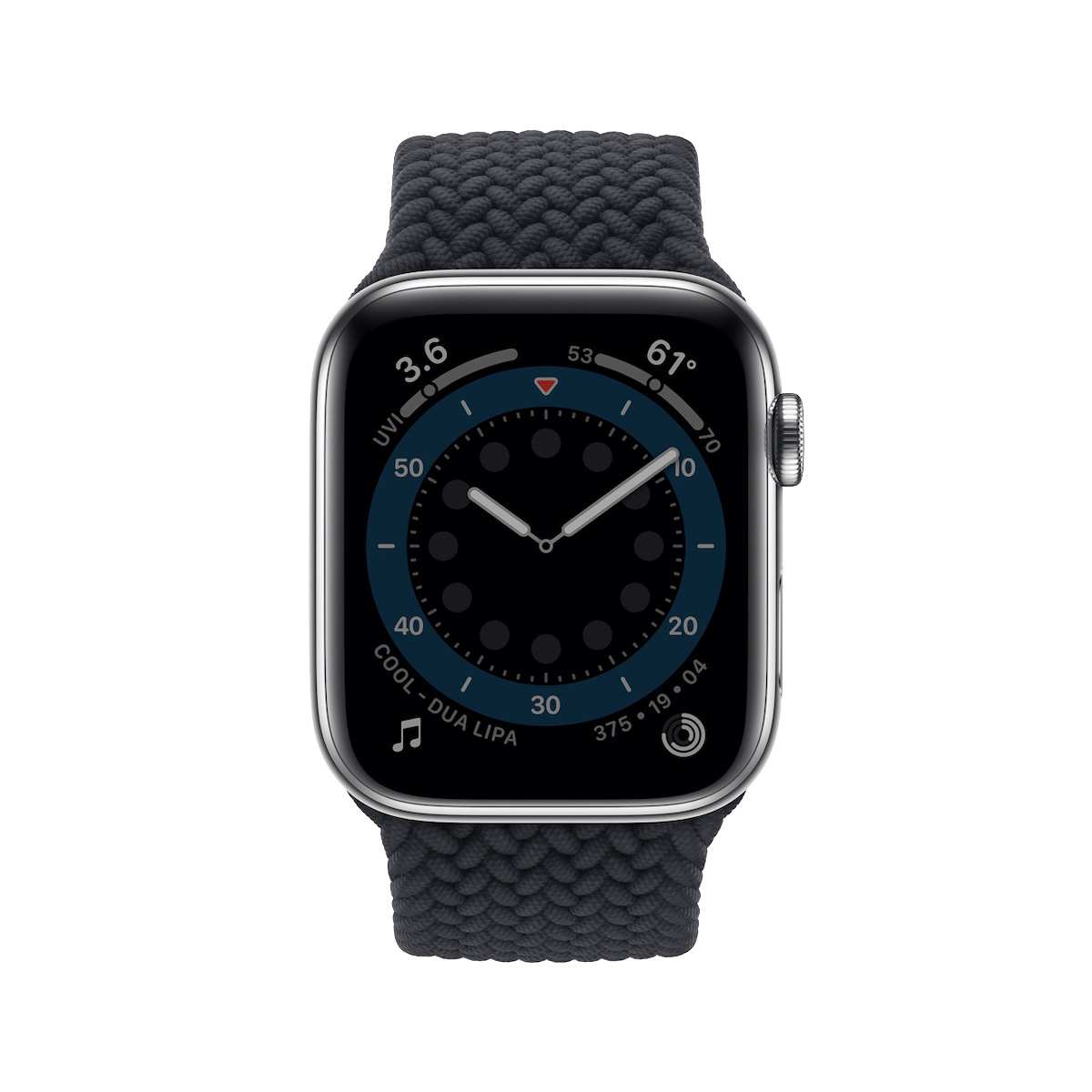 The Apple Watch Series 6 is nearly identical to the Series 5, but there are a couple of notable differences.
The first difference is the upgraded dual-core S6 chip based on the A13 Bionic processor used in the iPhone 11. According to Apple, the new S6 chip is up to 20% faster than the S5 in the Series 5 Apple Watch, and it's definitely faster than my Series 3. While I never really felt the Series 3 was slow, the Series 6 feels much snappier. The Series 6 also offers the same 18-hour battery life as the Series 5. Coming from the Series 3 (which did not have an always-on display), I actually feel that the battery life is a little shorter than my old watch. But I'll happily trade a little bit of battery for that always-on display. The Series 6 also gives you fast charging, allowing you to charge to 80% in about one hour and a full charge in 1.5 hours. So while the battery may not last any longer, the time you spend charging your Apple Watch is actually less. And the always-on display is 2.5 also times brighter than the Series 5, making it much easier to see outside in direct sunlight.
The Series 6 is also the first Apple Watch to ship with the U1 Ultra Wideband chip. The U1 debuted with the iPhone 11 in 2019, but we've yet to see what exactly it can do. It currently helps with directional AirDrop sharing and is believed to be part of the CarKey system in upcoming vehicle models, but is otherwise currently pretty unremarkable. It's easy to see how the spatial awareness and precise location tracking it enables could be useful with future products (like the rumored tracking tiles).
Also new in the Series 6 is an always-on altimeter. This allows the Apple Watch to track elevation changes as small as one foot, and can be displayed in a complication on the watch face or as a workout metric. I don't see this being useful for me in daily use, but it's nice that it's there for folks who may need it.
There's also a new health sensor in the Series 6 that measures your blood oxygen levels, similar to a pulse oximeter. It works by shining infared LEDs onto the blood vessels in your wrist and measuring the amount of light reflected back. The Apple Watch then calculates the color of the blood, which indicates how much oxygen is present (bright red blood is well oxygenated). It does this in the background, and can also be trigged using the new Blood Oxygen app. It can be a little confusing to understand and occasionally gives unsuccessful readings, but there's more to this sensor than meets the eye. More on this later in the health section.
Even with the new hardware sensor and the U1 chip, the Series 6 is actually a little bit thinner than the Series 5. It's probably not enough to be noticeable in daily use, but I do like the fact that the Apple Watch is getting a little bit smaller over time.
Colors & Styles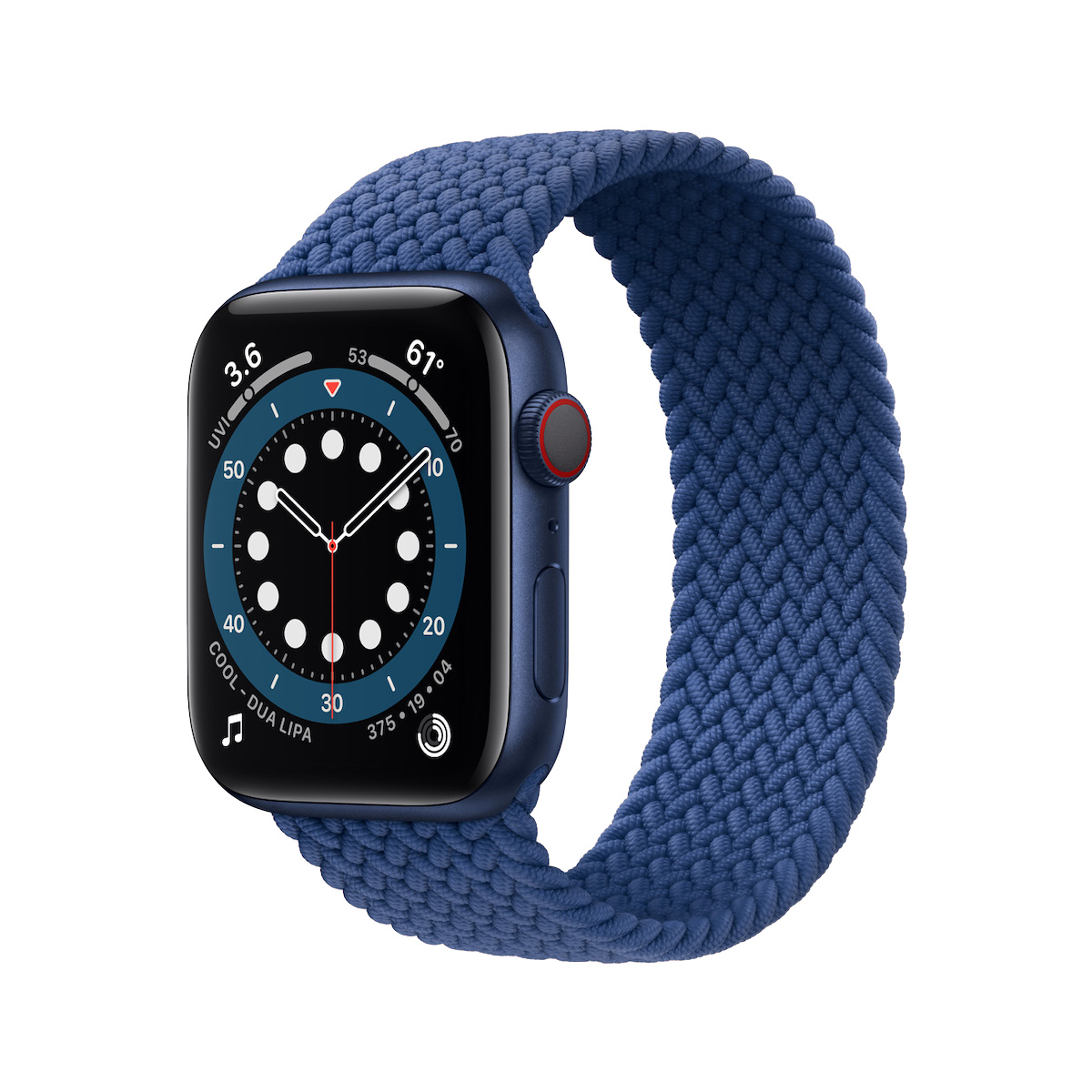 The Apple Watch Series 6 looks very similar to the Series 5, which is actually a very good thing. I was a little worried coming from the 42mm Series 3 that my collection of watch bands wouldn't fit the same, but they look and feel just as good on the new Series 6 as I had hoped. Even my third-party watch bands work just fine with the new Apple Watch.
The Series 6 case is available in 3 materials: Aluminum, Stainless Steel, and Titanium. The ceramic white from the Series 5 is gone, but there are two new aluminum color options: Product Red, and Blue. The blue aluminum looks amazing, and if I didn't already have a bunch of watch bands to go with my old Space Gray model I would be tempted to get that one.
There's also some new Solo Loop and Braided Solo Loop band options available with the Series 6. They are sized to work with any Series 4 or newer Apple Watch, and consist of a single piece that stretches to fit over your hand.
While these new bands do look great, they are also more complicated to size correctly. Instead of small or large options, you have 9 different sizes to choose from when ordering. I was nervous about choosing the wrong size when placing my order and opted to go with with the standard Sport Loop instead. I'm glad I did, as I've heard from many people who used the measuring guide and still ended up with incorrectly sized bands that they had to return. In my opinion, the appeal of the Solo Loop is not enough for me to jump through the additional hoops to make sure I get the right size.
In a perfect world, you could go to an Apple Store and try on the bands to make sure that you select the right size. But if you're going to be ordering online, the Solo Loop may be more work than it's worth. At the very least, you've been warned.
What's New in watchOS7
The hardware is only one side of the story though with the Series 6. WatchOS 7 offers a bunch of new improvements to make the most of the new hardware. Here's what new in watchOS 7.
Watch Faces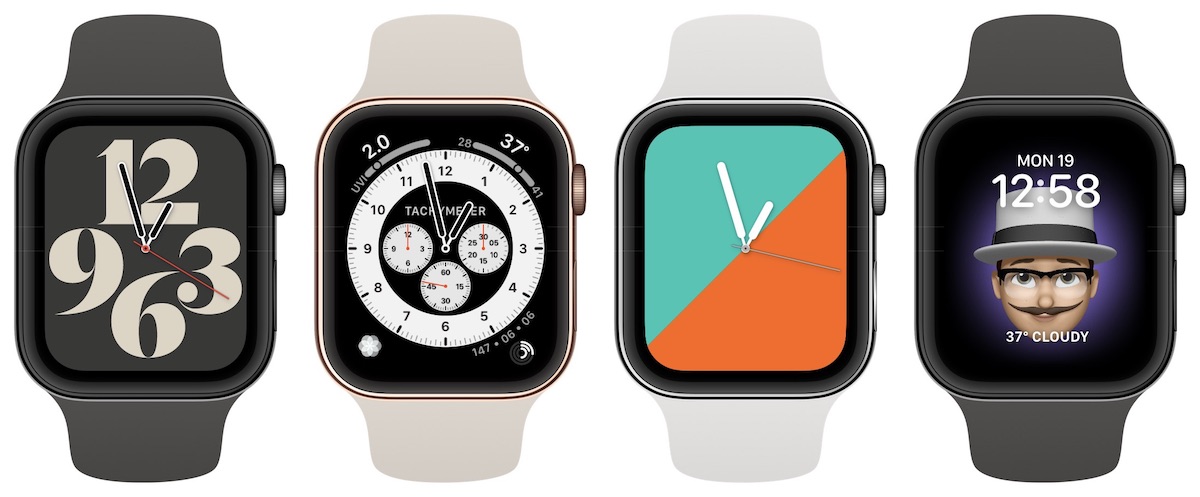 I have been using the Utility watch face on my Series 3 almost exclusively for years. So I have to admit that one of the things I was most looking forward to with my new Apple Watch was trying out some different watch faces with my Series 6.
There are quite a few new watch faces to choose from, including:
Chronograph Pro — a watch face inspired by classic timepieces that includes a tachymeter in the center of the dial.
GMT — a dual-color watch face that displays two time zones simultaneously on your Apple Watch.
Stripes — a very customizable watch face that allows you to customize the color, direction, and number of stripes on the watch face in 15 degree intervals.
Memoji — a watch face that allows you to select from a specific Animoji character, a random Animoji, or a Memoji character you've created.
Typograph — another classic watch face that allows you to select different clock faces with classic, modern, or rounded lines.
Count Up — a watch face that functions like a stopwatch. Tap on the face and a start button appears.
Artist — a collaboration with artist Geoff McFetridge that features several different human faces that alternate each time you lift your wrist.
I personally like the Stripes and Typograph options, but similar to all the included watch faces, they are pretty limited. They look nice, but I really wish Apple would open up the development of watch faces to third-party developers. Yes, you can customize and share watch faces now, but it feels half-baked. There is much more that could be done with these faces, and it seems the only thing holding it back is Apple refusing to give developers the tools they need to go nuts with it.
I really wish they would.
---
Free, Mini-Masterclass: Using Ulysses
Ulysses is our pick for the best writing and notes app out there. And we want to help you get the most out of this app that we ourselves use every single day.
In this mini-masterclass, you'll discover ideas and examples for better organization, faster idea capture, and even how to use Ulysses for improving your productivity.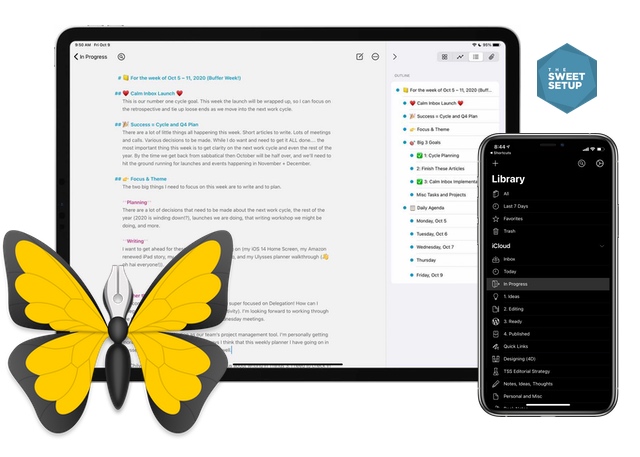 Discover how to use Ulysses for:
How to set up Ulysses for better organization (instead of having all your stuff in one big pile of mess).
Ways to capture your ideas, and then turn those ideas into something publishable and usable.
Experiments and hacks in productivity.
The full replay of this live event is available [here](https://thesweetsetup.com/ulysses-mini-masterclass-video-replay/).
Handwashing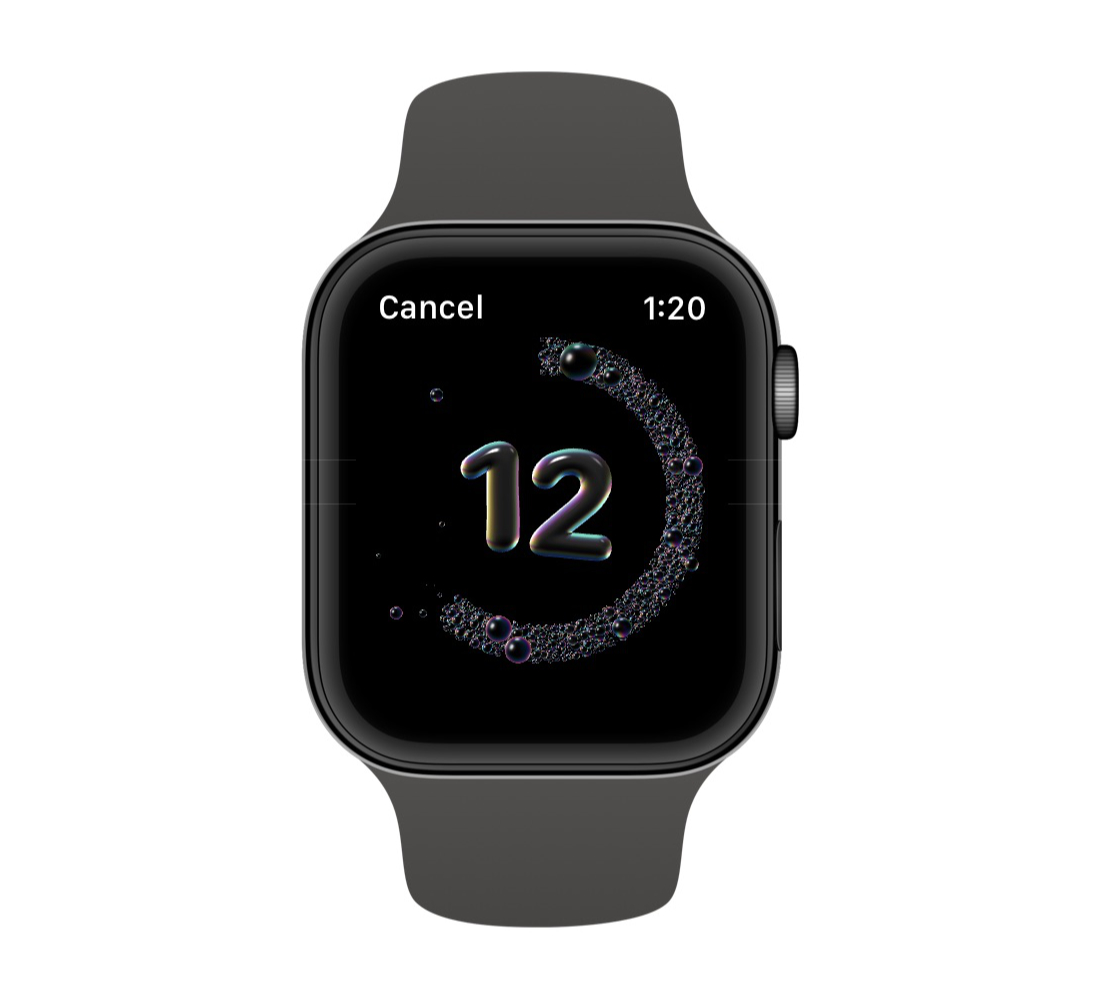 Handwashing is a feature that encourages you to keep going until you've reached the 20-second mark when washing your hands. It can be toggled on by going to the Settings app and selecting Handwashing, then toggling on the Handwashing Timer.
When the feature is turned on, your Apple Watch will detect when you are washing your hands and will start the timer automatically. With Haptics turned on, you will feel taps on your wrist when you've washed long enough. If you stop washing your hands before the 20 seconds is up, you're encouraged to keep going.
This is a feature that is good in theory, but I personally don't find it that useful. I find the timer doesn't always start right away when washing my hands, and sometimes triggers at unexpected times. There have also been reports of a software bug in this feature killing the Apple Watch battery much quicker than expected, though I didn't experience this myself. I turned this off after about a week, and haven't missed it.
Family Setup
In watchOS 7 and iOS 14, you can now set up an Apple Watch for another person in your family without requiring them to have their own iPhone. This can be useful for children and older adults, giving them independence while allowing you to know that they are safe. Family members can share location using the FindMy app, listen to music, and send messages or Memoji. They can set up their own fitness goals, send Apple Cash, and even download apps from the App Store.
I have to admit, I'm intrigued by Family Setup. I'm not in a hurry to buy my kids their own smartphone, but I do recognize that we will need a way to stay in contact as they become more independent. With Family Setup, we could theoretically do that by getting them an Apple Watch instead of an iPhone. We'd still need to pay for LTE for each device, but it would still be a less expensive solution than getting them their own phones. But it feels a little too fancy for me still. I also don't have any old LTE-enabled Apple Watches laying around, and it seems much more likely that families would have an old phone they could repurpose instead.
RIP Force Touch
Force Touch has been removed from watchOS 7, although you could be forgiven for not knowing it was there in the first place. It was never very discoverable, and honestly there weren't many places it made sense on the Apple Watch. However, there is one place I'll miss it dearly — when clearing notifications.
With Force Touch, you could clear all notifications at once from anywhere in the list. Without it, you have to scroll to the top and tap the "Clear All" button. This isn't very intuitive, and I completely missed this at first. I do like the ability to swipe from right-to-left on a notification and choose to either deliver the notification quietly or turn that type of notification off altogether though.
The Apple Watch's Focus on Health
An argument could be made that the Watch is Apple's most important product from a health perspective. There's no arguing the impact the iPhone has had on our daily lives, but you don't see clips at the beginning of the iPhone talking about how the iPhone saved someone's life. For me, the Apple Watch is the thing that got me from couch to not only 5k, but running several half marathons and creating a lifestyle of healthy movement. In fact, this August I logged over 300 miles between running and biking workouts — something I never would have done without my Apple Watch.
A big reason for the success of the Apple Watch is the genius design of the three rings. There's just something intrinsically motivating about closing those rings every day. It makes fitness approachable, even for people (like me when I started) who didn't have a prior exercise habit. While the Apple Watch may never compete directly with Garmin or Fitbit devices as a "serious" health device, what it does (encouraging a healthy lifestyle) it does extremely well. With Series 6 and watchOS 7, there's even more health benefits to be had with an Apple Watch.
Sleep Tracking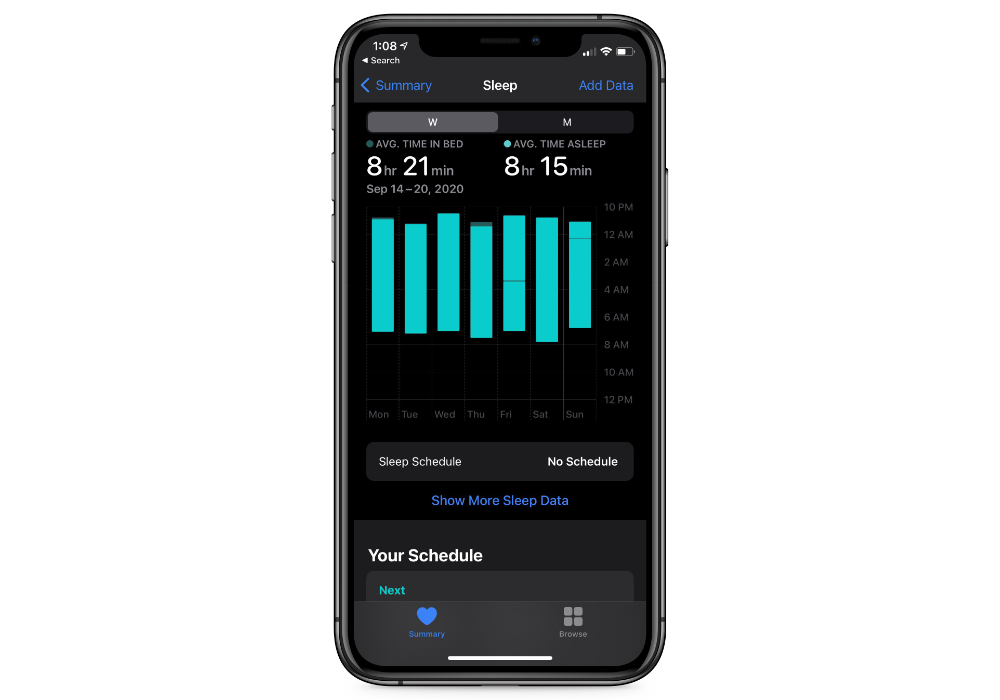 One of the biggest new features in watchOS 7 is the addition of sleep tracking. Unfortunately, I'm not a huge fan of the way this has been implemented.
Instead of providing a detailed analysis of your sleep patterns like AutoSleep or Sleep Cycle, Apple simply shows you the time you spent asleep inside of the Health app. Instead of showing you insights into what happened while you were sleeping, they try to help you create a more consistent sleep schedule by encouraging you to go to bed on time. It's a more holistic approach to sleep tracking that is focused more on positive habit development, which may actually be better for many people.
But I want the data.
I understand why Apple took the approach that they did. You shouldn't need to be a neuroscientist to understand the data in your sleep tracking app, but I do think there is value in understanding a little bit about how sleep works and tracking your actual REM cycles. This data is extremely important for me as I've been diagnosed with epilepsy, and lack of sleep is one of the things that can trigger a seizure. I'm fortunate that my quality of life isn't significantly impacted, but I do need to keep tabs on not only how much sleep I get, but also the quality of that sleep. If I'm not well-rested, it would be foolish to get in my car and drive somewhere. Unfortunately, Apple's implementation of sleep tracking doesn't give me what I need to know to make those decisions.
Fortunately, third-party apps are there to fill the void. So if (like me) you are serious about sleep tracking, you'll want to use an app like Sleep Cycle of AutoSleep instead. If you're just looking for something that can encourage you to go to bed on time and wake you up with a silent haptic alarm, then the implementation in watchOS 7 is good enough.
The New Blood Oxygen Sensor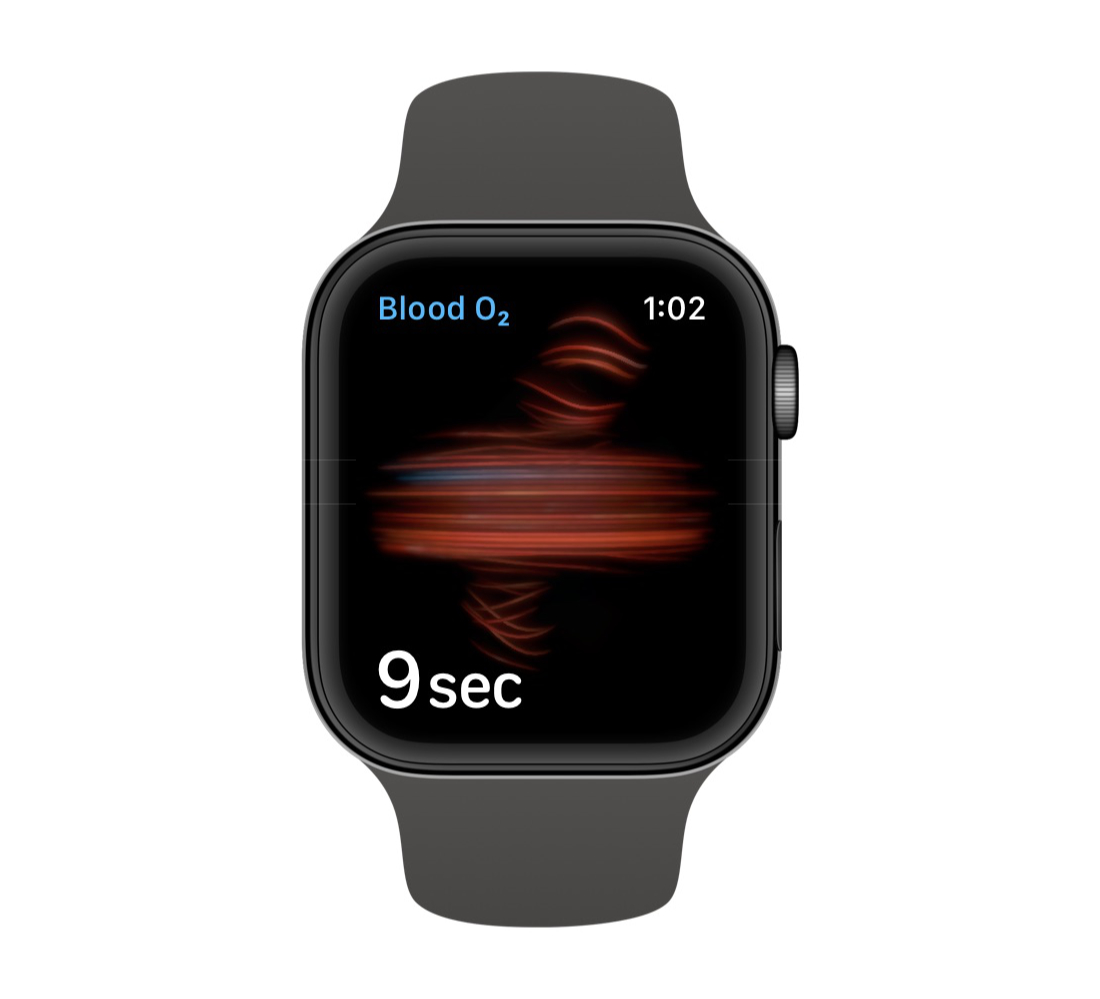 At first glance, the blood oxygen sensor may not appear that important. It's actually a pretty big deal.
A normal healthy blood oxygen level is typically between 95 and 100 percent. When blood oxygen levels are low, it can lead to serious health issues. Sometimes, people can have dangerously low blood oxygen levels and appear completely comfortable. This is known as silent hypoxia, and has been noticed in many COVID-19 patients. With regular blood oxygen readings, you can be alerted to a potential health issue before you feel anything. This allows treatment to be delivered early, instead of waiting until the patient may need emergency medical care.
Measuring your blood oxygen alone is not an indication of whether you are suffering from COVID-19 or another serious illness. If you're going to use it, you also need to monitor your other symptoms, but it is a useful data point you can use to understand what it really going on in your body. While I'm sure the sensor was added to the Series 6 design far before COVID-19 was a thing we were worried about, the timing makes this sensor extremely useful.
Is the Apple Watch Series 6 Worth the Upgrade?
Overall, I'm very happy with the Series 6 Apple Watch, but I don't believe it necessarily means that you should automatically upgrade.
If you already have a Series 5, there's honestly not a lot of reason to get the Series 6. The Blood Oxygen sensor is nice, but you can get many of the benefits in watchOS 7 without buying new hardware. Sleep Tracking is available on older models, and with the GPS aluminum model starting at $399, it's a pretty significant investment for most people.
If you're coming from an older Apple Watch though, it's much easier to justify an upgrade. While there's nothing wrong with my Series 3, the Series 6 provides years of cumulative benefits (like ECG and noise monitoring) that add up to a significantly improved Apple Watch experience. I like the always-on display even more than I thought I would, and the fact that it's so much brighter now makes it much more useful in daily use. So if you're coming from Series 4 or older, the Series 6 provides a pretty big leap forward.
One thing we didn't look at in this review is the presence of the Apple Watch SE. It starts at $279 for the GPS aluminum model, and has many of the features in the Series 6. So if you don't care about the always-on display or the fancy new Blood Oxygen sensor, the Apple Watch SE gives you quite a bit of bang for your buck.
Make email suck less…
Take our Email App Assessment
Email doesn't have to suck. You can make it suck less by using an app that fits your email needs.
But with so many options, how do you know which email app is right for you?
Find out which email app is best suited for your needs to help streamline your email workflow so you can get back to the things that really important.