5 Things We're Excited About from Apple's WWDC 2019 Keynote
June 3, 2019
Apple made a ton of announcements at their keynote presentation during WWDC earlier today in San Jose. The event was jam packed with announcements for tvOS, watchOS, iOS, the brand-new iPadOS, and macOS. Plus the new Mac Pro and display hardware.
Over the coming days, we are going to be publishing some more thoughtful and in-depth overviews of a few of these announcements and what they will mean for all of us as iPhone, iPad, and Mac users.
But first, here is a list of the things the Sweet Setup team is most excited about right off the bat from today's announcement.
#1: iPadOS

When Apple released its new iPad Pros last fall, it felt a little bit weird to have such a powerful device that was limited by the software it was running. Which is why we were so excited to hear today's announcement about iPadOS, a dedicated operating system that can allow the iPad Pro to take more advantage of all that screen real estate and computing power in order to bring iPad productivity to new heights.
There are several improvements to multitasking with Slide Over and Split View including a Slide Over app switcher that lets you switch between different apps in your Slide Over view, the ability to have apps in multiple Spaces or even two instances of the same app in Split View, and a new feature called App Exposé to help you see all the Spaces you have open that contain that specific app.
Not to mention that Safari got an update that provides desktop-class web browsing instead of forcing you to a mobile view, there are several new gestures you can take advantage when multitasking on your iPad, and Files got a huge update that supports SMB servers and read/write access for USB drives.
The Sweet Setup Staff Picks for 2019
We spend an inordinate amount of time sorting through hundreds of apps to find the very best. Our team here at The Sweet Setup put together a short list of our must-have, most-used apps in 2019.
#2: Updated Reminders app in iOS 13 and macOS Catalina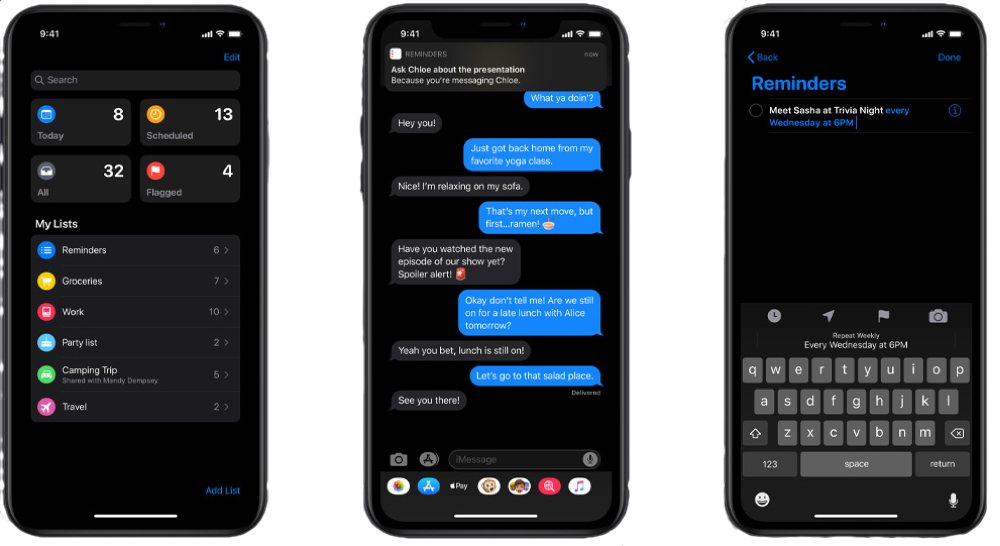 After being seemingly neglected for several years, the Reminders app also got a huge update today. While it isn't a replacement for a powerful task manager like Things, it does add several new features that can make it a viable , simpler alternative for people who don't need so much task management horsepower.
One of the big advantages of the new Reminders app is the improved Siri intelligence that powers it. These Siri-powered upgrades will allow you to do things like connect tasks for a specific person in a Messages conversation with them.
There's also a quick toolbar that allows you to add times, dates, locations, flags, photos, and scanned documents to your reminders.
And there are improvements to how Reminders handles tasks, allowing you to create subtasks (which provides rudimentary support for projects), and the addition of Smart lists which can automatically organize your reminders and group them by Flagged, Scheduled, and Today.
#3: Updated Photos App in iOS 13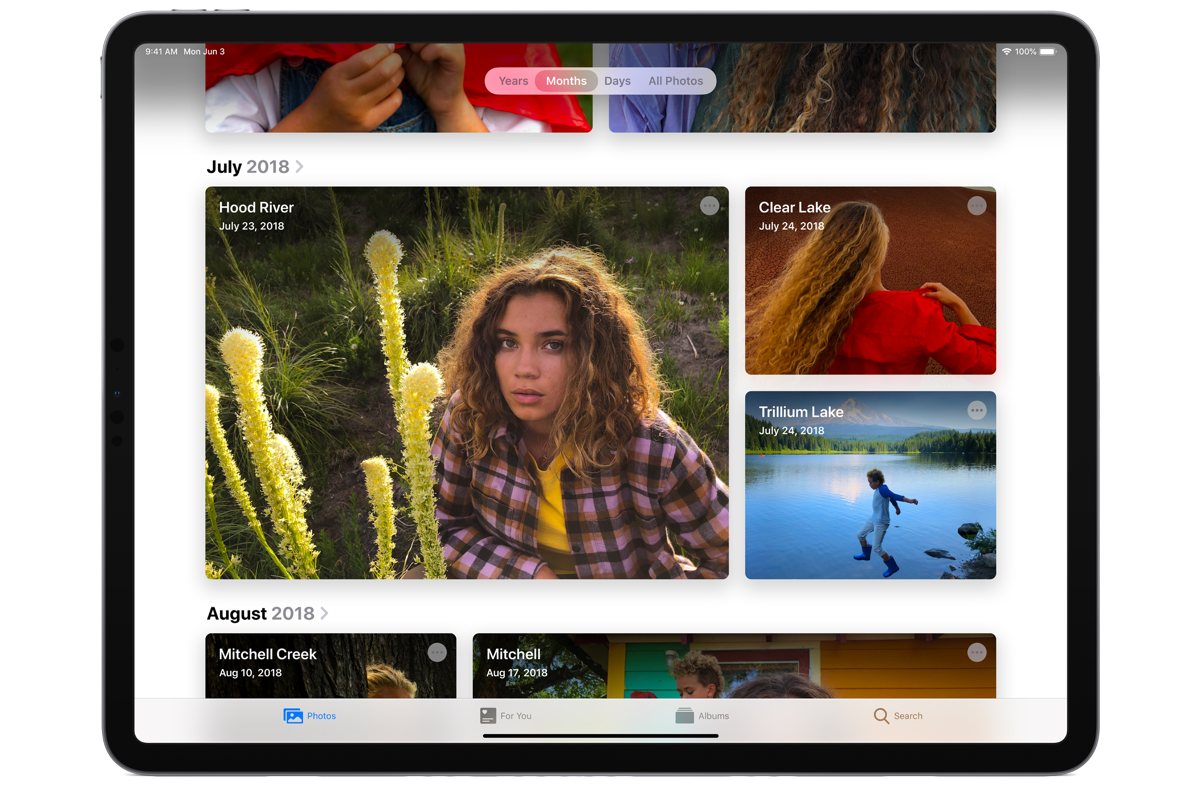 Coming with iOS 13, the Photos app will be getting a big update as well with several new features to make managing your photos much easier.
The Photos tab will have options for viewing your best moments from every day, month, and year, and the new layout helps you cut through the clutter and focus on your best moments. These views are dynamic based on context to show you related photos and videos, and can help you find things like birthdays in your Photos library much more quickly.
The editing interface has also been redesigned and offers new tools to help your photos look better than ever. Nearly all of these tools will be able to be used on videos as well, including rotate, crop, and auto enhance.
#4: Sidecar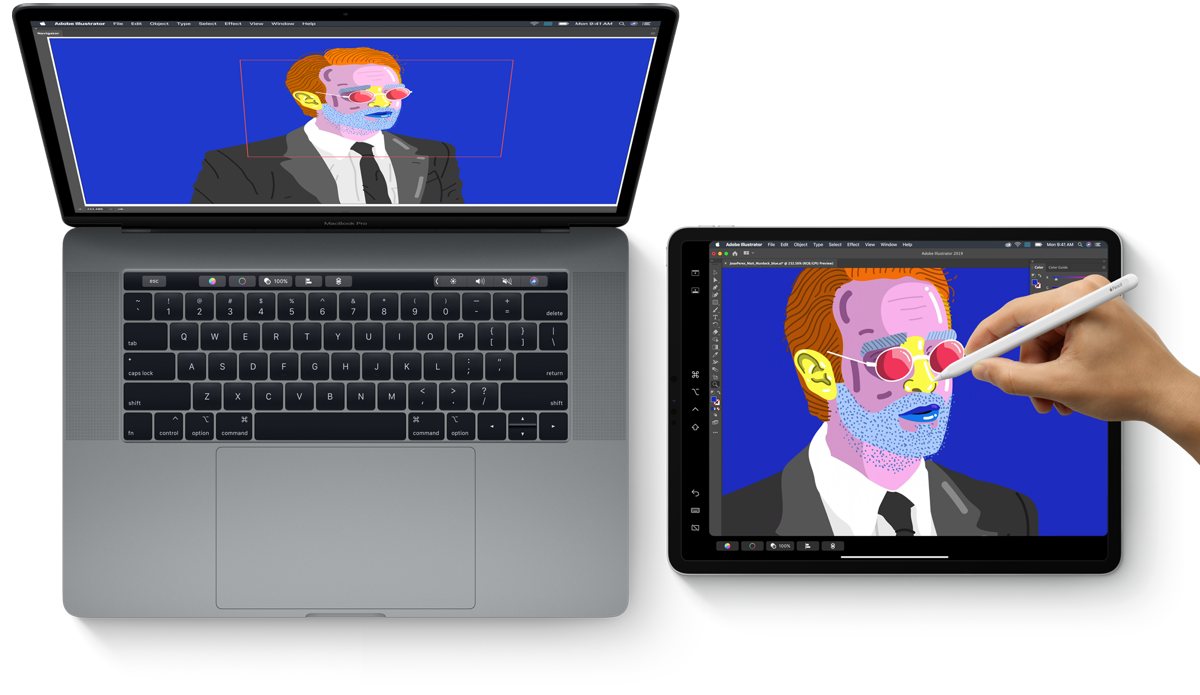 For years, I have used a Thunderbolt dock to connect my MacBook Pro to an external display whenever I'm at home. Having a second monitor available can give your productivity a big boost, and with macOS Catalina you can now use your iPad as a second monitor.
There have been solid software and hardware solutions for this (like AirDisplay 3 and Luna Display), but it's great that macOS now supports this out-of-the-box.
You can also use your iPad as an input device for the Mac, by using Apple Pencil to draw and sketch in apps that support the app's tablet mode, making it easy to edit images and mark up documents and PDFs on your Mac.
#5: ScreenTime on macOS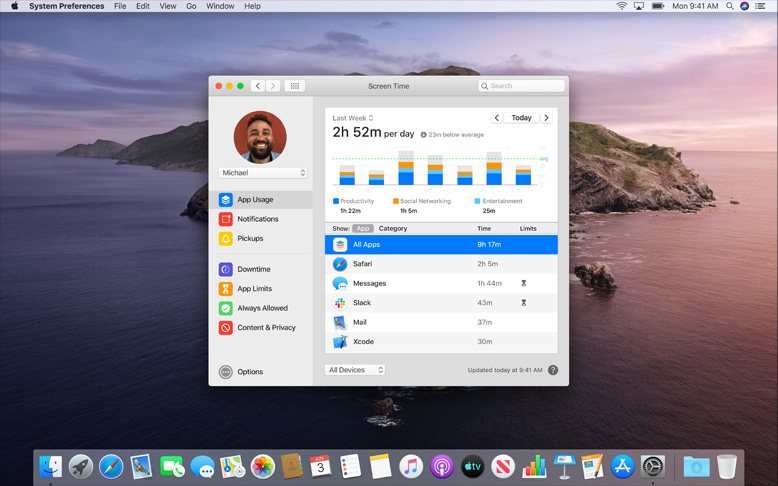 One feature that was announced today that didn't get a lot of attention but we feel is important is the addition of Screen Time on your Mac.
One obvious use case for Screen Time is setting limits for your kids using Family Sharing, but it can also be a very useful tool in managing your own digital well-being.
Screen Time gives you insights into how you're spending your time on your devices, allowing you to monitor usage, schedule downtime, and set limits for both apps and websites. It's been available for iOS since last year, but now is available across all your Apple devices so you don't need separate systems to keep tabs on how you're sending your time.
---
Links for Further Reading on Apple's Website
There were a lot of other things announced today, like dark mode for iOS, Project Catalyst which allows developers to easily port their iOS apps to the Mac, and a powerful new Mac Pro.
Again, we'll be posting more articles over the coming days with some more thoughts and coverage of today's announcements. For iPad and iPhone users, today's announcement has a lot of things to be excited about!
You can see everything that was announced and even watch the keynote from the links below:
The Sweet Setup Staff Picks for 2019
We spend an inordinate amount of time sorting through hundreds of apps to find the very best. Our team here at The Sweet Setup put together a short list of our must-have, most-used apps in 2019.