Zach Slootsky's sweet iPhone setup
July 21, 2014
Every week we try to post a new interview with someone about what software they use on their Mac, iPhone, or iPad. We do these interviews because not only are they fun, but a glimpse into what tools someone uses and how they use those tools can spark our imagination and give us an idea or insight into how we can do things better.
New setup interviews are posted every Monday; follow us on RSS or Twitter to stay up to date.
---
Who are you and what do you do?
Oh hey, my name is Zach Slootsky, I'm a photographer working in Toronto, but two years ago, like an idiot, I opened a restaurant called The Federal. Now I spend most of my time running it like a boss (literally) and devising systems that make me feel clever.
What iPhone do you have?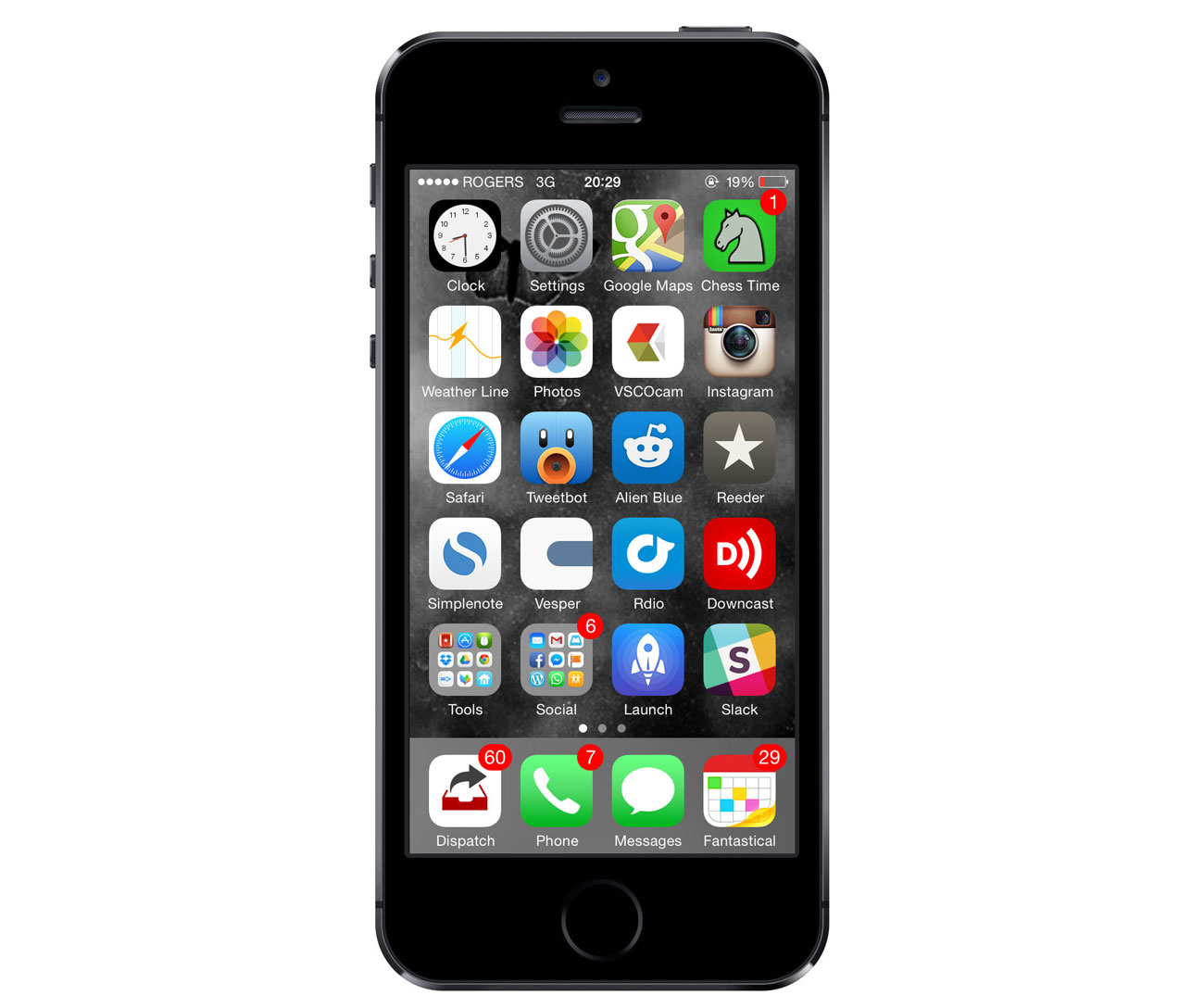 The background is one I took at a friend's cottage in Ontario.
After dropping my iPhone 5 too many times and breaking the camera, I upgraded to the 5s. I bought the Space Grey 64GB because I found a cheap, unlocked one on Kijiji.
What apps do you use the most, and why?
I'm in and out of email and calendar all day. My current combo of Dispatch and Fantastical let's me toss an email from one to the other as a new reminder using x-callback, with deep links back to the original message.
I listen to more podcasts than anyone I know — on my way to work or if I'm in the prep kitchen for the day. I'm in a committed relationship with Downcast because she is so dependable. Pocket Casts is great-looking, but every time I think about getting it on, I get worried that I'm making a terrible mistake. I'm sorry. Downcast, I love you.
I'm using two notes apps at the moment, Simplenote and Vesper; Simplenote to sync to my Mac and collaborate on notes with others, Vesper because it's such a complete joy to use. I can't wait until I only need one of the two.
I've just forced our staff at the restaurant to use Slack for internal communications and it's very slick. Even the dishpit has its own channel.
Chess Time is a sweet new turn-based, two-person strategy game―I could see it becoming pretty huge down the road. It's cross-platform, so I can play my one friend on Android who's surprisingly good. Carcassonne used to hold this spot, but after more than two years of daily play, I got bored and wanted something more modern.
Which app could you not live without?
I obviously couldn't live without my camera, considering I replaced my last phone when I broke mine, but that's not an app. That's like saying accelerometer is my favourite app.
Most of the used space on my phone is taken up by Downcast, with Photos and Rdio as a close second and third. Rdio powers the music at The Federal, and I have another account to use at home.
Everything I've listed above has an excellent alternative except for Rdio (especially in Canada). It has completely changed the way I discover new and old music. There are some issues; artists aren't fairly compensated, there are some giant holes in the catalogue (George Harrison), and albums can become unavailable at any time, but it's such a fantastic music discovery tool. Seeing what your friends are listening to, collaborating on playlists, or exploring by record label or similar artists―Rdio is a revolution. I just hope they get some more money into artist's hands.
---
There are more Sweet Setup interviews right here.