A Review of the Timeular Time Tracker
April 5, 2021
I've been spending quite a bit of time lately testing time tracking apps. In addition to all of the iOS and Mac apps I've been playing with, a Bluetooth-connected physical object called Timeular caught my eye.
Timeular is an interesting solution to time tracking that incorporates a physical object to start and stop timers. The Timeular app is free to download from the company's website, but requires the bluetooth tracker to really get the most out of it.
Speaking of the tracker, it's beautiful. It's easy to see why they blew past their original Kickstarter goal of €75,000 (ended up raising €313,637). It looks more like a fun fidget toy than it does a tool for tracking your time, and is exactly the type of thing that I love keeping on my desk.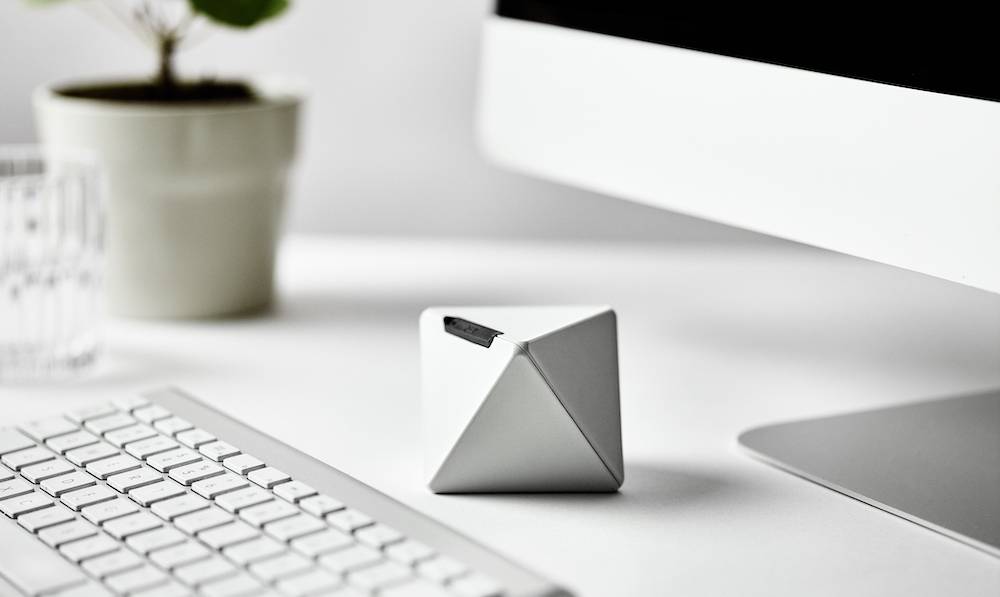 Pairing the tracker to the app was incredibly easy and only took a couple of seconds. Once connected, the connection is rock solid and gives you a fun way to start and stop your timers. You simply take the tracker out of it's base and set it so that one of the 8 sides is facing up, and the associated timer is started in the app. Each side of the tracker can be assigned to a specific timer in Timeular, which allows the app to automatically start and stop timers based on which side is facing up. If you have a timer running when you change the tracker, that timer is stopped automatically and the new one begins.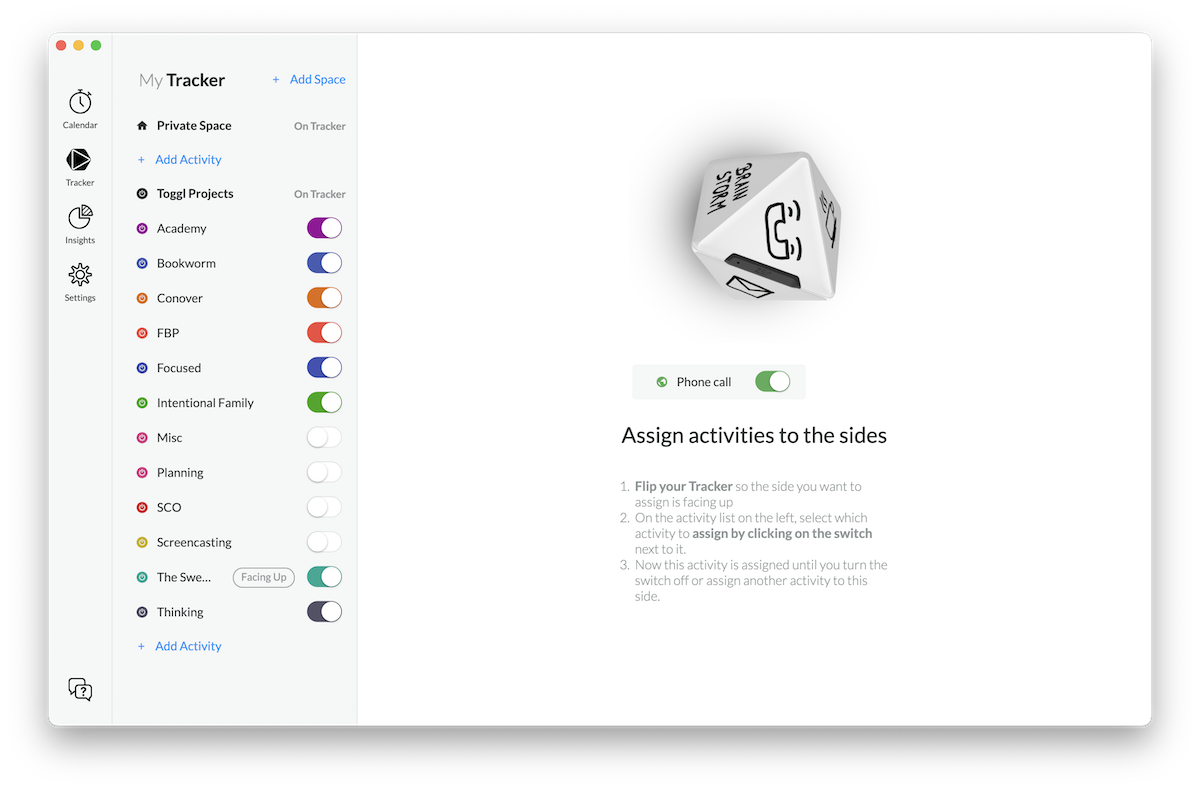 Inside the Timeular app, this works really well. The app responds almost immediately to the connected tracker, and the interface in the app is really well done. It doesn't feel like a pure Mac app, but like Slack, it's good enough that you're never distracted by it. It's easy to start and stop timers, and the calendar interface is a clever way to display and edit your timer data.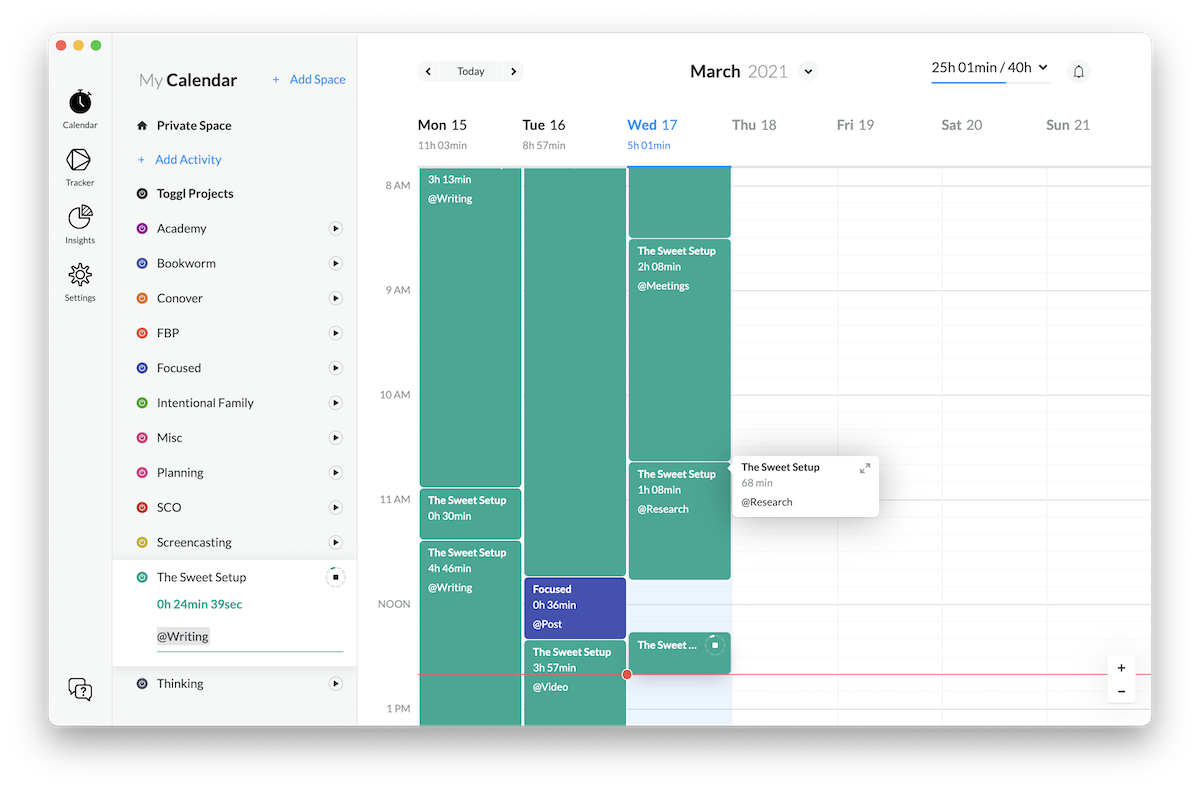 The reports are also really well done. They even have a clever way for showing you the change in your times when compared to the previous time period.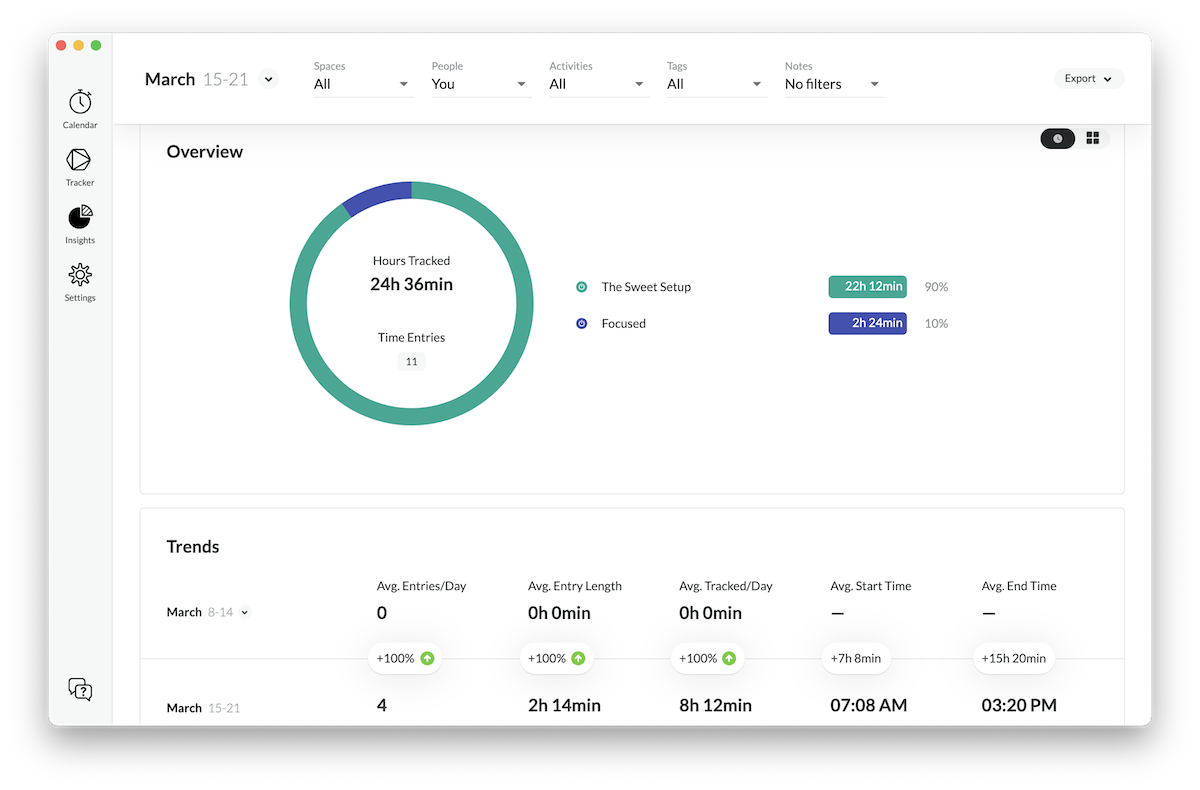 The tracker itself is made to be customized. You can label the sides using a dry-erase marker, or use the included stickers to make it easy to tell which side is currently facing up (and which tracker is currently running). It really is a fun approach to time tracking, and if you just need a standalone time tracking solution for your home office, then Timeular is potentially a great solution.
But the reason I was attracted to Timeular in the first place was the Toggl integration. I'm pretty sold on using Timery + Toggl as my daily driver for time tracking on my iOS device, but when I saw that Timeular could integrate with Toggl, I was hoping I could use the physical tracker to start and stop timers without having to pick up my iPhone.
Unfortunately, the integration with Toggl is a bit limited. Even starting and stopping timers via Timeular requires too much precision for my taste as they only work in certain configurations. For example, things got a little tricky when testing alongside Timery:
Starting a timer with Timeular and tagging the task synced the entry to Timery (updated every 3 minutes), but
Starting a timer with Timery did NOT update the currently running timer in Timeular.
This makes it easy to get messy data, which kind of defeats the whole point of time tracking in the first place. This isn't necessarily a dealbreaker, but it's something you should be aware of. The Timeular team says it's something they are working on, but for now you need to be aware that if you start a timer with Timeular you'll need to stop it there too.
Your entry data will also get a little messy, as the way to sync Toggl entries using Timeular is to add a note in the Timeular app. If you use the @ symbol you can assign a task, and if you use a # symbol you can assign a tag. For example, if I add @TimeTracking #Writing then Timeular will assign the entry to the TimeTracking task in Toggl and assign a tag of Writing — but it won't clean up the note. I was hoping to use this in conjunction with Timery on my iPhone, but the messy time entries being synced back to Timery via Toggl quickly drove me nuts.
You should also know that project tasks are a premium Toggl feature, so in addition to the tracker itself and a subscription to Timeular Pro (~$7/month), you'll also have to pony up for the Starter version of Toggl at $9/month (if paid annually). Fortunately, there is a Lifetime plan for Timeular (which includes the tracker) for $249.
If you're just getting into time tracking and want a fun way to start and stop your timers, Timeular may be for you. The tracker is great, and app is good, and the Lifetime plan makes it a good option for people with an aversion to subscriptions. But if you need to sync your time tracking data or rely on the Toggl service already, the integration unfortunately leaves a lot of room for improvement.
Free Webinar: Time Budgeting
WHAT: Shawn Blanc & Mike Schmitz will be sharing 3 strategies to make your day flow better while giving you the time you need for your best work. Learn to beat procrastination, take back control of your calendar, and get clear on how to invest your time instead of wondering where it went.
HOW LONG: About 1 hour (including time for Q & A)