The Importance of Routines, Sustaining Long-Term Habits, and More
May 29, 2020
Here are the things we published this week. You can also stay up-to-date by following us on Twitter and RSS.
Also, we have a weekly email newsletter that sums up all the new and cool things published to the site. If you like to stay up-to-date via email, then you should sign up here.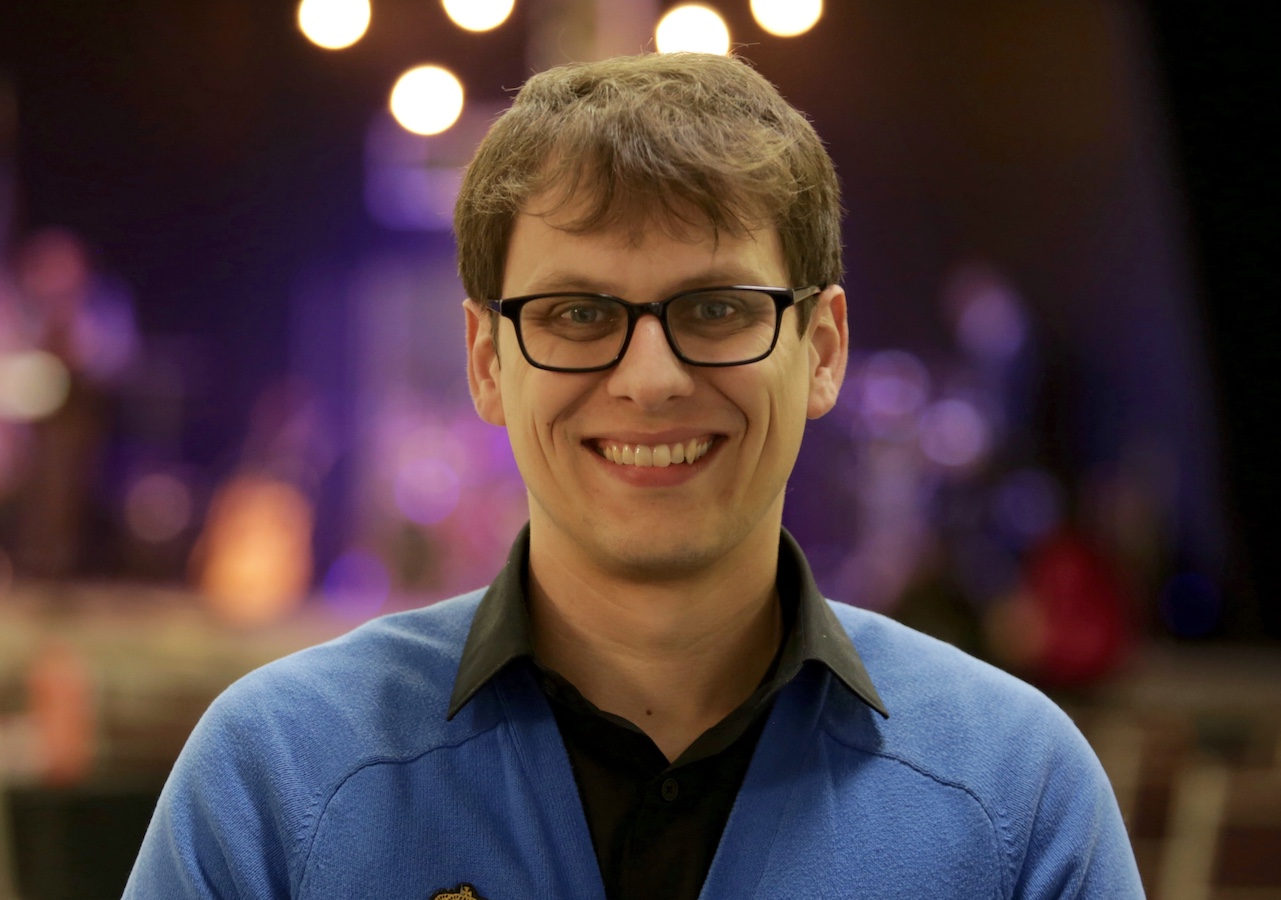 This interview is one of the many bonus interviews included in our new course, Simple Habits. The course is 25% off until today.
Your name and a short bio / info about you
I'm Mike Schmitz, Executive Editor here at The Sweet Setup. I live in Wisconsin with my wife and have five crazy kids. I also co-host the Focused, Bookworm, and Intentional Family podcasts and hang out on Twitter.
This Mindfulness Monday post is a video from Shawn Blanc, founder and editor-in-chief of The Sweet Setup
In this short video, Shawn talks about:
Maintaining momentum and motivation after the "honeymoon" period is over
The role of automation in creating sustainable habits
The balance of goals and habits in creating positive outcomes
Work From Home….
30% Off The WFH Course Bundle
Get our task and time management mini-course (All the Things (Analog)), plus with our Day One in Depth screencast course. This "WFH Bundle" is 30% off right now.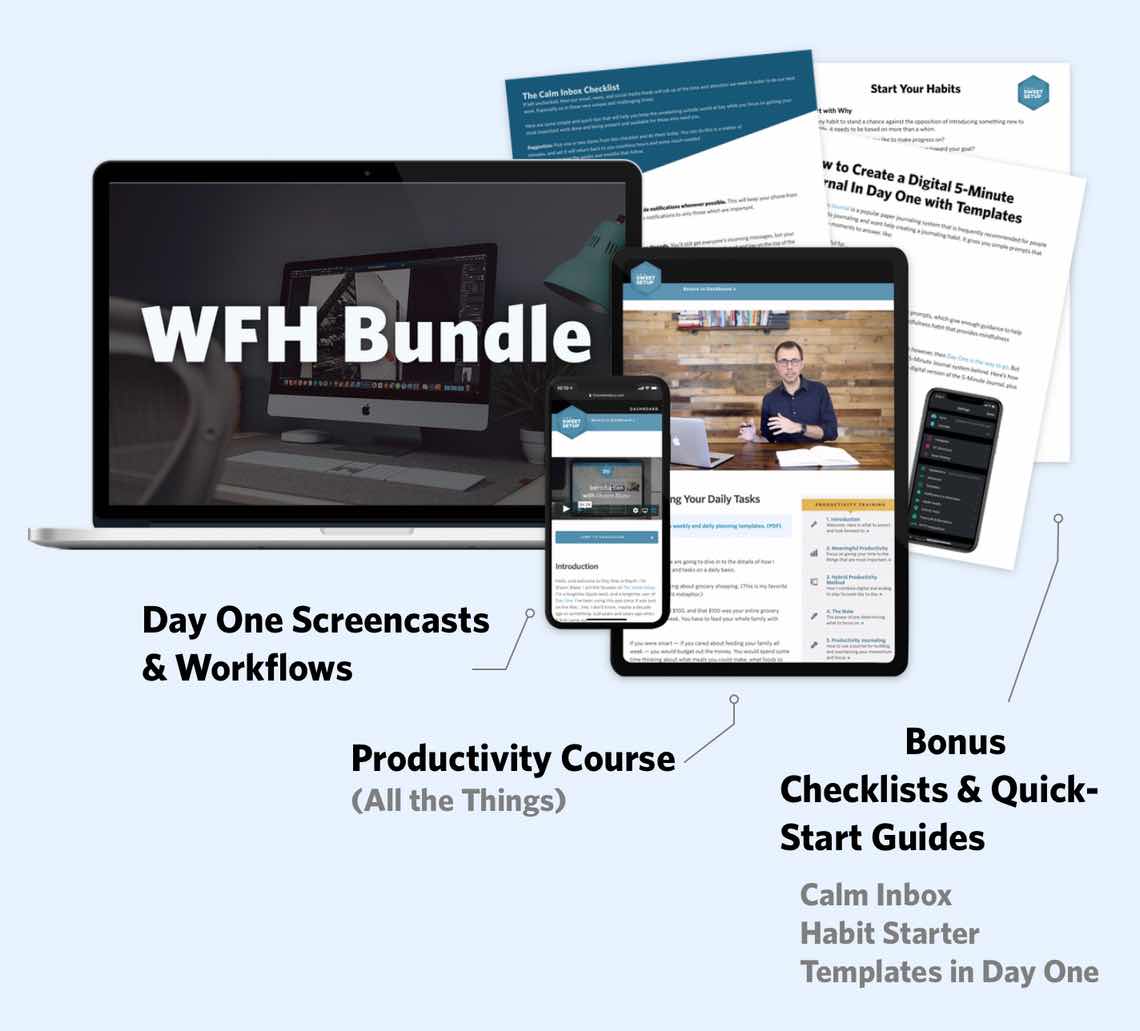 We'll show you…
How to schedule your day for maximum productivity in the least amount of time. This is especially helpful if you and your significant other are juggling responsibilities of kids and home life while also trying to do work.
Weekly planning and reviewing. A great way to get ahead of your upcoming week so you can be prepared and have a priority of what needs to be done.
Custom Productivity Templates: These are a few of the main PDF templates that you can print out or use on your iPad in order to follow along.
How to use Day One, the best journaling app out there: which can help with reducing stress and anxiety, celebrating your wins each day, and keeping a log of what is happening in life right now.
Bundle Bonus: The WFH Bundle also includes three bonuses: The Calm Inbox Checklist, the Habit Tracking Quick-Start Guide, and Using Day One templates for the 5-Minute Journal.
Normal Price: $68
WFH Bundle Price: $47 (You save $21)
The Apple Watch is a wonderful device that literally goes almost everywhere with us. It allows us to track our workouts, control our music, keep on top of our task management, remember meetings, and much more. But all of that on a screen that's at most 44mm? That's a challenge.
Over the years I've developed several different watch faces that I transition to throughout the day. This allows me to have the data I need on the screen and easy access to the apps I would normally jump to shown as complications to speed things up.
Sometimes you just want a printer that works. You're not interested in fancy features, wireless connectivity, ink colors, scanning, or special paper sizes. All you need is the ability to print in black ink on 8×11 white paper — that's it.
This post was syndicated from our sister site, Tools & Toys, which curates awesome gear and product recommendations for discerning readers like you.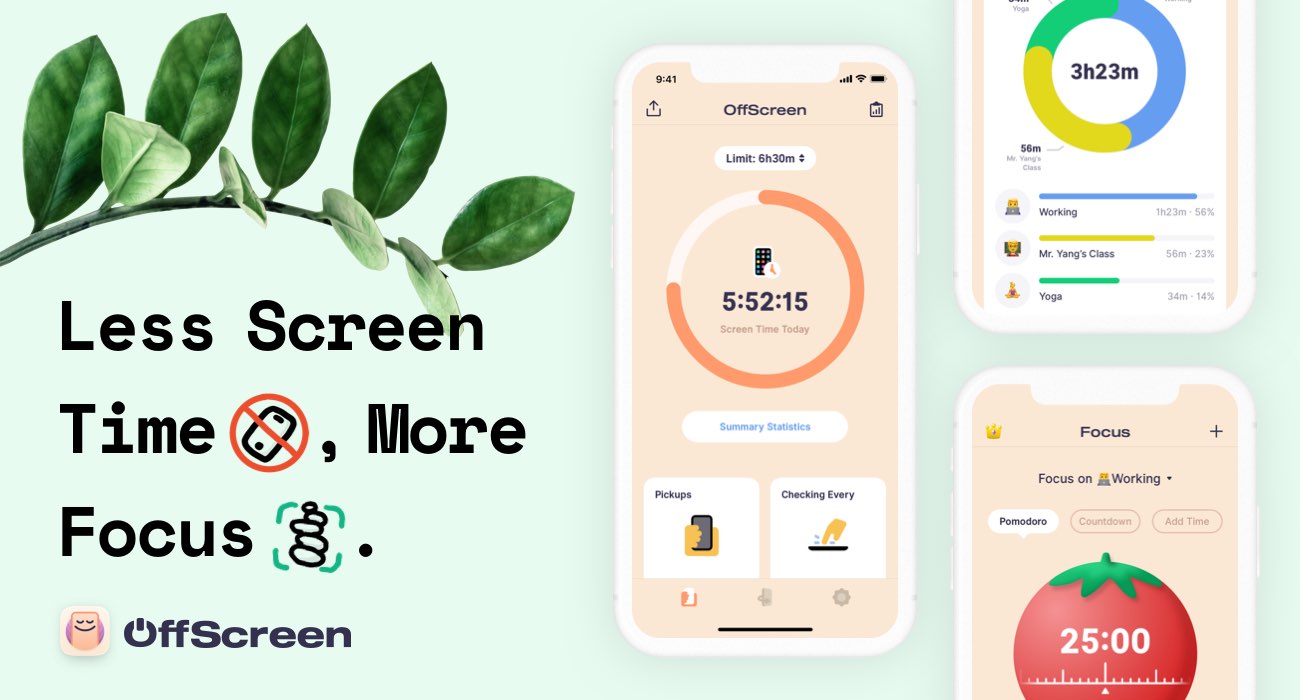 OffScreen is a cute tool that helps you control screen time and stay focused on tasks that matter.
In daily life, people stare at their phones all the time, indulge in the virtual world, and even forget their real lives. OffScreen is an application designed to help you leave your mobile phone and return to life. It can help you to regain the initiative of life from your mobile phone.
OffScreen not only tells you how long you used the screen, but it also provides handy tools to help reduce screen time. You'll get notified when one pickup is too long, or it's nearly reached your screen time limits; you can start focus with Pomodoro and other timers with your phone locked or flip-down.
Download OffScreen for free at App Store, it's worth to try.
---
Our thanks to OffScreen for sponsoring the site this week!