The Desks of The Sweet Setup
April 16, 2020
One of my favorite work-from-home posts over the last few weeks came from the folks at Basecamp. CEO Jason Fried posted a message asking for a photo from each of the employees to compile a long thread of sublime, messy, ergonomic, uncomfortable, and throw-it-together work-from-home setups.
There's something so personal about peering into everyone's work-from-home life. Not that you can directly tell what the person's position is based on how they setup their workspace, but the little personality touches really drive home each individual.
So here's Blanc Media's work-from-home setups, complete with a list of the main items in each setup. If you're anything like us, you're sure to be curious about a few of the coffee cups gracing these tables.
Shawn Blanc, Editor-in-Chief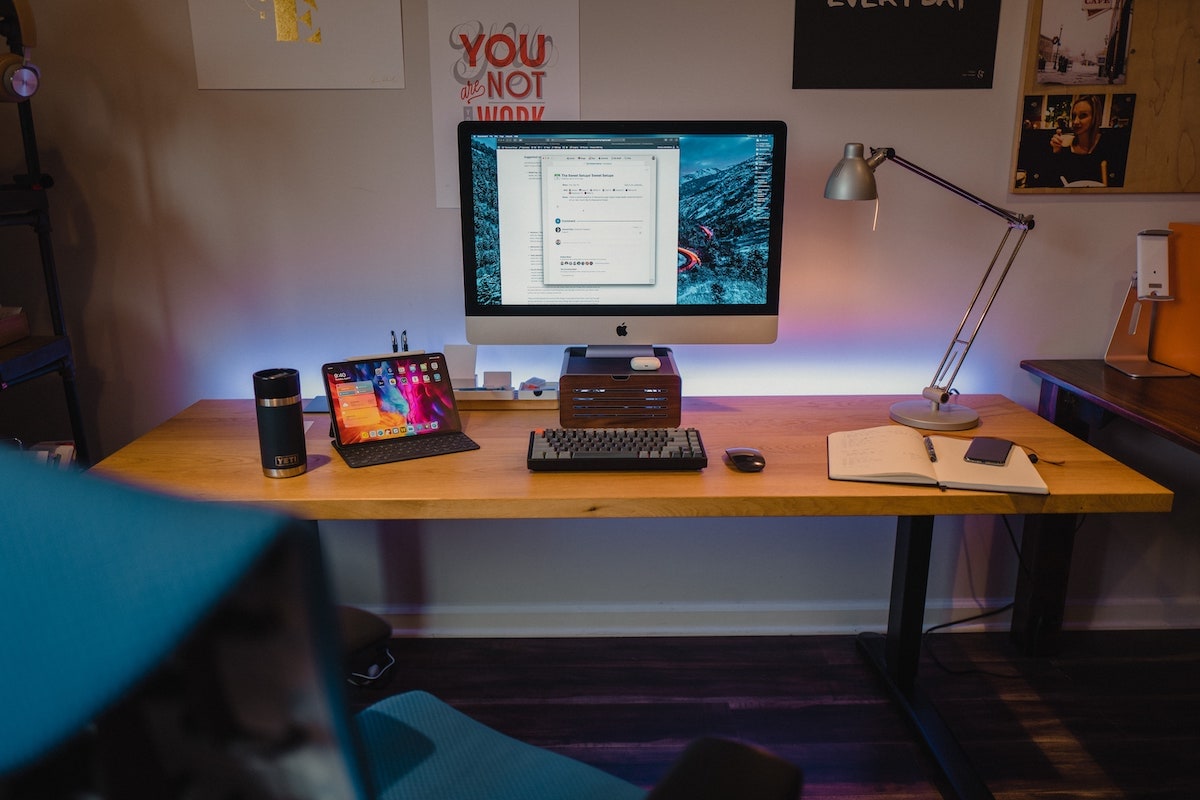 Shawn: Ironically, for the first time in about 5 years my desk is not super duper messy. I have been spending little bits of time to clean, re-wire, and simplify my workspace over the past few weeks.
At use in this photo:
You can't see them very much in this photo, but on the wall behind the desk are a handful of typography posters from awesome folks including Jessica Hische, Cameron Moll, Sean McCabe, and Jeff Sheldon.
Mike Schmitz, Executive Editor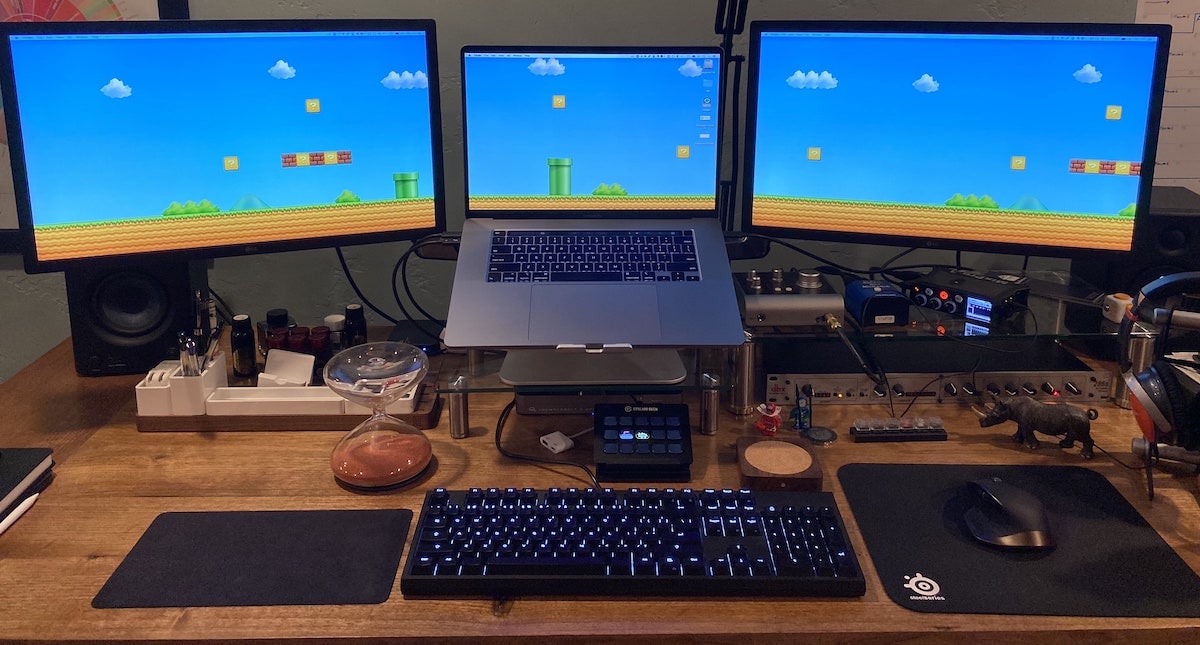 Mike: My setup has changed a little bit since I first wrote about it here. My new setup is built around my 16″ MacBook Pro (my kids stole the Mac mini after our iMac died).
Tech stuff:
Non-tech stuff:
Sound gear:
I also have an iPad setup I've been using lately to get out of the basement: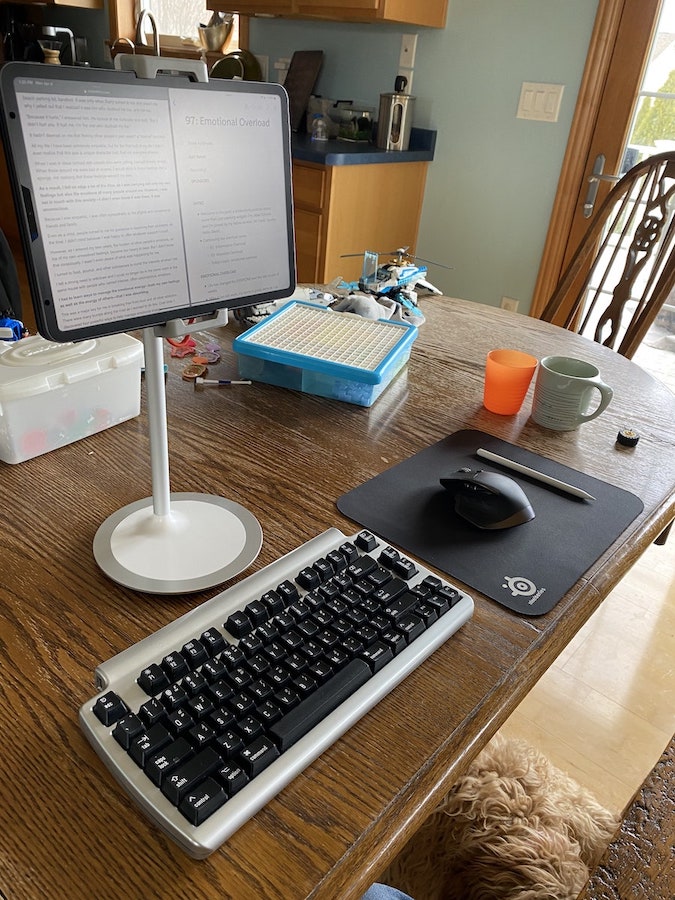 In addition to the 2018 11″ iPad Pro w/ Apple Pencil, I'm using the same Logitech MX Master 2 mouse (you can pair it with up to 3 devices). I'm also using:
Isaac Smith, Production Manager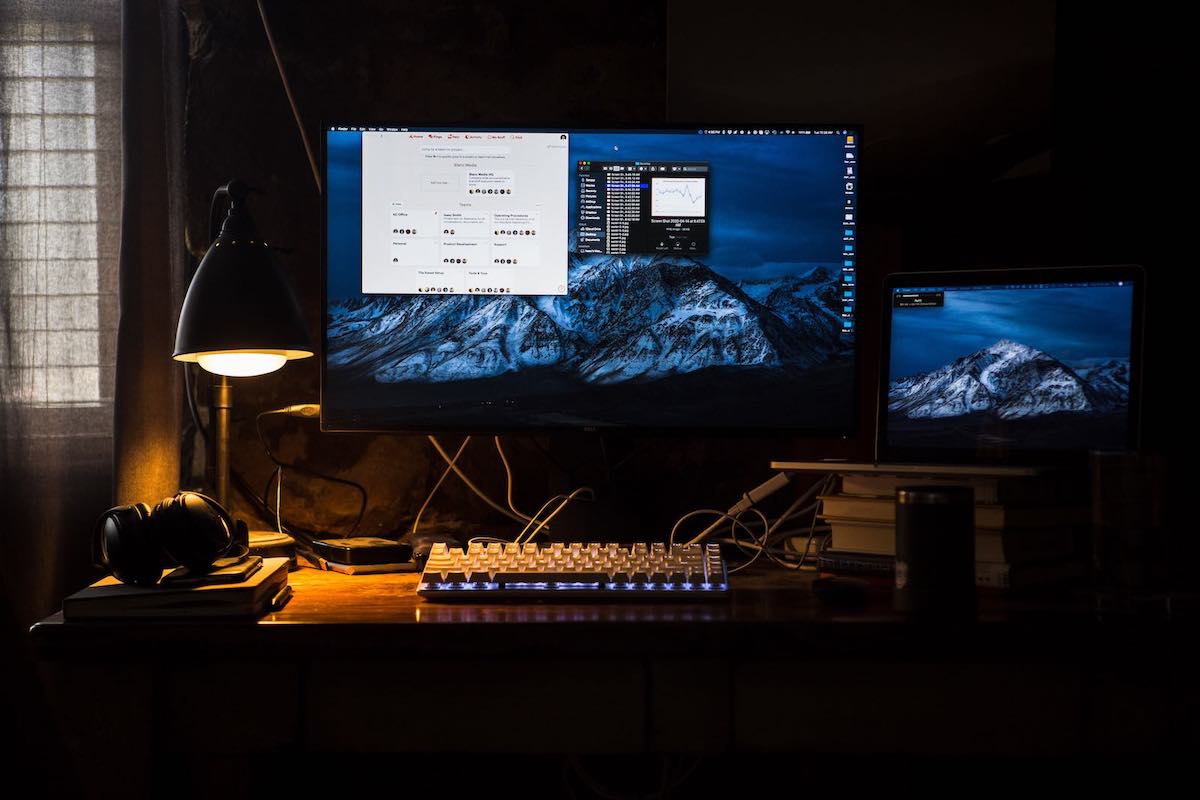 Seen here:
Jeffrey Abbott, Senior Editor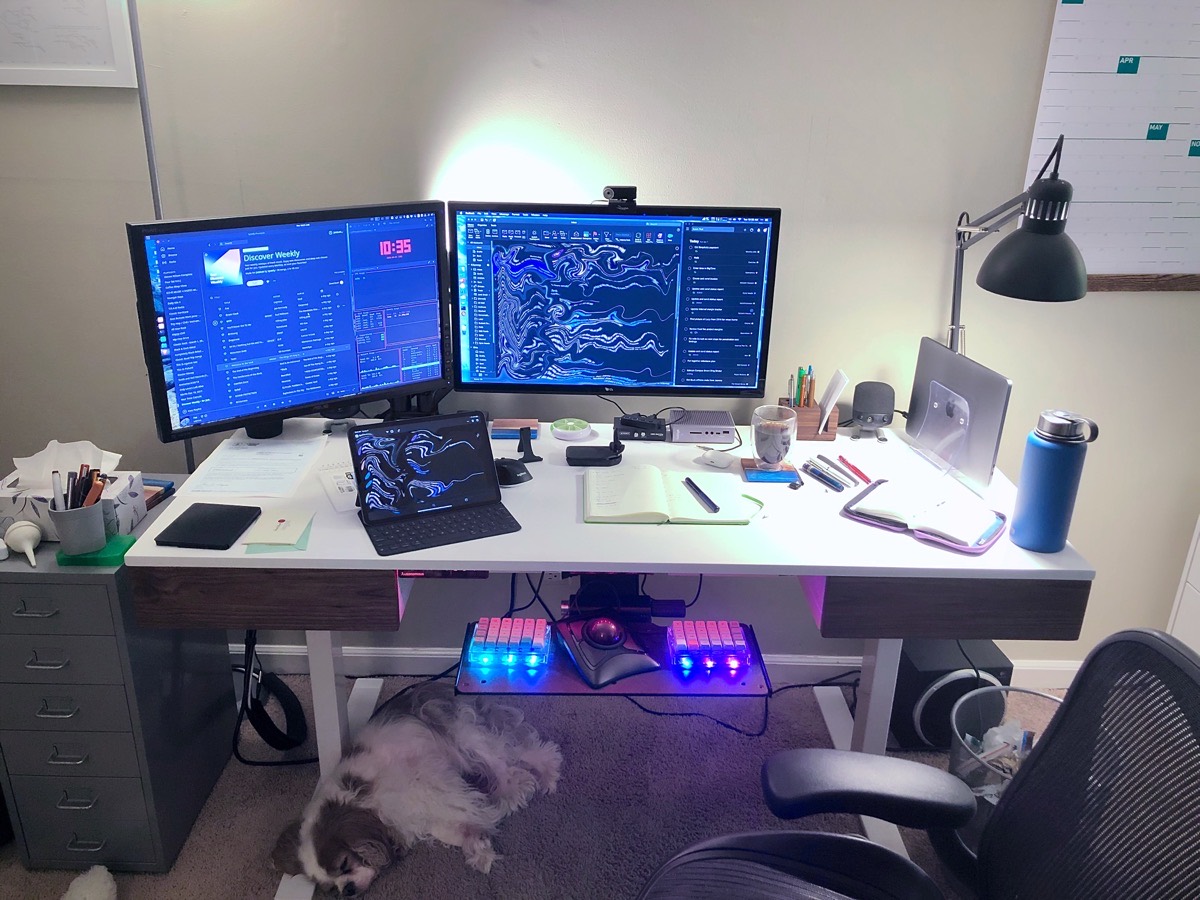 Jeffrey: This is the usual state of my workspace, with seltzer taking the place of coffee in the afternoons. Not much has changed since my last interview! I've upgraded the monitor and also expanded into the custom-built desktop world as a hobby.
Joanna Eitel, Customer Support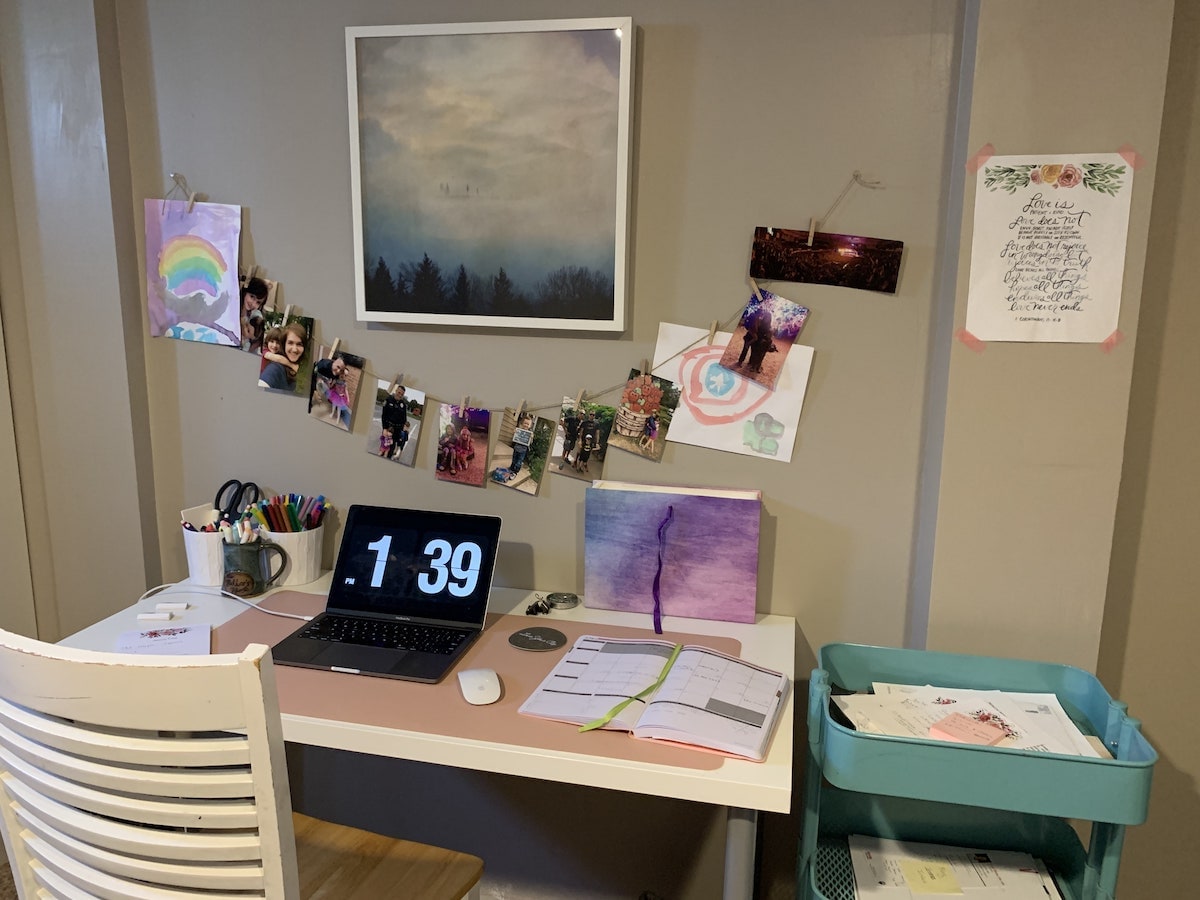 Joanna: Basement guest room turned office space! Perk of quarantine time has been to take the time to actually make this space fun and functional instead of finding excuses to work upstairs in the living room or kitchen.
Josh Ginter, Managing Editor/Photographer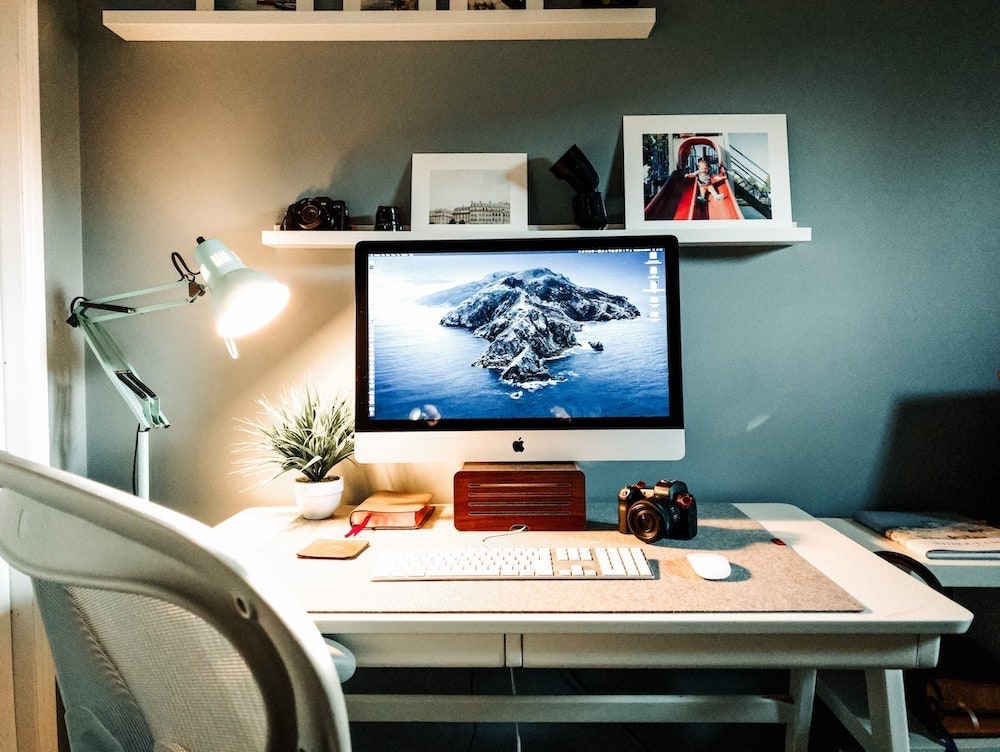 Josh: I have to admit, I completely reorganized my home office just for this blog post. I had lens caps, papers, and boxes strewn everywhere on the floor — it was a total nightmare in here. But here's the final result after some shifting and dancing:
Up on the shelf, there's a FujiFilm X-T2 with 23mm and 35mm f/2 lenses along with a Godox V1-C flash I use with my Canon camera.
If I need to get away from the desk, I am testing the multi-iPad lifestyle with the following devices and accessories:
This photo was shot basically in the dark with an iPhone 11 Pro and the awesome ProFoto C1 mobile light. A bit noisy, but I like how it turned out.
Marius Masalar, Contributor/Photographer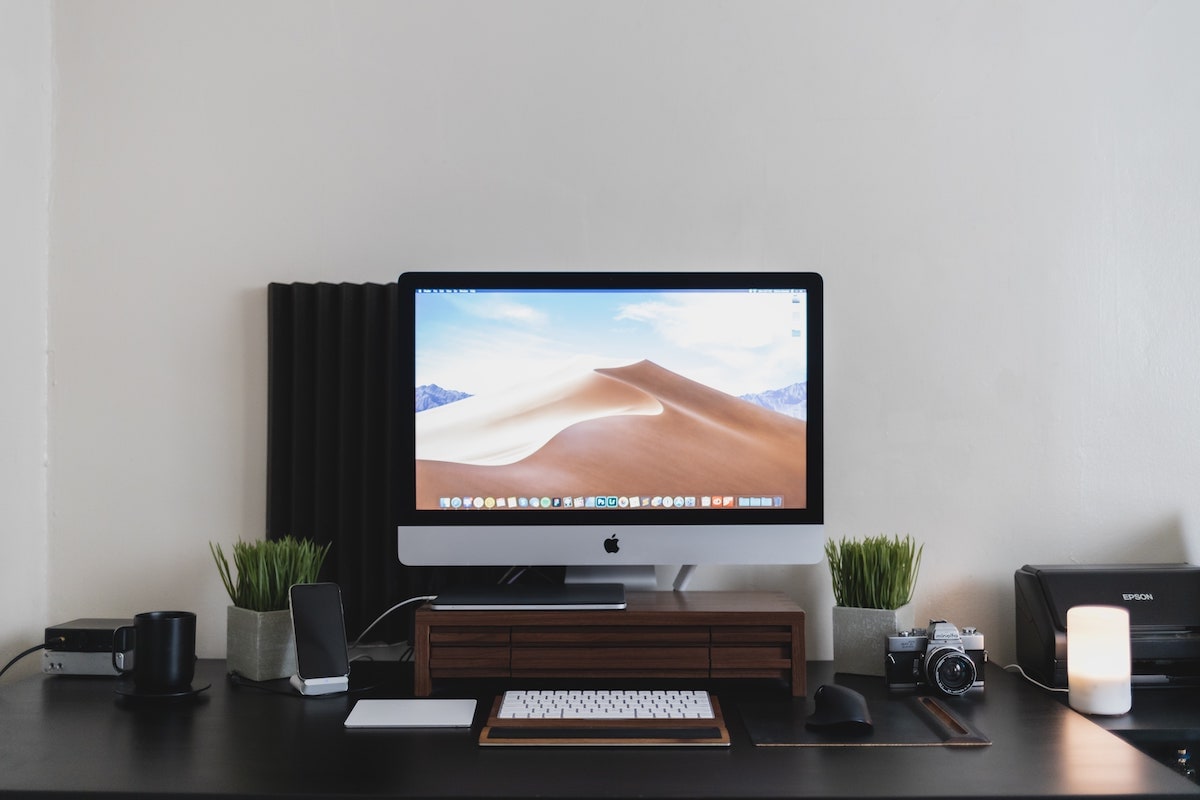 Josh: Marius didn't add any personal commentary to his work-from-home space, so I'll add some in here for him. Admittedly, I tried to out-do him on desk cleanliness. But I think I came up short.
Rosemary Orchard, Contributor
Rose: Ok, here's the setup! I'm currently working out of a wardrobe, so there's no space for anything else!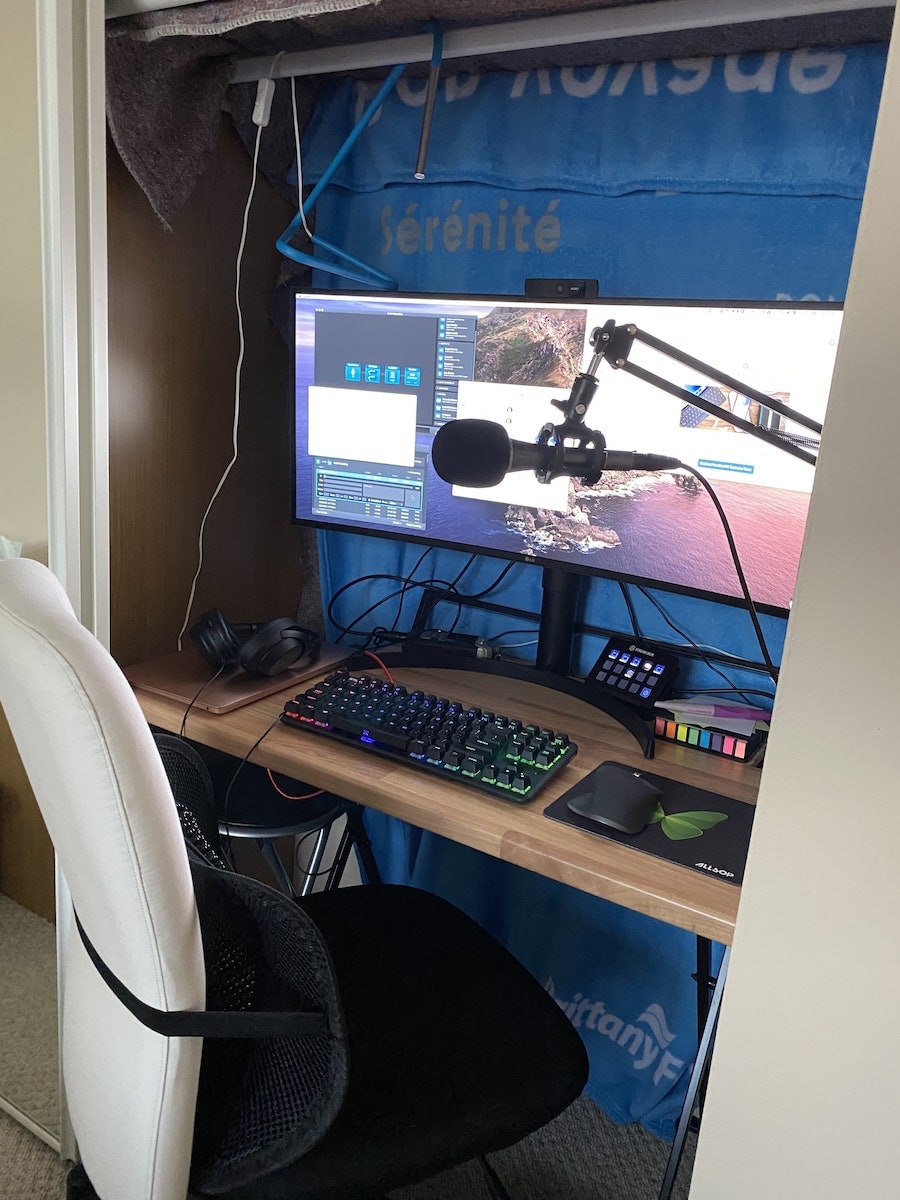 Chris Gonzales, Contributor
Chris: Our family lives and travels in an RV, so my wife and I don't have a dedicated "workspace" per se. We usually do our work at the dinette table like you see above, though sometimes one of us will move to the master bed or couch, or even go sit outside in a camp chair when the weather's nice.
Work From Home….
30% Off The WFH Course Bundle
Get our task and time management mini-course (All the Things (Analog)), plus with our Day One in Depth screencast course. This "WFH Bundle" is 30% off right now.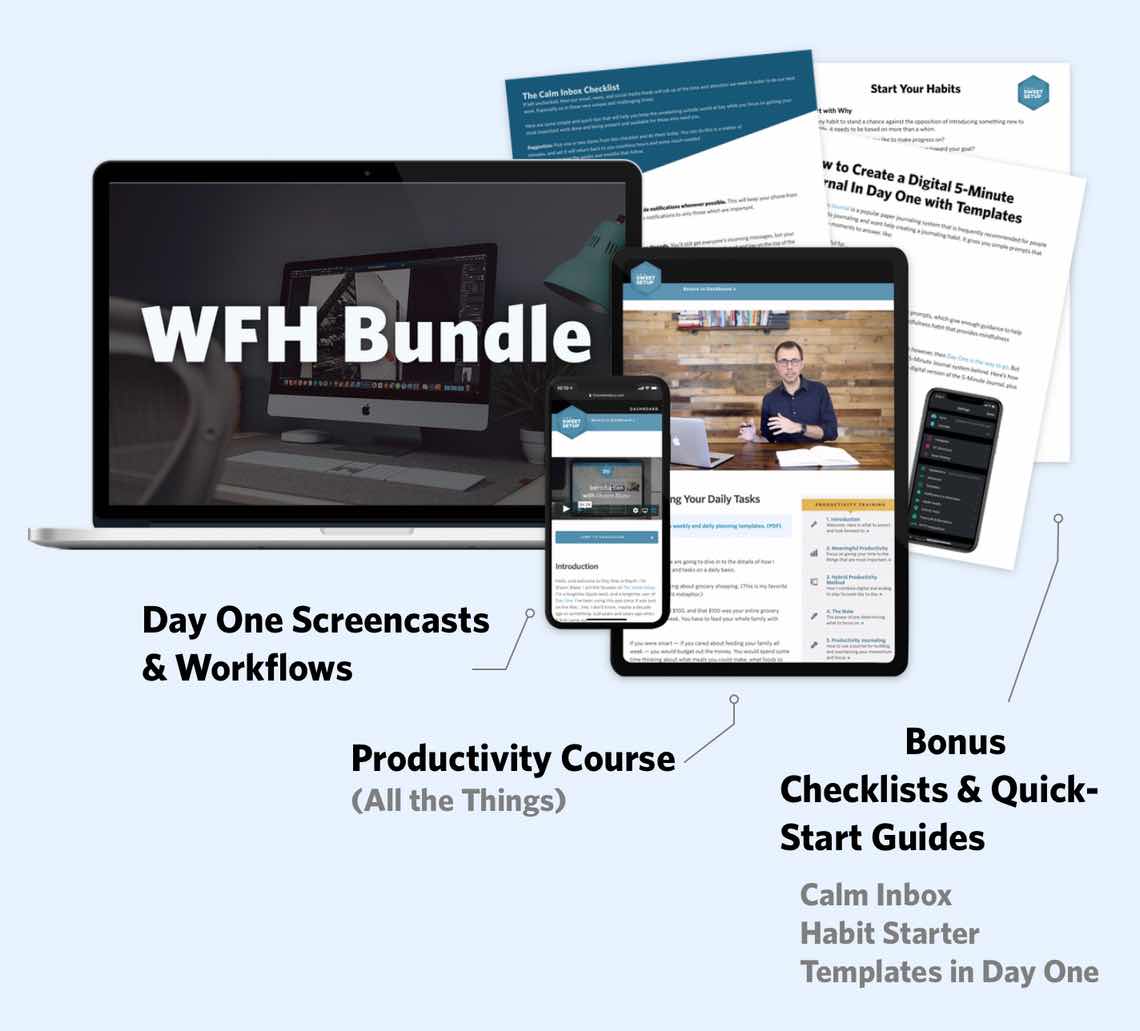 We'll show you…
How to schedule your day for maximum productivity in the least amount of time. This is especially helpful if you and your significant other are juggling responsibilities of kids and home life while also trying to do work.
Weekly planning and reviewing. A great way to get ahead of your upcoming week so you can be prepared and have a priority of what needs to be done.
Custom Productivity Templates: These are a few of the main PDF templates that you can print out or use on your iPad in order to follow along.
How to use Day One, the best journaling app out there: which can help with reducing stress and anxiety, celebrating your wins each day, and keeping a log of what is happening in life right now.
Bundle Bonus: The WFH Bundle also includes three bonuses: The Calm Inbox Checklist, the Habit Tracking Quick-Start Guide, and Using Day One templates for the 5-Minute Journal.
Normal Price: $68
WFH Bundle Price: $47 (You save $21)