Jeffrey Abbott's Mac Setup
January 21, 2019
Every week, we post a new interview with someone about what software they use on their Mac, iPhone, or iPad. We do these interviews because not only are they fun, but a glimpse into what tools someone uses and how they use those tools can spark our imagination and give us an idea or insight into how we can do things better.
New setup interviews are posted every Monday; follow us on RSS or Twitter to stay up to date.
---
Who are you and what do you do?
My name is Jeffrey Abbott, and I'm the Senior Editor here at The Sweet Setup. By day, I work from my home office as a project manager for an IT company, and I'm also a regular contributor for The Pen Addict. Needless to say, I spend a lot of time with this setup.
What is your current setup?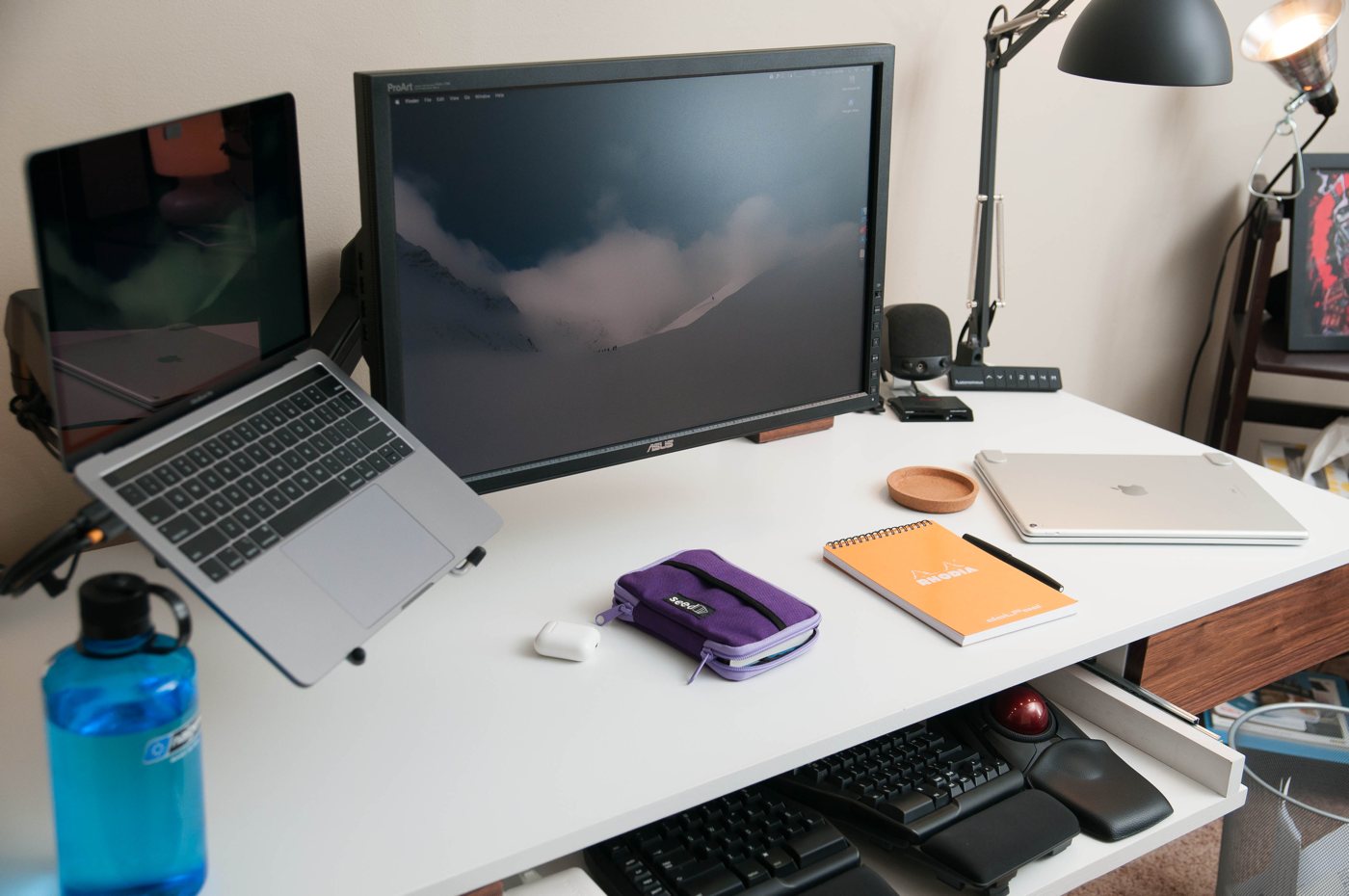 I'm currently using a 2018 13.3″ MacBook Pro with Touch Bar in Space Gray. This is the mid-grade i5 model, but it has 16GB of RAM and a 512GB SSD. Coming from a 2013 11″ MacBook Air, this computer is such a luxury and I enjoy every minute with it. I've had a really good experience with the keyboard so far, and I hope to avoid any troublesome issues down the road.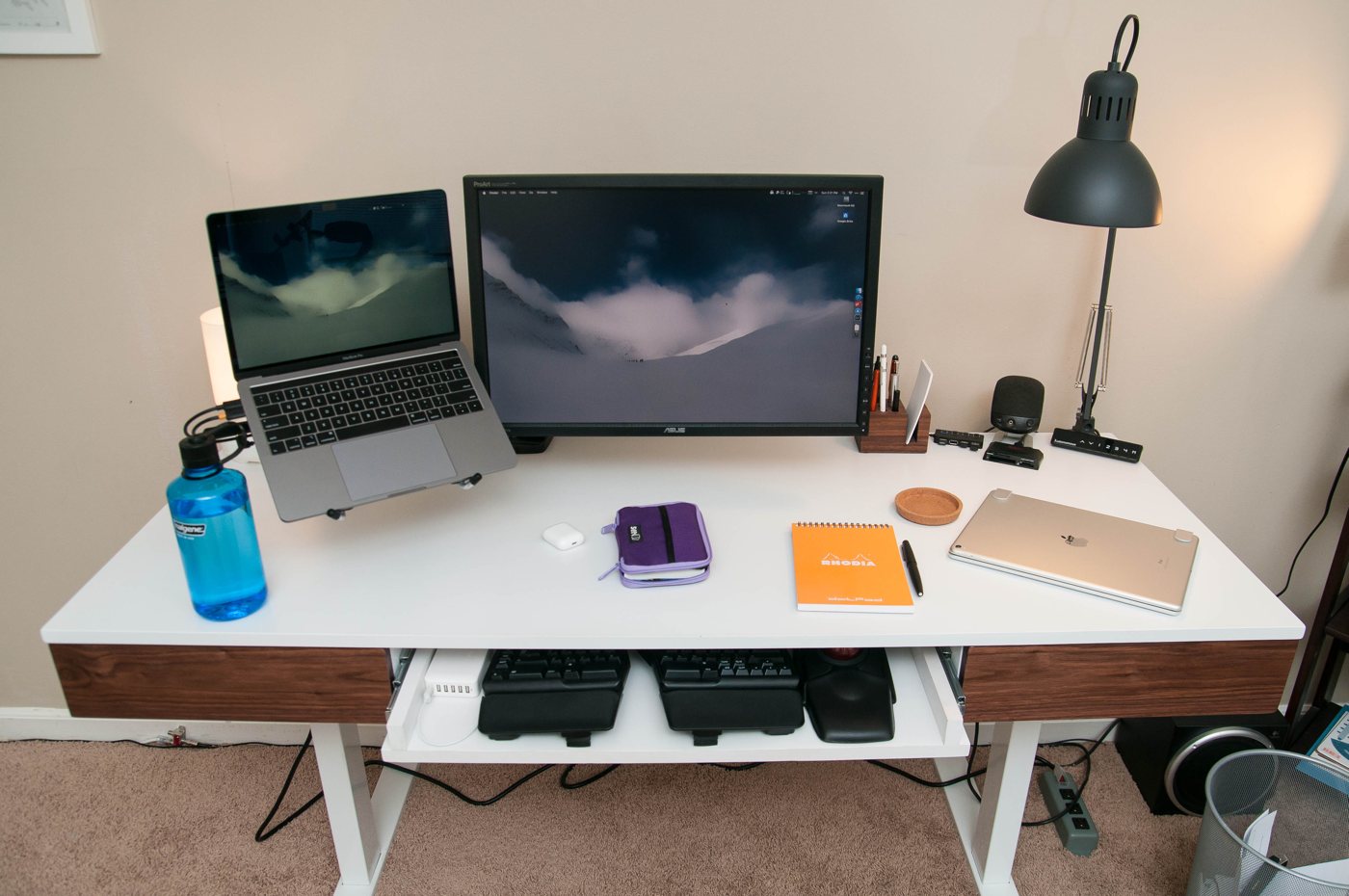 I sometimes connect the computer to a 24″ ASUS monitor, but I don't use it much any more since it isn't a 4K resolution. Comparing the monitor to the Retina display on the MacBook means I'm normally just using the laptop screen most of the time. Since both are mounted to adjustable arms, it's easy to swing things around to fit my mood.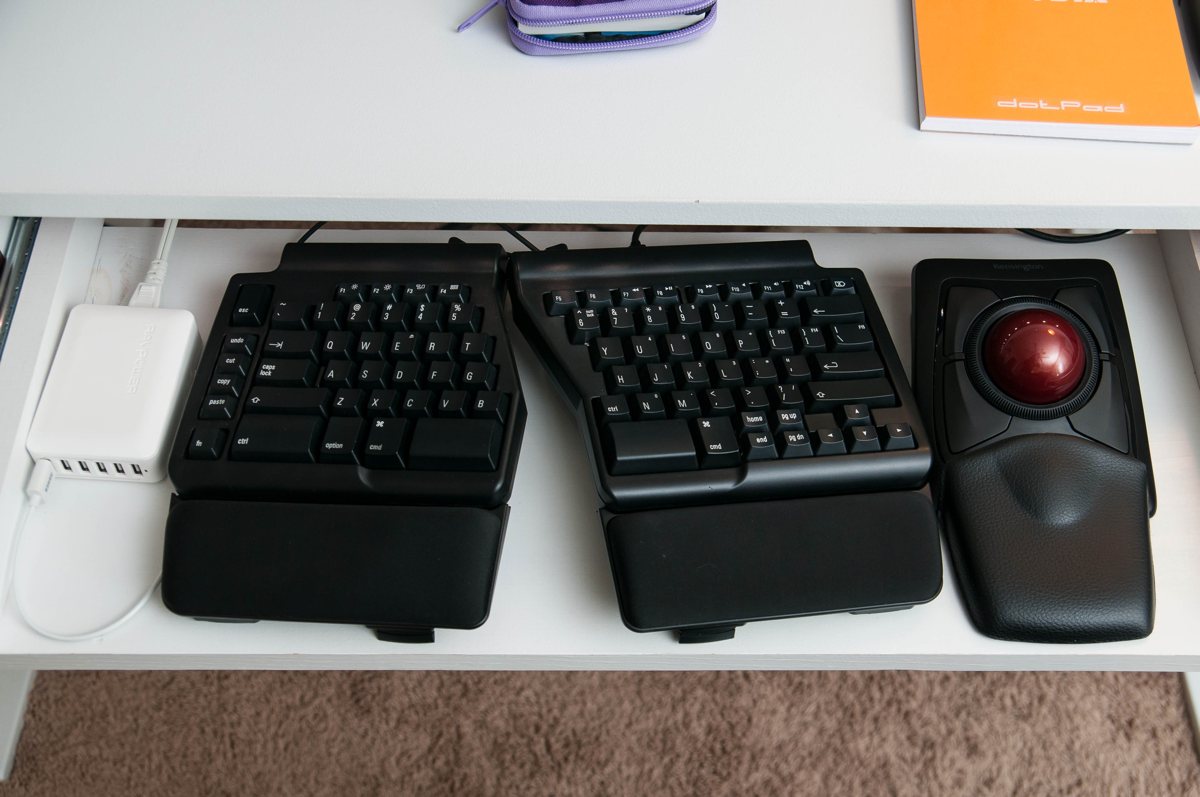 For inputs, I'm currently using a Matias Ergo Pro keyboard and a Kensington Expert trackball mouse. Since I've dealt with RSI in the past, I use these fiddly tools to make sure the issues stay in the past. Depending on how my wrists feel and whether the Matias is behaving, I'll swap in a Microsoft Sculpt Ergonomic or a Ducky One TKL with Cherry MX Clear switches. For me, the Sculpt is the most comfortable keyboard I've ever used, but the mushy keys are boring. The Matias Quiet Click switches are beautiful, but I've had a lot of problems with faulty switches on three (!) different keyboards. Matias customer support is awesome, but I have a hard time recommending a board that has so many switch quality issues. I've gotten to the point where I'm very comfortable taking apart the board and replacing single switches that are causing problems, but it's also fair to expect a technically perfect board when it costs $200. It's a fun and tactile split keyboard that I really enjoy using (and practicing my soldering skills on…), but the Ducky One is another favorite. The stiff but tactile switches feel so great, but they aren't as noisy as the Cherry MX Blue switches. Since I'm on calls a lot, I can't use loud keyboards. The clears are perfect.
The Expert trackball mouse is something I was very hesitant about purchasing, and even a week after using it. After about two weeks, I fell in love with the thing and continue using it despite how weird it looks. The Kensington drivers for Mac are workable, but I use SteerMouse to multiply the functionality. I love being able to use the trackball as a scroll ball, which is only possible with SteerMouse.
The desk is a custom build that I put together last September. It's a custom design that fits my needs perfectly. The desk frame and drawer frames are made from poplar, the drawer fronts are made of walnut, and the top is made of MDF. I bought the hardwood from a local lumber mill. My favorite part of the desk is the drawer fronts. At some point, I want to complete the front with a cover for the keyboard tray. I just need to make the time to make that happen.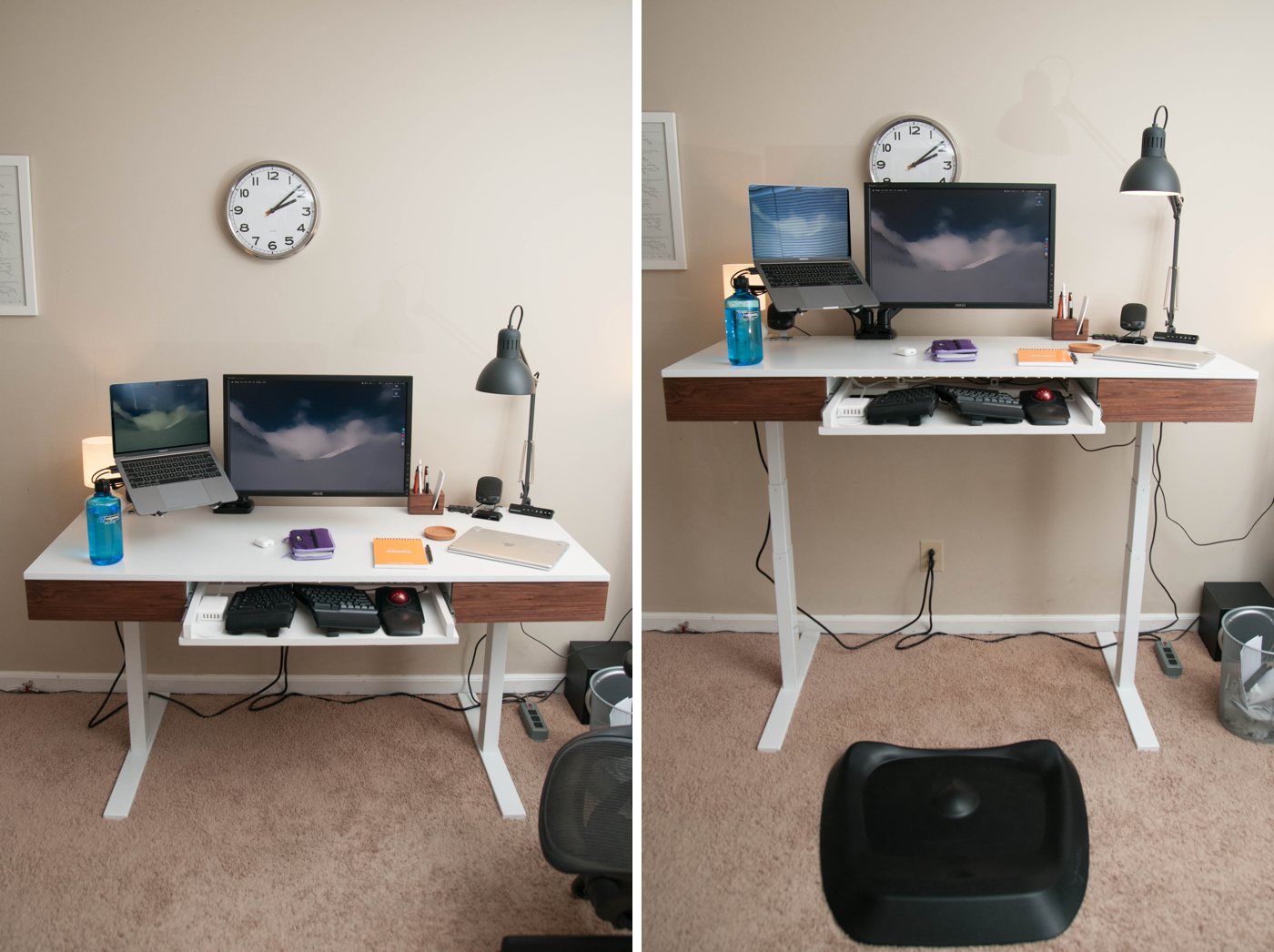 The desk sits on top of an electric sit/stand frame from Autonomous. It works great and I love switching postures through the day depending on what I'm doing. When I'm sitting, I use an old Herman Miller Aeron. When I'm standing, I use a Topo mat from Ergodriven.
Where can we find your macOS wallpaper?
All of my wallpapers come from Unsplash. I use the Unsplash Wallpapers app to automatically update my wallpaper every day. The app is glitchy, but it does the job.
What software do you use and for what do you use it?
I use several apps during the day, as well as a lot of small utilities that make my computing experience more comfortable or efficient. I'll start with the apps.
Apps
Spark: For email! My mail client of choice is Airmail, but I'm giving Spark a long test drive since Airmail has gotten a bit buggy for my tastes.
Safari: My browser of choice with DuckDuckGo set as the primary search engine. I can't live without the bangs!
Todoist: I've been using Todoist for work over the past three years, but I recently moved all my personal projects to Todoist as well over the past four months. I've really enjoyed the central management, great design, and karma system of Todoist.
Bear: This is such a great app, and it excels at taking notes during meetings, drafting up emails, and taking any other kind of note during the day or night.
Busycal: In my line of work, I have to manage several different calendars. Busycal has been the only one that can handle my requirements, and I absolutely love the app. The iOS version leaves a lot to desire, but the Mac app is a perfect calendar app that always manages to connect to various corporate intranet Exchange servers when I'm working for a client. Mail.app and Fantastical just can't do that.
Franz: There are many variations on this concept, but Franz pulls it off the best. This is a central chat client (basically a browser window with shortcuts) that I use to run three different IM services I need for work and different jobs. It beats have three separate apps open on my desktop.
Sublime Text or Atom: I manage a technical documentation group as part of my job, and we use AsciiDoc to write our materials. When I'm writing or editing, I use one of these text editors to get the job done. I love Sublime Text for how fast it works, but I love Atom for the built-in git UI tool.
Zoom: Aside from email, Zoom is probably the app that I spend the most time with, even though I'm not actually interacting with it. Most of my days are full of meetings, and Zoom is our tool of choice to bring people together. As far as online conferencing tools go, it's actually not bad.
Spotify: Spotify is my music player of choice, and it's something I use throughout the day if I'm not in meetings. I'll either use headphones or Airfoil to wirelessly send the audio to an old Sherwood receiver that I have connected to an old 2010 Mac mini. Aside from running our Plex server and a print agent, this is about all I use the mini for nowadays.
Pixelmator: When I edit and prepare images for The Sweet Setup, it happens here. It's a no-fuss image editor with all the tools I need but without the hassle of Photoshop.
Byword: I have really tried (several times) to get on the Ulysses train, especially with all the high praise and training our team give it, but it just never has clicked for me. I enjoy using my Mac's file system to organize my files, and I've been using Byword for close to nine years now. I probably won't even think about switching until it eventually stops working.
OmniPlan: I don't get to use this app as much as I would like, but I highly recommend this scheduler for project management professionals. It provides the utility of Microsoft Project, but it's cheaper, so much easier to use, and it works exclusively on macOS. It's a joy to use, and that's saying something for such a boring business genre.
Microsoft Office: I don't have much to say about Word, Excel, and PowerPoint aside from I never enjoy using them.
Adobe Lightroom: Oh boy. I'm currently using Lightroom 4, so I'm really far behind. The current version does everything I need, but I'll likely upgrade to CC this year once I upgrade my iPad and pick up a SD card reader. I'm really interested in moving my photo editing workflow to my iPad as I think that's the much more enjoyable tool for this kind of work.
VirtualBox: From time to time, I need to run a Windows or Linux machine for part of the day. To do that, I use VirtualBox. It's not sexy, but it gets the job done. If I spent more time in virtual machines, I would seriously consider a tool like VMware Fusion or Parallels, but my current level of use doesn't justify the cost.
Utilities
How would your ideal setup look and function?
I'm pretty close to my ideal setup right now. The only thing that I'd like to replace in the next year is so is my monitor. Something 4K and about 27″ would be the perfect addition to round out this setup, but I'm doing just fine without it.
---
There are more Sweet Setup interviews right here.
Want to share your setup? We'd love to hear from you. Just fill out this form with some basic information and we'll be in touch.
---
Wait. There's a Bonus….
Custom Productivity Templates
We have a set of custom productivity templates that work well with the iPad app, GoodNotes. And if you want to try them out, we've put together a free guide that can help you.
We'll show you…
How to create and save custom page templates in GoodNotes.
How to use those page templates to transform GoodNotes into your own productivity notebook (or any other type of notebook replacement).
Plus, we also have included a couple of our custom productivity templates for you to get started with. These templates are right out of our popular productivity course.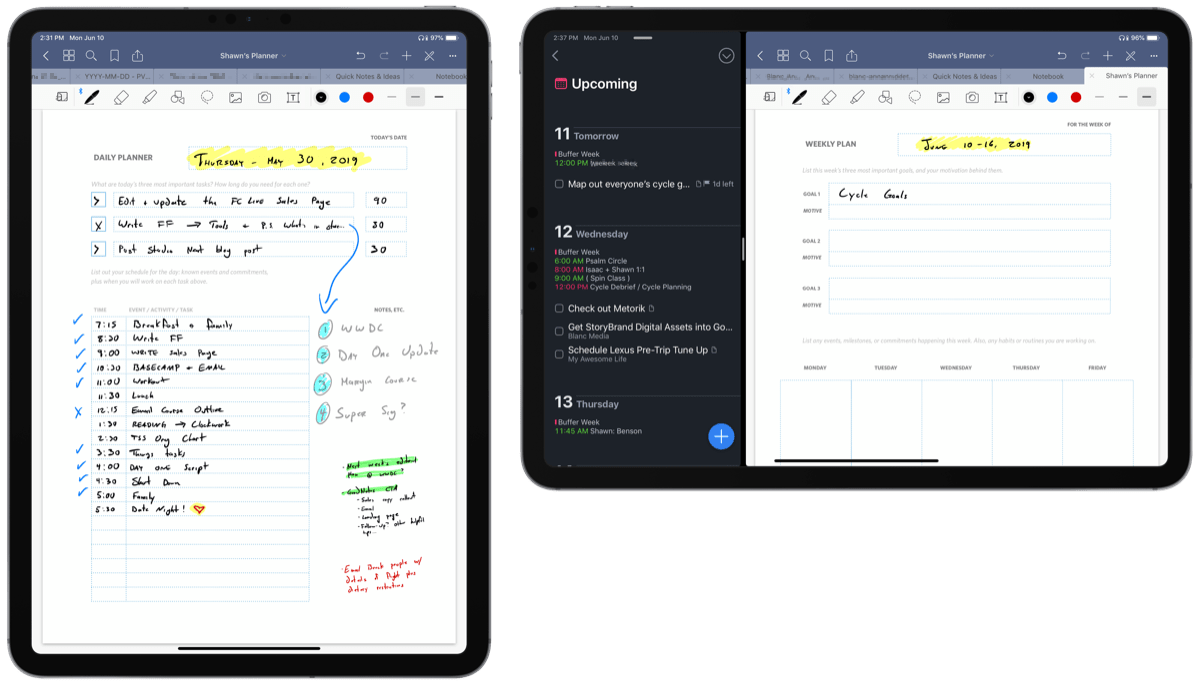 The custom templates and the guide are available for FREE to our email subscriber community. And you can get it right now. By joining the Sweet Setup community you'll also get access to our other guides, early previews to big new reviews and workflow articles we are working on, weekly roundups of our best content, and more.