The Sweet Setup of Nick Heer
December 23, 2013
Every week we post an interview with someone about what software they use on their Mac, iPhone, or iPad. We do these interviews because not only are they fun, but a glimpse into what tools someone uses and how they use those tools can spark our imagination and give us an idea or insight into how we can do things better.
New setup interviews are posted every Monday; follow us on RSS or Twitter to stay up to date.
---
Who are you and what do you do?
I'm Nick Heer. I'm a freelance designer, occasional front-end developer, student at the Alberta College of Art + Design, and I write Pixel Envy in my spare time.
What is your current setup?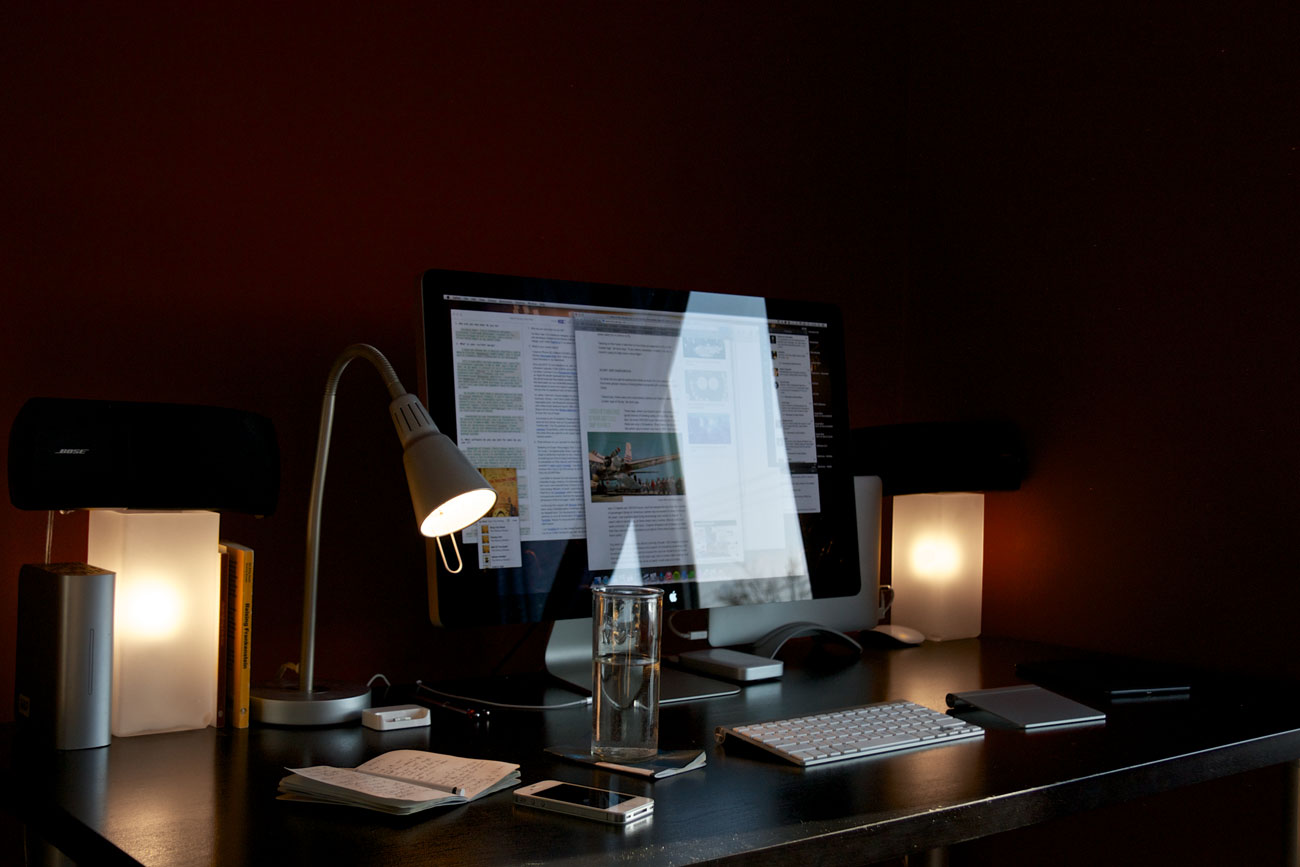 I have an iPhone 4S, a Retina iPad Mini, and a Bang & Olufsen Beomaster 2400. I usually have a mug of coffee on my desk, but it's a dry, wintry day in Calgary, so I have a glass of water instead. I use an old, "used" Field Notes notebook as a coaster. But I think you're probably most interested in my Macintosh.
It's a mid-2012 13-inch MacBook Air, with the i7 processor upgrade, 8 GB of RAM, and a 256 GB SSD. At my desk, I connect it to a Thunderbolt Display (ballin'!), an Apple Bluetooth keyboard and Magic Trackpad, and the aforementioned Beomaster amplifier. Connected to the Beomaster are two bookshelf speakers which I'm too embarrassed to name and hope to upgrade soon. I will tell you that my speakers have no highs and no lows.
An aside: I feel that I should explain my lack of clicky keyboard. Simply, I can't find a clicky keyboard that is reasonably quiet, has Bluetooth connectivity, and is sold with a Macintosh keyboard layout. After writing this, Shawn let me know that Matias makes one, so I'll have to look into one of those.
Connected to the Thunderbolt Display are two 1 TB external hard drives: one via Thunderbolt, the other via FireWire 800. The Thunderbolt drive holds my precious, precious iTunes library, while the remaining space and the other drive are used for a not-nearly-rigorous-enough backup system.
What software do you use and for what do you use it?
Speaking of iTunes ("Nice segue, Nick."), I use that for my music. I've played guitar since I was very young; music is extremely important to me. I have a not-to-brag-or-anything-but-kind-of-large local library, much of which is unavailable on Rdio (Spotify and Pandora are not available in warm, sunny Canada). I use XLD to convert lossless files I buy or rip CDs (using my old MacBook Pro) into V0 MP3 files.
I use Safari to browse the web because, after a couple of miserably-buggy versions, it's extremely stable, very fast, and much more beautiful than Chrome or Firefox (and more energy-efficient, to boot). I post links with Safari to Pixel Envy via Linkmarklet, which I restyled so that its compose area exactly matches the typography and dimensions of the final page; I really dislike orphans.
I write long-form pieces with Byword; lately, though, I've been using a fantastic piece of software called Markdrop. For development, I use a somewhat arbitrary on-and-off combination of Coda 2 and TextMate. Maybe it's because both of their icons are plant-based.
I use Tweetbot for my Mac-based tweeting needs — if you're on Twitter constantly, as I am, it's simply the best Twitter client for Mac. Don't take my word for it — ask John "Very Nice" Moltz, who actually knows what he's talking about.
I keep up to date with my favourite sites with a neat little application simply called RSS, which sits in my menu bar and notifies me when a site has published a new article.
I use an awful lot of other software on my Mac; I could probably bore you to tears listing it all, if I haven't already. I adore Fantastical, which I use in combination with OS X's Calendar; I tolerate Mail because I haven't found a better replacement. I also use Photoshop CS5.1 because, sad as I am to say it, there is no equal. If an indie developer made a better version of Photoshop, I'd buy it in a heartbeat. I've tried Acorn and I bought Sketch but, as of today, neither one of these is sufficient.
How would your ideal setup look and function?
Speaking of hypothetical setups ("Really, Nick? Another terrible segue?") my ideal setup would defy the laws of physics. I'd love to have a virtually infinite amount of internal storage and RAM so I never have to worry about them running low. I still store a lot of things locally, so that's very important to me.
More realistically, there are a lot of small things that irk me slightly. I'd like for the Thunderbolt and MagSafe ports to be on the same side of my MacBook Air, so I don't have to do the weird splayed cable thing when connecting it. I'd like an IPS display in my Air (obviously, I'd love to see a Retina display, but I think an IPS panel is more practical right now). I'd like a headphone port on my Thunderbolt Display, so I'm currently shopping for a USB-based digital-to-analog converter to leave connected full-time.
Truth be told, I am delighted with my setup. Its fan noise is imperceptible, yet it is ridiculously powerful. It wasn't too long ago that you would be making a serious performance sacrifice by purchasing a laptop instead of a desktop; now, for most tasks, a MacBook Air is more than sufficient. The physical space is quite nice as well: my desk is right beside a large window, which I like to open in the summertime for a warm breeze. It's a peaceful, wonderful area in which to work.
I quite like the idea of writing while suspended in Low Earth orbit, though.
---
There are more Sweet Setup interviews right here.