Steven Aquino's sweet iPhone setup
October 13, 2014
Every week we post a new interview with someone about what software they use on their Mac, iPhone, or iPad. We do these interviews because not only are they fun, but a glimpse into what tools someone uses and how they use those tools can spark our imagination and give us an idea or insight into how we can do things better.
New setup interviews are posted every Monday; follow us on RSS or Twitter to stay up to date.
---
Who are you and what do you do?
My name is Steven Aquino, and I'm a freelance tech writer who covers iOS Accessibility. I've contributed to numerous publications and websites, such as The Magazine, Macworld, TechCrunch, TidBITS, and more. ("More" includes this piece for The Sweet Setup.) I also publish my personal site, Steven's Blog. When I'm not writing, I'm co-host of Accessible, a weekly podcast focusing on accessibility on iOS.
Prior to becoming a full-time, self-employed writer, I worked 11 years with my then local school district, where I worked as a classroom aide to preschoolers with special needs.
What iPhone do you have?
I have a 64GB, silver iPhone 6. My carrier is AT&T.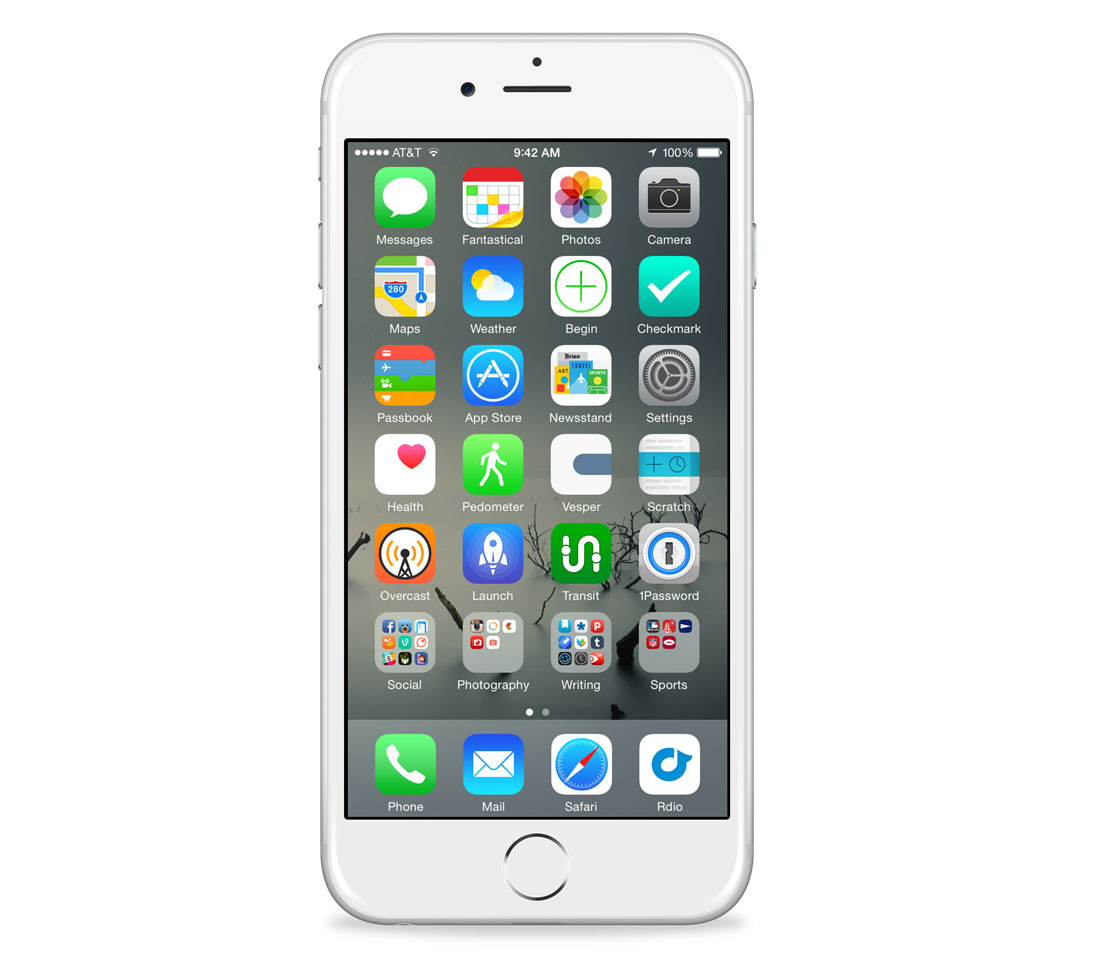 My wallpaper can be found here.
What apps do you use the most, and why?
As I'm a heavy user of both Twitter and, yes, Facebook, I use Tweetbot and Facebook a lot. Tweetbot 3 for iPhone is a terrific app — so terrific that I can't imagine myself using any other client. (I even use the iOS 6 version of Tweetbot on my iPad Air.) In addition, I frequently use Mail and Messages for text messages and email, respectively. And, truthfully, I use my iPhone for phone calls (!) quite often, mostly from my girlfriend and her mom. Thus, the Phone app stays in my Dock. I use Overcast for podcasts and Rdio for music, as well as Apple's built-in Weather app for checking the weather. (It's my opinion that the stock Weather app on iOS is underrated. It does the job for me!)
What apps could you not live without?
I couldn't live without Camera.app. I love Instagram, and along with VSCO Cam, have produced some really great shots. The ways in which Apple improves the iPhone's camera year over year is remarkable, and is a shining example of interplay between hardware and software. More than a telephone and an Internet communicator, my iPhone is my sole camera, and I use it daily.
---
There are more Sweet Setup interviews right here.