Shifts: An iPhone Work Calendar
January 29, 2015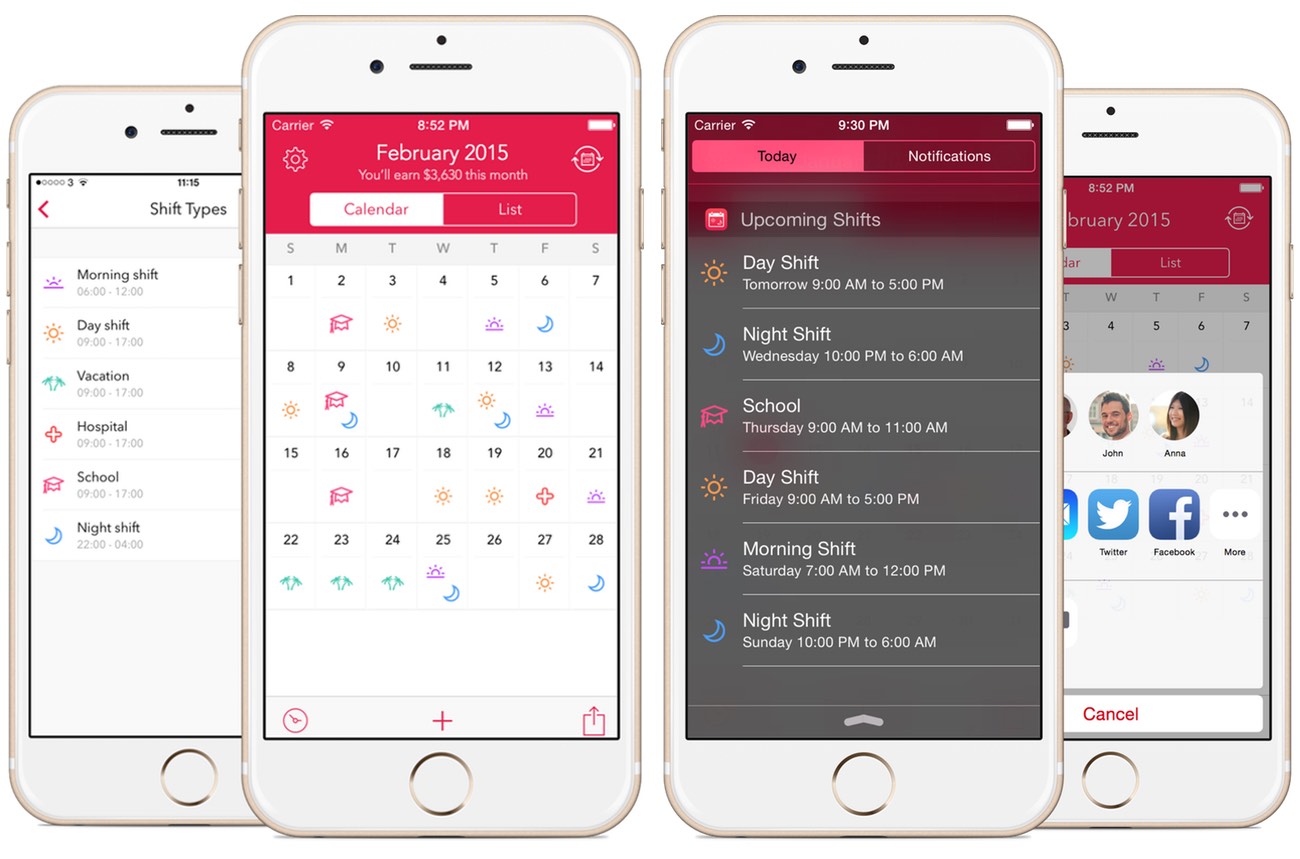 The developers behind the fantastic location-based-reminders apps, Checkmark, have now built an easy way to input your work shifts on iPhone.
The app is called, appropriately, Shifts, and it makes managing an irregular work schedule easy by creating shift types that you can easily apply to your calendar. Once you create the shift types, inputing your schedule is quick and simple.
At first, it was tedious to add all the shift types, especially if you have a crazy schedule. For shifts that start in varying 30 min increments, we had to create individual types, each with a colored icon. It felt like a lot of taps.
Once the shift types were entered, however, inputing our schedule was quick and easy. You simply select the shift type and stamp it on the applicable days. It took a minute to get used to the input method, but we liked it in the end.
You can view your schedule in calendar or list mode and add notes to any day. Opening at Starbucks on Monday, class on Tuesday, and it's all customized and color-coded. You can have multiple shift types in one day, you can even apply rotations for regular shift types like class.
Our favorite feature is importing existing calendars. Once you give Shifts permission, it will add calendars from Apple's Calendar app so you can view the schedules side by side. It is important to note that Shifts doesn't sync data back to the Calendar app or any accounts tied to it. While this isn't ideal, Shifts is a niche tool, specifically built for the task at hand.
Keep in mind that Shifts will require some initial commitment before you start to see its genius. We love the customization and color-coding, and when we saw that it could display events from other calendars, we were sold.
Shifts is on sale for $1.99 for a limited time in the App Store.
Because of it's extremely narrow scope, Shifts doesn't contend with Fantastical as our favorite calendar app for the iPhone (but Shifts isn't trying to take that spot). It's an app that, as they say, does one thing very well.