Set Up Your Drafts Workspaces for an Improved Writing Experience
November 7, 2019
Drafts is an excellent app for note taking and writing, and workspaces are a very powerful feature that can make it even easier to use. It started life as the app where text starts, but with the release of version 5 it became my preferred writing app for nearly everything. Workspaces are the key to that transformation.

A workspace in Drafts can combine three things. Firstly, it filters which Drafts you see through a filter; secondly, it filters to the selected action group, and then finally filters to the action bar (above the keyboard). The latter two can be automatically set when opening the Workspace giving you useful defaults. You can change these options, but if you've already configured your action groups, you might not need to adjust these defaults!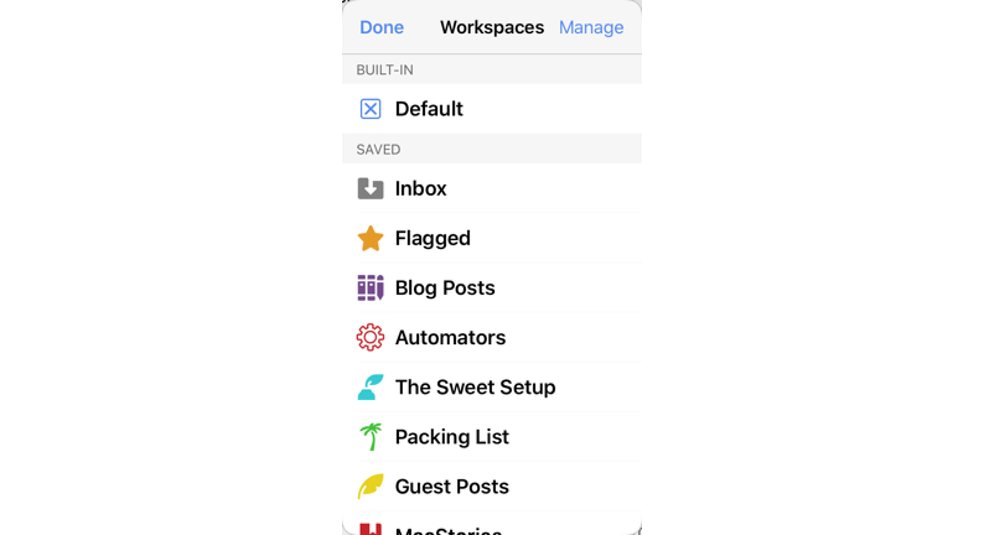 First, open the Drafts list and tap the workspaces icon at the bottom, which reveals a list of workspaces and a button to manage them. Tap Manage to open a modal window. Here you can see all of your saved Workspaces, add your current tag filter as a workspace, or simply create a new workspace.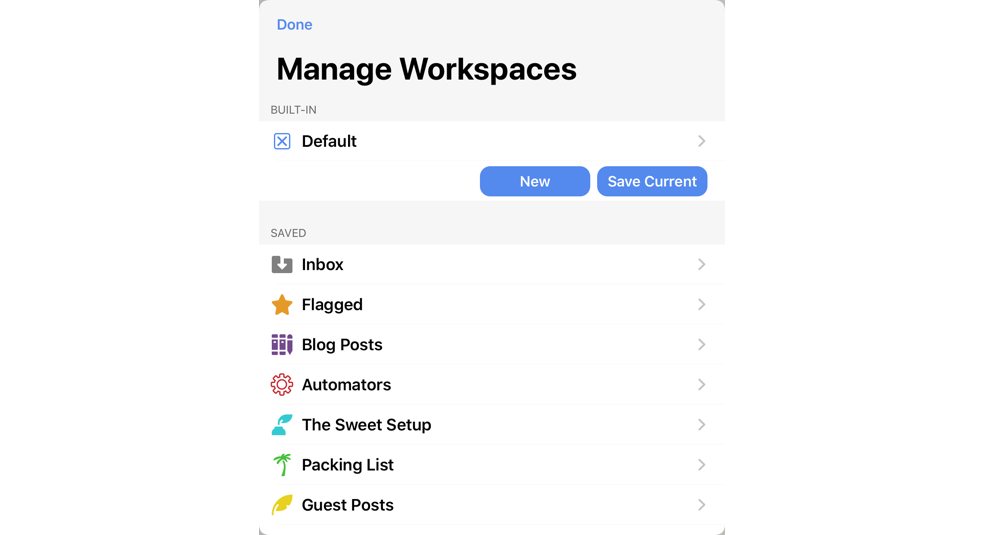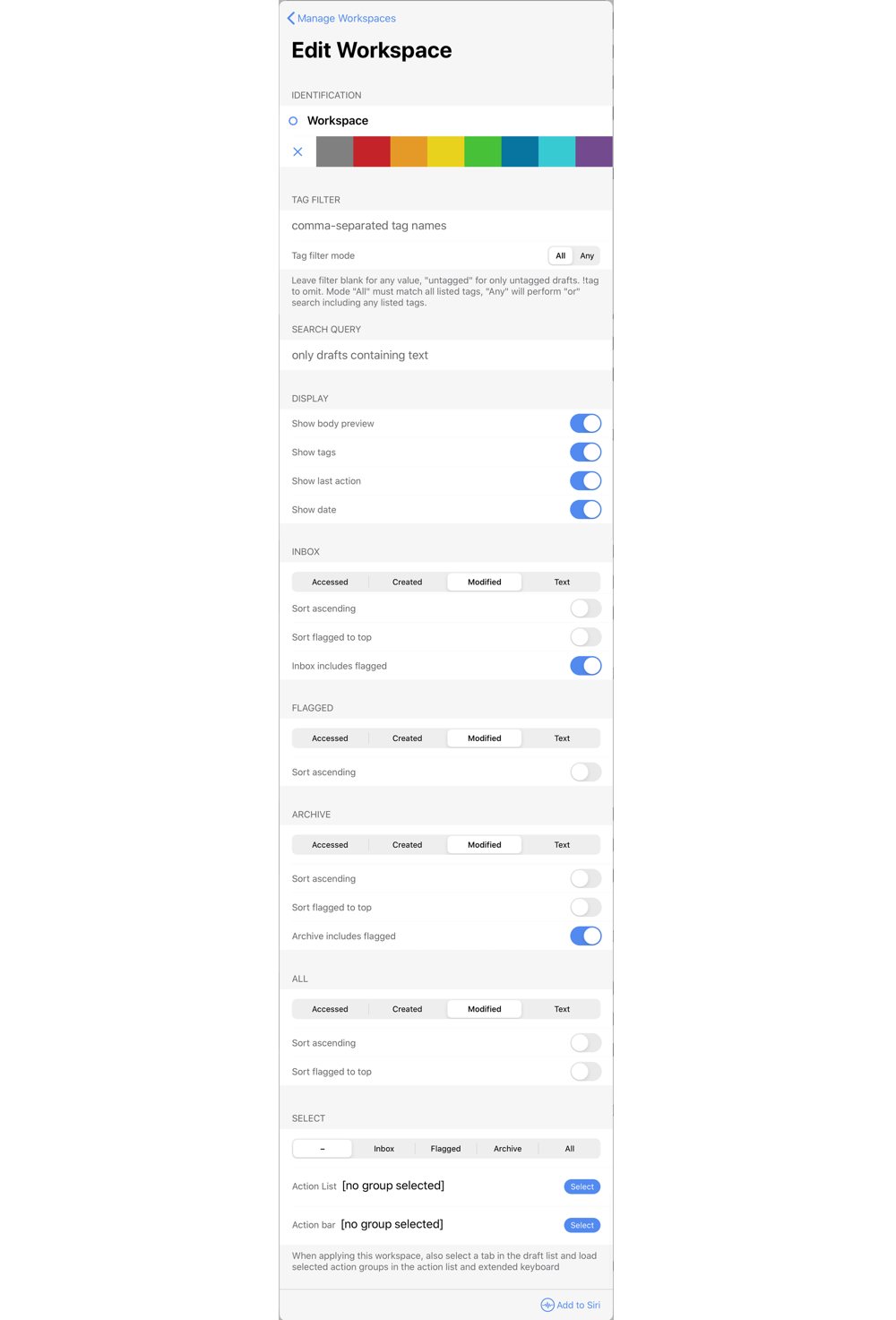 I'll work from the top of the Workspace editor:
Name, icon and color: These help you identify the workspace, which is important in the Workspace tabs. You can set them to show the icon, name, or both. If you use the same icon in the same color more than once, then the icon view might be difficult to use.
Tag Filter: If you created a workspace based on your current tag filter, then this will be pre-populated for you. You can search for untagged and even exclude tags with !.
Search Query: If you want to find every draft you wrote with "Pinocchio" in it without needing to tag each draft, then this is for you.
Display: This section controls how much information is shown in the Drafts list. For example, you can decide if you should see a preview of the body, tags, the last action, or the date as part of the list. For workspaces where you use a tag filter, then hiding the tags is a good idea.
Inbox, Flagged, Archive, All: These are the four tabs of the Drafts list. For each tab, you can set the sort method and direction, and for the inbox you can set if Flagged drafts should be sorted to the top and if it should include flagged Drafts.
Select: Here you can set which tab (from the above four), action list, and action bar should be selected by default when you open the workspace.
Here are some Workspaces I use frequently:
Inbox: This searches for any untagged Drafts, defaults to the inbox, and sorts by most recently modified.
Flagged: This is a shortcut to jump to the Flagged tab and to remove my tag and search queries — by not setting the action bar or action list, I preserve my current selection.
The Sweet Setup: This finds all my articles tagged with The Sweet Setup, sets my action bar to Markdown, and my Action List to a custom one that lets me export the article to Dropbox, insert image references, and share the article with the editors.
---
We have more useful workflow examples right here.
---
Wait. There's a Bonus….
Custom Productivity Templates
We have a set of custom productivity templates that work well with the iPad app, GoodNotes. And if you want to try them out, we've put together a free guide that can help you.
We'll show you…
How to create and save custom page templates in GoodNotes.
How to use those page templates to transform GoodNotes into your own productivity notebook (or any other type of notebook replacement).
Plus, we also have included a couple of our custom productivity templates for you to get started with. These templates are right out of our popular productivity course.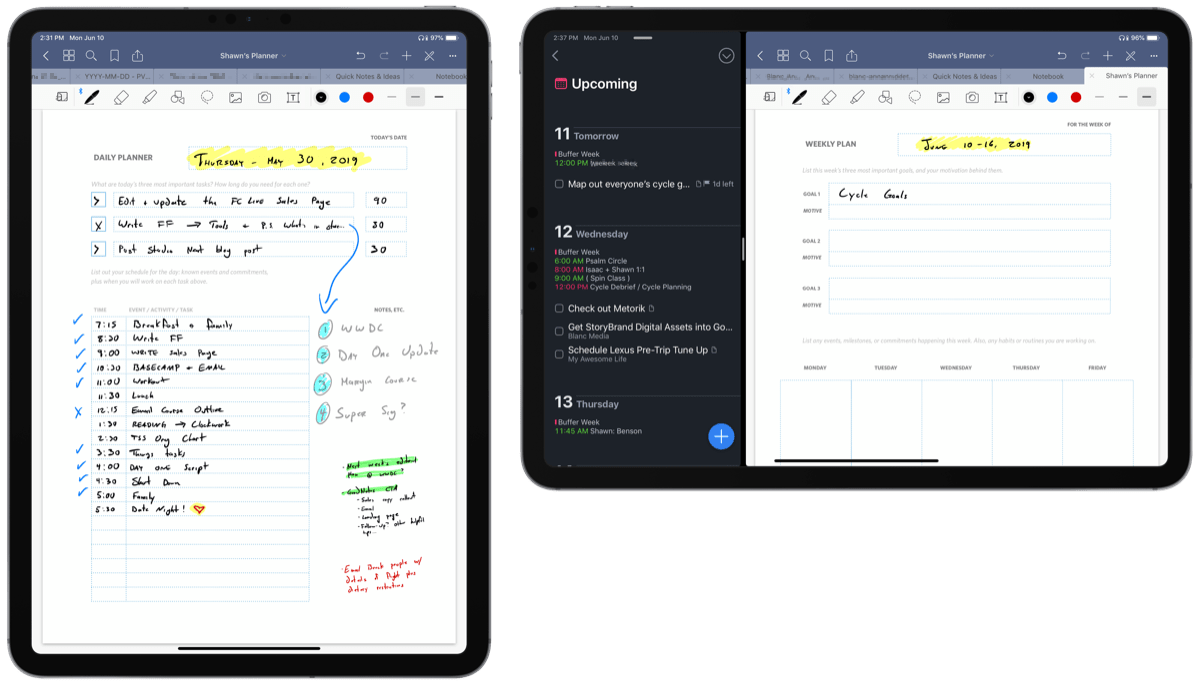 The custom templates and the guide are available for FREE to our email subscriber community. And you can get it right now. By joining the Sweet Setup community you'll also get access to our other guides, early previews to big new reviews and workflow articles we are working on, weekly roundups of our best content, and more.