Sensei: An All-in-One Mac Maintenance Dashboard
February 21, 2020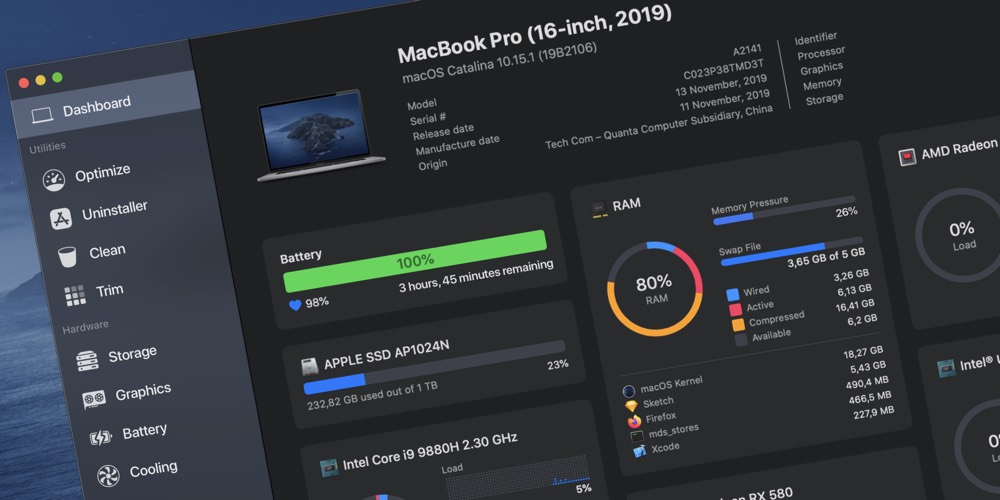 Released in early December, Sensei is a perfect example of an app that can simplify your workflows by bringing together key aspects of multiple other utilities.
It integrates the system monitoring intelligence of iStat Menus, the disk space and uninstaller capabilities of CleanMyMac, and a disk utility module that can analyze your drive's health and perform benchmarks to evaluate read/write speeds.
System Intelligence
Sensei is developed by Oskar Groth, a talented Swedish developer known mainly for his excellent TRIM Enabler utility—a useful functionality that's now built into Sensei.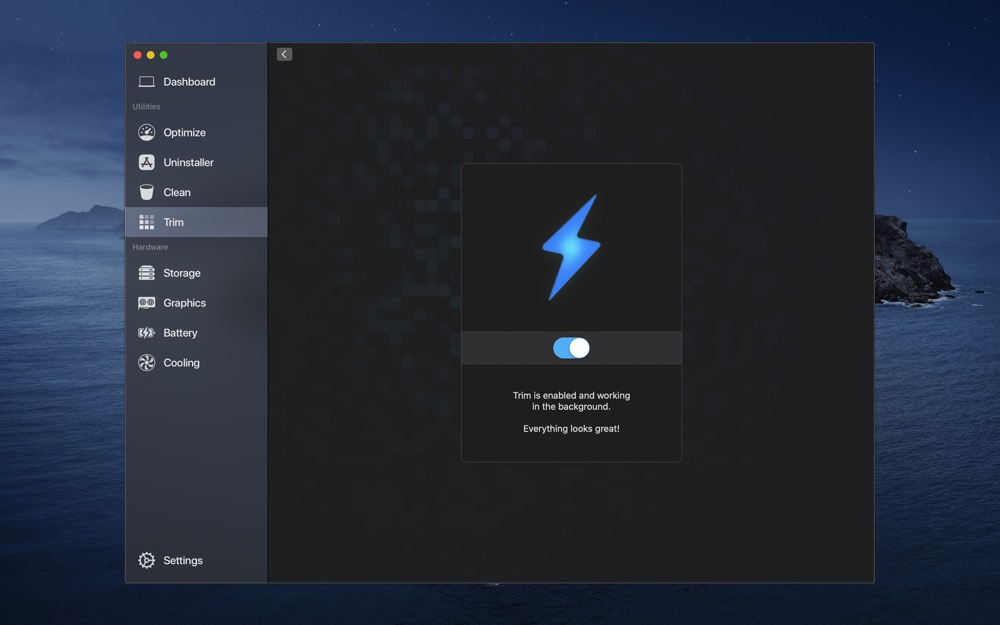 As someone who doesn't use iStat Menus, I appreciated the ability to see telemetry from my Mac's sensors without having to keep an app installed and running just for that purpose. In Sensei's beautiful dashboard view, I can see all key info about my Mac, along with its battery status, RAM and CPU utilization, drive capacity, and graphics load.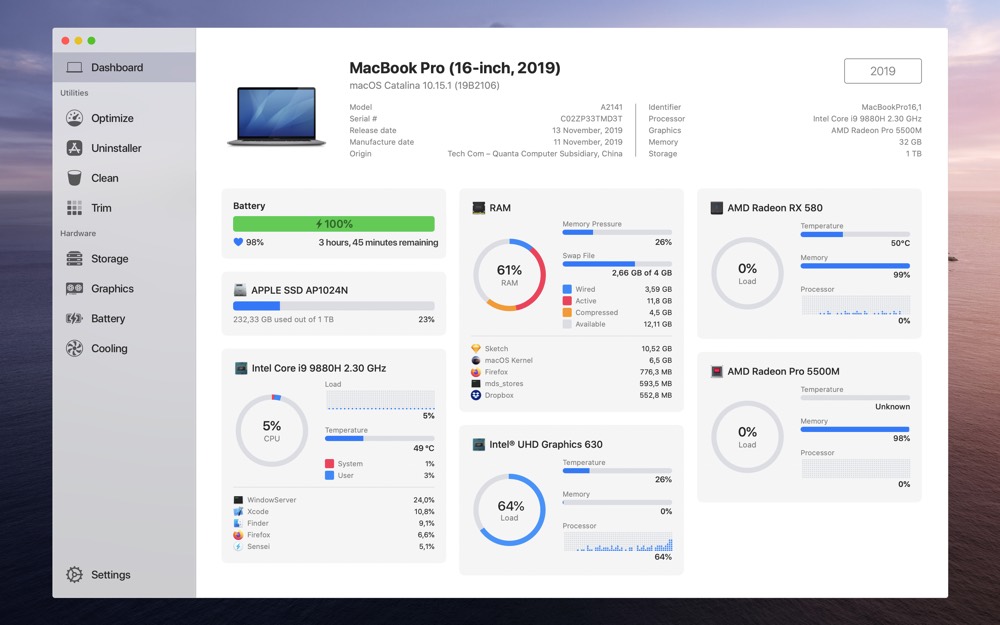 The Hardware section of the sidebar provides more detailed views into each of these areas, along with a dedicated Cooling section that reveals reported temperatures from the internal sensors to help with monitoring system thermal performance. This information is presented in a gorgeous interface that also provides friendly guidance to help you interpret the data. For example, on the Battery page I don't just get the raw battery temperature (currently 31°C), I also get confirmation that this value is within the normal range.
In addition, Sensei provides a module for optimizing performance by taming errant login items and launch agents, plus the ability to quickly tidy up disk space by identifying large files, old caches, and logs.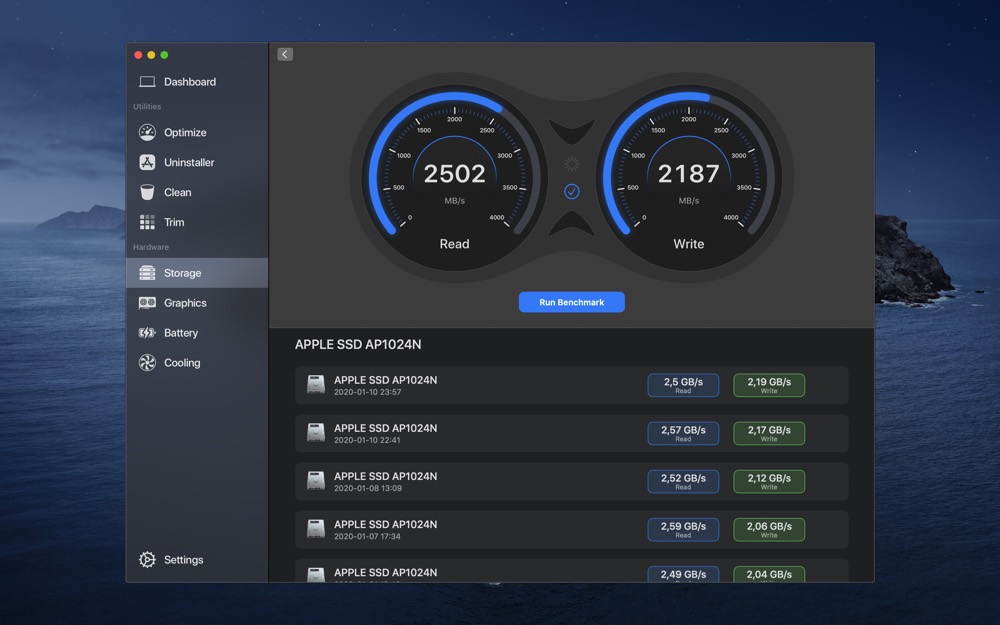 A surprisingly useful inclusion is a benchmarking tool for measuring disk speeds. I used to use BlackMagic's utility for this, but it hasn't been regularly maintained, and again I prefer not to keep multiple little individual apps installed if I can have just one — like Sensei — that consolidates multiple handy features.
Concerns & Shortcomings
While I haven't run into any problems in my usage thus far, Sensei does have a few oddities that I hope to see addressed in future updates.
For one, it seems like certain metrics — including my internal graphics chip's temperature — can't be measured. I suspect different hardware has different info that can be accessed, but I'd prefer the app gracefully hide any indicators that it doesn't receive data for. Otherwise, it makes me worry that something is wrong when the reality is likely that the component in question simply doesn't report that information.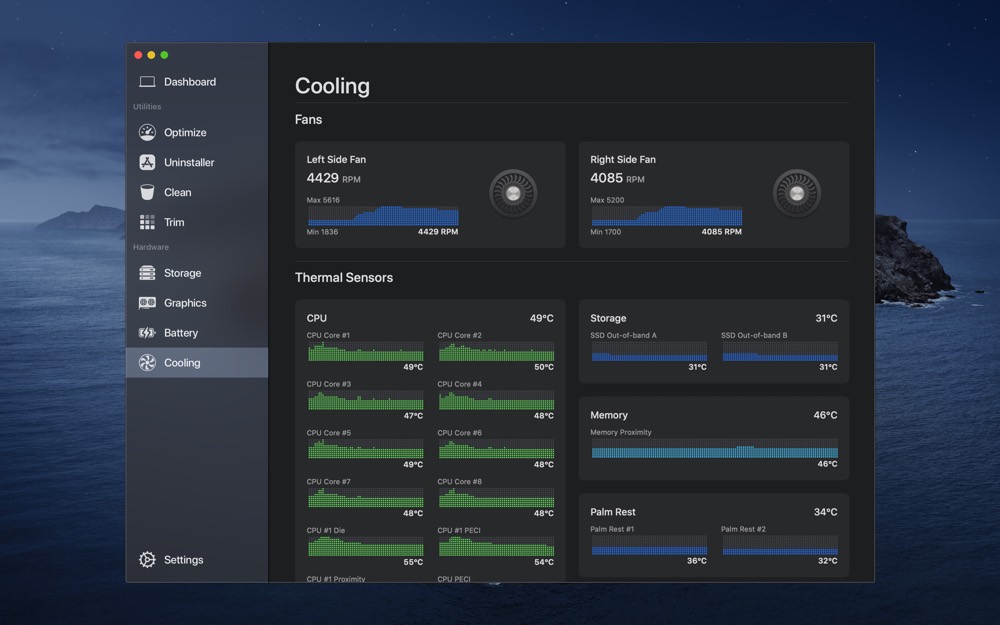 It's also worth considering how it compares to my usual go-to for system maintenance, which has been CleanMyMac X. Sensei provides significantly more system information, has similar uninstaller and cleaning modules, and includes unique features like the SSD Trim Enabler and drive benchmarking tool. But it's also missing many features present in CleanMyMac including malware and privacy scanning, the app updater, and access to the system utilities like maintenance scripts, DNS cache flushing, and disk permission repair.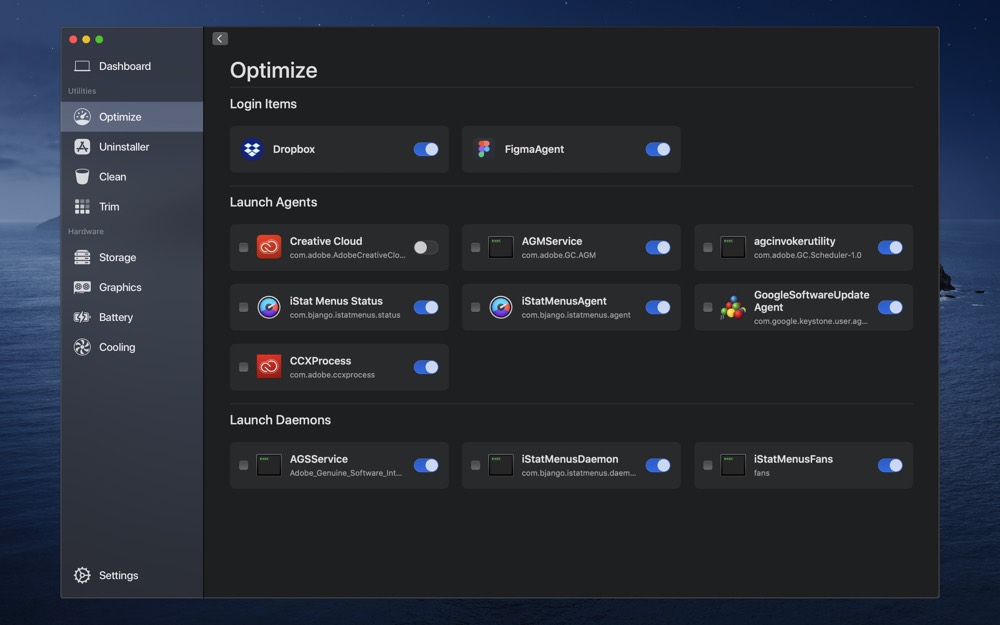 In my case, I care more about those system maintenance utilities than I do about keeping an eye on system telemetry (hence my disuse of iStat Menus), but I also value the ability to easily enable TRIM on attached SSDs and benchmark their performance, so Sensei has earned a place in my toolkit regardless of the overlap with CleanMyMac.
Pricing and Availability
Sensei is available direct from the developer either as a $59 one-time purchase, or as a $29/year subscription — significantly cheaper than CleanMyMac either way. Each license also grants you three seats, so you can use it on multiple Macs. Note that Sensei only works on Catalina and above, so steer clear if you're running older versions of macOS.
If you previously owned the developer's Trim Enabler or Disk Sensei apps, there are upgrade options available.
Striking a useful balance between system information and maintenance, Sensei is a capable utility that's beautifully designed and versatile. I look forward to seeing how it evolves.