Scotty Jackson's Shortcuts-driven iPhone Setup
December 14, 2020
In this series, we post a new interview with someone about what software they use on their Mac, iPhone, or iPad. We do these interviews because not only are they fun, but a glimpse into what tools someone uses and how they use those tools can spark our imagination and give us an idea or insight into how we can do things better.
New setup interviews are posted every Monday; follow us on RSS or Twitter to stay up to date.
---
Who are you and what do you do?
I work at a large Canadian telecom and technology solution provider as part of corporate communications. I lead a team that supports and builds out our intranet (and other communication tools) so that communicators can run campaigns and get messaging to our distributed team.
I'm also a podcaster, co-hosting Nested Folders alongside Rosemary Orchard, where we talk about our approaches and ways of managing productivity and personal effectiveness, and I blog about topics like this, too.
Lastly, I'm a husband, a father of three, and a keeper of two dogs, so even if I get my own stuff in order, there's always plenty of other things to be done!
What is your current iPhone setup?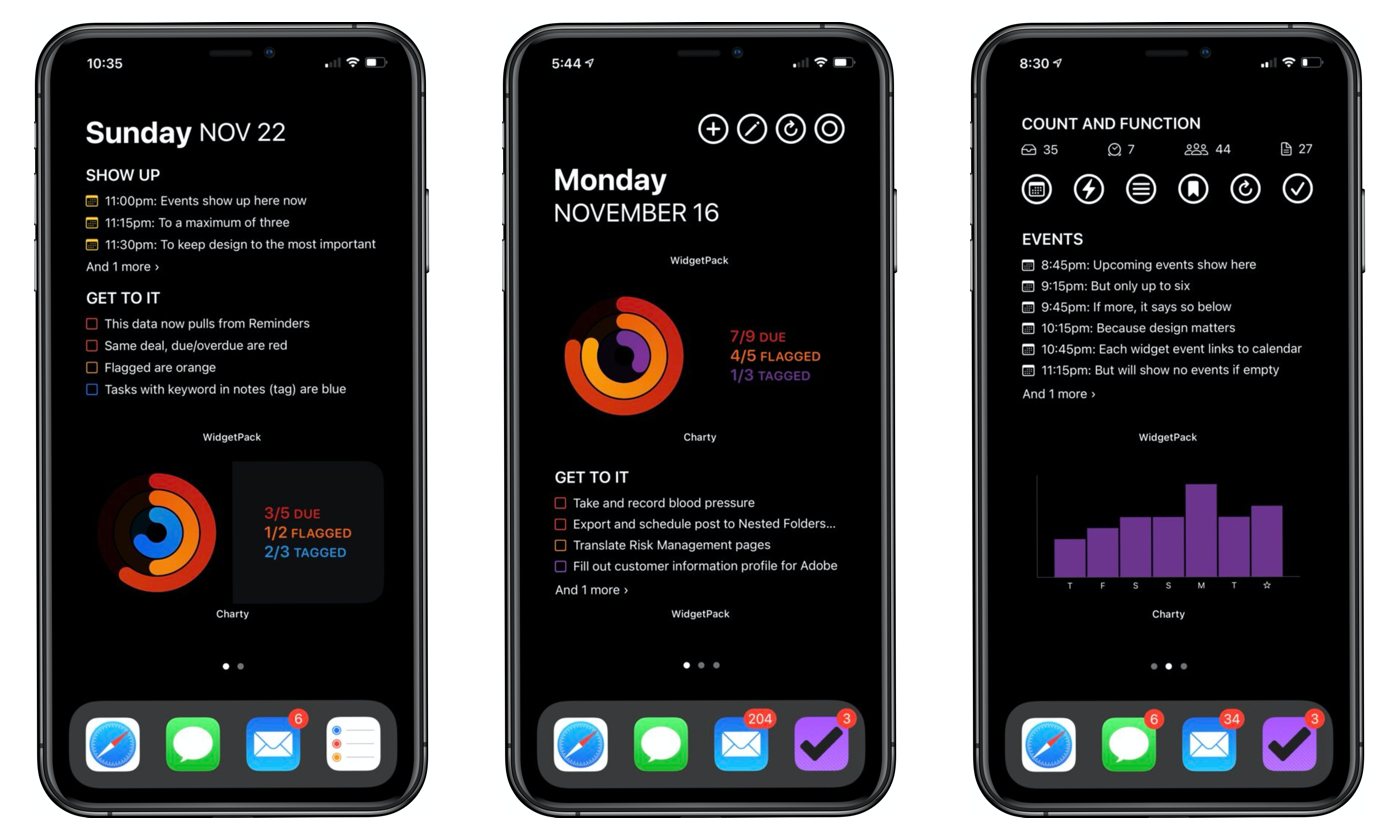 The computer that gets my attention the most is probably my iPhone XS Max, though I've never been 100% about the Max size.
At my desk, I'm most frequently using my MacBook Pro Mid-2015 (the last one with all the ports, fn keys, and no TouchBar) driving a 27″ external monitor that sits next to my iPad Pro 12.9″ (2018), which is the thing that follows me around the house (on its Magic Keyboard) as my primary not-at-my-desk-non-phone device.
What software do you use and for what do you use it?
I'd say that despite the fact that my day is primarily in front of my Mac, my app choices are generally driven by iOS-first considerations, because I'm a Shortcuts junkie. I love to automate and build workflows, but don't know how to code or script, so Shortcuts is my jam.
With Shortcuts in tow, I use:
I love extending Shortcuts, too, with some great apps that add to its capability:
And since a lot of my job is about making and moving information, I'm communicating a lot:
How would your ideal setup look and function?
This is what I am constantly trying to make 😂 I love what widgets have brought to iOS 14, where key bits of information or functions from apps are surfaced right on the Home Screen. If I can pick up my phone, glance at the screen, and then know what is most needed next in my life with no further taps or interactions, that's gold.
To that end, I've been using WidgetPack and Charty alongside Shortcuts and its ties to other apps to build my ideal setup. I have explicitly designed my preferred way of seeing my preferred content, while also linking to or exposing some of my favourite functions.
I've also been experimenting with using Agenda as a frontend for Reminders, making notes with lists of needed tasks, checking them off in Agenda, then running a Shortcut to reflect those completions in Reminders, thanks to the new Edit Reminder action in iOS 14.3. Through this experimentation, I made a Reminders-based version of my Home Screen, too.
Because most of my application and services needs are rooted in text content management, I'd say my ideal setup is one that I have been able to set up for myself, that plays by my rules for how I think about things, and that tailors content to my needs the most. In parts where I can't control the rules, I need to at least understand the rules for what content goes where and why, and have an understanding that works with my mental models.
Also, it's a highly portable and ubiquitous experience across all my devices.
In the end, it all comes down to agency. I need the freedom to choose apps that work best for me, and apps that expose content in ways that enable my reuse of it in other apps.
---
There are more Sweet Setup interviews right here.
Want to share your setup? We'd love to hear from you! Just fill out this form with some basic information and well be in touch.
---
Wait. There's a Bonus….
Custom Productivity Templates
We have a set of custom productivity templates that work well with the iPad app, GoodNotes. And if you want to try them out, we've put together a free guide that can help you.
We'll show you…
How to create and save custom page templates in GoodNotes.
How to use those page templates to transform GoodNotes into your own productivity notebook (or any other type of notebook replacement).
Plus, we also have included a couple of our custom productivity templates for you to get started with. These templates are right out of our popular productivity course.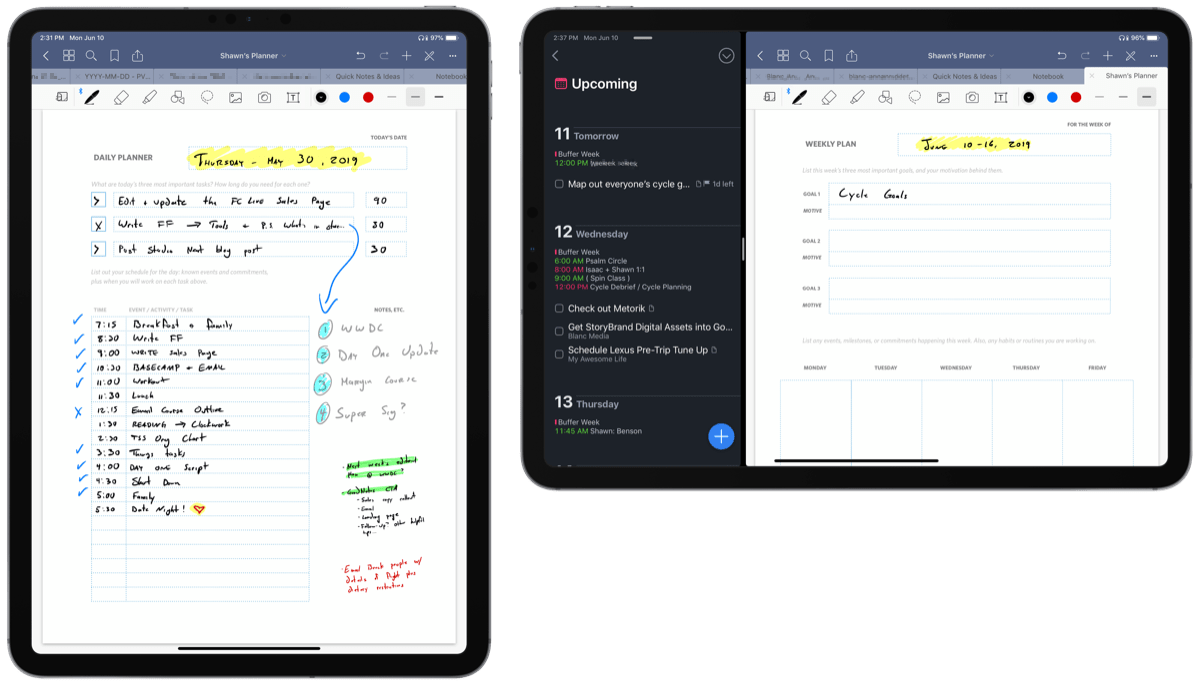 The custom templates and the guide are available for FREE to our email subscriber community. And you can get it right now. By joining the Sweet Setup community you'll also get access to our other guides, early previews to big new reviews and workflow articles we are working on, weekly roundups of our best content, and more.