Ryan Morton's Mac and iPhone setup
May 11, 2015
Every week we post a new interview with someone about what software they use on their Mac, iPhone, or iPad. We do these interviews because not only are they fun, but a glimpse into what tools someone uses and how they use those tools can spark our imagination and give us an idea or insight into how we can do things better.
New setup interviews are posted every Monday; follow us on RSS or Twitter to stay up to date.
---
Who are you and what do you do?
My name is Ryan Morton. I am a content writer at Amerisleep.com. I write most everything that fills our website and I've been known to dabble in HTML & CSS. I also blog for my company as well as my neglected, personal blog.
What is your current setup?
A 21.5-inch iMac with a second monitor is where I spend most of my day. This gets the job done and allows me to focus on one monitor while I have research for blog posts, web copy, or what have you on the other.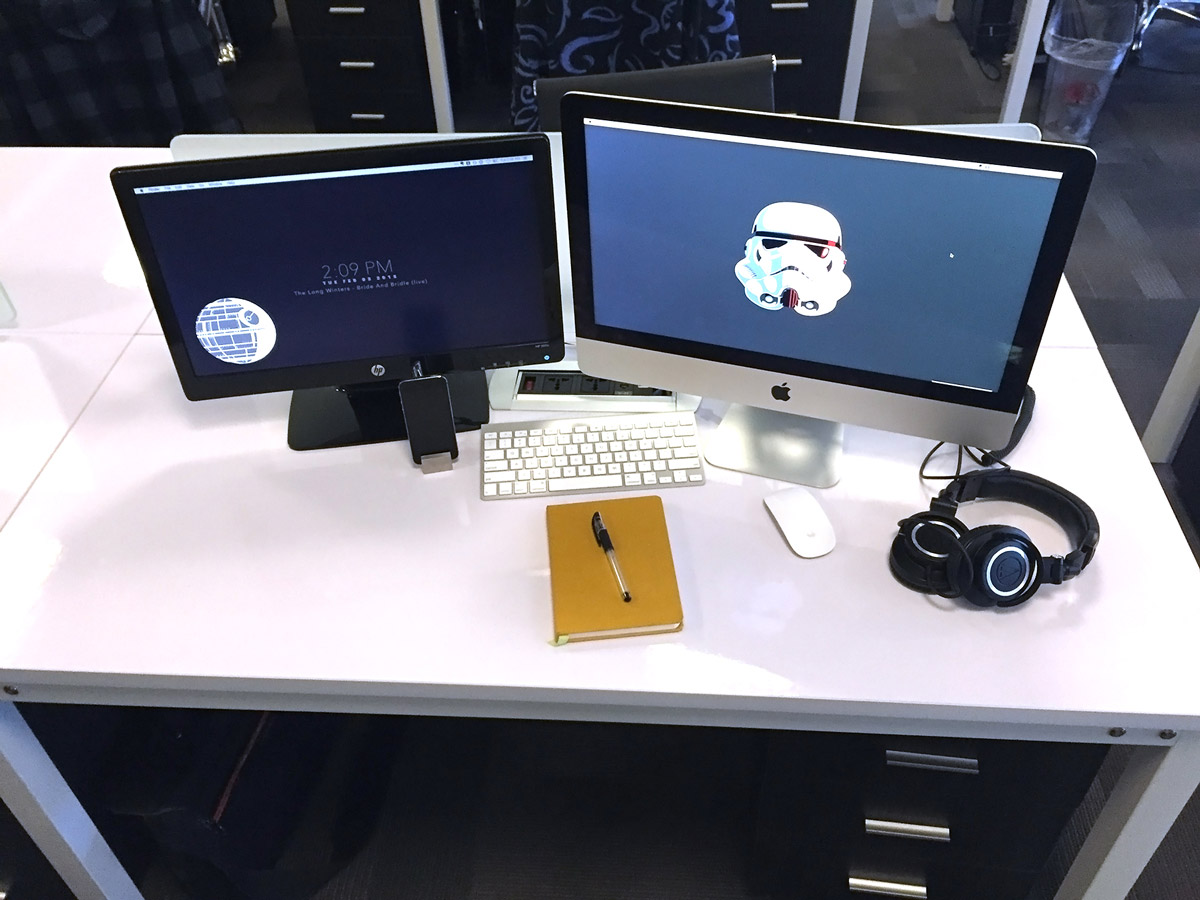 Editor's note: Here are Ryan's main desktop and second desktop wallpapers.
I wander away from my computer to get a fresh view quite often. We have a bar at work where I take my trusty Three Legged Juggler, Uni-ball Signo DX and iPhone. I love that I can do all of my job away from my computer.
What software do you use and for what do you use it?
Most of the software I use is geared towards writing. I'm constantly changing between getting text down quickly, collecting research, writing long form pieces, or reviewing what I've written.
I'm writing at least one to two blog posts a week and each one requires research. I rely on Evernote, the Web Clipper, and a hierarchical tag structure to easily file away and find any research I may need.
If Evernote had native Markdown support, I'm pretty sure it would be my primary text editor.
When I'm not storing files for long term use, they live in nvALT. The full text search that nvALT provides makes it invaluable for day to day use. I love that this app is really made to get you to another text editor for longer writing sessions.
I break out Folding Text when writing longer bits of text. While I would recommend Byword for anyone looking for a solid writing program, Folding Text provides me some hackability and a clean writing experience. I'll usually have Marked open next to Folding Text for editing.
My main method of interaction with my computer is definitely through Launchbar. I use Launchbar as much as possible for managing files, copying text and using custom built scripts to make my job a bit easier.
Most of my day is spent writing, so I can't even imagine a world without Text Expander. I don't use many fancy snippets. Instead, I stick to words I type a ton.
A few other apps I use regularly, but aren't that interesting, are Mailbox for Mac, Slack, Better Touch Tool, Dropbox, and Adobe Photoshop. Slack has been awesome since we've started using it at work. Anytime I have a team project in the future, I'm going to push for using Slack.
How would your ideal setup look and function?
My setup is nearly ideal. I love using the screens I have, but I feel an iPad would be great for getting work done on the go. I've been known to get away from my desk and do everything I need to do on my phone. Having an iPad would make that time even more productive.
Also, I'd love to get my hands on a Retina 5K iMac. But I might need to wait awhile for that.
---
What iPhone do you have?
I have an iPhone 5s 16GB in Space Grey.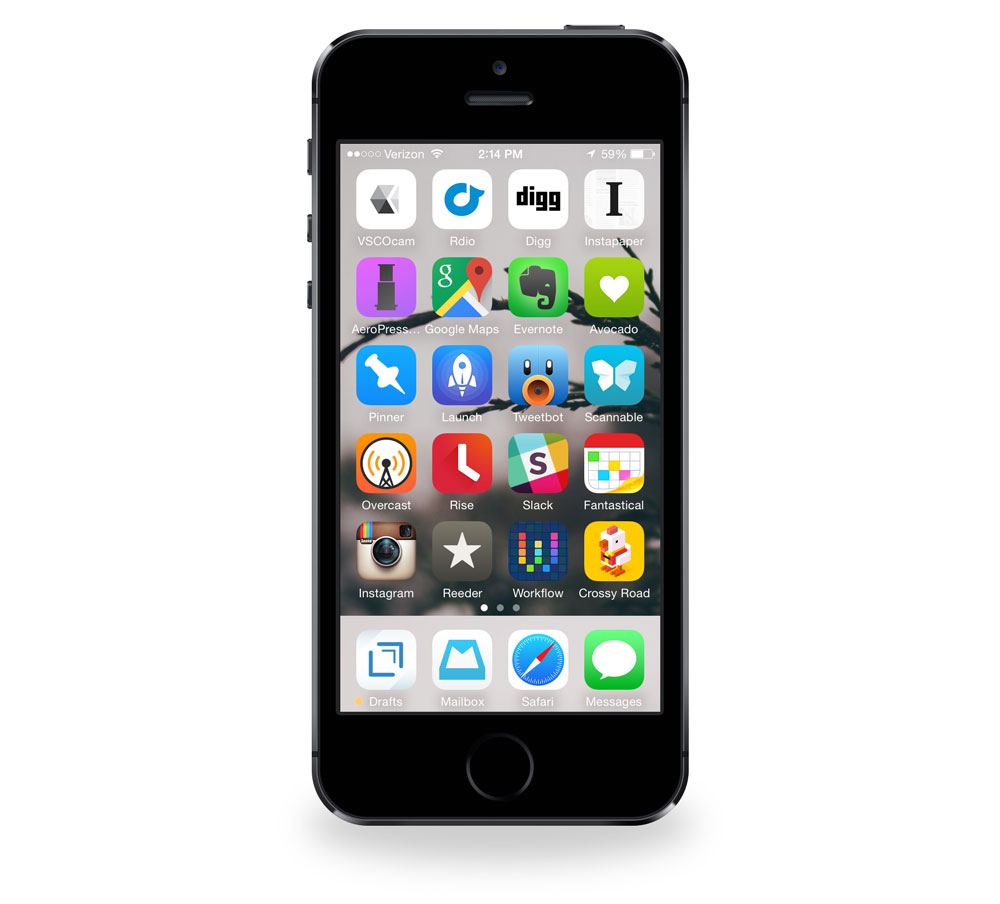 Editor's note: Ryan is using a wallpaper from Shawn Blanc's holiday wallpaper collection.
What apps do you use the most, and why?
I'm mostly at my desk for work, so my phone is more of a companion device. My homescreen is constantly in flux, but there are a few apps that are mainstays. Overcast can't be beat in for podcasts. I don't think I could go back to using an app without Smart Speed. I make coffee every morning with my Aeropress and Aeropress Timer. I have a lot text workflows set up around Drafts. Of course Messages and Safari are probably some of my most used apps.
Which app could you not live without?
I use my phone for finding information quickly and consuming podcasts. I could live without every other app besides Overcast and Safari. There is no other app that can preform as many tasks as Safari.
---
There are more Sweet Setup interviews right here.