Quick Tip: Quick Time-Blocking Between Things and Fantastical
October 4, 2023
Through happenstance, I accidentally discovered the ability to time-block my day using simple drag-and-drop between Things and Fantastical on the Mac. This little workflow has become quite powerful in my morning routine — opening Fantastical and Things side-by-side, a morning cup of coffee in hand, and the desire to work through a smooth day, dragging-and-dropping events into a time-blocked schedule is a daily routine that can't be missed.
This quick tip would stand for more than Things and Fantastical — especially on the Mac — but doesn't appear to be universal. Drag-and-drop appears to work between:
Things and Fantastical on the Mac
Reminders and Fantastical on the Mac
Reminders and Calendar on the Mac
Things and Calendar on the Mac
Potentially other apps I haven't been able to test
It's a bit of a different story on the iPad. This drag-and-drop method works between: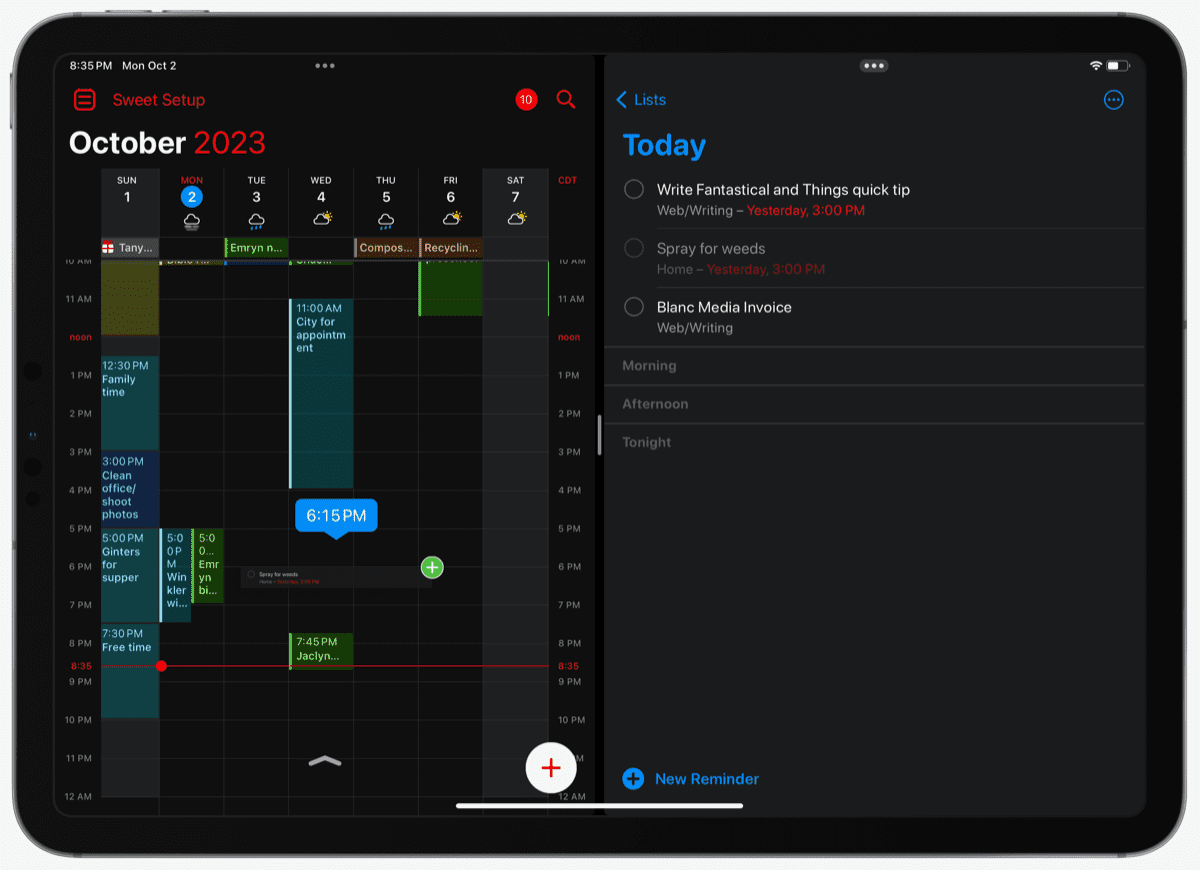 Reminders and Fantastical
Reminders and Calendar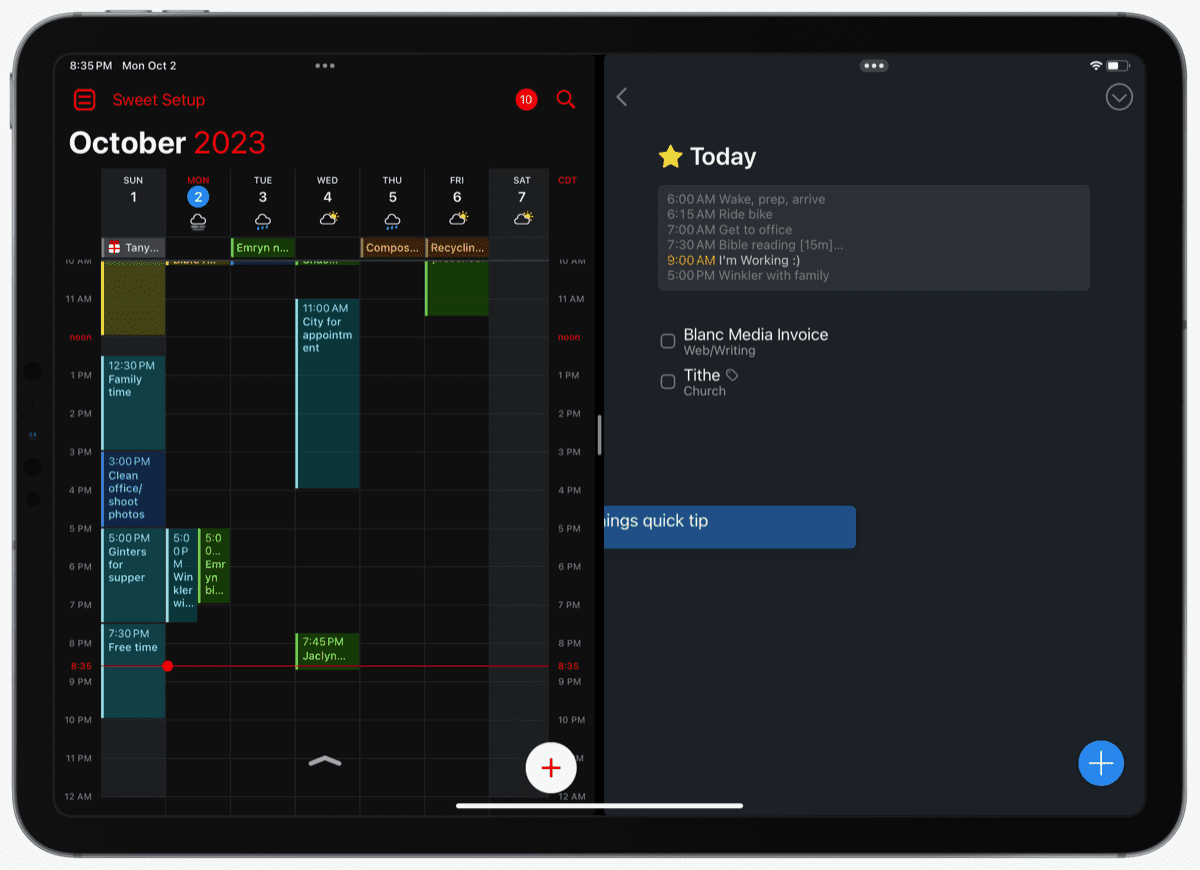 I can't seem to get any task to drag-and-drop out of Things on the iPad, which is a bummer! Drag-and-drop seems like a perfect way to organize your day when working on an iPad.
And alas, there isn't really drag-and-drop on the iPhone, so this little workflow is largely a Mac-only workflow.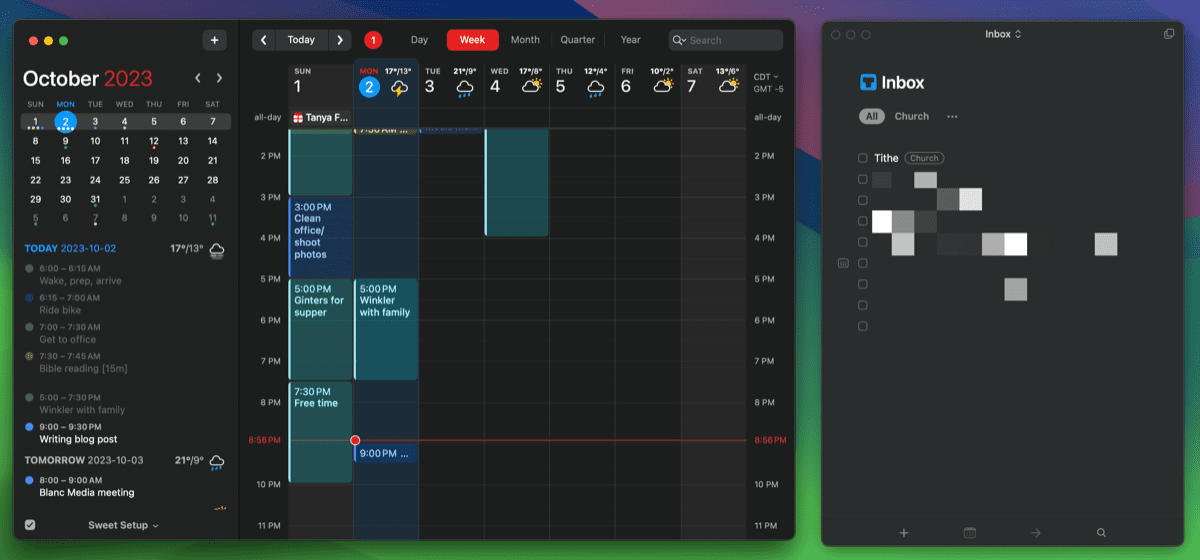 But it's simple as that: You can drag a task out of Things directly onto your calendar in Fantastical to create a timed event with the title of the task in the event title. It's really cool.
A few tips I've discovered along the way for this workflow:
You can drag multiple tasks at once from Things into Fantastical. Fantastical will put both tasks into the event title and create a block for you to work on both tasks.
You can adjust the default event length for a generic dropped task. In Fantastical, go to Settings and under the General tab, change the default event duration. I've set mine to 30 minutes by default to limit the amount of changes to each dragged-in time-blocked event.
You can adjust the default calendar to the calendar you normally perform tasks. Just like the above point, in Fantastical, go to Settings and under the General tab, change the default calendar. I've set mine to my work calendar, where 95% of my tasks are performed.
It'd be great if you could create a new task in Fantastical by dragging a Things task into the app, and which you could then check-off when you have completed it. As it is, it seems Fantastical's task-based features are saved for Todoist and Reminders (likely due to Things' limited third-party integrations.)
It would also be great if you could have a sort of "planning calendar" and then track your actual time spent on a task in a separate calendar. You can likely do this manually with multiple calendars, but I'd like to see something like the way Sunsama has built this in by default.
---
All in all, this is a simple way to plan your day each morning when you open Things. Two of our favorite apps here at The Sweet Setup, working hand in hand to improve your day.
Ideas to Action Focus Booster 💥 Double your creative output with a simple system for organizing
The Ideas-to-Action Focus Booster shows you how to translate your notes, thoughts, and plans into rapid progress (instead of getting stuck at the start).
👉 Step #1: Capture Your Genius → Create your own digital idea incubator. You'll learn how to leverage tools like Notion, Obsidian, and more to organize every spark of inspiration worth saving.
👉 Step #2: Develop Your Ideas → This is where the magic happens. Connect the dots on your ideas and unlock the creative energy to see them through.
👉 Step #3: Execute Your Vision → Turn inspiration into action so you can finally share what's in your head with the rest of the world.
Bonus: Yes Yes Notion → Discover how to make Notion your command center for turning ideas into action in this 2-part bonus workshop.
Get all this, and more, inside the Focus Accelerator membership.
Join 300 focused members who have access to $5,000 worth of our best courses and masterclasses, the Digital Planner, a Private Community Slack, 2x Monthly Coaching Calls, and much, much more…