Pick one thing to kickstart the journaling habit
April 25, 2018
People often struggle with how to start a journaling habit. My experience has been that if you start small, the habit will expand over time. Choosing one small part of your life to track in a journal can be the step you need to adopt the habit more permanently.
One primary use case of Day One for me over the years is to track my home maintenance tasks. Not that I need to track them — I track that in Things — but the fact that I've done them gets recorded in Day One, along with any details about what I learned or things that might be important to know later.
This is why I keep a journal: to help my future self.
We live on a small acreage outside our city. This means we are not connected to city services and have our own well and septic system. Both of these require some routine maintenance tasks that a lot of people never have to do, but they are critical to keepings things running smoothly.
I have recurring tasks set up to remind me to get these things done. Items like "Change the water filters," "Drain the hot water tank," or "Clean the septic filter." They're not all fun to do and some smell terrible, but that is a part of home ownership.
How Day One Helps
What I love about Day One is that it's a journal, so everything is based on time. After I perform each of these tasks, I make a new journal entry and note what I did. In the case of issues, I also include what the problem was, what steps I took to troubleshoot the issue, and what the results were.
Another good example is flooding. Water flooding into your home is a terrible thing to experience. When it happens, you do everything you can to make sure it doesn't happen again. We've lived in our home for six transitions from winter to spring, and two of those years we've had flooding.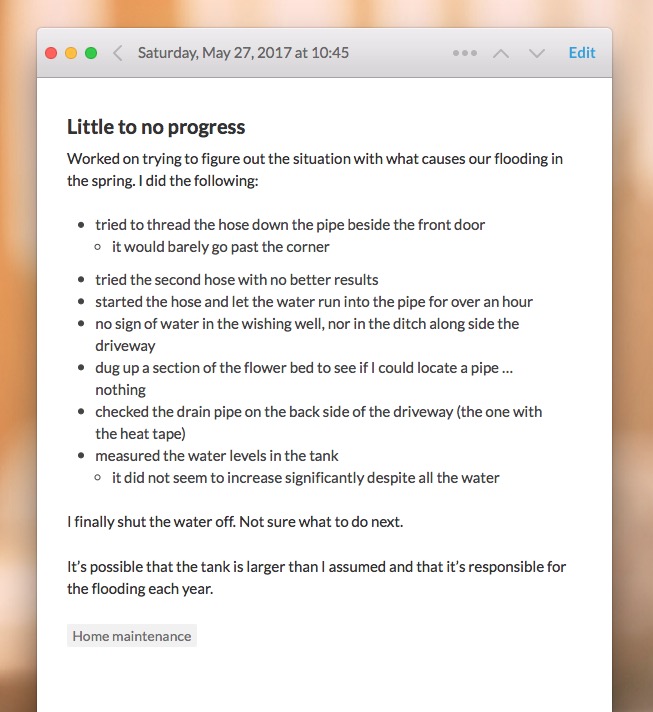 Thanks to my notes, I remember what I thought was the cause the first time. This helped me to learn more about the issue; enough to realize my initial assumption was wrong. As I faced the problem a second time, I could note down the new things I'd learned and come up with a better hypothesis of the cause.
This habit has helped me with all sorts of home ownership scenarios. When I'm unsure of something, I can open Day One, use the tag filter to show only entries tagged "home maintenance," and see all my history. It's a blessing not to have to rely on my memory (which is exceptionally faulty) and to have a clear record of my past activities.
How This Habit Could Improve
One aspect that could make this better is to have certain journal entries created automatically. I change my water filters every 6–8 weeks, and there are times when I've forgotten to add the fact to Day One afterward.
Sometimes, when my recurring task comes up, I'll choose to put it off for a week or two. We may be on a holiday where I'm not able to do the work. When this happens, I like to review Day One to see exactly how long it's been since I last completed the task, so it's quite inconvenient when I forget to record an entry. What I'd like is to have a Day One entry automatically created when I complete the related task in Things.
Unfortunately, the tools available to us are not quite where they need to be to do this. You can use Things in several ways, but not as a trigger for another event.
It currently does not work with IFTTT.
It is available in Zapier, but not as a trigger app, only as an action.
You can use Things with Workflow, but again, not as a trigger.
The development cycle of Things has improved impressively since the launch of Things 3. Perhaps in time, it will have a full-fledged API like many web-based services, allowing us to access our Things data in ways not currently possible.
For now, I try my best to remember to update Day One when I complete a task. One easy way to do that is to use the share sheet in Things.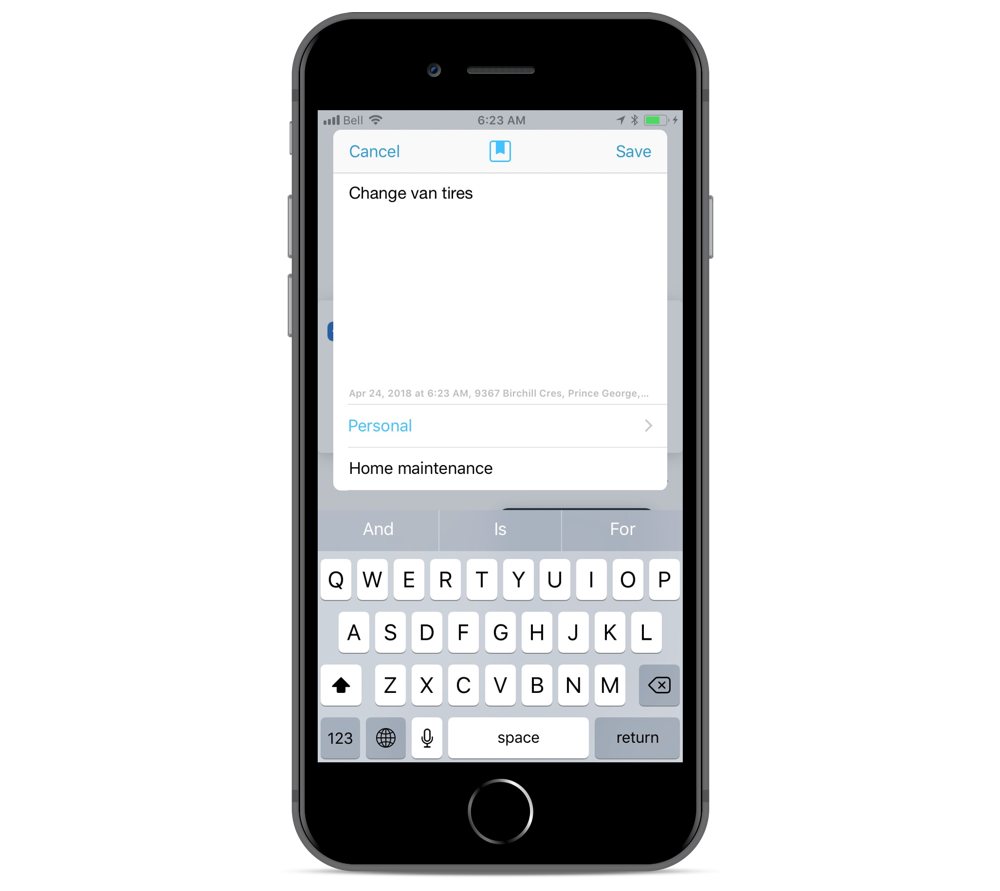 It's a process that takes seconds. The task title is set as the content of the journal entry. All that's left for me to do is add the "home maintenance" tag. Done!
Again, the best way to start a new habit is to start small. Tracking these home maintenance tasks in Day One helped me to start to see the long-term value in a journal. Today, I track many parts of my life in there thanks to this small start.
---
We have more useful workflow examples right here.
---
Wait. There's a Bonus….
Custom Productivity Templates
We have a set of custom productivity templates that work well with the iPad app, GoodNotes. And if you want to try them out, we've put together a free guide that can help you.
We'll show you…
How to create and save custom page templates in GoodNotes.
How to use those page templates to transform GoodNotes into your own productivity notebook (or any other type of notebook replacement).
Plus, we also have included a couple of our custom productivity templates for you to get started with. These templates are right out of our popular productivity course.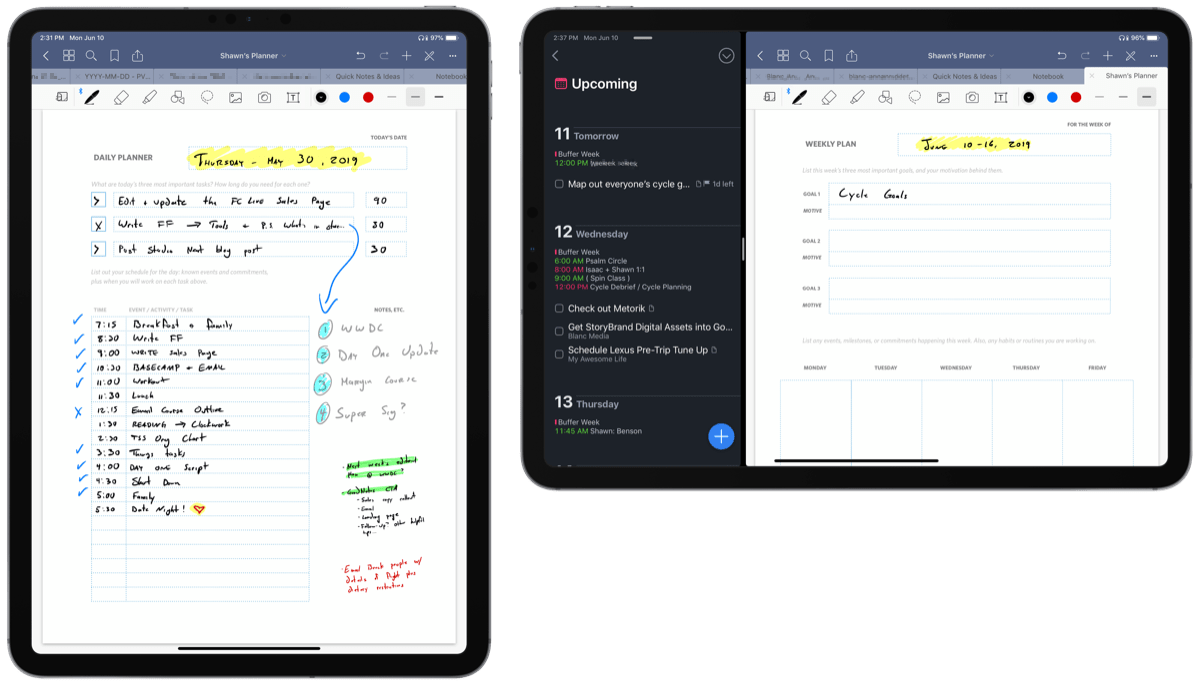 The custom templates and the guide are available for FREE to our email subscriber community. And you can get it right now. By joining the Sweet Setup community you'll also get access to our other guides, early previews to big new reviews and workflow articles we are working on, weekly roundups of our best content, and more.