Our Favorite Apps for Working From Home
March 23, 2021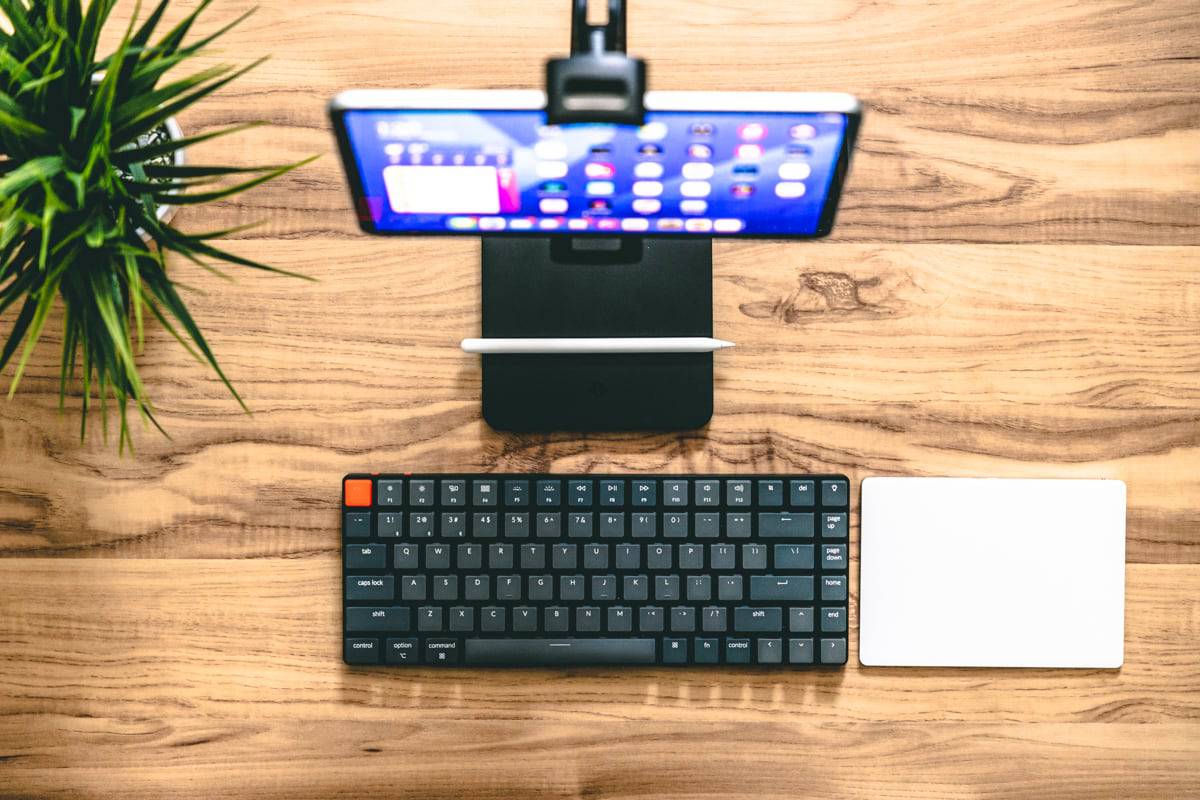 We here at The Sweet Setup have been work-from-home types for as long as the site has existed — in many ways, you could say we were ahead of the revolution.
But, after a year of watching everyone else adapt to working from home, there's still a lot we've learned. Our Zoom meetings, for instance, have seen a huge boost in quality thanks to new apps for using actual cameras for capturing Zoom video. Having to beam into a computer located at the office has also seen a boom — there are now many great options for VNC beyond just Screens on the Mac.
And we'd be remiss if we didn't mention new ways to stay focused and away from distraction — new focus playlists have sprung up, new ANC headphones have rocketed to the top of the shopping cart, and home office ergonomics have become a major priority.
So, despite working from home for the last ten years, our working lives changed considerably over the last year as well.
Here's a roundup of a few apps, services, playlists, and products we recommend after a year of COVID working-from-home.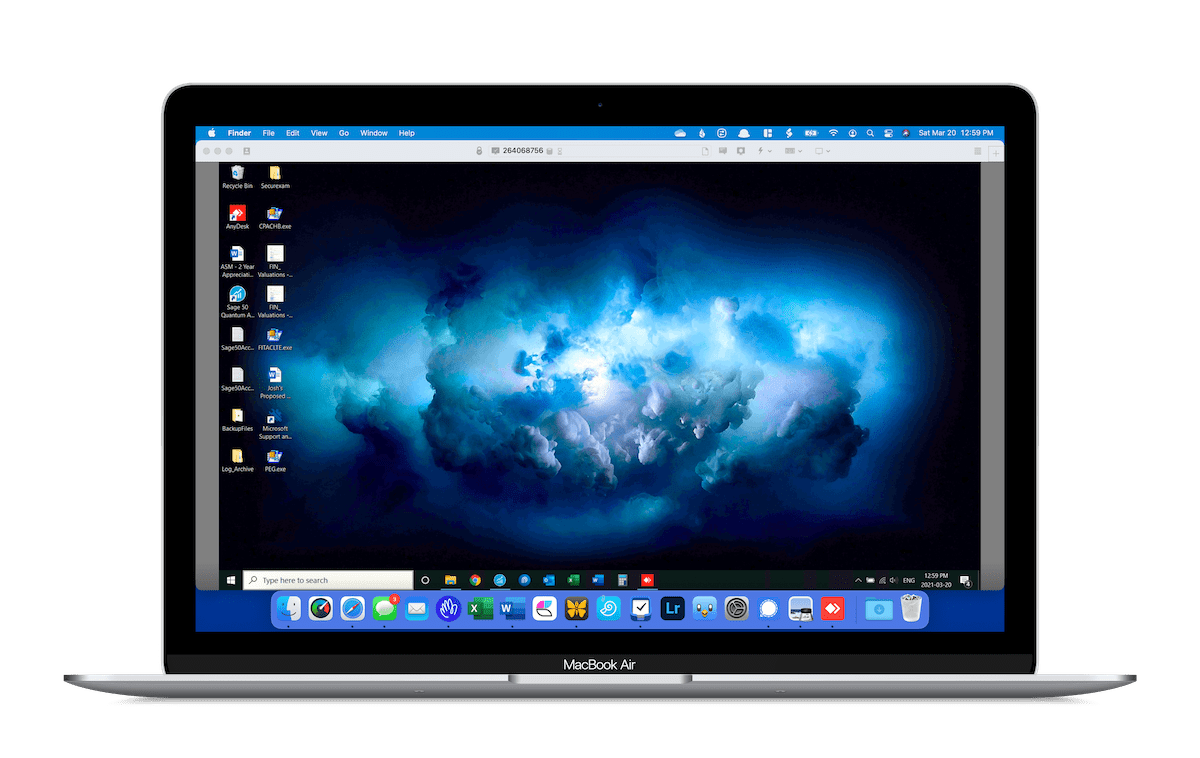 Screens has been our top pick for the best remote access solution for Mac and iOS for quite some time. Until COVID hit, there were a few other players on the market (like TeamViewer or Splashtop), but nothing caught our eye. AnyDesk is the first remote access solution I've found that works seamlessly across Mac, iOS, and Windows, and the app made leaps and bounds over the last year.
I moved to an iMac for my j-o-b job — a very Windows-only enterprise job, to be clear — in the last few months. I leave my old Windows PC on the back shelf in my office and beam into it from my iMac via AnyDesk whenever the need arises. The login process is smooth as a whistle, keyboard and mouse translation works with nary a hiccup, and the security built into the app provides assurance. You can even restart and enter the remote computer right from the startup screen with AnyDesk — a lifesaver when things start to slow down.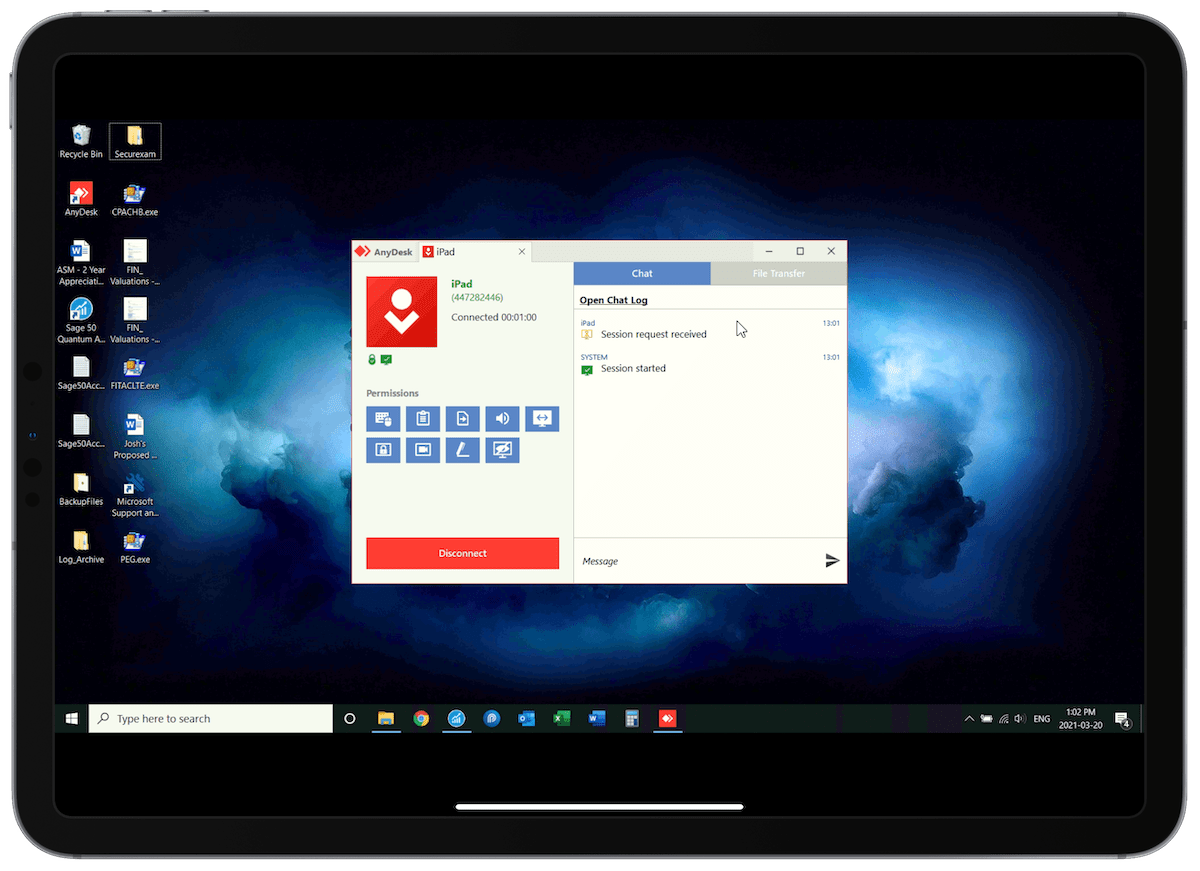 AnyDesk on iPadOS introduced Magic Keyboard and cursor support over the last year, making it a viable solution to jump into your Mac or Windows computer from anywhere with an iPad. This, combined with the power of an LTE connection on the iPad, ensures you can quite literally get your work done from just about anywhere.
AnyDesk is free to use for personal use, or you can jump up to the $20/month/user Performance tier for more advanced business features.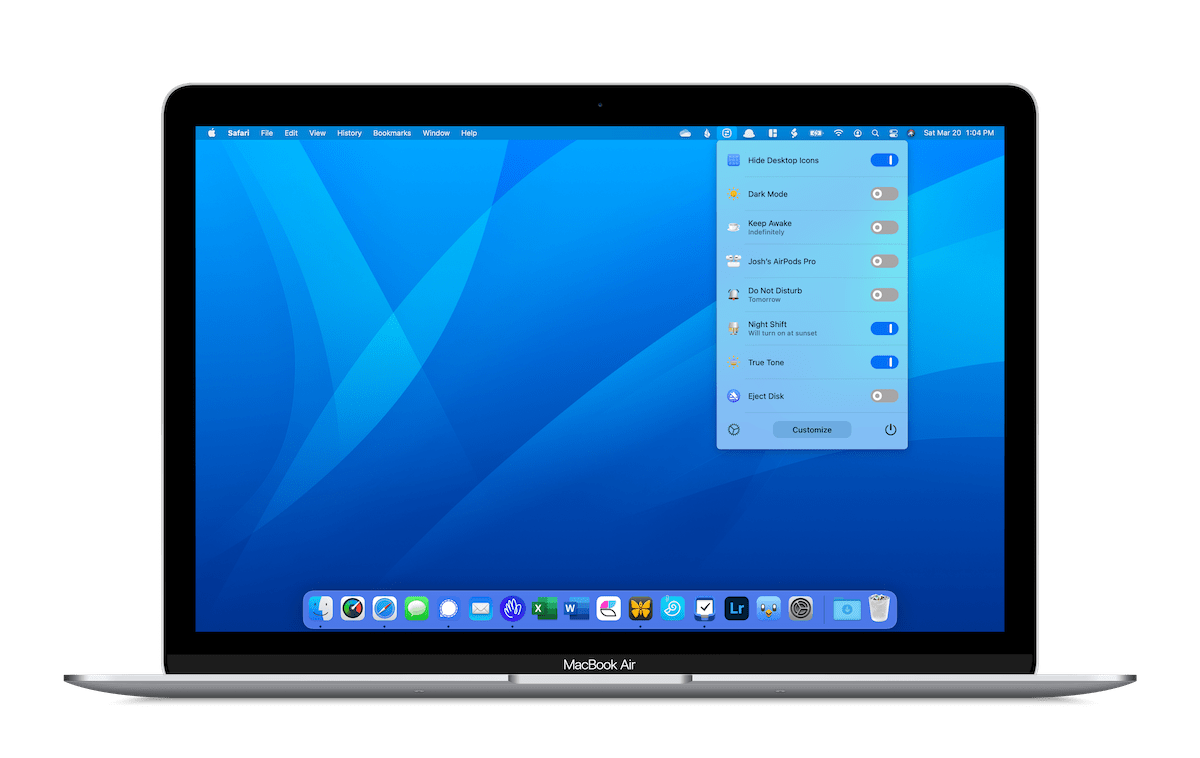 I'm not really a menu bar application kind of guy, but OneSwitch is a must-have on my Macs these days. OneSwitch is exactly as its name implies — drop down the menu bar app and one click toggles Dark Mode, Do Not Disturb, and True Tone, or connects to your AirPods. The list of toggles is pretty long: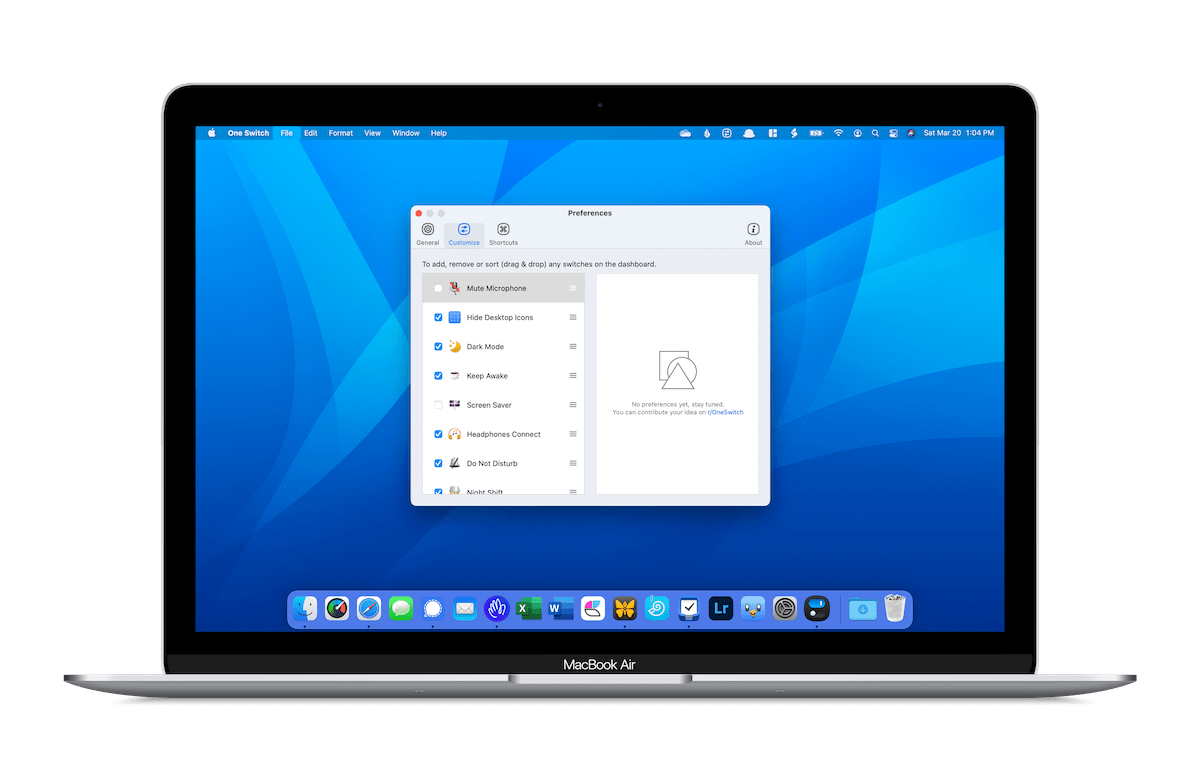 Hide Desktop Icons: Hides all desktop icons and files.
Dark Mode: Toggles Dark Mode on and off.
Keep Awake: Prevents your Mac from going to sleep.
Screen Saver: Initiates your Mac's screen saver.
Headphones Connect: Automatically connects to your Bluetooth headphones. Note: Some users note that they have to connect to the headphones first through the Bluetooth menu before being able to toggle on and off during a session.
Do Not Disturb: Toggles Do Not Disturb on and off.
Night Shift: Toggles Night Shift on and off.
True Tone: Toggles True Tone on and off. (Only for True Tone capable Macs.)
Show Hidden Files: Shows regularly hidden system files inside the Finder.
Display Sleep: Puts your display to sleep.
Screen Resolution: From the dropdown triangle button, choose from a variety of screen resolutions besides the native default.
Screen Clean: Provides a black backdrop on your screen for better viewing when cleaning the screen. Also locks your keyboard to prevent accidental keystrokes.
Lock Keyboard: Locks keyboard and prevents any action from keystrokes.
Lock Screen: Locks the screen and brings you back to the macOS login page.
For $4.99, OneSwitch is a mainstay on my Mac to more quickly adjust settings hidden deep in System Preferences.
We recently discovered Camo and had to cover it over on Tools & Toys immediately — it's one of those apps that seems so obvious and helpful, we figured everyone had to know about it.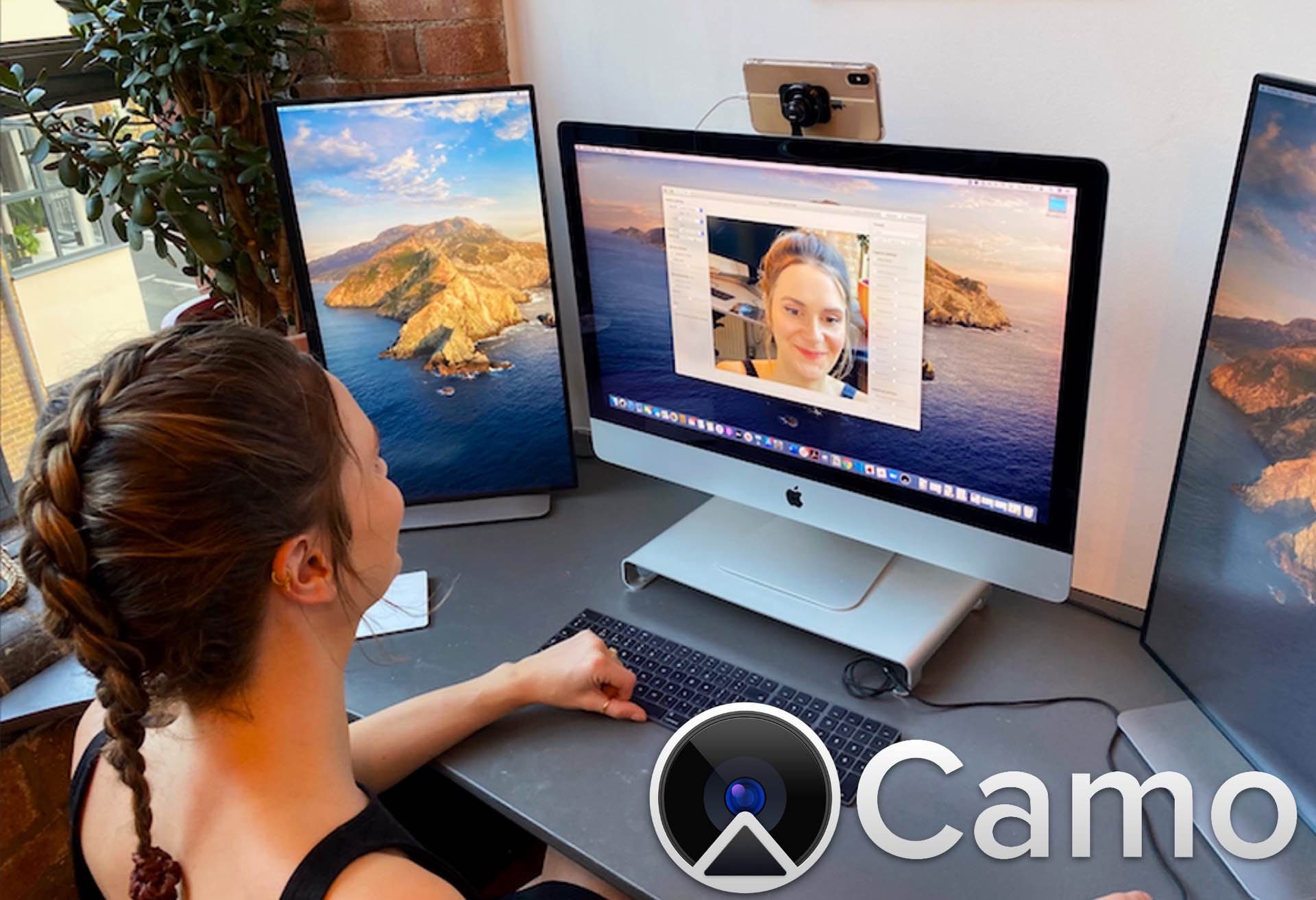 Camo allows you to sidestep using the built-in iMac or MacBook webcam (which, to our estimation, all produce garbage video quality) and use your iPhone or iPad's camera as a webcam instead. The cameras inside the iPhone and iPad are far, far, far superior to the cameras in a Mac, boosting your Zoom call quality and making it appear as though you have a mini studio inside your work-from-home space.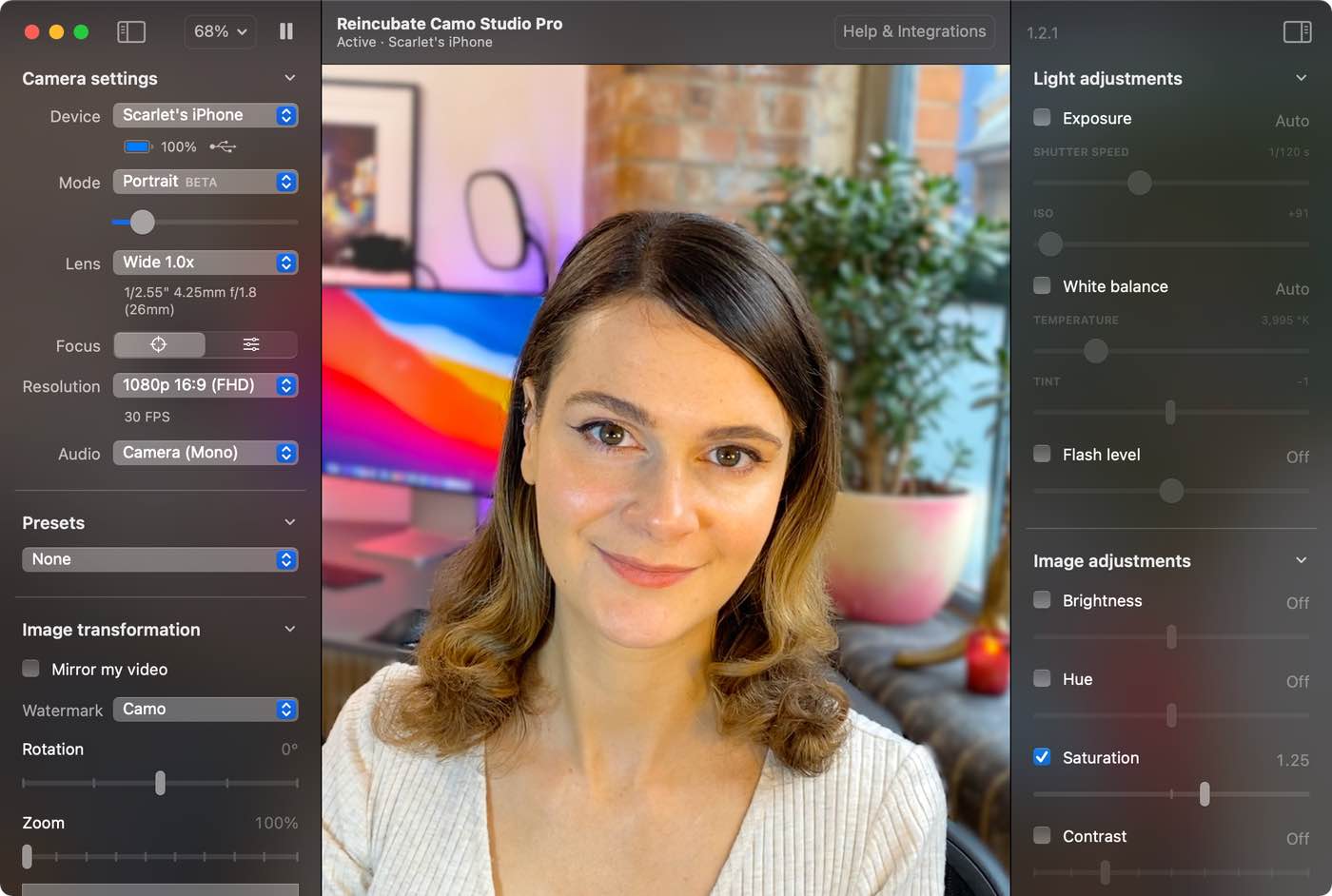 Camo's free version allows you to quickly and easily boost the production quality of your Zoom calls, however the paid version — which costs $40 USD for a 12-month license — allows you to make all sorts of adjustments to your video feed. If you're a heavy video conferencer, Camo's paid version will quickly look like great value.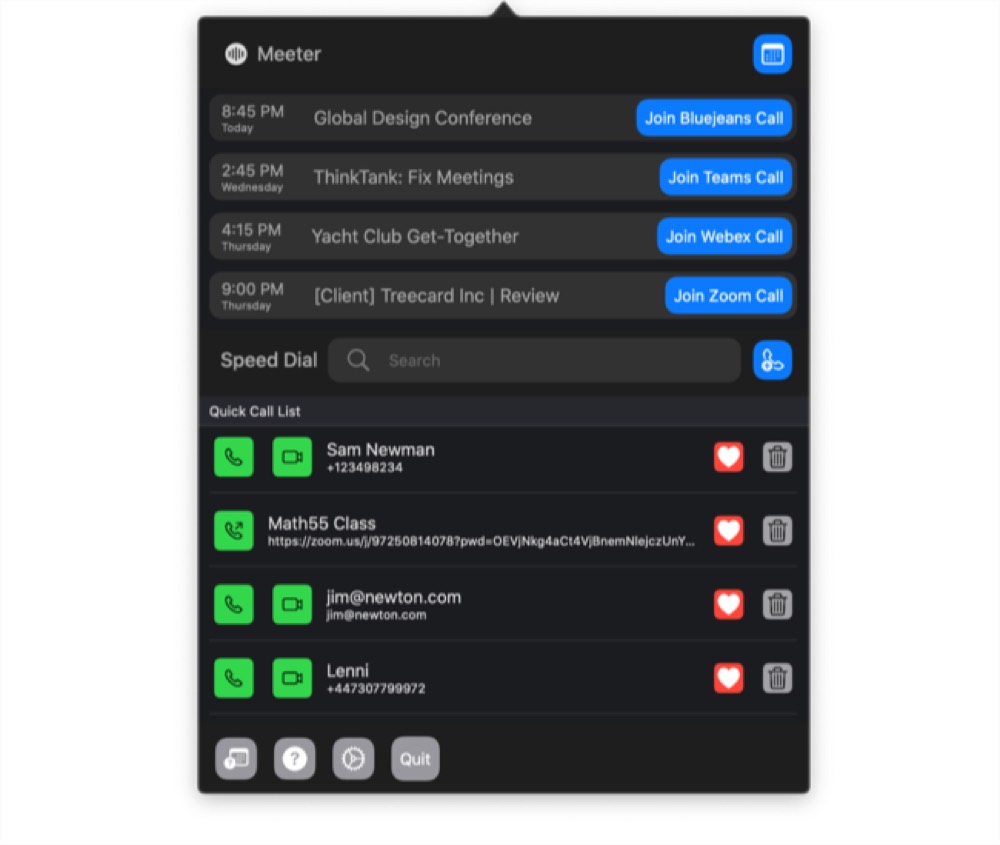 As if dealing with poor built-in webcam quality wasn't enough for those folks who need video chat apps for communicating with their team, there also happens to be a wide array of video chat app options for you to choose from. Off the top of my head, I can name at least six different video chatting options (Zoom, Hangouts, Slack, Signal, WhatsApp, FaceTime), and I'm sure I've missed at least ten. Keeping all your meetings and platforms straight can be a headache.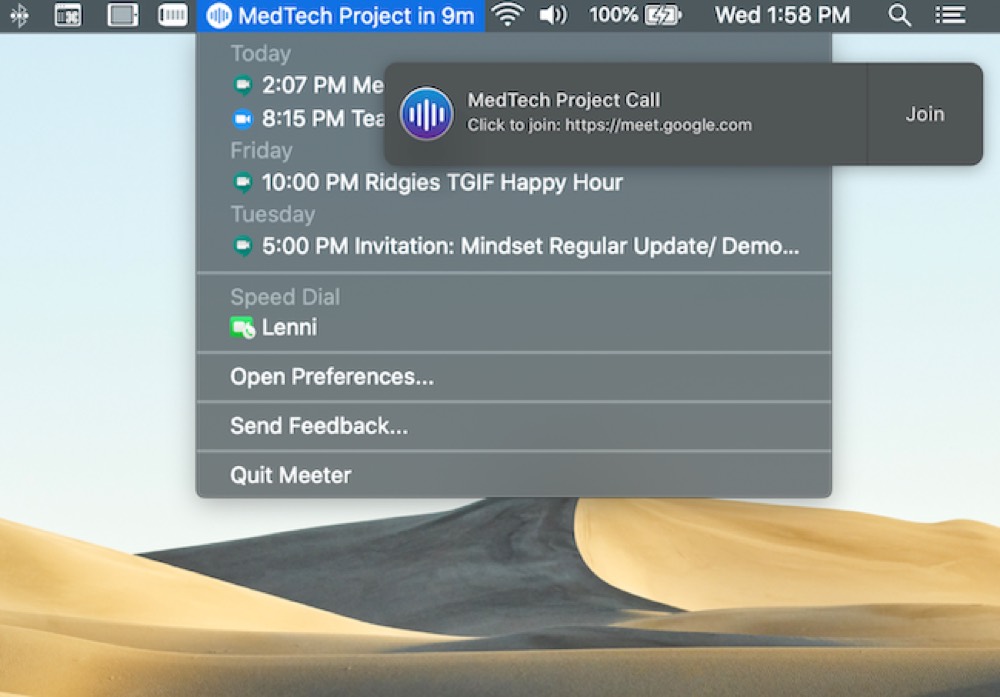 Jeffrey Abbott, our in-house editor, has been using Meeter Pro to stay on top of his extensive meeting schedule. From Jeffrey:
In the category of "does one thing well," Meeter Pro is the menu bar app that collects all of your upcoming meetings into a minimal list and allows you to launch your meetings with one click, regardless of what conference platform they use.

Just like it says on the tin, Meeter collects your meetings from your various calendars, smartly pulls the relevant meeting link, and lists them in a small menu bar list. It's incredibly easy to set up and use, and it's one of those things that I can't believe didn't exist before March.
Meeter Pro has an integration tool for every major teleconferencing app available, ensuring you'll be covered regardless the platform chosen by the group.
Meeter is a free download on the Mac App Store and can be upgraded to Meeter Pro (which includes a keyboard shortcut launch, viewing a title of your next meeting, using native meeting apps, and allowing you to choose a preferred browser) for $9.99 USD.
Great Playlists to Get You Through the Day
It's likely there are more distractions in your work-from-home office space than the actual office, so we have a playlist (or two) to help you drown out the outside world and allow you to enter into a deep and focused state. Isaac Smith's "Start Here" and "Stank Face Goodness" are wonderful mixes of calm, serene, exhilarating, and exciting electronic tunes to move you throug the work day.
Many of the best deep work playlists in The Sweet Setup office stem from the original Monument Valley soundtrack, which we collectively think is one of the best soundtracks to be immersed in each day. These tracks have a way of moving you into flow better than lyrical songs.
And, if you have a thing for classical music (there aren't many of us out there, it seems, but we do exist!), I'd be remiss not to mention the Deutsche Grammophon classical playlist. The DG Playlist includes songs from history's greatest composers, including Bach, Schubert, Beethoven, Mozart, Chopin, Mendelssohn, and more.
Communication has taken a turn for the worse over the last year, as many folks have been forced to move from in-person, spoken, and body language to a text-based communication universe. Typing nuance into a text-based message or email is extraordinarily difficult and takes tremendous skill. To take some pressure off, Glyphfinder speeds up the unicode and emoji search and enables a little more color to be included in your communications.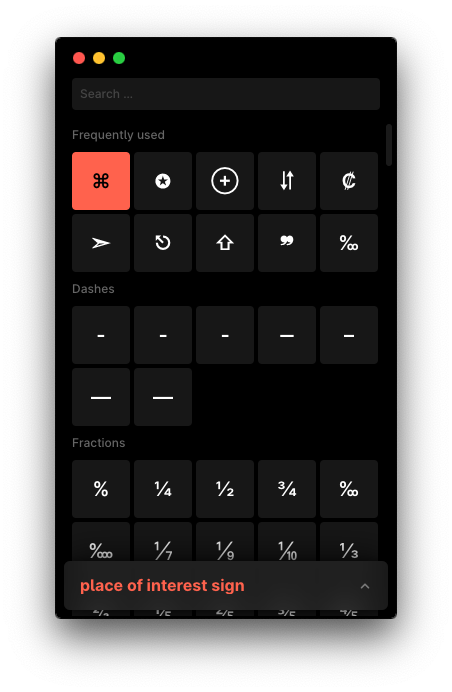 Glyphfinder sits in your Mac's menu bar and is entered with a single click. You can find characters by describing them in the search bar (if you don't know their official name) or by typing in standard keyboard shortcuts for emoji. You can create keyboard shortcuts for specific characters as well, speeding up the process if you use a specific character more than others (I, for instance, need one of these for the little degree symbol when discussing outdoor temperatures). And it's quite unlikely you won't be able to find what you're looking for. Glyphfinder comes with more than 30,000 characters that are all stored offline, enabling you to use the app without an internet connection.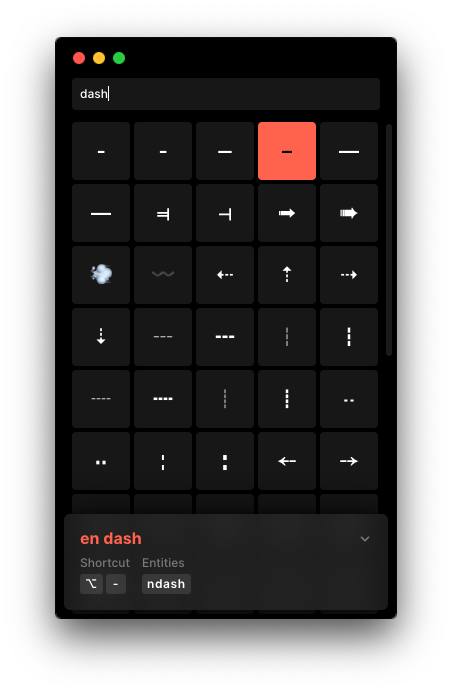 Glyphfinder for macOS is $6.99 for 1 device, $9.99 for 2 devices, or $12.99 for 3 devices, ensuring you can have Glyphfinder on both your personal and business Macs. If Glyphfinder doesn't meet your needs, the company promises a 30-day money back guarantee.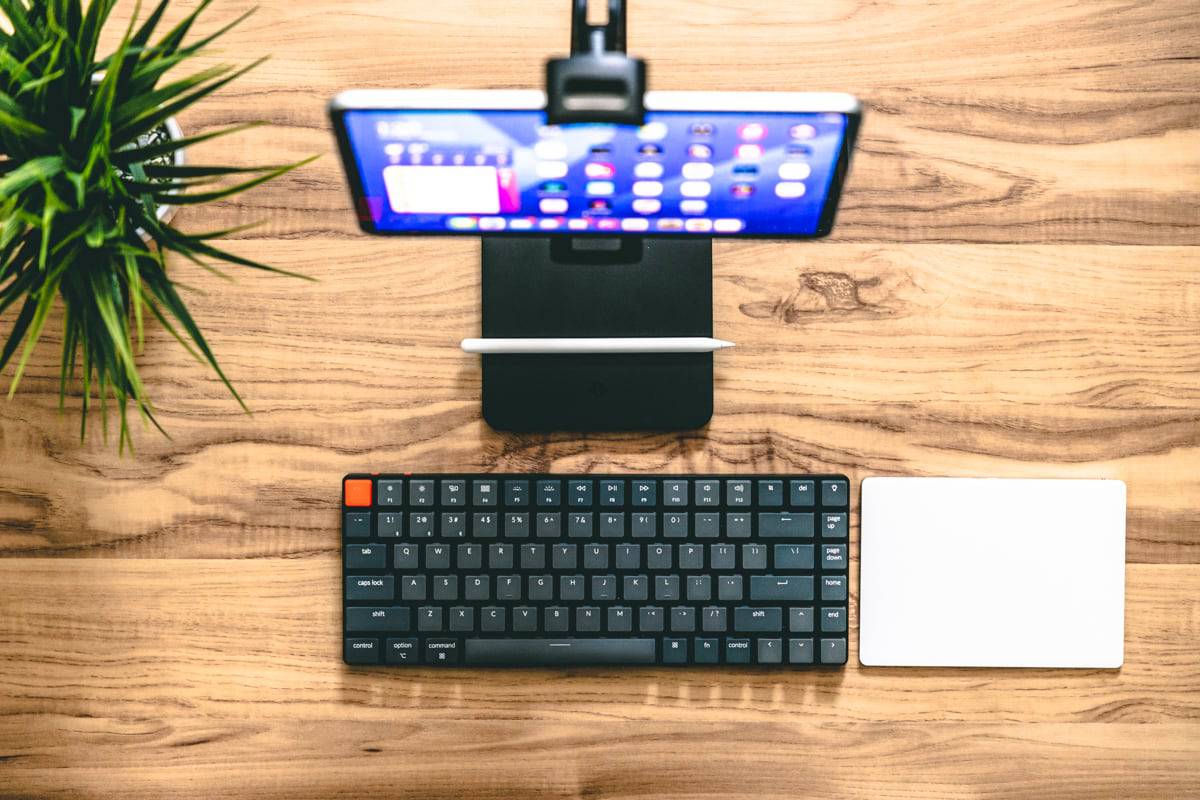 It's almost unfair to include this hardware accessory in a roundup like this, especially given the recent HoverBar Duo release date. However, Twelve South's accessory for the iPad (and iPhone) answers more than a few demands for an adjustable iPad stand that works for all sorts of ergonomic positions, use cases, and locations.
The HoverBar Duo is Twelve South's latest accessory for the iPad. The HoverBar uses a spring-loaded clamp system to hold your iPad tight and uses a swiveling arm to position your iPad at a comfortable work height, a comfortable writing height, or a comfortable viewing height for just about any task you could imagine. The HoverBar even ships with a clamp system, allowing you to free your iPad from the desk and clamp it to a countertop, closet rod, or edge of your desk. Twelve South's promotional video showcases chefs taping a video show while having their HoverBar clamped to the countertop, while others use the HoverBar for boosting the height of their iPad for teleconferences.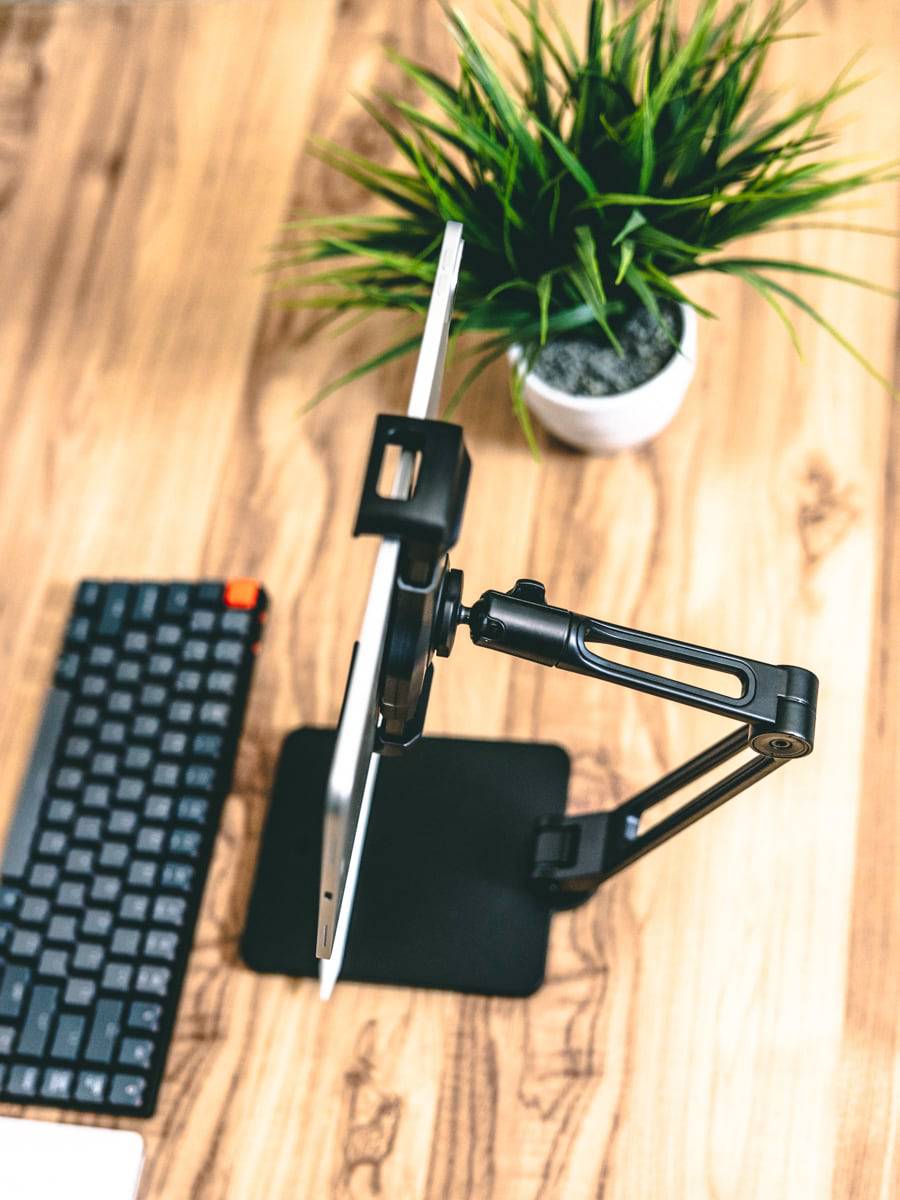 We've received a HoverBar Duo here for review, so we'll have more on this handy accessory in the next few weeks. The list of positives is pretty extensive for a stand like this and we can't wait to show you our review. In the meantime, we can safely say the HoverBar Duo is a worthy accessory just about all iPad owners should consider.
The HoverBar Duo is available from Twelve South or Amazon for $79.99.
Wrap Up
There are loads of other apps, workflows, and accessories we've adopted since COVID struck the world in early 2020. Finding opportunities for physical fitness has been difficult, so the advent of Fitness+ for the Apple Watch and the unique Peloton community have taken a few of our team by storm. We're also doing more online shopping than ever before, so apps like Deliveries have been essential.
Some of these apps and accessories will stay and some will go once this global pandemic withers away. If the apps are fleeting, then they will act as a good lesson — if push comes to shove and we must hunker down in our homes for weeks on end, rest assured, there are great apps and services to get you through the work day.
Work From Home….
30% Off The WFH Course Bundle
Get our task and time management mini-course (All the Things (Analog)), plus with our Day One in Depth screencast course. This "WFH Bundle" is 30% off right now.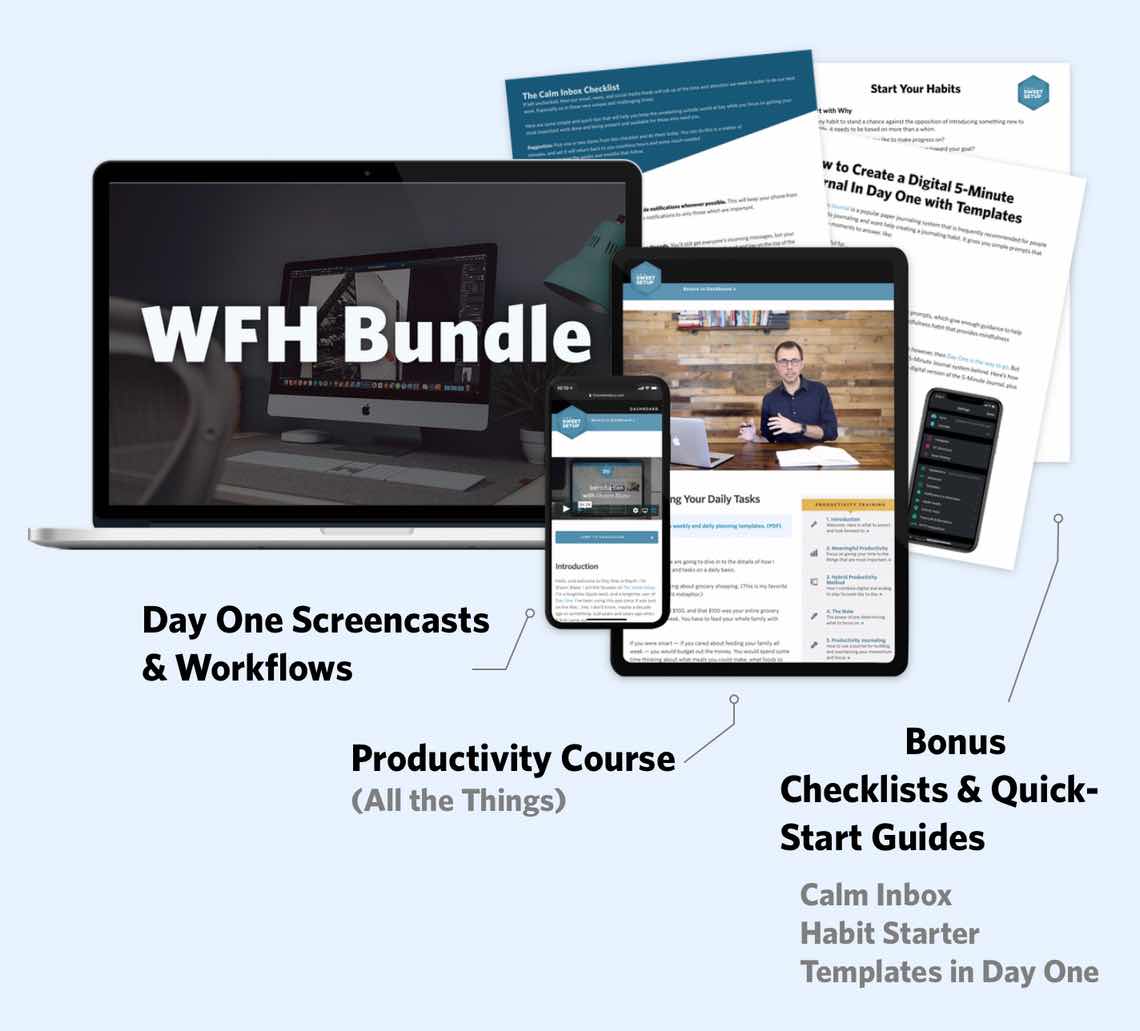 We'll show you…
How to schedule your day for maximum productivity in the least amount of time. This is especially helpful if you and your significant other are juggling responsibilities of kids and home life while also trying to do work.
Weekly planning and reviewing. A great way to get ahead of your upcoming week so you can be prepared and have a priority of what needs to be done.
Custom Productivity Templates: These are a few of the main PDF templates that you can print out or use on your iPad in order to follow along.
How to use Day One, the best journaling app out there: which can help with reducing stress and anxiety, celebrating your wins each day, and keeping a log of what is happening in life right now.
Bundle Bonus: The WFH Bundle also includes three bonuses: The Calm Inbox Checklist, the Habit Tracking Quick-Start Guide, and Using Day One templates for the 5-Minute Journal.
Normal Price: $68
WFH Bundle Price: $47 (You save $21)