The new Ulysses subscription pricing model
August 10, 2017
Earlier today, the team at Ulysses announced that their writing app is moving to a subscription pricing model.
Ulysses used to cost $45 and $25 for the Mac and iOS apps respectively. It is now a subscription of $40 per year or $5 per month.
I signed up for the Ulysses subscription without hesitation. Ulysses is a mission critical app for me. I use it every day for works in progress, and I'm also continually adding notes, ideas, and other bits of inspiration to the app that I'll need to use in the future. Which means I very much want Ulysses to stick around for the long run.
A few other apps we love have moved toward this subscription model, such as 1Password and Day One. These are all apps that I personally use every single day and that I rely heavily on. I'm glad that the apps I use to make my work possible and my life better are making changes to keep themselves in business for the long term.
And I appreciate that the Ulysses team has made this change ahead of time. They are turning their current customers into their primary customers, and setting up a business model that will allow sustained development of their apps. There's an excellent article on Medium written by Max Seelemann, who is the co-founder and lead developer of Ulysses, where he shares much of the behind-the-scenes logic and discussion that went into this change.
How to Upgrade to the New Ulysses
If you're new to Ulysses, now is a great time to try it out. You can download the Mac and iOS apps for free, and then use them without restriction or limit for two weeks.
Then, to continue using the apps, it's an in-app subscription purchase of either $5/month or $40/year.
If you're already a Ulysses user, upgrading is a piece of cake. You just download the new apps and they will automatically detect that you've got Ulysses installed, and they'll offer you the discounted pricing.
I just upgraded through Mac, and it was surprisingly easy. It was as simple as opening the app and choosing the subscription plan I wanted.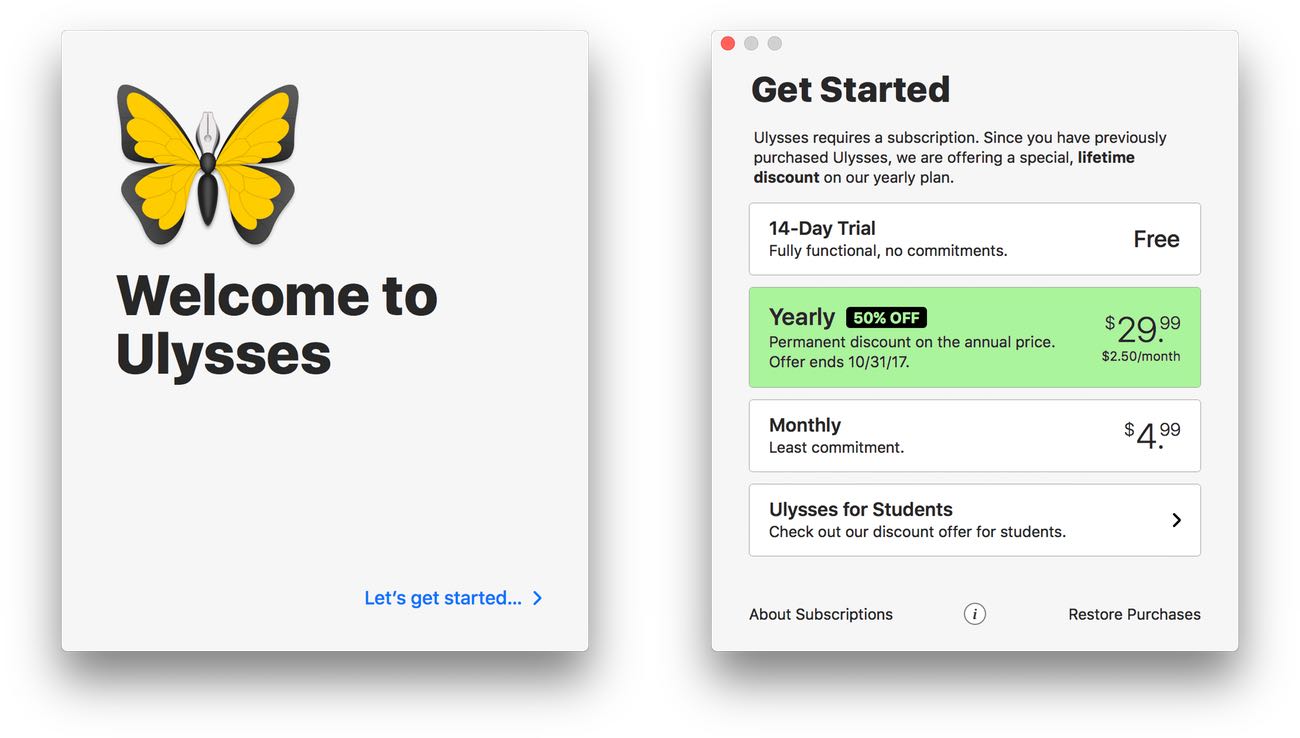 Then, after downloading the new apps on my iPhone and iPad, they automatically recognized that I had an active subscription and they were good to go as well.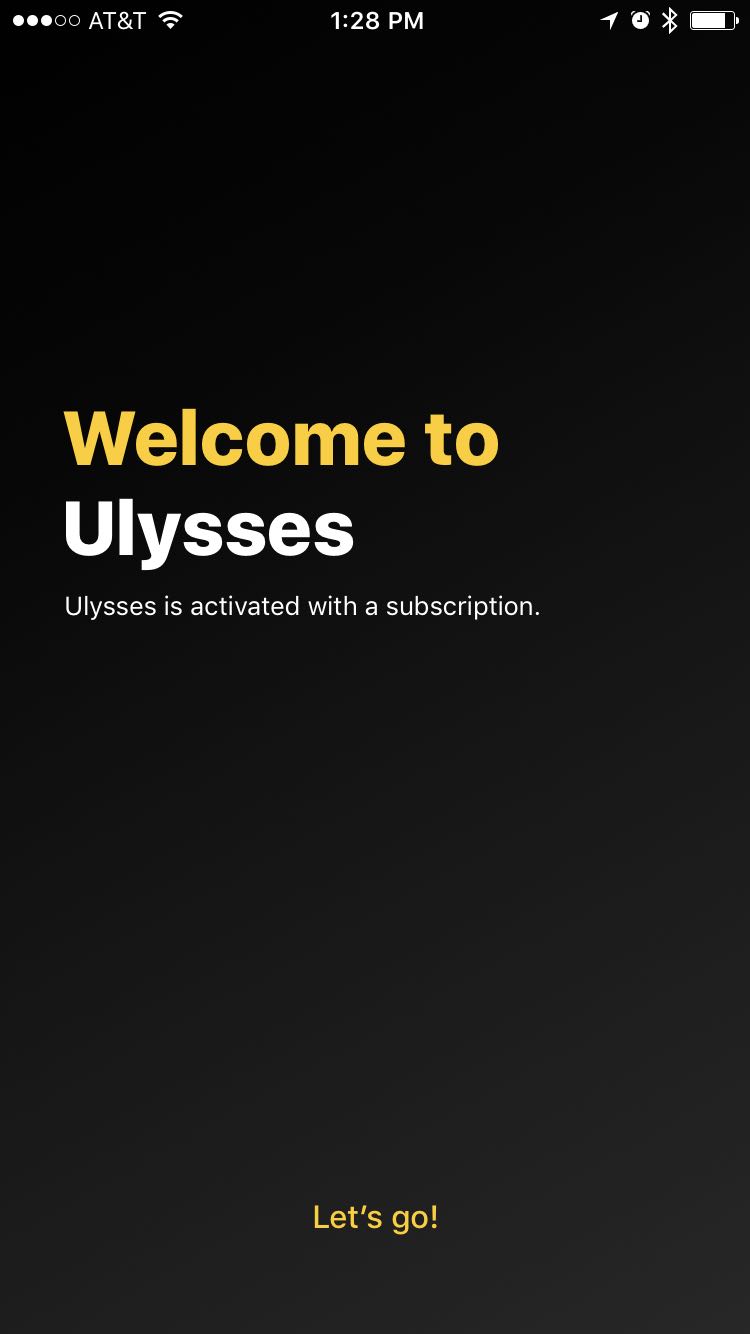 If you're an existing customer, you'll get a lifetime discount for Ulysses and pay $30/year. Note that it's presented a bit oddly… It's $30 because technically you're getting 50% off the monthly price of $4.99, but you have to pay by the year…
What Happens When you Cancel…
Something worth noting is that if your Ulysses subscription ends, you will still retain full access to all your files and even to the app.
What you will lose is the ability to edit existing documents and create new ones. Thus, your apps will stay up-to-date with features and bug fixes, everything will stay in sync, you'll be able to export and access all your content, and more. You just won't be able to create anything new in the app.
In short: if you cancel your subscription, you won't lose your data.
---
Learn Ulysses
In other Ulysses news, we've been hard at work on our first tutorial series (or online course) that provides in-depth training into just about everything Ulysses does.
It's called Learn Ulysses and it will be launching later this month. Find out more right here.
---
Stop losing your ideas and notes to multiple apps…

An online course to help you save time, organize your notes, and master the best writing app for Mac and iOS: Ulysses.
---