Nate Dunn's Mac and iOS Setup
October 12, 2020
In this series, we post a new interview with someone about what software they use on their Mac, iPhone, or iPad. We do these interviews because not only are they fun, but a glimpse into what tools someone uses and how they use those tools can spark our imagination and give us an idea or insight into how we can do things better.
New setup interviews are posted on Mondays; follow us on RSS or Twitter to stay up to date.
---
Who are you and what do you do?
My name is Nate Dunn, and I run my cycling coaching company Data Driven Athlete from my home in Sacramento, CA. The sport of cycling has a long relationship with technology. In the last few decades, this relationship has been primarily mediated by the power meter.
A power meter is a device embedded in a bicycle crank that measures your power output (in watts) then transmits this data stream to a small computer on your handlebar.
Your power output is different from other classic cycling metrics (like speed or HR) in that it serves as an objective measurement of exactly how hard you're riding, regardless of environmental factors like wind or terrain.
If you combine a cyclists' power output with other metrics like heart rate, speed, and cadence (revolutions per minute), you can effectively turn a bike into a mobile exercise physiology lab. It's truly amazing stuff.
All of this data gets pushed to various cloud-based training platforms enabling a coach to remotely analyze, offer feedback, and ultimately design a custom training program to support a cyclist in reaching their goals. That's my job in a nutshell.
What is your current setup?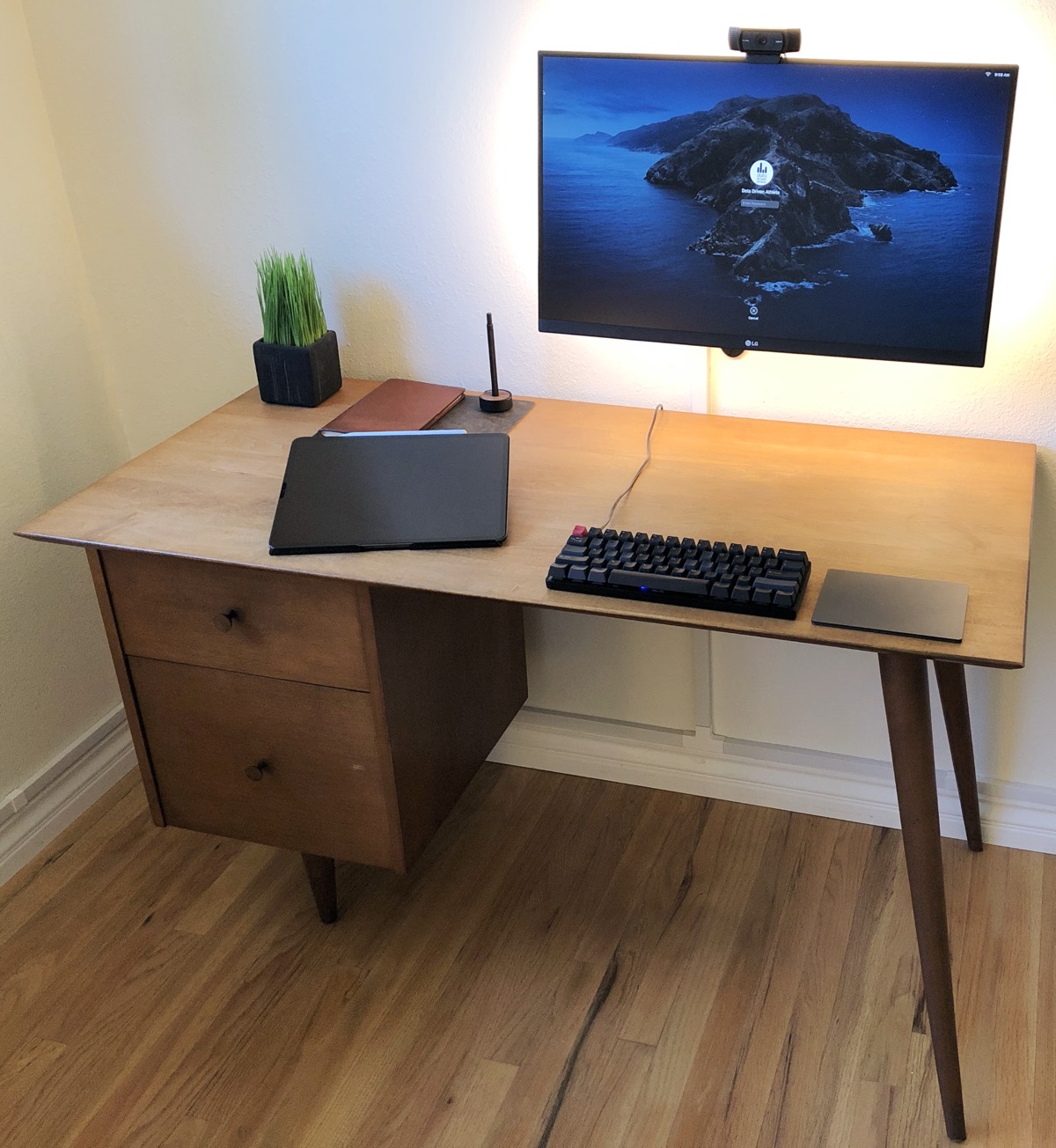 I have a 2018 Mac mini mounted to the wall behind my desk, linked up via USB-C to a wall-mounted 27″ 4K LG Monitor. This monitor serves as a USB hub where I connect my Vortex Pok3r mechanical keyboard (I credit the keyboard on my old 2016 MacBook Pro for turning me onto mechanical keyboards) and a Logitech webcam. A Magic Trackpad 2 controls the rest.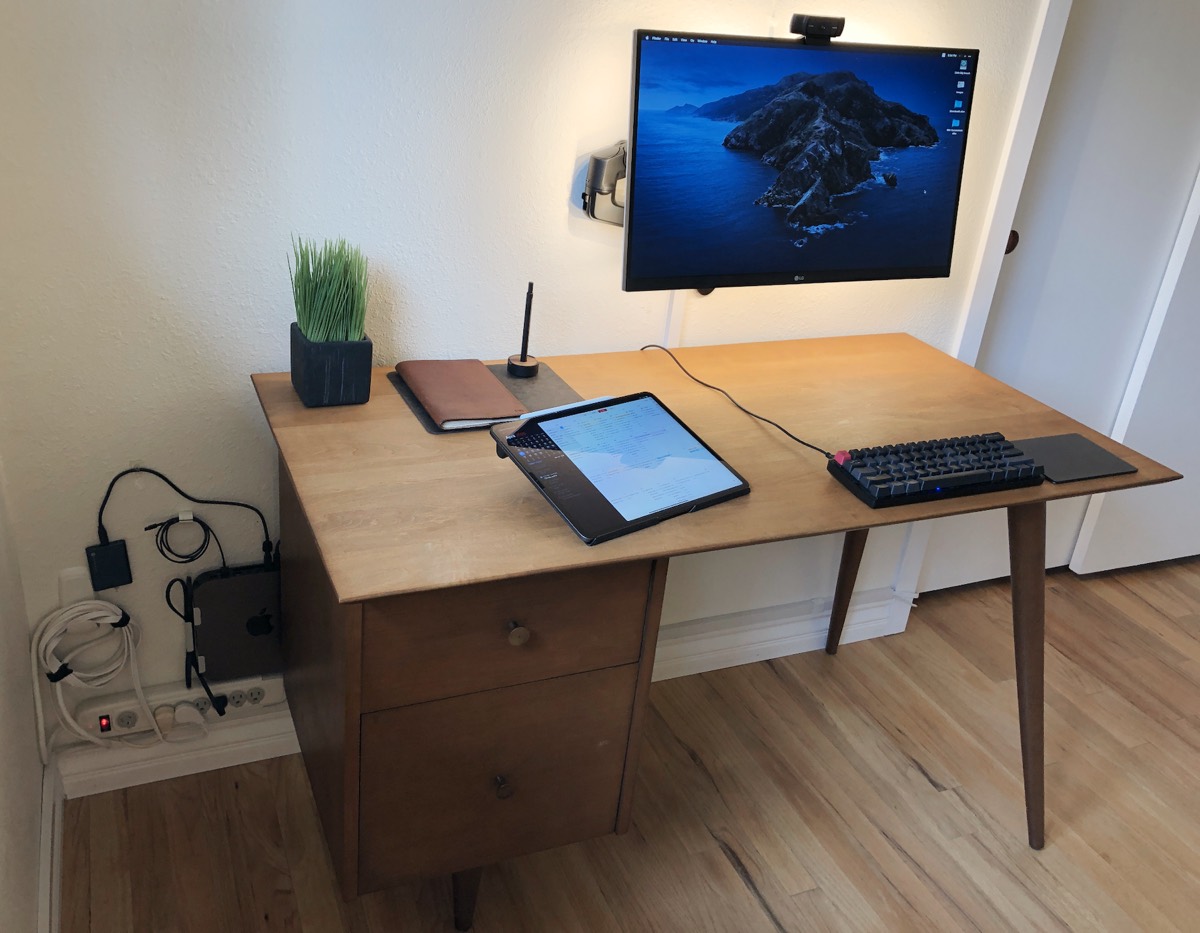 I have a secondary workspace in the corner of my office where I like to make client phone calls, read, journal, and listen to music. That's where I usually have my 2018 iPad Pro 12.9 in a Smart Folio Keyboard case, AirPods, and a HomePod mounted to the wall.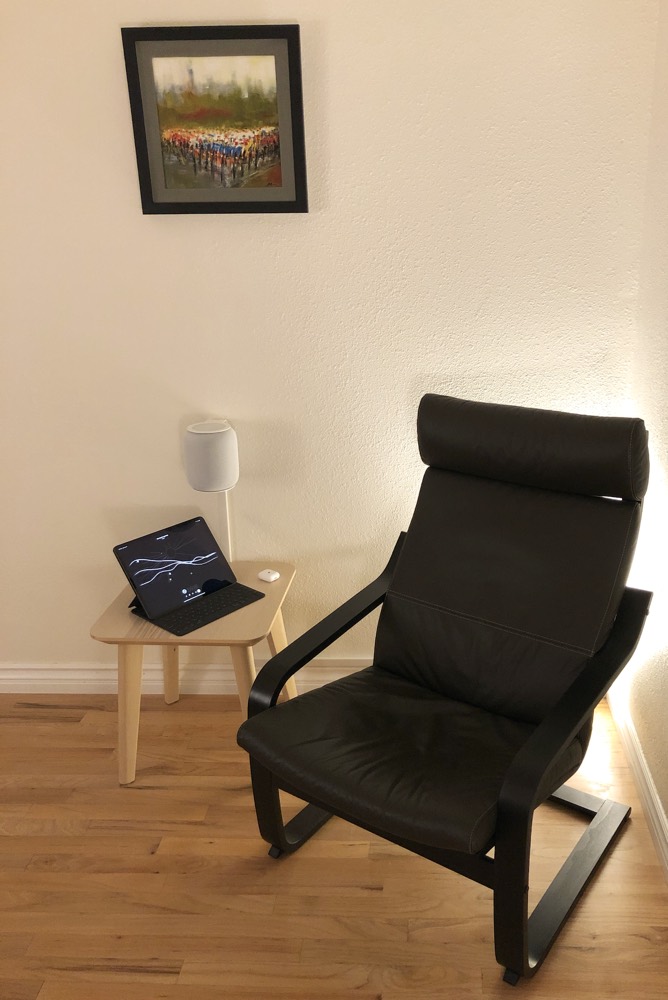 Where can we find your macOS wallpaper?
In your system preferences. I use the default Catalina dark wallpaper.
What software do you use and for what do you use it?
How would your ideal setup look and function?
I like clean setups with lots of open space. There's something about a simple work setup that provides needed contrast between my work life and home life. I want my setup to signal a dramatic shift between the focus I need to work and the chaos surrounding young children.
---
What iPhone do you have?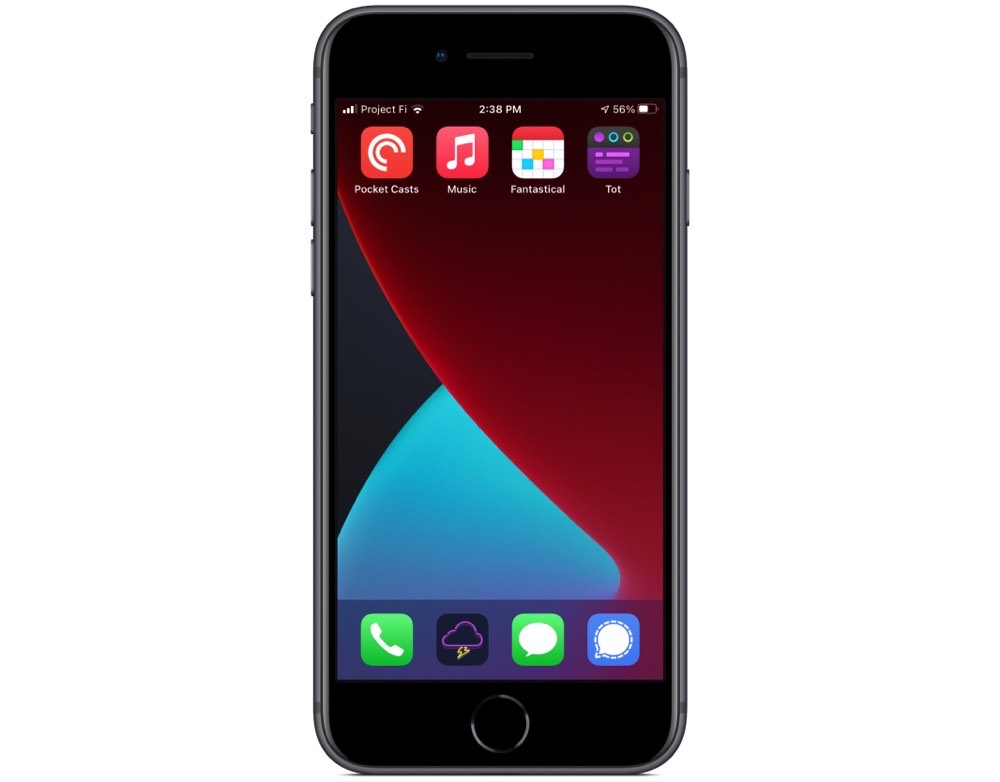 I have a black iPhone 8. To be honest, I'm not a phone guy. I've spent a ton of effort over the past two years trying to socially distance myself from my phone. If I could restrict my phone usage to calls, the occasional text, podcasts, and music, that would be a success.
Having a basic/boring phone helps me leave it alone and be more present with life happening around me. If my phone looked and felt like my iPad Pro, I would be in a world of trouble.
Where can we find your wallpaper online?
In the iOS Settings app.
What apps do you use the most, and why?
CARROT Weather: Its profane abuse brings a smile to my face every day. Every time its snark causes me to laugh out loud, I have to explain to my daughter that my phone is telling me an adult joke, and maybe we'll talk about it when she's older.
Apple Music: It just works.
Tot: A digital scratchpad for random copy/paste needs. I like it.
Which app could you not live without?
Pocket Casts. I enjoy listening to a ton of podcasts, and Pocket Casts allows great customization options.
---
Which iPad do you have?
2018 iPad Pro 12.9″ in Space Gray.
Where can we find your wallpaper online?
Again, it's a default choice in the iOS Settings app.
How are you using your iPad on a daily basis?
My 12.9″ iPad Pro is my first tablet. I've never seen the value in a tablet for the work I do. Still, as the iPad began looking more like a modular computing platform, I ended up getting rid of the ticking time bomb that was my 2016 13″ MacBook Pro and splitting my computing needs between a new Mac mini and iPad.
It's been a fun challenge to transition to iPadOS after spending ten years with different variations of the MacBook Pro. Besides basic computing tasks, I've found the iPad most helpful for things it can do that my Mac mini or previous MacBooks never could.
These tasks include marking up screenshots for clients using the Apple Pencil, having a large viewing area to browse academic textbooks with the Kindle app, highlighting research papers as PDF's, and generally being more portable due to fantastic battery life.
The other area that's new to me is how much fun it is to browse/listen to music on a big touchable screen. Music on an iPad is more tactile, a throwback to being a kid when I would crack open a new CD, appreciate the disc's design, and then pour over the liner notes while listening. Holding the bare iPad and listening to music has been the closet thing I've found to the nostalgic days of sifting through my big CD binder.
What apps do you use the most, and why?
Endel: A new app for me. As a life-long music fan, one of the challenges I've found with trying to work while listening to music (or studying back in the day) is that music is nearly always too engaging for me. Melodies, beats, chord progressions — they nearly always grab my attention and break my focus. Straight white noise, on the other hand, doesn't provide enough momentum to push me toward a focused work groove. Endel has been perfect for me in that it creates an endless loop of beautiful/random sounds that leads me toward a more concentrated/trancelike work state. It's excellent.
Day One: Day One has been to journaling what Ulysses has been to my writing habit. It's a fun place to hang out, which lowers the friction of journaling just enough to keep me on the train for most days.
Ulysses: Writing in Ulysses on the iPad is like eating a crushingly smooth piece of chocolate cheesecake. To get the complete experience, I have to plug in my mechanical keyboard and sync the Magic Trackpad. Still, even in the Smart Folio Keyboard Case, the app's fluidity and simplicity on the iPad screen is a thing to behold. It makes me wish Apple made a 27″ iPad-like external monitor.
Which app could you not live without?
Waking Up. A few of the meditation apps I've tried over the past two years have been pretty good, but Waking Up offers depth and simplicity in the same vein as all my other favorite software. Sam Harris, the creator and primary meditation teacher on the app, has been a considerable influence in my life over the past decade. His meditation app strikes the perfect balance between teaching the theory behind meditation and providing a wealth of guided practice.
---
There are more Sweet Setup interviews right here.
Want to share your setup? Wed love to hear from you. Just fill out this form with some basic information and well be in touch.
---
Wait. There's a Bonus….
Custom Productivity Templates
We have a set of custom productivity templates that work well with the iPad app, GoodNotes. And if you want to try them out, we've put together a free guide that can help you.
We'll show you…
How to create and save custom page templates in GoodNotes.
How to use those page templates to transform GoodNotes into your own productivity notebook (or any other type of notebook replacement).
Plus, we also have included a couple of our custom productivity templates for you to get started with. These templates are right out of our popular productivity course.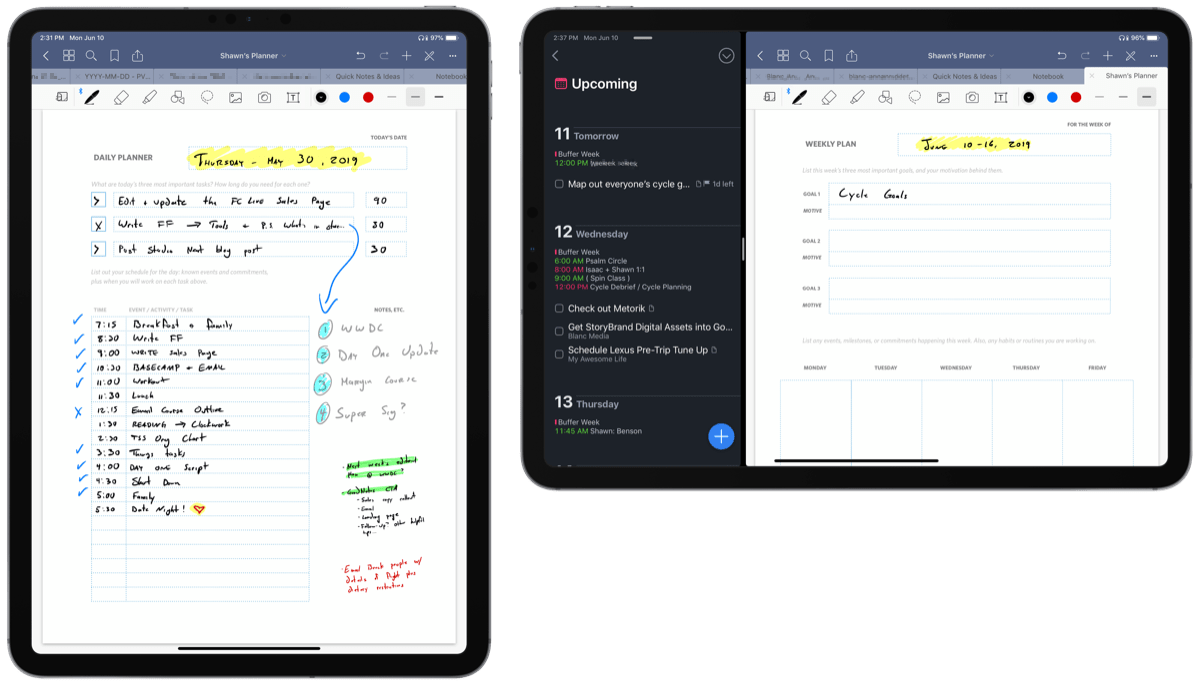 The custom templates and the guide are available for FREE to our email subscriber community. And you can get it right now. By joining the Sweet Setup community you'll also get access to our other guides, early previews to big new reviews and workflow articles we are working on, weekly roundups of our best content, and more.