Mindfulness Monday: Using Day One Templates to Create a Toddler Quote Book
June 8, 2020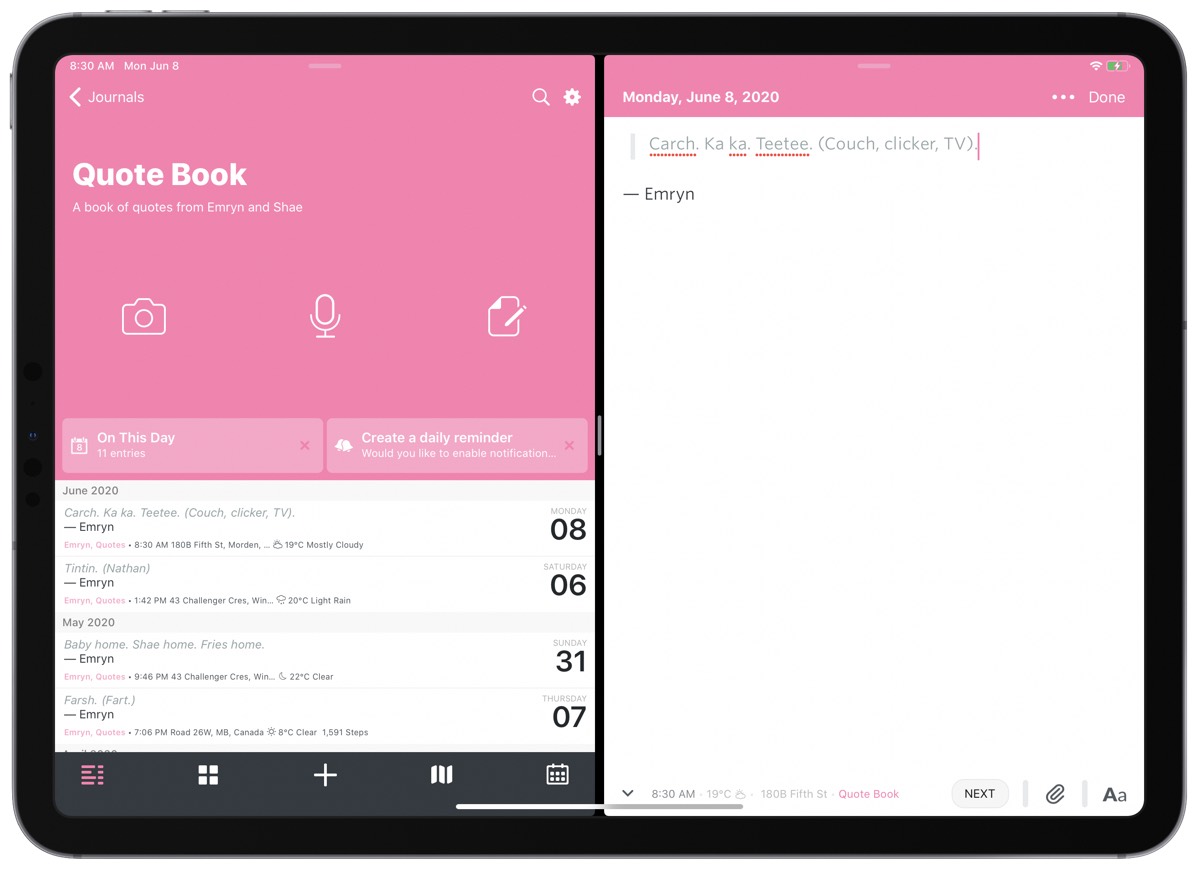 If you tend to journal or document standard or recurring events in your Day One, entry templates are an easy way to save time. They also provide a cohesive, standard, and consistent look for all like-entries across your entire Day One. For those of us with a perfectionist tendencies, templates are the key to consistency.
Day One has a variety of default templates available in the app — templates like "Decisions," "Meals," "Idea," or the "Daily Summary" are particularly useful if, like me, you like pondering the machine that whirs inside your brain — and you can also create your own templates to suit your own needs.

I've used Day One's templates to create two specific templates to quickly capture new quotes spouted off by our two-and-a-half year old daughter and our youngest six-month-old daughter. The templates ensure each quote looks and feels the same in a "Quote Book" journal, while also ensuring I can quickly capture whatever I hear.
Creating a Template
Both creating and accessing templates in Day One is very easy. In Day One's settings menu, navigate to Templates to find the nine different default templates Day One provides and to create your own.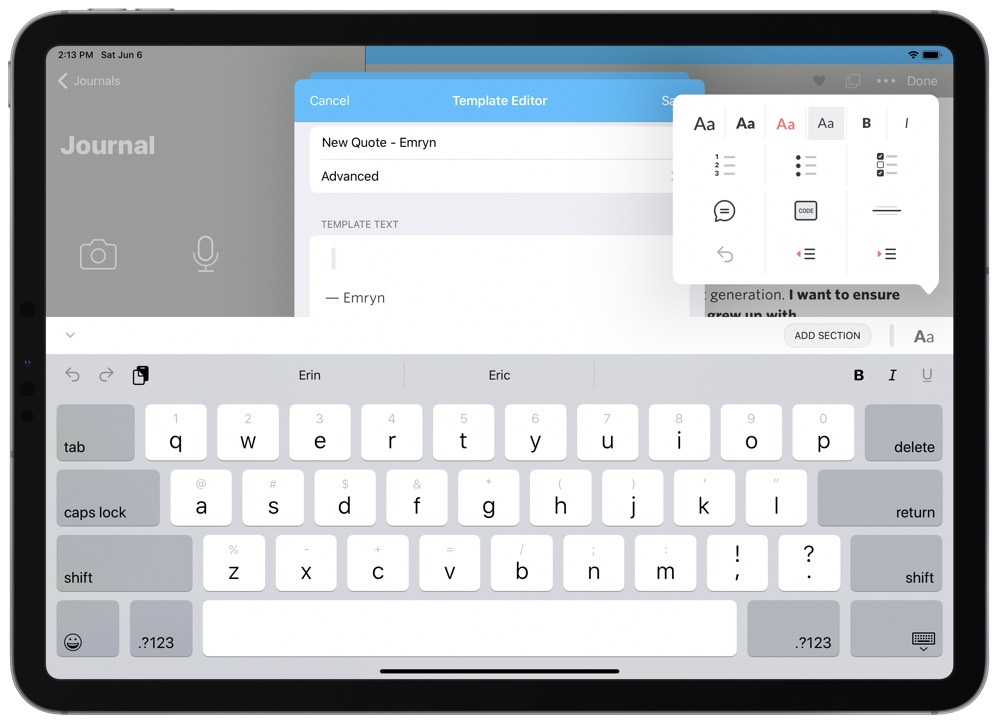 When creating your own templates, you can give the template a name, and designate which journal and tags you want to automatically include for entries created from the template. The bar above the keyboard is particularly handy when dealing with the text inside the template itself. Tap Aa to insert quotes, code blocks, divider lines, bulleted lists, and formatting to your template text. You can also add sections into the template to better organize your entry.
You can see above how simple my New Quote template really is. I have a quote block with italicized text for the actual quote followed by my daughter's name. The template is designed to save to a special "Quote Book" journal and is automatically tagged with Quotes and Emryn each time I run the template.
This is an incredibly simple method to save toddler quotes as your kids grow older and is an equally great way to revisit those quotes later.
Consistency in Your Entry Timeline
Templates in Day One are ideal for saving time and improving entry efficiency, but the biggest feature of templates for me is the consistent output — I love consistency from start to finish.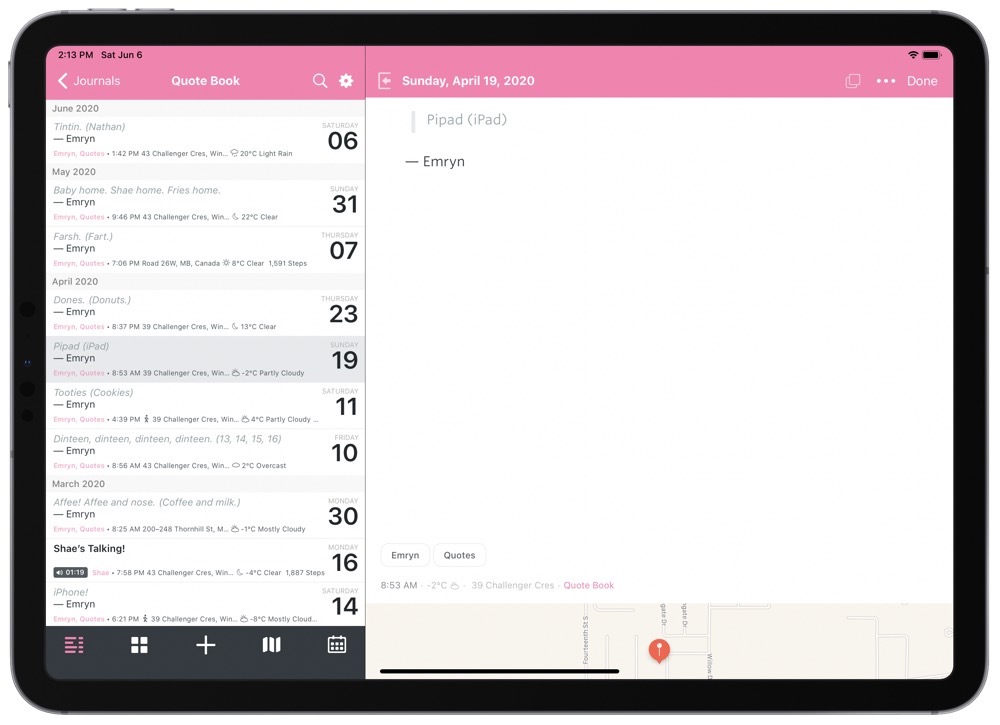 This entry consistency is best noticed when perusing the Quote Book journal. The left sidebar is riddled with quotes that are easy to scan, while you can drill into an entry to view a saved photo (best for when you want to see how old they were when they said the quote) or to view any of the metadata associated with the quote.
Bonus: Audio Entries
I'm all for people keeping written journals — you could easily argue a written journal will last longer than a digital journal — but there are a number of side benefits to keeping a digital journal. Specifically, the ability to create photo entries, video entries, and audio entries make Day One a hugely powerful digital journaling tool.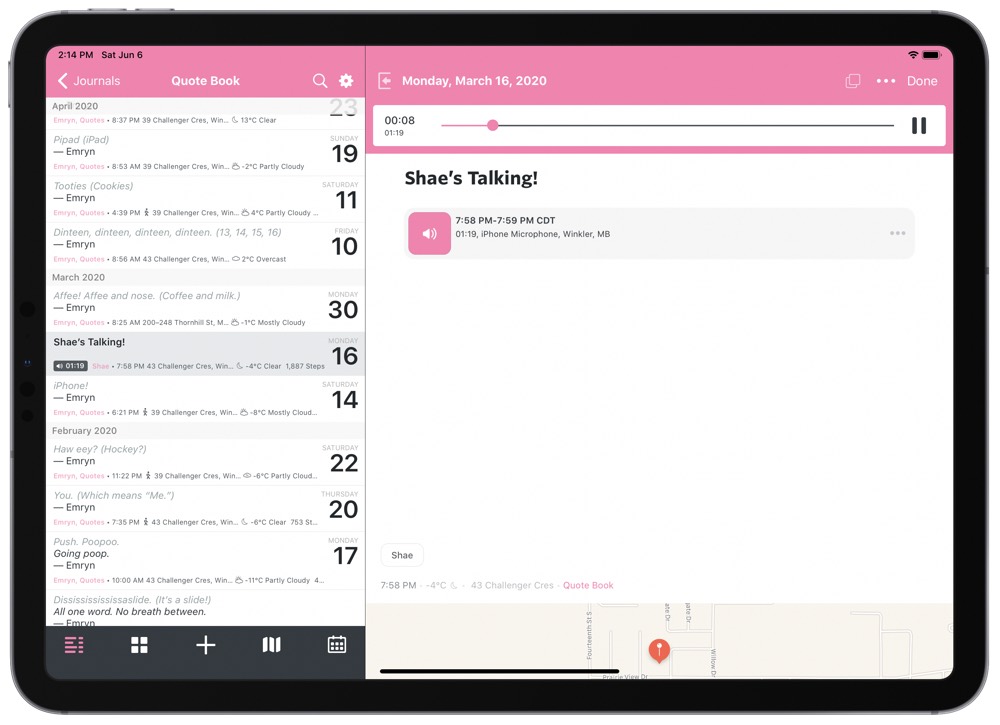 One could argue audio entries are designed for keeping memos for yourself or for dictating an entry, but audio entries are particularly great for capturing those funny quotes blabbed by toddlers and babies, and they are even more fun to listen to later on.
It wouldn't be hard at all to insert a little field at the bottom of a New Quote template to remind you to capture audio of your little one blabbing away. If you can somehow capture the audio and write it down for reading later on, I think this is the ultimate evolution of a digital toddler quote book in Day One.
Wrap Up
This might be the lowest of low hanging fruit for parents who use Day One as a digital journal. I could certainly try to use entry templates more and for a wider variety of reasons, but this has been one method that has truly stuck in my digital journaling workflow. Having a quick template for capturing funny, one-off quotes from our little ones is a great reminder for the power of keeping a digital journal.
The best part, of course, is revisiting all these entries at a later date.
Wait! There's more….
How to Use Day One in Your Life
For a the best journaling app, you won't do better than Day One. And if you want to discover how to use this app more regularly, and take full advantage of all its features, then we have some video screencasts that can help you.
In our course, Day One in Depth, you get 8 video screencasts that will take you line by line through every feature, setting, preference, and option found in Day One.
We'll show you…
Complete walkthrough of the Mac and iOS apps.
How to create and customize your journal entries (from text, to photo, to audio)
How to find, filter, export, and more.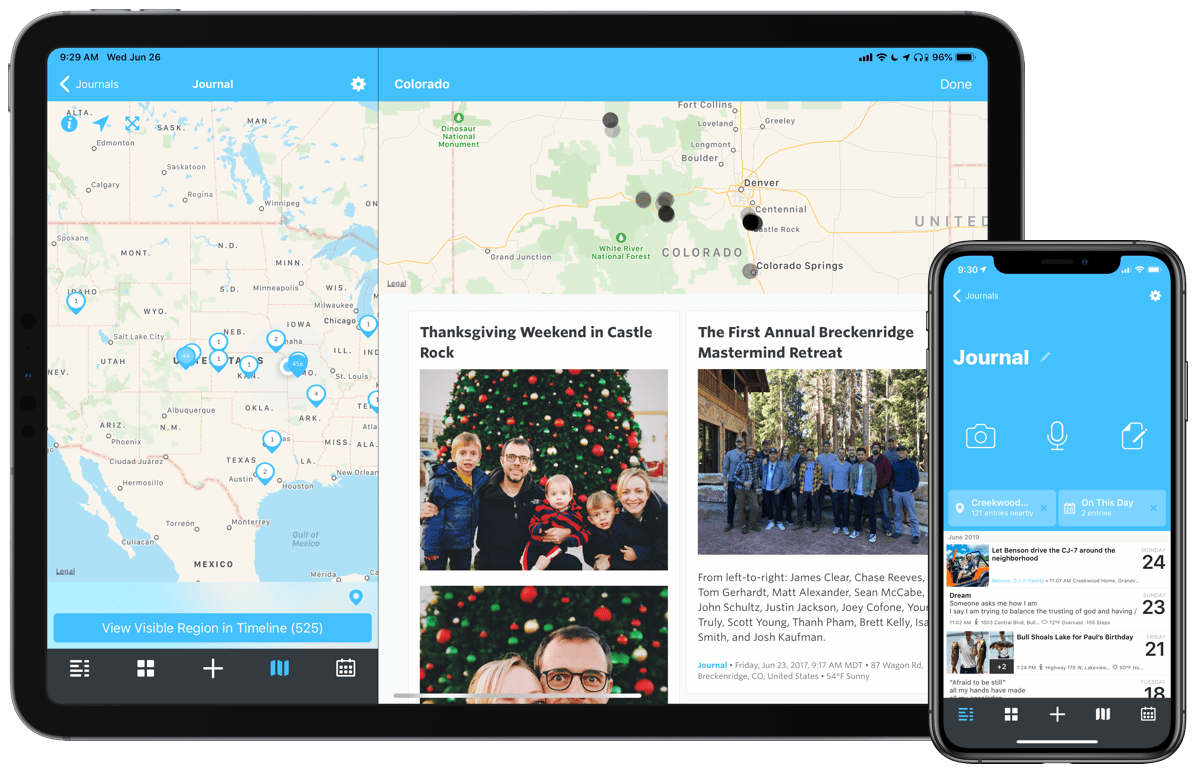 Plus! You will get bonus tips, workflows, and tutorials for how best to use Day One to suit your own needs: from a morning writing time to a photographic travel log, to weekly reviews and productivity journaling — Day One can do it all and we will show you how.