Mimestream is a Great, Reliable Gmail App for the Mac
October 5, 2023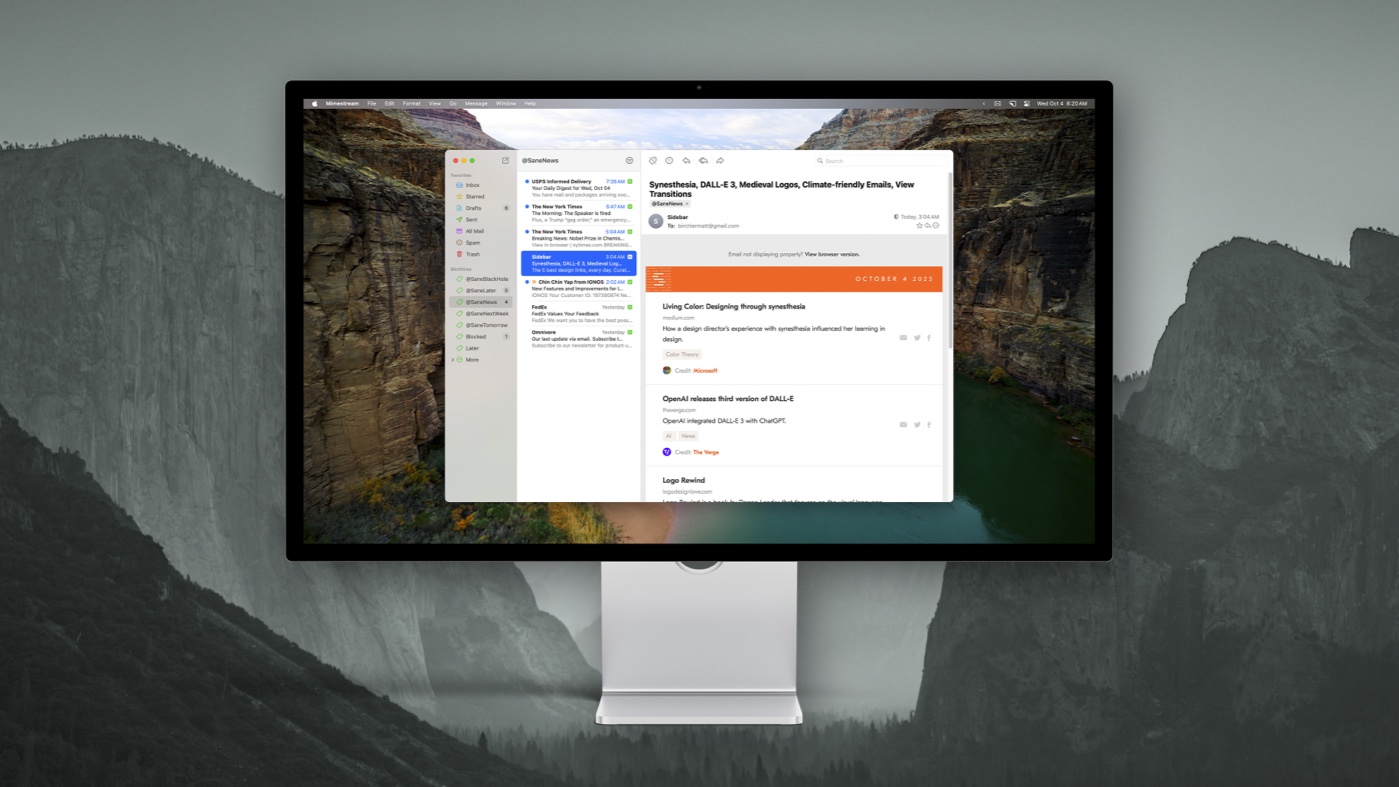 There are a million email apps out there for Apple devices, and each of these apps needs to convince people that they should use them instead of Apple's built-in (and free) Mail app. These apps will often differentiate themselves with added functionality that Apple simply doesn't do in their app, and often that's great! We've covered a lot of these apps here on The Sweet Setup, and our current pick for the best third-party email app has a ton of things that Apple's app doesn't.
But what if you generally like Apple Mail, you just wished it was more reliable, faster, and was a little more customizable? If you're a Gmail user on the Mac, then Mimestream may very well be the app you've been waiting for.
Mimestream is a native Mac app built by Neil Jhaveri, who worked on Apple Mail at Apple for several years, and it shows in this new project. Gmail in Apple Mail just isn't that great, and Mimestream feels like the answer to the question, what if you took all the good things about Apple Mail and then made it sync quickly & reliably, made it work with all of Gmail's proprietary features, and wrapped it in the fastest app on your Mac?
Gmail and Mac Only
I'd usually put the caveats towards the end of a piece like this, but I think it's important to note early on who this app is actually useful for. Mimestream is currently Mac-only and only works with Google accounts. There is no iPhone or iPad app, certainly no Windows app, and there's no way to use this with your Outlook, iCloud, or any other email provider besides Google.
The company's roadmap does show iOS and iPadOS versions in the works, as well as support for IMAP and Outlook accounts down the road. If and when those come, Mimestream will be a great tool for even more people, but as is always good advice, buy products for the features they have now, not for what they may add in the future.
The Best Part of Mimestream
The best part of Mimestream for me is its pure speed. No email app I've ever used has received new emails quicker, synced so quickly, or just let me move around the app nearly as fast as Mimestream. Seriously, it never feels like the app is even breaking a sweat, and like most good productivity software, it keeps up with me no matter how fast I'm working.
This is in contrast to the Apple Mail experience I'm used to where I open the app and wait 5 or more seconds for it to sync with the server and actually show me my new messages. That's not a big deal for everyone, but it is for me.
Deep Gmail Integration
While Mimestream is limited in that it only works with Gmail, that also means that the developer has been able to make sure many Gmail features just work in the app. For example, calendar invites show up nicely with a custom UI that feels right at home on the Mac. You can respond to those invites in Mimestream as well as see the statuses of the other meeting guests.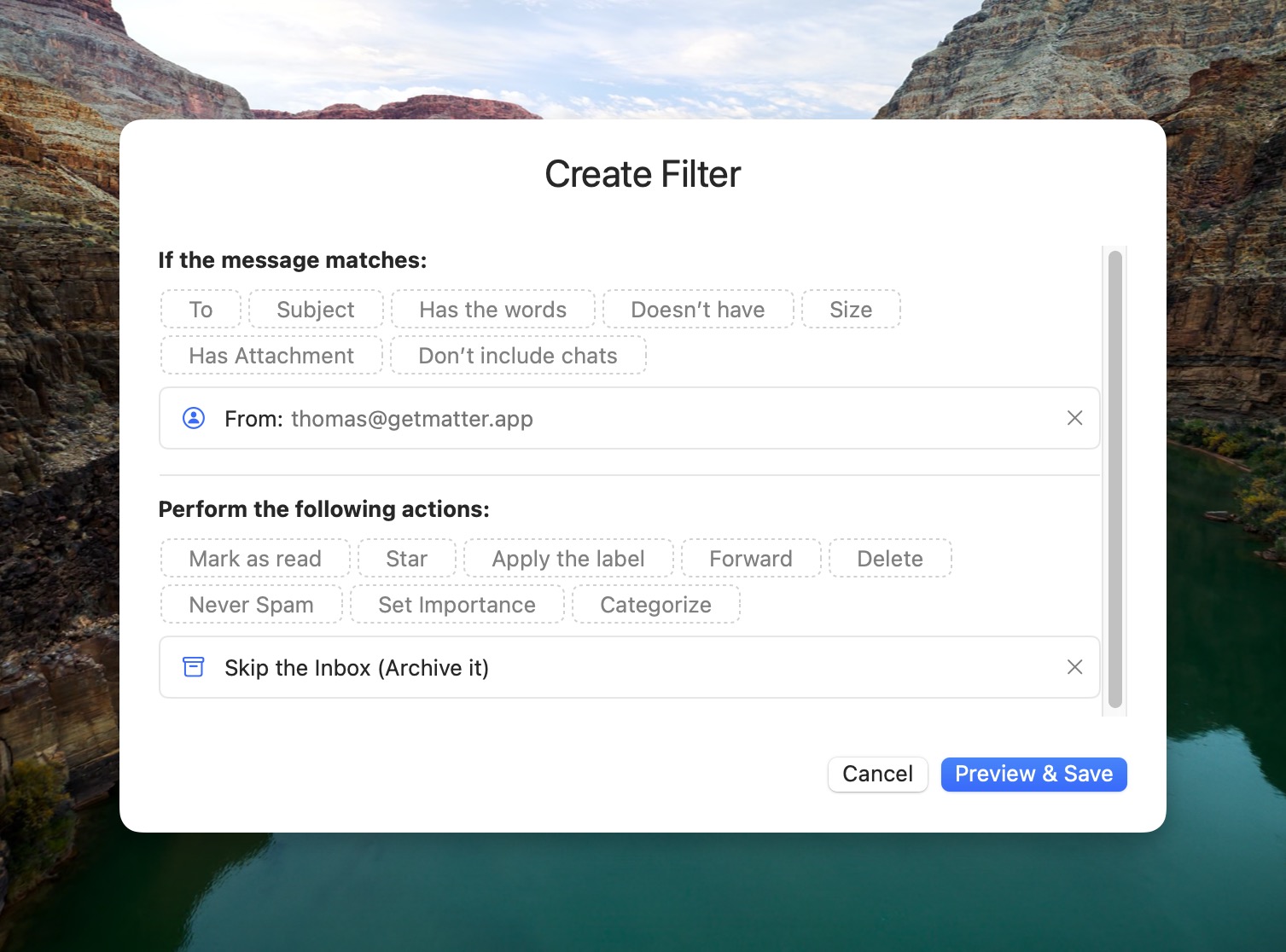 Mimestream also brings in your inbox categories (promotions, social, etc.) and they live in the sidebar. Your labels are applied to messages as you'd expect, and they're not weirdly hacked into the IMAP folder UI. Gmail's native search is built in as well, letting you search through your whole email history quicker than I've seen in any other service (and my account goes back to 2004!). You can even create new filters (like "auto-archive all emails from @spam.com") inside Mimestream, and these are real Gmail filters that run on the server, so you don't need Mimestream running all the time for these to function.
Native Mac Features
But it's not all Gmail features — Mimestream is also a good macOS citizen. In addition to being a blazing fast native app, Mimestream also supports things like Focus Filters, allowing you to only see specific accounts when in specific focus modes on your Apple devices. For example, I have my work and personal emails loaded into Mimestream and I use Focus Filters to hide my work emails when my "weekend" focus mode is enabled.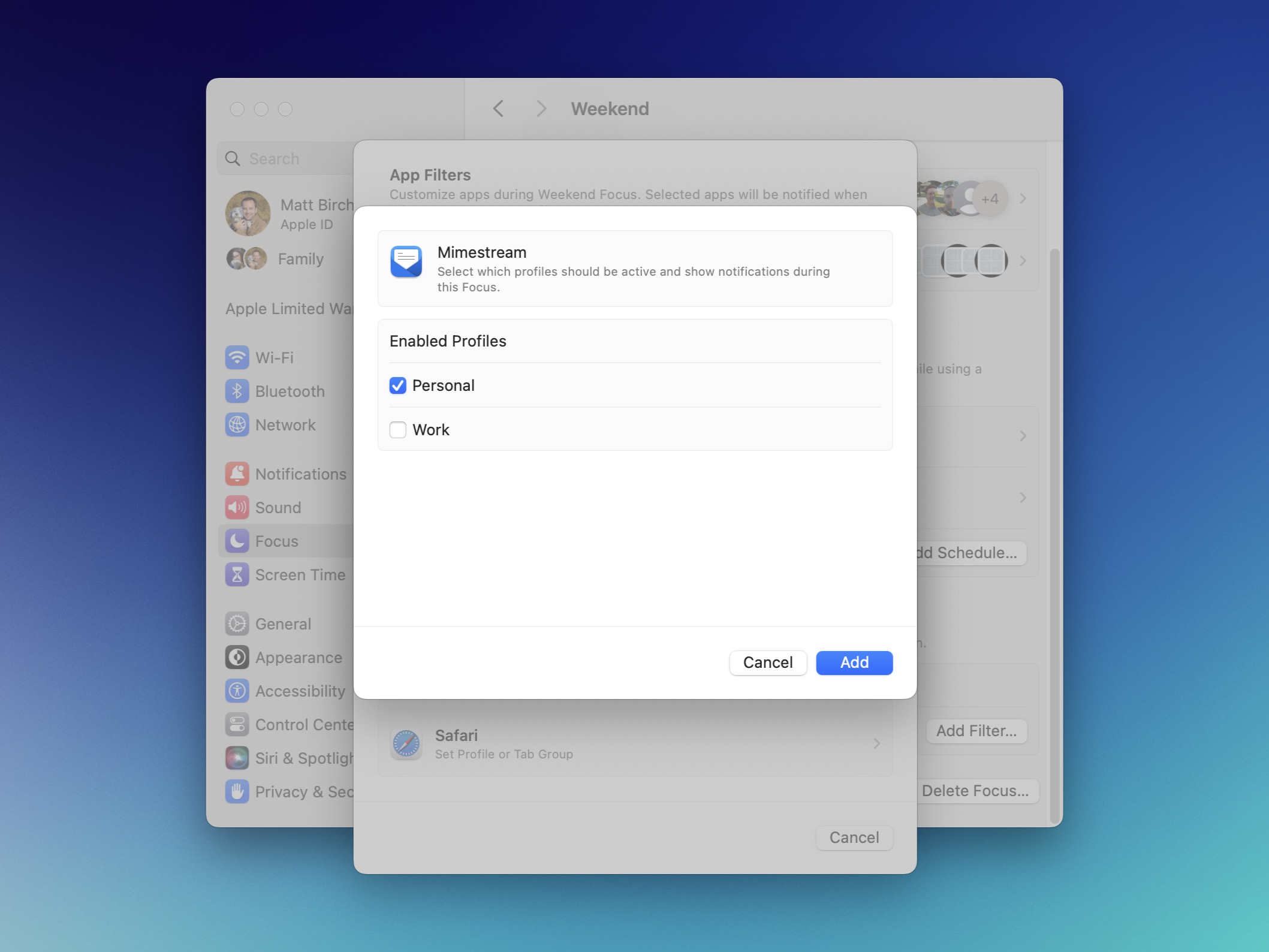 There's also a nice (optional) menu bar app you can run that shows your current unread count, and you can click on it to show all unread messages in your inbox.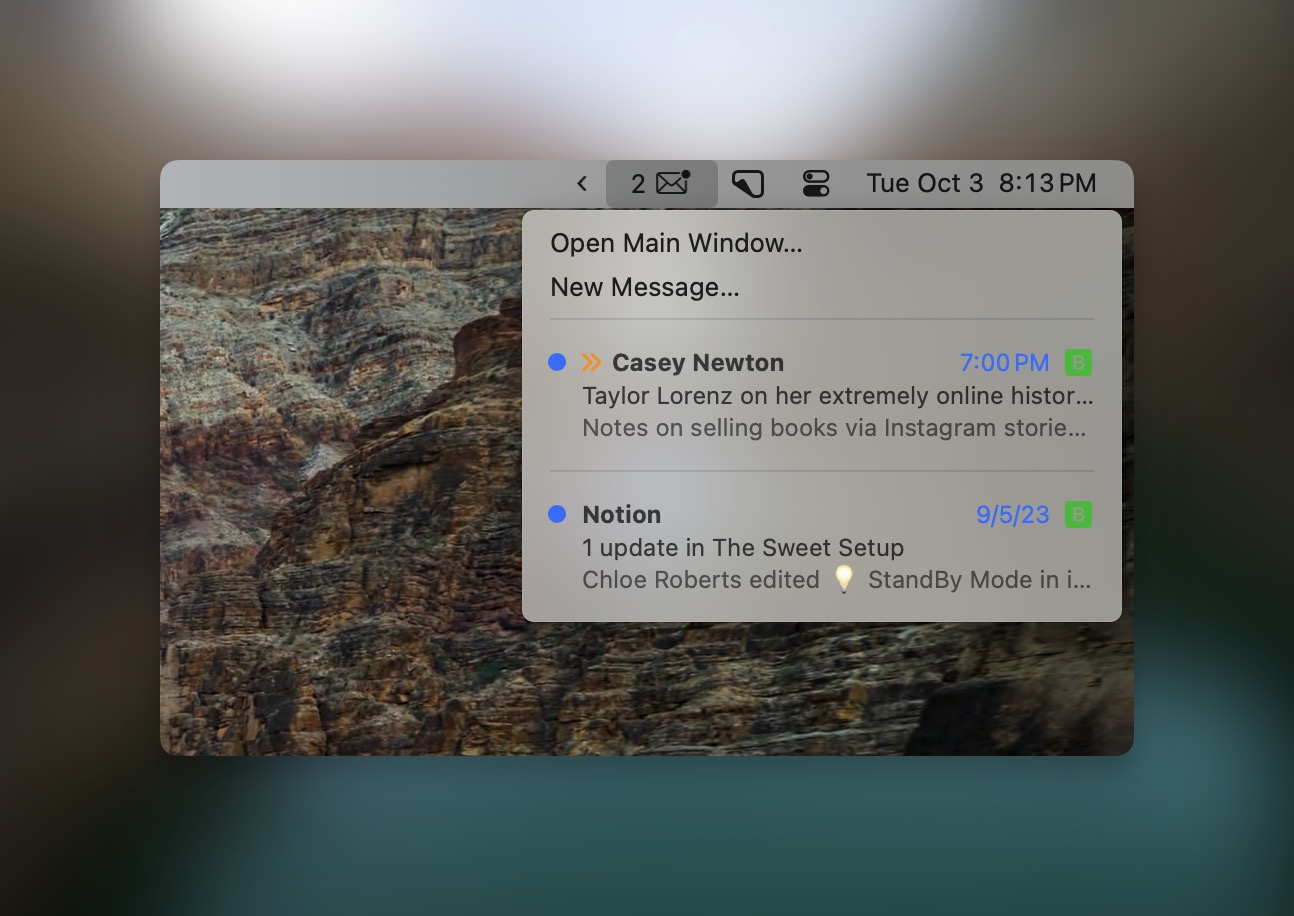 My one wish is that there was a way to open this menu bar app with a universal keyboard shortcut. As it is, I find it just as quick to open the full app from my dock.
Keyboard Shortcuts
When I'm working on my Mac, keyboard shortcuts are an absolute must if I want to get things done quickly. Mimestream does a very nice job here as well, although I would like to see more flexibility in the future.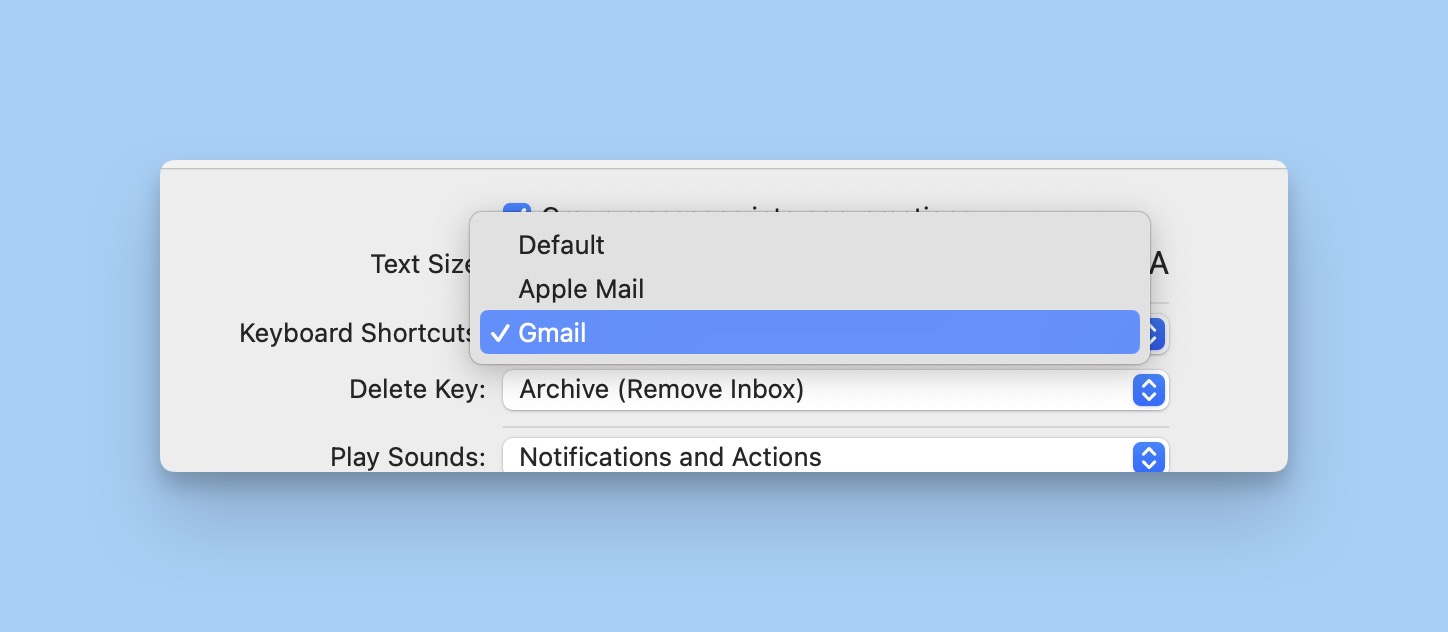 The app has its own set of keyboard shortcuts that I think make sense, but if you don't want to learn something new, you can go to the app settings and select Apple Mail or Gmail shortcuts instead. I have gotten very used to Gmail's shortcuts over the years, so that's what I've gone with, but if you use Apple Mail's shortcuts, those are on offer too. I would love to see Mimestream add the ability to customize individual keyboard shortcuts inside these presets so you could have something custom. It would also be great to have a place to go to see what the shortcuts for everything are without browsing the menu bar options.
Another thing that's rad is that you can use the arrow keys to quickly change focus from your list of filters, to messages, and to an individual email. I like being able to arrow up and down through my inbox and then arrow left and down to go to one of my filters where some emails I stored away to deal with later are hiding. This is nice, but it would also be great if a future version of the app had a command bar UI that you could invoke with Command + K or something like that and type in the name of a filter to instantly jump to that view.
The Rest
There's so much more here and we really don't have time to get into everything today, but here are a few other goodies.
Vacation responses! If you're going on vacation and want an auto-responder set up, you can do that in Mimestream, and since it uses the Gmail API, it sets this up on your Gmail account for you.
There is of course support for multiple Gmail accounts, and you can separate them into groups, like "personal" and "work" so that serious and personal messages never intertwine.
You can format emails in Markdown.
Gmail's @ mentions work as you'd expect in the web app.
Mimestream is a part of Google's Advanced Protection Program, which isn't for most people, but is super valuable for those who need it.
Pricing and Final Thoughts
Mimestream has a 14-day free trial and then is $49.99/year or $4.99/month. Your reaction to that pricing is going to vary by how much you rely on email in your day to day life, and if the prospect of a quicker, more reliable email app with deep hooks into Gmail's feature set appeals to you. If you want something free, then Apple's Mail app gets the job done, and if you want something with support for more services and iPhone & iPad apps as well, then we like Spark.
For me, Mimestream scratches a very specific itch and genuinely helps me do better work, as email is core to what I do everyday. I'm super happy that Mimestream exists, and I really hope their eventual iOS app brings everything great about the Mac app to the smaller screen.
Ideas to Action Focus Booster 💥 Double your creative output with a simple system for organizing
The Ideas-to-Action Focus Booster shows you how to translate your notes, thoughts, and plans into rapid progress (instead of getting stuck at the start).
👉 Step #1: Capture Your Genius → Create your own digital idea incubator. You'll learn how to leverage tools like Notion, Obsidian, and more to organize every spark of inspiration worth saving.
👉 Step #2: Develop Your Ideas → This is where the magic happens. Connect the dots on your ideas and unlock the creative energy to see them through.
👉 Step #3: Execute Your Vision → Turn inspiration into action so you can finally share what's in your head with the rest of the world.
Bonus: Yes Yes Notion → Discover how to make Notion your command center for turning ideas into action in this 2-part bonus workshop.
Get all this, and more, inside the Focus Accelerator membership.
Join 300 focused members who have access to $5,000 worth of our best courses and masterclasses, the Digital Planner, a Private Community Slack, 2x Monthly Coaching Calls, and much, much more…