Mike Schmitz's Screencast and Podcasting Setup
July 15, 2019
Every week, we post a new interview with someone about what software they use on their Mac, iPhone, or iPad. We do these interviews because not only are they fun, but a glimpse into what tools someone uses and how they use those tools can spark our imagination and give us an idea or insight into how we can do things better.
New setup interviews are posted every Monday; follow us on RSS or Twitter to stay up to date.
---
Who are you and what do you do?
I'm Mike Schmitz, creator of Faith-Based Productivity. I also co-host the Focused and Bookworm podcasts, and most recently I joined The Sweet Setup team as Executive Editor.
What is your current setup?
For years, I docked my MacBook Pro to an external monitor whenever I worked from home, but last fall I bought a new Mac Mini when they were announced because I wanted to have a dedicated podcast/screencasting setup.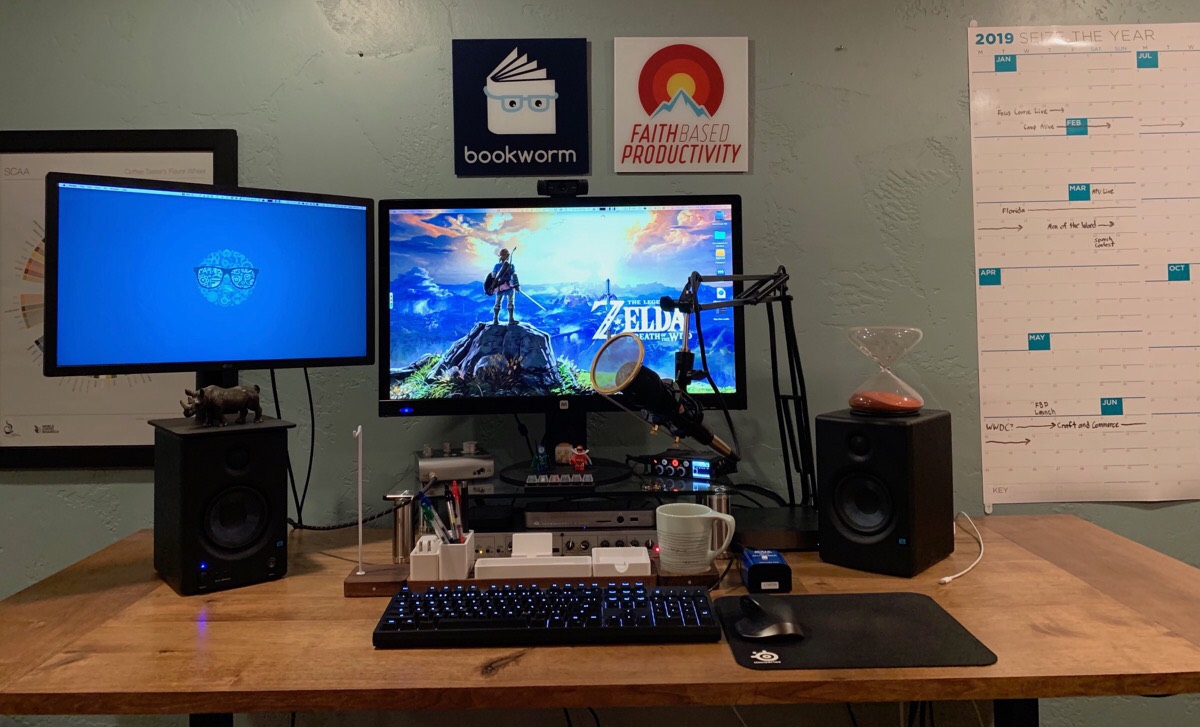 I have the base i5 model and I absolutely love it. I did upgrade the RAM to 32GB myself with the OWC upgrade kit, which was a little cumbersome, but the OWC kit made it fairly straightforward by giving you all the tools you need, and the video tutorials were easy to follow. The whole process took about 45 minutes, but I saved about $400 by doing it myself.
I have two monitors hooked up to my Mac Mini, neither of which are very good, but they work. The larger one in a cheap Monoprice 4K monitor I picked up years ago and the side monitor is an LG 4K UltraFine I got on special from Woot.
The speakers are Presonus Eris 4.5 studio monitors. They're not anything special, but they're good enough for the editing work I do.
My microphone is a Neumann KMS 105 that I absolutely love. It's really expensive, but is incredibly good at filtering out background noise. That's really important for me since I usually work from home and have five kids under 12 who don't always respect the fact that I may be recording. The mic is plugged into a Rolls MS-111 MicSwitch that I use as a hardware cough button, then goes into a DBX286s channel strip and finally into a Sound Devices MixPre-3 which I use currently as my audio interface.
I love my clicky keyboard for writing, which is a CODE keyboard with MX Cherry Clear switches. My mouse is a Logitech MX Master, and both the mouse and the keyboard are plugged into an OWC Thunderbolt 3 dock that I used to plug my MacBook Pro into all the time (the mouse is a lot smoother using the RF USB dongle than with Bluetooth for some reason). I really don't need it anymore, but I like having extra USB ports available and I occasionally use the SD card slot. The organizer in front of the keyboard is an Ugmonk Gather. I've also got an Esington Timer on top of the right speaker which looks like an hourglass, but it's actually just a fancy Pomodoro timer. I've also got a key tester (which is a fun fidget toy I play with all the time when I record) and a couple of LEGO mini figures (Clock King and Calendar Man).
The desk itself is a Jarvis sit/stand desk with a custom top my carpenter friend made for me. I've had it for years and I absolutely love it. The giant calendar on the right is a NeuYear calendar.
Where can we find your macOS wallpaper?
The Focused wallpaper on the reference monitor is only available for Relay FM members as a perk for supporting your favorite shows. The Zelda: Breath of the Wild wallpaper can be downloaded here.
What software do you use and for what do you use it?
I don't use a ton of apps on my Mac, but I use them all the time.
I also have a bunch of little utilities that I use occasionally for a specific purpose or are always running in the background:
How would your ideal setup look and function?
I'm pretty happy with my current setup. Some day I'd love to buy a fancy iMac Pro.
But today is not that day.
---
There are more Sweet Setup interviews right here.
Want to share your setup? Wed love to hear from you. Just fill out this forma>strong> with some basic information and well be in touch.
---
Wait. There's a Bonus….
Custom Productivity Templates
We have a set of custom productivity templates that work well with the iPad app, GoodNotes. And if you want to try them out, we've put together a free guide that can help you.
We'll show you…
How to create and save custom page templates in GoodNotes.
How to use those page templates to transform GoodNotes into your own productivity notebook (or any other type of notebook replacement).
Plus, we also have included a couple of our custom productivity templates for you to get started with. These templates are right out of our popular productivity course.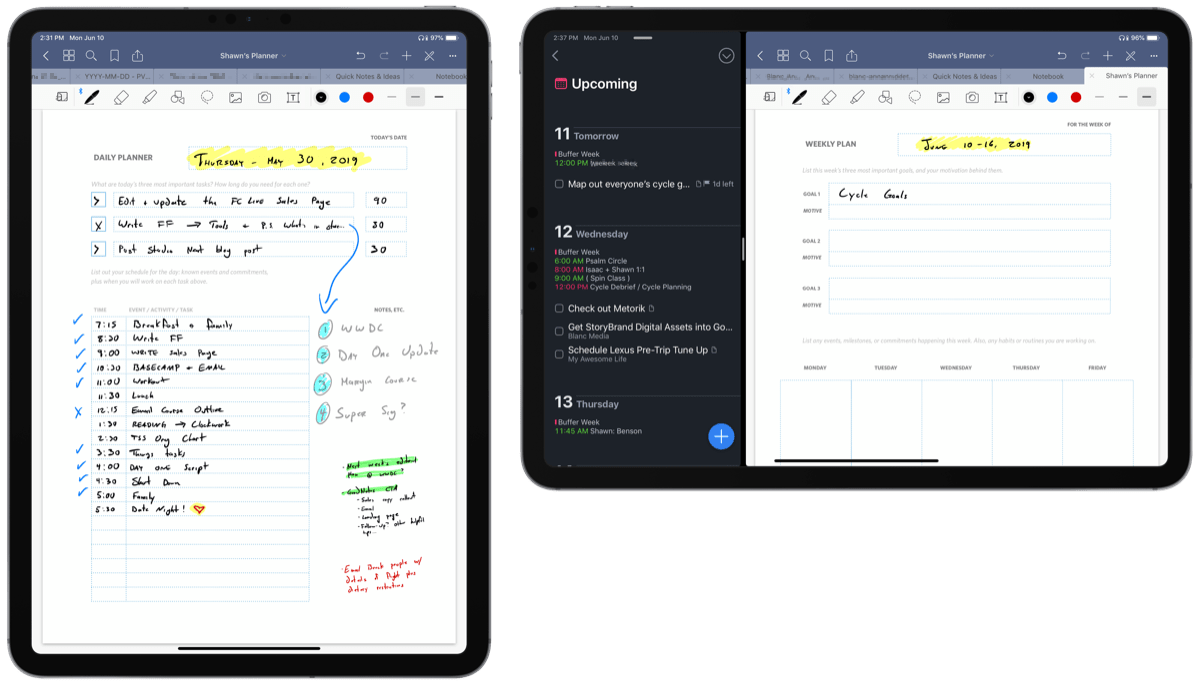 The custom templates and the guide are available for FREE to our email subscriber community. And you can get it right now. By joining the Sweet Setup community you'll also get access to our other guides, early previews to big new reviews and workflow articles we are working on, weekly roundups of our best content, and more.