The Margin Reset: A Complete Guide to Getting Your Time Back
March 11, 2023
This week, we are kicking off our next Focus Booster inside the community. And it's a Complete Guide to Margin.
How to go from busy and overwhelmed to…. not busy
There are only two ways you can restore margin to your life. And they're actually quite simple…
As part of our upcoming Margin Reset — a done-with-you program — we will take you step-by-step through the mindsets you need, the obstacles to watch out for, and the steps you need to take in order to restore margin in every area of your life.
You will also discover the habits, systems, and routines you can build in order to KEEP margin for the long run. While anybody can quickly restore a little bit of breathing room using a few quick tips, it takes more than that in order to maintain margin in your life over time.
When your life has margin, you are able to focus your energy on doing your best work, showing up for those who need you, and living at a sustainable pace of life.
This community-led, mini-course is completely free for any and all members of the Focus Accelerator Membership.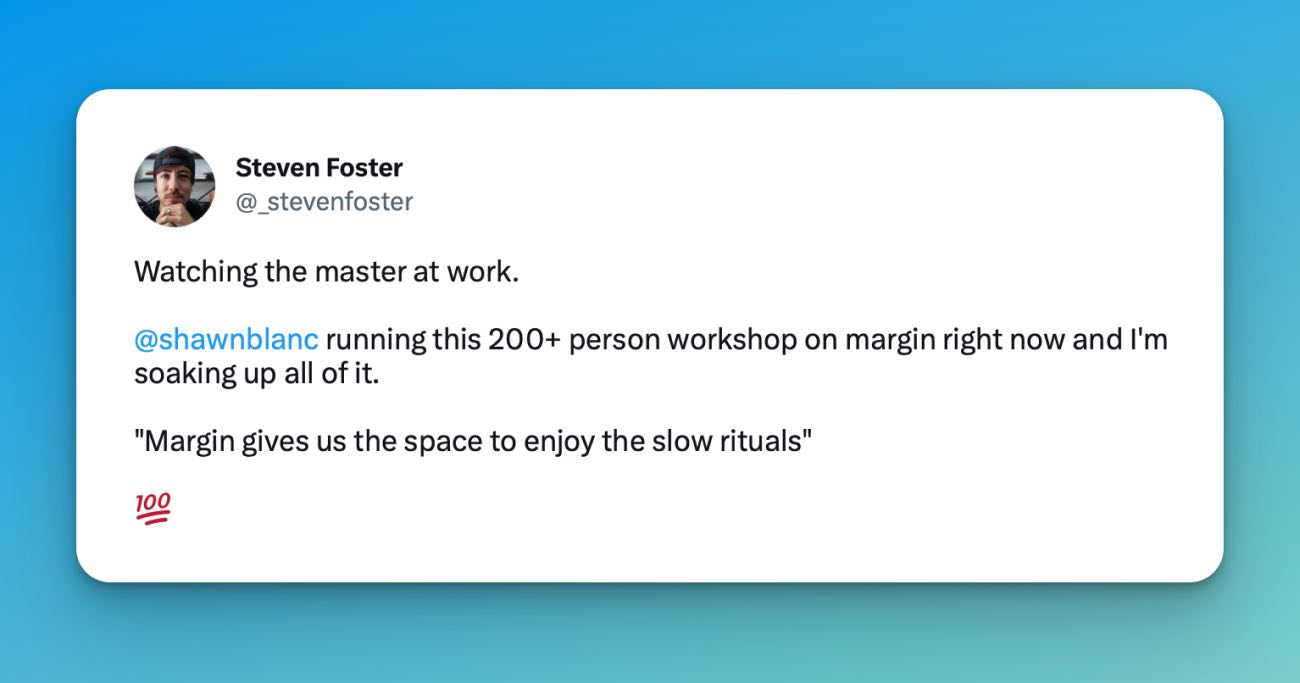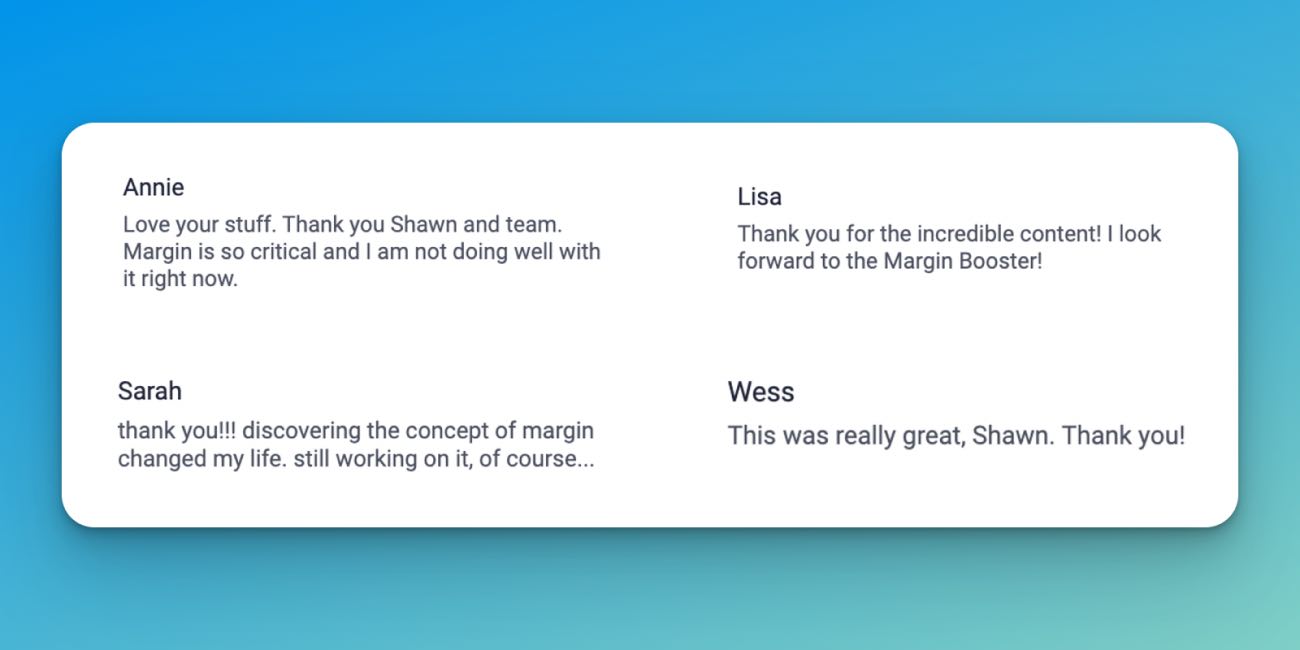 ---
Inside our popular community membership, you'll be able to join us for the Margin Reset that is starting later this week.
Stop wondering why it's so difficult to keep breathing room in your life, and finally break free from the overwhelm…
Additionally, you'll get instant access to the entire course library ($5,000 value), including our popular Focus Course, Margin masterclass, Time Management masterclass, productivity templates, and more…
Our simple, 2-part framework to restore margin
How we use these frameworks to take off 9 weeks paid vacation every year
How to get more breathing room in your own life (starting now)
Calm Inbox (email management masterclass)
All the Things (productivity course)
Productivity & Time Management Templates
All this, and more, inside the Focus Accelerator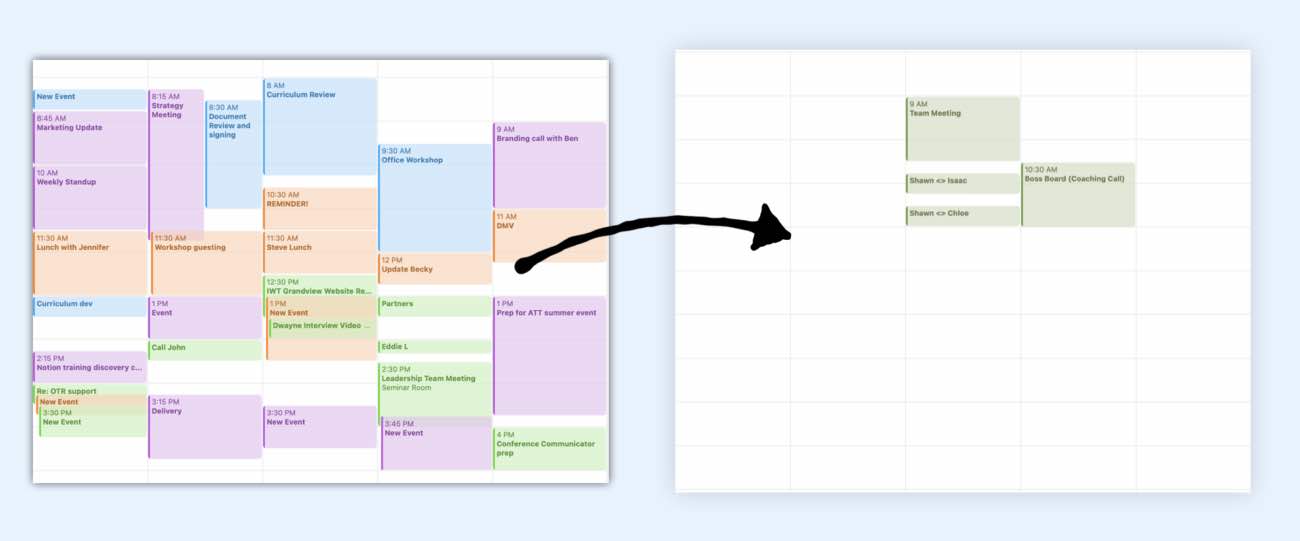 Join 300 focused members who have access to $5,000 worth of our best courses and mastercalasses, the Digital Planner, a Private Community Slack, 2x Monthly Coaching Calls, and much, much more…
This is our latest Focus Booster
As you may have heard, Focus Boosters are something new we are doing in 2023 for our Focus Accelerator members.
Each Booster is a community-led, themed challenge to help you up-level in a specific area of task, time, and idea management.
These are all the Focus Boosters happening in 2023:
Jan: Simple Habits (digital declutter + habit building)
Mar: Margin Reset (breathing room and calm)
May: Task & Time Management (productivity)
Jul: Extreme Ownership (protecting what matters)
Sep: Creative Ideas Systems (PKM and more)
Nov: Plan Your Year (goal setting)
The latest booster, Margin Reset, begins this week at our members-only coaching call (Tuesday the 14).
March: Margin Reset 🚀
Get complete access to all the frameworks, training, coaching, and tools you need to restore breathing room in your day-to-day life.
Imagine, your life WITH margin. It means you'll have:
Flexibility from a calendar that is not jam packed.
Space to think and create due to a life that's not rushed, hurried, and overwhelming.
Time to rest and recover instead of constantly hustling without a moment to pause.
Freedom to pursue opportunities, interests, and more.
Enjoyment of the slower rituals and moments of life.
A life with margin means is one with less stress and overwhelm in your work; more time on your calendar and more space for the things you love and want to do; more mental and emotional strength to show up for your relationships; and overall healthier work / life balance.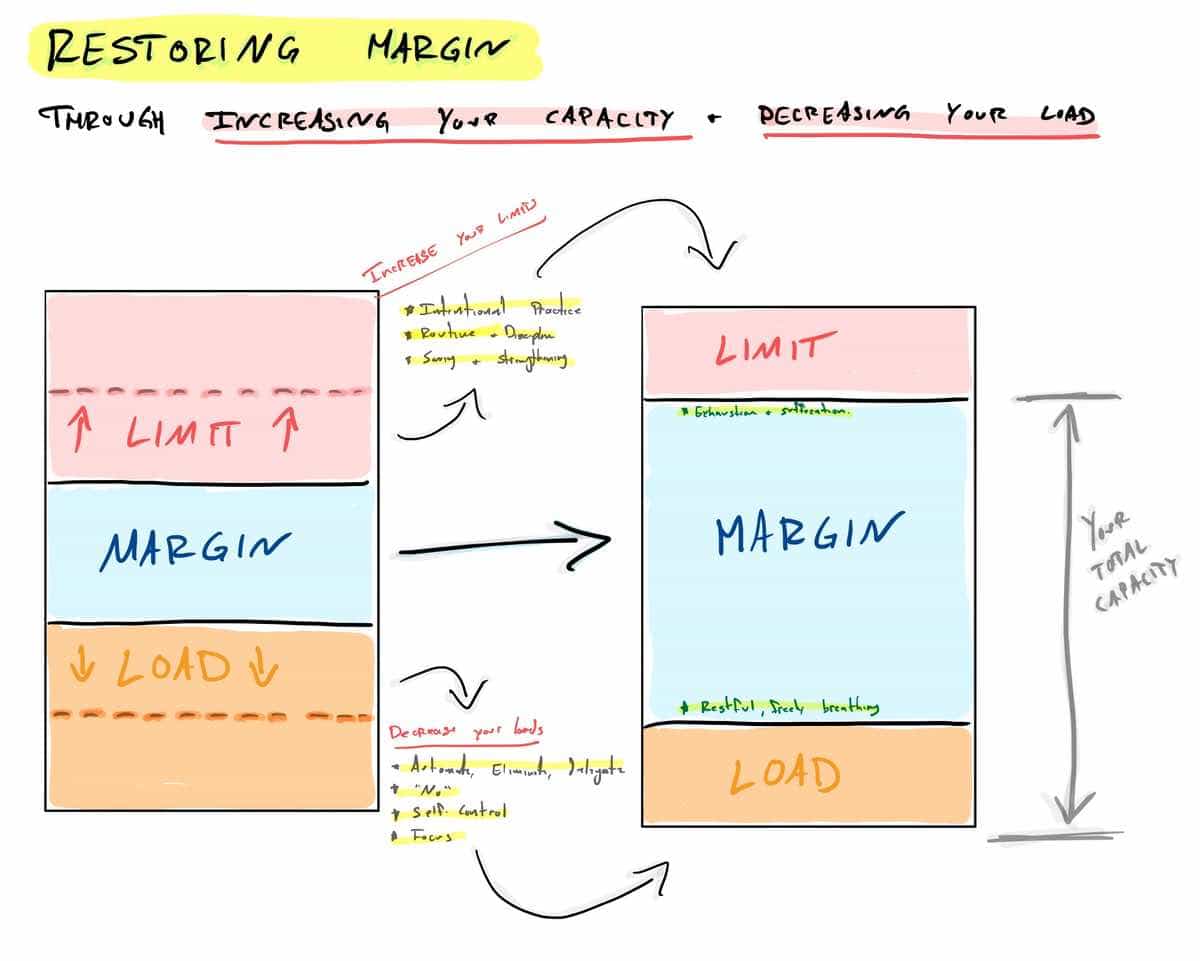 Here is the plan for the Margin Reset:
Step 1: Assess: Use our Margin Assessment to find out exactly where to focus first.
Step 2: Discover: The ideal next step you can take to restore margin in your life.
Step 3 Restore: Using our simple tools and frameworks, we'll show you how to thrive with a life full of margin.
How to Participate and Get Access
If you want to join us, sign up for the membership so we can help you get set up before things begin.
Join us for the live coaching calls
If you can't make the live call, then catch the replay
Share your progress, give ideas, and ask questions in the community Slack
What else does your membership unlock?
In addition to all the live Boosters, your membership also gives you instant access to everything in our entire library. Both here on The Sweet Setup as well as on our sister site, The Focus Course.
And when I say "everything in our library," I mean you'll have access to:
Calm Inbox ($197)
Simple Habits ($79)
Learn Ulysses ($197)
All The Things ($119)
Learn GoodNotes ($79)
The Focus Course ($497)
The Margin Course ($399)
Mastering Mind Maps ($97)
To Obsidian and Beyond ($297)
The Creative Focus Summit ($197)
The Personal Retreat Workshop ($59)
Time Management Masterclass ($247)
The 8-Week Work Cycle (NEW workshop)
Plan Your Year Workbook + Workshop ($59)
Time-Blocking and Time Tracking Course ($119)
Sensemaking & PKM with Nick Milo ($79 workshop)
The Do Half workshop with Sarah Peck (only available inside the membership)
How to Say No workshop with Sarah Peck (only available inside the membership)
Notion for Goal Setting with Marie Poulin (only available inside the membership)
Startup and Shutdown Routines with David Sparks (only available inside the membership)
You'll also get instant access to all the productivity templates, workbooks, and tools included inside each course!
Your membership comes with both online and in-person coaching and community. You'll also get:
A free ticket to our annual, in-person conference in Kansas City (happening April 4, 2023)
2x monthly Coaching Calls: You'll have a direct line to me and my Focus Team so we can dive deep into any challenge or obstacle you're facing.
Private Slack community: A place to get feedback, support, and tips from the entire community of Accelerator members to get world-class feedback and insights on task, time, and idea management.