Marc Charbonneau's Mac setup
February 9, 2015
Every week we post a new interview with someone about what software they use on their Mac, iPhone, or iPad. We do these interviews because not only are they fun, but a glimpse into what tools someone uses and how they use those tools can spark our imagination and give us an idea or insight into how we can do things better.
New setup interviews are posted every Monday; follow us on RSS or Twitter to stay up to date.
---
Who are you and what do you do?
My name is Marc and I'm an OS X and iOS software engineer in Portland, OR. I work on a lot of projects and side projects!
During the day I'm usually at the Esri PDX R&D Center creating tools to help developers use Esri's geographic software and bring maps to mobile and the web. From time to time I also make apps for my indie software venture Downtown Software House. In the Portland tech scene I'm active in a few regular meetup groups. One that I help organize is Code for Portland, where we help connect coders to projects that matter in our community.
What is your current setup?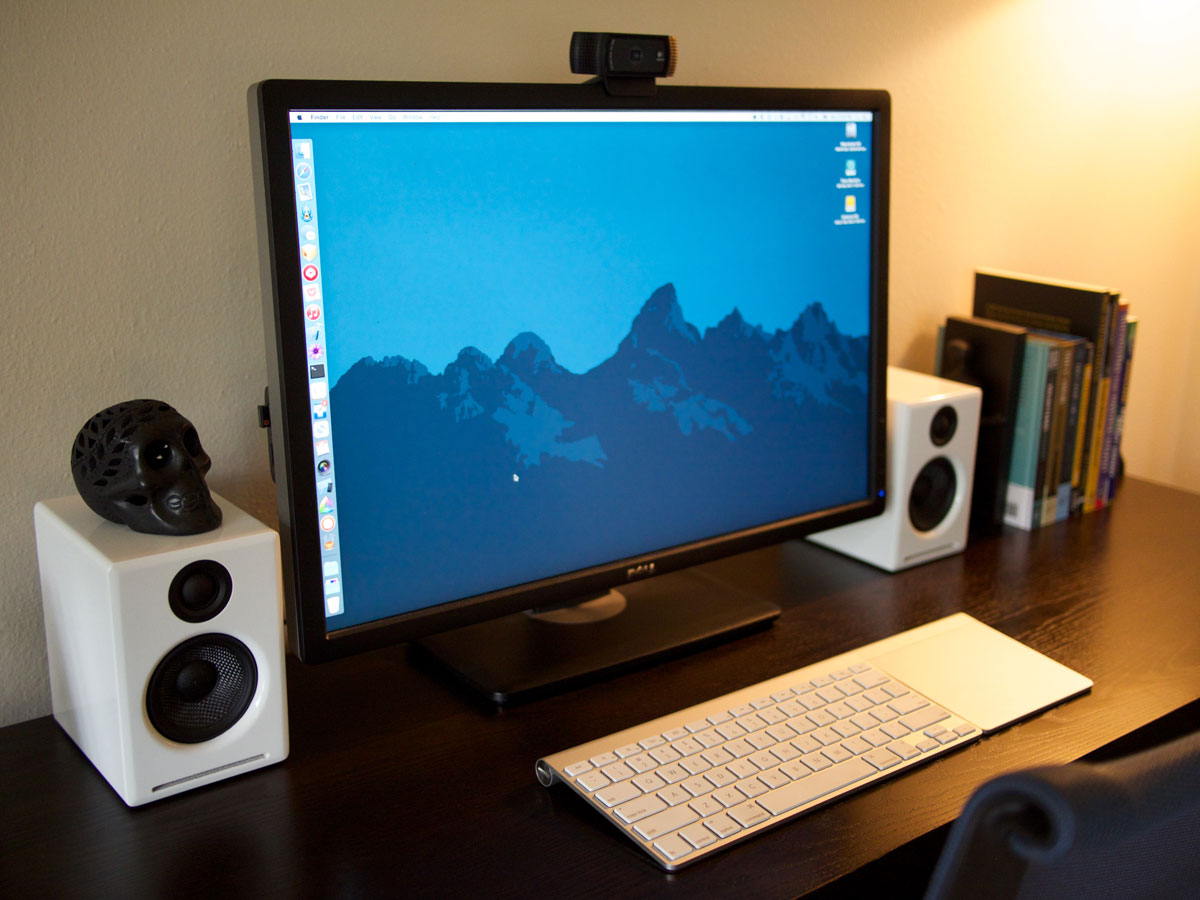 Editor's note: You can find Marc's wallpaper here.
My computer is a 15″ i7 MacBook Pro. It's over two years old at this point, though it still feels just as fast as a new machine. I've used a 15″ Apple laptop of one sort or another for over 10 years now. It's always seemed like the best compromise between speed, screen size, and portability, which is good when you spend a lot of time programming in cafes.
In my home office I have a 24″ Dell monitor, Apple keyboard and Apple Trackpad, AudioEngine A2 speakers, iPad Mini Retina, and an iPhone 5.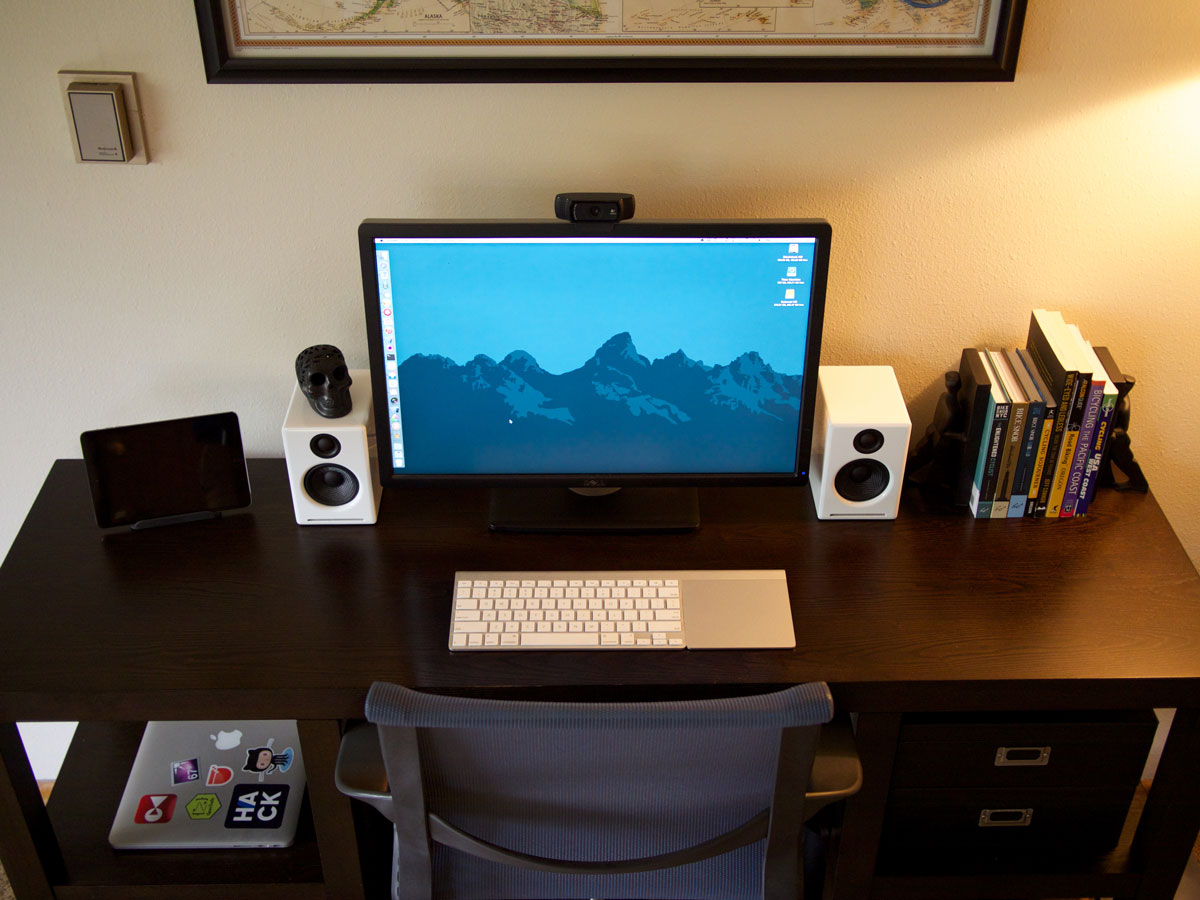 There's a bin under my desk with headphones, a Doxie Go portable scanner, gaming mouse, and various cables. I've been experimenting with Belkin's home automation hardware, and all the lights in the room are controlled with a location aware iOS app I built. A combination of geofencing, iBeacons, and Arduino sensors manage lighting automatically (at least when things are working correctly).
Above my desk I have a map of the locations in the US where I've spent time bicycle touring.
What software do you use and for what do you use it?
As a Cocoa developer most of my work centers around Xcode and TextMate. Gitbox, Dash, and Kaleidoscope all see use on a daily basis as well. It takes a lot for me to become hooked on an app (especially when it's a UI wrapper or alternative to a free system tool), so it says something that I keep going back to these tools.
Other developer apps that deserve a mention are Deploymate, Tokens, Transmit, xScope and Acorn. Although I only use them infrequently, they're all great at their job.
I'm not programming all the time though. I use 1Password for password management across all my devices, and Simplenote for keeping track of lists and any writing I'm working on. Previously, I used Pinboard to keep track of bookmarks, though lately I've been trying a nice OS X and iOS app called Stache.
Tweetbot and Reeder keep me entertained. I use a combination of Ember and Aperture for photos and screenshots. Oh, and a small menu bar app called Melo reports the tracks I've played in iTunes to Last.fm.
I mentioned my Doxie Go scanner earlier, which is terrific for organizing the paper documents I receive. When something comes in the mail, I scan it, put it in Dropbox, and shred the original copy. It's a great system.
How would your ideal setup look and function?
There's not much I'd change! I plan to keep my MacBook Pro around for at least a couple more years, and even then I'll probably replace it with something similar. More importantly, I think I've reached a good point where I have the tools I need without overcomplicating my life. I like neat desk gadgets, but I'm far happier with simplicity and reducing clutter.
I'll admit though, a retina Thunderbolt Display would be pretty nice. It's going to be tempting when Apple finally releases one.
---
There are more Sweet Setup interviews right here.