Kris Rojas' Mac, iOS, and Watch setup
June 19, 2017
Every week we post a new interview with someone about what software they use on their Mac, iPhone, or iPad. We do these interviews because not only are they fun, but a glimpse into what tools someone uses and how they use those tools can spark our imagination and give us an idea or insight into how we can do things better.
New setup interviews are posted every Monday; follow us on RSS or Twitter to stay up to date.
---
Who are you and what do you do?
My name is Kris Rojas and I'm a Media Producer for a company headquartered in Virginia. I have the privilege of overseeing a team of seven artists who use their specialities in production, post-production, and motion graphics to support our company's marketing goals.
By night, I'm a Star Wars enthusiast, horror film aficionado, freelance cinematographer, and an online student enrolled in the Digital Cinematography program at Full Sail University.
What is your current setup?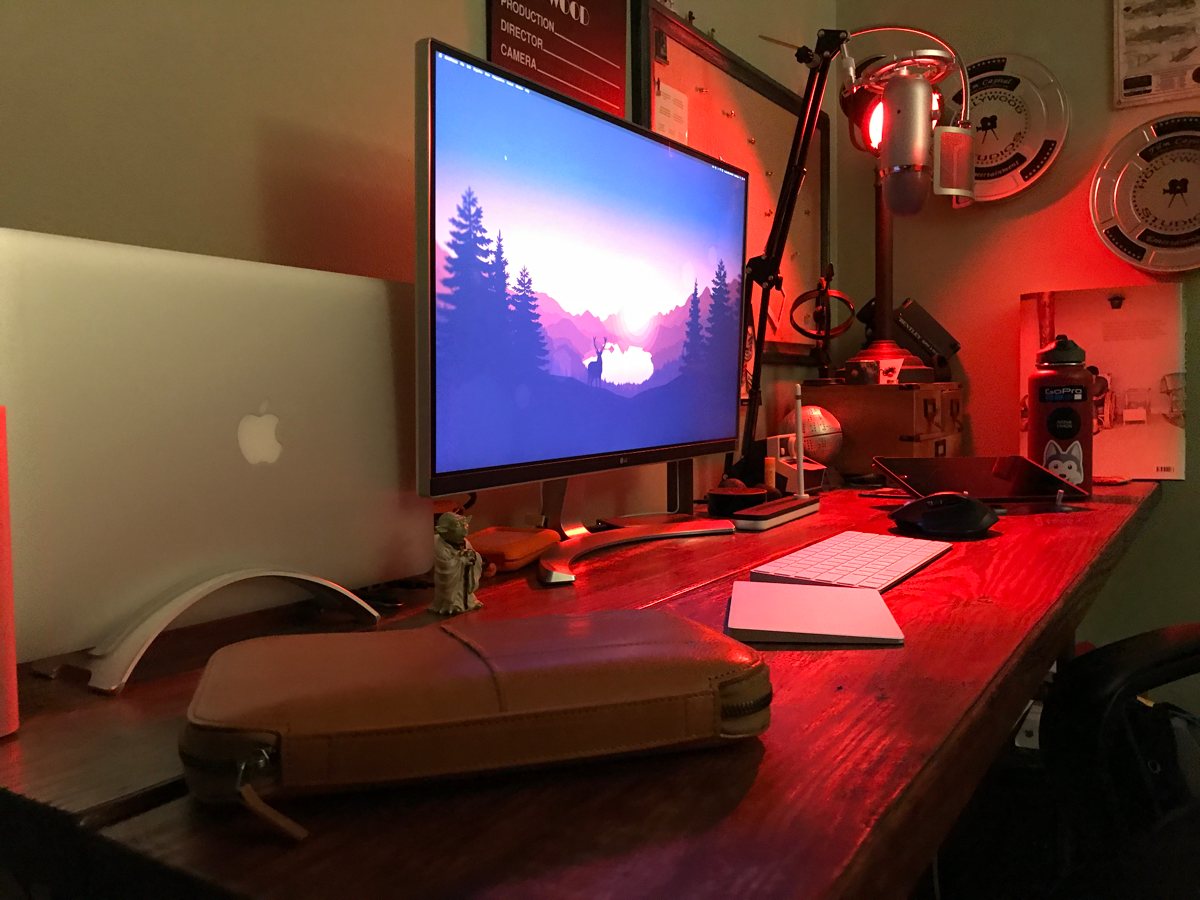 I have a mid-2014 MacBook Pro with 16GB of RAM and a 512GB SSD, courtesy of Full Sail University. This thing has been an absolute workhorse in my setup and I've edited all of my projects since 2014 on it.
My MacBook is almost always in clamshell mode and lives in an BookArc by TwelveSouth. It's connected to a 4K LG Ultra HD display.
I use the Magic Keyboard both at home and at work, and I go between the Logitech MX Master Wireless mouse and Magic Trackpad 2, depending on what I'm actively working on. I rely heavily on multitouch gestures (read: three finger drag) on my trackpad for my daily tasks, but have grown accustomed to using a mouse when editing in Adobe Premiere Pro CC.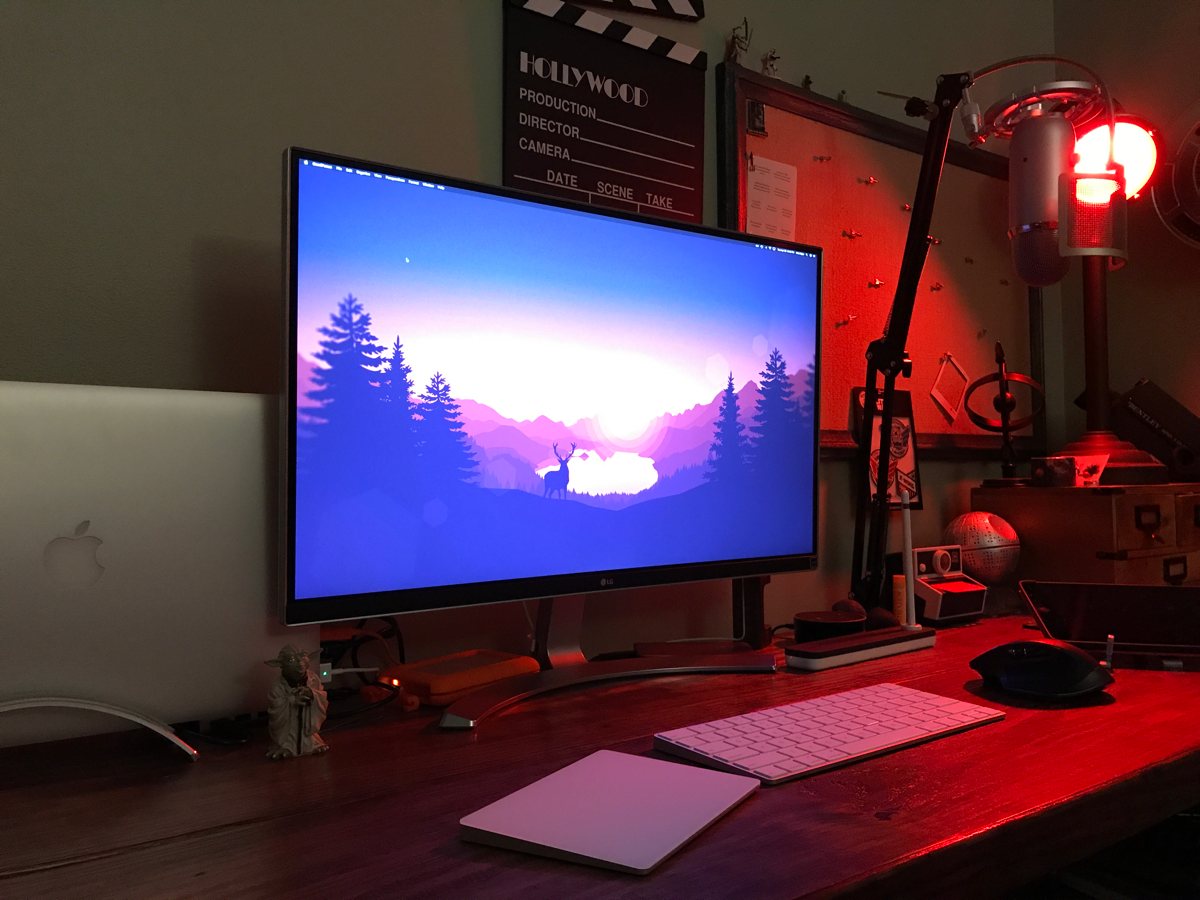 My setup is rounded out by various hard drives for working, project archival, and backups — a 2TB Time Capsule, a 4TB My Book Studio Western Digital drive, a 2TB LaCie Rugged Thunderbolt drive, and a 1TB G-Drive.
Where can we find your macOS wallpaper?
You can find a link to my wallpaper here.
What software do you use and for what do you use it?
How would your ideal setup look and function?
I'm pretty satisfied with the way my setup currently functions, but I'd like to move towards a 5k iMac with a secondary display. I use a 27" iMac with Thunderbolt Display at work, and there's something to be said for that amount of real estate. Eventually I'll upgrade my MacBook Pro to one with a TouchBar, but for now it's running like a champ and is earning its keep.
---
What iPhone do you have?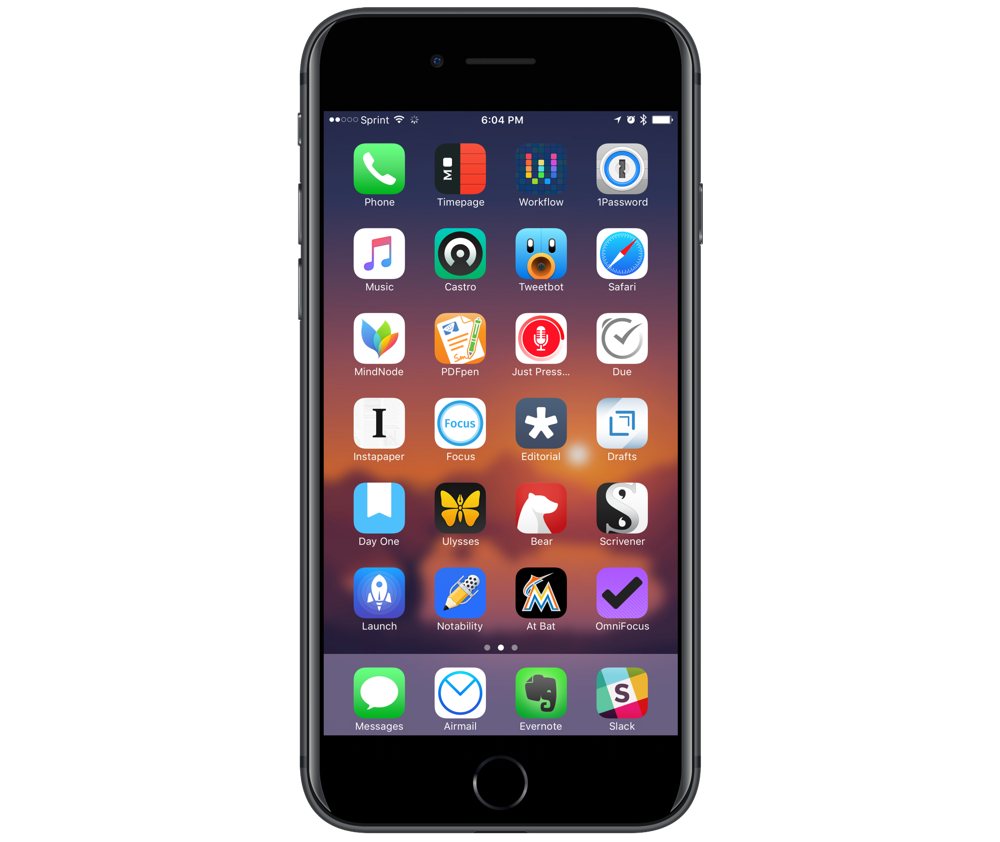 I have a 256GB Matte Black iPhone 7 Plus.
Where can we find your wallpaper online?
I have an obsessive tendency to make sure all of my device wallpapers match. My wallpaper is the same wallpaper as my mac, but with a 40% blur applied in Pixelmator.
What apps do you use the most, and why?
OmniFocus: Just about all of my macOS apps could have a "ditto" bullet for my iPhone, but the one worth repeating is OmniFocus. I am a huge fan of how all of the powerful features of its desktop app are transferred to my mobile device. A big plus for me is the 3D Touch capability on my iPhone, which I have set to my Errands perspective.
Timepage: This app gives me everything I want in a mobile calendar — a clean and customizable interface, travel and weather alerts, and a variety of widgets. While it doesn't necessarily have the power of Fantastical, it's more than capable of quickly adding events on the go should I need to.
Waze: Unfortunately, my daily commute to and from work totals roughly 3-4 hours depending on traffic. While I use Apple Maps for my regular needs, Waze is the only app I turn to when I'm trying to assess current traffic conditions during rush hour.
Castro: Podcasts are my primary source of entertainment on the road. I've tried a lot of podcast apps, but Castro is my app of choice with its ability to quickly queue or archive newly released podcast episodes.
At Bat: I'm a diehard Miami Marlins fan, and At Bat is easily one of my most frequently used apps during the season. It has a ton of powerful features packed inside, and its ability to customize the app icon to the Marlins logo is the best thing that has happened to my home screen. If you're a baseball fan, having the Gameday view in At Bat pulled up while you're watching the game really elevates the whole experience.
Drafts: I constantly find myself in the situation where I know there's something I need to say, but I'm not entirely certain how I should say it or how I should send it. If someone receives a lengthy e-mail or text from me, it inevitably started in Drafts. It's also my tool of choice when I'm stopped in a hall and told something or I'm writing down a confirmation number during a phone call.
Due: For as much as I have it together in my professional life, my personal household organization can sometimes find itself in shambles. I use Due for those regular tasks I need to constantly remind myself of around the house (i.e. taking out the recycling, washing my car, etc.).
Which app could you not live without?
This is a tough one, but I'm going to say OmniFocus. It's the one tool that has made itself indispensable in my life, and has enabled to me to be the productive, organized manager that allows me to pay my bills.
---
Which iPad do you have?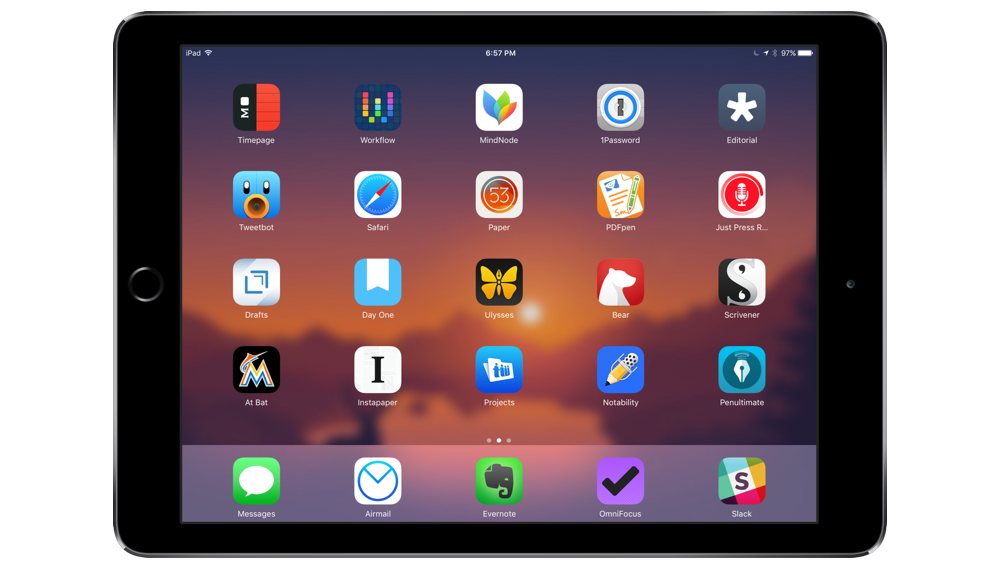 I have a 32GB Space Gray iPad Pro (9.7").
Where can we find your wallpaper online?
Once again, same as my Mac — just with a 40% blur.
How are you using your iPad on a daily basis?
I primarily use my iPad as my mobile MacBook Pro (never thought I'd find myself saying that). I use it mostly for the following tasks:
Handwritten notes with the Apple Pencil
Sketching visual concepts and storyboard panels
OmniFocus weekly review
Writing in Ulysses
Making script revisions with Celtx
Adjusting mind maps in MindNode
Creating templates for OmniFocus in Editorial
Monitoring my team's tasks and progress in Teamwork
Reviewing and annotating scripts and PDFs
What apps do you use the most, and why?
Notability & Penultimate: The traditional, analog note-taker in me was skeptical to try the Apple Pencil and iPad Pro. Once I purchased them, though, I never looked back. I've been experimenting with Notability & Penultimate and haven't nailed down which one I prefer over the other. I've used Notability mainly for note taking in meetings since I can record the audio from my meeting within the app. Penultimate has seen the bulk of my digital letters and brainstorming notes.
Paper: Storyboards are a large part of pre-production for projects in both my day job and my freelance life. I've fallen in love with the responsiveness of tools within Paper, and it's become my app of choice for sketching storyboard panels.
PDFpen: Marking up PDFs and scripts is a daily task in my full time job that requires fairly powerful tools, and PDFpen fits the bill. I've also used it to mark up PDF copies of my favorite articles and ebooks.
Which app could you not live without?
It's certainly not the app I use most often on my iPad, but Editorial has ranked pretty high on my list of important apps. I purchased David Sparks' OmniFocus Video Field Guide and learned how to use Editorial to create templates for OmniFocus projects. My project setup has now switched almost entirely to my iPad because of it.
---
Which Watch do you have?
I have a 42mm Apple Watch Series 2 with a Space Gray aluminum case. I primarily use a black sport band, but I have a few other color options and often turn to the woven nylon band.
How are you using your Watch on a daily basis?
Apart from the standard activity monitoring and breathing reminders, my watch is the central hub for notifications that allows me to be more present during the day. It's my main source of Slack, At Bat and iMessage notifications. I've also used it to triage my OmniFocus tasks when I'm moving around the office.