Jeroen Laven's Mac and iOS setup
March 21, 2016
Every week we post a new interview with someone about what software they use on their Mac, iPhone, or iPad. We do these interviews because not only are they fun, but a glimpse into what tools someone uses and how they use those tools can spark our imagination and give us an idea or insight into how we can do things better.
New setup interviews are posted every Monday; follow us on RSS or Twitter to stay up to date.
---
Who are you and what do you do?
I'm Jeroen Laven, and I'm a student living in Utrecht. I also write on my blog called Visuology, which will be back online soon (some problems with github pages sadly). I talk about design and photography and showcase my own freelance work for several student associations and a few companies based in Utrecht on Visuology. I'm currently writing a master thesis about net.art to finish my masters in Contemporary Art. During the week between 9 and 5, I'm working as a PR and Communication employee at Witte de With Center for Contemporary Art.
What is your current setup?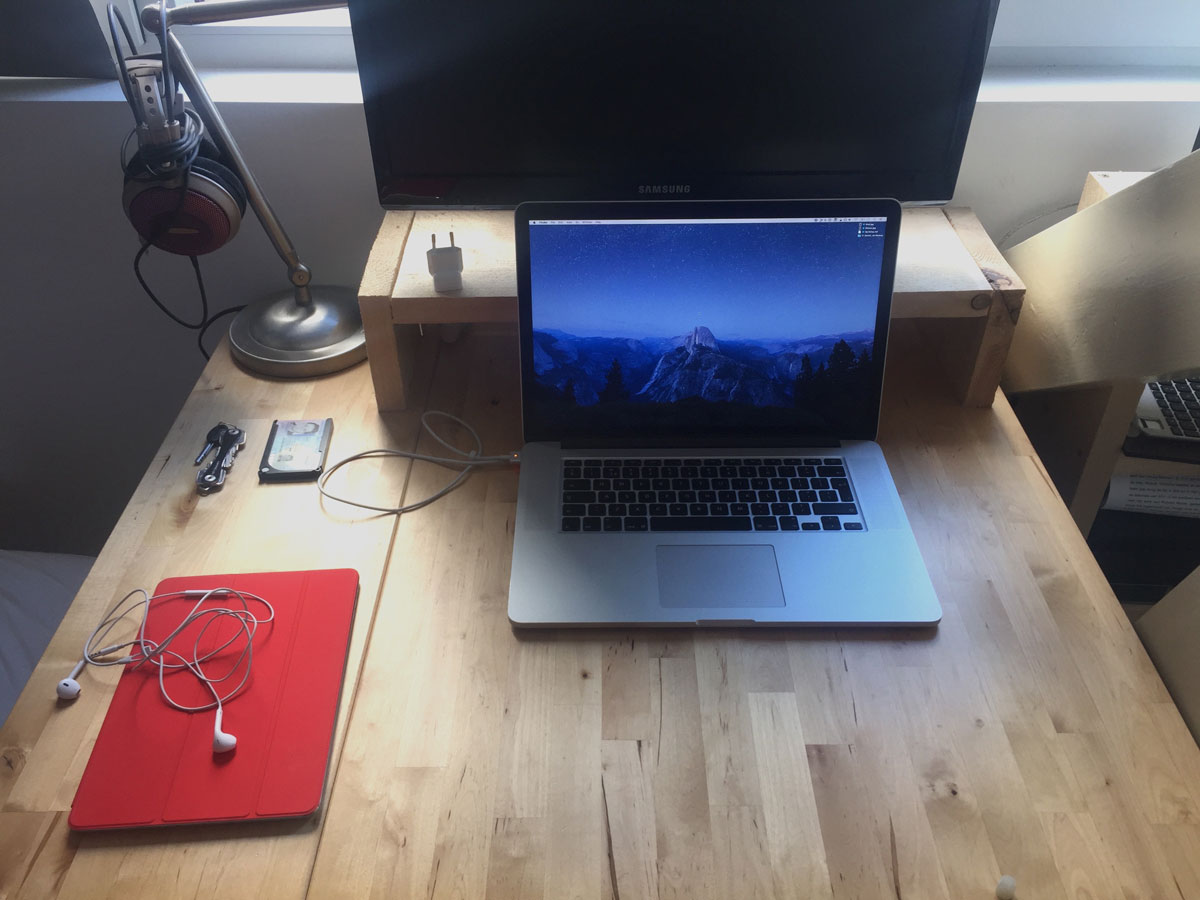 I have a mid-2012 15" MacBook Pro with Retina Display, 256GB flash storage, and 16GB of RAM. I love this machine. Before, I had a mid-2009 13″ MacBook Pro with 8GB of ram and dual hard drives (I swapped the media drive for an SSD). It served me well, but after 6 years the Bluetooth stopped working and the sleep mode was finicky at best, so the battery was always empty unless you shut the it down completely in between uses.
I also have a Seagate 1TB USB 3.0 Expansion Portable drive with two partitions — one for SuperDuper! and one for Time Machine. Plus, for extra safety, everything is backed up to Backblaze and STACK (1 TB free back-up from a Dutch company). You can never be too safe.
I also use the Apple EarPods when I'm travelling (I just make sure they are in my bag every time). At home, I use a pair of Audio Technica ATH-AD700 Open-air Dynamic Audiophile headphones for the best sound experience. I wear them inside only because they are really big, the cable is almost 5 meters long, and I bought the ugly purple and gold ones. Amazon made a mistake and put them online for $100 instead of $400 (the recommended price 4 years ago), so it was an easy decision.
The external display is hooked up to my PS4 to play some Uncharted 4 in April.
What software do you use and for what do you use it?
For web browsing, I'm using Chrome because of all the CMS systems we use at Witte de With. I hate to use two web browsers side by side, so I use Chrome for everything now. I'm currently testing Polymail for all my personal mail accounts. I'm not in love yet, but it's better than everything I've used before. My work email is Exchange-based, so I use the native mail client, which is still one of the best. I like the separation between private and work mail that has emerged from this setup.
We use Slack at work, and I use WhatsApp to stay in contact with friends and family. A few days ago I stumbled upon Franz — a new app for Mac with a few messaging platforms built-in. I can use Slack and WhatsApp side by side on my mac and my iPhone can stay in my pocket while I'm working behind my desk. Clear is used for small to do lists so I don't forget important tasks during the day. I love it because of the simplicity. I tried OmniFocus and Things, but they are just too complicated for me.
For web development, I use Sketch, Atom and Codekit. When someone wants to use WordPress, I use MAMP to make a local database to test all the themes. I use iA Writer to write and make first notes for a new project. Adobe Photoshop and Illustrator are still installed but Sketch gets the most attention. I also use Final Cut Pro for family projects and After Effects to spice them up, but I'm not that experienced with the latter.
Of course, Tweetbot, 1Password, Pages, Keynote, and Flux are also installed and indispensable.
How would your ideal setup look and function?
I love my 15" MacBook Pro with Retina display, but I'm always very jealous when I see someone with the new 12" MacBook when I'm traveling. When that beautiful machine gets as powerful as my MacBook Pro, then that will be my ideal setup.
---
What iPhone do you have?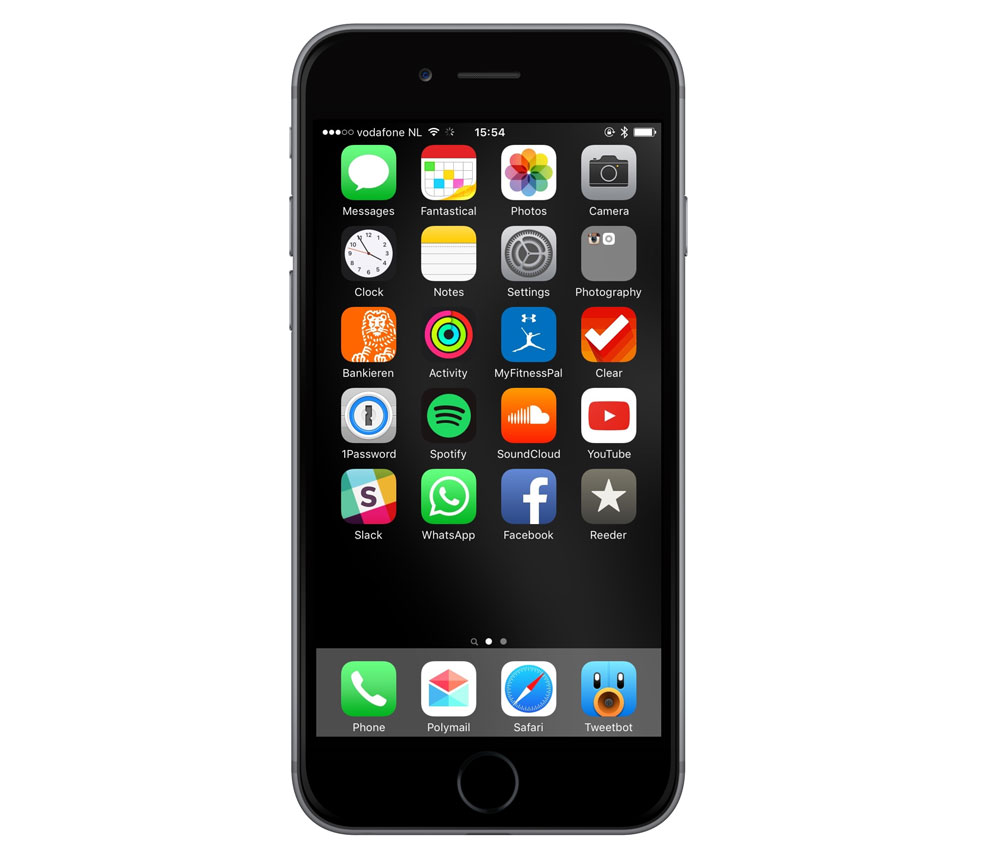 I'm currently using an iPhone 6 64Gb in space gray.
Where can we find your wallpaper online?
It's from the app WLPPR. It offers really beautiful images from above. I then use Blur to blur the wallpaper out and use it on my homescreen.
What apps do you use the most, and why?
Fantastical because it's awesome and makes it look easy to plan your weeks. Camera and photos because currently it's the only camera I own. Instagram and Tweetbot because they are my favorite social media platforms right now. Activity and MyFitnessPal are used every day because my job involves sitting behind a desk for 8 hours a day. 1Password is the best app ever made — I can't live without it. I love to watch movies on YouTube and learn something new every day. Spotify and SoundCloud for my techno and house music addiction. WhatsApp is probably the app I use the most because everyone I know here in the Netherlands uses it, so it's not even a choice anymore. If you want to stay in contact with friends and family, this is the app you need. Tweetbot and Polymail are in the dock because I'm used to them being there. Muscle memory is hard to reprogram, so they stay there.
Which app could you not live without?
The first two apps I install are 1Password and WhatsApp because without them I'm lost on the internet and out of contact with the world.
---
Which iPad do you have?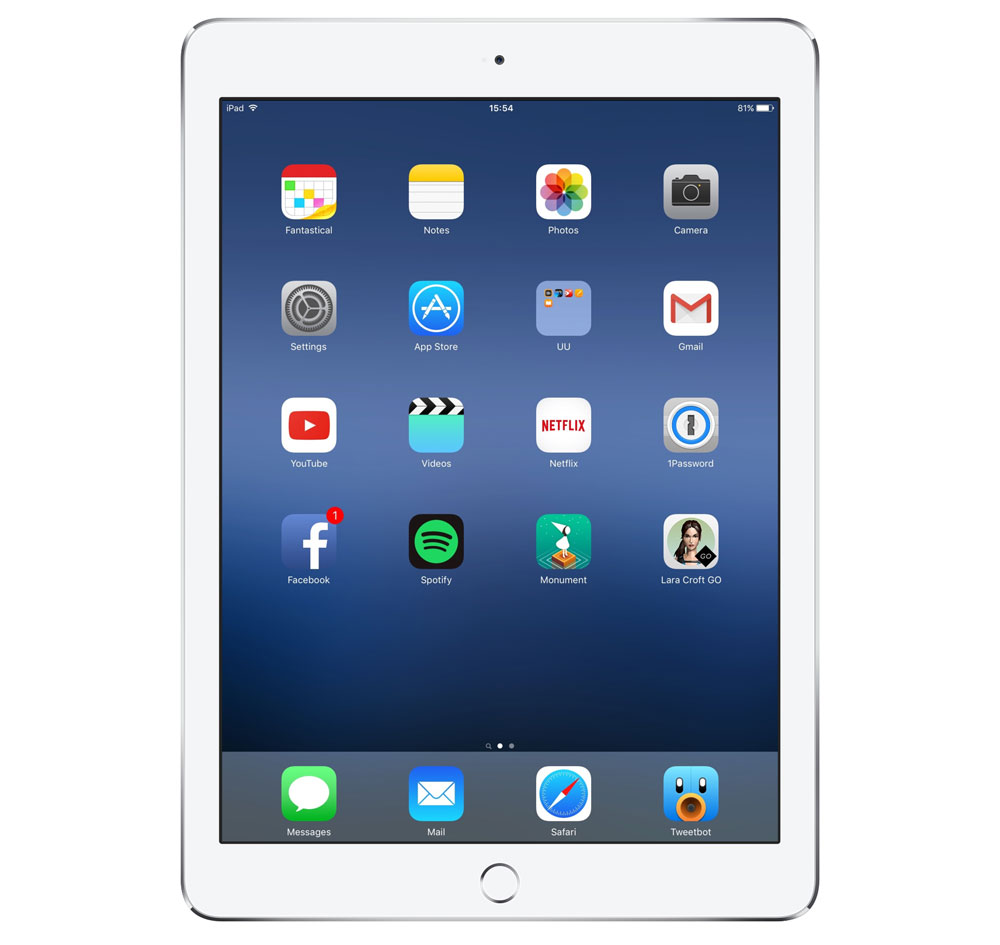 I'm currently using an iPad Air 32GB with LTE (4G) in silver.
Where can we find your wallpaper online?
On the lock screen it's the same as on my mac. I then use Blur to blur the wallpaper out and use it on my homescreen.
How are you using your iPad on a daily basis?
Almost the same as on my iPhone, but with some extra apps I use in college. I can't live without iBooks, Kindle (all my literature is in there), and PDF Expert to annotate my own notes or articles I need to read before class. Pages is used to convert items to PDF. I use Pages for this because the convert to PDF is the best on the iPad. I use the built-in Notes app for note-taking because it syncs nicely with my Mac and iPhone.
What apps do you use the most, and why?
Currently, I'm using PDF Expert and Notes the most because of my thesis. When I'm traveling, the built-in Movies app gets the most use along with YouTube and Netflix when I still have some data left on my 4G subscription.
When I have some time left, I play Lara Croft GO or Monument Valley on my iPad.
Which app could you not live without?
PDF Expert because of the thesis I'm writing right now — all of my research is inside that app (backed up to iCloud, of course).
---
There are more Sweet Setup interviews right here.