Jack Bishop's Mac, iOS, and Watch Setup
June 10, 2019
In this series, we post a new interview with someone about what software they use on their Mac, iPhone, or iPad. We do these interviews because not only are they fun, but a glimpse into what tools someone uses and how they use those tools can spark our imagination and give us an idea or insight into how we can do things better.
New setup interviews are posted every Monday; follow us on RSS or Twitter to stay up to date.
---
Who are you and what do you do?
My name is Jack Bishop, I am an Aerospace Software Engineer, iOS Developer and I have just finished studying part time for my degree in Software Engineering; I wear a lot of hats.
If you have any questions about my setup and would like to hear more from me, catch me on Twitter and Instagram.
What is your current setup?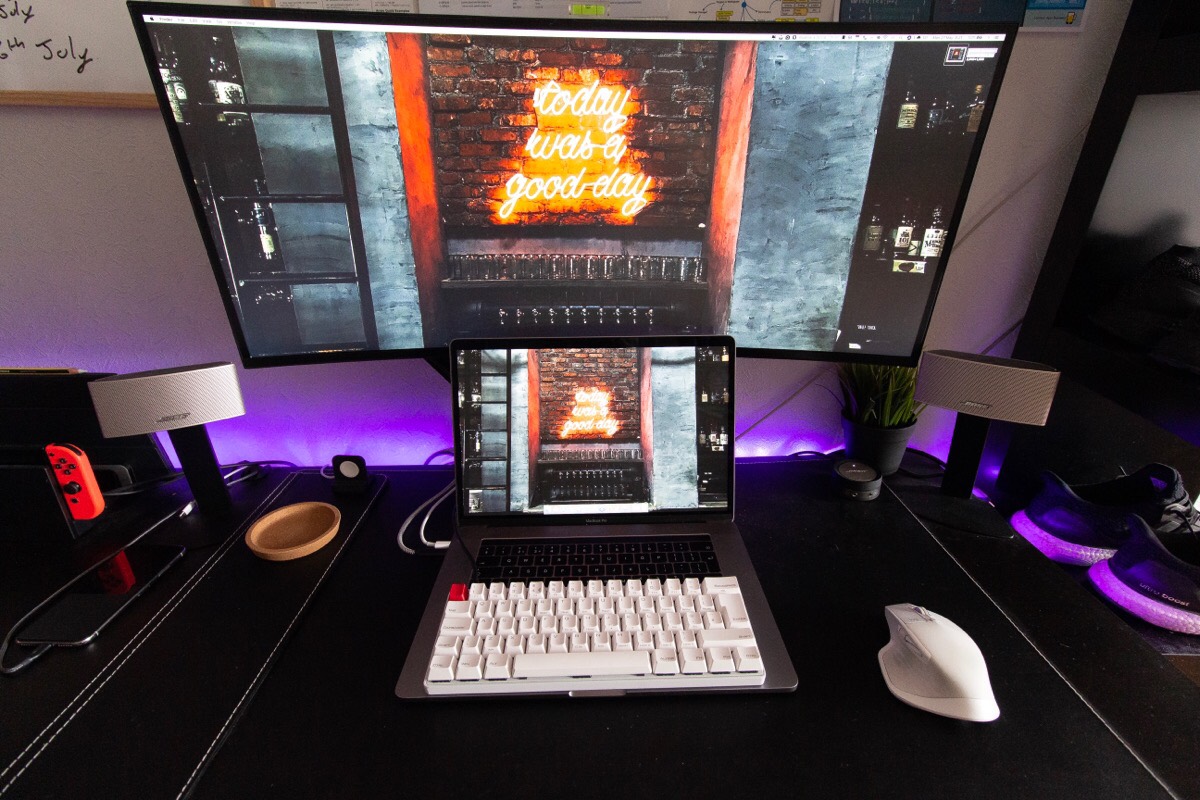 I am currently using the 2017 15" MacBook Pro as my main computer. I have recently finished my university studies, so I have been busy with research & code development; the Mac has handled everything that I have thrown at it. I am always moving my setup around depending on what I need it for. Lately, I have needed the extra screen real estate so I have my MacBook open with my ultra-wide above it.
The ultra-wide is the Dell UW3217W, I have used it for a few years and I would never go back to the traditional 16:9 Aspect Ratio. When I game on my Windows PC, they look great on this wider screen.
For my peripherals, I use the Vortex POK3r with Cherry-MX Blue Switches. I have had mechanical keyboards for years, a few months ago I took the leap and got the loud tactile blue switches, I literally feel like I am writing on a type writer, I love it. For the mouse I use the Logitech MX Master 2S, I picked it up because of how much hype it gets. I have found that hype to be warranted, it is really ergonomic and with having multiple machines, being able to hot swap to 3 different machines at once is a nice feature. I do sometimes use the Apple Magic Trackpad 2 though, for apps like Sketch, I find it easier to pinch and zoom in the canvas. For audio, I use the Bose Companion 5. They sound so good, and the sub-woofer packs a punch in dance music, games and movies. The desk matt is the Ikea RISSLA desk pad.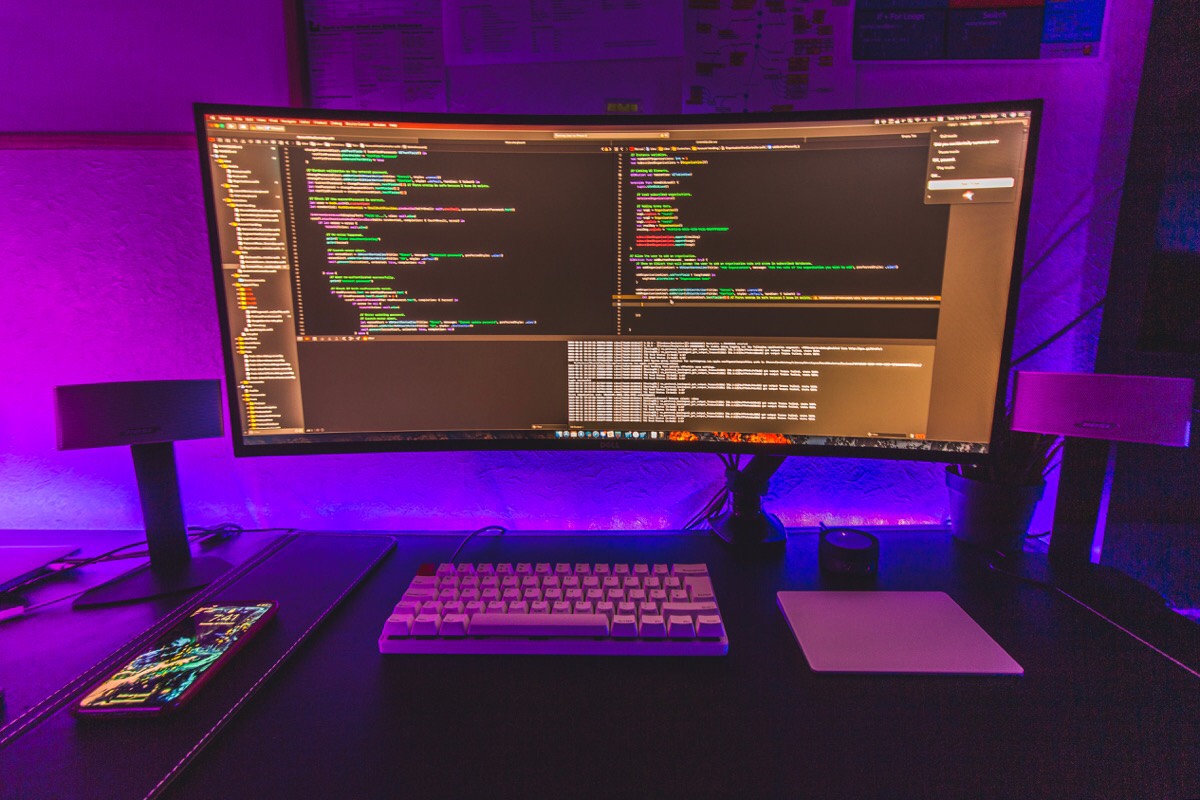 Where can we find your macOS wallpaper?
The wallpaper in the first photo is by Patrick Tomasso, I have the Mac App Unsplash Wallpapers which gives me a high-res new wallpaper every day to keep my desktop looking fresh.
What software do you use and for what do you use it?
I will list the main apps I use day-to-day, the apps I use for development, and then briefly mention some utilities that make my experience with macOS nicer.
Development
Utilities
How would your ideal setup look and function?
I am always changing my setup. I usually have my MacBook in clamshell mode, but I wanted the extra screen real-estate, so I have it how it is now. One big thing that I would love to change is the location of my setup — remove this white wall for a huge window overlooking a city skyline any day!
---
What iPhone do you have?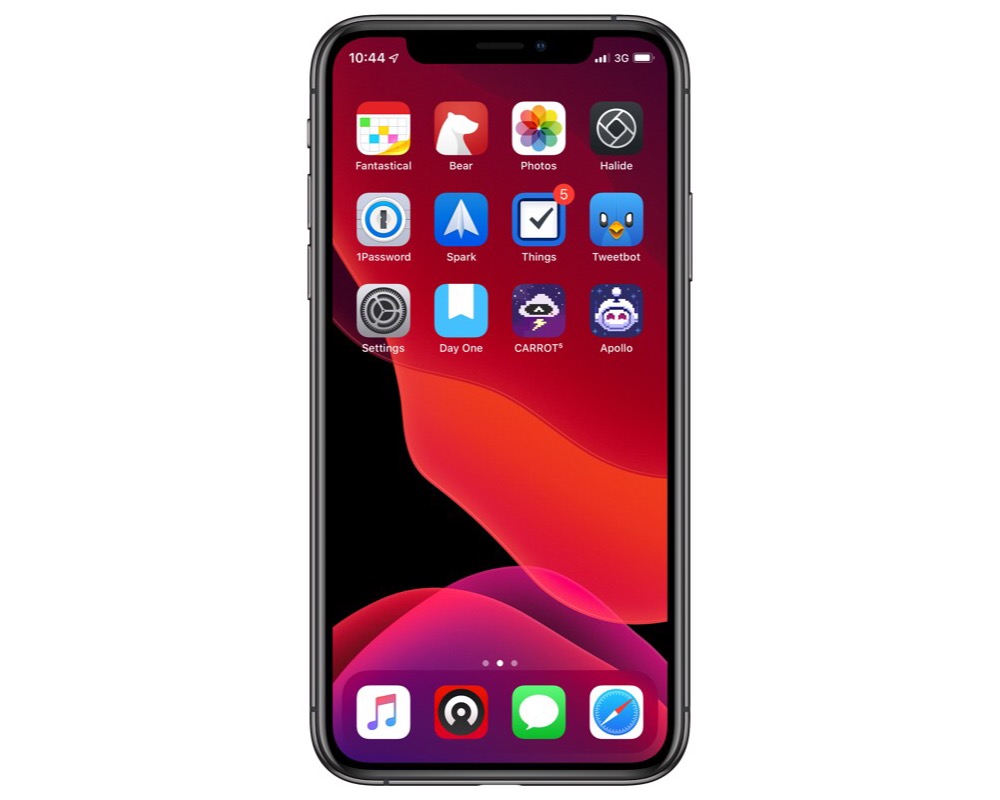 I am using the iPhone X in Silver with 256GB of space.
Where can we find your wallpaper online?
I am using one of the wallpapers from the new iOS 13 update.
What apps do you use the most, and why?
I am forever changing my setup depending on what apps I am currently using most at the time. For now, my setup is as follows:
Which app could you not live without?
It has to be Things 3, I really do love this app. I am very meticulous with my areas, following the steps provided in the book GTD with Things 3.
I will soon be doing a full write-up on how I use Things to manage my busy life and projects, which I will publish to my Medium blog. Please follow if you want to be notified when I finish it.
There isn't a better task manager out there that is more suited to me. I did like the Sorted app. However, its lack of a Mac client and its constant buggy interface annoyed me.
---
Which iPad do you have?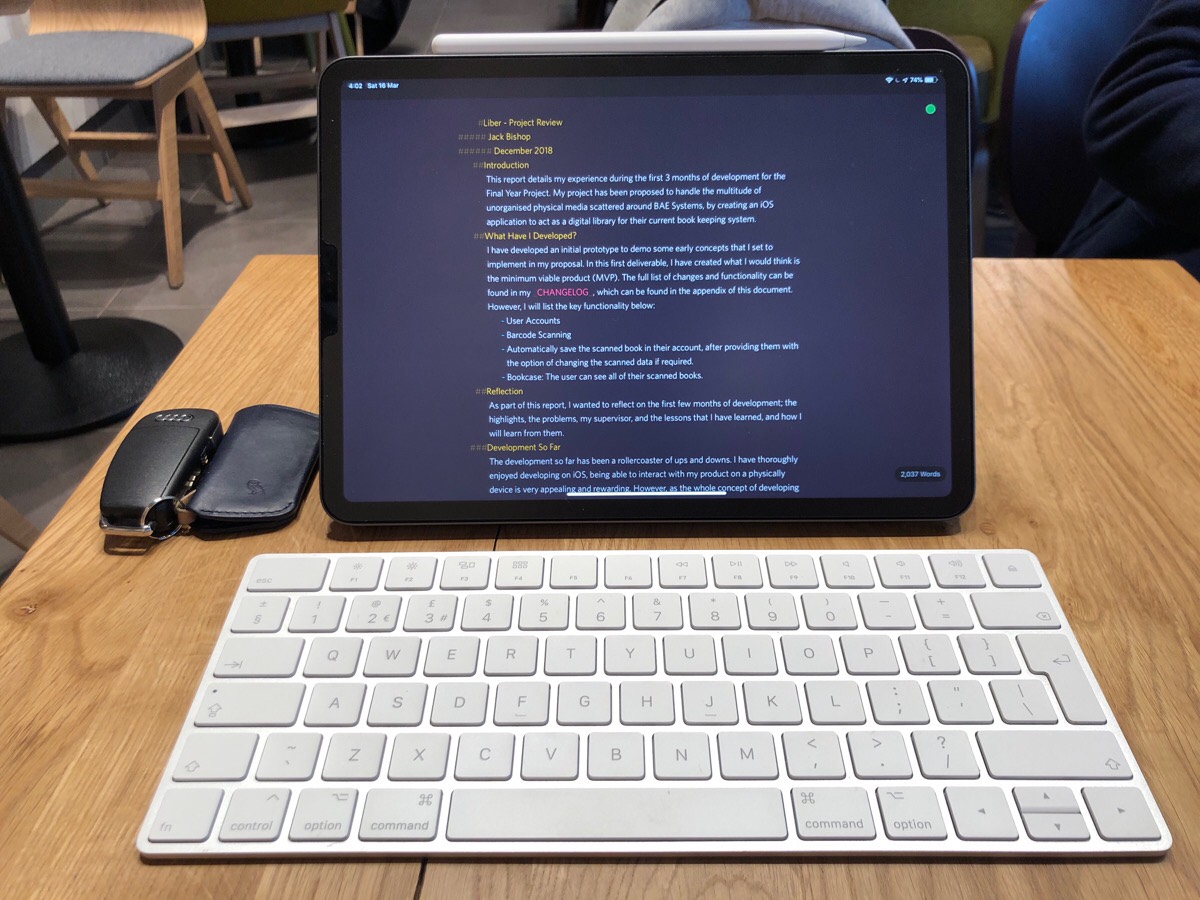 I am using the 11-inch iPad Pro in the 64GB version.
Where can we find your wallpaper online?
I am using one of the wallpapers from the new iOS 13 update.
How are you using your iPad on a daily basis?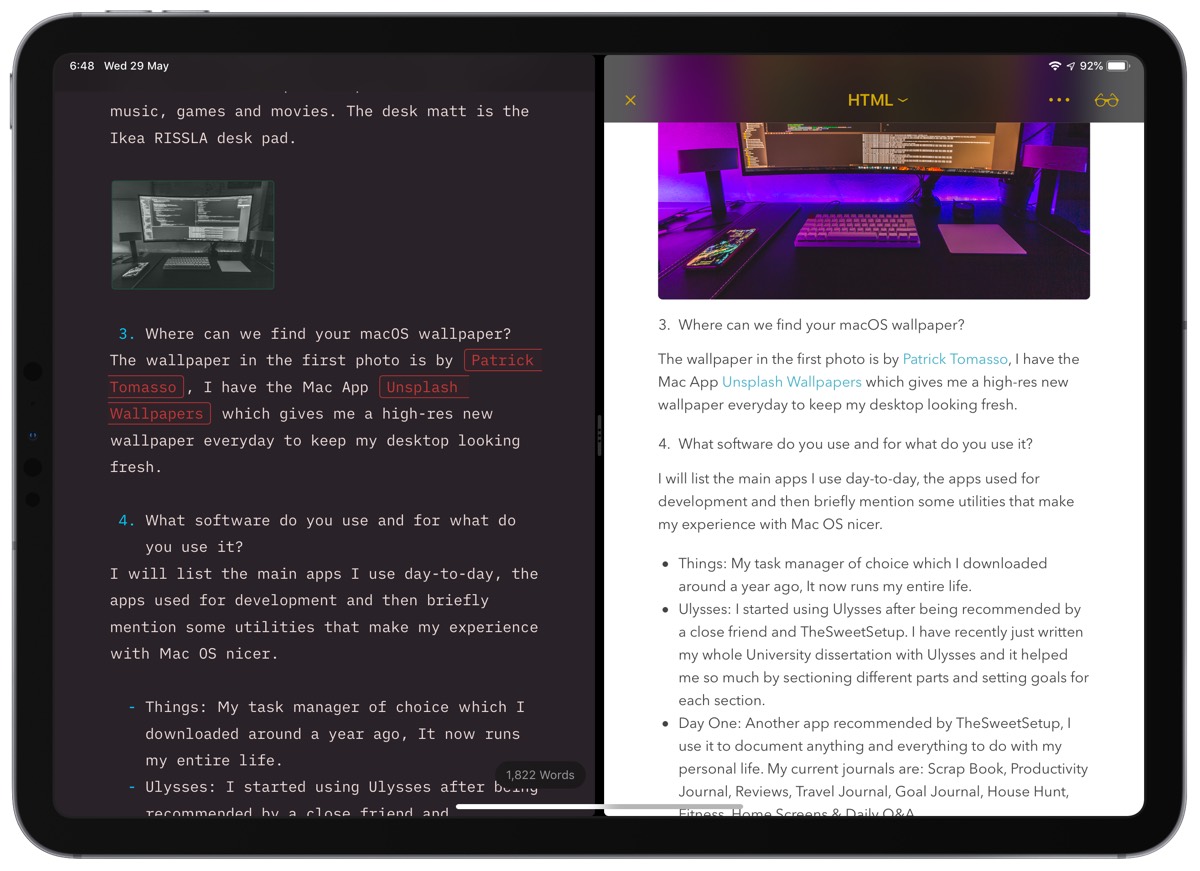 During the last year of studying at University, it has been my main study machine. I use it for taking notes (with Notability) and writing reports (with Ulysses). I went full electronic note-taking when I got this iPad back in November 2018, which is when I started to use Notability. It's been so nice having a central location for all of my handwritten notes.
When writing my dissertation, I wrote a lot of it on my iPad using Ulysses. The iPad provides a distraction-free environment for me as opposed to being on my Mac. On the weekends, I would take my iPad and my Apple Magic Keyboard and head to a local coffee shop, many times using Shawn's 'Time to Write' shortcut to help get me in the zone.
What apps do you use the most, and why?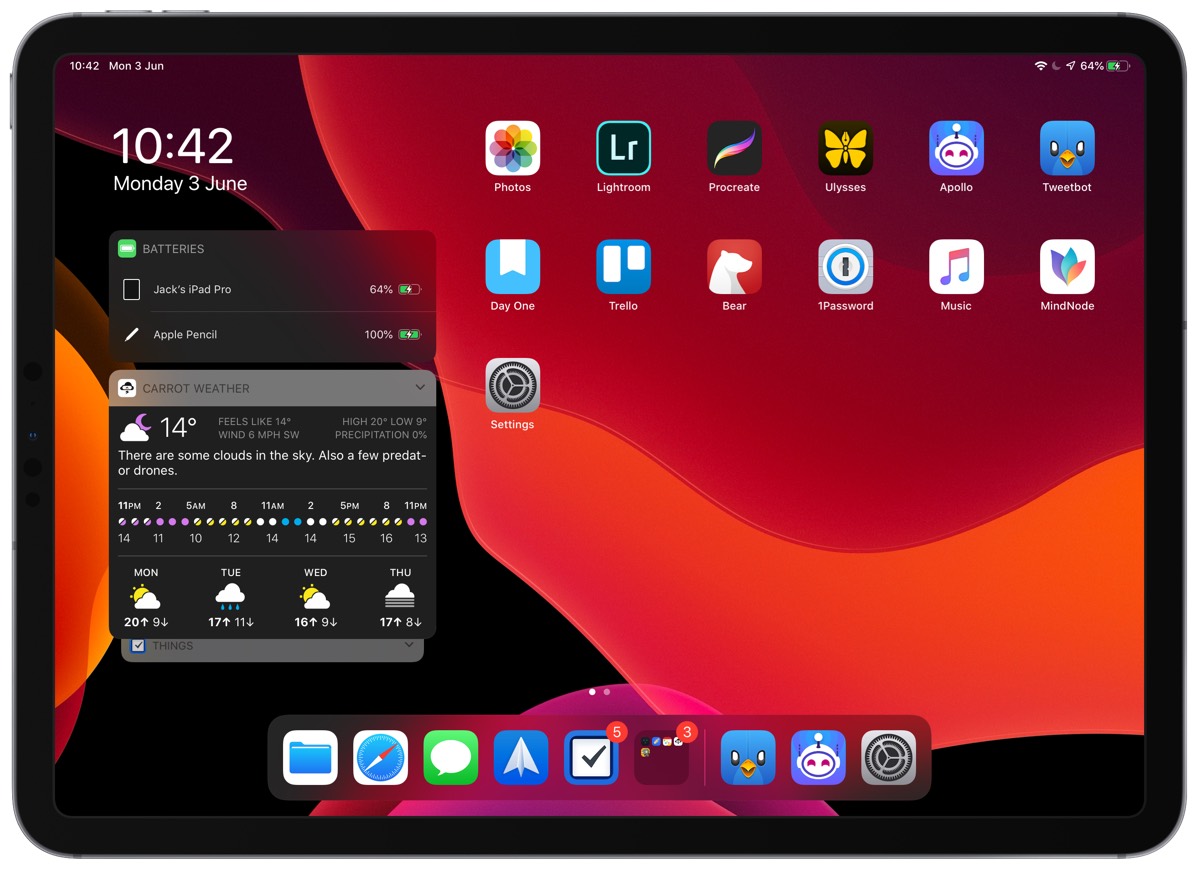 I am experimenting with the new home screen from iPadOS 13, and having my widgets on the home screen is a nice addition. I will be experimenting with new widgets and what I prefer to see there over the next few weeks. I like to use my iPad for any kind of mobile device usage, so there are a lot of similarities between by iPhone and iPad. Some noticeable apps that I use primarily on iPad are:
Which app could you not live without?
The app that has been fundamental to my work over the past few weeks on the iPad is Ulysses. Its way of sectioning out text in different sheets which can be used to add goals to each sub-section before adding it to one big report has been really helpful with University. With the most recent update, split view is now available on the iPad, allowing you to view two sheets at once, or in my case, editing a sheet using markdown and seeing the finished result in the second editor.
---
How do you use your Apple Watch on a daily basis?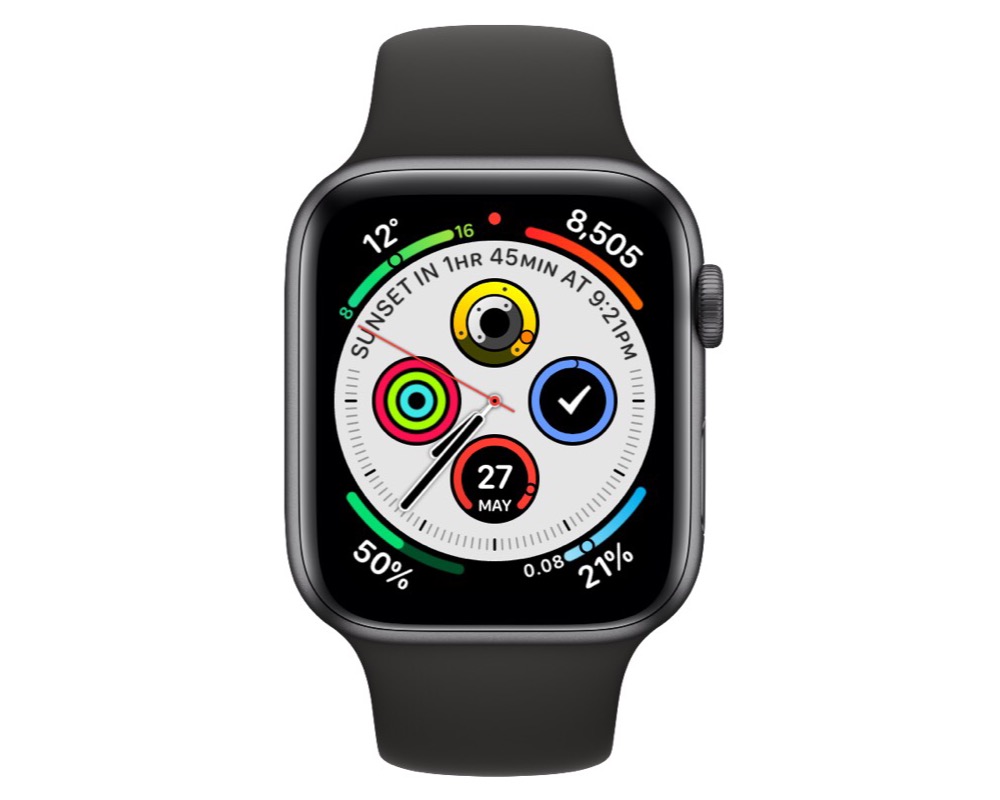 If I am including my whole setup, I thought I would throw in my Apple Watch as well. My complications are as follows:
---
There are more Sweet Setup interviews right here.
Want to share your setup? We'd love to hear from you. Just fill out this form with some basic information and we'll be in touch.
---
Wait. There's a Bonus….
Custom Productivity Templates
We have a set of custom productivity templates that work well with the iPad app, GoodNotes. And if you want to try them out, we've put together a free guide that can help you.
We'll show you…
How to create and save custom page templates in GoodNotes.
How to use those page templates to transform GoodNotes into your own productivity notebook (or any other type of notebook replacement).
Plus, we also have included a couple of our custom productivity templates for you to get started with. These templates are right out of our popular productivity course.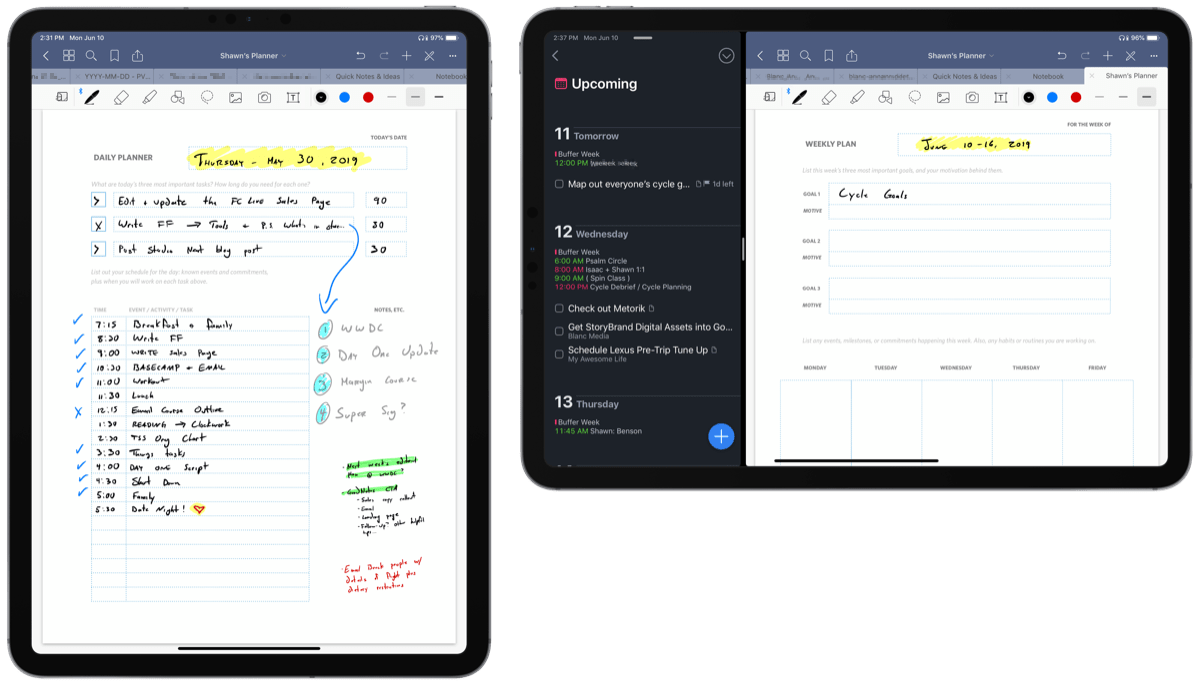 The custom templates and the guide are available for FREE to our email subscriber community. And you can get it right now. By joining the Sweet Setup community you'll also get access to our other guides, early previews to big new reviews and workflow articles we are working on, weekly roundups of our best content, and more.