Infinite Canvas App Roundup: Comparing Miro, Freeform, and Obsidian Canvas
February 27, 2023
I've been spending time playing with infinite canvas apps lately, and there are a lot of great options available. In this article, we'll compare and contrast the features of each of these apps to help you choose the one that best fits your needs.
What is an Infinite Canvas App?
An infinite canvas app is a digital board that gives you an unlimited virtual workspace to create and organize your ideas, sketches, notes, and other types of content. Think of it like a virtual whiteboard, but with no predefined pages or fixed dimensions so you never run out of space (hence the term 'infinite canvas').
Infinite canvas apps are particularly useful for creative professionals, artists, designers, and educators who need to brainstorm, sketch, or plan their projects in a flexible and unrestricted way. They can also be beneficial for personal use, such as for note-taking, mind mapping, or laying out the different parts of a large project.
The goal of an infinite canvas app is to provide you with the space and tools to think more creatively about things. I've spent a bit of time with three of the more popular ones as of late:
Miro
Freeform
Obsidian Canvas
What surprised me is that these three different apps really have three very different scenarios where they shine. Here's how they stack up and where they really shine.
Miro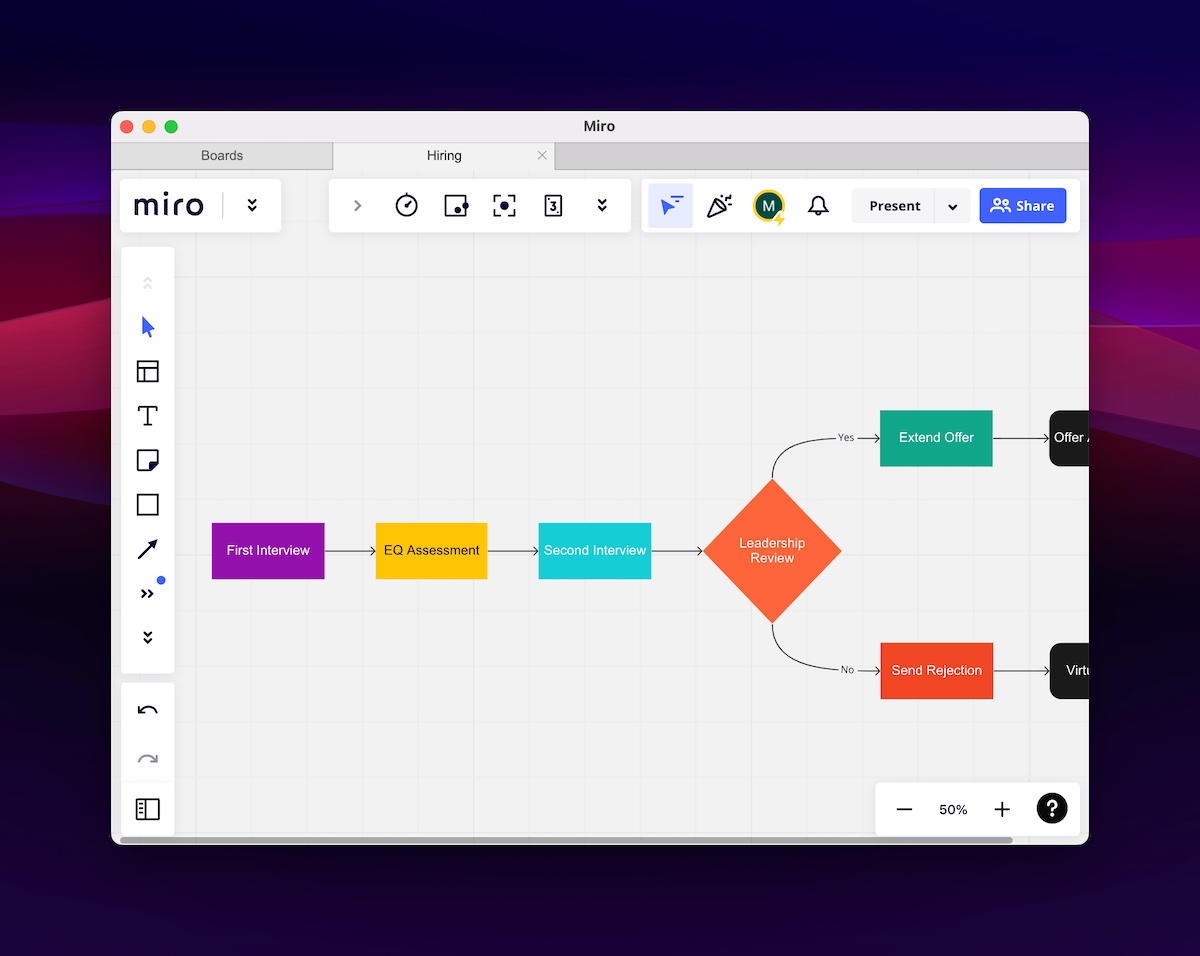 Miro is a collaborative online whiteboard platform designed to allow teams to work together on brainstorming, planning, and visualizing ideas. It is primarily focused on visual collaboration, allowing teams to create diagrams, mind maps, flowcharts, and other visual representations of information.
When you create a board in Miro, you have the option of using a pre-made template to help get you started. There are templates for meetings, kanban workflows, flow charts, product roadmaps, presentations, and much more. If you can think of a business use case for collaboration (i.e. a SWOT analysis or department-level OKR tracking), there is probably a pre-made template you can use.
Because Miro is first and foremost a web app, it offers integrations with lots of other popular online productivity tools. For example, you can embed cards for tasks from apps like Asana and ClickUp, embed design images to get feedback from apps like Figma and Sketch, and collaborate from other communication tools like Slack and Zoom.
What I like about Miro is that it's really easy to pick up and use. The templates make it easy to get started, and it's easy to collaborate with others regardless of the technology they decide to use.
If you're looking for something strictly based on how easy it will be to collaborate with others, Miro is a solid choice. You can access it from just about anywhere, and the integrations with other popular productivity tools make it an ideal choice if you need to work with others (especially in a corporate setting).
Freeform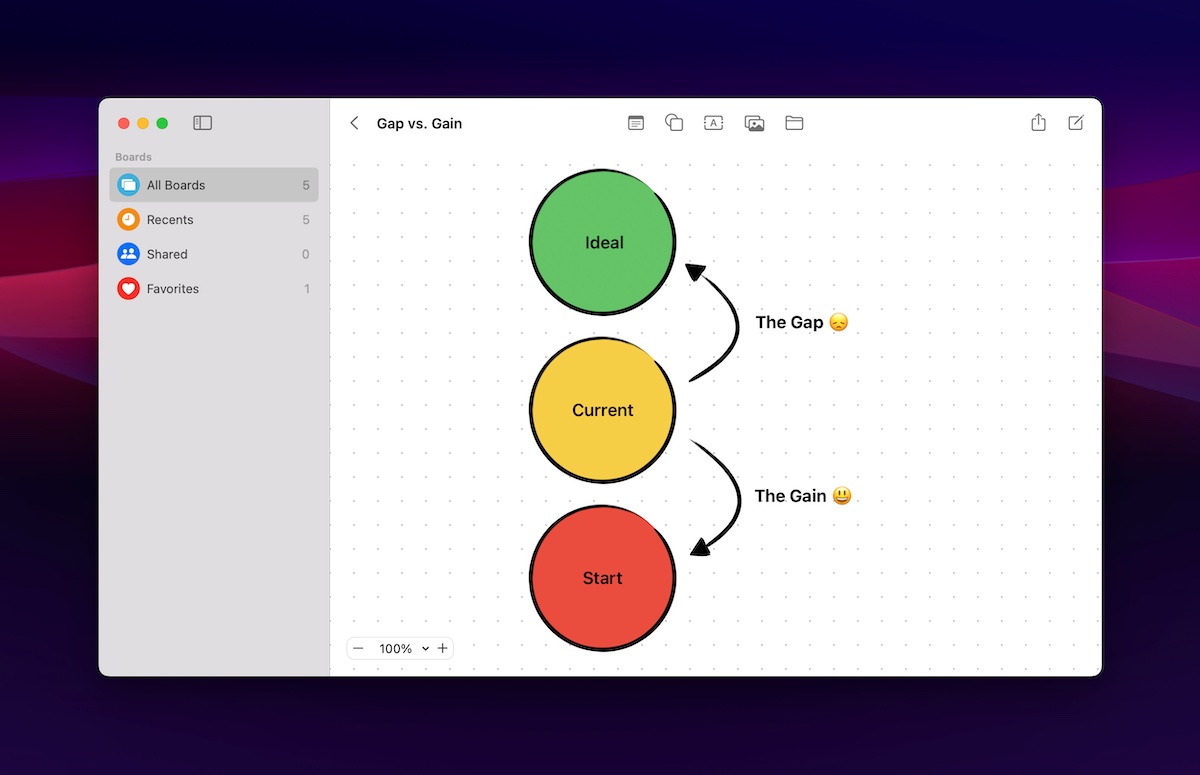 Freeform is an infinite canvas app from Apple designed for creative brainstorming and collaboration. It comes pre-installed on current versions of iOS, iPadOS, and macOS, giving you built-in creative tools on any Apple device.
With Freeform, you can create multimedia boards on top of your infinite canvas that includes photos, video, audio, documents, PDFs, links to websites and map location links, sticky notes, shapes, diagrams, and more. You can use drag-and-drop from Files and Finder and built-in alignment guides help you snap objects into their proper place.
But the big emphasis in Freeform is on collaboration, with the ability to have up to 100 collaborators on each board. You can drag a board from Freeform into a Messages thread, and all members of that thread will instantly be invited. FaceTime is also built into the app so that you can connect in real time as you collaborate in the app.
What I like about Freeform is the ability to sketch and use the Apple Pencil when using it on my iPad. I still like GoodNotes better for sketching, but using Freeform on an iPad opens up a lot more creative possibilities. Unfortunately, it's hard to use handwriting like this on your Mac, forcing you to use it more like a standard collaborative whiteboard app.
If you're an Apple Notes user who has ever wished you could just drag things around inside the Notes app, you'll love Freeform. It's still a little rough around the edges, but it's a pretty impressive thinking tool that offers simple collaboration with others — as long as they are fellow Apple nerds.
Obsidian Canvas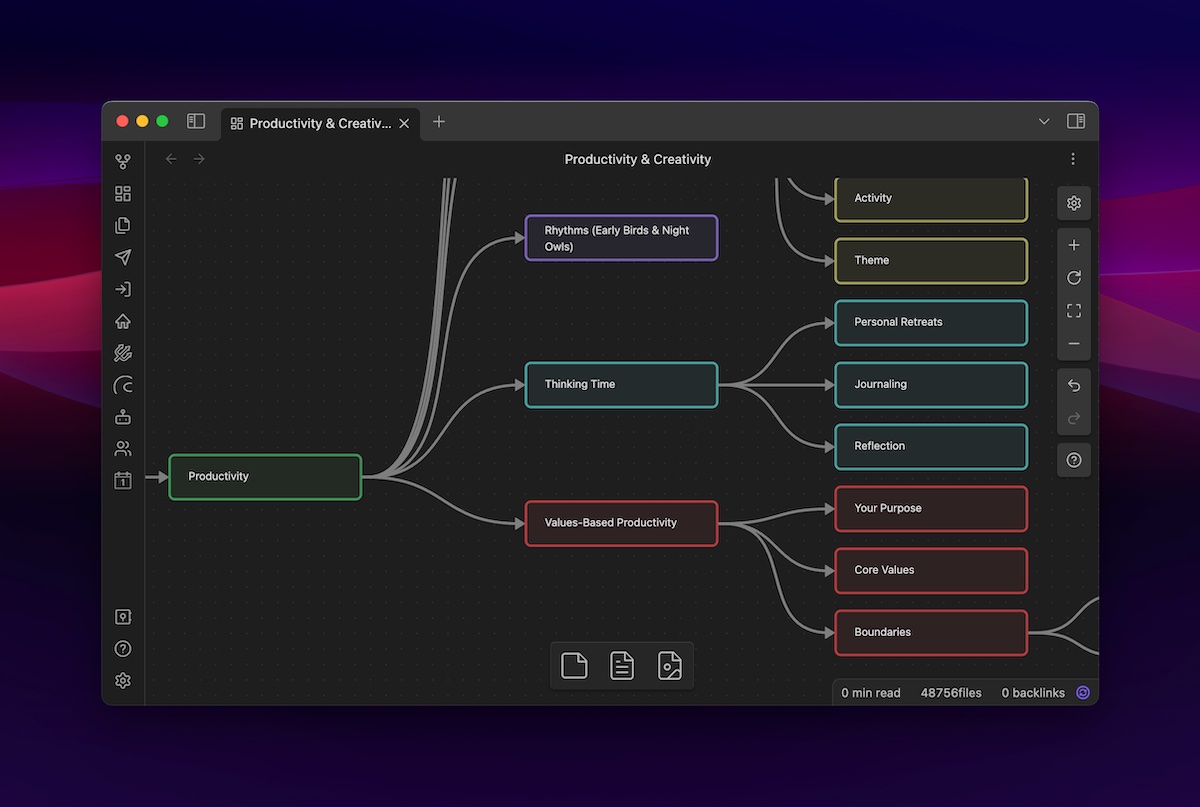 Canvas is a new feature added to Obsidian that gives you the ability to create an infinite canvas app inside your Obsidian vault. It's available as a Core Plugin inside the app and is available on both desktop and mobile (but must be enabled to be used).
Once enabled, creating a Canvas allows you to lay out your notes and ideas so you can organize them visually. You can embed your notes alongside text blocks, images, PDFs, videos, audio, and even fully interactive web pages. Canvas views can be embedded in other notes, and even inside another Canvas.
While Canvas files in Obsidian use a different file format from the standard Markdown formatting the rest of the app is built on, it's still designed with interoperability in mind. By using an open-source JSON format for Canvas files, apps, scripts, and plugins can enhance your Canvas by adding or modifying the cards and connections it contains.
What I like about Canvas is that I don't have to leave Obsidian. It reminds me a lot of the corkboard feature Scrivener had back in the day, where writers could lay out all the parts or sections of their writing project and move them around visually on screen. There's something powerful about simply rearranging your ideas visually that can cause things to click.
If you are all in on Obsidian, Canvas is a great tool for helping you make sense of your notes and ideas. The killer feature is the ability to create boards inside your Obsidian vault and make connections between things. But, it doesn't allow you to collaborate with others, and if you don't keep everything in Obsidian then it is pretty feature-limited compared to other infinite canvas apps.
Which Infinite Canvas App is Right for You?
If you need to collaborate with others in a corporate environment (or don't have any influence over the devices your collaborators will use), check out Miro. It offers a free tier, and the large template library makes it easy to get started.
If you are all-in on the Apple ecosystem and feel comfortable using Apple Notes, check our Freeform. The tools will feel familiar, and your boards will sync across all your Apple devices.
If you are a heavy Obsidian user (like me) and use it for note-taking AND writing, check out Canvas. There's a lot of insight to be had from arranging the contents of your Obsidian notes visually, especially when brainstorming or planning larger personal creative projects.
Must-Have, Most-Used Apps for Thinkers
We spend an inordinate amount of time sorting through hundreds of apps to find the very best. Our team here at The Sweet Setup put together a short list of our must-have, most-used apps for writing, note-taking, and thinking.