Igor Kulman's macOS, iPhone, and Watch setup
September 3, 2018
Every week, we post a new interview with someone about what software they use on their Mac, iPhone, or iPad. We do these interviews because not only are they fun, but a glimpse into what tools someone uses and how they use those tools can spark our imagination and give us an idea or insight into how we can do things better.
New setup interviews are posted every Monday; follow us on RSS or Twitter to stay up to date.
---
Who are you and what do you do?
My name is Igor Kulman, and I am currently working as the lead iOS developer for a company building a secure messaging app for corporate customers. The company is a remote-first company based in Germany, but with employees all over Europe. I am working remotely from my apartment in Prague, Czech Republic where I have been living for the past decade.
What is your current setup?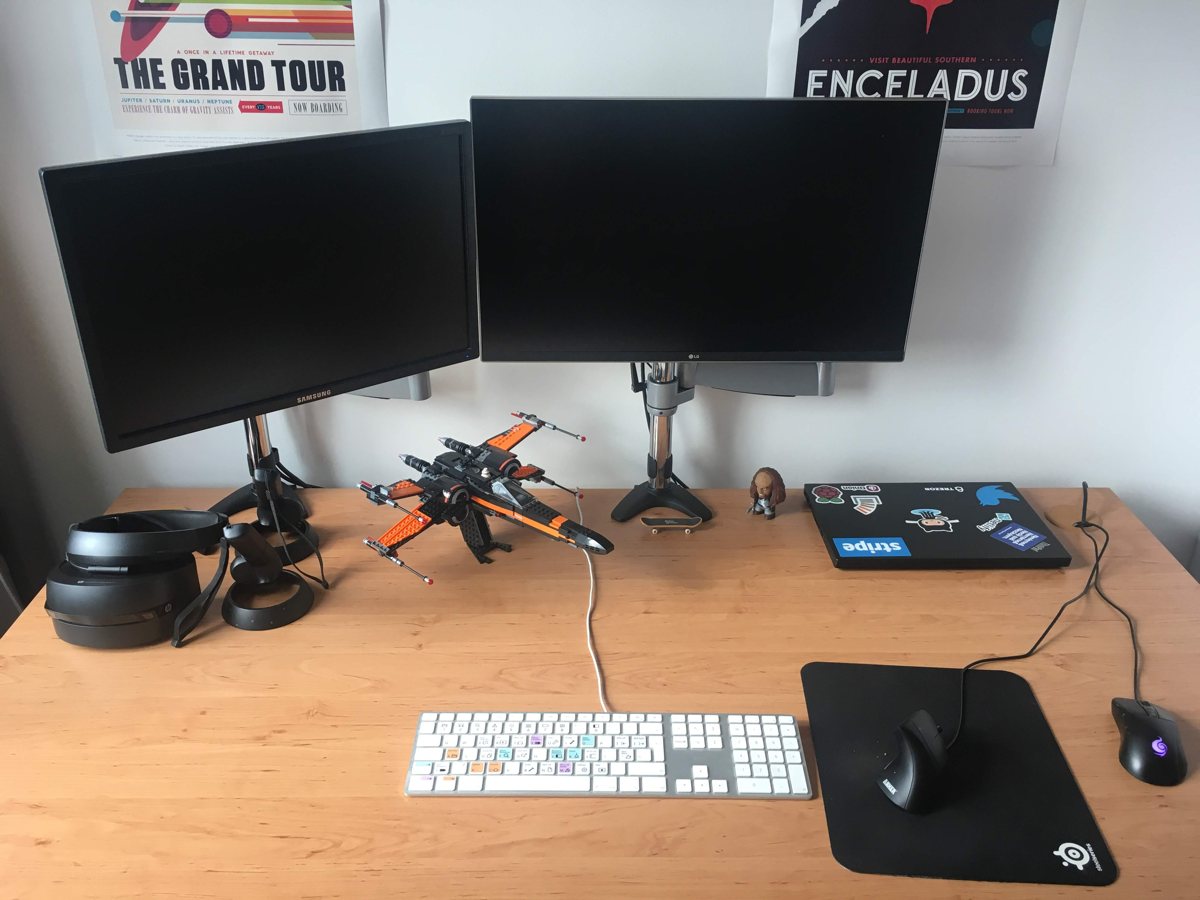 The centerpiece of my home office is a relatively big (160 cm x 80 cm, 63″ x 31.5″) standing desk. I spend maybe half the day standing instead of sitting and I have really gotten used to this workflow. I have an anti-fatigue mat that I stand on when working while standing. I bought it when I realized my feet hurt from all the standing.
My computer is a desktop computer I built in 2014 with a GPU upgraded last year (i5-3570K, 16GB RAM, GTX 1060 6GB, 250 GB SSD for macOS, 500 GB SSD for Windows, 1 TB HDD for data) turned into a hackintosh. When I was switching to iOS development about two years ago, turning my desktop computer into a hackintosh by buying another SSD and installing macOS on it seemed like a better idea than buying some underpowered and overpriced Apple hardware. I work from home, so I do not need the portability, and I am also into gaming (currently VR gaming, to be specific), which you just could not do on Apple hardware.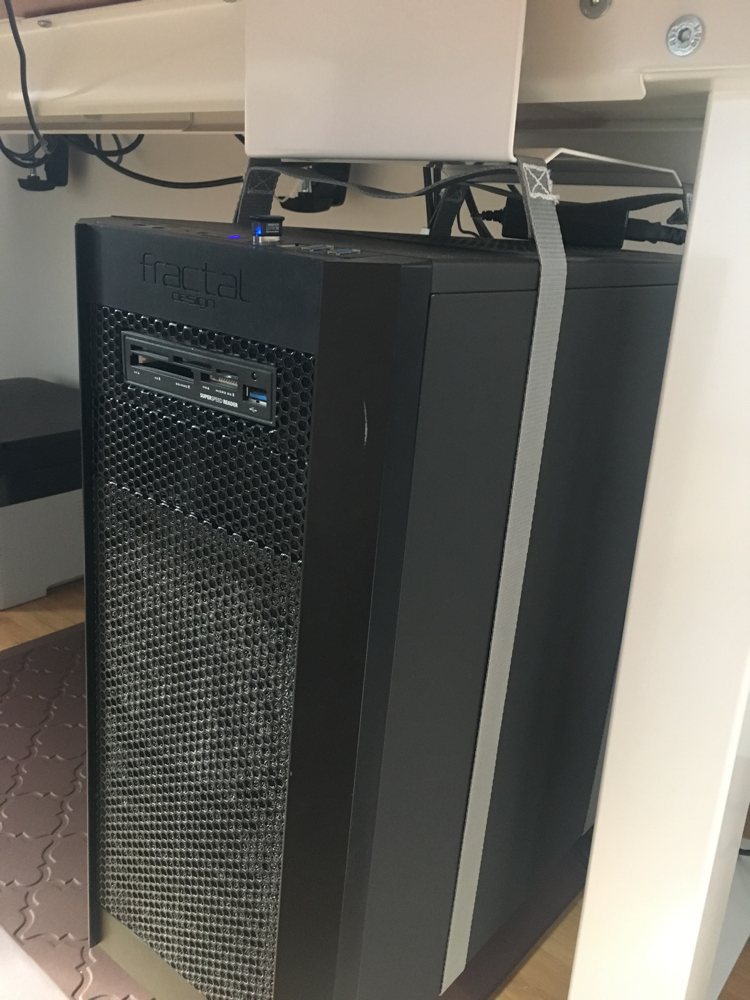 I have my hackintosh mounted to the standing desk and connected to two displays: an old 22″ LCD and a new 27″ LG 4K IPS, both mounted on adjustable monitor arms. The monitor arms are great as they allow me to position the displays to the correct height to achieve good ergonomics and save me a lot of space on the desk.
I use a wired Apple A1243 keyboard with SketchKeys that I bought some time ago to finally learn Xcode keyboard shortcuts. I use a vertical mouse for work. It takes some getting used to, but it is so much better on your wrist. I keep a gaming mouse around for gaming after work hours.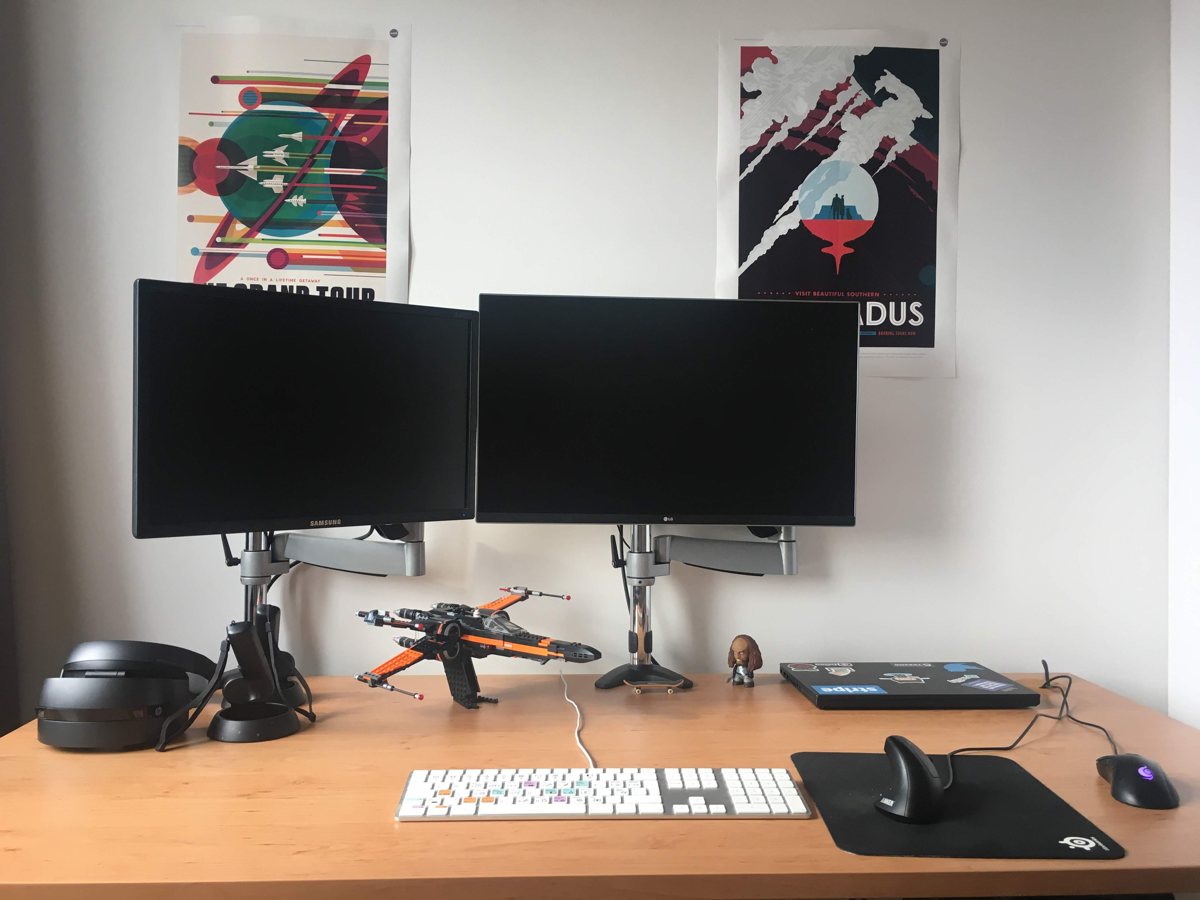 For VR gaming, I use a HP Windows Mixed Reality headset with 2 motion controllers. I also have an old Thinkpad T440s that I use when traveling.
I decorated my home office with some NASA Space Tourism posters, but I keep it really minimal.
Where can we find your macOS wallpaper?
I do not use a wallpaper. I set both macOS and Windows to just fill the desktop with solid black color. Honestly, I do not even notice it. Both my screens are fully covered with apps, a browser or a game, so there is just no point for me having a wallpaper.
What software do you use and for what do you use it?
I spend most of my work day in Xcode with a few iPhone simulators opened and Gitlab. We run our own Gitlab instance that we use not only for source control, but also for project management; issues, feature planning, etc. I use Airmail as my email client and the default macOS calendar app.
I use Firefox as my browser of choice, iTerm for terminal, and Tower (the old 2.6 version that doesn't require a subscription) as my Git client.
Sublime Text is my favorite app for viewing and editing text files, reading logs, writing posts for my blog, etc. I really appreciate its speed. Compared to VSCode, I can open it, read some logs and close it faster than VSCode even starts. It is quite a shame many new apps now are not native but based on Electron, making them slow (Hyper is another example).
Dropbox keeps my files synced, and 1Password my passwords safe and synced. Of course, I use a local vault with 1Password. I do not keep my passwords in their cloud because I like having things under my control.
I use our company messaging app for work communication and Messenger for personal communication. I am not really a fan of Messenger. I have my Facebook account deactivated but cannot delete it because everyone I know uses Messenger and I have not been successful converting people to Signal.
My favorite games at the moment are Overwatch and Beat Saber, which is, in my opinion, the best VR game currently available.
Every Saturday morning I boot up CloneZilla and do a full backup of the macOS SDD to an image file on the data HDD. I am still using HFS+ instead of APFS so the backup is only the size of the space used on the macOS SSD.
How would your ideal setup look and function?
I am thinking about getting another 27″ LG 4K IPS display to replace the old 22″ LCD. Other than that, I am quite happy with my setup. I could use more space in the room for VR gaming, but that is not really fixable.
Sometimes when traveling or visiting family back home in Slovakia, I am thinking about some kind of portable solution so I can do iOS development on the go. The old Thinkpad 440s that I use when traveling only runs macOS in a virtual machine, which is not ideal. But I do not really like the idea of buying a MacBook Pro. I absolutely hate the keyboard, the feel, the key travel distance and the useless touch bar (I press F6, F7 every day by feel when debugging).
---
What iPhone do you have?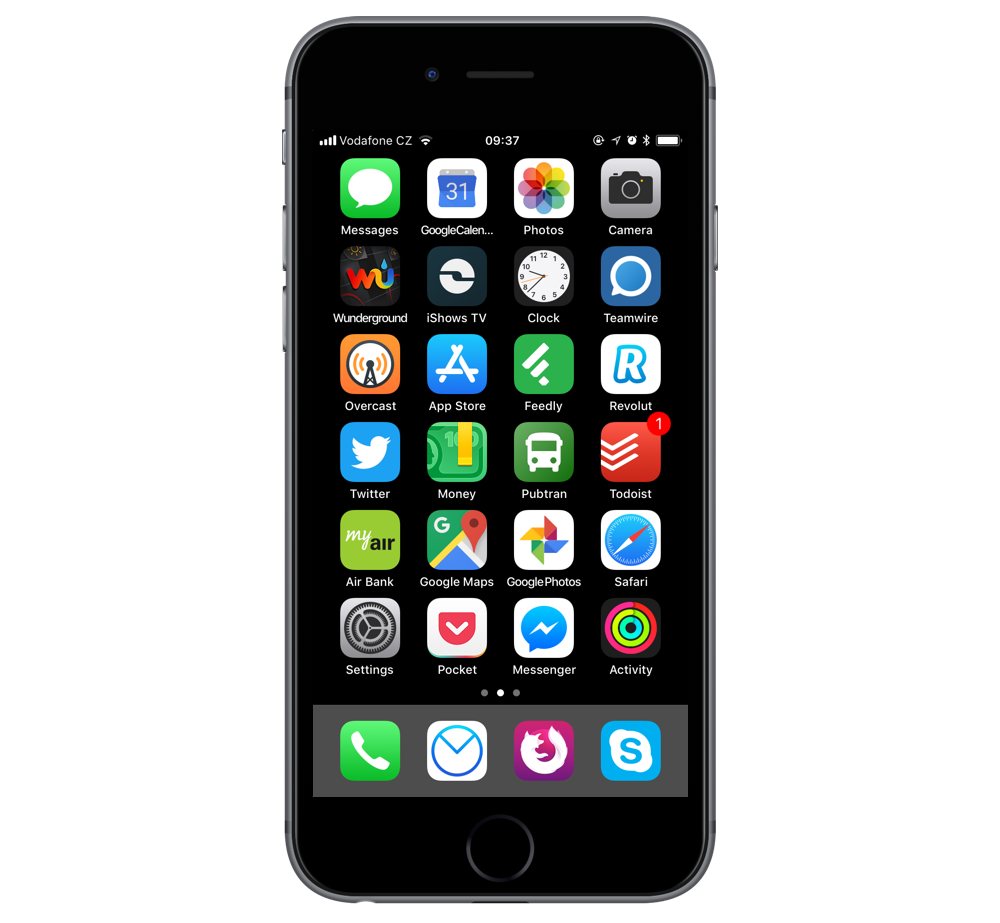 I own an iPhone 6S in space gray with 64 GB of storage that I have owned for about two and half years now. I just had to buy a new battery earlier this year, but I am still happy with it — it still works well. The only thing I dislike about it is the mechanical home button, so I use it only for Touch ID and I use a software home button to get around in iOS. The new iPhone X does not excite me that much, but maybe its successor this year will be more interesting.
Where can we find your wallpaper online?
As on my computer, I use a solid black color as both my home screen and lock screen wallpaper.
What apps do you use the most, and why?
I start my day checking my email in Airmail and my Twitter and Feedly feeds, looking for some interesting articles to read.
I am a fan of RSS, where I see posts from the web that interest me in a simple chronological older, not having some Facebook algorithm deciding what I should or should not see, and Feedly is the best RSS reader I found. I do not usually read the articles immediately — I send them to Pocket to read later during lunch or in the evening.
Instead of writing on the stock iOS keyboard, I swipe on SwiftKey Keyboard or just use it for its word prediction. It saves me a lot of time when I have to write something on the iPhone.
To get weather forecasts, I use Weather Underground, but I do not actually open it very often. I use its Today widget which is the best iOS widget I have seen so far.
I do not use iCloud to backup my photos; I use Google Photos. The backup is not fully automatic, as I have to open the app from time to time, but it offers unlimited storage and really easy sharing of photos or albums with anyone.
Todoist manages my tasks and I use Google Calendar as my calendar. I do not exactly love it, but it is the best calendar app I could find after Microsoft bought and killed the Sunrise app which I really liked.
To communicate I use our company messaging app for work and Messenger for personal communication, again, not successful into converting people to Signal.
My browser is Firefox Focus. It is a lightweight browser focused on privacy with built in tracking protection. There are no tabs, and it does not keep history or cookies. I open it, search for something I need or visit a website and clear everything with a tap of a button. I use Safari only for visiting some work-related websites when I need to be logged in.
I watch a lot of TV shows, so to keep track of what I have watched and when new episodes are being aired, I use iShows TV.
I am not really a notifications person. I am a programmer, and I require peace and quiet to get my work done. I really do not need my iPhone interrupting me to tell me about every email or Twitter mention. I only allow notifications for calls (phone, FaceTime, Skype) and messages (SMS, iMessage), no other distractions. Few selected apps like Airmail, Twitter, and our company messaging app have badges allowed.
Which app could you not live without?
I could not live without Overcast. I am really into podcasts, mostly about programming and economics, and Overcast is the best iOS podcast app by far.
---
Which Apple Watch do you have?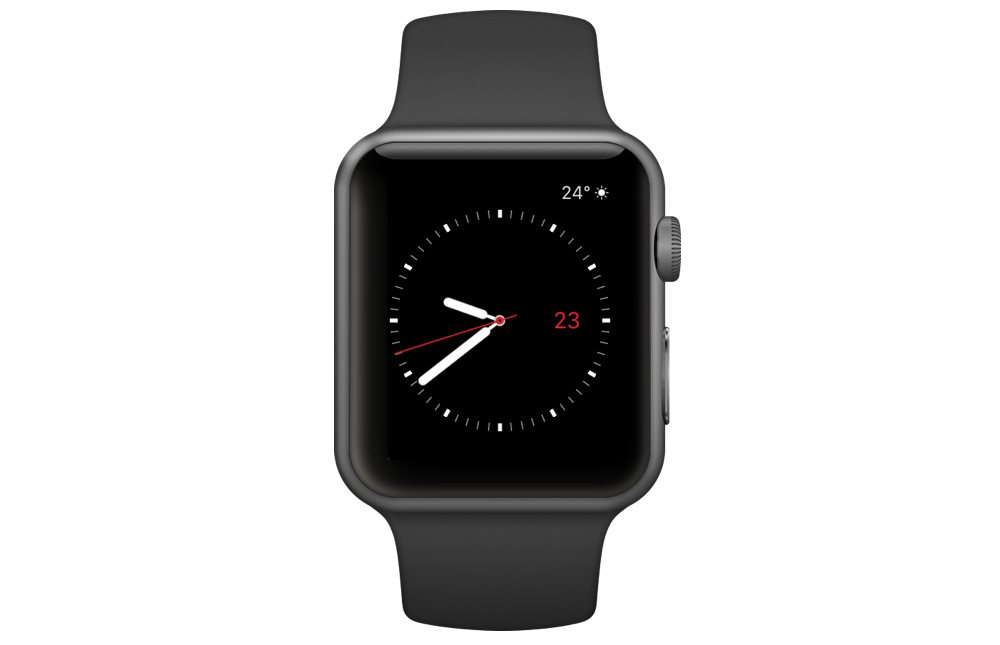 My Apple Watch is a 42mm Series 2 in the space gray color that came with a black rubber band. I only use the rubber band when swimming. I normally use a black Milanese loop band that I bought on Amazon for a few euros and it works surprisingly well.
It is the first Apple Watch that I have ever used. I have had it for about two years now and I have mixed feelings about it. I think everything depends on your use case and expectations, but I basically use it as an expensive fitness tracker.
What apps do you use the most, and why?
I do not use many apps on the Apple Watch. There are not that many 3rd-party apps and the few that exist do not work well. For example, Weather Underground only used to crash at startup in the beginning, but now it starts and does not update very often so I have to rely on the stock Weather app. Even the stock apps are buggy, like the Workout app sometimes shows me that I swam 0 lengths but 2 km when I start the swimming workout. It is a really strange ecosystem.
I mostly use the workout app, especially for swimming. Other than that, I use AutoSleep to track my sleeping and Overcast to skip ads in the podcasts I listen to.
How do you use your Watch on a daily basis?
I start the day by turning off the morning alarm on the Apple Watch. I sleep with the Apple Watch to track my sleeping. Most of the nights when I do not forget to charge it while showering or sitting down watching some TV shows. Lately I have been thinking about just giving up the sleep tracking and charging the Apple Watch every night so I don't have to think about it. The Apple Watch could really use a better battery.
During the day, I use the Apple Watch as, well, a watch to check time and I use the reminders from the Activity app that tell me to stand up and get moving. This is quite funny when the Apple Watch shows me "Time to stand up" after an hour of working while standing.
When in public transport, I use the Watch to know that I have an incoming call, because I have never been able to hear the iPhone ringing or feel it vibrating in a noisy environment. When I go for a walk to clear my head after work I start the Outdoor Walk in the Workout app and a podcast in Overcast.
---
There are more Sweet Setup interviews right here.
Want to share your setup? We'd love to hear from you. Just fill out this form with some basic information and we'll be in touch.
---
Wait. There's a Bonus….
Custom Productivity Templates
We have a set of custom productivity templates that work well with the iPad app, GoodNotes. And if you want to try them out, we've put together a free guide that can help you.
We'll show you…
How to create and save custom page templates in GoodNotes.
How to use those page templates to transform GoodNotes into your own productivity notebook (or any other type of notebook replacement).
Plus, we also have included a couple of our custom productivity templates for you to get started with. These templates are right out of our popular productivity course.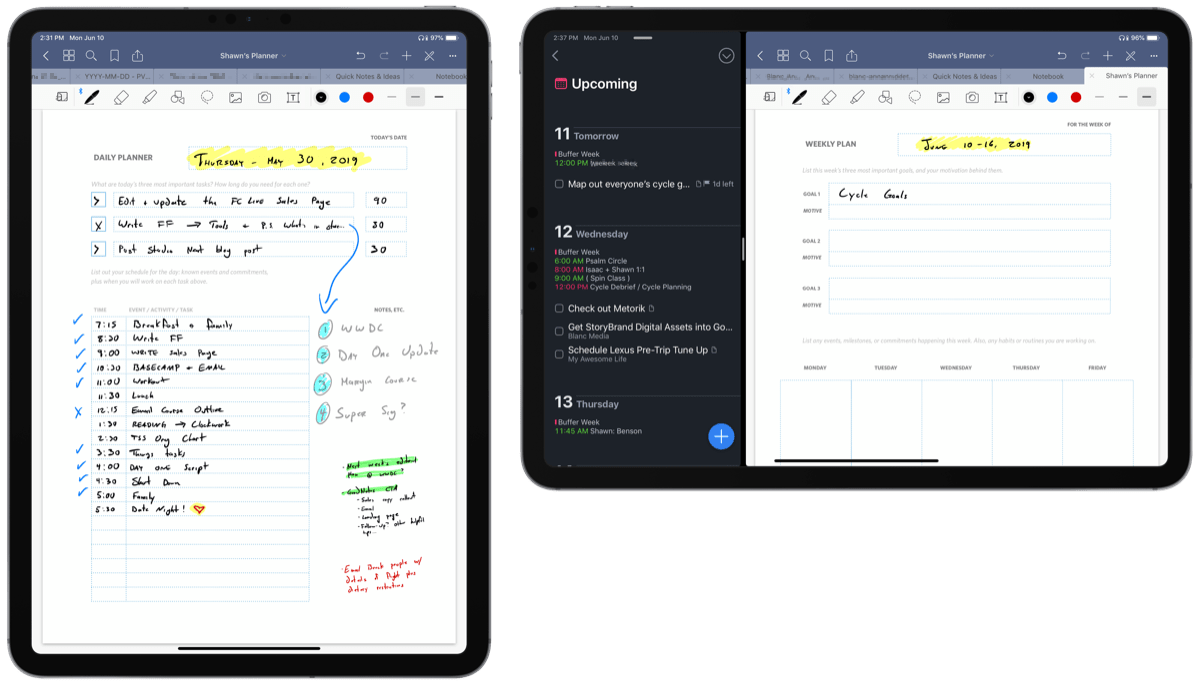 The custom templates and the guide are available for FREE to our email subscriber community. And you can get it right now. By joining the Sweet Setup community you'll also get access to our other guides, early previews to big new reviews and workflow articles we are working on, weekly roundups of our best content, and more.