How to Install and Use the Soulver 3 Workflow in Alfred 4
July 31, 2019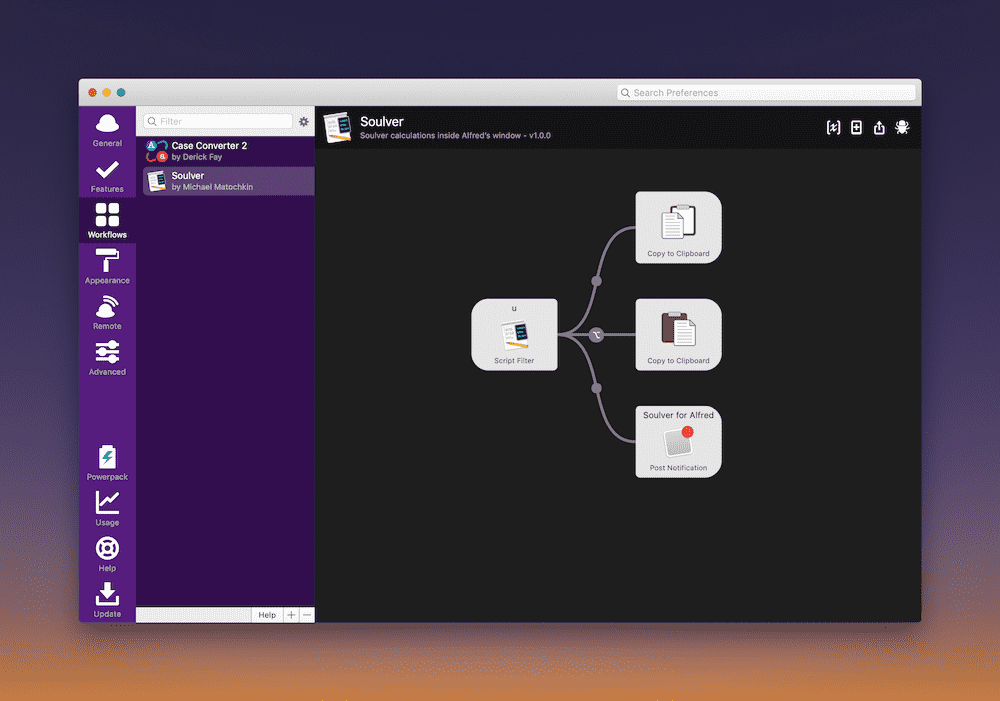 Our favorite macOS launcher app is Alfred 4, thanks to its great design and easy-to-install workflows. One of the handiest Alfred 4 workflows I have installed came with my purchase of Soulver 3, a text-based calculator app that's perfect for back-of-the-envelope calculations.
Here's how to install the Soulver 3 workflow in Alfred 4 and how to use it once you have it installed.
Installation
Open Soulver 3 and click Soulver 3 in the menu bar. Hover over Install Extras and click Alfred Workflow.

Once you click Alfred Workflow, Alfred opens with an import dialog box for the Soulver 3 workflow. If you'd like, choose a category (I chose Tools) and click Import to complete the installation.

Using the Soulver 3 Workflow in Alfred 4
Utilizing your new workflow is a piece of cake. First, bring up Alfred 4 (I've configured the standard Cmd + Space shortcut that normally summons Spotlight to initialize Alfred instead) with your designated keyboard shortcut.
In the Alfred query box, type u ("u" followed by a space). You'll immediately notice the Calculate with Soulver 3 command jump to the top of the Alfred 4 action list.
Next, input what you need to calculate. You can calculate most things within Alfred that you can normally calculate inside Soulver 3. I've had trouble getting the Alfred workflow to calculate days between dates, but all other numerical calculations have worked.

Once you have your query in place, you'll notice Soulver 3 answers your query immediately in the line below the query field. Hit Return to copy the result to your clipboard and paste it wherever you need across macOS.

Our Must-Have, Most Used Productivity Apps
We spend an inordinate amount of time sorting through hundreds of apps to find the very best. We put together a short list of our must-have, most-used apps for increasing productivity.