Fraser Speirs' sweet setup
November 10, 2014
Every week we post a new interview with someone about what software they use on their Mac, iPhone, or iPad. We do these interviews because not only are they fun, but a glimpse into what tools someone uses and how they use those tools can spark our imagination and give us an idea or insight into how we can do things better.
New setup interviews are posted every Monday; follow us on RSS or Twitter to stay up to date.
---
Who are you and what do you do?
My name is Fraser Speirs and I'm primarily a teacher of Computer Science at Cedars School of Excellence in Greenock, Scotland. I also have responsibility for all the IT provision at my school, so I'm a fully-responsible sysadmin too. I also blog at speirs.org and have a podcast with Bradley Chambers called Out of School.
What is your current setup?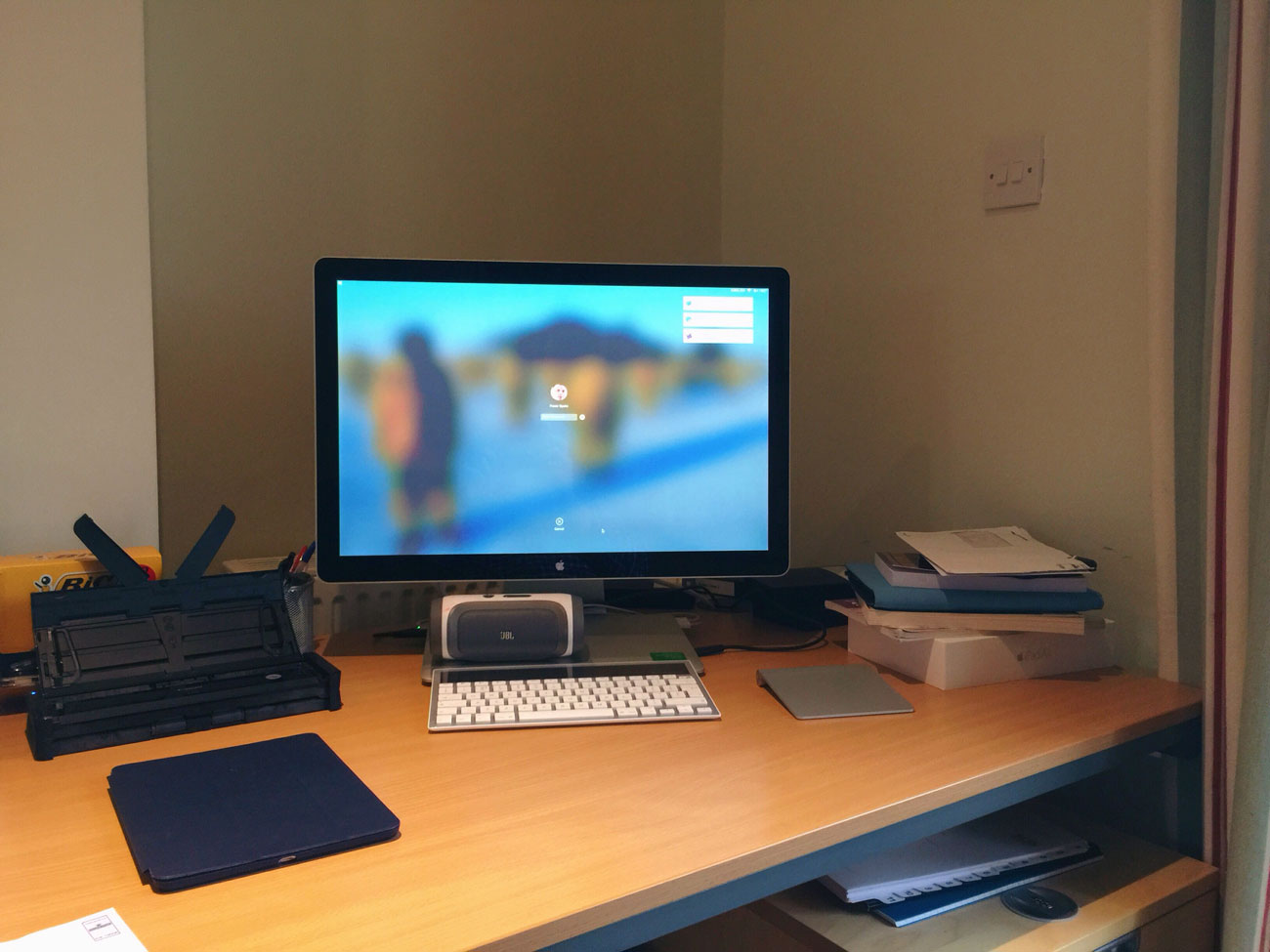 My current Mac setup is a 13″ MacBook Air which I use by itself at school and docked to an Apple 24″ LED Cinema Display. I use an Apple Magic Trackpad and a Logitech K760 Bluetooth keyboard.
My other piece of indispensable hardware is my Canon P-150 scanner. Couldn't live without it.
What software do you use and for what do you use it?
These days, my main app on the Mac is Safari. Since the school is very Google Drive-oriented, I use my Mac mostly to access the full power of Google Drive. I also totally depend on OmniFocus and BBEdit on the Mac. I also use Evernote heavily and make regular use of their Mac client.
For podcast recording and mastering, I use Adobe Audition.
How would your ideal setup look and function?
I really couldn't be happier with my current Mac setup. The only thing I would change is that I'd love a 27″ Thunderbolt display, but I really can't justify the cost when my 24″ LED is such a lovely display and very reliable.
---
What iPhone do you have?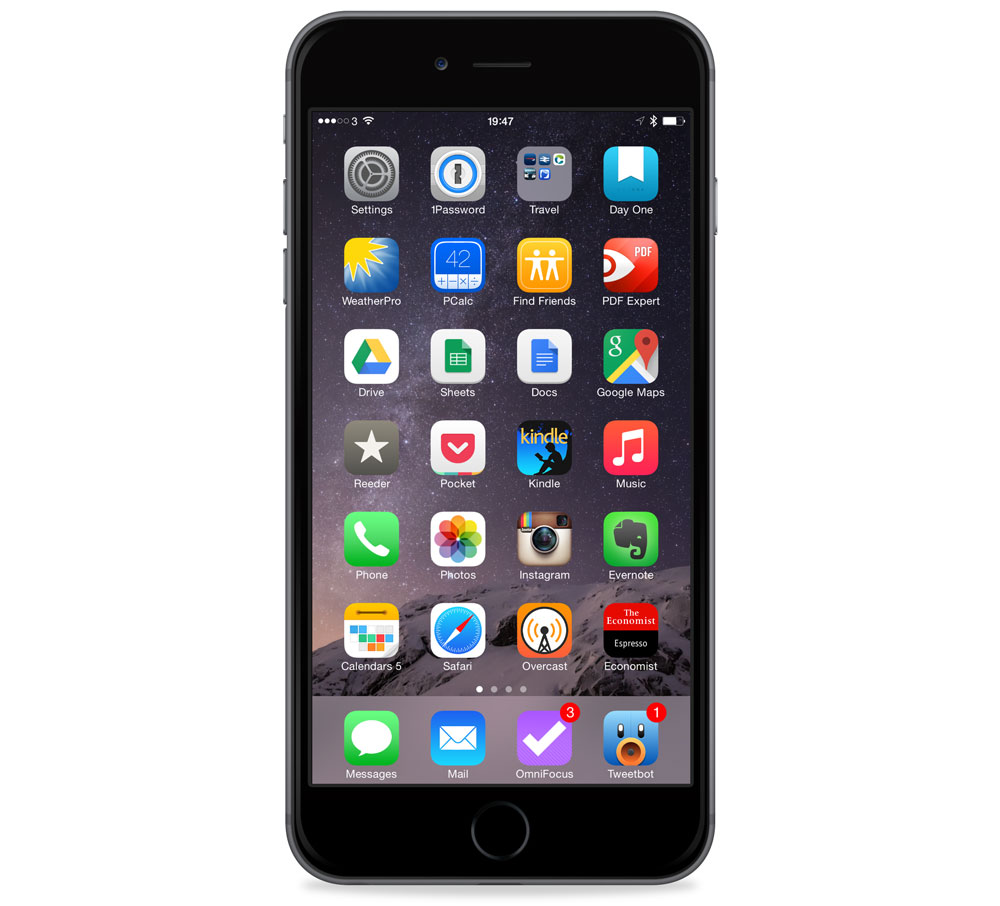 I just upgraded to an iPhone 6 Plus, 64GB. I've known for a couple of years that I wanted a bigger iPhone and held on to my iPhone 5 until Apple released one. I wasn't at all apprehensive about the size and I've been delighted with the device itself.
What iPhone apps do you use the most, and why?
I use many, many more iOS apps than I do on the Mac.
Firstly, there are a range of apps that are the "iPhone incarnation" of apps that I also use on the Mac: OmniFocus, Evernote, Mail, Safari. I've used Overcast for podcasts since it shipped and I've been delighted with its simplicity.
My wife and I use Find My Friends a lot and it fully deserves its place on my home screen. There are a ton of weather apps on iOS, but almost none of them do a great job with Scottish weather. On the other hand, you could set your watch by when Weather Pro says the rain is going to start. I don't love the way it looks but, with weather, it's all about the data.
Tweetbot, Reeder and Pocket make a powerful combination for gathering things to read from RSS and Twitter.
Probably, though, one of my most used apps on my iPhone is Photos. My iPhone is my camera, and I have three beautiful daughters, so we're into a lot of photography.
Which iPhone app could you not live without?
OmniFocus. The iPhone is always with you and it's my system for capturing everything I need to care about.
---
Which iPad do you have?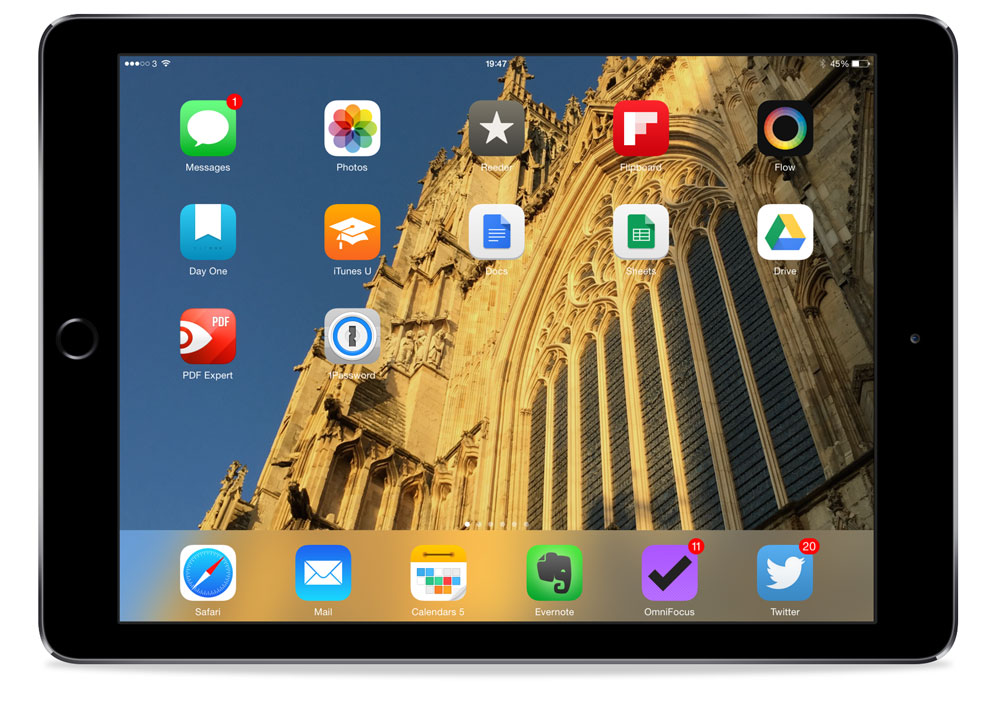 iPad Air 2, 128GB, 4G. My school is a one-to-one iPad school (the first in the world) so it's really important to me to be up to date on iPad, even more than the iPhone.
How are you using your iPad on a daily basis?
I use it regularly in the classroom, but the range of things I do with it is too wide to succinctly list. I use iMovie a lot to do video assessment of students at school (hence the 128GB storage). The iPad is my primary Keynote device. We use iTunes U a lot at school and the latest iTunes U app on iPad provides a ton of power.
We have, from time to time, recorded and edited our podcast entirely on iOS using apps such as Auria and Cubasis. They're not as powerful as Adobe Audition, but they do the job when I'm on the road.
I also use my iPad for sysadmin at school. I depend on Screens, Prompt, GoodReader and Transmit for these tasks.
What apps do you use the most, and why?
It's really, really hard to say "the most". The iPad is the device I use for the greatest variety of tasks. From sysadmin with Screens, to writing in Google Docs, to email, to OmniFocus, to scheduling in Calendars 5 to presenting in Keynote, iPad does so much for me.
Which app could you not live without?
I think probably Keynote would be my most important iPad app. I present to a lot of schools about our iPad programme and nothing carries the message like simply turning up to a school with an iPad and a VGA adapter and getting on with the job of communicating.
---
There are more Sweet Setup interviews right here.